This article has links to products and services we love, which we may make commission from.

Winter in Maine can be a snow lover's dream come true! It can also be the perfect cozy escape for those who prefer to stay indoors. Whatever your style, Maine in the winter is a destination you don't want to miss.
Classic coastal Maine towns offer traditional theater experiences and local wintertime events you won't want to miss.
Prefer the great outdoors?
Then head to the mountains and hit the slopes on your skis…or on your toboggan!
There are so many fun winter activities in Maine that you'll have plenty to choose from as you start planning your trip.
You might also like our guide to the prettiest towns in Maine to see them in all their wintry wonderland beauty!
And check out our guides to Maine in the fall or spring if you're looking for other fabulous seasonal experiences.
If you visit toward the end of winter, be sure to read our guide to mud season in Maine so you're fully prepared!
Also consider some New Hampshire winter fun or all the awesome winter things to do in Boston for more inspiration.
Here are some of the best places to go and things to do during winter in Maine.
Things to Do in Maine in the Winter
Sugarloaf Mountain
Sugarloaf Mountain (5092 Sugarloaf Access Rd. Carrabassett Valley) is an iconic place to visit in Maine in winter.
One of the unique things to do at Sugarloaf is cat skiing.
Cat skiing takes you to a more remote skiing and snowboarding area in the rugged winter terrain via a heavy-duty cat mobile.
Another cool thing at Sugarloaf is ski-biking, which is a combination of the two activities.
Take your special bike up the mountain on the ski lift and slide down the ski slopes for a totally different snowsport experience.
Other fun winter activities at Sugarloaf include cross-country skiing, snowshoeing, and ice skating.
Black Mountain of Maine
Black Mountain of Maine (39 Glover Road, Rumford) has a lot of fun winter things to do, including snow tubing, ski racing, skiing, and snowboarding.
There are also miles of nordic trails to explore.
You can snowshoe, ride a fat bike, or cross-country ski on those trails.
This is also a good place to visit in Maine in winter with kids since they have lessons specifically for the little ones to safely learn these sports.
Sunday River Resort
Another popular place to visit in Maine during winter is Sunday River Resort (15 S Ridge Rd, Newry).
Sunday River offers 135 trails and glades where you can ski, snowboard, Nordic ski, and snowshoe.
There's also night skiing if you're up for it!
There are plenty more winter activities at Sunday River, including ski bikes, ice skating, and snow tubing.
This is also one of the great Maine winter getaways for couples since they have the Jordan Spa at the resort.
Enjoy a couples massage after a long day out on the slopes.
Sunday River is one of our favorite ski resorts in New England.
Peary-MacMillan Arctic Museum
Visiting the Peary-MacMillan Arctic Museum (255 Maine Street, Brunswick) is certainly one of the most unique things to do in Maine in December.
Located on the campus of prestigious Bowdoin College, the museum offers educational exhibits about the arctic and how it has changed over time.
It was opened by Arctic explorers who had objects, photos, and exploration equipment, which you can see today.
Perfect for staying indoors while still enjoying the seasonal spirit!
Note that the museum is only open Tuesday-Friday.
Admission is free.
Pineland Farms
Pineland Farms (15 Farm View Drive, New Gloucester) is open every winter for fun outdoor activities.
You can explore 5,000 acres of land by cross-country skiing, snowshoeing, fat biking, sledding, and ice skating.
Trail passes are required, so be sure to book.
Sledding and ice skating are both free admission.
Their disc golf course is also open in the winter, and they ensure the tee pads stay clear so you can play.
As this is a working farm, dogs are not allowed.
Mill Creek Park
Mill Creek Park (50 Hinckley Dr, South Portland) has ice skating every winter.
You can also visit during the holiday season to see the tree lighting and enjoy the decorations and lights in the park.
Festive winter fun is our favorite kind!
Want more ideas? Check out our planning guide for winter in Portland Maine.
Harris Farm
Harris Farm (280 Buzzell Rd, Dayton) is one of the best family-friendly Maine attractions in winter since they are a working farm but offer fun winter-specific activities, too.
When there is enough snow in the winter, from December through March, there are 25 miles worth of groomed trails for cross-country skiing.
You can also take a fat bike on the trails or head over to the sledding hill.
After spending time in the snow, you can stop in the farm store for milk, butter, meat, maple syrup, and more.
Outdoor fun plus cozy winter comfort food…what more could you want?
Bar Harbor Winter Fun
Acadia National Park in Maine in Winter
Acadia National Park is one of the most beautiful places in Maine during winter.
The park is open year-round, and most trails are available for hiking even in the colder months.
There are 45 miles worth of trails that are great for cross-country skiing and snowshoeing; some are even groomed when possible.
You can also go skiing on the unpaved roads or take a winter walk around Otter Point, which is only allowed in the winter months when it is closed to traffic.
Acadia National Park is also a good place for Maine snowmobile trips!
You are allowed to snowmobile on the 27-mile Park Loop Road, on the road up Cadillac Mountain, and on most of the fire roads.
The park also has places where you can go ice fishing.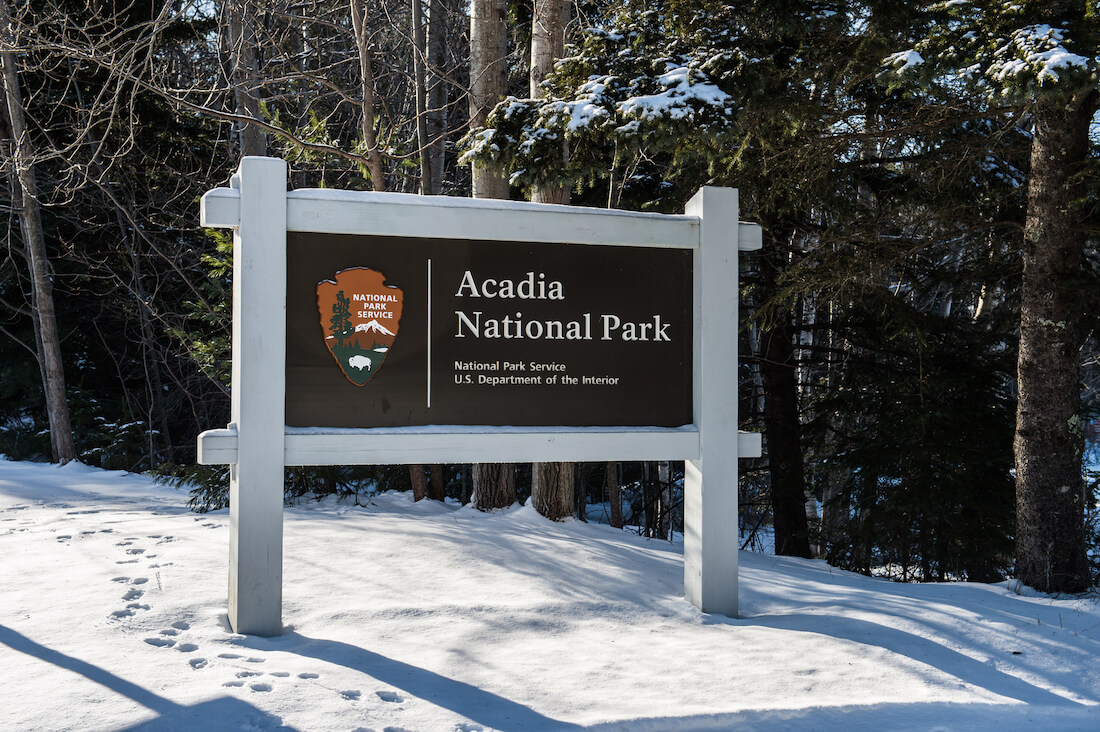 Criterion Theatre
The Criterion Theatre (35 Cottage Street) is a classic old theater in Bar Harbor that opened in 1932.
Catch a movie or a live show for a cozy evening indoors to stay warm and support a locally-run community arts center.
Camden Maine in Winter
Camden Opera House
The Camden Opera House (29 Elm Street) has enjoyable shows throughout the winter.
They also have a Christmas show that runs before the holiday season, so it's a perfect destination in Maine in December.
Camden Snow Bowl
The Camden Snow Bowl (20 Barnestown Road) is one of the best winter getaways in Maine.
Head there to ski and snowboard on almost one thousand feet of vertical elevation and 20 snow runs.
There is also an area on the mountain for snow tubing, or you can snowshoe through the trails surrounding the mountain.
Right on the coast, the Camden Snow Bowl is an ideal combination of sea and snow for wintertime fun!
Need another reason to visit?
Try their epic toboggan chute!
Even better: visit in February for their annual Toboggan Championships and enjoy the revelry.
Camden Hills State Park
Camden Hills State Park (280 Belfast Rd) has a lot of winter activities for those who love the snow!
There are 20 trails in the park, and they allow a variety of activities including snowmobiling, hiking, cross-country skiing, and snowshoeing.
The trials are all of different lengths and difficulties, and some of them will take you to overlooks with scenic views.
And, if you're feeling ambitious, you can even camp in the winter at Camden Hills State Park in one of their rustic shelters.
Rockport Maine Winter Activities
MidCoast Recreation Center
The MidCoast Recreation Center (535 West St) is one of the best places to visit in Maine in winter for some indoor fun.
They have an arena that is open for ice skating in the winter.
Visit for a skating lesson or get on the ice during open hockey or public skating for some community fun.
They also have covered tennis courts to play on in the winter if you're looking for something a little less icy.
Oakland Park Bowling Lanes
The Oakland Park Bowling Lanes (732 Commercial St.) have been a staple of Rockport for over five and a half decades.
It is a great place to take the family or join a league for some longer-term winter fun.
Owls Head Lighthouse
From Rockport, drive the 12 miles via Rockland to see Owls Head Lighthouse in the snow.
It was built in 1825 and has that classic Maine coasat
It's a serene scene…unless the winter waves are crashing below.
Either way, it's a beautifully iconic Maine experience to enjoy both the snow and a lighthouse at the same time!
Boothbay Harbor Winter Options
Railway Village Museum
The Railway Village Museum (586 Wiscasset Road, Boothbay) covers 35 acres where you can learn about the history of the railroad in Maine.
In December, you can ride the North Pole Express around the property, which is beautiful when it is covered in snow!
The train takes you to meet Santa, plus kids can write a letter to him, and they get a small but magical gift along the way.
It's the perfect family-friendly activity in December!
Gardens Aglow at the Coastal Maine Botanical Gardens
From mid-November through December, Gardens Aglow (105 Botanical Gardens Drive, Boothbay) is a fun holiday event at the Coastal Maine Botanical Gardens.
It is one of the great places to go in Maine in winter to enjoy the bright, sparkling lights that come with the holiday season.
Every year they decorate the gardens with over half a million lights in a rainbow of colors.
Get your tickets in advance and bring some hot cocoa for a festive experience.
Harbor Theater
The Harbor Theater (185 Townsend Ave) is a non-profit movie theater that plays a mix of classic movies and new releases.
They also host cultural events and play documentaries and independent films, so there is always something new to see all winter long.
The Opera House
The Opera House (86 Townsend Ave) opened in 1894 and has great shows in all styles of music throughout the winter.
It is one of the best places to visit in Maine in December if you want to catch a holiday concert.
And the more than 100 annual performances cover jazz, bluegrass, rock music, lectures, and special visits and events.
Kennebunkport in Winter
Kennebunkport's Annual Christmas Prelude
Kennebunkport's Annual Christmas Prelude takes place every year as a way to start the holiday season.
There is a tree lighting, carolers, craft fairs, and house tours.
And the coolest part is when Santa arrives on a Maine Lobster Boat for a visit!
The event even caught HGTV's attention when they called it the #2 Christmas Town in America.
February Is For Lovers
Another cool event is February Is For Lovers, during which the town transforms into a romantic getaway.
Some things to do during the event include dining in private shacks, spending time in one of the many resort hot tubs, or visiting the local restaurants and shops with deals.
And there are special events like wine and cocktail parties and oyster shucking classes.
There is also a party at an ice bar to kick off the week with a cocktail bar and a DJ.
Enjoy the Winter Scenery
From Kennebunkport, drive just 4 miles down Route 9 and you'll come to the Rachel Carson National Wildlife Refuge (321 Port Road, Wells).
If snow is blanketing the region, head there to walk and bask in the wintertime beauty.
It's a lovely spot for a romantic stroll after the February festivities!
Snow in Maine
Maine gets a lot of snow, between 50 and 70 inches each year.
But that means it is the perfect place to spend time doing winter activities like skiing and snowboarding.
Final Words
Are you ready to plan all your fun Maine winter activities? Whether you love all things snow or you like to stay cozy and warm indoors, we hope these seasonal suggestions helped you plan your trip.
Let us know your favorite things to do in the comments below!