This article has links to products and services we love, which we may make commission from.

Eager to get out of the city? Enjoy these awesome winter day trips from NYC to maximize the season!
Whether you're looking for seasonal markets for holiday shopping or snow-fueled adventure on the slopes, there is so much fun to be had on a single-day getaway from New York.
Take a winter road trip or hop onto the train to sit back and relax, there are options for all kinds of travelers.
Before leaving the city, you might also like our guide to all the places to go ice skating in NYC.
Best Day Trips from NYC in Winter
From the shortest journey time to the longest at 2.5 hours from NYC, these are the best winter day trips to take to enjoy the season and explore more of the region.
Travel Distance: Up to 90 Minutes from NYC
Visit Big SNOW at American Dream Mall in New Jersey
The American Dream Mall (1 American Dream Way, East Rutherford) in New Jersey is the second-largest mall in the country, and it features an incredible indoor ski and snowboard hill.
Just a 30-minute drive from downtown New York, this is one of many short trips from NYC in winter that will help you escape the busyness of the city for some seasonal fun.
Big SNOW offers full packages, slope access, and beginner lessons to make the most of this indoor, real snow resort within the mall.
Christmas Shop at Woodbury Common Outlet in Central Valley, New York
Take a one-day trip from NYC in winter to the Woodbury Common Premium Outlets (498 Red Apple Ct, Central Valley) for all your holiday shopping.
Just an hour's drive away, the Outlets make the holidays extra special with festive decorations and automatic savings of up to 60%.
They also have exclusive holiday social media filters you can use while shopping and a Mega-Merry Shopping Guide to help you save money and shop smarter.
Check out other festive ideas in New York in our complete guide to New York around Christmastime!
Polar Express Train Ride in Whippany, New Jersey
For a fun and festive winter family day trip from NYC, take the one-hour drive to Whippany, NJ for a Polar Express Train Ride (1 Railroad Plz, Whippany).
The ride is one hour long and each guest is gifted a magical silver bell, delicious shortbread, and hot chocolate.
Check the schedule and buy your tickets on their website.
Visit the Bazaar in Asbury Park, New Jersey
A short 1 hour and 15-minute drive from New York City will land you in beautiful Asbury Park in New Jersey, one of the best winter day trips in NJ.
The most notable winter happening is the Asbury Park Bazaar (1300 Asbury Park), a yearly seasonal market featuring tons of artists, vintage sellers, and live music.
Besides the bazaar, check out the Asbury Park Boardwalk, which hosts musical events, holiday celebrations, and more.
Take the Train to Westport, Connecticut
If you're looking for fun winter day trips from NYC by train, take the Amtrak to Westport, Connecticut.
From Grand Central, the ride is just 1 hour and 10 minutes.
For an outdoor skating adventure, head to the Longshore Ice Rink (260 Compo Rd South).
The Westport Winter Farmers Market (7 Sylvan Ln) is a special addition to the town's weekly winter events, but be sure to check the website for hours, vendors, and more.
Historic New Haven, Connecticut
One of the best winter road trips from New York is to New Haven, Connecticut, just a one-and-a-half-hour drive from the city.
Be sure to check out the Yale Ingalls Ice Rink (73 Sachem St) for a skating adventure.
Just BYO gear because, unfortunately, equipment is not available to rent.
The rest of Yale's campus looks so magical in the winter under a layer of snow.
There are several Cityseed Farmers Markets across the city that are each amazing in their own area, but the Winter Market (511 Chapel St) is open on Saturday all winter long.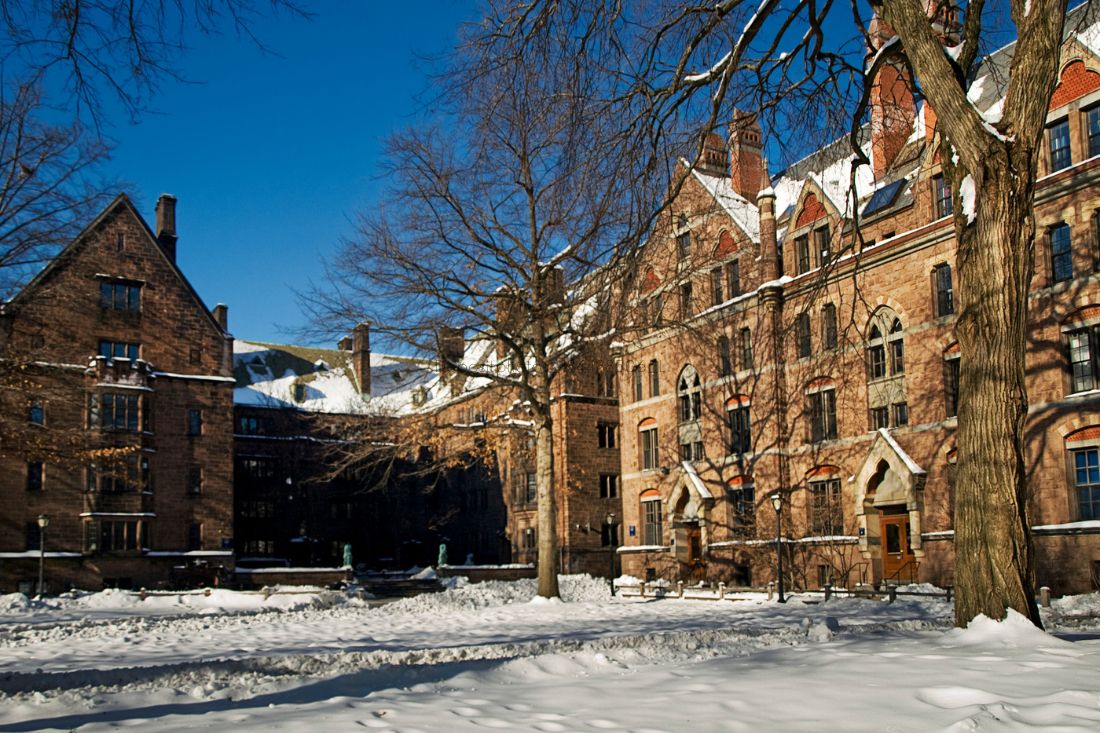 Festive Fun in Hamilton Township, New Jersey
Hamilton Township is one of the best day trips from NYC during winter, at just one and a half hours away from the city by car.
The best event is Winter Wonderland (390 Newkirk Ave).
The festival lasts just one weekend in early December and features an iceless skating rink, ice sculptures, Santa and Grinch meet and greets, and so much more.
Take the Train to Beacon, New York
Beacon, New York is one of the better winter day trips near NYC by train if you take the Hudson Line from Grand to Beacon.
The city is also a 1 hour, 30-minute drive by car.
Be sure to attend the Holiday and Winter Solstice Afternoon Tea (165 Main St) in late December for light snacks, sandwiches, custom blend teas, and a cash bar.
Hunter Mountain Ski Resort in Hunter, New York
The Hunter Mountain Ski Resort in the Catskills (64 Klein Ave, Hunter) is a great day trip from New York for winter sports lovers.
The resort is an hour and a half by car, but you can also check out the ski bus tour options on Hunter's website.
Almost 70 trails, 320 skiable acres, and 4 gladed areas make this resort perfect for all levels.
Visit Quaint Cold Spring, New York
Cold Spring, New York is a 90-minute drive from NYC and is a nationally-recognized historic district.
Visit the Winter Farmers Market (1601 NY-9D, Garrison) on Saturdays or head to Main Street, one of the best-preserved areas from the 1800s, for antique and holiday shopping.
Head to Storm King Art Center in New Windsor, New York
If art lovers are looking for an experience outside of the city, take the 90-minute drive to the Storm King Art Center (1 Museum Rd, New Windsor) for their classic Winter Weekends.
Storm King is a 500-acre outdoor museum filled with sculptures and other installations built uniquely for the Hudson Valley site.
Camelback Mountain Resort in Tannersville, Pennsylvania
Take a 90-minute drive to Camelback Mountain Resort (301 Resort Dr, Tannersville) in Pennsylvania for one of the best snow tubing day trips from NYC.
Galactic snowtubing at Camelback features 40 lanes, a magic carpet, and two straight hours of downhill fun.
Thunder Ridge Ski Area in Patterson, New York
Mountain resort lovers will love Thunder Ridge Ski Area (137 Birch Hill Rd, Patterson), a spacious resort with 22 trails and a robust night skiing program.
Even better, Thunder Ridge is one of the better winter day trips from NYC without a car, especially with the special Metro-North package.
You'll get a discounted train + lift combo ticket!
Take the Metro-North train from Grand Central to Patterson, NY, and then take the free Thunder Ridge Shuttle right to the resort.
If you go on a weekday, you may need to call for the shuttle but they'll come to get you.
The train is about an hour and 50-minute ride.
If you prefer to drive, it'll usually be about an hour and a half, depending on traffic.
Travel Distance: 2 Hours or More from NYC
Poughkeepsie, New York
Just shy of a 2-hour drive, Poughkeepsie is one of the most classic day trips in Upstate NY in the winter.
The MJN Convention Center (14 Civic Center Plaza) is home to great ice skating, as well as tons of winter events.
Check out the McCann Holiday Ice Show, the Winter Craft Fair, and the K104 Not So Silent Night Music Festival.
Be sure to take a winter stroll across the gorgeous Mid-Hudson Bridge on one of the pedestrian lanes.
Visit the CIA for Lunch in Hyde Park, New York
If you're looking for creative, fun day trips from NYC in winter, look no further than the Culinary Institute of America (1946 Campus Dr, Hyde Park).
You can explore their many cooking classes, but the best classes for winter are Holiday Cookies and Holiday Pies.
If you're not as into cooking classes, visit any of the CIA restaurants, including a brewery and an amazing cafe.
Hyde Park is just a few minutes past Poughkeepsie, clocking in around just under 2 hours from NYC.
Woodstock, New York
A mere 2-hour drive from New York City, Woodstock, NY is one of the best winter road trips from NYC.
Now a classic destination following the 1969 Woodstock music festival, you can still find tons to do in winter, like A Soul Train Christmas (22 Rock City Rd) live music event.
If winter sports are more your style, head to the Mountain Trails Cross Country Ski Center (6198 Rte 23A Main St) about 30 minutes away in Tannersville.
Just can't get enough of this city for a one-day trip?
Extend your stay at the gorgeous and homey Woodstock Way Hotel (8 Waterfall Way).
Kingston, New York
Sitting a 2-hour drive away, Kingston is one of the best road trips from NYC in December.
The yearly Christkindl Market (37 Greenkill Ave) is a special event in Kingston in early December, featuring German treats, crafts and jewelry, and a homemade cookie buffet.
The Kingston Winter Farmers Market (272 Wall St) also takes place biweekly on Saturdays and is a perfect place to grab a tasty treat.
Philadelphia, Pennsylvania
Philadelphia is a wonderful winter road trip from New York in winter, and surprisingly only about 2 hours from the city!
This city is one of the better day trips from NYC in December due to its amazing holiday celebrations.
Enjoy the Macy's Christmas Lights Show (1300 Market St) and don't miss the BlueCross RiverRink Winterfest (101 South Columbus Blvd).
To maximize your time and learn some fun Philly history, stay warm inside the Hop-on, Hop-off Philadelphia Bus Tour!
Skytop Lodge, Pennsylvania
If you're looking for a romantic winter day trip from NYC for couples, drive two hours to the Skytop Lodge (1 Skytop Lodge Rd, Skytop).
This is a classic honeymoon spot in the Poconos but it's perfect for any romantic getaway.
Holiday events like December at Skytop and Food and Wine Weekend are perfect for couples looking to escape the city for a little holiday cheer.
Windham Mountain Resort, New York
For amazing winter sports fun, drive 2 and a half hours to the Windham Mountain Resort (19 Resort Dr, Windham) in New York.
This is a perfect one-day winter getaway from NYC, even though it's a little further than the other recommendations in this guide.
Slide down any of the 11 trails, some reaching up to 3,100 feet at the summit.
Lenox, Massachusetts
Lenox, MA is a lovely day trip from New York, at a little less than 3 hours away by car.
The best thing to do in Lenox is to attend any of the wonderful events hosted by Shakespeare & Company (70 Kemble St).
For the history buffs, head on a Holiday House Tour of the Ten Broeck Mansion (9 Ten Broeck Place) for all the lavish holiday decoration goodness.
Just be sure to get an early start to maximize this day trip!
Final Words
Ready to get out of the city and explore more on these winter day trips from NYC? We hope this guide helped you plan!
Let us know your favorite places to go in the comments below.
Our NYC Travel Guides