This article has links to products and services we love, which we may make commission from.

Wondering where to stay in Vermont for a Fall foliage extravaganza? The Green Mountain State rapidly turns into a colorful array of cascading foliage in September and October — and you won't want to miss this impressive display!
Peak fall foliage will vary as you travel around the state.
Mid-September through October can generally be counted on for a variety of colors, but your altitude and latitude will both affect the more precise peak times.
As you head farther north in Vermont, the peak foliage times are earlier, so plan your fall VT trip for earlier in the season if you're heading toward the Canadian border.
With top destinations like Green Mountain National Forest and the iconic Route 100 road trip, you'll want your own vehicle to get out and witness the best colors at the right times.
To maximize your opportunities, we highlighted a variety of places to stay for fall foliage in Vermont.
You might also like our guide to the best places to visit in Vermont to get the lay of the land.
And if you're eager to hit the trails to enjoy the colors up close, check out these hikes in Southern Vermont or these hikes in Stowe and nearby.
You can also combine your VT trip with the beautiful White Mountains of New Hampshire and the gorgeous coastline of Maine for even more fall foliage!
You may also like our guide to Vermont in the fall.
Where to Stay in Vermont for Autumn Leaf-Peeping
Hotel Vermont Burlington
Hotel Vermont Burlington (41 Cherry Street, Burlington) is a great place to see fall foliage in Vermont.
The hotel is in the heart of Burlington and only a few minutes away on foot from Lake Champlain and the Waterfront Park, which are perfect spots to see a colorful display.
You can also rent bikes in the area and enjoy even more foliage with a pleasant cycle along the lakeshore.
On bright, crisp autumn days, it's idyllic to see the colors reflected on the water!
The rooms at the Hotel Vermont Burlington fit two to four adults, with the 280-square-foot one-bed king rooms being the smallest and the 360-square-foot rooms with a queen and a double bed being the largest.
Most of the rooms (other than the limited view rooms) boast mountain views so you can enjoy the changing colors from dawn to dusk.
Check out the option for a king room with a spa tub for an extra special getaway.
Homewood Suites by Hilton Burlington
Homewood Suites (5 Dorset Street, Burlington) is in South Burlington near the Centennial Woods Natural Area.
The hotel has an indoor pool and also offers an airport shuttle for those of you flying into Burlington.
The shuttle will also take guests to other areas like downtown and some good places to see the fall foliage.
The rooms are quite large compared to the average hotel room since they are apartment-style rooms with TVs, a kitchen, and a microwave.
All the rooms are 350 sq ft and higher, and they all have sofa beds and either a king bed or two queens, except the two-bedroom suite, which has a king and two queen beds.
Williston Village Inn
Williston Village Inn (25 Slate Barn Drive, Burlington) is also in Burlington but further out from downtown.
You are closer to the hills, nature trails, golf courses, and the Winooski River, which are all great places to visit in the fall!
Beautiful gardens surround the inn for extra enjoyment without having to hop into your car.
Each room has a cable TV and there is a terrace for guests to use.
The rooms all sleep two people, with double, queen, or king beds, and range from 250to 400 sq ft, with the larger rooms including a living room.
Starlight Inn
Starlight Inn (179 Porters Point Road, Burlington) is a motel-style inn with casino and movie-themed decor.
Amenities for guests include a snack bar, a children's playground, and free admission to the drive-in movie theater next door.
Within 20 minutes' driving distance of the inn is Niquette Bay State Park, as well as shopping centers, parks, a lake, and other natural attractions.
Each room sleeps four people, and they range in size from 350 to 500 sq ft, with either two queens or a king in the smallest rooms and one queen and one sofa bed in the largest suite with a spa bath.
Timberholm Inn
Stowe, specifically the Timberholm Inn (452 Cottage Club Road, Stowe), is a great option for where to stay in Vermont in October.
The bed and breakfast boasts gorgeous views of the Green Mountains, a common room with a fireplace, an outdoor hot tub, and a daily breakfast.
And the resort is just a short drive from Mount Mansfield State Forest, a golf course, and many restaurants and bars.
The rooms sleep two people, ranging from 150 and 175 sq ft for the double and queen beds, respectively, to 225 for a king bed.
Or, if you need a larger room that sleeps four, there are 350 sq ft two-bedroom suites with either two queen beds or a queen and two twin beds.
You'll also be just a 25-minute drive from Lake Elmore, which is idyllic for fall foliage reflections on a calm, clear day!
Check out all the fun fall activities in Stowe while you're here!
The Little River Inn
The Little River Inn (692 South Main Street, Stowe) is just a 15-minute walk from downtown Stowe.
The bed and breakfast has an outdoor hot tub and a fireplace and it's also close to a horseback riding facility.
You can also access the Cady Hill mountain bike trails or take a walk behind the inn, where there is a river and a walking trail.
Rooms at the Little River range from 120 to 200 sq ft and have either a queen bed, two queen or double beds, or the largest is a two-bedroom family suite with two twin beds and a king.
If you like waterfalls, you'll also be close to Bingham Falls near the Smugglers' Notch State Park Campground.
Fairfield by Marriott Waterbury Stowe
Fairfield by Marriott (1017 Waterbury Stowe Rd, Waterbury) has a lot of amenities, including an indoor pool, breakfast, a garden, and a lounge with a snack bar.
There is also free parking and internet.
The Ben and Jerry's factory is just a short walk from the hotel, as are many mountains, ski lifts, and the Winooski River.
There are three types of rooms at the Fairfield: a 339 sq ft king room, a 350 sq ft queen room with two beds, or a 420 king studio.
Comfort Inn & Suites at Maplewood
Comfort Inn & Suites (213 Paine Turnpike N., Montpelier) is close to the Vermont state capitol building and downtown Montpelier.
While in Montpelier, head to Hubbard Tower to enjoy the observation deck.
There are also a lot of state parks in the area with hiking, walking, and biking trails to get amidst the pretty fall foliage.
The rooms at the Comfort Inn range from 250 sq ft for a two-person queen room to 485 sq ft for a four-person king suite with a sofa bed.
Mountain Valley Retreat
Killington is another good option for where to stay in Vermont to see fall foliage, specifically the Mountain Valley Retreat (1940 River Road, Killington).
The resort has 16 acres to explore, with hiking trails and fishing areas, plus plenty of other mountains and nature areas nearby.
If you time your visit for peak fall foliage, you'll be in an autumnal wonderland wandering this land!
All the rooms have queen beds, TVs, and Wi-Fi and are either 144 or 175 sq ft, with the larger ones including mountain views.
Mountain Meadows Lodge
Mountain Meadows Lodge (285 Thundering Brook Road, Killington) is east of Killington and has a bar, a lounge, a terrace, and beautiful views of the surrounding mountains.
There are lots of outdoor areas by the lodge-like Gifford Woods State Park and Killington Peak.
Enjoy the fall colors on foot or by car from this convenient location.
All the rooms at the lodge fit two people and have either a queen bed, a king, or two doubles, except the Deluxe King Suite, which sleeps four with two sofa beds and a king bed.
The Snowed Inn
Between downtown Killington and Killington Peak is the Snowed Inn (104 Miller Brook Road, Killington).
The inn has an outdoor terrace, an outdoor hot tub, and a continental breakfast with 24-hour coffee available.
Other than all the hills and mountains covered with foliage in the fall, there are restaurants, shopping, and nightlife on Killington Road, which is within walking distance from the inn.
The inn has a lot of room options, with most rooms ranging from 120 to 225 sq ft to sleep two to four people in a king, a queen, or two queen beds.
The largest room option is the 900 sq ft chalet that sleeps six people with a kitchen, a balcony, a fireplace, and a spa bath.
The Pettigrew Inn
The Pettigrew Inn (13 Pleasant Street, Ludlow) is at the bottom of Okemo Mountain near scenic hiking and walking trails, shops, restaurants, Dorsey Park, Lake Rescue, and the Black River.
There are shared areas at the inn, including a terrace, a garden, an outdoor fireplace, and board games for play and breakfast.
The standard rooms range from 150 to 335 sq ft and either have a full, a queen, a king, or two queen beds.
Or, there is a large 540 sq ft pet-friendly king suite with a spa tub, a sofa bed, a small fridge, a TV, and a fireplace.
From Ludlow, drive about a half-hour toward the New Hampshire border to enjoy the fall foliage in Mount Ascutney State Park.
Seesaw's Lodge
Seesaw's Lodge (3574 VT Route 11, Peru) is a great place to stay in southern Vermont.
The lodge has a restaurant, bar, a garden, a terrace, and a grill.
Surrounding the lodge are mountains, chair lifts, and the Summit Gondola and Hapgood State Forest.
The lodge has traditional hotel-style rooms that sleep two people and range from 220 to 330 sq ft, or there is a 600 sq ft, four-person family room with a king and a queen bed.
Or, there are one, two, and three-bedroom cottages that sleep two to six people and range from 800 to 2,000 sq ft.
Hampton Inn & Suites Manchester
The Hampton Inn & Suites (4519 Main Street, Manchester) have an indoor pool, a breakfast buffet, and refrigerators and microwaves in all the rooms.
If you like walking, the hotel is in a beautiful neighborhood within walking distance of Manchester's town center and the American Museum of Fly Fishing.
Or, within ten miles, there are many mountains, chairlifts, a skyline overlook, and lakes.
This is a convenient location for a combination of amenities and beautiful scenery nearby.
The 342 sq ft queen rooms sleep four people, or you can opt for the larger 440 sq ft executive king suite with a sofa bed.
Manchester View
Manchester View (77 High Meadows Way, Manchester) is an inn in the heart of the Green Mountain National Forest, surrounded by mountain views.
There are two ski resorts just 10 and 20 minutes away by car, as well as chairlifts, other mountains, Emerald Lake State Park, and the Summit Gondola.
Enjoy these spaces before the winter sets in, with vibrant fall colors cascading down the hillsides before the skiers get there!
The smallest room at Manchester View is a 252 sq ft queen, but there are rooms with two queen beds with balconies ranging from 416 to 442 sq ft, with the smaller one including a fireplace.
Or, there are 600 to 744 sq ft one- and two-bedroom king suites with a sofa bed, fireplace, and hot tub.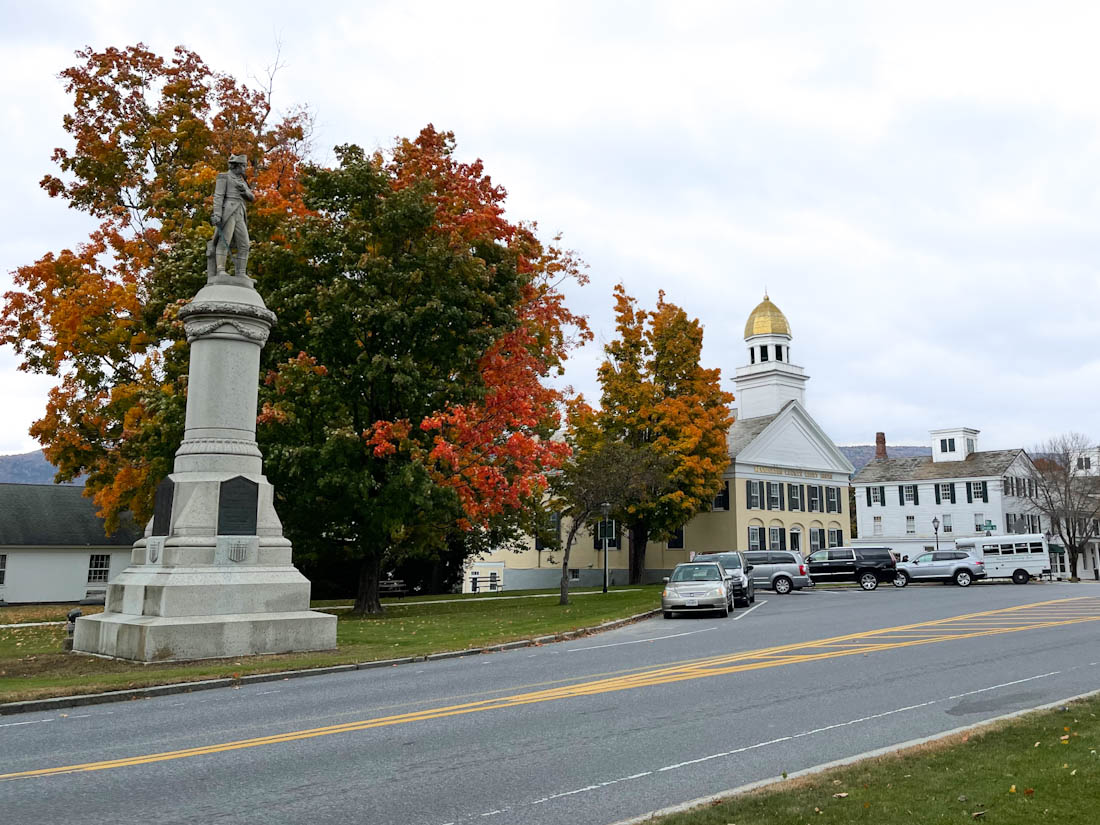 Final Words
We hope this guide helped you figure out where to stay to enjoy the fall foliage in Vermont! Check out our other guides to the Green Mountain State to keep planning your adventures…