This article has links to products and services we love, which we may make commission from.

Wondering where to stay in Plymouth MA? Plymouth is a huge town, so it's easy to get overwhelmed trying to figure out the best places to stay based on what you want to do there.
From Plymouth Center (or Downtown Plymouth) to the various nearby neighborhoods, this guide outlines the three most popular places in Plymouth to stay on vacation.
First, you might want to use our guide to the best things to do in Plymouth to plan some activities and events you don't want to miss.
We also have some quick suggestions for each specific location below.
Once you know what you want to do while you're here, choose where to stay in Plymouth that will be convenient for the majority of your activities.
Then you can do more relaxing and less driving and trying to find parking!
Best Places to Stay in Plymouth MA
Downtown Plymouth
Downtown Plymouth, also called Plymouth Center, is the best place to stay in Plymouth if a convenient location is your top priority.
Downtown is especially where you should stay in Plymouth if you are traveling without a car.
The bus to Plymouth makes for an easy day trip from Boston, but it's even better if you can make it a whole weekend getaway!
Plymouth Center is where many of the popular Plymouth attractions are located, so you'll have plenty of entertainment during your stay, however long it is.
This area is also known as the Plymouth Bay Cultural District, so you'll find plenty of opportunities for shopping, dining, and learning here.
For the most convenient location for all those activities and attractions, here are the best places to stay in Downtown Plymouth, right around Plymouth Harbor.
Thomas Sea Suites at Harbourtown
The Thomas Sea Suites at Harbourtown (150 Water Street, Floor 2) is a great option for anyone focused on sustainable and responsible travel.
The property takes steps to reduce waste, save water, and put money back into the local community.
The Sea Suites are apartment-style, so they include a living area, a full kitchen, and at least one bedroom.
The location is also ideal; it's walking distance to multiple restaurants, bars, the beach, and Plymouth Harbor.
And, if you want something a little fancier or bigger, there are a couple of penthouse apartments at the Thomas Suites that fit seven people each.
The one-bedroom apartments range from 650 to 950 sq ft while the penthouse apartments reach up to an impressive 1725 sq ft.
Hotel 1620 Plymouth Harbor
Hotel 1620 Plymouth Harbor (180 Water Street) is another one of the best places to stay in Plymouth, MA, especially if you want to be by the beach.
The beach is just a few blocks away from the hotel, so you can easily walk there each day.
If you need a break from the sand, the hotel has an indoor swimming pool that is open and heated year-round.
Rooms come with a refrigerator to keep all those beach drinks cold, and there's no need to cook with all the restaurants and cafes in the hotel and nearby.
Hotel 1620 is also close to many shops and many of the great attractions that you can't miss during your stay in Plymouth.
This is also one of the best pet-friendly hotels in Plymouth, in case you want to bring your dog along for a vacation.
The Plymouth Downtown House
The Plymouth Downtown House is perfect if you need somewhere to stay in Plymouth's cultural district but are traveling with your family.
The home has two bedrooms, one with twin beds and another with a queen bed.
The house also has a living area, a dining area, and a full kitchen, all with plenty of space for the whole family.
You can walk to the harbor and the beach from the house, as well as all the fun things to do in downtown Plymouth.
And, if you want a break from cooking, the area has a lot of restaurants that are great for people of all ages.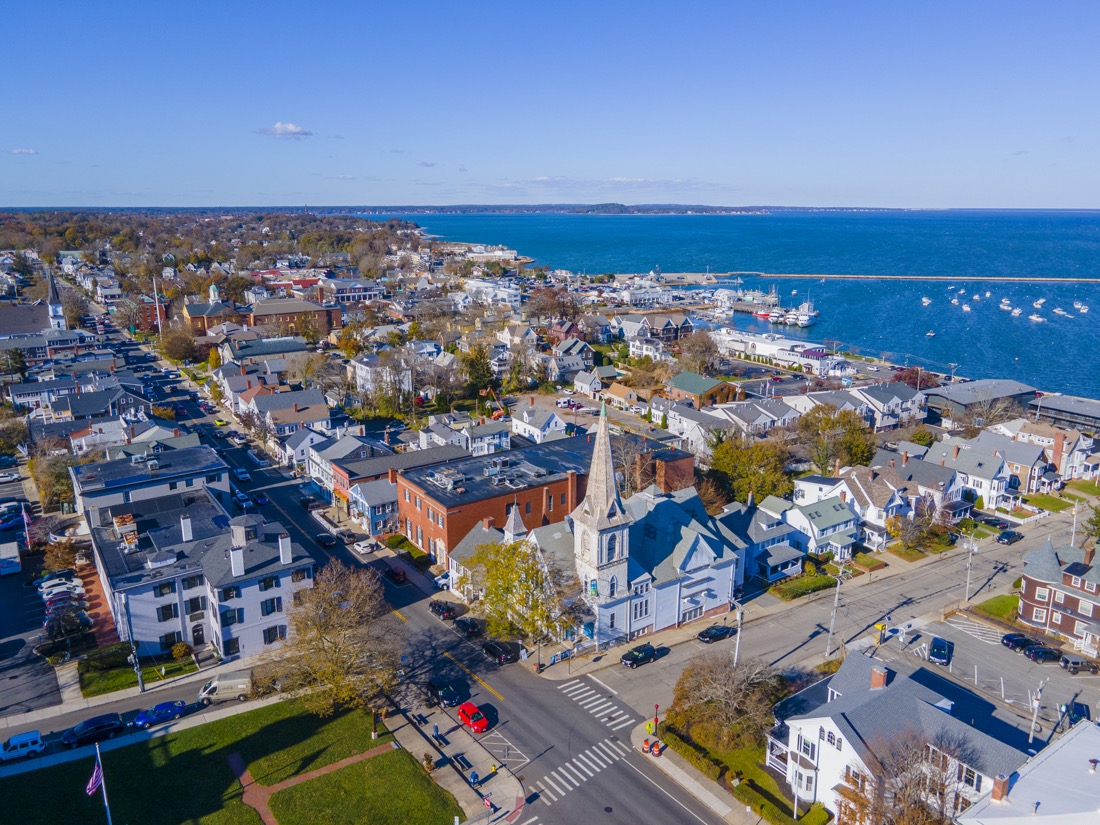 Things to Do in Downtown Plymouth
The benefit of staying in Downtown Plymouth is that you are within walking distance to a majority of Plymouth's main attractions.
First, Pilgrim Memorial State Park sits on the water in the heart of the cultural district.
The park is home to Plymouth Rock, where the Mayflower supposedly landed back in 1620, bringing European settlers to Wampanoag territory.
The Mayflower II, a replica of the ship is a popular attraction in Plymouth Harbor.
In addition to the two main sites at the park, there are a lot of educational signs to read and more to see, so it's a good place to spend time exploring!
Be sure to learn more about the Wampanoag and see the statue of Massasoit atop Cole's Hill National Historic Landmark.
Also by the park is the Mayflower Society House, an 18th-century house that you can tour to learn more about how the Pilgrims lived.
The guided tours run from May to October, so make sure you visit at the right time if you want to visit the Mayflower Society House.
In the center of the cultural district is the Pilgrim Hall Museum, the oldest public museum in the United States, dating back to 1824.
The museum is full of old artifacts and items that the pilgrims had and used in their daily life.
Finally, the Plymouth Jetty encompasses the harbor.
You can walk out on the Jetty and admire Plymouth Bay and the cultural district across the harbor.
If you are wondering where to stay in Plymouth for the best location for all the activities and attractions, then Downtown Plymouth is your best bet.
Check out our full guide to hotels in Plymouth for even more suggestions.
Plymouth Long Beach
Another one of the best places to stay in Plymouth, MA, is along Plymouth Long Beach, just beside Plymouth Center.
If you don't want to be right in the Downtown area or want to prioritize time at the beach over the historical sites, head to Long Beach for a little more peace and quiet.
Pilgrim Sands on Long Beach
Pilgrim Sands (150 Warren Avenue) is your best option for places to stay in Plymouth Long Beach if you want a hotel versus a rental home.
The hotel sits right on the beach with a private area for hotel guests.
If you prefer enjoying the views but avoiding the sea, there is an indoor and an outdoor pool at Pilgrim Sands.
In fact, this is one of our recommended Plymouth hotels with pools, if that's a priority for you.
There are a variety of rooms to choose from that fit two or four people, and some of them have stunning ocean views.
Each room includes a TV, free Wi-Fi, and toiletries.
There is also a restaurant on-site for extra convenience so you can relax here all day long.
The Pool House
If you'd prefer to cook your own meals, then the Pool House (394 Sandwich Street) is a great vacation rental near Plymouth Long Beach.
It's also quite large and fits ten people, with five bedrooms, a full kitchen, an in-ground pool, and a terrace to enjoy.
There is also a large TV, a grill, a large outdoor space, and a basketball hoop so everyone can have some fun!
The home is less than a mile from the beach and only a ten-minute walk from Plimoth Patuxet, so you can learn and lounge on this vacation.
Updated Plymouth Home
The Updated Plymouth Home is another great vacation home not far from Plymouth Long Beach.
The house is perfect for large families or groups, as it has four bedrooms with two people comfortably sleeping in each room.
When you are hanging out at the house, you have everything you need for relaxation and entertainment.
There are multiple TVs, a full kitchen, a large backyard, a grill, two decks, and enough space to park four cars.
And, when it's time to go out and explore, you are less than two miles from the beach, and it's only a few minutes by car to get to all the fun things to do in the Cultural District.
Things to Do in Plymouth Long Beach
The highlight of this area of Plymouth, as the name suggests, is the beach.
Plymouth Long Beach is three miles long, and there is plenty of space for swimming, relaxing, and building sand castles.
Another one of the things to do in Plymouth Long Beach is to visit the Plimoth Patuxet Museums.
The museums are a replica of a Pilgrim village and share what life was like for the settlers and for the local Pokanoket people.
White Horse Beach in Manomet
Another of the most popular places to stay in Plymouth, MA, is in Manomet, just south along the coast from Downtown Plymouth.
In Manomet, White House Beach is the most popular stretch of shoreline.
This is one of the best beaches in Plymouth and it's definitely the place to be for 4th of July celebrations!
The night before, on July 3rd, White Horse Beach hosts a huge party with bonfires and fireworks to kick off the celebrations in "America's Hometown".
There aren't many B&Bs or hotels in this area, so if you want to stay in Manomet and be close to the action, check out these vacation rentals instead.
Presidents Vacation Home
Presidents Vacation Home (60 Presidents Lane) is a sustainable vacation home in the southern part of White Horse Beach.
The house is perfect for a large group, as it has four bedrooms, three bathrooms, and a grill.
And a unique part of this home compared to the others is that this one is close to a hiking area if you want to get outside but not necessarily at the beach.
The beaches are within driving distance, as are the attractions in Plymouth.
You can also walk to a few places to eat or grab a drink, as well as a few different stores for groceries or other basics you might need.
Diamond In The Sand Beach House
Another vacation home near White Horse Beach is Diamond in the Sand Beach (25 Diamond Street).
The home also has four bedrooms, a flat-screen TV, Wi-Fi, a fireplace, a full kitchen, and a terrace.
The home is great for families, and you can even fit two families comfortably.
Or, you can come with a group of adults for a chill, relaxing trip, which the house is perfect for since it's in a quiet neighborhood.
You can easily walk to White Horse Beach from the house, which is perfect for families to avoid the hassle of driving and finding parking.
You can also walk to Manomet Point for beautiful views over the cliffs.
Plymouth Cottage with Deck, Grill, and Ocean Views
The Plymouth Cottage is a great option for staying on White Horse Beach in Plymouth if you need something smaller than the other two.
The home has two bedrooms (one of which has a bunk bed) and one bathroom, so it's the best option for a smaller family.
The house comes with a full kitchen, a grill, outdoor dining items, beach chairs, and direct access to the beach; you'll be just steps away from the sand!
The highlight of the house is the second-story deck that has breathtaking views of the ocean.
Things to Do in Manomet
Of course, one of the things to do in Manomet is to go to White Horse Beach!
You can also enjoy Priscilla Beach, which is really like a continuation of White Horse Beach, so there is plenty of space for enjoying the sand and water.
Some areas along this stretch are rockier than others, so walk a little further down the beach if you don't find the right amount of sand.
And Priscilla Beach Theatre is also in the area, just half a mile from Priscilla Beach.
This barn summer stock theater puts on a variety of shows during its season, which runs from May to October.
Final Words
Did this guide help you figure out where to stay in Plymouth? We hope so!
Let us know your favorite place to stay in the comments below.