This article has links to products and services we love, which we may make commission from.

This guide not only details where to stay in Boston but also suggests which hotels are best for your style of travel whether that be solo, couple, family, budget or luxury.
We've drilled down into what each Boston neighborhood has to offer including history, views, tours, food and outdoor activities.
This travel guide also takes a look at reasons for visiting Boston such as college campus tours, conferences, sports games and the Boston Marathon, and suggests where to stay for those events so all you need to do is book via the buttons below.
You might find our guide to parking in Boston helpful if you're planning to visit with your car.
Getting Around Boston
If you are wondering where to stay in Boston without a car, don't stress.
Boston is an easy city to walk around.
You can get between two of the most popular neighborhoods for tourist attractions, Downtown and Beacon Hill, in 20 minutes by foot.
These areas are also among the best place to stay in Boston for walking
Alternatively, if your Boston accommodation is farther out from Downtown, you can take the MBTA subway or The T, as locals call it.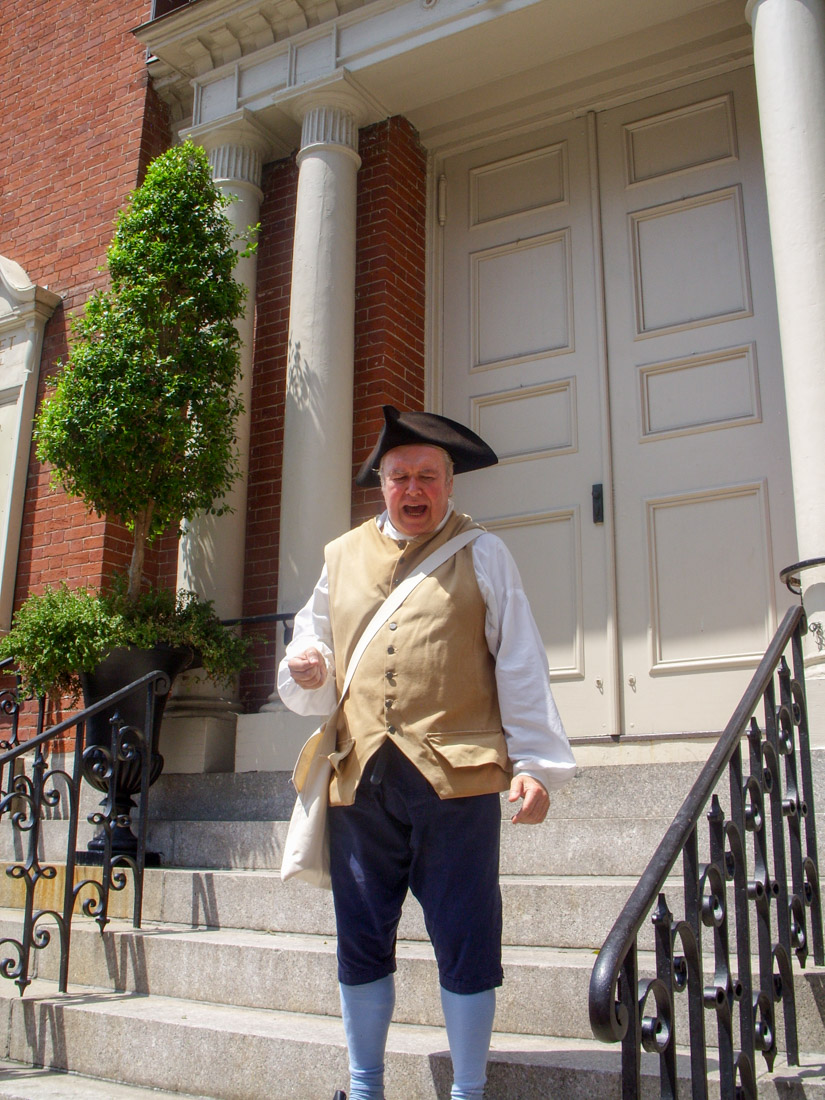 Boston Downtown Hotels
The following are the best Boston hotels for sightseeing as they are close to all bucket list attractions and tour meeting points.
Omni Parker House
Omni Parker House (60 School Street) is a very central hotel located on the famous Freedom Trial.
Rooms are traditional with wooden beds and warm tones for decor.
Room sizes range from 210 to 620 sq ft and include a flatscreen TV, WiFi, AC and a private bathroom.
You can get a taste of iconic Boston food such as wicked good Boston Cream Pie at Parker's Restaurant and order specialty cocktails The Last Hurrah.
There is also also a fitness center at this hotel.
Families love Omni Parker House as kids have access to a bag of games to keep them entertained.
You may also find our guide things to do with kids in Boston useful.
Club Quarters
Club Quarters (161 Devonshire Street) is housed in the Compton Building which appears on the National Register of Historic Places.
Rooms range from 300 to 375 sq ft and feature a TV with cable, WiFi, AC, coffee machines and an en-suite bathroom.
Suites also feature private kitchenettes.
There is an on-site fitness suite and private lounge which guests are free to use for work or leisure.
The Bostonian
The Bostonian (26 North Street) is located in the perfect location; no more than a 10-minute walk to the most popular Boston things to do.
Some rooms overlook Faneuil Hall which is known for its food stalls at Quincy Market.
Room sizes range from 320 to 325 sq ft and include a flatscreen TV, WiFi, AC and a private bathroom.
Dine on lobster or shellfish stew at the North 26 Restaurant.
If you're looking for places to stay in Boston near TD Gardens for an event, consider The Bostonian which is a 15-minute walk away.
This hotel is very close to our next neighborhood, Boston Commons.
Things to do in Downtown Boston
Downtown is one of the best places to stay in Boston for first-time visitors or if you are limited in time but still want to squeeze in sightseeing.
Things to do Downtown include the American Revolution Freedom Trail, which you can do self-guided or as part of a tour.
You can't miss Faneuil Hall Marketplace, definitely set aside at least one meal at Quincy Market where you can try New England chowder.
Appreciate the architecture of the Financial District and City Hall.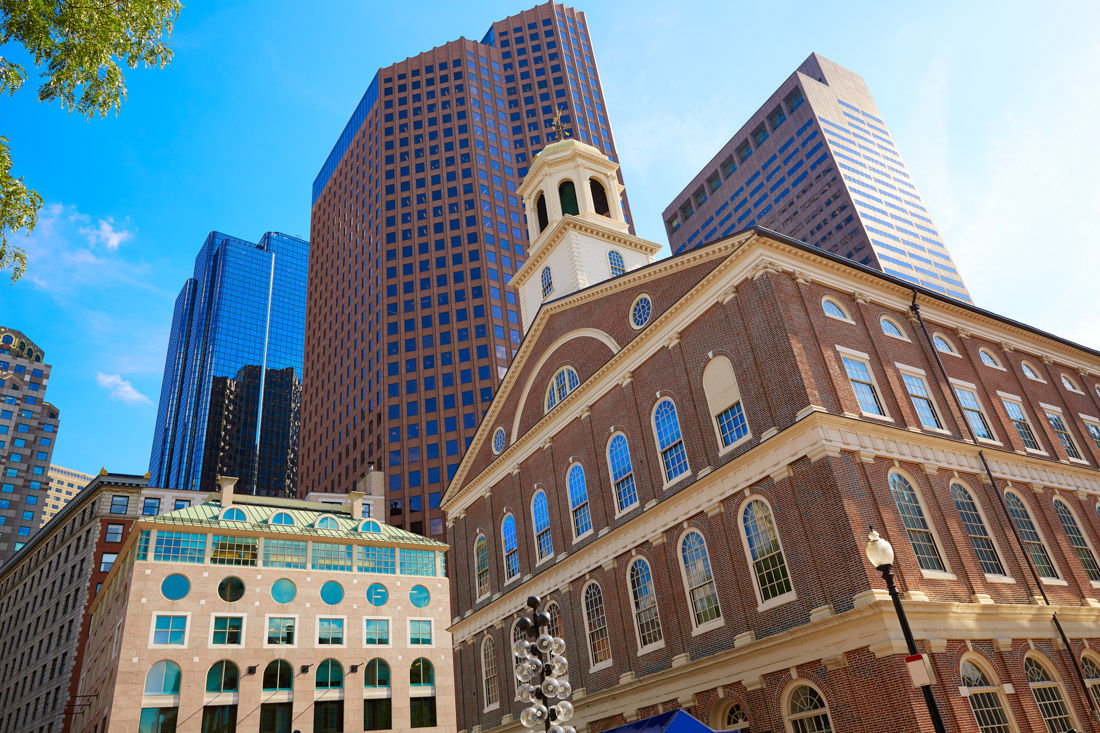 Boston Common Hotels
Do you want to leave the hotel reception and step into the US's first recognized city park?
Four Seasons
Four Seasons (200 Boylston Street) is located at the steps of Boston Common, you can't get any closer to the lush green space than from this five-star hotel!
Guests love that the Freedom Trail is on one side of the Four Seasons and Newbury Street at Back Bay is on the other.
It is sandwiched between old and new Boston and all the things to do around the two areas.
Rooms range from 400 to 900 sq ft and include a flatscreen TV, DVD player, Wi-Fi and AC.
En-suite bathrooms include use of slippers and cozy gowns.
This luxury hotel also has a fitness center, indoor swimming pool and spa.
Bistro Lounge offers breakfast, lunch and dinner.
Wondering where to stay in Boston with family?
Four Seasons hosts culinary classes on select days for little chefs.
Four Season puts on free transport for attractions within 2 miles of the hotel.
Things to do in Boston Common and Public Garden
Boston Commons is known as the US's oldest city park which was established in 1634.
There are a few photo spots around the park such as Make Way For Ducklings bronze statue, the Frog Pond swan Boats, the George Washington statue and Parkman Bandstand.
This park is where locals skate during the winter months.
The Central Burial Grounds, built in 1756, is also located in Boston Commons.
Back Bay Hotels
Here to shop and dine? Back Bay might be just right.
Loews Boston Hotel
Loews Boston (154 Berkeley Street) is a luxury hotel located in a stately limestone building, which used to house the Boston Police Headquarters.
Rooms range from 270 to 700 sq ft and offer 46-inch flatscreen TVs, AC, WiFi, iron facilities and private bathrooms.
Premium rooms have baths.
Order American cuisine at Precinct Kitchen, complimentary Boston Common Coffee at the Apothecary lobby and ice cream at the hotel's Sundry Shop.
If you're wondering where to stay in Boston for a weekend, you can't go wrong with Back Bay, Downtown or Seaport, which we'll discuss below.
Things to do at Back Bay
Exercise the credit card on Newbury Street which features boutique shops and well-known stores such as Nike.
Check out the National Historic Landmark, Trinity Church, at Copley Square which was named "one of the ten most important buildings in America" by the American Institute of Architects.
If you have time you can join a tour to find out more about the Richardsonian Romanesque design, La Farge murals and stained glass windows.
Boston Public Library built by Charles Follen McKim is another popular building in Back Bay.
Most visitors like to wander through the Back Bay streets of Newbury Street, Boylston Street and Commonwealth Avenue, camera in hand.
If you want to learn more about Back Bay, book a spot on this walking tour.
Beacon Hill Hotels
The Liberty
The Liberty (215 Charles Street) is one of the coolest places to stay in Boston.
This unique hotel in Boston is situated in Charles Street Jail, housing some of Boston's most notorious criminals for 120 years!
So if you visit Boston twice you can stay in the police headquarters at Loews Boston then the jail at The Liberty, perfect for those obsessed with true crime podcasts.
The Liberty puts on a weekly tour of the building which discusses its history and ends with a glass of fizz.
The hotel decor is a mix of contemporary decor with a nod to its past.
There are 298 rooms ranging from 350 to 800 sq ft.
Rooms have a flatscreen TV, heating, a desk and an en-suite bathroom.
There's a variety of dining options at The Liberty.
Enjoy seafood at CLINK, dinner at Boston-based Chef Lydia Shire's Scampo, or soak up the New England summer at The Yard, Liberty's outside venue.
The hotel is close to the 22.9 miles Charles River bike path and you can hire bikes through the hotel.
The Liberty is a dog-friendly hotel in Boston.
The Whitney
The Whitney (170 Charles Street) is a boutique hotel in Boston, located in a typical Beacon Hill redbrick building like the ones captured by many local and international photographers.
Room sizes range from 250 to 375 sq ft and amenities include flatscreen TVs, AC and private bathrooms.
Some rooms have floor-to-ceiling windows with views over the city.
Food and drinks are served at the hotel restaurant, Peregrine, and hotel guests have full use of the fitness center.
According to reviews, The Whitney is the best place to stay in Boston for those visiting Massachusetts General Hospital (MGH).
Things to do in Beacon Hill
True to its name, this neighborhood is a hilly area so take that into consideration before booking a hotel in Beacon Hill.
Charles Street splits the flats and hills and has a variety of restaurants, cafes and stores running along it.
Most people head to Beacon hill to see the narrow streets such as Acorn Street and the Federal-style houses at Louisburg Square, as well as the Victorian brick row houses and the Sherlock Holmes-style lights.
Lots of authors and thinkers lived on the slopes of Beacon Hill including New England literary royalty, Nathaniel Hawthorne at 54 Pinckney Street.
Find out more about Hawthorne in our guide to Salem.
Beacon Hill is also where the self-guided Black Heritage Trail takes place.
Massachusetts State House is the grand building with the gold dome top.
If visiting in summer, check out the Hatch Shell events by the River Charles.
Seaport Hotels
Residence Inn Hotels
The Residence Inn (370 Congress Street) has an interesting past as it used to be a warehouse but now it is a super modern hotel in Boston.
Rooms range from 450 to 510 sq ft and include industrial-style decor, large beds, AC, WiFi and private bathrooms.
There's a fully equipped kitchen with a stove, oven and microwave so if you are looking for a hotel in Boston for kids or a longer stay accommodation, the Residence Inn might be the choice for you.
Dogs are welcome too.
Things to do at Seaport District and Fort Port
Fort Point Channel is the waterway that separates South Boston from Downtown.
At Seaport you can find historic warehouses that stored sugar and molasses transferred into galleries, restaurants and The Boston Children's Museum.
It is also where the popular floating Boston Tea Party Ships and Museum is located.
South Boston Hotels
Cambria Hotel (6 W Broadway) can be found at South Boston, or Southie as locals refer to it.
This boutique hotel has a rooftop bar with greenhouses during winter and Six West Restaurant for brunch, lunch and dinner.
Rooms range from 300-320 sq ft and include a flatscreen TV, AC, Wi-Fi, soundproofing and a private bathroom.
Some rooms have city views.
Cambria Hotel is a 20-minute walk from Boston Convention Exhibitors Center.
Things to do in South Boston
Southie has seen an explosion in development recently!
In the past, it has enjoyed strong American-Irish ties.
Southie is where a huge St Paddy's Day parade takes place and Boston was the first to hold it in 1737!
If you are visiting to watch the events, this is one of the best areas in Boston to book accommodation.
Other things to do in Southie include catching some rays at one of the South Boston beaches – Carson Beach, L Street Beach or M Street Beach.
Wander around Fort Independence and check out the Korean War Memorial at Castle Island.
Have a drink at the L Street Tavern (658 E 8th Street) which was used in the movie, Good Will Hunting.
North End Hotels
If are researching where to stay in Boston near the Freedom Trail, North End is home to Paul Revere House and Old North Church.
Battery Wharf Hotel
Battery Wharf Hotel (3 Battery Wharf) is a popular hotel situated at Boston Waterfront in North End.
Guests love this location and the views over Boston Harbor!
Room sizes vary between 380 to 1000 sq ft – one of the largest rooms in Boston.
Amenities include a 42-inch flat screen TV, a Nespresso® coffee machine and an en-suites bathroom.
The Presidential Suite has a balcony.
Hotel features include on-site gym, Exhale Spa and the Battery Wharf Grille with outdoor seating.
This is another option if you are staying in Boston to watch a Bruins and Celtics game at TD Garden
Guests can use the private water taxi to Logan International Airport.
The location and spa make Battery Wharf one of the best places to stay in Boston for couples.
Things to do in North End
Boston's first neighborhood, North End is also known as Little Italy.
Some of the Freedom Trail sites are located in North End including the Paul Revere House built in 1680 and the Old North Church.
There's plenty of pastry and pizzerias to choose from in this neighborhood making it the best neighborhood to stay in Boston if you fantasize about cannoli, like we do!
Hotels Near Fenway Park
The Verb
Visiting Boston to catch a Red Sox baseball game or do a Fenway Park tour?
The Verb (1271 Boylston Street) is a bright and fun hotel just steps away from the iconic stadium.
This modern hotel offers 300 sq ft rooms with flat-screen TVs, coffee machines, record players, AC and WiFi.
Some rooms have city views and there is an outdoor swimming pool for all the family to use.
Arcadian Hotel Brookline
The Arcadian Hotel (1200 Beacon Street) is a classy, contemporary decorated hotel 25-minutes walk from Fenway Park.
Located in the wealthy suburb of Brookline, this hotel offers rooms ranging from 221 – 228 sq ft which include flatscreen TVs, WiFi, desks and private rooms.
Hotels Near Harvard University in Cambridge
A Friendly Inn at Harvard
If you are visiting Boston to attend an event at Harvard or to tour the college grounds, A Friendly Inn at Harvard (1673 Cambridge Street) is an affordable accommodation.
Rooms include flatscreen TVs, WiFi, AC and private bathrooms.
From here you can catch The T to other tourist attractions.
This is one of the cheap places to stay in Boston if you don't mind traveling into Downtown.
The Charles Hotel
If you prefer a hotel, The Charles Hotel (1 Bennett St, Cambridge) is situated at Harvard Square.
Rooms range from 270 to 475 sq ft and feature 55-inch flatscreen TVs, Bose radios, AC and private bathrooms.
Enjoy a drink at Noir, farm-to-table food at Henrietta's Table, and jazz at the hotel's Regattabar.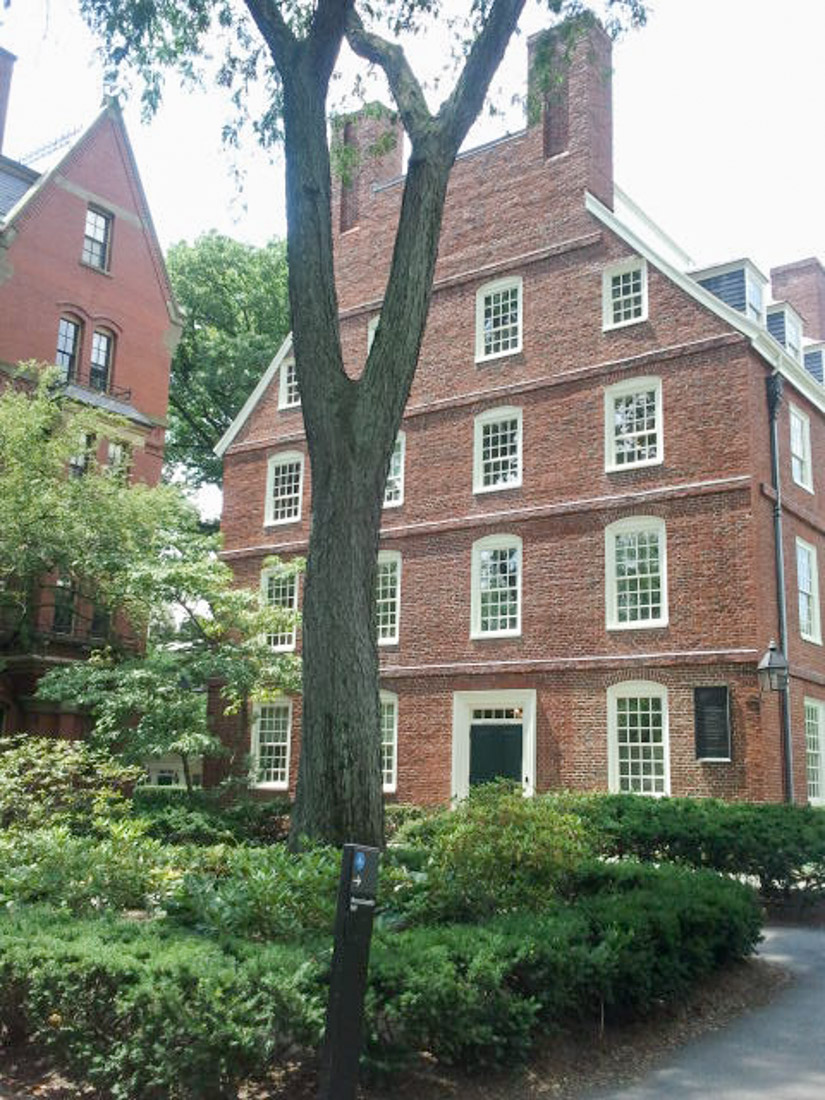 Hotels Near MIT
Checking out if Massachusetts Institute of Technology (MIT) is the right college for you or attending a conference?
The following accommodation may be the best option for your stay.
The Windsor Inn
The Windsor Inn (85-87 Windsor Street, Central Square) has seven suites with cable TV, WIFi, AC and a private bathroom.
There is also a common area and a fully-stocked kitchen, coffee/tea station, laundry room, and outdoor patio/sitting area.
Parking is included in the nightly rate.
Le Méridien Boston Cambridge
Le Méridien (20 Sidney St, Cambridge) is an upmarket hotel located at University Park at MIT.
Rooms start at 300 sq ft to 529 sq ft and feature TV, AC and WiFi.
There is also a fitness center on the premises.
The hotel restaurant, Amuse, offers French cuisine such as onion soup, lobster bouillabaisse, and steak frites.
Le Méridien is close to Central Square Subway Station.
Logan Airport Hotels in Boston
If you are looking to stay at Logan Airport to catch an early flight out or for a quick layover, there is one option that doesn't require using The T.
Hilton Boston Logan Airport
Hilton Boston Logan Airport (One Hotel Drive) is the only Boston hotel directly connected to Terminals A & E.
There is also a free 24-hour shuttle that goes to all terminals, the subway, water taxi and car rentals.
Rooms have flatscreen TVs, WiFi, sound proofing and private bathrooms.
There is a 24-hour fitness center on-site and a handful of dining options – Connolly's Publik House, Berkshires, Starbucks and Café Presto.
A convenient choice making it the best hotel in Boston for Logan Airport.
Hotel Embassy Suites Boston at Logan Airport
Hotel Embassy Suites Boston at Logan Airport (207 Porter Street) is located 2.5 miles from Logan Airport.
There is a free shuttle taking guests from the hotel to the airport and to the closest subway station.
375 sq ft suites include flat-screen TVs, WiFi and private bathrooms.
A complimentary grab-and-go breakfast is included in the hotel price.
A fitness center, indoor pool and hot tub are also available.
Where to Stay for Boston Marathon?
If you are planning to visit Boston for the marathon as a runner or a spectator, consider the following hotels.
Note: some hotels will request a minimum stay.
The Boston Marathon route starts in Hopkinton, 30 miles west of Boston but you don't need to stay there as official B.A.A. buses start collecting runners from 7:15 a.m on Charles Street between the Public Garden and Boston Common.
This is also close to the finish line at 678-652 Boylston Street.
Hotels Near Charles Street for Bus Pick Up
Four Seasons as discussed above.
The Ritz-Carlton (10 Avery Street) located in Theater District, is 0.3 miles from the bus pick-up location.
HI Boston Hostel (19 Stuart Street) is an option if you are on a budget, just be cautious of getting a good night's sleep if you are running.
Evonify Stays (64 Boylston Street) are basic apartments with private bathrooms and fully equipped kitchens.
Hotels Near Boston Marathon Finish Line
Fairmont Copley Plaza (138 Saint James Avenue), built in 1912, is a five-star Back Bay hotel.
Oasis Guest House (22 Edgerly Road) is a 12-minute walk from the finish line offering quiet rooms with TVs, WiFi, AC and private bathrooms.
Our Boston Guides