This article has links to products and services we love, which we may make commission from.

The best weekend getaways from Boston in winter offer a more idyllic version of the colder climes. Just think of romantic weekends spent cuddled up in rustic cabins or fabulous weekend getaways with your friends for skiing (or just drinks).
If you live in New England, you probably have feelings about winter.
Love it or hate it, you have to live with it!
Escaping the city means enjoying picturesque landscapes draped in snow blankets rather than trudging through the sloshy grey leftovers from yet another storm.
Hit the slopes, enjoy winter festivals, or just explore some fascinating small towns in New England to shake up your winter weekends.
And to make the most of the season once you're back home, tick these fun winter things off your Boston bucket list.
You also might like our recommended things to do in MA in winter for more seasonal fun!
Tips for Winter Weekend Getaways in New England
If you're not a local but looking to add a weekend getaway from Boston during your visit to the city, there are a few things you should keep in mind.
First and foremost: public transportation is not excellent around Boston. In fact, it hardly exists.
So you'll most likely want a car to get wherever you're going. That's not a huge deal, except that winter is a dodgy time to drive if you're unfamiliar with ice and snow.
If you feel comfortable getting behind the wheel regardless of the weather, then rent a car for the weekend.
Just make sure you have at least the standard emergency equipment for winter (ice scraper, shovel, blankets, and de-icer).
If you're taking a weekend trip from Boston to one of the region's other city hubs, you could take a look at Amtrak options.
The train from Boston to Portland, Maine, for example, is a lovely scenic route!
Finally, note the holidays will typically cause prices to rise. Winter holidays include:
All the December holidays
New Year's Eve + Day
A long weekend in January (Martin Luther King, Jr Day)
A long weekend in February (Presidents' Day)
Schools typically close for a week in February around Presidents' Day, so this can be a more expensive time to travel.
It's a common family vacation break for ski holidays, too, so you'll want to book early if you plan to hit the slopes that week!
You may also like our guide things to do in Boston at night.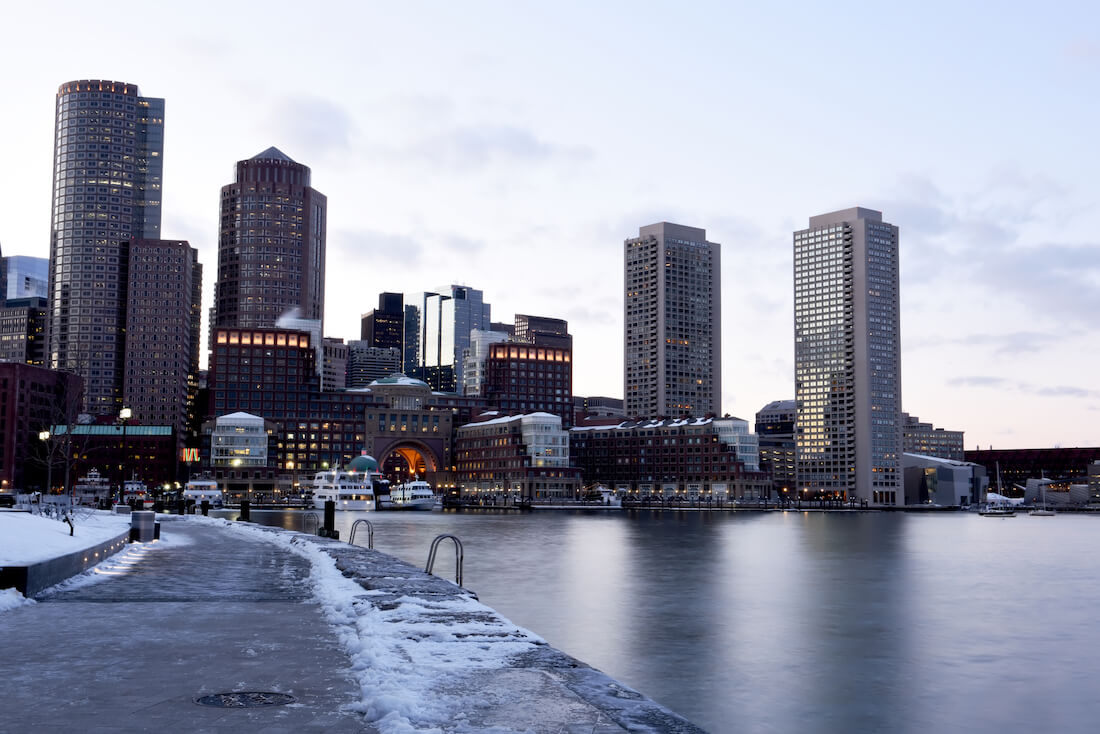 Weekend Getaways from Boston in Winter
There is an abundance to choose from if you're super into all things snow and ice.
Think skiing — both the downhill and cross-country varieties.
Or maybe think of other winter favorites like snowboarding, sledding, and ice skating.
One winter, I even played with bumper cars on ice in Providence!
If you're not into cold-weather activities (I'm 100% with you), getting out of the city can still rejuvenate you.
Check out some of New England's smaller cities and quaint small towns.
Enjoy local, independent shops and cafes.
Winter is a great time to explore more locally, saving up those precious vacation days for better weather adventures!
Whatever winter adventures you love, they're all just a short drive from Boston for a perfect weekend getaway.
Top Skiing Spots Near Boston
If you're ready to hit the trails, there are many places to ski near Boston.
Several are within just about an hour's drive of the city, so you could definitely do it on a day trip.
But if you want a weekend getaway from Boston in winter, what better way than to shack up at a ski resort for fireplaces and drinks?
With varying degrees of difficulty and available amenities, these are the top skiing spots near Boston for a weekend getaway.
Want to explore even farther afield?
Check out all the best skiing in New England.
Loon Mountain, NH
Loon Mountain has been serving dependable snow just two hours drive from Boston since the 1960s.
Winter activities include skiing, cross country, tubing, sno-go bikes and gondola rides.
Keep up to date with the weather and visibility at the official website, where you can download the Loon app.
Waterville Valley, NH
Waterville Valley is another popular New Hampshire resort for winter sports and snowy retreats.
Staff proudly groom the mountain daily unless there is a good dump of snow.
On those days, they fully groom the green and half groom the blue for a more challenging session.
The Black Diamond run is always left wild.
Waterville is two hours from Boston and offers free shuttle buses from their parking lot or premium ski in/out parking experiences.
You might also like our guide to winter fun in New Hampshire for more ideas!
Attitash, NH
A little farther away at 2 hours, 45 minutes drive is Attitash Mountain Resort in Bartlett.
Nestled in the heart of the White Mountains, close to North Conway Village, Attitash is a family-friendly ski resort.
Check out all these fun winter things to do in North Conway for your trip.
Killington, VT
Just under 3 hours' drive from Boston is Vermont's Killington.
Known for its location in the Green Mountains, Killington boasts 'more days of lift-served skiing and riding than anywhere else in New England.'
Check out the webcams here.
Jay Peak, VT
Jay Peak, VT is 3 hour and 30 minutes drive from Boston and is located at the US-Canada border.
Crowned as the mountain with the 'the most snow in eastern North America', visitors can enjoy 81 trails.
Sugarbush, VT
3-4 hours drive from Boston is Sugarbush Resort.
Located in the Mad River Valley of Vermont, Sugarbush's slogan says it all 'come for the mountains, stay for the community.'
With a packed social calendar including live music, fireworks and sunset mountain rides, visitors do more than just ski here.
Be sure to try the von Trapp Farmstead artisan cheese, American Flatbread, and Lawson's Finest Liquids craft brewery when in town.
Stowe, VT
Stowe is Vermont's most popular ski resort and is known as the ski capital of the east.
It has two peaks, Mt Mansfield and Spruce; the latter is the easiest and aimed at beginners.
Jake Burton Carpenter, one of the pioneers of snowboarding and founder of Burton Snowboards, resided in Stowe.
There is a trail named after him, Jake's Ride, on Mount Mansfield.
There are plenty of things to do in and around Stowe, including ice-skating, waterfalls, brewery tours and cider!
Oh and the Trapp Family Lodge and Bier hall!
To get to Stowe from Boston, plan for 2 hour and 15-minute drive.
Sunday River, ME
'Your happy place', Sunday River Resort in Newry, Maine, is the state's largest and most popular.
Visitors have 125 trails to choose from, with the longest, the Lollapalooza, at 3 miles / 4.8 km.
Sunday River is a little farther away from Boston at a 3- to 4-hour drive, so get an early start!
Shawnee Peak, ME
Shawnee Peak offers 40 trails, seven glades, three terrain parks, and snowmaking on 98% of the terrain.
Not only do skiers hit the slopes during the day at Maine's longest-operating ski resort, but the resort also encourages night skiing.
From Boston to the resort is a 2.5- to 3-hour drive.
Wachusett, MA
Wachusett has 27 trails, and its summit hits 2006ft (red and black trails) with a vertical drop measuring 1000ft.
Follow the snow reports on the official website.
Boston is just over one hour drive, making it an option for those who want to ski but don't really like winter driving.
Ski Butternut, MA
Located on Warner Mountain in the beautiful Berkshires, Ski Butternut, this Mass ski resort has 22 trails and 10 lifts.
Its 100 skiable acres include 20% green trails for beginners and 20% for advanced skiers.
Ski Butternut is 2-2.5 hours drive from Boston.
Check out our guide to hotels in the Berkshires for cozy options.
Special Events for Weekend Getaways from Boston in Winter
Newport, RI, for Christmas at the Mansions
Head to Newport around the holidays in December to see all the mansions decked out.
There are often carolers or other live performances of festive shows, so plan your weekend getaway accordingly!
Check out our guide to Christmas in Newport for all the details.
In February, Newport hosts the annual Newport Winter Festival, which they call New England's largest winter extravaganza!
Kennebunkport, ME, for Valentines
Visit for the December events included in Christmas Prelude, or wait until February to Paint the Town Red.
Kennebunkport really leans into the romance around Valentine's Day, so you can expect lots of couple's activities, champagne, and oysters galore.
Portsmouth, NH for Festive Events
Portsmouth is perfect for a classic New England winter weekend getaway.
Check out its Vintage Christmas events in December.
Portsmouth also features in our East Coast trip itinerary.
Woodstock, VT for Snow Sculptures
The Woodstock Snow Sculpture Festival, held around Presidents' Day Weekend every February, is definitely worth a visit!
Just note that it's weather-dependent and could get canceled. #WinterWoes
New Castle, NH for Wine this Winter
I have three words for you: Winter Wine Festival.
Beat the winter blues with some deep, luscious reds and effervescent whites.
It's held annually between January and February at Wentworth by the Sea.
The Boston Wine Festival takes place from January to March annually, but why not enjoy a weekend getaway from Boston for this one instead?!
Small Towns & Cities for Weekend Getaways from Boston
New England is filled with small towns built up around that classic concept of Main Street.
Church steeples rising above the rooftops can be spotted from miles away as roads twist and turn along the landscape.
There are also plenty of smaller cities that offer lots of amenities without the highrises (and resulting wind tunnels in January…brrr).
Take a weekend away from Boston for some of these iconic small-town vibes and smaller city explorations.
Check out these recommendations:
Stowe, VT
Woodstock, VT
Burlington, VT
Stockbridge, MA
Northampton, MA
Plymouth, MA
York, ME
Kennebunkport, ME
Portland, ME
Providence, RI
Hartford, CT
Heading Farther Afield for a Winter Weekend Trip
Want to really get away from it all? Hide out in a cabin in the mountains, try to blend in as an off-season tourist, or just flee the country altogether!
Escape the urban hustle for a complete reprieve in any of these locales:
The Catskills, NY – As featured in The Marvellous Mrs. Maisel 
Adirondacks, MA
Or, my personal favorite…
Head to Acadia National Park and Bar Harbor, Maine
This area is simply stunning no matter the time of year.
Try cross-country skiing or just enjoy the quiet of off-season travel to an otherwise busy tourist destination!
Learn more about Acadia and our other favorite National Parks on the East Coast.
And check out our full guide to Maine in winter for tons more ideas.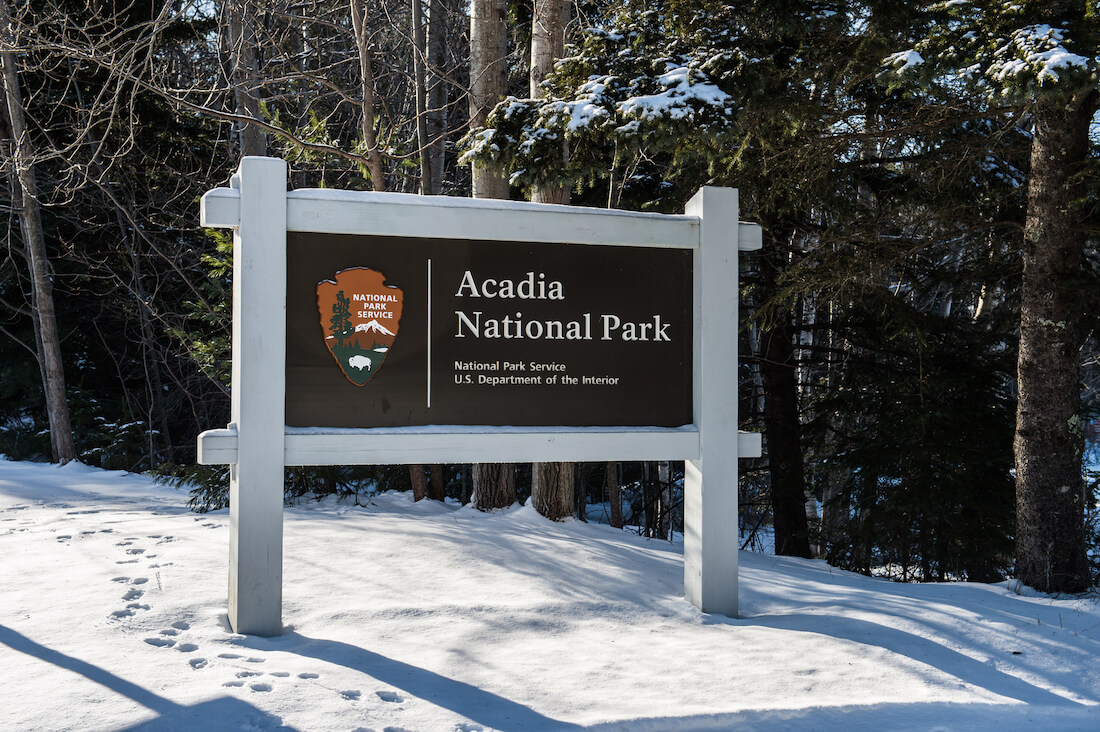 Weekend Getaway to Canada
Want an international escape?
The joy of living so close to the Canadian border means you can actually do a long weekend getaway from Boston.
I do recommend a 3-day weekend for two reasons:
Longer drives deserve longer stays
Canada doesn't celebrate the same holidays so you can maximize your day off without paying holiday weekend prices! (This actually only applies to January, since Family Day in Canada overlaps with Presidents' Day in the USA.)
Head to Montreal or Quebec to enjoy a different city vibe. In winter, there's some sort of magic to the enchanting Old Quebec cobblestone streets.
Drive there in about 6 hours, or take a quick flight if you'd prefer to avoid the winter roads.
Do you have favorite weekend getaways from Boston in winter that I missed? Tell me in the comments!
Our Boston Guides