This article has links to products and services we love, which we may make commission from.

Are you planning a trip to Vermont in fall to chase the foliage, pick a pumpkin, and drink cider? This New England state is a lovely destination all year round but is especially dreamy towards the end of September to mid/late October.
With lakes, mountains, covered bridges, scenic cities, and cute little towns, you can easily spend a long weekend or extended vacation in The Green Mountain State.
Plus, its proximately to New Hampshire and Maine help make up the perfect New England road trip route.
So get ready to pack your sweater and your Bernie mittens, as we find out more about autumn in Vermont.
Plan for temperature ranging between 44F and 68F, September to November.
You may also like our free Vermont fall road trip itinerary.
Vermont in the Fall Destinations & Attractions
We start our guide on things to do in Vermont in fall at one of the most popular locations, Stowe.
Stowe is known as home to Mount Mansfield, the Auto Toll Road, hiking trails, and the best ski on the East Coast.
Before the snow sets in, you will see an explosion of reds, oranges, and yellows and some of the best Vermont fall foliage.
Want to deep-dive into the area? Check out our guide specifically for Stowe in the fall.
Stowe, VT Fall
Stowe Recreation Path
The 5.3-mile paved Stowe Recreation Path is free, public, and begins in the historic Stowe Village.
Scenic views, gentle slopes, and sprawling fields and gardens make this path one of the most beautiful places to visit in Vermont in fall.
There are four access points Lintilhac Park behind the Stowe Community Church on Main Street, Chase Park, across from Stony Brook Condominiums on Luce Hill Road, Thompson Park, just off Route 108 across from the Percy Farm Corn Maze, and Topnotch Access, off Brook Road, past Topnotch Resort also on Route 108.
Walkers, joggers, and cyclist use this path to get between towns.
Pups are allowed but must be leashed.
Percy Farm Corn Maze
Percy Farm Corn Maze (2919 Mountain Rd) mows a unique maze into their Bouchard Farm corn field, creating a wild maze among nature for kids to conquer.
The challenge takes 30 minutes to an hour to complete and there are restrooms on-site.
A fun family-friendly thing to do Vermont in fall.
Stowe Cider
While there aren't any apple orchards in the town of Stowe, you can still get your apple fill at Stowe Cider (17 Town Farm Ln).
Enjoy unique brews and constantly rotating flavors, you'll love the cool cider on a crisp fall afternoon in fall!
Gondola Skyride at Stowe Mountain Resort
Amazing views are waiting for you at the top of Stowe Mountain Resort (7416 Mountain Rd), and all you need is a gondola ride to take you there!
Mount Mansfield is Vermont's tallest peak at 4,395 feet above sea level; from the gondola you can get off of the lift and take in the bird's eye view from the platform.
Imagine sailing through the sky among these fall tones. It's love.
Burlington, Vermont in Fall
Centennial Woods Natural Area
There's so much leaf peeping to do throughout Vermont, but if you're hoping to stay in Burlington, take a fall hike through the Centennial Woods.
Follow the main 2.5-mile trail that starts across from 280 East Ave or at Grove St and Bayberry Cir.
Check out the subtle changing leaves of the oaks and maples, wander under pines or cross streams over man-made wooden bridges.
Burlington Greenway
The Burlington Greenway is best for those who love to explore their travel destination on foot.
With more than 8 miles of paved path, you can travel from Oakledge Park to the Winooski River by foot or by bike.
Explore Lake Champlain, and admire the beauty of the fall foliage in this natural area.
Make sure you check out this full list of things in our guide to Burlington year-round!
South End Art Hop
Every year in early September, the artists and art studios in the art center of Burlington open their doors and welcome locals and travelers alike for the South End Art Hop (Pine St).
The Art Hop is a true weekend-long celebration of the South End Arts District, and it has been going for almost 30 years!
Check out the art collective at The Soda Plant (266 Pine St), the post-industrial Flynndog Gallery (208 Flynn Ave), and the music venue at ArtsRiot (400 Pine St) to gain the full experience of the Hop.
Burlington Beer Tour
Burlington was one of the first cities in the US to brew craft beer so now there are heaps of taprooms waiting for you to taste their seasonal fall pours.
This 3-hour craft beer tour is an all-inclusive tour featuring fifteen local beer stops, artisan pizza, and a comfortable ride so you can avoid any New England drizzle.
See a Scary Movie
Burlington has a number of movie theaters to catch a vintage horror film or the latest thriller.
Check out Ciné Starz BurlingtonCiné-Starz (460 Brant St #3) for a classic cinema or SilverCity Burlington for a more modern complex (1250 Brant St).
Check out our guide to Burlington in the fall for more ideas on what to do during your visit.
Woodstock Vermont Fall
Explore Woodstock Village
Central and Elm Streets are bustling with local businesses, art galleries, cafes, and much more.
There are bookshops, toy shops, flannel stores, and amazing restaurants to visit, just by walking around downtown Woodstock.
Plus, with the beautiful Vermont foliage all around you, it's the perfect way to spend a day in Vermont in fall.
Sugarbush Farm
Woodstock is one of the best towns to visit in Vermont in October, and for good reason.
There are so many things to do in the town, but the most special experience might be visiting Sugarbush Farm (591 Sugarbush Farm Rd).
Sample fresh cheese, pure maple syrup, and delicious locally-made jams, spreads, and meats.
Middle Covered Bridge
What is a fall trip to Vermont without a covered bridge sighting?
The Middle Covered Bridge (Mountain Ave) in Vermont is one of the most photographed bridges in Woodstock.
It is 139 feet long and its old wooden structure looks magnificent against bright fall foliage.
Make sure you stop by this traditionally-constructed covered bridge and take a photo!
If you like the sound of a self-guided covered bridges tour, here's our guide to VT's best bridges.
Montpelier, Vermont Fall
North Branch Nature Center
For some of the best fall foliage in Vermont, make sure you stop by the North Branch Nature Center (713 Elm St).
Their trails are open 24/7 and are visited by more than 10,000 people every year.
Just two miles from downtown Montpelier, the NBNC is a perfect place to quietly roam through the woods and enjoy the Vermont autumn leaves.
Taste of Montpelier Food Festival
Every year in the month of September, the Hunger Mountain Co-op presents the Taste of Montpelier Food Festival.
From farmers markets to food trucks and a cocktail garden, the Montpelier Food Festival is an iconic activity and one of the best things to do in Vermont in fall.
Explore Downtown Montpelier
The historic downtown Montpelier features local dining, unique shops and cafes, and a peaceful natural-urban interface that is so special about Vermont towns.
The Montpelier State House (115 State St) is a regal building with a gorgeous shining gold dome.
Surrounded by lush trees turning red, orange, and yellow in the fall, the State House makes for a perfect fall picture in Vermont.
Fall Creemee
No trip to Vermont would be complete with a creemee.
Dairy Creme (320 State St) has been serving the state's soft serve ice cream since the 90s.
Maple Syrup Tap
Another fall food staple in Vermont is maple syrup and Bragg Farm (1005 VT-14 N) has been making this sweet liquid for eight generations.
While spring is the main maple syrup season, you can still treat yourself the good stuff all year round at the farm shop.
Killington Vermont Fall Foliage
South Kent Pond via Appalachian Trail
This is a simple out-and-back 1.3-mile hike is perfect for leaf peeping.
Some of the best times to visit the trail are in the early fall, right when the leaves start changing.
The lake access and mountain views make this a fun and simple trail to enjoy the fall foliage in a more casual setting.
Scenic Gondola Rides
Enjoy one of the tallest mountain peaks in the state of Vermont through the windows of a scenic gondola ride.
This mile-long, 4,241-foot climb up to the top of Killington Peak is a breathtaking journey that will make some of the best pictures of Vermont in the fall.
Killington Mountain Resort (4763 Killington Rd) is a great option when you're deciding where to go in Vermont in the fall.
You can grab some scenic gondola ride tickets on the Killington Mountain Resort website.
Green Mountain Byway Vermont Fall Foliage
Green Mountain Byway
An ideal way to see the best fall colors in Vermont is to take a road trip along the winding highways and byways.
The Green Mountain Byway is one of the best Vermont attractions in fall because you can take in all the best of the fall foliage along Route 100 in Waterbury to Stowe without having to hike for miles.
Plus, you can travel through incredible Vermont towns and points of interest such as Vermont's Northern Green Mountains, Mount Mansfield, the Smugglers' Notch mountain pass on your travels!
Note: Reservations at all restaurants are recommended.
Picnic Along the Way
There are three perfect picnic spots in Stowe and Waterbury, the two towns the Byway travels through.
Stop at Hyde Park, Hope Davey Park in Waterbury Center, or Oxbow Park in Morrisville to get out of the car, stretch, and enjoy a packed lunch.
These three parks are some of the best places to visit in Vermont in the fall.
Rutland VT Fall Foliage
Pittsford Trail Network
While Rutland is a beautiful and quaint town, in order to get some elevation into the mountains for peak leaf peeping, you'll have to head to Pittsford, just a 15 minute drive away.
Within Pittsford is the Pittsford Trail Network, a free-to-the-public natural area with 6 trail networks and loops.
Take the High Meadows Trail (1.9 miles, mostly flat) for some of the best fall foliage in Vermont–you'll get views from the Taconics and the Adirondack Mountains!
Pine Hill Park
While Rutland is nestled among the Green Mountains, the best park to go leaf peeping in town is from ground-level.
Pine Hill Park (2 Oak St Ext) is a hill with some elevation gain and a bit of opportunity to hike up into the hills to see the best fall foliage.
Otherwise, if you've got little ones in tow, the lower Georgetti Loop is family favorite and perfect for everyone.
Manchester, VT Fall Foliage
Manchester Farmers Market
One of the best ways to enjoy the wall weather and Manchester VT fall foliage is to stop by the Manchester Farmers Market in Adams Park (School St and Bonnet St).
Every Thursday through October, visit the Farmers Market and stock up on all the best fall root veggies.
With farmers, artisans, and food makers sprawled out across the park and music playing for all to hear, you're able to enjoy the best foliage in town while enjoying the spoils of the market.
Manchester Riverwalk
If you'd rather spend more time downtown, you can still get a glimpse of some of the best fall foliage in the area by walking the Manchester Riverwalk (Main St and Center Hill Rd).
You get to be immersed in nature and away from cars, but you're still steps away from shops and restaurants.
The trail skirts the Factory Point Green and serves as a peaceful and brisk stroll in the bustling downtown of Manchester.
For more ideas, follow our Vermont bucket list.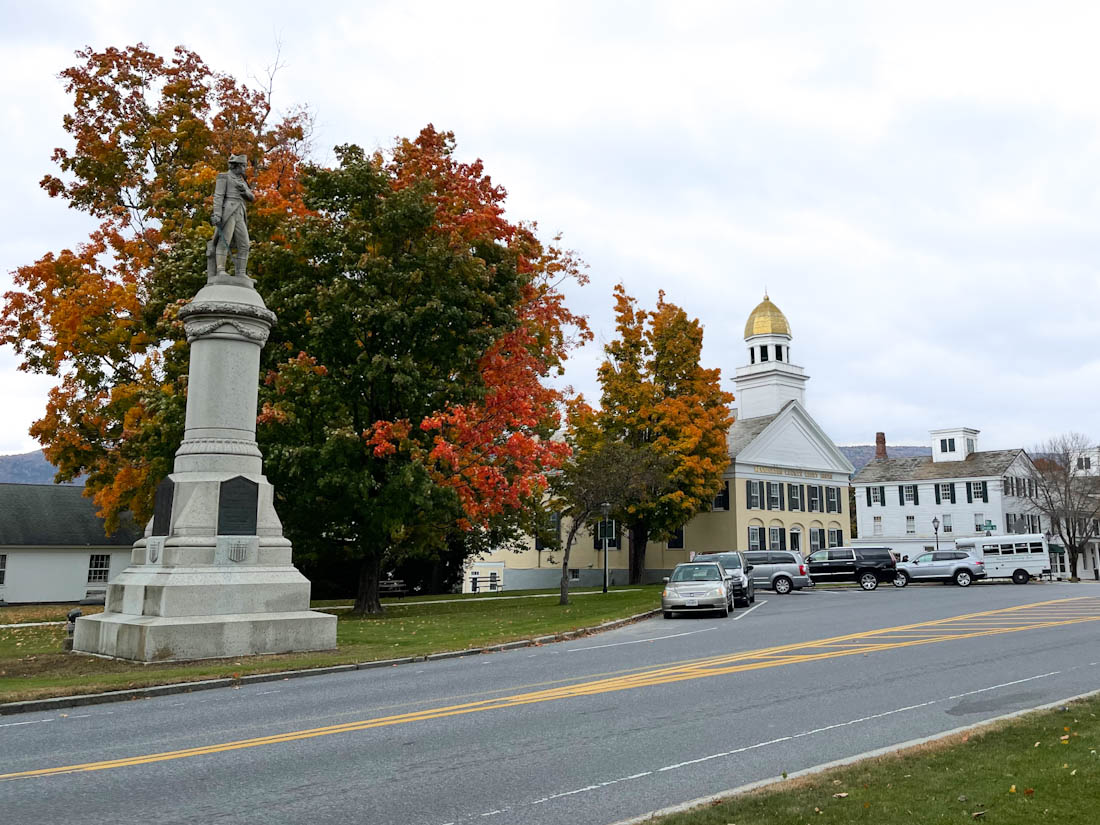 Best Places to Stay in Vermont in Fall
Staying anywhere in Vermont during the fall will be well-worth the trip, but these three accommodations top the rest.
You may also like our guide to lakefront rentals in Vermont.
Craftsbury Farmhouse, Craftsbury
This tent at the Craftsbury Farmhouse (1037 S Craftsbury Rd) in the midst of a functioning farm is the perfect getaway.
With 5-star service, amazing garden views, and a private hot tub, there is no better way to enjoy the outdoors in autumn in Vermont.
Country Farmhouse, East Montpelier
We wrote about a few fun things to do in Montpelier in the fall, but if you'd like to stay in the city for more than a day, you have to stay at the Country Farmhouse (Kelton Rd).
This apartment with a mountain view features two bedrooms with enough space to sleep 4.
The mountain is gorgeous in the fall, displaying all the best Vermont Fall Foliage.
Woodstock Inn & Resort
You've explored Woodstock, VT in the fall, but are you ready for the accommodation perfect for the autumn spirit?
The Woodstock Inn & Resort (Fourteen The Green) features a full spa, continental breakfast in the Main Dining Room, and a quaint library.
This historic building will make your fall in Vermont dreams become a reality.
You may also like our guide – where to stay in Vermont for fall foliage.
Vermont Fall Foliage Map
While there is no guarantee when it comes to fall foliage you can check out this New England fall map which details when the colors start and hit peak, then past peak.