This article has links to products and services we love, which we may make commission from.

This Vermont fall road trip itinerary covers five days of leaf peeping, nature walks, covered bridges, and creemee eating!
In the first three days, you'll visit the must-see places and stops to experience in Vermont in autumn.
Then, if you have another day or two, you can add on days four and five for a very robust Vermont fall getaway.
Fall temperatures vary between highs of 68F in September to lows of 30F in November so pack accordingly.
Note: Fall in Vermont and wider New England is a popular time, so be sure to book accommodation and restaurants in advance.
This New Hampshire road trip planner is meant to help give you suggestions, feel free to adjust it depending on time and interests.
We've provided a rough estimate of miles per day but it really depends on how many detours you take while getting whisked up in all the glorious fall activity during this Vermont road trip itinerary!
You may also find our guide to Vermont fall accommodation, lakeside rentals, and our extensive Vermont in fall useful.
Would like to see more than just Vermont but not sure if it is possible? Check out our one week fall road trip itinerary.
Day 1 – Burlington & Stowe (Approx. 80 miles)
You'll start day one of this Vermont fall road trip itinerary in Burlington, VT, before heading to Stowe, with a stop in Waterbury along the way.
Want to add more time in this area?
Here's our full guide to fall fun in Stowe.
Morning: Downtown Burlington & Shelburne Orchards
First up is downtown Burlington where you can shop and get breakfast or lunch before hitting the road.
The Skinny Pancake (60 Lake St) is a waterside restaurant open for breakfast, lunch, and dinner, and their food is made with fresh ingredients from local farms.
Or, you can find plenty of top-rated and farm-to-table restaurants downtown by Church and College Streets.
Look out for Lake Champlain and the Adirondack Mountains to the west and the Green Mountains to the east.
Read our guide fall things to do in Burlington for more.
Then, head south to Shelburne Orchards (216 Orchard Rd, Shelburne), where you can pick fresh apples and peaches.
They are open in September and October, and if you love fall fruits, it is a great place to grab some healthy snacks for your trip.
Afternoon: Waterbury Village Historic District
This is one of the best road trips in Vermont because you will see a lot, even between your pitstops, like the Waterbury Village Historic District.
Waterbury is 30 miles east of Burlington, and you have a few options for what you can do here, depending on your interests and weather.
For some nature and fall colors, visit Camel's Hump State Park.
The state park is free to enter, and the challenging Monroe Trail has three viewing spots.
It takes around four and a half hours to complete so consider this during your road trip planning if you want to hike it.
Or, you can visit the famous Ben & Jerry's Factory (1281 Waterbury-Stowe Rd Route 100) and try some of their fall flavors like Pumpkin Cheesecake and Salted Caramel.
If you want to tour the factory, plan ahead and buy tickets, as walk-ins are limited and are not guaranteed every day.
Evening: Stowe
From Waterbury, you have a short drive to Stowe, where you will end the day.
Depending on when you arrive, you can visit Gold Brook Covered Bridge (Emily's Bridge), which is surrounded by colorful trees in the fall and it said to be haunted.
Check out our guide to Vermont's covered bridges too.
Or, just grab dinner at one of the local restaurants and drinks at The Alchemist Brewery or von Trapp Brewery & Bierhall.
Other Tips/Detour Options
You may recognize Stowe Community Church (137 Main St) from fall VT photos on social media, it pops against the orange hues so get your camera primed.
If you want to pick up some of the state's famous maple syrup take a detour to Nebraska Knoll Sugar Farm (256 Falls Brook Ln).
Day 2 – Mount Mansfield & Montpelier (Approx. 65 miles)
In the morning, you'll be staying in Stowe and exploring Mount Mansfield, where some of the best fall foliage in Vermont is, before heading to the state capital.
Morning: Mount Mansfield, The Highest Peak in VT
Mount Mansfield is beautiful in the fall, especially if you visit during peak foliage.
If visiting before mid-October, you can continue your road trip up the mountain following the seasonal 4.5 miles Auto Toll Road, sometimes referred to as the Stowe Scenic Auto Road.
Pack some snacks so you can enjoy elevenses at 3,850 feet with views of Lake Champlain and the Adirondack Mountains.
Alternatively, hop on the Stowe gondola and see the sights from the summit.
At the base of the Auto Toll Road, you will find Bingham Falls, a 40-foot cascading waterfall.
The hike to get to the falls is 0.5 miles, but it can be a little tricky underfoot.
During the warmer months you will see people swimming here.
If driving up the zig zag road isn't for you, hop aboard the gondola for aerial views above the foliage.
As with the Auto Toll Road, the Mt Mansfield cable cars close for the season around mid-October.
If you prefer to hike, the longest and most challenging trial, yet the one with the best views, is the Mount Mansfield Loop Trail.
It takes about five hours or more to complete the loop, so it is a good day to get up early, especially if you want to beat the crowds and get parking.
As with many hikes around Vermont in October, it can get muddy so pack accordingly.
Alternative Morning: Smugglers Notch, Mount Mansfield State Forest
Smugglers Notch is a mountain pass close to Stowe known for its sea of oranges, yellows, reds, and greens in fall.
Geographically, this narrow passage separates Mount Mansfield from Spruce Peak and the Sterling Range.
Here you can drive along the 3.5-mile long scenic highway starting at Barnes Camp Visitor Center and walk across the wetland boardwalks.
You can also combine a visit to Bingham Falls with Smuggler's Notch.
You may also like our guide, hiking routes in Stowe.
Afternoon: Peck Farm Orchard
After your hike, it's time to drive to Montpelier, the state capital of Vermont.
The afternoon is a good time to visit Peck Farm Orchard (750 Sibley Rd. East Montpelier), just north of downtown.
Here, you can pick more apples, enjoy apple cider and fresh maple syrup, or get lost in the corn maze.
Evening: Downtown Montpelier
If you arrive in Montpelier earlier enough, check out the Vermont History Museum (109 State St) to learn more about the state's history including the experience of Native Americans in New England.
And, if you enjoy architecture, visit the Greek Revival building at Vermont State House (115 State St) and the Italian Renaissance Revival Kellogg-Hubbard Library (135 Main St).
The 194-acre Hubbard Tower in Hubbard Park (58 Tower Loop) is also in Montpelier, and from the observation deck, you can see some great views of the mountains surrounding the town.
Finally, time to settle down in Montpelier, where you can grab dinner but your won't find the golden arches here, Montpelier is the only state capital without a McDonalds!
Consider The Mad Taco, Sarducci's, Three Penny Taproom, instead.
You'll find the Vermont's traditional cremee at Morse Farm (1168 County Rd) or Bragg Farm (1005 VT-14 N).
You've already ticked off so many items of the Vermont bucket list!
Day 3 – Waitsfield & Warren (Approx. 34 miles)
Today begins the final day of your road trip if you only spend three days driving around Vermont.
It is also where you will see part of the popular Vermont Route 100 on your road trip!
Morning: Wu Ledges Forest & Downtown Waitsfield
Rise and shine early today!
You have a 20-mile drive to the 145-acre Wu Ledges Forest at the shorelands along the Mad River, where you can spend the morning hiking and watch the sunrise if you arrive early enough. 
The Wu Ledges trail is a 1.6-loop that is easy and has great views.
Park in the town of Waitsfield or you may struggle to find parking in the forest.
After your hike, you can enjoy a picnic in the park or take a tour of Hartshorn's Organic Farm Stand & Maple Sugar House (54 Quarry Rd), where you can have lunch.
After lunch, stop at Pine Brook Covered Bridge (1283 N Rd) before heading to Warren Falls while enjoying the Route 100 Scenic Byway.
Afternoon: Warren Falls
The next stop on this Vermont fall foliage road trip is Warren Falls (3919 Vermont Rte 100).
The waterfall is easy to get to, and you can take a path to the falls and swimming holes.
Unless it's a hot fall day, you won't be swimming, but it is worth stopping here and seeing the Mad River before settling in Warren for the night.
Evening: Downtown Warren
Warren is a historic town, and it is easy to walk around if you stay downtown.
Be sure to see the Warren Covered Bridge and walk around to see all the historic buildings.
Day 4 – GMT & Ludlow (Approx. 90 miles)
Didn't get enough of Vermont in October?
You can spend more time driving down Route 100 in Vermont, enjoying the fall foliage.
Whether you have another day or two, you can add days four and five to your Vermont fall itinerary.
Morning & Afternoon: Green Mountain Trails & Thundering Brook Falls Trail
On day four of this road trip, you start the day with a 30-mile drive down Route 100, which is one of the best Vermont fall foliage scenic drives.
Take your time along the drive and stop if you see any fall views or photo ops.
You'll end up at the Green Mountain Trails aka GMT (1199 Tweed River Dr, Pittsfield), where you have many hiking and biking options.
One of the most popular routes is the GMT Intermediate Loop, a 13.9-mile biking loop where you see some great views.
Or, if you want to hike, you can find trailheads with lengths and difficulty levels near the parking lot to help you decide what you want to do.
If you have more time to hike, head down to Killington and the Thundering Brook Falls Trail (2295 River Rd Fork, Killington).
The trail is less than a mile round trip, and you can do it in just 20 minutes if you do not stop to see the falls at the end.
And, if you reach the falls and want to keep going, you can keep going on what merges with the Appalachian Trail.
Alternative Morning & Afternoon: Killington Sightseeing & Woodstock
Like Stowe, Killington is a four-season resort and it is known as The Beast Of The East when it comes to snow.
There are 70 miles of trails but if hiking isn't for you, you can take the mile-and-a-quarter ride up the K-1 Express Gondola which goes to the 4,241-foot Killington Peak from summer up until mid-October.
In Killington, you can dine at Casey's Caboose, Hops On The Hill, and Domenic's Pizzeria.
If you're wondering where the fairytale-like farmhouse you've seen in Vermont photography is, it's Sleepy Hollow in Woodstock.
You'll find this perfect building surrounded by nature just off Cloudland Road and while you can pull over to take a photo, be respectful of the owners.
Woodstock is also home to Middle Covered Bridge, Taftsville Covered Bridge, and Lincoln Covered Bridge!
Evening: Ludlow
After a long day of hiking or fall sightseeing, it's time to end Day 4 of your Vermont fall getaway in Ludlow.
If you decide on the day of hikes, you will have another 20 miles to drive, and you will pass by Killington Mountain and through Coolidge State Forest, so take your time on the drive.
In Ludlow, there are a lot of local restaurants to choose from for dinner, plus some dive bars and an Irish pub.
Day 5 – Dover – 45 miles
Ready for the fifth and final day of your Vermont fall trip itinerary?
Today you'll see amazing views from Okemo Mountain before seeing more of Route 100.
Morning: Okemo Mountain (Approx. 47 miles)
First up, you are going to explore Okemo Mountain which looks as though it is on fire with fall colors during autumn.
One of the coolest things to do when visiting Vermont in the fall is to take the Sunburst Six chairlift up Okemo Mountain, which runs until mid-October.
There are great views of the mountain and surrounding area along the way,
Then, once you reach the top, there are picnic areas, amazing views, and plenty of hiking trails.
You can buy tickets in advance for the chairlift online or at the lift if you want to ride on the same day.
You can also hike on Okemo Mountain without taking the ski lift up.
The three-mile Healdville trail takes you to the summit of the mountains and a refurbished fire tower where you can see 360-degree views.
Afternoon: Drive Route 100
After you explore Okemo Mountain, it's time to hit the road again.
You are continuing on Route 100, but take your time along the drive as this is one of the more popular routes on Vermont fall road trips.
You will pass a lot of scenery, restaurants, more areas to hike, and viewpoints that you should be sure to stop at.
Evening: Dover
The last stop on your Vermont fall road trip is Dover.
In Dover, there are restaurants such as The Last Chair Bar & Grill, Pizzeria La Toscanella, and Betsey's Dot's of Dover, and places to stay where you can relax and reflect on all the best places you visited in Vermont in the fall on your road trip.
And, if you want more Vermont road trip ideas to continue this trip, add a day 6 to this trip and stay in Dover.
You can hike or bike on Mount Snow before continuing south on Route 100 towards Wilmington.
Vermont Fall Foliage Map
The best time to road trip or vacation in Vermont in fall is when the fall foliage is at its peak.
You can see the predictions for when and where peak foliage is on this foliage map.
Generally, the best time to visit is between the last week of September and the middle of October.
You can also access our free Vermont map here which includes attractions, food, drink, and covered bridges.
Best Places to Stay in Vermont For Fall Foliage
There are a variety of options for accommodation around Vermont during fall season including big mountain resorts, cozy cabins, sleek apartments, and lakeside rentals!
You can read which accommodation offers the best leaf peeping opportunities in our guide.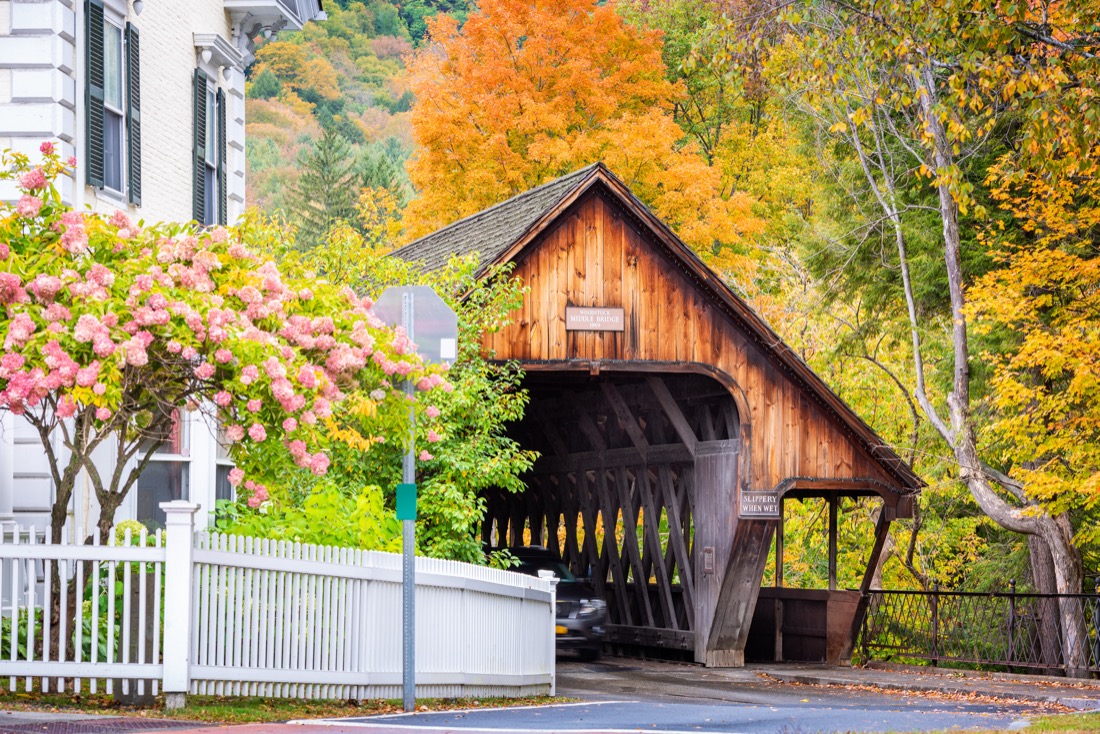 Vermont Destinations