This article has links to products and services we love, which we may make commission from.

Are you planning a trip to Upstate New York in fall? If you're anything like me, you've been waiting all year to see those autumn leaves in action!

New York is such a large state with lots of big cities and small towns and it can be overwhelming to know where to start researching for your trip… and unless you've got about six months of unlimited time, you don't want to waste a moment.
Whether you're a history buff, an art aficionado, a nature lover, or a little bit of all three, we've created a guide packed with over 20 unique ways to explore the great state of New York in autumn.
So if you're taking a quick day trip from NYC or are finally crossing Niagra Falls off of your bucket list, we've got it covered.
You may also like our chock-full things to do in NYC this fall guide and NYC fall festivals article.
Best Time to Visit Upstate New York for Fall
There isn't really a bad time to visit; it's more about what you hope to get out of your trip the most.
Autumn officially kicks off around September 20th, with the fall foliage really coming to life from late September to late October so if that's at the top of your list, plan your trip in the earlier part of the season.
Follow this foliage map for lead peeping progress.
Upstate fall weather in September can still have deliciously warm afternoons with cool and crisp mornings and evenings, but if you want those cooler New York State fall temperatures so you can shamelessly indulge in pumpkin spice lattes and oversized cozy sweaters, arrive in October.
If you like short days and long nights and can't wait for the snowy season, you can get a sneak peek by coming in November, where the upstate climate can begin to see snowfall sooner than many other parts of the country.
Fun Things to do in Upstate New York in Fall
If You Want a Short Drive From NYC
If you're planning a visit to The Big Apple this autumn, you'll already probably have a full itinerary of amazing things to do.
However, it is well worth clearing a day or two of your schedule to take one of these fall day trips from NYC.
Check out this guide if you're looking for fun things to do in NYC in the fall.
1. Overlook Mountain, Catskills
Home to Dirty Dancing and Woodstock, the Catskills are among the most infamous parts of upstate New York.
You can get there from Manhattan in about 2.5 hours by car or by taking the Metro-North Hudson Line from Harlem to Poughkeepsie, transfer to the KPL-NB bus to Kingston, and transfer to the Z-WB bus to Woodstock.
If you're a nature lover, look no further than very popular Overlook Mountain to get amazing views of the Hudson River Valley and the treetops in all of their color-changing glory.
While in the Catskills, you should also check out Bethel Woods Center For The Arts, Bronck Museum, and the Hudson-Athens lighthouse.
2. Hudson Valley, Westchester
If seeing New York State fall foliage is on your bucket list, taking a helicopter tour of the Hudson Valley will change your life.
As Billy Joel sang, "I'm taking a Greyhound on the Hudson River Line, cause I'm in a New York state of mind", but you don't need to Greyhound, you just need to take the Metro-North Harlem line to White Plains, transfer to the Bee-Line 12 bus to Westchester County Airport, and the helicopter will meet you there.
Not only will you get a bird's eye view of the most beautiful time of the year, but this will give any adrenaline-junkie the ultimate rush too.
Plus, think about those amazing snaps that you'll get for the 'gram!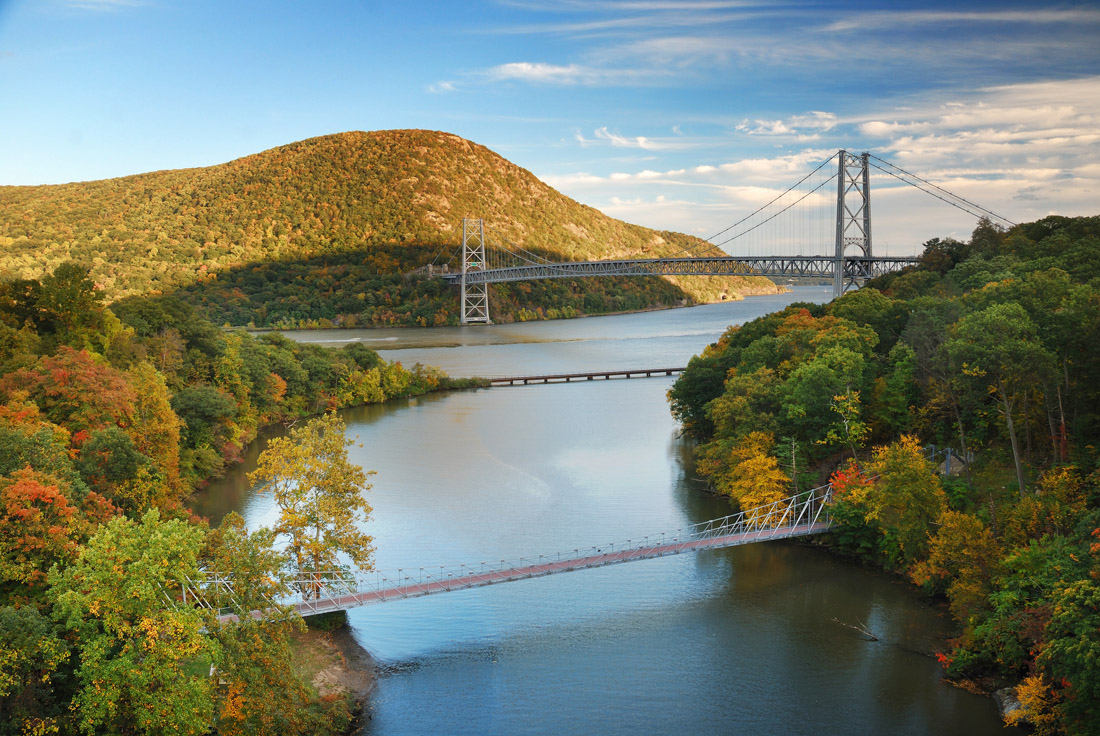 3. Great Jack-O-Lantern Blaze, Croton-on-Hudson
The Great Jack-O-Lantern Blaze at Van Cortlandt Manor is a must-see sight if you're going to be in upstate New York in October; the even runs from mid-September to mid-October
The manor is filled with 7,000 illuminated jack o' lanterns that are hand-carved by the on-site artists.
Can you think of a better way to get in the Halloween spirit?!
From Manhattan, take the Metro-North Hudson line from Grand Central to Croton-Harmon to get there.
Not only will you be in something that seems like it is out of The Nightmare Before Christmas but you're also going to be tucked in an amazing 18th century (maybe haunted?) manor and grounds so keep your eyes open for anything spooky lurking in a corner.
If You Need a Family Friendly Option
Finding something that everyone in the family will enjoy when taking a trip away is always a struggle, so if you're looking for fall vacation spots that tick off the family-friendly list, check out these options.
4. The Strong National Museum of Play, Rochester
The Strong National Museum of Play is an interactive museum that caters to children but holds something for everyone in your group.
The kids and parents can touch, explore, learn, and play amongst the 100,000 square feet of dynamic, interactive exhibit space.
Be sure to visit the very popular National Toy Hall of Fame, Butterfly Garden, and the World Video Game Hall of Fame during your trip.
They frequently hold events and bring in new exhibits so check the calendar before you plan your trip so you don't miss out on anything special.
5. Children's Museum of Oswego, Oswego
If little ones outnumber the adults in your party, a day at the Children's Museum of Oswego is a great idea to let the kids run wild and get immersed in a world that was made just for them.
Geared to kids up to 12, this museum is all about inclusive, hands-on, multi-sensory exhibits that allow children to have fun and learn simultaneously.
Your kids (and you) can learn about agriculture, weather patterns, recycling, and even make some arts and crafts to take home and remember your day.
They also have a monthly sensory-friendly session as well as accessibility for differently-abled individuals and visitors with additional needs such as accessible bathrooms and noise reducing headphones.
6. Old Macdonald's Farm, Sackets Harbor
Old MacDonald's Farm has a lot more to it than the song says!
Everyone in the family will find something they love at the farm; you'll be spoiled for choice.
You can visit with over 200 friendly farm animals, jump around in the bounce house, take a hayride around the farm, play 9-hole mini golf, and check out the Reindeer Christmas Village year round.
If you visit the farm in the fall you can also wander through the two corn mazes and pick your own pumpkins.
No matter what time of year you go, the freshly made on-site ice cream will always be a good idea.
For the Sports Fan in Your Group
In fall, a trip to New York doesn't have to be all pumpkins and pretty trees if you don't want it to be.
Upstate New York has so much to offer that the average vacationer might not realize–like numerous museums and Hall of Fames to many any sports lover feel like they've just found a little piece of heaven.
7. Baseball Hall of Fame and Museum, Cooperstown
Tucked into the idyllic Cooperstown resides the Baseball Hall of Fame and Museum, which is visited by over 300,000 baseball fans each year to relive the best of America's National Pastime.
With 40,000 preserved artifacts and over 3 million items in the library, you'll barely scratch the surface with your visit – but you can always come back for more.

Any baseball fan would appreciate a guided tour to make sure they get the most out of the museum, and for the die-hard fan you can get a personalized tour that spotlights their favorite team, including some behind the scenes moments that the general public won't get to see.
8. Lake Placid Olympic Museum, Lake Placid
You don't have to be a die-hard sports fan to love the Olympics, and the Lake Placid Olympic Museum is the perfect place to relive a little of that glory.
Here you can explore the history of the two-time winter Olympic host through the artifacts, photographs, exhibits, and videos.
Exhibits include Lake Placid Medals, Quest for Speed, History of Whiteface, Miracle on Ice, Sliding Sport, Olympic and Parade Uniforms and more.
Athletes still train year-round at the Olympic Center, so keep your eyes peeled and phone charged to snap a selfie with any familiar faces when you visit. 
Lake Placid also features in our guide to fall in Adirondacks.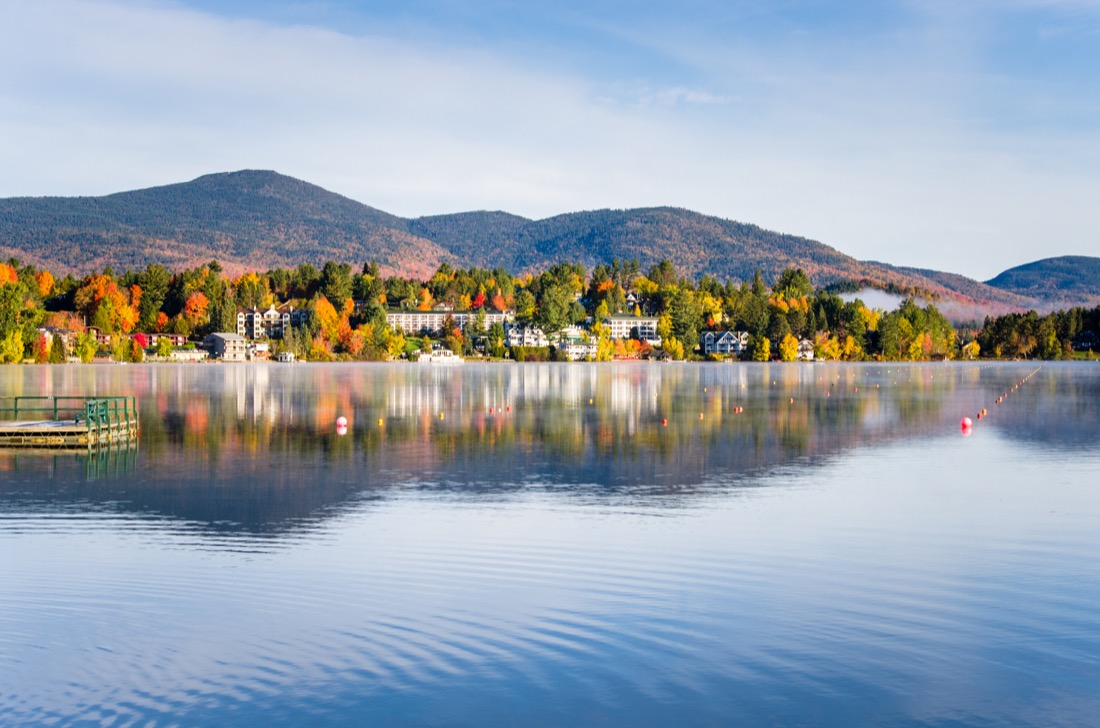 If You Want Spend Time in the Great Outdoors During Fall in Upstate New York
To see the best fall colors in upstate New York, you only have to do one thing – go outside and enjoy one of the best fall vacation spots.
With hundreds of thousands of miles to explore, you could spend the entire season hiking and not even begin to scratch the surface of all this part of the world has to offer.
If you want to find some of the best hiking trails on the East Coast, this guide will help.
9. Adirondack State Park, Adirondack Mountains
There is nothing more synonymous with New York in the fall than the Adirondack Mountains, and the Adirondack State Park is a great spot to get the best experience.
Leaf peepers will rejoice because as far as your eyes can see, there will be a sunset of colors in the trees as you hike up the mountains (especially if you hike up Mt. Marcy, the highest point in the state of New York!)
With thousands of miles of rivers and streams and thousands of miles of land to hike, you'll never get tired of exploring this beautiful place.
The most popular spots include Whiteface Mountain, Gore Mountain, Mount Marcy, and Ausable Chasm; don't leave them off your list.
10. Letchworth State Park, Castile
Called the "Grand Canyon of the East," Letchworth State Park has everything you could want, especially when you want to see some waterfalls while in New York.
Get lost in the 14,427-acre park with 66 miles of hiking trails, lush forests, three major waterfalls (and fifty smaller ones), where visitors can go hiking, camping, horseback riding, biking, white-water rafting, and even ride in a hot air balloon.
Letchworth Bird Conservation Area is within the park, Audubon enthusiasts should keep a look out for bald eagles, black-capped chickadees, great blue herons, pine warblers, turkey vultures, and yellow-billed cuckoos.
The park also frequently holds events such as a monarch butterfly release, guided nature walks, a mushroom walk and more.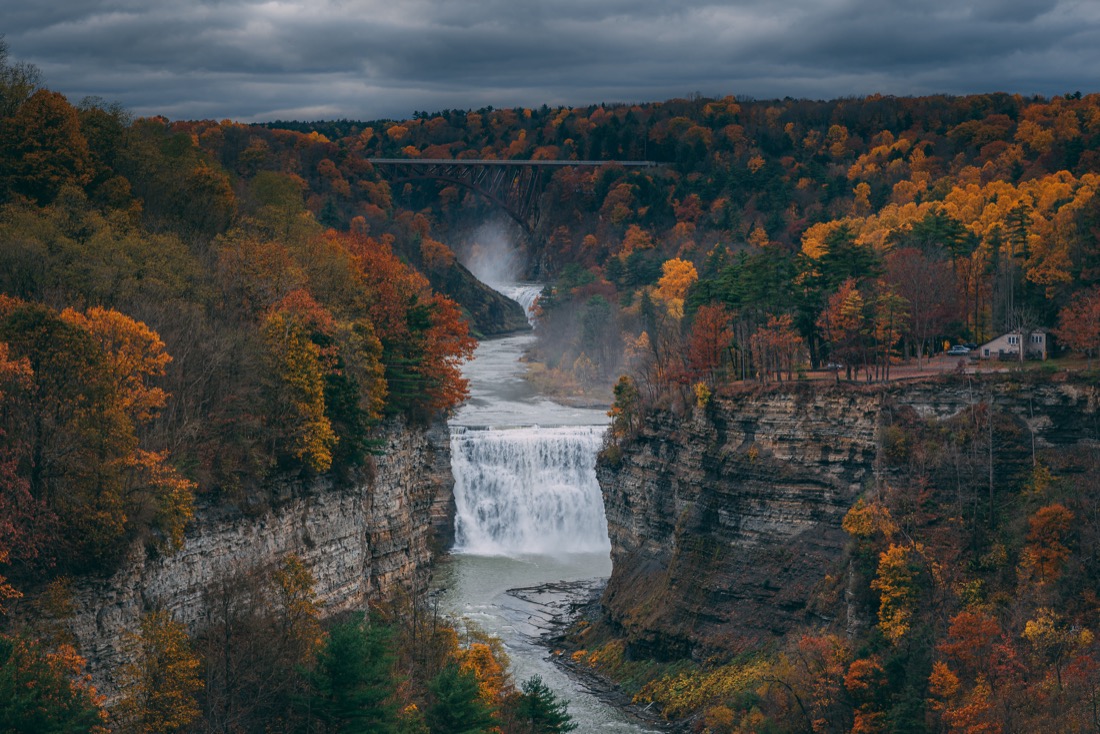 11. Taughannock Falls State Park, Trumansburg
Taughannock Falls State Park is named for its gorgeous 215ft waterfall (33 feet higher than Niagara!), but that's only one of many things that make this park so unique.
Depending on whether you take a gorge or rim trail, you'll find amazing views from up above the falls to see the park in all its wondrous fall color or from below at the end of the gorge trail.
Whether you're hiking in a group or on your own, take advantage of their cell phone tour by calling 607-216-6062 to learn about the history and ins-and-outs of the park.
Don't miss the view of Taughannock Falls from the Falls Overlook, it's the most popular spot for a reason.
You can also stay in a cabin or on the campsite to truly immerse yourself until it shuts for the season in mid-October.
12. Niagara Falls, Niagara
You cannot visit upstate New York in autumn without going to Niagara Falls; the views, the colors, and of course, the falls, it's one of those places that doesn't need much introduction
It is a group of three waterfalls that border New York and Canada; the largest is Horseshoe Falls, the most powerful waterfall in North America, and the smaller two are American Falls and Bridal Veil Falls.
In this guided tour, you'll take a ride on the Maid of the Mist and see the Niagara Falls Observation Tower, Niagara Falls State Park, Goat Island, Luna Island, Terrapin Point, Three Sisters Islands, Whirlpool State Park, and finally the grand finale: Niagara Falls.
The Maid of the Mist closes by early November, so be sure to get your tickets and plans booked in advance.
For the Art Aficionado
Art lovers will be in paradise if any of these spots are on the itinerary; between the artful colors of the world and the masterpieces inside of the galleries and museums, what more could one want?
Even though New York City is seen as more of an epicenter for all things art-related, don't underestimate what the rest of the state offers.
13. Storm King Art Center, New Windsor
If you don't want to sacrifice a moment outdoors but still want to take in fantastic modern and contemporary art, Storm King Art Center is a perfect place to go.
The outdoor exhibit takes its name from the nearby Storm King Mountain and spans over 500 acres of hills, meadows, forests, and manicured lawns with permanent installations and changing exhibits.
The landscape was specifically designed to be a consistently changing backdrop to the art installations on the grounds whether its the wetlands or the woods.
Here you can see the best that the nature of upstate New York has to offer and works of art by top visionary artists in the country.
14. Corning Museum of Glass, Corning
Not only is the Corning Museum of Glass a top-rated museum with half a million visitors annually, but it is also the most comprehensive collection and leading library on glass and one of the top glassworking schools in the world.
As a visitor, you can get hands-on at the Innovation Center to learn the science and technology within the world of glass, watch a hot glass or flameworking demo, and even make glass yourself!
Despite the delicate nature of glass, this museum caters to all ages and has programs geared to younger visitors so everyone can find something to enjoy here as you explore 3500 years of the history of glass.
Warm on a cold fall day by blasting glass with a hot flame!
Want to see what it's like before you go? They live stream their events showing things like guest demonstrations and new techniques.
15. Fenimore Art Museum, Cooperstown
The Fenimore Art Museum, named after the American writer James Fenimore Cooper, is dedicated to American art in all forms; from fine art to folk collection to photography and everything in between this museum has it.
Set in a gorgeous, classic American village and house in a 1933 mansion, just visiting the museum and its surrounding town is almost a work of art within itself, especially during fall.
With permanent exhibits and changing ones, there is always something new to see to inspire you to return again and again. Check out what's on in fall.

The Fenimore Art Museum's garden terrace looks out over the Otsego Lake, the inspiration for James Fenimore Cooper's "Glimmerglass" and is often a highlight of the trip!
The Fenimore Café allows dining on the garden terrace, among the fall tones and landscape.
Fenimore Art Museum is a popular proposal and wedding venue so you are planning to pop the question this fall, consider Fenimore.
If You're an American History Buff
New York was one of the original thirteen colonies, so it is no surprise that this state is teeming with historical sites, artifacts, and dedicated places.
If you want to combine a little history lesson for the kids to brush up on some famous sites for yourself, be sure to add these to the list when you plan your trip to NY in autumn.
16. Women's Rights National Historical Park, Seneca Falls
The birthplace of the Women's Rights Movement was in Seneca Falls in 1848 at the Women's Rights Convention, so it makes sense that this is also where the Women's Rights National Historical Park lives.
You can go on your own or take a ranger tour of the home of the convention's main organizer Elizabeth Cady Stanton, the site of the convention itself, the M'Clintock House, the Suffragette Centennial Exhibit, and more.
Fall is the perfect time to enjoy the landscape around this historical park as you work your way around the tour.
You can also view the collections of artifacts spanning from things recovered during archaeological investigations of the park sites to items created or used by the First Women's Rights Convention attendees.
Although the park centers on the struggles and triumphs of the suffragettes, it also teaches us about how far women have come in the centuries since – and how far we still have to go.
The museum puts on lectures and events so check out the website to see what's on this fall.
17. National Warplane Museum, Geneseo
The National Warplane Museum is a museum that focuses on WWII, Korean War, and Vietnam-era aircraft and equipment, as well as the stories of those who served in those wars.
The collection includes seven planes, one searchlight, and one amphibious truck; the museum also hosts a slew of events throughout the year, including an airshow.
You can even schedule a ride in a historic aircraft to slip back a few decades and get a fantastic bird's eye view of the spectacular land underneath at the same time.
This New York museum hosts a number of events including musicals so check the website calendar to see what's on during your fall visit.
18. Saratoga National Historical Park, Stillwater
On the site of the infamous battle of Saratoga now lies the Saratoga National Historical Park.
You can ride your bike around the park to take in the views, climb the Saratoga Monument, get lost in the Victory Woods, go hiking on the Wilkinson trail, tour the Phillip Schuyler Country Estate, see the collections of artifacts, and more.
You can download the free app for the audio tour to really learn the history as you walk or bike around the park to truly understand the meaning behind all of the stops.
Check before you go ahead; if you're lucky, you might get to catch a re-enactment on the battlefield!
19. Genesee Country Village and Museum, Genesee
New York state's largest living history museum, the Genesee Country Village and Museum, covers over 600 acres and is fully dedicated to 19th-century life.
Costumed interpreters work in the 68 buildings in the village, where they bring the town to life for visitors to step back a few centuries back in time.
At the pottery, cooper shop, tinsmith, and blacksmith, you can see live demonstrations, sit in the one-room schoolhouse, and watch life unfold as it would have in the 19th century in the Village Square.
If you want to enjoy your time outdoors, the nature center has five miles of themed nature trails and 175 acres of wildlife habitat to explore.
Preparing food with apples is one of the popular fall activities enjoyed here at Genesee.
Get a ticket to the Genesee Country Village & Museum and experience it for yourself.
If You Want the Quintessential Fall Experience
Fall isn't truly fall until you've successfully visited at least one pumpkin patch, gone apple picking, braved a haunted mansion, and got lost in a corn maze.
Luckily New York in fall is the place to be to get that classic taste of the best time of the year with an abundance of choices for each, like the ones we've chosen below.
21. Twin Star Orchards, New Paltz
What do apple picking, craft cider, wood fire pizzas, and burgers all have in common?
Honestly, not a lot, but you can get all of them at Twin Star Orchards.

You can pick your own "ugly" apples once apple season kicks off at the end of August and goes through to late October, and with ten varieties of apples, there will be something different in season every time you visit.
They brew all of their ciders on-site using nothing but the apples from the orchards, so drink up; it's practically one of your five a day.
They also have live music so check their schedule before you go to catch a show!
22. Pumpkinville, Great Valley
Everyone knows that the ultimate moment of autumn isn't thanksgiving or even Halloween… it is pumpkin picking.
If you agree, a trip to Pumpkinville is definitely on the cards; they're open from early September to the end of October.
Whether you want to enjoy the farm animals and play area on a family-friendly trip or want to head out with your friends to the beer garden to try their craft beer, wine slushies, and hard cider, there's something for everyone to enjoy here.
23. Pure Terror Scream Park, Monroe
Are you looking to scare yourself into oblivion this Halloween season? Pure Terror Scream Park is the place to make it happen for anyone 10 and up.
It has ten different haunted houses on the property, each with its own terrifying theme redesigned each year, so you get a unique experience every time you go.
They're only open on the weekend from mid-September to Halloween, so don't wait to buy your tickets and miss out on an ultimate Halloween experience.
24. Fort Ticonderoga's Heroic Maze, Ticonderoga
Get lost (but hopefully not for too long) in Fort Ticonderoga's Heroic Maze by yourself or with your friends and family this fall season.
Open from early September to mid-October, and the six-acre life-sized corn maze is a life-sized puzzle that you can only find your way out of by connecting the clues to lead you to the exit.
The maze is divided into two parts, a smaller, simpler part to ease you into it and the main maze, which takes about an hour to complete; there is also a kiddie maze for any little ones in your group.
Final Thoughts
We barely scratched the surface of all of the amazing things that upstate New York has to offer in autumn.
Whether you want to spend time in the great outdoors, take a step back in time, or getting scared out of your wits, you'll find it all here.
Enjoy Our NYC Travel Guides