This article has links to products and services we love, which we may make commission from.

This guide shares the best things to do with kids in Boston so you can plan your trip to avoid disputes or getting lost while visiting.
If you're a local, this guide will also help you freshen up your kid-friendly Boston activities!
Since you can experience all four seasons in a day in Beantown, we will discuss both outdoor and indoor activities as well as festive ideas for those visiting during winter.
Your tweens and teens will love our recommendations below for them too.
We know how expensive this city is so we've created a dedicated section for cheaper suggestions.
You may also like our Where to Stay in Boston guide which includes family-friendly hotels.
Also find out places to go for NYE in Boston with kids.
Things to do in Boston with Kids Outdoors
Boston Common
Not only is a visit to Boston Common one of the best outdoor activities for kids in Boston, it is also free!
Boston Common (139 Tremont Street) is the oldest park in all of the USA; it was founded in 1634.
You can spend the day educating yourself and your kids about the rich history behind the park.
It is also a perfect spot for a picnic.
You will find a frog pond, splash pad, ice rink in the winter, playground, and ball fields to help burn off your kid's energy.
Check out our guide to all the best free things to do in Boston for more ideas.
Charles River Esplanade is a wonderful way to spend a sunny day relaxing and making memories.
You will find a small splash pad for your kids to cool off in and a playground.
There are many exciting places to be explored in this park, including docks and small restaurants if you want to relax, and enjoy a meal you didn't have to cook.
Both Boston Common and Charles River Esplanade are free things to do with kids in Boston.
We suggest more free and cheap ideas in another section below.
Whale Watching Cruise
Hop aboard this whale watching catamaran cruise for the chance to see humpback, finback, and minke whales!
You might also see white-sided dolphins during this boar tour of the Atlantic.
The tour lasts for three hours and includes a talk with the Whale Center of New England.
The boat has three outside viewing decks, climate-controlled cabin space with cushioned seating, and a state-of-the-art sound and video system.
There are also snacks served onboard.
Reserve your tickets here.
Codzilla Speed Boat
If your kids are thrill-seekers, the Codzilla glides through Boston Harbor at 40 mph!
Expect spray, squeals and 360 degree spins.
Boston Duck Tours
Imagine the excitement on your kids' faces when you tell them that they are going on a tour but THAT GOES INTO THE WATER!
Yes! The famous Duck Tours in Boston use buses that are equipped for swimming so they start the itinerary on dry and land and then drive into the Charles River!
The bus is a WWII amphibious vehicle that should impress your curious kids too.
The tour lasts for 80 minutes so you are really getting your money's worth.
Indoor Activities for Kids in Boston
Boston Children's Museum
When you and your family are visiting the greater Boston area, the Boston Children's Museum (308 Congress street) is a must-visit.
The exhibits include a new edition of the New Balance Foundation Climb, Fantastic Forts, Playspace, and engaging hands-on activities in STEAM learning elements.
The museum also puts on seasonal events like festive challenges.
Don't forget to reserve your tickets online to secure your family's spot.
Kids under 12 can enter for free.
Boston's Children's Museum is one of the most popular activities in Boston for kids.
The museum also features in our guide to Boston in the rain.
Boston Tea Party: Ships & Museum Interactive Tour
Vacationing doesn't mean your kids can't learn about American history.
Find out how one of the most influential events in American history unfolded at the Boston Tea Party Ship and Museum (306 Congress Street).
Experience this guided tour to relive the events that started the American Revolution.
This is one of the family friendly activities in Boston that also educates!
While we wouldn't expect kids to take on the full 2.5 mile-Freedom Trail, it is worth being aware that there are 16 nationally significant historic sites located around the city.
The trail starts at Boston Common (Downtown) and ends at Bunker Hill Monument in Charlestown.
You can stop and read the plaques associated with each stop at your own leisure.
Hop-on Hop-off Trolley Tour
If it is raining or your wee ones are complaining of sore feet, hitch a ride with the trolley.
The tour includes 18 stops so you can hop off when the downpour stops or feet are restored!
Stops include some of the top Boston sightseeing locations such as Faneuil Hall Marketplace, Beacon Hill, USS Constitution/Charlestown Navy Yard, Boston State House/ Boston Common and South Station/Boston Tea Party.
Harvard Museum of Natural History
Taking your inquisitive child to the Harvard Museum of Natural History (26 Oxford Street, Cambridge) will satisfy the most curious of minds.
The exhibits will engage your child with dinosaur fossils, animals from around the globe, skeletons of blue whales, meteorites, gemstones, and so much more.
Children under 3 can access for free, and your adult ticket will also grant you access to the Peabody Museum of Archaeology and Ethnology.
Ideal things for kids to do in Boston for those who like science and geology.
DCR Steriti Memorial Rink
Plan an afternoon ice skating at the DCR Steriti Memorial Rink (561 Commercial Street).
Enjoy the warmth of the indoor ice rink and the North End Waterfront views from the floor-to-ceiling windows.
The best part is it is totally free, just bring your ice skates, and be prepared to make memories of ice skating in Boston.
Boston Bowl
Bowling is always a hit when on vacation.
Boston Bowl (820 Morrissey Boulevard) offers so much more than just bowling.
You can check out the arcade, batting cages and grab a bite to eat, kid friendly Boston fun!
Mucky Kids Art Studio
Visiting an art studio while on vacation is a great activity to connect with your kids and have a fun time.
You can drop into the Mucky Kids Art Studio (2404 Massachusetts Avenue, Cambridge) which has various craft projects to choose from.
Everything your child needs to make a work of art will be provided; they just have to let their creativity flow.
This studio offers crafts suitable for toddlers all the way to teenagers.
There is something for everyone.
Rock Spot Indoor Climbing
Staying active while having fun is a fantastic way to get your kids to put down the electronics and build experiences with you.
It's not important if you are a veteran rock wall climber or have never done it before; Rock Spot Indoor Climbing (67 Sprague Street) can meet every level.
Even toddlers will have a blast with toddler times every Sunday, where your tot will have the run of the place without the worry of being run over.
Ticket prices include gear hire.
The Friendly Toast
The Friendly Toast (35 Stanhope St) is a retro diner serving breakfasts, lunch and dinner and features a soda-fountain.
Parents with older kids like this restaurant as it has a park across the road from it.
Things to do in Boston with Teens
You'll never hear the word 'boring' from your tweens and teens with the following suggestions!
Head to Fenway Park
Visit America's most beloved ballpark and home to the Boston Red Sox, Fenway Park.
Take this 1-hour tour to learn more about the history of the team, hear about star players, Ted Williams, Babe Ruth, and Carl Yastrzemski, and see the stadium's collection of more than 170,000 stadium artifacts and 150,000 photographs.
Food at Quincy Market
Fill their faces dining at the famous Quincy Market, Faneuil Hall.
Faneuil Hall is part of the Freedom Trail as this is where the Patriots met the night of the American Revolution .
It was built in 1743 by architects John Smibert and Charles Bulfinch, and today thousands of people eat seafood like chowder here during their trip to Boston.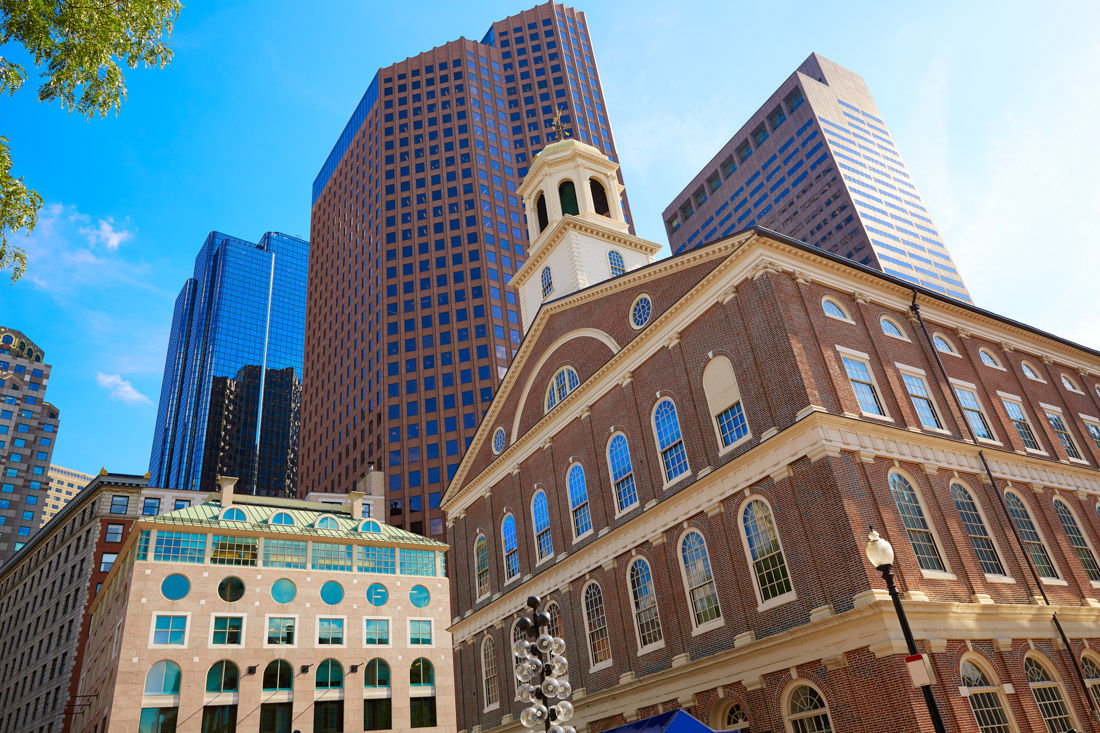 Dunkin
Dunkin Donuts (now just called Dunkin or — more common locally — Dunks) was founded in 1950 in Quincy, Massachusetts and it is a sugary staple located in many stores around the city.
Since you're in Boston, you have to go for the dreamy Boston Kreme!
Freakshakes
Continuing with the sweet vein, Boston Burger Co does wicked good shakes and sundaes!
If milky drinks with dripping cake and candy is your teens vibe, you can thank us later.
Beacon Hill for Selfies
Acorn Street in Beacon Hill is one of the most photographed streets in Boston.
The pretty street is lined with red bricked homes, leafy trees, vintage lamps and a Star-Spangled Banner, making it an attractive backdrop.
It also boasts amazing fall colors during autumn in Boston.
Beacon Hill is also where the self-guided Black Heritage Trail takes place.
Comic Browsing
If your teen is into comics, graphic novels, paperbacks or manga, there are a selection of niche stores to meet that need!
Check out Comicopia (464 Commonwealth Ave), Newbury Comics (348 Newbury St) and Amaya Bros Comics (357 Cambridge St).
Book Stores
If non-fiction or novels are more their thing, Boston has cool independent book stores you can support such as Brattle Book Shop (9 West St), one of the oldest in the US!
This institution has three floors and an outdoors.
Trident Booksellers & Cafe (338 Newbury St) is the city's last independent general bookstore and home to a cafe serving breakfast and lunch and a fully stocked bar is required!
Shopping at the Pru
Hit the shops at the Prudential Center (or just The Pru) which is indoors, ideal for hot summers or cold winters.
Shops include Pandora and Sephora.
Lucky Strike Fenway
Score!
Lucky Strike features 16 lanes for bowling and games such as punching bags, skeeball, basketball, dancing and air hockey.
Note: 21+ policy at night.
Make-Your-Own Meal
Play with your food, Wednesday!
Let your older ones cook their own food at Gyu-Kaku Japanese BBQ where each table has its own grill.
Shabu-Zen is another make-your-own option, using hot pots to cook fresh ingredients at your table.
Finally, Fire+ice offers similar options with Latin, Italian and Asian-inspired food.
Cheap Things to do in Boston with Kids
Boston is one of the most expensive cities to visit with family so we've created this round up of free things to do with kids in Boston, and more budget-friendly ideas that don't skimp on fun!
Swan Boat Ride
Take a unique Swan Boat Ride (4 Charles Street) through Boston Public Garden.
The swan boat ride is about 20 mins, and you will see many real swans and ducks that call the public gardens home.
The swan boats have been sailing since 1877 and are one of the most recognizable things about Boston.
Rides run from spring through to September unless there are high winds or extreme heat.
There is no need to make reservations.
Tickets are available at the dock and kids under 2 are free.
This is one of our favorite Boston springtime activities as it means summer is just around the corner!
Rings Fountain
There is no better way to spend a balmy day than running through the ring fountains found in Wharf District Park (Milk Street).
After cooling off in the fountains, you can explore the beautiful gardens, the artwork displayed throughout the park and have a lovely picnic.
Carson Beach
You will find Carson Beach (126- 171 William J Day Boulevard) located on the south shoreline of Boston, and it is one of the more popular beaches in the area.
While it's not the greatest beach for swimming, the 3-mile-long beach offers many other activities to keep you and your family busy.
You can spend the day looking for seashells, playing volleyball, sunbathing, or paddling near the shoreline in the waves.
There is paid parking nearby or free parking if you don't mind a bit of a walk to get to the beach.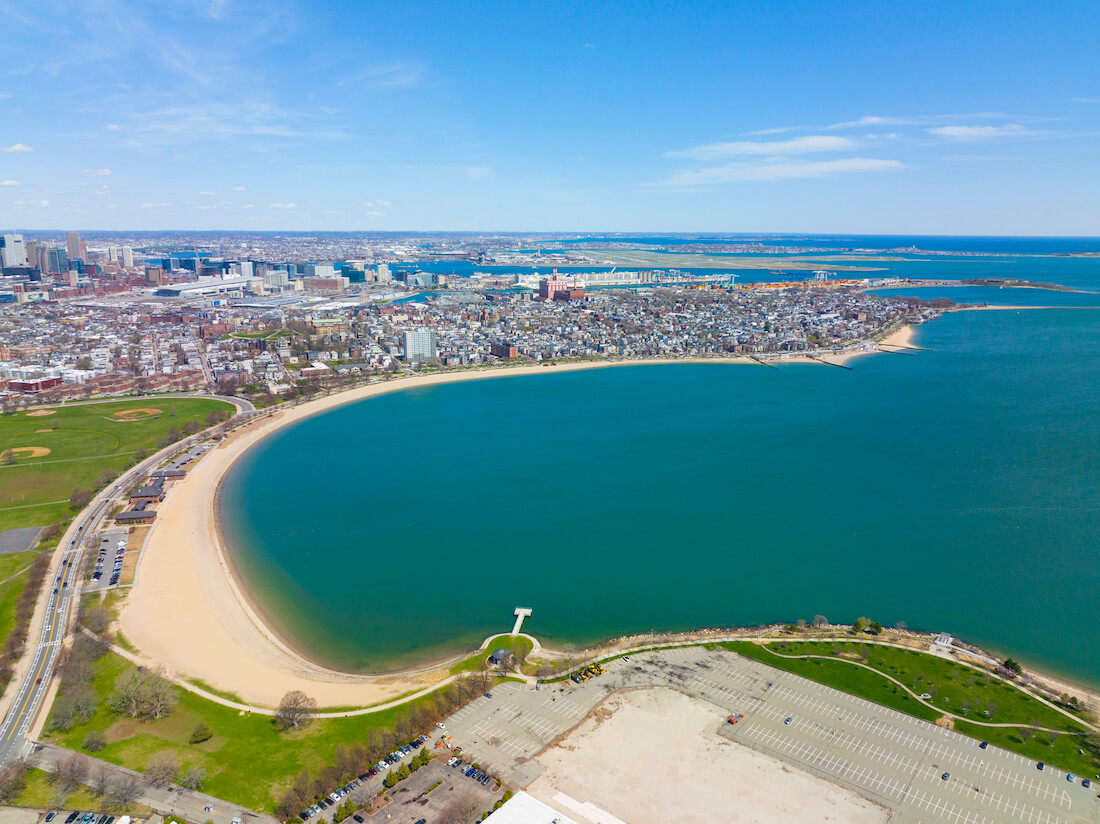 Boston Fire Museum
The Boston Fire Museum (344 Congress Street) is a non-profit organization that offers free admission for everyone.
Your kids will learn about prolific fires in Boston, including the Great Boston fire in 1872.
They can explore various museums and exhibits while having fun and learning more about Boston's Fire Department history.
Things to do with Kids Near Boston
If you've exhausted all the family attractions in Boston, there's still plenty of things to do in the suburbs and in areas less than an hour from the city that could make a worthy day trip!
Legoland Discovery Center
Legoland Discovery Center (598 Assembly Row, Somerville) is a great stop on your vacation or day trip for children 3 to 10.
Your kids will have a magical day between rides, play zones, and special events like The Pirates Event, where they can join Captain Brickbeard to find his Golden Treasure.
You will want to book your tickets online to ensure your family's spot is secure.
There is a public parking garage located on Artisan Way and parking is free of charge for the first three hours.
If you prefer to take public transport, you can take the Orange Line T stop at Assembly Row.
Coco Key Water Resort
Coco Key Water Resort is located in the hotel DoubleTree by Hilton Boston North Shore (50 Ferncroft Road, Danvers).
You are able to purchase day passes to the waterpark without having to stay at the hotel.
Take your whole family to splash around in this fantastic water park.
Features include super slippery water slides and lily pads for your little ones to hang out on.
Children under 23 months can enter for free.
One of the lesser-known Boston attractions for families.
Boda Borg
Older kids (7+) Will have a great time at Boda Borg escape rooms (90 Pleasant Street, Malden).
They will have their physical and mental strength challenged in 10 different escape rooms.
The various rooms offer different difficulty levels to keep you and your child engaged and on your toes.
Check out the multi-level rooms to try and beat them all for a real challenge.
Project Putt
Enjoy a unique mini-putt experience at Project Putt (61 Exchange Street, Malden).
Not recommended for younger children, but your older kids will have an experience they won't soon forget.
Mini putt through the obstacles of fog, flashing lights, lasers, spinning vortexes, and so much more.
Sky Zone Trampoline Park
Who doesn't love to jump?
The ultimate way to get your kids zapped – let them run about and jump at Sky Zone Trampoline Park (69 Norman St, Everett).
There's something to suit all ages starting with the Junior Jump Zone up to Ninja Warriors and the Challenge Zone!
Drinks and healthy snacks can be bought here.
The Children's Piazza, Peabody
Let your kids be kids on your family getaway.
The Children's Piazza (83 Pine Street, Unit F, Peabody) is an exciting environment where your kids can experience rock climbing, and crafts.
While the kids are playing, treat yourself to a coffee and a snack at the onsite café.
A Day Trip to a Waterfall
Consider a day trip to a 40-foot waterfall with a 16-foot plunge!
The Cascade in Melrose is less than 30-minute drive from Boston and offers lots of green space if you fancy a hike with your partner.
Sail to Salem
Why not hop on the train or take the boat to Salem?
Older kids will love to learn about the Salem Witch Trials and spot the Hocus Pocus filming locations.
If you are visiting during fall, leave the car at home as parking is a nightmare but it is worth it to see how much Salem really goes for Hallowe'en decor!
You can read all about this special place in our guide to things to do in Salem.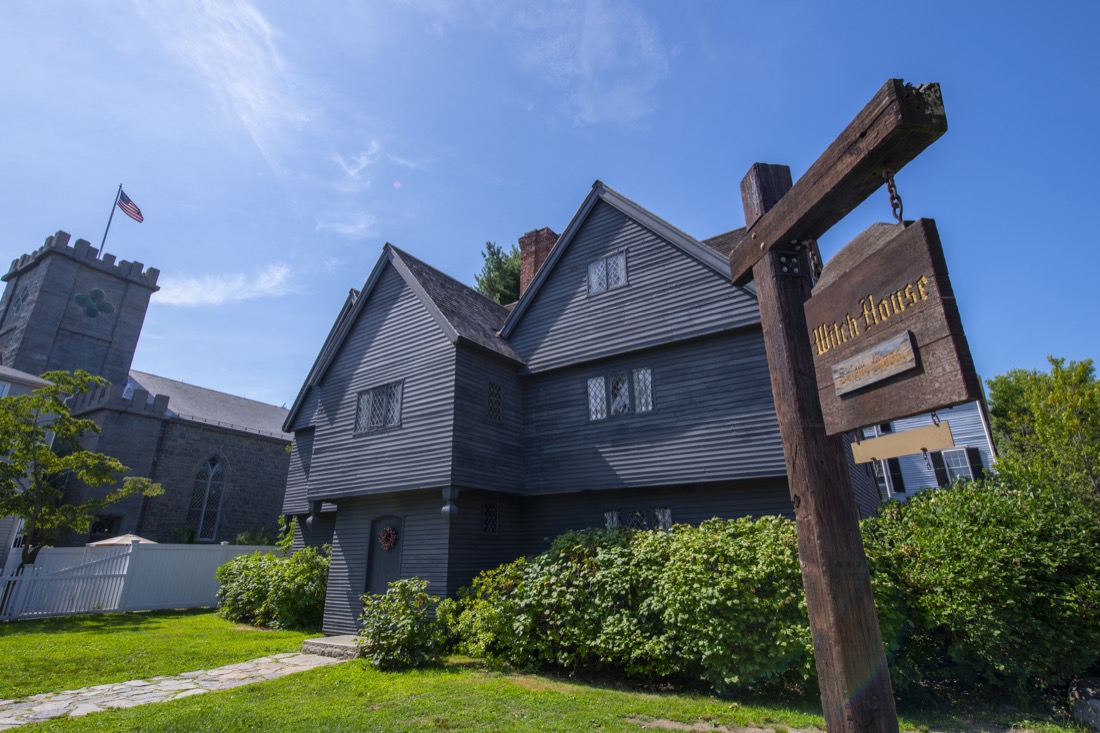 Things to do in Winter with Kids
Boston in winter is magical!
Ice skating, decorations, and visits to see Santa, what is there not to adore?
Frog Pond Ice-Skating
The same Frog Pond in Boston Common that is mentioned above freezes over and becomes a playground for families on skates.
You can hire skates at the pond and also use the boxes for kids to hold onto if they are just starting out.
See a Festive Show
Cheaper than Broadway but just as good, Boston's Theaters put on popular holiday shows such as A Christmas Carol or lesser-known performances like Tony Williams' Urban Nutcracker.
Also keep your eyes peeled for Langston Hughes' Black Nativity, a gospel telling of the Christmas story.
Find out more in our things to do in Boston in winter guide.
Our Boston Guides