This article has links to products and services we love, which we may make commission from.

Looking for the best things to do on Cape Cod for an upcoming trip? Whether you go down the Cape every summer or it's your first-ever visit, there are countless fun things to do and places to visit across these 15 towns.
If you are visiting in the summer, you'll want to take into consideration potential traffic conditions; the main road along the whole Cape is Route 6a, which can get backed up on weekends especially.
Plan your activities and get out the door early to take advantage of the long summer days — and avoid the peak sun!
This region is a summertime haven but shouldn't be missed during the other seasons.
You might also like our guides to Cape Cod in the winter and romantic things to do on the Cape for some perfect date ideas.
Best Cape Cod Things to Do
Our guide starts in Buzzards Bay before crossing the Cape Cod Canal and heading through the popular towns en route to Provincetown at the very tip of the Cape.
Ride the Cape Cod Central Railroad, Buzzards Bay or Hyannis
Looking for a special thing to do on Cape Cod?
Overlooked by too many locals, the Cape Cod Central Railroad (the Cape Train) offers scenic rides along a historic track that takes passengers through cranberry bogs, salt marshes, sand dunes, and more.
Opt for a ride with a meal if you want a truly unique experience; brunch, lunch, and dinner service are all available.
The train departs from Buzzards Bay (70 Main St) and Hyannis (252 Main St), with service from West Barnstable (2469 Meetinghouse Way, Route 149) on Saturdays only.
If you board at Buzzards Bay, you'll get to cross the iconic Cape Cod Canal Rail Bridge from Bourne
This is a classic train experience and a unique Cape Cod activity you won't want to miss!
If you're local, the Polar Express around the holidays is extra special for kids.
Woods Hole Oceanographic Institution, Woods Hole
Visiting the Woods Hole Oceanographic Institution (266 Woods Hole Rd) is at the top of the list of interesting things to do down the Cape.
While they host events, film showings, and seminars for the public almost daily, you can stop by the Visitor Center or Discovery Center to learn more about the ocean and what the WHOI is doing to protect our waters.
The Discovery Center is one of the coolest places to go on Cape Cod for kids because they can explore science exhibits and interact with an underwater vehicle used to observe sharks!
Nobska Light, Woods Hole
Before leaving Woods Hole, swing by the lovely Nobska Lighthouse (233 Nobska Rd) just over a mile from the WHOI.
Time it for sunset if you can!
Woods Hole is also where you can catch a ferry to Martha's Vineyard if you want to add to your Cape trip.
Nobska Lighthouse is found in the charming town of Falmouth where you can find lots of nice things to do.
Shining Sea Bikeway, Falmouth to Woods Hole
The Shining Sea Bikeway (Locus Rd Entry) is ideal for active adventurers.
The bikeway travels along the original railroad that connected New York and Rhode Island.
Now, the 11-mile path follows a perfect scenic route along the coast, passing by cranberry bogs, a bird sanctuary, and beautiful beaches.
Heritage Museums and Gardens, Sandwich
Visiting the Heritage Museums and Gardens in Sandwich (67 Grove St) is a must-do on Cape Cod.
Enjoy the many walking trails, gardens, indoor art and history exhibits, plus so much more.
You'll also find outdoor experiences that will help you discover more hidden secrets in the gardens!
Wander more than 100 acres of natural and historical beauty, stop by Lilly's Cafe, and visit The Shop for a sweet gift.
The Heritage Museums and Gardens also feature in our guide to spring in Massachusetts.
Sandwich Glass Museum, Sandwich
Visiting the Sandwich Glass Museum (129 Main St) is a must if you love unique and interesting art mediums.
You'll find amazingly colorful (and delicate) exhibits, hourly glassblowing demonstrations, and memorials to the town of Sandwich's deep history with glassblowing.
Be sure to check the calendar for special events and exhibits throughout the year!
The Sandwich Glass Museum is a perfect thing to do on the Cape in winter.
Read our guide to things to do in Sandwich, MA for a full list of activies and attractions to enjoy in the area.
Hyannis Golf Course, Hyannis
For golfers, practice your swing at the Hyannis Golf Course (1800 Iyannough Rd).
Located close to downtown Hyannis, this par 71, 18-hole course features a large practice range and two practice ranges.
Players of every ability will find something fun to do at this iconic course.
Cape Codder Water Park, Hyannis
The Cape Codder Water Park (125 Iyannough Rd) is one of the top things to do on Cape Cod for families with young, energetic kids.
This 30,000-square-foot park features high-speed water slides, a pirate ship replica, kiddie pools, wave pools, whirlpools, saunas, and so much more.
Want to keep the fun going?
Stay right at the Cape Codder Resort (1225 Iyannough Rd) to make even more family memories together.
John F Kennedy Hyannis Museum, Hyannis
Visiting the John F Kennedy Hyannis Museum (397 Main St) is ideal for history and politics junkies.
You'll learn everything you need to know about JFK's connection to Cape Cod, his legacy, and his life at the Summer White House.
Massachusetts teachers get completely free admission to the museum!
Cape Cod Rail Trail, South Yarmouth
Enjoying the outdoors and the incredible natural history of the area is a major draw for visitors to Cape Cod.
The Cape Cod Rail Trail makes this easy for adventurers of all abilities; the trail is wheelchair accessible, dog-friendly, and passes through gorgeous state and national parks.
Along the 25 miles of the trail, you'll be able to explore the National Seashore, beaches, forests, and more.
Parking is available for a fee during peak season at Nickerson State Park (3488 Main St, Brewster).
Free parking is also available at any of the trailheads in the six towns the trail passes through: Station Avenue in South Yarmouth, Route 134 in South Dennis, Headwaters Drive in Harwich, Long Pond Road in Brewster, in Orleans Center, the Salt Pond Visitors Center in Eastham, or LeCount Hollow Road in South Wellfleet.
Edward Gorey House, Yarmouth Port
If you like illustration and quirky art, you'll want to check out the Edward Gorey House (8 Strawberry Ln).
You'll find interesting exhibits that combine this iconic artist's life and work in one.
For even more fun, check out The Gorey Store, tour the grounds and home, and even try your hand at mirroring Edward Gorey's art style.
Cape Cod Museum of Art, Dennis
Art lovers also love the very special Cape Cod Museum of Art (60 Hope Ln), a museum that features Cape artists and the artistic identity of the region.
You'll find a sculpture garden, seven rotating galleries, an impressive permanent collection, and a wonderful museum shop.
The museum is closed on Mondays and Tuesdays, so plan your trip accordingly.
Cape Playhouse, Dennis
Grab a pair of tickets to the Cape Playhouse (820 Main St), the longest-running and most famous professional summer theater in America.
The theater opened in the 1920s and served as a destination for NYC professionals to escape the city's unbearable heat.
Many now-famous actors acted on the Playhouse's stage, solidifying it as an amazing place to watch shows in the off-season.
Sunset at Point of Rocks Landing Beach, Brewster
There is no bad place to watch the sunset on Cape Cod, but Point of Rocks Landing Beach in Brewster is a perfect choice year-round.
The Brewster tidal flats are extensive, so if sunset times well with low tide then you're in for a treat!
You can walk for miles along the flats bathed in golden light as the sun dips into the horizon.
The small tidal pools left along the flats are perfect for searching for marine life of all kinds — it's a great activity for kids (and kids at heart).
Atwood Museum, Chatham
Home of the Chatham Historical Society, the Atwood Museum (347 Stage Harbor Rd) is a top spot on Cape Cod for history buffs.
You'll find everything you need to learn about the history and culture of the region, using art objects, archival materials, and important artifacts from older generations.
The building itself is unchanged from its original 1752 construction, and you'll enjoy eight galleries, a rotating exhibit, and an amazing gift shop.
Monomoy National Wildlife Refuge, Chatham
One of the most important natural areas for protecting migratory birds and other essential wildlife is the Monomoy National Wildlife Refuge (30 Wikis Way).
Within the refuge's nearly 8,000 acres, you can explore ocean habitats, salt and freshwater habitats, freshwater ponds, and dunes.
Much of the refuge is considered Wilderness, so it is absolutely essential that you respect the area and leave no trace.
Monomoy also features in our guide to all the best things to do in Chatham, with plenty more ideas if you're spending more time on the elbow of the Cape!
Nickerson State Park, Brewster
Nickerson State Park (3488 Main St) is a natural, wooded area with trails, ponds, a beach, and more than 400 campsites.
Go fishing, camping, hiking, or biking in this 1,900-acre park, enjoy the playground and amphitheater, and make use of the restrooms and showers if needed.
In the off-season, you don't have to pay to park, making this one of the best free things to do on Cape Cod for outdoor adventurers.
Blue Claw Boat Tours, Orleans
Book a trip with Blue Claw Boat Tours (69 Barley Neck Rd).
These sightseeing cruises are full of tons of fun for the whole family, including seal sightings, pirate stories, stops on the beach, sunset views, and more.
Check out every option on their website and book your favorite tour!
Nauset Lighthouse, Eastham
Visit Nauset Lighthouse (120 Nauset Light Beach Rd), which was one of the first lights in the region and the first one in Eastham.
The lighthouse has gone through multiple changes, mainly due to the receding surrounding cliffs, but its bold red stripe makes it a perfect picture.
Tour the lighthouse for free, climb to the top, and explore the beach when you're done!
Wellfleet Drive-In, Wellfleet
Catch a movie at the Wellfleet Drive-In (51 State Highway, Route 6A).
Drive-in theaters are shutting down across the country, with only 300 drive-ins left in operation.
Luckily, Wellfleet's is still going strong!
This is also one of the coolest things to do on Route 6A in Cape Cod; pay per car, tune into the correct FM radio channel, and stop by the snack bar for delicious concessions.
Cape Cod National Seashore, Wellfleet
For the best outdoor activities on Cape Cod, head to the iconic Cape Cod National Seashore (99 Marconi Site Rd).
All forty miles of the seashore are worth exploring: you'll find marshes, freshwater ponds, sandy beaches, and forested areas on 11 hiking trails.
While you might prefer it during the warmer months, we featured the National Seashore on our Cape Cod guide to winter because of its stunning beauty and serenity in the off-season.
Truro Vineyards, North Truro
Stop by Truro Vineyards (11 Shore Rd) for a rotating weekly flight of wines, fresh wines by the glass, and warm ciders.
If you're coming from Boston to enjoy this incredible area and try some wine, try taking a guided Boston to Cape Cod day trip, which includes a ferry ride and oysters!
Truro Vineyards is also featured in our complete guide to a romantic Cape Cod trip, so check it out if you're looking for more ideas!
Commercial Street, Provincetown
Commercial Street in Provincetown is one of the best places to visit on Cape Cod if you like unique shops, established art galleries, and incredible restaurants.
Because of its heavy tourist presence, you can visit anytime as P-town changes through the seasons: from busy in summer to calm and quiet in the winter.
The Lobster Pot Christmas Tree is always popular in Ptown — it's one of our favorite spots for Christmas lights in MA.
We've written about Provincetown quite a bit, but our complete guide to P-town, MA is a perfect place to start planning your trip!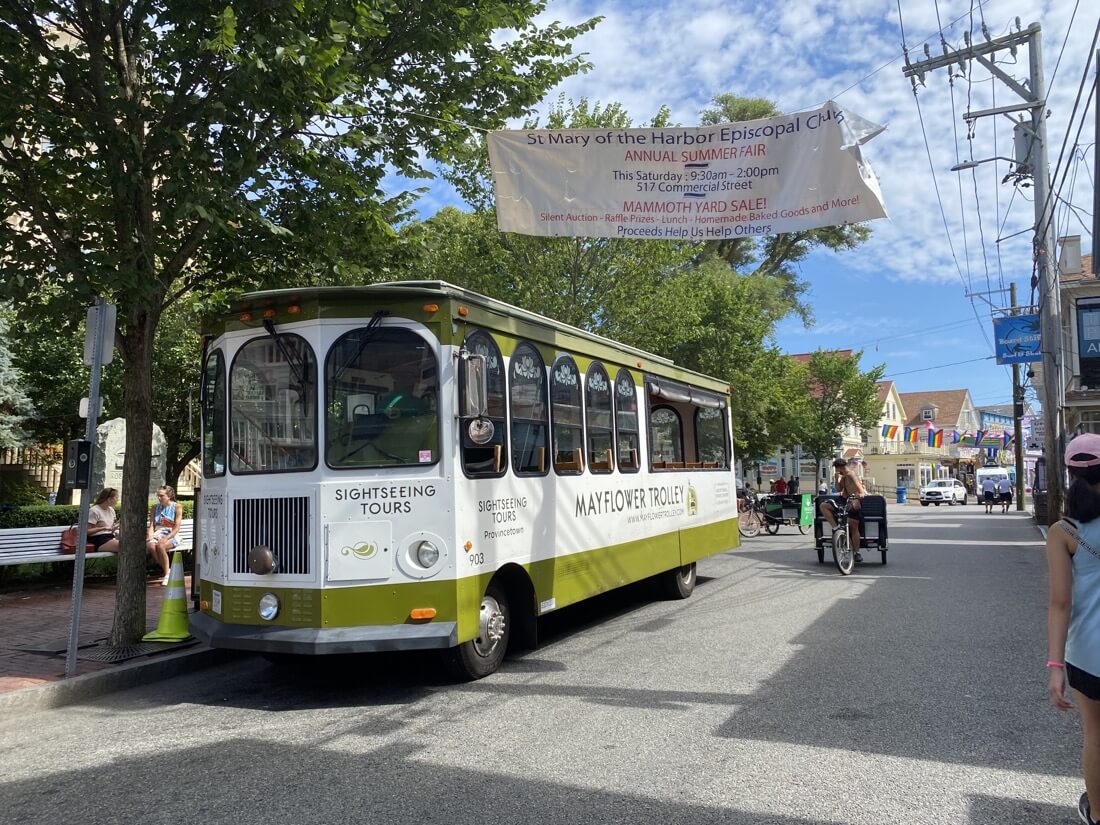 Pilgrim Monument and Provincetown Museum, Provincetown
The Pilgrim Monument and Provincetown Museum (1 High Pole Hill Rd) is one of the most important things to see on Cape Cod, thanks to its commitment to telling the history of the area.
The monument itself is a sight to behold: it's the tallest all-granite structure in the country at 252 feet.
This monument is also featured on a cool Cape Cod and Provincetown self-drive audio tour, which gives you so much information about the site and more!
Herring Cove Beach
Herring Cove Beach (Province Lands Rd) is one of the most beautiful places to visit on the Cape.
Because this beach is not on the Atlantic side of Cape Cod, the waves are calmer and gentler, making it better suited for young families or less strong swimmers.
At Herring Cove, you'll find a snack bar, restrooms, showers, and changing rooms, as well as bike trails and protected shorebirds.
Beach wheelchairs are available on this accessible beach as well!
Race Point Beach and Lighthouse
Another beautiful spot is Race Point Beach and Lighthouse (Race Point Rd), one of the iconic features of the Cape Cod National Seashore.
You'll find seasonal restrooms, showers, and changing rooms, and the waves are calmer here compared to the Atlantic side of Cape Cod.
Race Point also features in our guide to the best beaches in Massachusetts.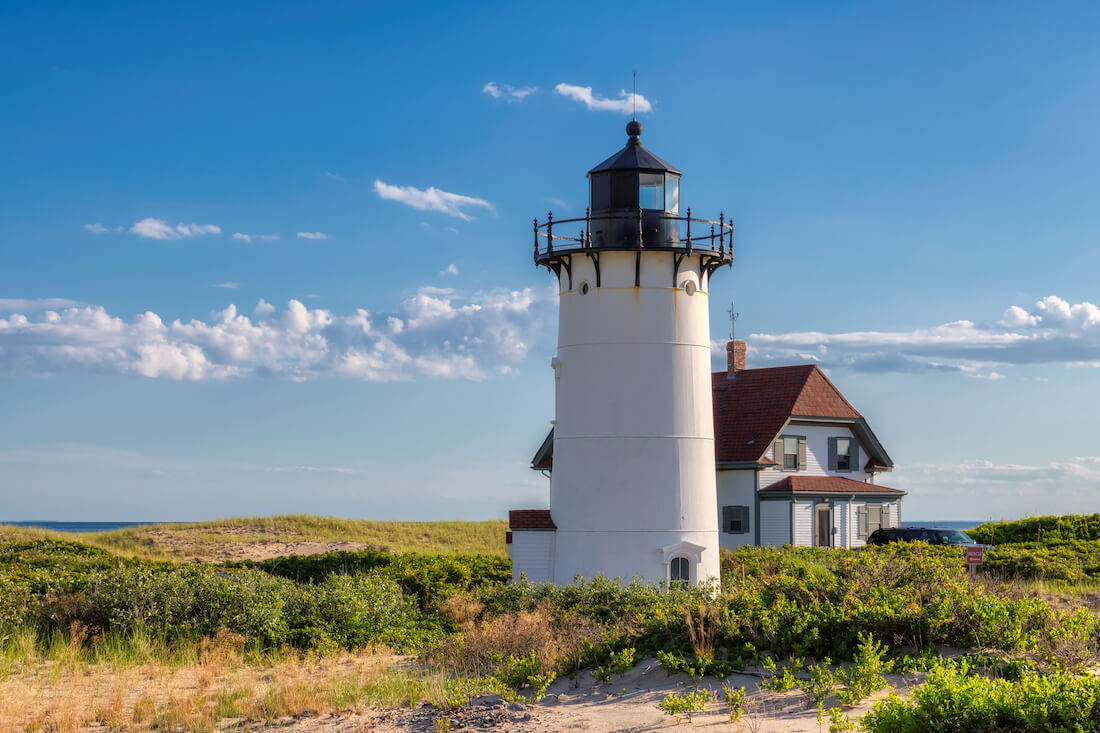 Final Words
Are you ready to enjoy all these great things to do on the Cape? We hope so!
Share your favorite Cape Cod activities in the comments below.
Our Guides for the Cape & Islands
Cape Cod Destinations
Islands Destinations