This article has links to products and services we love, which we may make commission from.

Looking for the best things to do in Wynwood, Miami?
Time in Wynwood moves quickly; the area changes at a rapid speed which means there will be a new store, club, or a mural every time you visit!
However, Wynwood took a while to get to where it is today; from an industrial working neighborhood to Miami's Art District.
With the help of Miami Beach's real estate giant, the late Tony Goldman, Wynwood Walls was created then slowly gentrification stood on the backs of the first galleries and stores that called Wynwood home, turning garment warehouses into retail spaces, now unaffordable for most independent businesses.
Wynwood is an open museum by day that turns into the city's wildest party neighborhood at night, so you might want to visit twice!
This guide will take a look at the iconic open-air mural park, and things to do near Wynwood Walls too.
You may also like our 3-days in Miami itinerary and our guide, things to do in Miami.
Fun Things to do in Wynwood by Day and Night
Start of Wynwood Signs
While Wynwood Walls is the neighborhood's most popular street art mural location, the whole area is covered in color and two signs highlight where 'Wynwood Outside the Walls' kicks off.
The first is a Las Vegas-style sign with fake light bulbs that reads 'Wynwood Starts Here' at 2000 Tony Goldman Way/NW 20th Street.
The second can be found across the road from the Vegas sign.
From here, walk along Tony Goldman Way and you'll pass graffiti until you get to our next suggestion on our fun things to in Wynwood guide, the Welcome to Wynwood mural.
The local craft beer brewer, J. Wakefield Brewing, also claimed the slogan 'Wynwood starts here' as a name for one of its products and the bottles use the first sign for its label.
Welcome to Wynwood Mural
If you turn left at 2021 Tony Goldman you'll see the stunning Welcome to Wynwood, Miami mural in art deco turquoise and pink tones, giving old Florida hues.
Commissioned by Vivelo Bikes, the project took Color Dreamers, Amir Shakir & Ivette Cabrera, three weeks to complete.
The duo are also the artists behind the Intellectual Alligator mural at Wynwood's Brain Station (2650 NW 5 Avenue).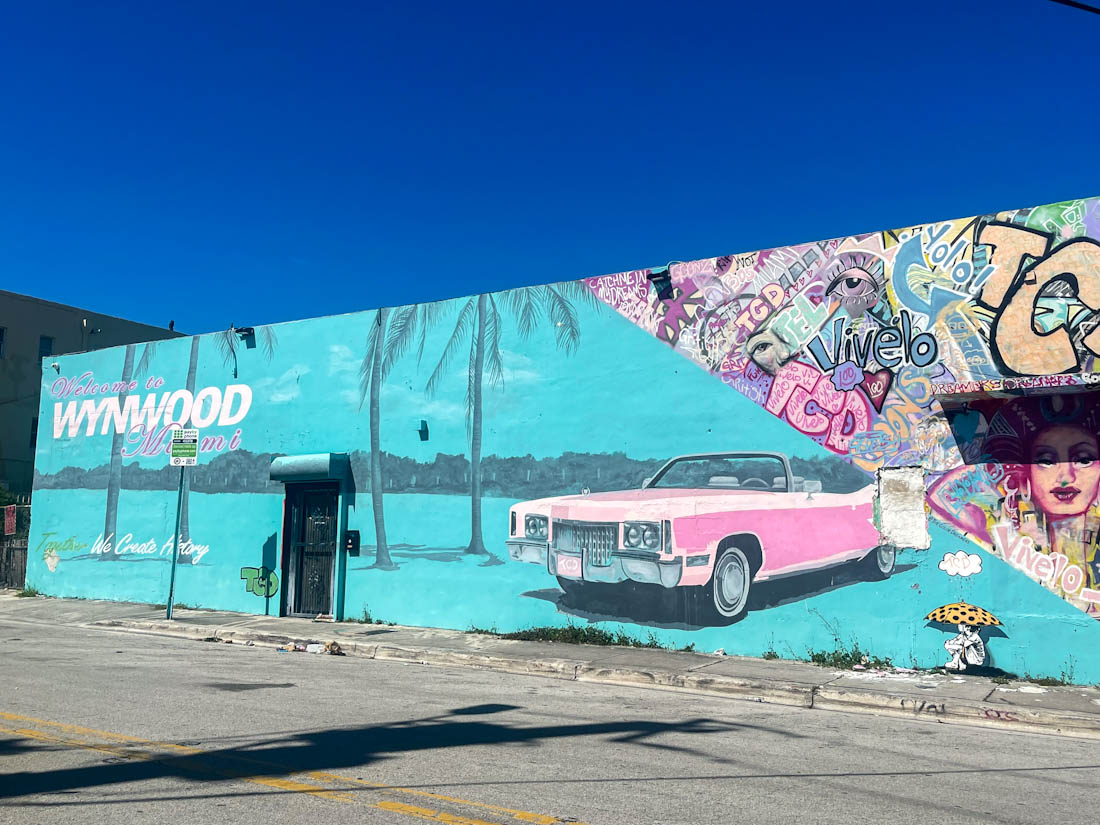 Free Wynwood Murals
As mentioned above, most visitors know about the Miami attraction, Wynwood Walls, but are joyfully surprised when they are hit in the face with bold colors outside of the museum too.
Look up, look down, and look around while walking along NW 2nd Avenue, NW 21st Street, NW 1st Place, NW 23rd Street, NW 26th Street, NW 27th Street, and NW 3rd Avenue.
If you don't fancy walking the streets, Florida is hot – no judgment, and want to learn more about the art, check out the 1-hour buggy mural tour.
Honestly, you can't not see art in Wynwood and it changes often so if you've been before, you'll still experience something new.
While you'll learn more about the murals visiting the official Walls, you can still get a feel for the area without doing so, which is great for those visiting Wynwood on a budget; we know how expensive Miami is!
ASTRA – The Pink Building
Some of the murals are commissions and partnerships between private businesses and artists.
The stunning — or garish depending on taste — bold pink mural is ASTRA (2121 NW 2nd Avenue), a Mediterranean rooftop restaurant and lounge.
The restaurant has views for miles, live music, happy hour, and the popular bottomless Sunday brunch.
Wynwood Marketplace
There is no shortage of bars and restaurants packed into the Wynwood blocks but if your group can't quite decide what kind of night they are feeling consider Wynwood Marketplace (2250 NW 2nd Avenue).
Here, you can enjoy drinks, choose food from Miami vendors, listen to live music, watch sports on TV, and browse the stores.
The marketplace has a mix of outdoor and covered seating areas, one of the Wynwood attractions for all seasons.
Mad Butcher
The Mad Butcher (2300 NW 2nd Avenue) is where you can order the 'Best Smoked Burgers in Town' and customers all agree that that meat here is tasty.
Located on the main drag of Miami's Art District, open until late (find the speakeasy), and offering indoor and outdoor seating; Mad Butcher is the perfect recipe for a Wynwood afternoon into evening experience.
Coyo Tacos
Coyo Tacos (2320 NW 2nd Ave) is known for its Mexican street food and margaritas made with house-brand tequila but did you know that there is a secret bar at the Wynwood location too?
The award-winning taco joint has locations in Brickell, Coral Gables, and Las Olas but Wynwood is the original.
This speakeasy also features in our guide to Miami's hidden gems.
Gramps
Gramps (176 NW 24th Street) is one of the OG clubs in Wynwood and while many of its counterparts have closed doors or transformed into a red-rope Miami club, this institution is still going strong
The space is made up of a series of bars and dance floors, some inside and others under the stars, so you can literally party under the palm trees.
During winter, the back room transforms into a festive bar making it one of the best clubs to visit in Miami at Christmas!
Gramps take their cocktails seriously, with bartenders bringing out the blow torch to toast the rosemary.
J Wakefield Brewery
J Wakefield Brewery (120 NW 24th Street) is one of the few craft beer breweries left in Wynwood with the area losing Boxelder, Concrete Beach Brewery, and Dogfish Head Miami.
As the saying goes, use it or lose it, and you wouldn't want to see the staff behind the bar go as they know their craft beer and have awesome taste in music.
J Wakefield Brewery has indoor and outdoor seating, in the shadow of Darth Vader.
Brewery hopping features in our romantic things to do in Miami.
1-800-Lucky Food Court
1-800-Lucky (143 NW 23rd Street) is a 10,000-square-foot food hall with seven Asian food vendors, indoor and outdoor seating, and a DJ.
Bento boxes, dumplings, wings, ramen, boba tea, matcha ice cream, sweet dumplings, and teriyaki. I'm salivating while typing this.
Leave some space for karaoke.
Jungle Rooftop
Take a walk on the wild side at Wynwood's Jungle (51 NW 23rd Street), a fusion of outdoor and indoor spaces to shop, eat, and drink.
Check out the Edward Scissorhand-style animal bushes, the enchanted forest-style rooftop restaurant, and watch your step for the snake on the stairs.
If rooftop drinking is your style of socializing, check out our guide to Downtown Miami for more suggestions as well as where to go clubbing.
Wynwood Walls
One of the best things to do in Wynwood that doesn't involve drinking is a visit to the Wynwood Walls (2516 NW 2nd Avenue).
With over 80,000 square feet of abandoned warehouses to convert into an area that people would want to visit, Wynwood Walls threw caution to the wind and art on the walls in 2009.
Today it is a collection of 35, 000 sq ft walls featuring the work of international artists such as Shepard Fairey, Bordalo II, and the most photographed mural by Tristan Eaton.
There are a couple of ways to experience the open-air museum.
Firstly, you can book a ticket and do the self-guided tour, giving yourself around two hours to complete.
Secondly, join this 2-hour walking tour with an expert guide who shares the history of the development, facts about the art, and stories about the artists.
BAKAN
BAKAN (2801 NW 2nd Ave) is a trendy Mexican joint that has a wall of mezcals and tasty margaritas.
Guests love to dine on the patio by the succulents and cacti!
Portions are a decent size, and the servers are happy to recommend their favorite dishes.
Zak The Baker
You can't miss Zak The Baker (295 NW 26th Street) owned by the award-winning Zak Stern, with its cute pastel and bright colored stripes.
Customers love the quality produce, succinct yet mouth-watering cafe menu, and the fact that Zak's is still an independent business, thriving in shark-infested restaurant group ocean.
Kobe Bryant Mural in Wynwood
The Kobe mural can be found close to Zak the Bakers at 277 NW 26th Street.
The piece shows Kobe in action, playing basketball, and is the work of Gustavo Zermeño Jr.
The Salty Donut
The Salty Donut (50 NW 23rd Street #112) is a coffee shop that started from a food truck in Wynwood back in 2014.
The husband/wife duo sold the sweet stuff from a 1950s vintage Aljoa camper, and now has eight locations across Florida, the East Coast, and in the South. 
Stop by The Salty Donut in Wynwood for seasonal pastries and Frankenstein donuts.
Dante's Hi-Fi
Wynwood has heaps of music experiences for visitors.
Even if you don't want to listen to tunes, they'll be forced down your ears by party buses on a weekend night.
However, if you are a music lover, you'll want to head to Wynwood's first vinyl bar, Dante's Hi-Fi (519 NW 26th Street).
Here, artists take control of the turntables while the crowd dances; Dante's is a 'deejay paradise' according to Brooklyn-based MICK.
Dante's Hi-Fi is one of the best places to go in Wynwood for music fans so arrive early to avoid lines.
Wynwood Brewing Company
You'll probably spot the distinctive Wynwood Brewing Company (565 NW 24th Street) taps around bars in Miami as they are a copy of a graffiti spray can, with residue to boot!
Wynwood Brewing Company, founded by Luis Brignoni and his dad, Luis 'Pops' Brignoni, is not only Miami's first craft production brewery, but also one of the few Wynwood businesses with Puerto Rican roots, even though the area which used to be referred to as 'Little San Juan'.
Today, locals and tourists visit the taproom to taste award-winning beers, sample seasonal batches, and chat with knowledgeable bartenders.
Shots
With over 100 flavors, Shots (311 NW 23rd Street) does what it says on the tin.
Some shots can be upgraded to buckets for a super messy night out in Wynwood, the original Shots location.
Shots also features in our guide to Miami at night.
RC Cola
The former RC Cola Plant (550 NW 24th Street) is now a 137,977 sq ft event space plastered in murals.
The location is made up of The Yard, The Courtyard, and The Covered Roof Area.
Previous events include Pride Wynwood, Circolco Ibiza, and Tuner Evo.
Mana Wynwood Convention Center
Mana Wynwood (318 NW 23rd St) is a 30-acre multi-use campus which opened in 2010.
Previous events that have hired the space include Spectrum, Red Dot, and Pinta Art Fair, as well as music shows, conferences, and private hire.
Roberto Clemente Park
This park is named after Roberto Clemente who was the first Latin American player to be inducted into the Baseball Hall of Fame (1973).
Located at 101 NW 34th Street in Little Puerto Rico, next to the main street for tourists in Wynwood, the neighborhood park features a ball field, community center, playground, basketball courts, and Miami's skyscrapers as a backdrop.
Roberto Clemente Mural
Baseball star, Roberto Clemente's mural designed by VACO Studio stands by the fence of Roberto Clemente Park.
The image of Clemente is supported by one of his quotes: 'Any time you have an opportunity to change this world and you don't, then you are wasting your time on Earth'.
Visit more of Miami's Latin cultural places in Little Havana.
Design District
Close to Wynwood is another intriguing neighborhood, Miami's Design District.
Continuing on with the art theme, the Design District displays abstract facades, interesting installations, and interactive art like the swings 'Netscape'.
Here, you'll also find designer stores, art galleries, hip bars, trendy restaurants, and seasonal events.
To get to the Design District from Wynwood you can walk, hop on the free Miami Trolley, or book a ride.
Here's our guide to things to do in the Design District for more.