This article has links to products and services we love, which we may make commission from.

Looking for fun things to do in Western Mass? With multiple colleges, diverse terrain, historic towns, and an admirable dedication to community and creativity, Western Mass is awash with things to do and places to visit.
You might also like our guides featuring the best things to do in Amherst and in Northampton, if you'll be specifically based in either of those towns.
This guide covers a much broader area, encompassing everything from the New York border to the many towns and cities along Route 91, which bisects Massachusetts to connect Vermont and Connecticut.
Most visitors to MA head straight to Boston, the Cape, Martha's Vineyard, or Salem, but you shouldn't skip all these fun activities in Western MA!
Western Massachusetts: Things to Do & Places to Visit
Our guide starts in Amherst due to its popularity as a college town with lots of visitors coming and going!
From Amherst, our recommendations make a loop, heading south towards Springfield, west toward Great Barrington, north towards Pittsfield, and looping back via Shelburne and Charlemont.
Amherst to Charlemont is only about a 45-minute drive, so if you're basing there then you can do plenty of things at the start and the end of this list.
This part of the state is beautiful, with rolling hills, rural areas, and plenty of small towns to peruse.
Western Mass is also known as an artists' hub, with the Berkshires in particular boasting an incredibly creative community.
From art galleries to craft cider to the ski slopes, we hope you'll love exploring all of our favorite recommendations!
Eric Carle Museum of Picture Book Art
Continuing the Western Mass writers' haven tradition, The Carle (125 W Bay Rd, Amherst) is named for children's book author Eric Carle, of The Very Hungry Caterpillar fame.
The family-friendly museum is exciting and interactive for kids while helping adults relive their favorite childhood book memories.
You can't miss the museum's annual event in March — it's one of our favorite things to do in Massachusetts in the spring.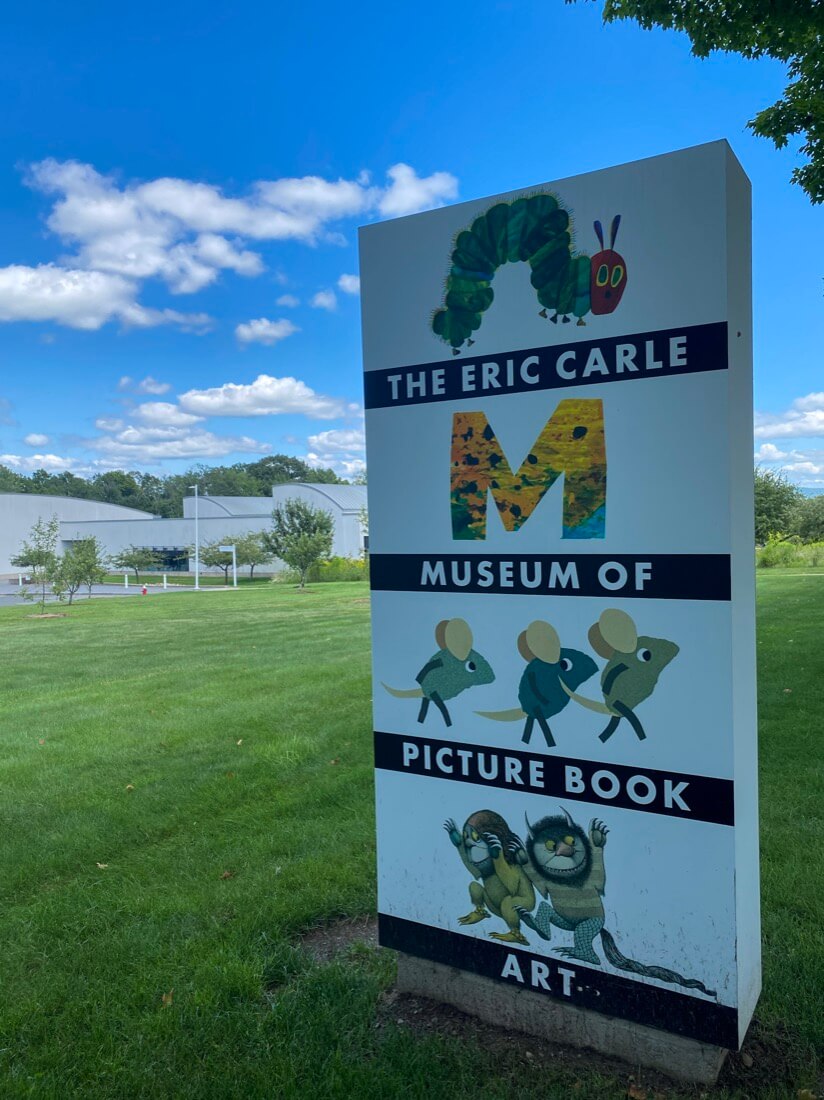 Yiddish Book Center
The Yiddish Book Center (1021 West St, Amherst) covers centuries of cultural history to educate visitors of all ages.
With an astounding collection of nearly a million Yiddish books, the Center is dedicated to educating and preserving cultural and linguistic Jewish traditions.
Metacomet-Monadnock Trail
Hiking the 14-mile white trail segment of the Metacomet-Monadnock Trail in Mt. Holyoke Range State Park is one of the best outdoor activities in Western Mass.
You can access the trail by parking at the Notch Visitor Center (1500 West St., Amherst).
The full hike can typically be completed in around 7.5 hours.
Just note this is a point-to-point hike, so you'll want transportation lined up at the other side so you can easily return to your car.
Download the trail map and follow the white markers to stick to the trail.
Hot Air Balloon Ride with Aerostat Promotions
Leave terra firma behind to coast over beautiful Western Mass in a hot air balloon with Aerostat Promotions (operating in Northampton and Amherst).
Enjoy the beauty of this part of the state, with flights taking off around sunrise or sunset to maximize your views.
Call to book your preferred tour day and time; flights are weather dependent of course.
You might also want to head a little further south where you can enjoy hot air ballooning in Connecticut — it features in our guide to CT in the spring.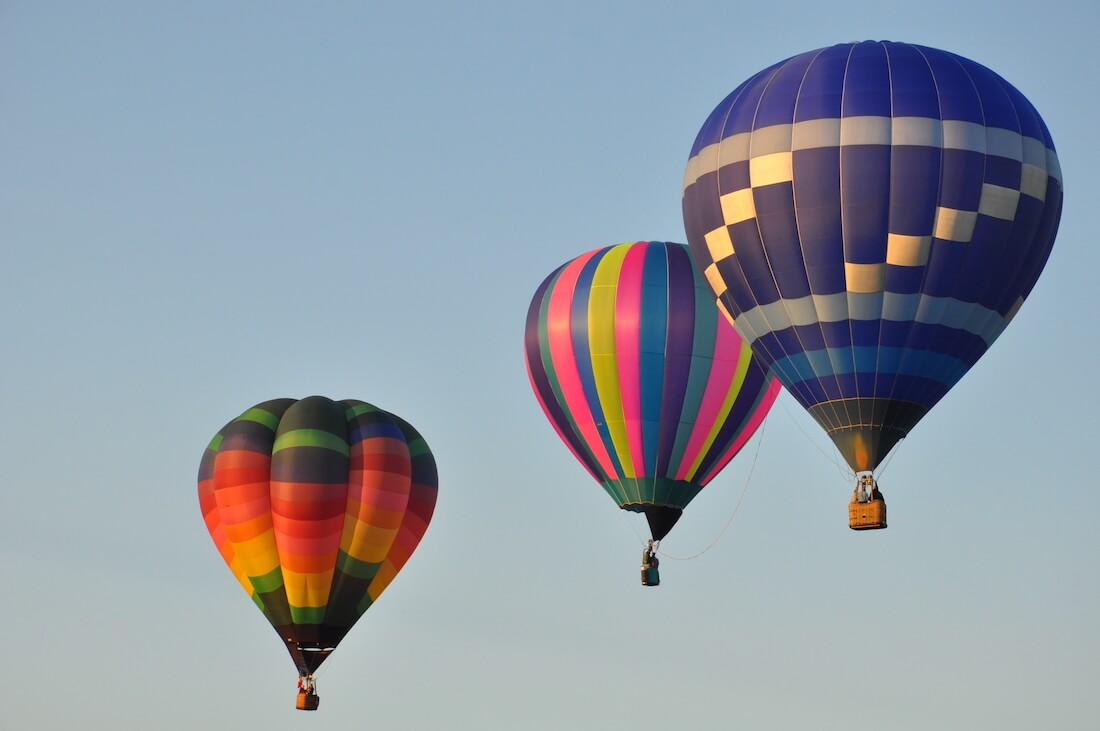 Northampton Brewery
The Northampton Brewery (11 Brewster Court, Northampton) is a popular spot in Western Mass for locals and visitors alike.
Enjoy the spacious indoor area or get outside to bask in the sun on their rooftop beer garden or in the patio area.
A rotating tap list keeps things fun and interesting for multiple visits!
Smith College Museum of Art
Head to the Smith College Museum of Art (20 Elm Street, Northampton) to enjoy an incredible array of over 27,000 works of art.
Seasonal exhibits, group events, and educational programs are also available.
Children under 18 get in for free, making it a great family day out!
The museum is committed to accessibility; read all accessibility details here.
Mineral Hills Winery
Mineral Hills Winery (592 Sylvester Road, Florence) offers another vineyard setting to enjoy tastings, tours, and a beautiful outdoor space to gather in good weather.
You'll find the winery at Godard's Red Hen Farm, only about a 15-minute drive from Northampton.
Artifact Cider Project
If you haven't tried craft ciders yet, then Artifact Cider Project (34 North Maple St, Florence) is the perfect opportunity.
Located about 16 minutes from downtown Northampton, the cidery uses locally grown and harvested apples to brew its delicious ciders.
Visit their taproom to taste what's been recently brewed.
The Amazing World of Dr. Seuss Museum
Whatever your age, you can't skip visiting the Amazing World of Dr. Seuss Museum (21 Edwards St, Springfield) in Western Mass.
If you're bringing the kids, they'll love this interactive space to play and learn.
And if you're going as an adult, get ready for nostalgia as you remember all those stories read to you as a child.
The museum is dedicated to Theodor Geisel — better known to the world as Dr. Seuss — who was born and raised in Springfield, MA.
The first floor of the museum is fully bilingual (Spanish and English) with plenty of fun and interactive exhibits for families.
The second floor recreates the spaces where Geisel wrote, offering insight into the author who taught so many children to love reading.
Naismith Memorial Basketball Hall of Fame
The Basketball Hall of Fame (1000 Hall of Fame Avenue, Springfield) is one of the best things to do in Western Mass with kids.
Sports fans love reliving the most memorable moments in NBA history.
Kids who enjoy shooting hoops will love the interactive areas and getting to feel like one of the basketball legends themselves.
Six Flags New England
Get a day pass for Six Flags New England (1623 Main St., Agawam) and enjoy all of the rides, entertainment, and food offered at this massive theme park.
The park also has restaurants, water rides, and live shows.
It's an iconic New England spot for family fun, to please tricky teenagers, and for adventure-loving adults.
Great Awakening Brewing Co
The Great Awakening Brewing Company (77 Mill St., Westfield) is a warehouse-style brewing house that brews its own craft beers and offers a full menu.
The interior warehouse seating is laidback but enjoyable, with games and activities for visitors.
The outdoor beer garden is always a favorite in good weather.
Le Trois Emme Vineyard and Winery
Red, white, and rose flow in abundance at the Le Trois Emme Vineyard and Winery (8 Knight Rd., New Marlborough).
Enjoy wine on tap in the tasting room for guests to enjoy a flight.
In addition to the tasting room, they also have a bottling room and outdoor spaces for guests to enjoy.
Great Barrington Farmer's Market
The Great Barrington Farmer's Market (Church St, Great Barrington) is open every Saturday from May through November.
It's an outdoor venue and features plenty of locally grown produce and flowers, meats and cheeses, baked goods, and even some prepared foods to snack on.
There's no better way to embrace Western Mass than by supporting local producers and growers!
Barrington Brewery and Restaurant
The Barrington Brewery and Restaurant (420 Stockbridge Rd., Great Barrington) is the perfect spot to sip and snack, offering patrons craft beers and a full menu.
Located in the Berkshires, they source ingredients locally and offer a fun, tavern-style atmosphere for guests to enjoy.
Barrington Brewery was the first on the entire East Coast to utilize its own solar power to heat hot water for the brewing process and for use in the restaurant.
They brew mostly ales, though you'll find some lagers available seasonally.
Grab lunch or dinner and enjoy their outdoor patio dining area in good weather.
Take-out and beer-to-go are both available if you'd prefer picnicking elsewhere.
Note they are closed on Tuesdays.
You may also like our guide to the best hotels in the Berkshires.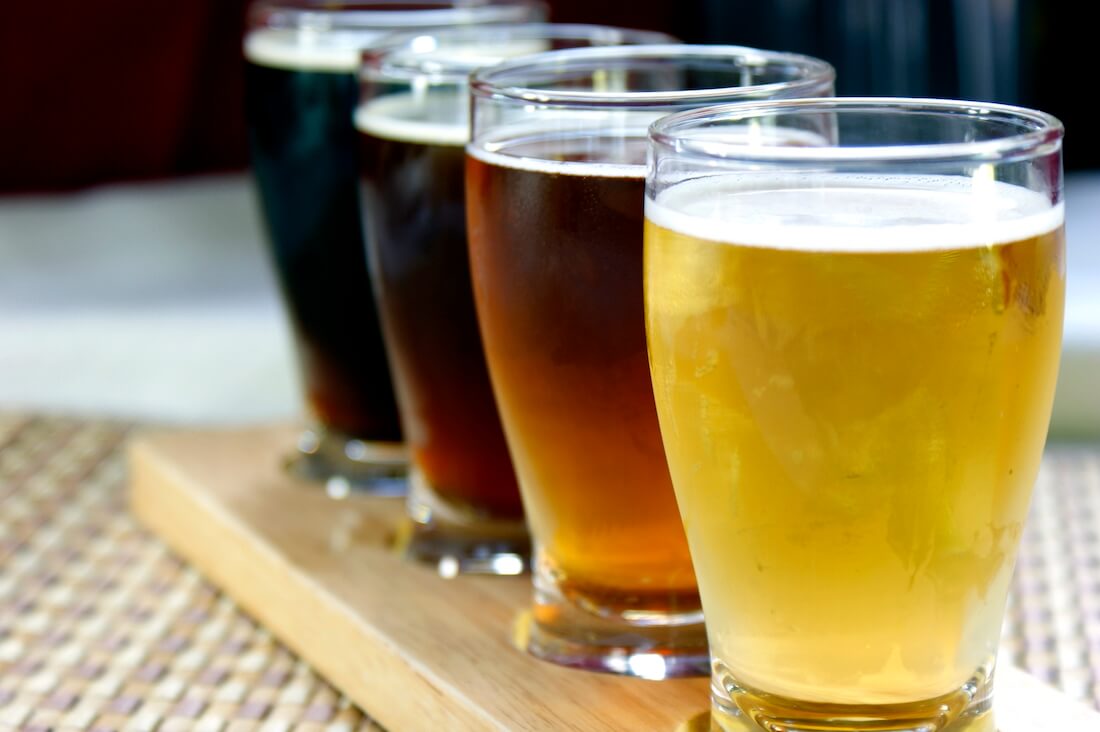 Mahaiwe Performing Arts Center
An array of performing arts is open to visitors at the Mahaiwe Performing Arts Center (14 Castle St., Great Barrington).
Head over to see dances, comedy shows, operas, bands, and plays.
Since 1905, the Mahaiwe (muh-HAY-we) has been entertaining locals and bringing together the community.
It's been operating as a non-profit since 2002, with the aim of presenting world-class performing arts in a historic home amidst a beautiful region.
Butternut Ski and Tubing
Winter travelers visiting Western Mass will have so much fun at Butternut Ski and Tubing (380 State Road, Great Barrington).
While skiing and snowboarding get most of the wintertime attention in New England (and you can enjoy skiing at Butternut), tubing is a favorite pastime that you won't want to miss!
Typically reserved for kids on local hills whenever school gets canceled, the tubing runs at Butternut are for all ages and definitely take tubing to the next level!
While this is a strictly seasonal attraction in Western Mass, you'll want to make the trip during the winter just for this fun day out.
Butternut Ski also features in our guide to winter in the Berkshires.
Catamount Aerial Adventure Park
If you're brave enough, the Catamount Aerial Adventure Park (17 Catamount Rd., South Egremont) is your chance to adventure in the trees!
This climbing and zip line adventure park offers nine separate trails and over 100 fun challenges.
Located right on the New York border just 15 minutes outside of Great Barrington, Catamount is a fun day out for all ages!
Kripalu Yoga Retreat
Recover the mind, body, and spirit at Kripalu Yoga Retreat (57 Interlaken Road, Stockbridge), nestled in the beautiful hills and landscape of Western Massachusetts.
Sign up for a retreat for a day or a weekend with healthy, all-natural meals, meditation courses, yoga sessions, intention setting, and other ways to get back in touch with your inner self.
Norman Rockwell Museum
The Norman Rockwell Museum (9 Glendale Rd, Stockbridge) is a must-see in Western Mass.
Set on a 36-acre campus, visitors love seeing original Rockwell art alongside changing exhibits.
Rockwell's work is famous for telling the stories of our everyday lives through illustration; experience nostalgia and wonder every time you step foot through the museum's doors.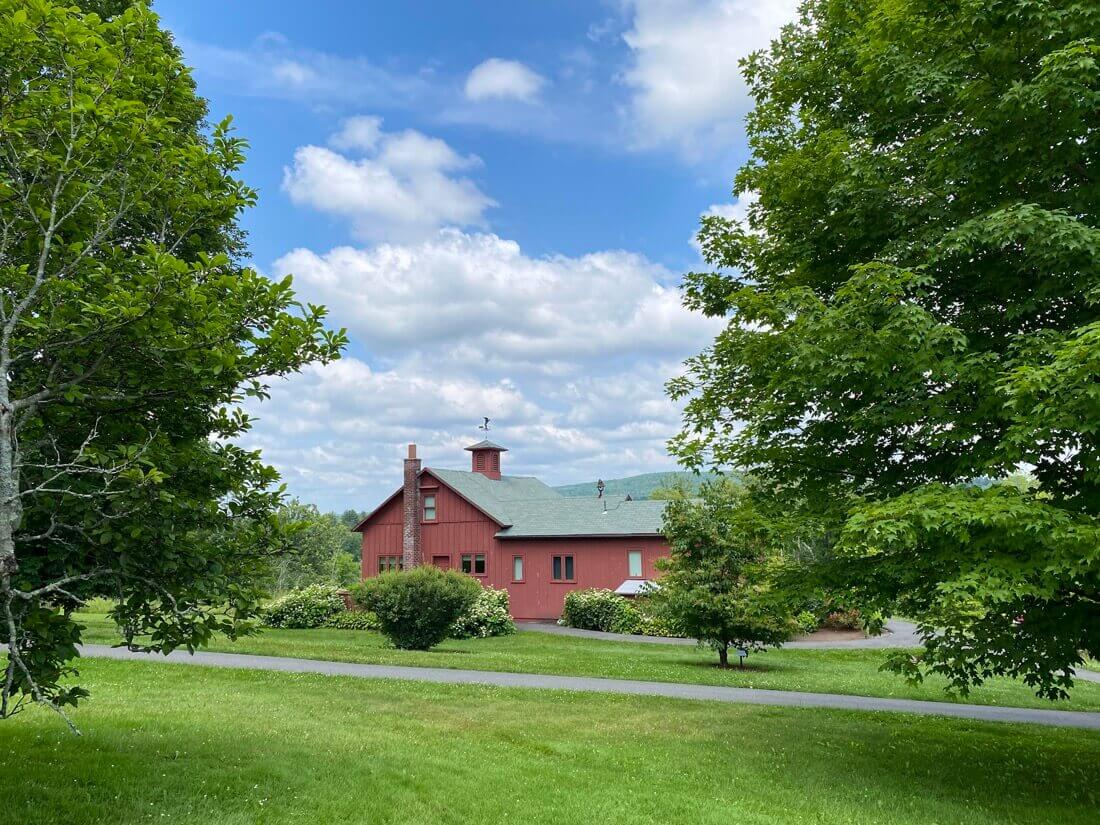 Berkshire Botanical Garden
The Berkshire Botanical Gardens (5 W Stockbridge Rd, Stockbridge) is more than just another garden, with events, classes, concerts, yoga sessions, art exhibitions, tours, and more, all available to guests.
Their 24 acres of space is maximized for all to enjoy!
Check out the calendar before arriving to enjoy a special event or just enjoy the beauty of these colorful gardens at any time of year.
This is one of our favorite romantic things to do in the Berkshires, too!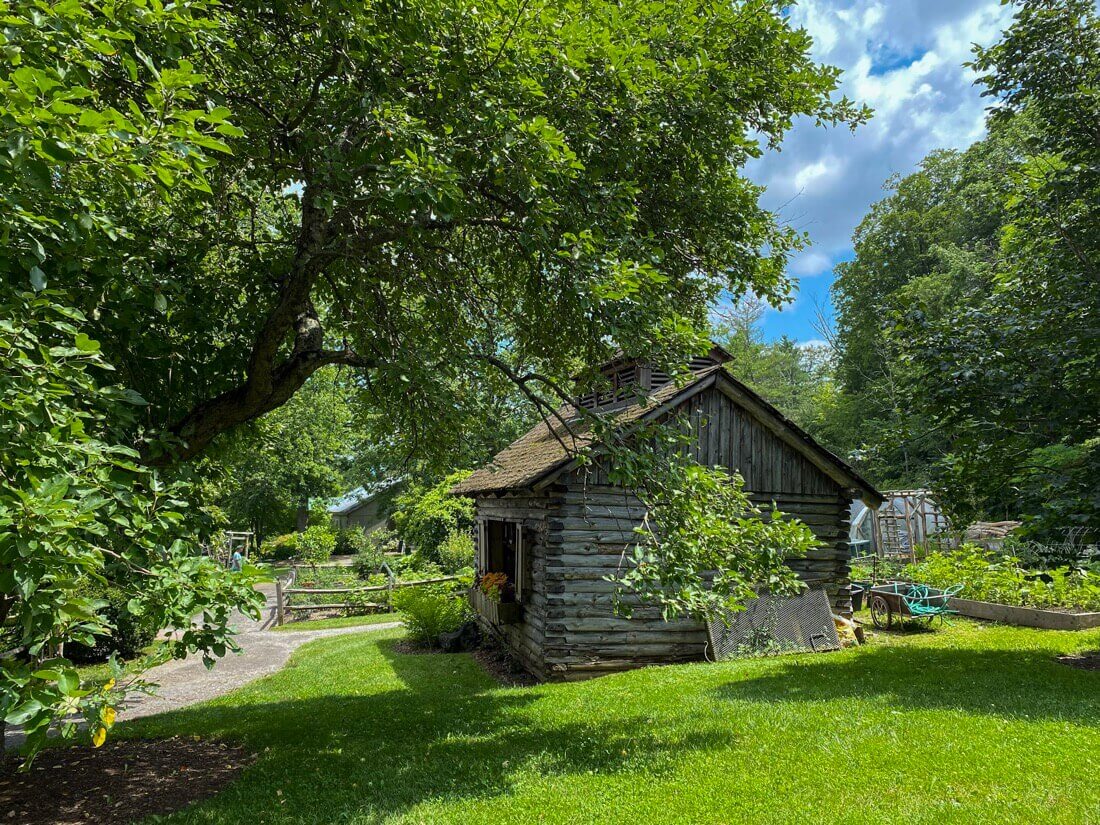 Ashintully Gardens
Swing by Ashintully Gardens (Sodom Rd., Tyringham) to stroll through the grassy meadows and over bubbling streams.
You can follow the well-marked trail to find the remains of the Marble Palace.
With 120 acres to explore, you could certainly spend all day here!
Visit the house, the barn, and the gardens, or take an hour to hit the trail and enjoy spotting wildlife.
Note that picnicking is not allowed on the property, nor are dogs.
Edith Wharton's Home, The Mount
The Mount (2 Plunkett Street, Lenox) is home to famed American author Edith Wharton.
Listed as a National Historic Landmark, a visit to The Mount was designed by Wharton and built in 1902.
The estate includes her first home, which houses artifacts and rich historical items, and the surrounding grounds for visitors to stroll.
Wharton is best known for her classic novels The Age of Innocence and The House of Mirth, but she was also the foremother of modern interior design profession and also spearheaded a refugee program during World War II.
She's a perfect example of the spirit of Western Mass, past and present.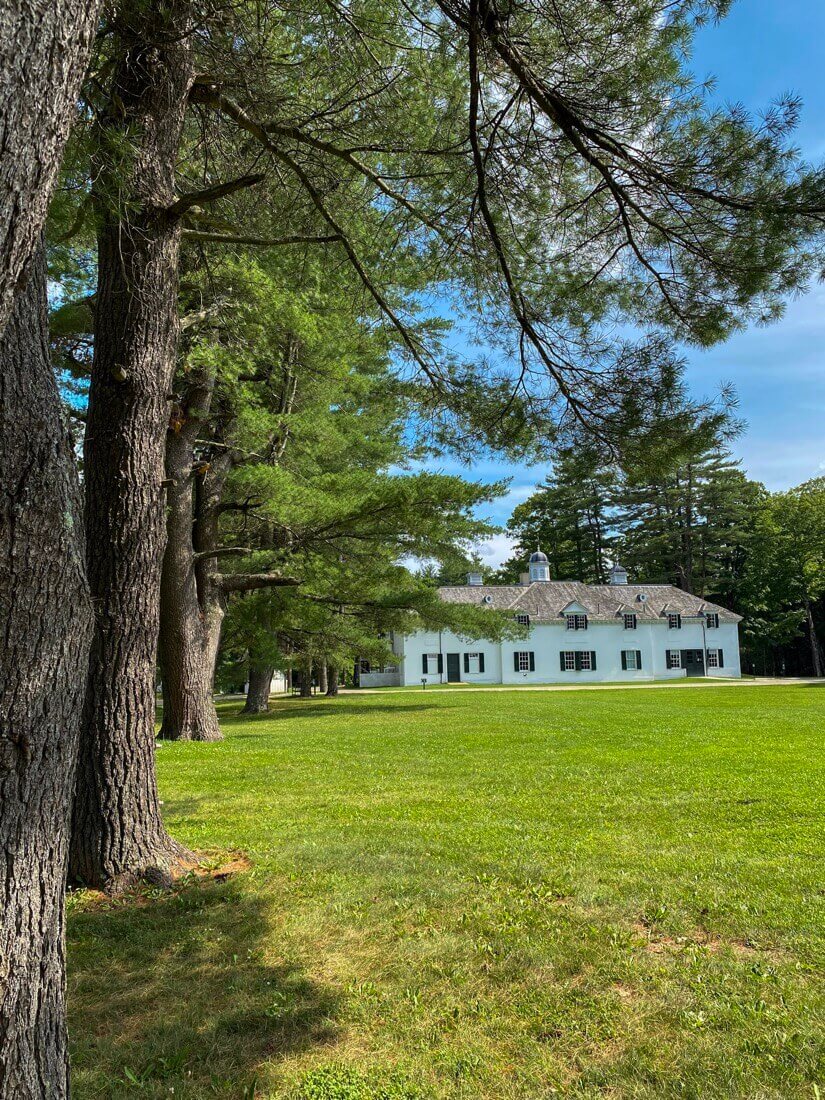 Shakespeare & Company
Catch a live performance of Shakespeare & Company at one of their four theaters: the Tina Packer Playhouse, the Elayne P. Bernstein Theatre, The Roman Garden Theatre, or The New Spruce Theatre (70 Kemble St., Lenox).
This lively and engaging theatre company hosts seasonal productions that locals and residents can both enjoy.
It's yet another wonderful thing to do in the Berkshires each summer!
Ventfort Hall Mansion
The restoration of Jacobian Ventfort Hall Mansion (104 Walker St., Lenox) once belonged to Sarah Morgan, sister of J.P. Morgan (like the bank).
It houses the Museum of the Gilded Age, houses seasonal exhibits, and also hosts Tea & Talk sessions for visitors to hear pleasant lectures, musical shows, and other fun events for visitors to partake in.
Hancock Shaker Village
The Hancock Shaker Village (1843 W Housatonic St, Pittsfield) is a preservation site rich with Shaker history, a religious group that came from England in the 18th century.
This living history museum includes hundreds of acres of land with buildings, a museum, activities, interactions, tours, farms, gardens, and hiking spots.
Herman Melville's Arrowhead
Herman Melville, the author of the world-famous novel Moby Dick, purchased Arrowhead Farm (780 Holmes Rd, Pittsfield) in Western Mass in 1850.
The 160-acre farm was home to the author while he wrote the famous story, which was first published in 1851.
He and his family enjoyed rural farm life in Pittsfield, including hosting many other famous contemporary writers and creatives.
You can park and enjoy the grounds for free; guided tours of the house are available for a fee.
There are discount offers available for other related historical homes and museums.
Check the website for details.
Berkshire Museum
The Berkshire Museum (39 South St., Pittsfield) is a museum for all ages that combines the arts, sciences, and history in an engaging and interactive format.
Different galleries for geology displays or hallways of modern art and photography are just a few highlights at the museum.
All public areas of the museum are fully wheelchair-accessible.
Ramblewild Adventure Park
The Ramblewild Adventure Park (110 Brodie Mountain Rd., Lanesborough) is another great option for things to do in Western Mass for families and adventure-seekers who love to spend their time in the outdoors.
The zipline obstacle course through the rich, lush jungle is not only engaging physically but offers beautiful views of the wildlife, too.
Get outdoors and ramble wild!
Jiminy Peak Mountain Resort
Jiminy Peak Mountain Resort (37 Corey Road, Hancock) is an all-in-one hub for activity, fun, and food for families, couples, and friends traveling.
The seasonal spot is fun in different ways depending on what time of the year you go: enjoy skiing and snowboarding in the winter or mountain biking and roller coasters in the summer!
The resort features restaurants, shopping, lodging, activities, and classes to entertain guests of all ages.
Jiminy is also committed to sustainability efforts and gets 100% of its electric energy from renewable sources.
Book your stay at Jiminy Peak on Expedia or Hotels.
Jiminy also features in our guide to skiing in Massachusetts.
Cummington Fair
Every August, the Cummington Fair (97 Fairgrounds Rd., Cummington) invites locals and visitors alike to embrace the traditional country fair.
Running since 1869, the fair entertainment includes live music, horse shows, jugglers, a horse and ox draw, vendors, fair food, and so much more.
Plan your Western Mass trip for August and partake in all the fun!
Three Sister's Sanctuary
The Three Sister's Sanctuary (188 Cape St., Goshen) is a beautiful spot for enjoying both art and nature in one exquisite location.
It features eclectic, unique artwork embedded into the surrounding wildlife, as well as various outdoor exhibits and an Airbnb for visitors.
Feel the serene, relaxing state as you explore the Sanctuary.
It's often described as magical, mystical, and whimsical…so enjoy the wonder during your visit!
Bridge of Flowers
The Bridge of Flowers (22 Water St., Shelburne Falls) is a small footbridge decorated with flowers and shrubs in Shelburne Falls that sits over the Deerfield River.
Between April 1st and October 31st each year, you can expect to find a colorful arrangement to enjoy.
The trolley bridge was built in 1908 but was no longer needed once vehicles became ubiquitous; it was essentially obsolete by 1927.
Once it was no longer in use, a local couple, Antoinette and Walter Burnham, proposed using the bridge for flowers; the Shelburne Falls Women's Club took up the idea and financed the project, which has continued since 1929.
The Bridge of Flowers is certainly a pretty spot for a quick stop as you're visiting other highlights of Western Mass.
You'll get some great snaps for Instagram!
Shelburne is one of our favorite fall day trips from Boston if you get an early start for the long-ish drive.
Note: Reconstruction work on the Bridge of Flowers commenced at the end of the 2023 season and will continue into 2025.
Shelburne Falls
While in Western Mass, you must swing by the Bridge of Flowers as well as the rest of the Shelburne Falls area (6 Deerfield Ave, Shelburne Falls).
The small town includes glacial potholes, murals, trolley rides, part of the Mohawk Trail, and the Deerfield River.
History buffs and nature lovers will all appreciate this spot!
Crab Apple Whitewater Inc
Join Crab Apple Whitewater (2056 Mohawk Trail, Charlemont) for a whitewater rafting adventure!
Crab Apple has been operating in Maine since 1983 and on the Deerfield River in Western Mass since 1989.
Choose from Class I to Class IV rapids, and you can opt for a group raft or a funyak.
With a name like that, who could refuse?
Hail to the Sunrise Park
Perfect for a quick educational stop, Hail to the Sunrise Park (512 Mohawk Trail, Charlemont) has a small reflecting pool and features a statue of a Mohawk man raising his arms and facing east to welcome the sun.
The statue was unveiled in 1932 and, although it has connections to white fraternal society demonstrating rampant cultural appropriation, the statue still serves as a solemn reminder of the many native peoples who have called and continue to call this land home.
The Mohawk Trail runs through Hail to the Sunrise Park, which was an important trade route used by many local peoples including the Mohawk, Wampanoag, Mohican, and more.
Kayak with Zoar Outdoor Adventure Resort
The Zoar Outdoor Adventure Resort (7 Main St, Charlemont) is an awesome spot for those who love the outdoors and adrenaline!
Kayak, canoe, or raft along the Deerfield River and embrace the adventurous spirit of Western Mass.
You can also check out their ziplining, camping, and lodging options, making it a great all-in-one stop.
If you love the sport, check out our guide to kayaking in Connecticut for more nearby fun.
Thunderbolt Mountain Coaster
The Thunderbolt Mountain Coaster (66D Thunder Mountain Rd., Charlemont) is North America's longest Mountain coaster, with giant drops, 360 turns, and insane speeds sure to satisfy thrill-seekers.
Reserve a ride in advance to speed through the trees, up the hills, and to get quick views you won't find elsewhere.
This is a combination of an alpine slide and a roller coaster…so get ready for some thrilling fun!
Where to Stay in Western Mass
This is an expansive area, so unless you're up for long road trips every day, you'll probably want to stay in a few different spots to truly enjoy this whole list of activities and attractions in Western Mass.
Stay in Amherst at the Inn on Boltwood for a stellar central location with easy access to many of these places (book on Expedia, Hotels, or Booking).
Alternatively, the Hotel Northampton offers another ideal location near tons of fun things to do; check it out on Expedia, Hotels, or Booking.
For spots in the Berkshires, book at Tanglewood Suites in Stockbridge (Expedia or Hotels), The Barrington in Great Barrington (Expedia or Hotels), or the delightful Brook Farm Inn in Lenox (Expedia, Hotels, or Booking).
Spend a few nights in the Amherst/Northampton area and then a few in the Berkshires to maximize your Western Mass trip.
Final Words
If you were looking for fun things to do in Western Mass, we hope you have plenty of ideas now to keep you busy!
Share your favorite local activities in the comments below.