This article has links to products and services we love, which we may make commission from.

There are so many things to do in Washington DC for all types of interests. Whether you're local or visiting the nation's capital, you'll have plenty of options for free museums, top-tier galleries, fun outdoor activities, and so much more.
DC is known for its many Smithsonian Institutions covering a wide variety of topics; being able to enter these museums for free is a fantastic privilege that locals and visitors all enjoy!
The city is also a very transient place, with several colleges attracting students who come and go, plus the nature of politics brings waves of interns and new staffers on a regular basis.
To attract the constant flow of newcomers, you'll find tons of enticing offers from happy hours to brunches, and weekend events to frequent festivals.
Throughout the year, DC hosts countless unique events and activities that you won't want to miss!
You might also like our recommended day trips from DC to explore more while you're here, including nearby Baltimore.
And our guides for DC in the fall and DC cherry blossom season can help you plan when to visit.
Top Activities in Washington DC
If you're a first-time visitor, these are the best things to do in Washington DC that you absolutely cannot miss.
With a focus around the National Mall, all of these sites are iconic in Downtown DC, plus we have a few recommendations for local favorite spots away from the tourist hubs!
If you're stopping briefly in DC during our recommended East Coast road trip, these are the best things to do.
Stroll the National Mall
The National Mall is the most visited national park in the United States and it serves as the hub of Washington DC sightseeing.
It is also the heart of the downtown area, spanning 2 miles between the Capitol and the most famous memorials and monuments in the city.
Stroll along this grassy stretch where kickball games and picnics abound.
All along the way, you'll find various Smithsonian museums and some of the nation's capital's most iconic architecture.
Whatever time of day, whatever the weather, this is absolutely one of the top Washington DC places to visit!
Need a more accessible option instead of walking several miles?
See the top memorials and monuments of the National Mall on this electric cruiser tour, perfect for families with young kids or those with accessibility needs.
Local tip: the monuments are particularly striking at night; enjoy an open-top bus as dusk settles over the city and see the city from a different perspective.
Cruise the Potomac River
The Potomac River separates Washington DC from Virginia, and it offers an idyllic setting for seeing DC from a different angle!
Cruise the Potomac River on a lunch or dinner cruise to enjoy a meal and a unique perspective on the city's most famous sights.
Prefer to power your own way?
Rent a paddleboard or kayak instead and you can paddle along the peaceful river with views of iconic Georgetown, the Lincoln Memorial, the Washington Monument, and so much more!
This is also one of our top ideas for date night in DC.
Visit the White House
The White House (1600 Pennsylvania Avenue NW) is perhaps the most recognizable home in the United States.
Did you know you can go inside for free?
The White House is also called The People's House; all you need to do is submit a request for a public tour through a Member of Congress.
Just be sure to request it well in advance of your visit!
The White House is obviously one of the most important places to visit in Washington DC.
Pro tip: Try to visit around Christmas for the incredible decorations you'll get to enjoy indoors.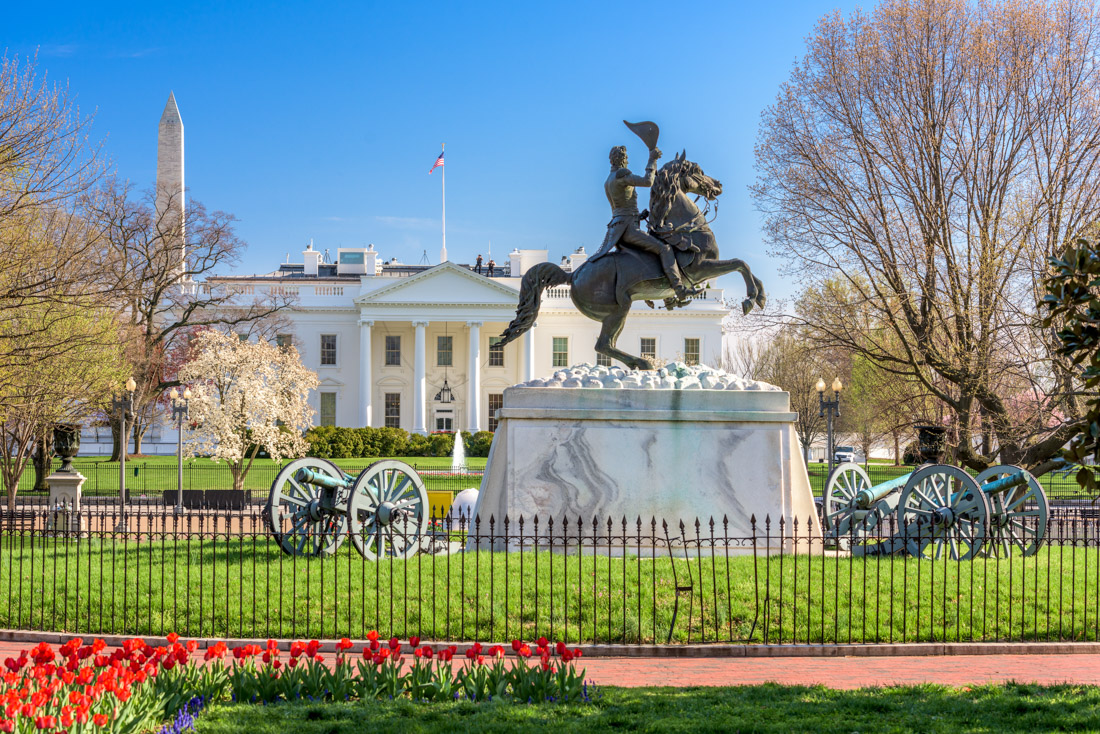 Admire the Washington Monument
The Washington Monument (2 15th St NW), is a stunning, obelisk-shaped building situated on the National Mall in front of the White House and it's one of the most iconic things to see in Washington DC.
In fact, you really can't help but notice it standing tall above the city!
Built in honor of George Washington, this 555-foot structure towers above the DC skyline, creating a focal point throughout the city and beyond.
You can do more than admire it from the outside — go to the top of the Washington Monument for incredible views across the entire city!
Enjoy a guided tour of the city highlights plus entry to the Washington Monument for epic views with this tour.
Walking around the Monument is also idyllic; enjoy the cherry blossoms in the spring and walk along the reflecting pool towards the Lincoln Memorial for a true Americana experience.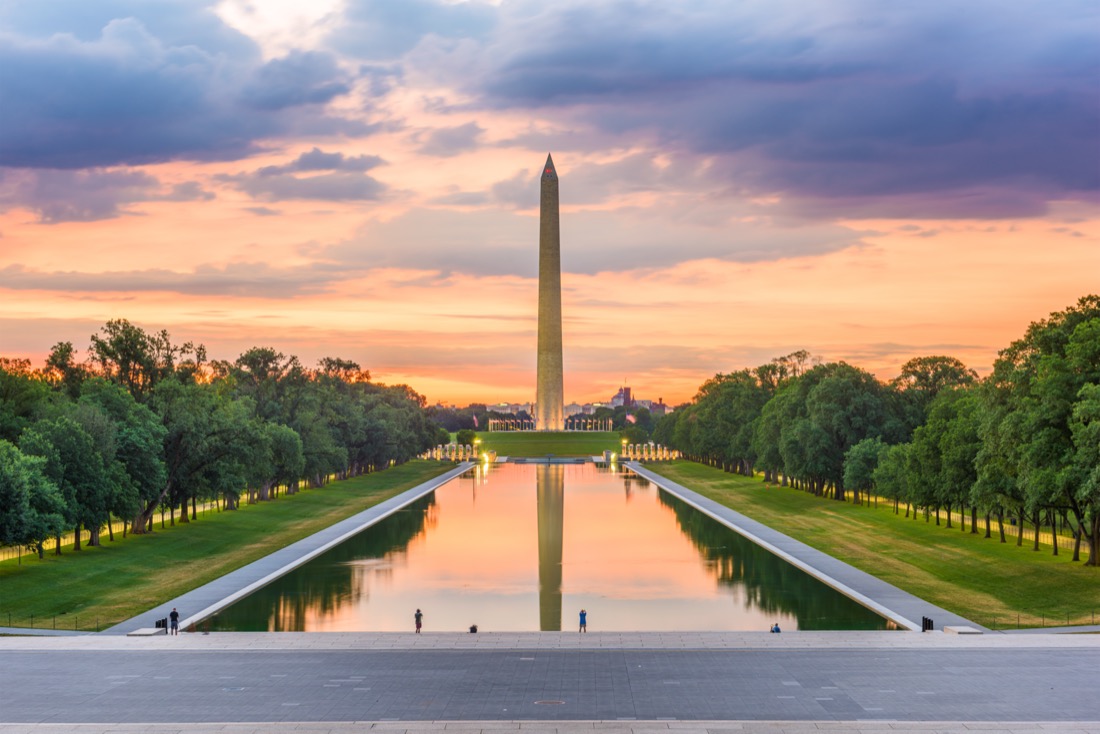 Pay Your Respects at the Various War Memorials
Beyond the Washington Monument, you'll find a wide variety of memorials dedicated to famous Americans and veterans of various wars.
These are certainly among the top places to see in Washington DC and you'll want to dedicate the time they deserve for a visit.
Note that these are memorials — visitors should be respectful and mindful of other visitors in these spaces; many people come to honor their own friends and family who have died in or been impacted by these conflicts.
Please also be mindful as you take any photos or videos at these sites.
If you're short on time, this bike tour will take you to all the memorials much faster than if you were to walk!
If you want to learn more about the architecture and design of these iconic memorials, this walking tour dives deeper than just admiring their pretty facades.
WWII Memorial
Start your DC Memorials stroll at the WWII Memorial, just across 17th Street from the Washington Monument.
Dedicated in 2004, the memorial honors the 400,000+ Americans who died during World War II; browse the various bas-relief panels and read the many inscriptions around this beautifully designed memorial.
Lincoln Memorial
Beyond the WWII Memorial is the Reflecting Pool, at the far end of which stands the Lincoln Memorial.
This iconic structure is powerful in its design and significance; it's also one of the prettiest spots in DC at night.
Vietnam Veterans Memorial
North of the Reflecting Pool, you'll find the Vietnam Veterans Memorial, which is perhaps the most powerful of the many memorials in Downtown DC.
The inscriptions of more than 58,000 names of those who died in this conflict humanize the cost of war in an unforgettable way.
Korean War Veterans Memorial
On the opposite side of the Lincoln Memorial, you'll find the Korean War Veterans Memorial.
This haunting memorial depicts 19 soldiers on patrol, with a black granite mural wall designed to reflect their likenesses to double their ranks to 38, symbolizing the 38th Parallel (the demarcation line between North and South Korea).
DC War Memorial
Past the Korean War Memorial, you'll find the DC War Memorial, which honors the residents of the city who died during World War I.
This spot is less frequently visited by tourists but it's a beautiful structure — especially at night!
Martin Luther King Jr Memorial
From there, cross Independence Ave to reach the extraordinary Martin Luther King Jr Memorial.
Stand in awe before his imposing figure and honor his life and legacy, which continues to impact US society today.
Franklin Delano Roosevelt Memorial
A walk around the Tidal Basin will bring you first to the Franklin Delano Roosevelt Memorial.
This is most often visited during cherry blossom season in DC, but otherwise, the FDR Memorial isn't the most popular of Washington DC tourist spots.
It's usually quiet and beautiful here, you can enjoy it with fewer tourists around.
Read the various inscriptions and see the statues of both FDR and Eleanor Roosevelt, who had a lasting impact on the city and country in multiple ways.
Jefferson Memorial
At the far side of the Tidal Basin, you'll find the Jefferson Memorial, which is another beautiful building that honors another icon of early US history.
Read the quotations inside the rotunda and enjoy the views across the water as you stand beside Jefferson's statue.
Visit the United States Capitol Building
At the opposite end of the National Mall, the United States Capitol (First St SE, Washington) is where both the Senate and House of Representatives meet to discuss legislation and critical national matters.
Witness the inner workings of the US government amidst an architectural gem with a visit inside the Capitol.
You can arrange a free tour through your Congressional Representative or Senator, or book a tour through the US Capitol website.
This is one of the top things to do in Washington DC whether you're a local or visiting from near or far.
Note that the grounds are quite extensive and the closest area to get dropped off via a taxi will still require some walking.
If you have accessibility needs, review their options and policies here.
Be Awed by the Library of Congress
Across the street from the east side of the Capitol is the Library of Congress, which is the nation's oldest federal cultural institution.
The interior is extraordinary and — you guessed it — you can enjoy free entry here, too!
Admire the plethora of artwork all around the building, and don't skip the extensive photo collection marking many of the nation's most pivotal moments in history.
The Jefferson Library is a treasure, while the view overlooking the reading room is mesmerizing.
Despite its beauty and free entry, the Library of Congress isn't one of the first stops for most tourists.
Add it to your must-see list in Washington DC!
The Library of Congress also features in many ghost tours, which you can read about here.
Eat and Shop at Eastern Market
Just a few blocks from the Library of Congress is historic Eastern Market (225 7th St SE), which has been in operation since 1873.
The indoor market hall focuses on food goods and stalls; grab a bite to eat or just peruse the market and enjoy the classic vibes.
On weekends, the area outside of Eastern Market fills up with stalls of all varieties.
Shop locally-created crafts, food, clothing, artwork, and so much more.
Shhh! Insider tip: Eastern Market is one of the most beloved Washington DC activities on a Saturday morning all year round!
Bike the United States National Arboretum
The National Arboretum (3501 New York Avenue NE) is run by the United States Department of Agriculture's Agricultural Research Service.
It is a scenic wonder, especially when the leaves begin to change in the fall.
The arboretum houses over 44,000 rare and endangered trees, plus an array of beautiful flowers that serve as a beautiful backdrop to a springtime stroll.
The Arboretum is an expansive site, but it's not one of the most popular places to go in Washington DC so it's not as frequently visited by tourists.
Rent a bike to explore even more during your visit; the ride from Union Station is easy and convenient enough.
Best Smithsonian Museums to Visit in Washington DC for Free
The Smithsonian Institution includes 21 museums and is certainly a leader in Washington DC tourist attractions, hosting over 155 million objects in its astounding collection.
The Smithsonians are all free to enter and hold an incredible amount of educational and insightful pieces to peruse.
Whether you like art, history, pop culture, technology, engineering, or learning about various peoples and cultures, there is most certainly a Smithsonian for you!
It doesn't matter if you have a few hours or a whole week, you could spend your entire trip just downtown going from museum to museum along the National Mall.
Here are some of the top Smithsonian Museums in DC and what you can expect from each.
All of these are located right along the National Mall, so you can conveniently stop in between visits to the Capitol, the White House, memorials, and more.
National Museum of African American History and Culture
The National Museum of African American History and Culture (1400 Constitution Ave. NW) is the closest museum to the White House, Washington Monument, and the war memorials.
The museum is the only national museum dedicated specifically and solely to the stories of African Americans; it has very quickly become one of the best places to visit in Washington DC.
It is a powerful space that examines the nation's story through the lens of the African-American perspective.
Through a multitude of regular and special exhibits, the NMAAHC features everything from the stories of enslaved people to today's cultural and political icons.
Reserve a free timed-entry pass online in advance; they are made available on a rolling basis 30 days in advance.
Plan to spend around 3 hours in the museum, although many visitors spend even longer, often coming back for a second day to try to see everything.
Check out their accessibility information and FAQs for more insights.
For more context into the local DC experience, take this African American history tour first, which finishes with your timed entry ticket to the museum.
You might also like this private tour inside the museum so you can be guided through the enormous collections to maximize your time without getting overwhelmed.
National Museum of Natural History
The National Museum of Natural History (1300 Constitution Ave. NW) features a wide variety of exhibits dedicated to learning about the natural world and humans' role within it.
Especially popular with families, the Natural History Museum has a fantastic fossils exhibit, as well as an expansive geology and rare minerals exhibit for kids to learn more.
With over 145 million objects on display, it can quickly become overwhelming; take this tour to see the highlights and learn more during a 2-hour guided experience.
As with all the Smithsonian Museums, entry is free; there is no need for timed-entry passes.
Find out more about accessibility at the museum.
National Museum of American History
The National Museum of American History (1300 Constitution Ave. NW) features nearly 2 million objects spanning approximately 3 miles of shelf space.
It is jaw-dropping in its breadth of content!
If you enjoy history, you'll see everything from the flag that inspired the Star-Spangled Banner to President Lincoln's tophat on display.
If you love pop culture, Americana is on full display at the American History Museum.
There are also two hands-on spaces that are perfect for kids.
Plan to spend around 2 hours at this museum, although you could spend much longer going through every exhibit.
The best way to experience the museum is through a guided tour so you don't miss the best exhibits but also don't get overwhelmed by it all.
Here is the museum's accessibility information.
National Air and Space Museum
The National Air and Space Museum (655 Jefferson Dr SW) is the DC location for an enormous collection of aviation and space artifacts — in fact, it's the world's largest such collection.
The counterpart to this DC location is the Steven F. Udvar-Hazy Center at Dulles Airport out in Chantilly, Virginia.
There, you can see a variety of full-size aircraft in an impressive museum space that feels like a hangar.
In the heart of Washington DC, you can check out a wide variety of rockets, gliders, spacesuits, and more.
The on-site Planetarium and IMAX Theater are very popular.
For any exhibit or theater, free timed-entry passes are required; book yours on the website.
Or you might prefer this tour for a guided museum experience to learn so much more about the most significant pieces in this impressive collection.
Note that the National Air and Space Museum in DC is undergoing ongoing renovations and construction through 2025.
National Museum of the American Indian
The National Museum of the American Indian (4th St SW) is a unique building situated at the end of the Mall closest to the Capitol, with only the US Botanic Gardens between the two buildings.
The National Native American Veterans Memorial is situated just outside the front door of the museum; be sure to walk through this multisensory and powerful memorial before or after visiting the museum.
Inside, you can explore one of the world's largest collections of artifacts from Native peoples across the entire Western Hemisphere.
Learn about the original Americans and their impact on the countries and peoples who live on this land today.
Exhibits include a variety of artwork and crafts, as well as a range of in-depth insights into specific groups and their stories.
You can also learn more about the treaties that have been signed over the centuries between the US government and Native peoples, including the realities of broken promises over the years.
For all Americans, this museum is a must-do in DC.
The museum is also one of the smaller Smithsonians, so people tend to spend around 1.5-2 hours and can see the vast majority of the exhibits.
The on-site restaurant is also always popular!
Check out the museum's accessibility information here.
Best Washington DC Attractions and Tours
To dig below the surface in a city, you really need to take a guided tour.
Walking around Washington DC on your own will allow you to see a variety of beautiful buildings, historic spaces, and iconic memorials and monuments.
But you won't get the full experience or background on these sights without the insights of an experienced tour guide.
Here are a few of the best Washington DC sightseeing tours so you can get more out of your visit.
Hop-On Hop-Off Sightseeing Tour
When you visit a new city, a hop-on hop-off sightseeing tour can be a great way to see all the top sights and attractions.
Choose from a 24-, 48-, or 72-hour ticket with this comprehensive bus tour.
Even better, get this combo ticket for a hop-on hop-off tour plus a river cruise to enjoy a different perspective on the city!
Eat at Ben's Chili Bowl on U Street
U Street is famous as the home of DC jazz and Ben's Chili Bowl — which you absolutely cannot skip when in DC.
Ben's is a beloved local favorite that also attracts tourists from all over the world; it's one of those rare gems.
It's one of those cool things to do in DC where you can interact with locals even though you're a tourist.
Even better: take this neighborhood food tour to get the stories behind the bites and learn more about the people who made this part of DC what it is today.
If you'd prefer an evening option, this walking tour highlights the history of U Street from Black Broadway to Little Ethiopia.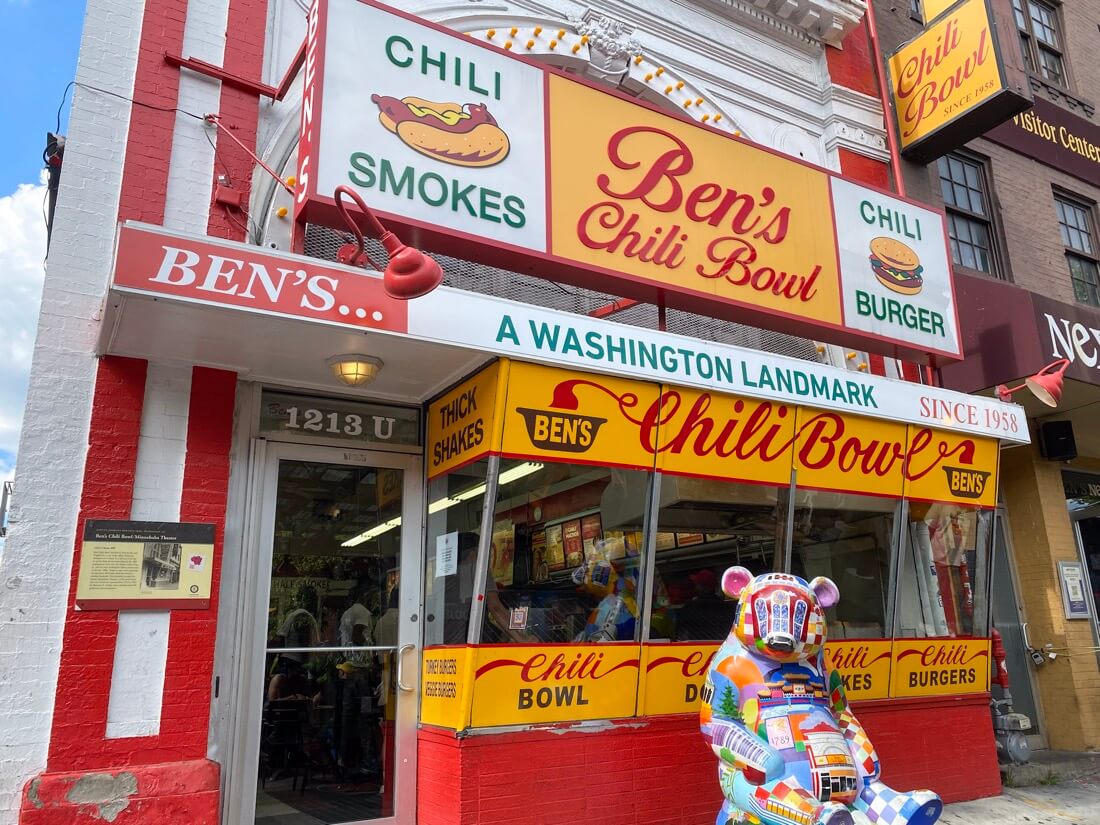 Take a Haunted Walking Tour
If you're looking for more offbeat things to do around Washington DC, you're in luck…
Washington DC certainly has its dark history — just like any major city!
Learn about that side of the city and decide for yourself if the ornate buildings around the White House might be haunted during a haunted walking tour.
This tour is also a great option for things to do in DC at night, or if you prefer a ghost tour with boos check out our DC spooky tours article.
Learn and Laugh on a History Pub Crawl
Some of the best stories are told over a pint of beer.
Learn the history of DC on a guided pub crawl, from CIA spies to George Washington's personal brewing endeavors and so much more.
Enjoy learning while you sip your beers in pub after pub.
If you're into pub crawls, you should make sure you're in DC for St. Patrick's Day to join the green-wearing crowds for the celebrations.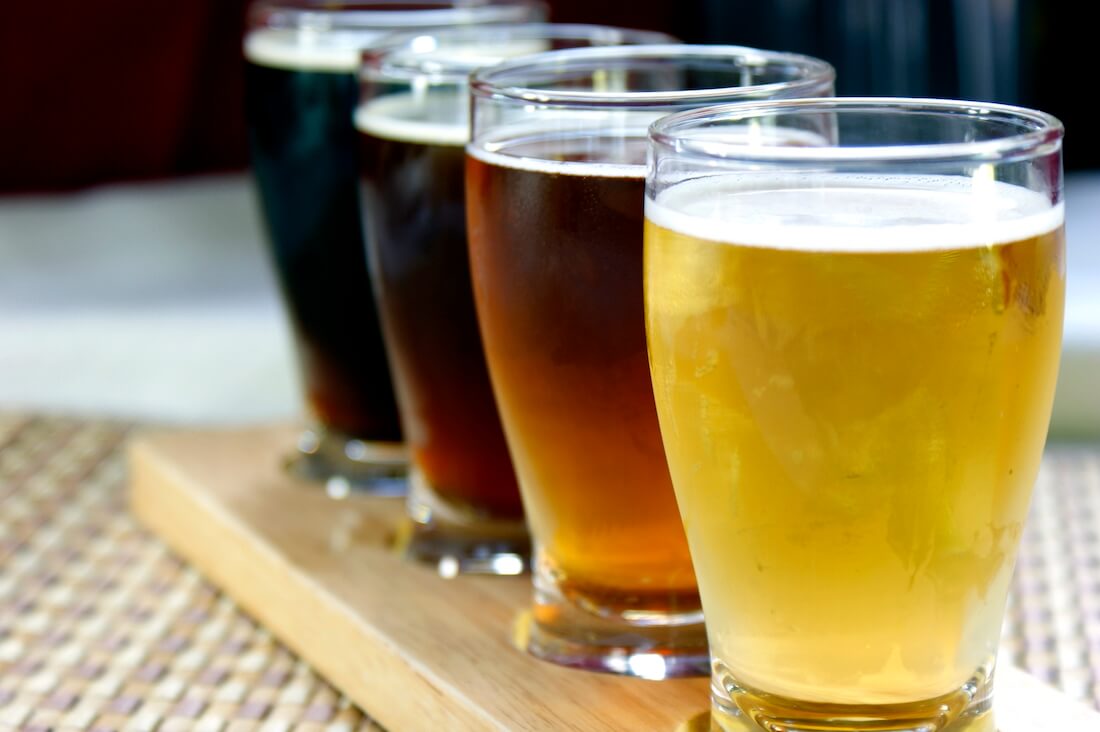 Test Your Spy Skills at the International Spy Museum
The International Spy Museum (700 L'Enfant Plaza SW), is a one-of-a-kind destination for anyone interested in the art of espionage.
The Spy Museum is definitely one of the most fun things to do in Washington DC with friends or a partner.
See the gadgets and technology spies have used over the years to hide their secrets, and learn about some of the most infamous spies' stories.
This is the largest collection of international spy-related artifacts, so don't think you'll be able to see it all in one visit!
Most people spend 2-3 hours here.
Get information on their accessibility features here.
Activities to Do Near Washington DC
While there are so many things to do in DC, you can also cross the Potomac River by bridge or by Metro and find yourself conveniently in Northern Virginia.
Arlington offers plenty of things to do in its own right, but these make for a perfect addition to a Downtown DC trip with just a short detour.
National 9/11 Pentagon Memorial
The National 9/11 Pentagon Memorial (1 N Rotary Rd, Arlington, VA) is an outdoor memorial for the 184 victims of the hijacked plane and Pentagon destruction during the September 2001 attacks.
It's free to visit the memorial and accessible via a half-mile walk from the Pentagon Metro (Blue Line).
Arlington National Cemetery
Arlington National Cemetery (Arlington, VA) includes more than 600 acres of veterans' graves dating back to the Civil War.
It is the final resting place of over 400,000 military men and women and also contains the graves of famous Americans like Jackie Kennedy and John F. Kennedy, President William Howard Taft, and Supreme Court Justice Ruth Bader Ginsburg.
The Tomb of the Unknown Soldier is there to honor
See and pay respect to the important men and women with a tram tour.
This tour of the cemetery provides far more context to such a powerful place and also includes the memorials just across the bridge in DC for a comprehensive experience.
Final Words
You could spend weeks visiting the city and still not hit all the best things to do in DC! But we hope this guide helped you to plan your trip and start checking off the top sights and things to do.
Share your favorite DC travel tips in the comments below.
Our Washington DC Travel Guides