This article has links to products and services we love, which we may make commission from.

There are so many fun things to do in the White Mountains of New Hampshire all year round! From the heights of Mt. Washington to the gentle Saco River, the White Mountains are an outdoors lover's paradise.
Head to New Hampshire in the summer for river-based fun, hiking adventures, waterparks, and so much more. Or enjoy the stunning fall foliage as you drive along the Kancamagus Highway in the fall!
It's one of the best day trips from Boston at that time of year, long though it may be.
Wintertime in the White Mountains is dreamy for those who love downhill or cross-country skiing. But skiing isn't the only outdoor fun in colder weather! Think ice castles, tubing, and skating…it's all here in our guide to the best things to do in the White Mountains.
Of course, we can't always predict the weather and sometimes these outdoor adventures just don't suit the cold or rain. Don't worry, there are still tons of great things to do indoors in the White Mountains, too.
As you're planning your trip, be sure to check out our guide to where to visit in New Hampshire so you know all the top spots across the Granite State.
Best Things to Do in the White Mountains
Since we're talking about a natural area, obviously the outdoor activities in the White Mountains are some of the top things to do!
See later sections for things to do in the fall and winter, but these are ideal for summertime, which is one of the busier times in the White Mountains.
Schools are on vacation, families are traveling locally, and the days are long and sunny for endless natural beauty and adventure!
If you do plan a trip slightly earlier to head to NH in the spring, then the White Mountains are where you can go searching for the beautiful state flower: the Pink Lady's Slipper.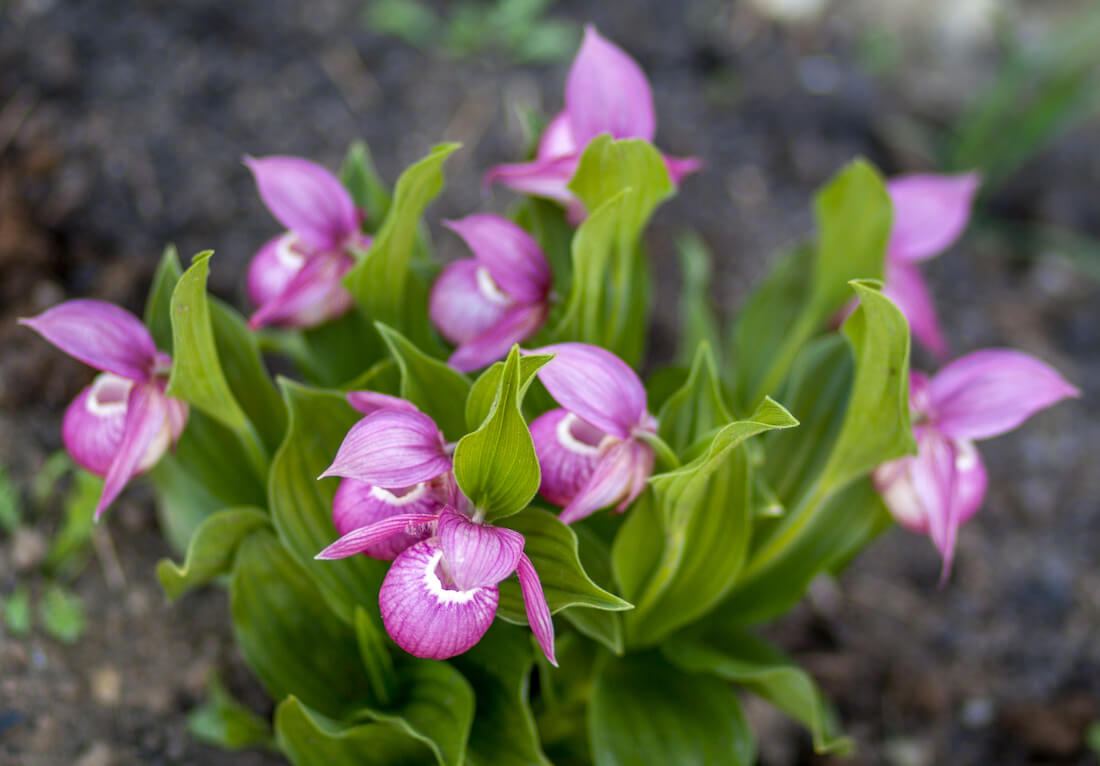 Mt. Washington Cog Railway, Mount Washington
For 150 years, the Cog Railway (3168 Base Station Road) has transported passengers up historic Mt. Washington to take in the unforgettable views of the highest peak in the entire Northeast.
You have to check out the first mountain-climbing cog railway ever built — it's also the second-steepest, with grades reaching up to 38%!
The trip up takes about an hour and you'll travel through three climate zones to get to the top.
Even if you book your ride on the hottest day of the summer, be sure to bring a jacket; the summit is almost always cold and windy.
The summit also features an iconic Post Office, an old hotel-turned-museum, two gift shops, and a cafe.
Make sure you book your trip in advance here.
Read our guide to train rides in New Hampshire for more on the fun vintage locomotive routes in the state!
Lost River Gorge, North Woodstock
The White Mountains are home to some of the best waterfalls, caves, and gorges, and the Lost River Gorge (1712 Lost River Road, North Woodstock) has all three!
Located in Kingsman's Notch, the Lost River Gorge wooded Forest Adventure Trail is one mile in length along a well-maintained boardwalk with about 1,000 stairs in total.
You'll encounter 11 massive boulder caves, jagged cliffs, cascading waterfalls, and even a forest treehouse and suspended bridge!
If you can't get enough of hiking in the White Mountains, you should check out this self-guided 3-day hiking trip that will take you to one of the highest peaks in the White Mountains.
The trip includes rental camping equipment to maximize your time in this beautiful area.
For even more outdoor fun, you also might be interested in our New Hampshire hiking guide.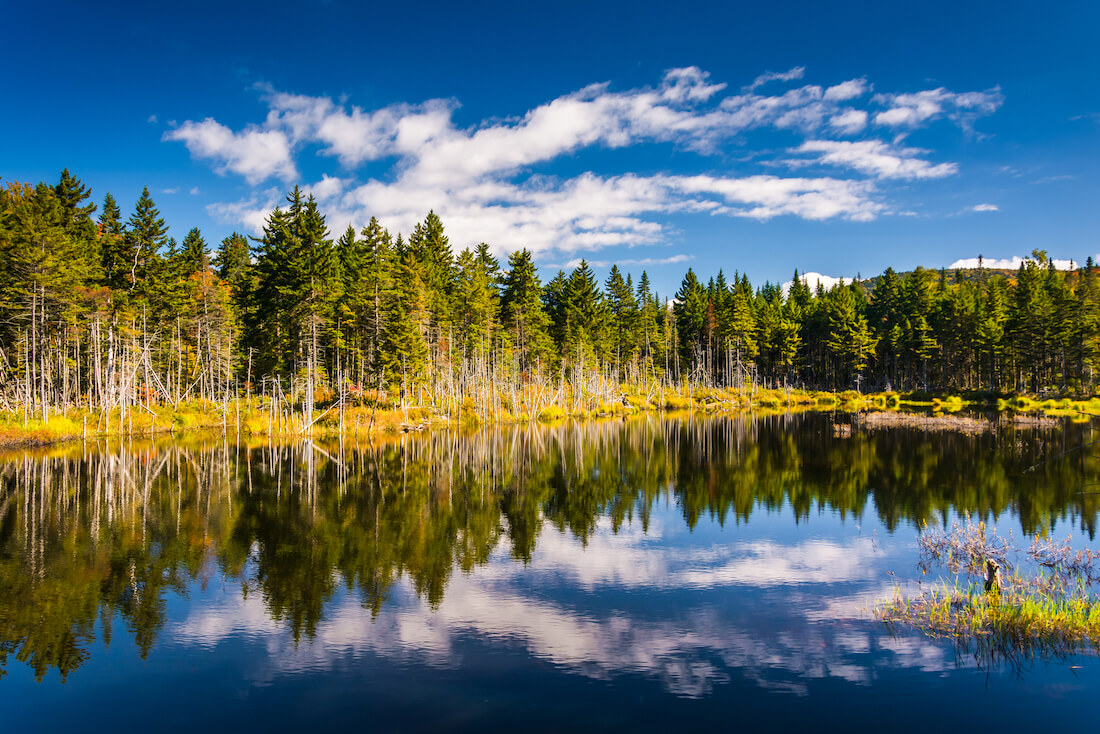 Saco River Tubing, Conway
Any water lovers in your travel group?
One of the best things to do in the White Mountains in the summer is to go tubing down the lazy Saco River.
The Saco River Tubing Center (558 White Mountain Highway, Conway) has everything you'll need for an afternoon of floating, from pairs to big groups.
The crystal clear river is quite cool even in the summer, so you'll want to warm up on the soft sandy beaches along the way.
The Tubing Center rents out both tubes and kayaks, and they'll shuttle you to the ideal put-in spot, based on your group's needs.
With trips ranging from 1.5 miles to a full day 5-mile trip, there is something for everyone on the Saco River.
This is a self-guided tour through a natural landscape, so make sure you treat both the land and water with the utmost respect.
Reserve your spot on their website here.
Conway also features in our NH fall foliage road trip itinerary.
Whale's Tale Waterpark, Lincoln
Prefer pools to a moving river?
Head to the iconic Whale's Tale Waterpark (481 Daniel Webster Highway, Lincoln), known throughout New England as a top summer spot for families especially.
Enjoy all the awesome slides, wave pools, and more docile splash pools for the little ones.
For the older kids, try wakeboarding!
Cabanas are available to rent and lockers are available as needed.
Note that you'll need to sign waivers to play at the park.
Indoor Activities in the White Mountains
Whether you've had your fair share of outdoor adventures or the weather just isn't cooperating, there is still tons to do around the White Mountains.
North Conway is known as a shopping destination, while there are tons of local breweries — and even a winery — to check out in New Hampshire.
Settlers Green Factory Outlets, North Conway
Shopaholics love the Settlers Green Factory Outlets (2 Common Street, North Conway) for the stores, restaurants, and fun activities.
Travelers especially love Settlers Green for its totally tax-free shopping, but everyone loves its welcome atmosphere, green spaces, and public gardens.
Check out the big name-brand shops like Adidas, Levi's, and Talbots, or stop for a bite at Barley & Salt Taphouse and Kitchen.
There's so much to explore and browse at Settlers Green that you'll almost forget you are nestled in the spectacular White Mountains.
If you plan to spend more than a day in North Conway, book a room at the Swiss Chalets Village Inn (457 NH Route 16A).
Clean, cozy, and with great views of the White Mountains, you'll love this simple and clean inn with convenience to the outlets.
Check Out a Local Brewery
There are tons of microbreweries in New Hampshire these days, with many of them right around the White Mountains.
If the weather isn't great, grab a pint indoors.
If it clears up, take that pint out to the patio to enjoy the views while you sip the local brews!
Here are some great breweries to check out around the White Mountains:
Moat Mountain Smokehouse & Brewing Co
Reklis Brewing Co
One Love Brewery
Schilling Beer Co
Tuckerman Brewing Co
Sea Dog Brewing Company
Iron Furnace Brewing
Ledge Brewing Company
Several of these feature as some our favorite winter activities in North Conway.
Seven Birches Winery, Lincoln
Wine lovers will rejoice at this perfect indoor activity in the White Mountains.
Seven Birches Winery (22 S Mountain Drive, Lincoln) is part of RiverWalk Resort on Loon Mountain, and it focuses its winemaking on transforming European grapes, as well as local New England fruits, into delicious and unique wines.
They pride themselves on their global sourcing and distinctly local flavor.
Though it does not take place every day of the week, you can enjoy a unique "Meet the Winemakers" Winery Tour, which is intimate, informative, and conversational.
Included in the tour is a guided wine tasting flight, as well as a special "In Process" tasting.
Right next door, be sure to stop into Rhythm Handcrafted Beverages to taste various options like mead, seltzer, cider, and more.
There's so much more to do in the area as well; check out our guide to the best things to do in Lincoln for inspiration.
The Barnstormers Theatre, Tamworth
Looking for something fun to do indoors this summer in the White Mountains?
Grab yourself some tickets to the upcoming shows at The Barnstormers Theatre (104 Main Street, Tamworth) and enjoy this nearly 100-year-old venue.
Tamworth has a rich tradition of fine summer theater, and you would definitely be missing out if you didn't check out a show at The Barnstormers.
The theater house stays open in the off-season for local cultural events, so be sure to visit if you find yourself in the White Mountains before or after the summer months.
Find the schedule of events and book your tickets here.
Things to Do in the White Mountains in Fall
Fall foliage in New Hampshire is a huge draw for visitors from across New England and beyond.
Most of those visitors will be heading to the White Mountains for the best views around.
Plan your trip in advance and enjoy the best autumn things to do in this beautiful area.
Drive the Kancamagus Highway for Fall Foliage
This iconic drive takes you through the White Mountains National Forest, with multiple viewpoints en route where you can stop to take photos.
This self-guided audio tour offers a bit more background as you drive the Kancamagus Highway, sharing stories and highlights along the way.
You'll definitely want to stop at the Pemigewasset Overlook, as well as at the Sugar Hill and Rocky Gorge scenic points.
Peak foliage times vary each year, but you can reliably drive through the White Mountains area in late September through mid-October to enjoy the changing colors of the deciduous trees.
Cannon Mountain Aerial Tramway, Franconia
There is no better way to view the White Mountain's fall foliage than from above.
Take the Cannon Mountain Aerial Tramway (260 Tramway Drive, Franconia) up more than 4,000 feet in just 10 minutes to the peak of Cannon Mountain.
This is the perfect trip for all ages, and you can enjoy the state's only cable car and North America's first.
From the summit, you can see the breathtaking fall foliage of the White Mountains for miles and miles, and you'll never want to head back down.
Check availability and hours and reserve your spot here.
Pinkham Notch Loop Scenic Drive, North Conway
Some of the best fall foliage can be viewed on the Pinkham Notch Loop, starting in North Conway.
The loop is on Route 16, which weaves through the Presidential mountain range and features tons of stops for waterfalls, grand viewpoints, and more.
This is a slightly less popular route than the Kancamagus Highway, but it still affords incredible views of the mountains in deep fall colors.
You'll definitely want to check out Glen Ellis Falls and the Thirteen Mile Woods to catch some of the best spots for leaf-peeping, wildlife exploration, and gorgeous rivers and cascades.
If you love waterfalls, check out this 3-day self-guided waterfalls tour in the White Mountains.
Camping rental gear is included for your 2-night campground stay, as well as trail maps and driving directions.
Covered Bridges, Multiple Towns
A vacation in the White Mountains is not complete without a tour of the historic covered bridges in fall.
There are about 21 covered bridges of note in the White Mountains region, but the oldest is the Bath-Haverhill Bridge in Bath and Haverhill.
Built in 1829, this bridge is more than 250 feet long and originally cost the two towns $2,400 to build.
It is still in operation today and is a wonderful monument to view in the fall season.
Check out our guide to the best New Hampshire covered bridges which includes a map.
Things to Do in the White Mountains in Winter
If you love the winter season, then head to the White Mountains in New Hampshire for outdoor activities and adventures!
This area certainly doesn't shy away from the snow…or the ice.
Embrace the New England winter cold, bundle up, and bask in the beauty.
Also check out our guide to winter in New Hampshire for more suggestions.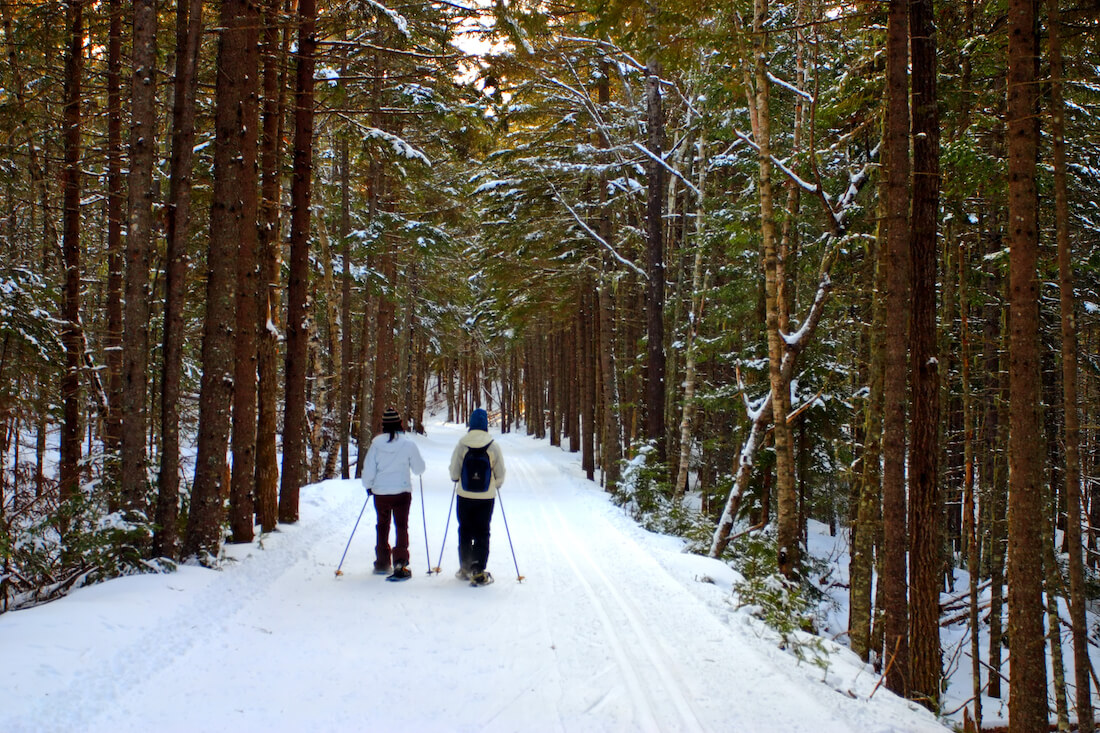 Franconia Village XC Ski Center, Franconia
If you're looking for snowy things to do in the White Mountains, NH, look no further than the Franconia Village XC Ski Center (1172 Easton Road, Franconia).
With more than 25 miles of scenic trails and a wide range of beginner to expert paths, Franconia Village XC Ski Center is a perfect winter activity for the whole family.
Rental equipment and day passes are available all winter long at the Cross Country Ski Shop.
Plus, if you book your stay at Franconia Inn, one free day pass is included with your stay!
Mt. Washington Valley Ski Touring & Snowshoe Center, Intervale
You've got to try cross-country skiing or snowshoeing at least once on your White Mountains NH vacation, and Mt. Washington Valley Ski Touring & Snowshoe Center (279 NH Route 16-302) is the place to do it!
Almost 25 miles of trails for snowshoeing, classic and skate cross country skiing, and more for all abilities make this place a ton of fun for anyone in the winter.
If you're traveling near Intervale in February, make sure you try to make it to their Annual Chocolate Festival for "The Sweetest Day on the Trails!"
Check out rates and daily availability on their site here.
Skiing and More at the Omni Mount Washington Resort
For the perfect winter escape, book a stay at the Omni Mount Washington Resort (310 Mount Washington Hotel Road, Bretton Woods).
This iconic White Mountains resort offers a wide array of wintertime activities that everyone will love.
With New Hampshire's largest ski area, you'll have plenty of choices for downhill and cross-country trails, plus options for lessons if you're new to skiing.
Want to try something different?
Check out their snowshoeing opportunities or feel like a kid again with some downhill tubing.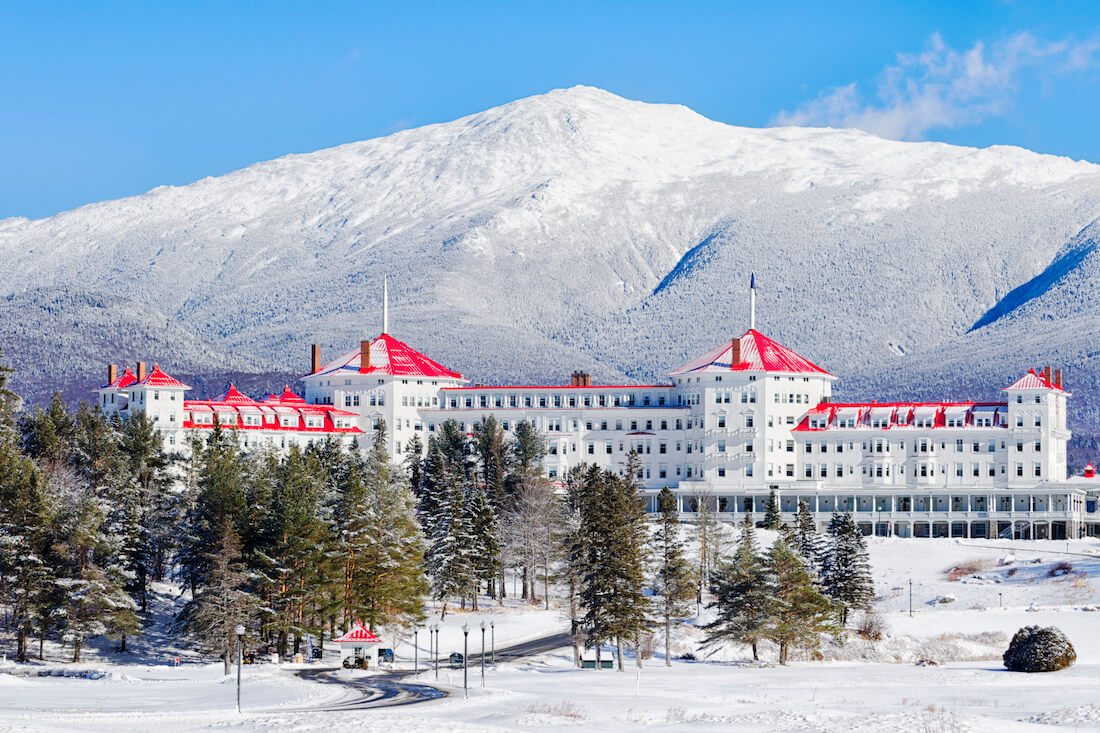 Take a Scenic Gondola Ride up Mount Washington
If you're looking for a beautiful winter activity in the White Mountains, look no further than the Winter Scenic Gondola Rides, also at the Omni Mount Washington Resort (310 Mount Washington Hotel Rd).
The Bretton Woods Skyway Gondola is a closed glass pod suspended on cables leading up Mount Washington.
Check out the amazing wintry view of Washington and the rest of the Presidential Range as you zip up in a matter of about 5 minutes.
Once you reach the top, you can enjoy the warmth and comfort of Rosebrook Lounge and the fresh dining at three restaurants and cafes.
Find more information and hours here.
Ice Castles, Lincoln
The annual Ice Castles in Lincoln are such a fun winter event in the White Mountains that the whole family will love.
Inspire awe and wonder in the little ones or enjoy the romantic cozy vibes for a special night out.
The Ice Castles are weather-dependent but oh-so-dreamy!
Bring your camera for amazing photos and video as you wander the custom-built structures.
This is one of the activities in the White Mountains that locals enjoy year after year as the ice sculptures and LED lighting all change.
There are fun things to do for little ones, including ice slides and tubing.
Visit after sunset for the lighting to take full effect!
Final Words
Did we miss any of your favorite things to do in the White Mountains of New Hampshire? Share them in the comments below!
New Hampshire Destinations