This article has links to products and services we love, which we may make commission from.

Head to Vermont and enjoy the wonders of Stowe in the winter! This magical landscape can transform into a true wonderland of snow-covered beauty. Whether you want to hit the slopes or enjoy the views from the cozy indoors, there is plenty to do in and around Stowe.
This beautiful mountain town is a popular spot year-round, but it truly comes alive in the snowy winter months.
If you're an outdoor adventurer, you'll love the downhill and cross-country skiing or snowboarding options.
Prefer the apres ski spots instead? Stowe is your spot to go!
For more seasonal suggestions, check out our guide to Vermont in winter, or get hyper-local with our Burlington and Killington guides.
Festive Things to Do in Stowe in Winter
Sip the Best Hot Chocolate in Stowe
After you've spent the day doing all kinds of Stowe, VT winter activities, you're going to need a sweet hot chocolate to warm you up.
There is no better place to visit for hot chocolate than Laughing Moon Chocolates (78 S Main St).
You'll be especially impressed if you like tons of whipped cream on your hot chocolate!
Enjoy the Après Ski Experience at Whistlepig Pavilion
Spruce Village is a very special winter Stowe experience, but the best place to visit in the village is definitely the Whistlepig Pavilion (7416 Mountain Rd).
The Pavilion is only open for the winter season, and it features all the best parts of apres ski: creative cocktails, local craft beers, fire-roasted raclette, and a comforting winter fare menu.
Slide off the slopes and head right inside for a warm and cozy apres ski experience.
Take a Fat Bike Tour
You might think you can't ride bikes in the snowiest of conditions, but with a fat bike, you can go almost anywhere.
Ranch Camp (311 Mountain Rd) offers rentals and tours on fat bikes for beginners and experienced fat bikers alike.
You can rent individually or with a group or family; they can be rented for full or half days and can even be booked ahead of time.
Be sure to bring your own helmet—ski helmets work great, especially with a warm hat underneath!
Get a Spa Treatment at Stoweflake
One of the best things to do in Stowe, Vermont in winter is to get a world-class spa treatment.
Stoweflake Spa (1746 Mountain Rd) is a luxury spa with 30 treatment rooms and over 150 treatment options.
Private sanctuary lounges, waterfalls, and mineral-soaking pools all have amazing mountain views to enjoy.
Check out the extensive spa menu and book your treatment online.
You can also check out Topnotch Spa Resort (4000 Mountain Rd) for even more luxury spa options or The Spa at Spruce Peak if you're staying at the resort.
Catch a Show at Spruce Peak Performance Art Center
If you're looking for an indoor thing to do in Stowe VT in the winter, the Spruce Peak Performance Art Center (122 Hourglass Dr) is a perfect culture-filled option.
This year-round venue is committed to broadening the cultural horizons of Stowe locals and visitors.
From music to comedy to dance and theater, the Spruce Peak Performance Art Center has a show for everyone.
Check the calendar of events and buy tickets online at their website.
Settle in for a Movie at Stowe Cinema 3Plex
There's nothing better after a long day of activities in Stowe in winter than buying a movie ticket for a new film.
Stowe Cinema 3Plex (454 Mountain Rd) is a small, cozy cinema with three theaters, a concession stand, and a full cocktail bar.
Opened in 1972, this movie theater has been an iconic Stowe staple for more than 50 years.
Visiting Stowe Cinema in Stowe, VT is one of the best ways to spend your evening this winter.
Head to the Stowe Winter Carnival
To stave off the worst of the winter chill, stop by the yearly Stowe Winter Carnival.
For more than 100 years, the Stowe Winter Carnival has been a winter staple in the region.
Winter sports, ice carving competitions, and more are featured yearly at the carnival.
Each year has its own theme; check the website to see if the Stowe Winter Carnival Hockey Tournament is on for the year you're planning on visiting!
If you'd like to stay for the winter carnival, reserving accommodations ahead of time is crucial.
Check out the Green Mountain Inn (18 Main St) for a quaint atmosphere, vintage furniture, and a full sauna with massage services.
Take a Gallery Tour
Nothing will warm your bones quite like the beauty of local arts and crafts.
There are four notable galleries within the city limits:
All four galleries feature Vermont artists and craftsmen; they each bring a unique and engaging perspective to the region.
Take a Scenic Gondola SkyRide
If you are wondering what to do in Stowe, VT in winter, put the Stowe Mountain Scenic Gondola SkyRide (7416 Mountain Rd) at the very top of your list.
Take in all the best New England winter scenery from the top of a mountain, protected from the wind by the enclosed gondola.
Get your tickets and check availability online.
Visit the Cross Country Center
If you're ready for a fun outdoor adventure in Stowe, Vermont in winter, visit the Stowe Cross Country Center.
More than 45 km of groomed trails and 30 km of backcountry terrain are the shining stars of the center.
You can also find Stowe winter rentals for snowshoes, performance ski gear, and so much more.
View the Stowe winter trail map on their website to plan your trip.
You'll be exhausted after all that cross-country skiing; book a stay at the Talta Lodge Bluebird (3343 Mountain Rd) for the warmest, coziest accommodations in town.
Skate at the Stowe Arena Ice Skating Rink
Stowe at Christmas is magical; ice skating is the perfect thing to do this winter.
Visit the Stowe Arena ice skating rink (350 Park St) for skating, skate rentals, and more.
This spot is super popular with visitors and locals alike.
Check the website to find the schedule for open skate times and to find rental prices.
Explore the Village at Spruce Peak
The Village at Spruce Peak is a world-class resort and an unmatched experience in Stowe in winter.
Complete with restaurants, toy and candy stores, an ice rink, shops, and more, you'll love visiting the village around Christmas.
It's super festive and fun, and there is so much to do and explore.
Visit the Trapp Family Lodge
There is deep history in Stowe, Vermont: the von Trapp family migrated from Austria and settled in Stowe in the early 1940s.
Now, their home is open to travelers to stay, dine, and explore.
Over 2,500 acres of land, three restaurants, plus tons of natural area and amazing views are waiting for you at the incredible Trapp Family Lodge (700 Trapp Hill Rd).
It's one of our favorite historic hotels in New England.
Shop at Bear Pond Books
Curling up with a good book is one of the best things to do in Stowe in winter.
You're in good hands at Bear Pond Books (38 S Main St), the second-largest independent bookstore in Vermont.
More than 3700 square feet of books of every genre and for every age line the walls, making this a Stowe, VT winter must-visit.
Take a Well-Deserved Brewery Tour
For such a small Vermont town, you'd be surprised by how many breweries are located within Stowe's limits!
The three major spots to visit are Alchemist Beer (100 Cottage Club Rd), Stowe Cider (17 Town Farm Ln), and von Trapp Family Brewery (1333 Luce Hill Rd).
Each features iconic and super unique taps, plus von Trapp's boasts classic Austrian dishes.
Ready to dive a little deeper into these locations, or just want to be led by an experienced guide?
Sign up for a Half-Day Local Brewery Tour and taste the best of Vermont, complete with a full history of Vermont's rich booze history.
Sled at Marshall Hill
If the snow on the ground is thick when you visit Stowe in winter, there's nothing better to do than sledding on Marshall Hill!
Marshall Hill is by far the best sledding option, with a more than 100-foot drop and tons of space to play.
For even more winter wonderland experiences, book an overnight stay at Field Guide Lodge (433 Mountain Rd).
This classic cabin hideaway is a mixture of quaint and luxurious living.
Ski Stowe Mountain
One of the most iconic Stowe in winter experiences, visit Stowe Mountain Resort for all your skiing and snowboarding dreams.
Whether you're a seasoned skier or just getting started, Stowe is perfect for everyone.
It's actually one of our top recommended places to ski in New England!
Lessons, rentals, and trails for all levels are available on the mountain.
It's an enjoyable option for a multi-day trip to Stowe since you'll probably be there all day.
At night, be sure to book a stay at the Sun & Ski Inn and Suites (1613 Mountain Rd) for incredible luxury accommodation.
Visit the Vermont Ski and Snowboard Museum
If you're looking for even more Stowe winter adventures, stop by the Vermont Ski and Snowboard Museum (1 South Main St).
You'll learn the history of outdoor sports in Vermont, view some amazing exhibitions and enjoy almost 10,000 artifacts of skiing and snowboarding.
This is a perfect trip for ski enthusiasts!
Snow in Stowe, Vermont
Can you believe the annual snowfall in Stowe, VT reaches up over 200 inches?
The average total snowfall is 224 inches, but in the 2016-2017 winter, they had more than 330 inches of snow!
Be sure to visit in January or February for the greatest chance of snow if you're coming for skiing and outdoor fun.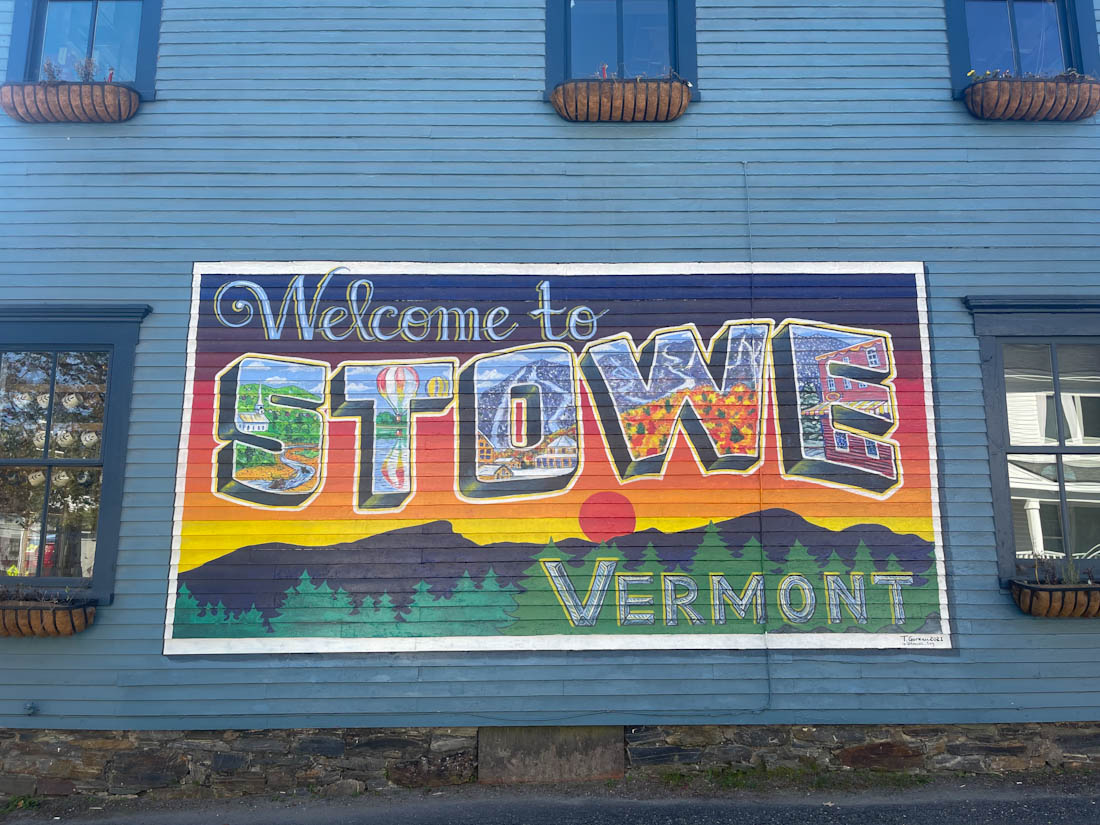 Final Words
We hope this guide to Stowe VT in winter has been useful as you plan your trip! Tell us your favorite wintertime local spot in the comments below.