This article has links to products and services we love, which we may make commission from.

Looking to plan a getaway this spring in New York?
After a long, cold, gray winter, spring blooms bring the city back to life in the most magnificent way.
Perhaps you're coming to New York for spring break, the Easter holidays, or before the rush of tourists in the summer.
Spring weather in NYC is typical of the season, rainy and cool, with very chilly nights in March to warm rays of sunshine by May.
However, the city is hit with a spring snowstorm every few years, so double-check the forecast before you depart.
You won't necessarily need rain boots, but if you're coming in the first half of spring, you'll want to pack with rain in mind.
Some extra socks in case yours get a bit damp, a water-resistant/proof jacket, and a travel-sized umbrella will come in handy.
In the latter half, you'll want to have summer-ready clothes during the day but be sure to have some long sleeves and jeans for the cooler evenings.
There are many things to do in NYC during spring.
You'll have a blast at all the events, activities, and places that re-open after the winter, pop-up street fairs and see the city at its best.
For year-round NYC inspo, read this guide.
Spring in New York
Outdoor Things to Do in NYC in Spring
NYC in spring will inspire you to stay outdoors as much as possible, exploring the city's treasures and beautiful green spaces.
Springtime in New York means a bike ride in Central Park, a ticket to a baseball game, or even a row around Central Park Lake.
But for something less athletic, you might enjoy a sunset boat cruise, a leisurely stroll through the cherry blossoms, or perhaps tasting your way through the city at an open-air food market.
It doesn't really matter what you do, everything is extra wonderful in New York City in the spring.
Want more outdoor activities? Check this guide.
Central Park Rowboats
After a long cold winter, the Central Park rowboats (Park Drive North, E 72nd St) are finally back in business by April and are one of the best ways to see Central Park.
It also makes for a very romantic date idea too.
For more romantic NYC ideas, read this guide.
Central Park Bike Rental
At 110 acres, it's nearly impossible to see all of Central Park, but if you rent a bike, you'll be able to cover a lot more ground and get from bottom to top and back again in an afternoon.
Central Park is also home to cherry blossoms in NYC so you might be able to see them blooming during the season.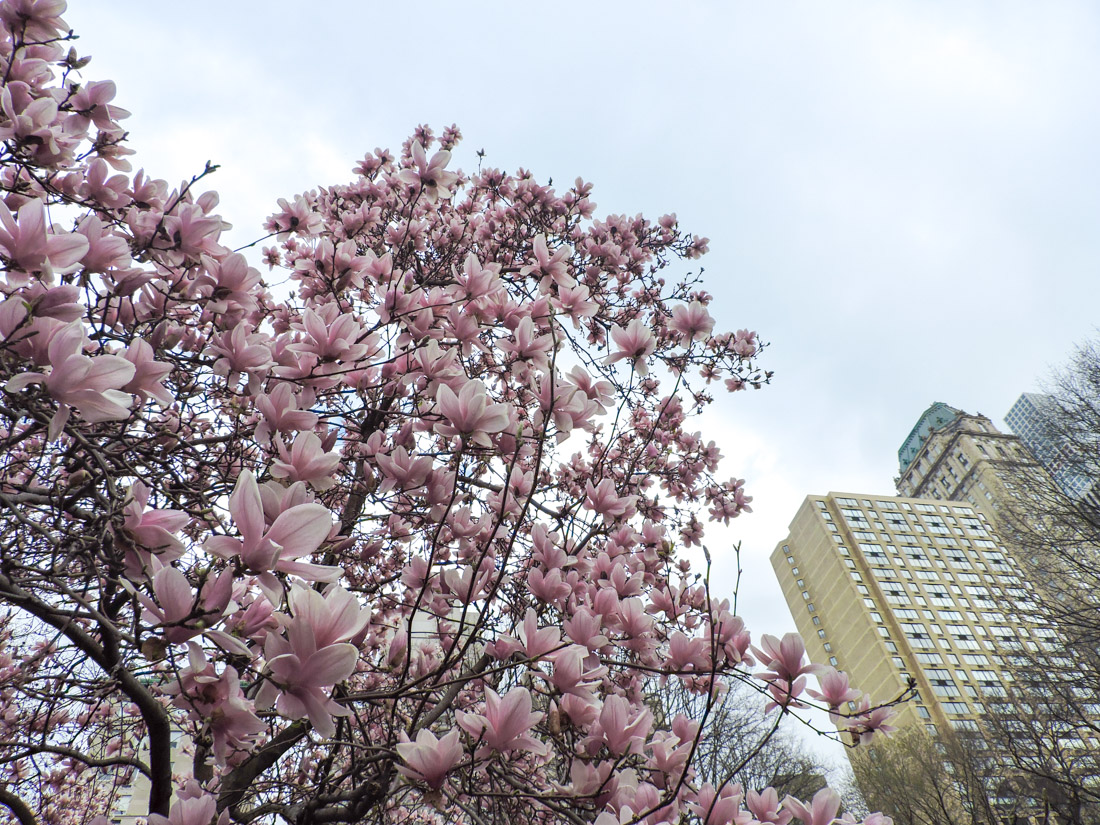 NYC Spring Half Marathon
Each May, runners take to Riverside Park to compete in the NYC spring half marathon, running 13.1 miles through one of the city's most gorgeous parks with waterfront views.
You can take part or just watch and cheer them on.
Explore Inwood Hill Park
Although NYC might not seem like the ideal place for a hike, there are a variety of spots, such as Inwood Hill Park in the northern part of Manhattan.
The 196-acre park consists of naturally wooded, hilly trails and features a view of the Hudson River.
Easter Parade and Bonnet Festival
New York's most infamous spring parade, the Easter Parade and Bonnet Festival has brought color, style, and the most outrageous Easter bonnets to 5th Ave for the last 150 years.
You can watch from the sidelines or don a bonnet and join in!
Ninth Avenue International Food Festival
The Ninth Avenue International Food Festival (9th Avenue between 42nd-57th St) is the city's oldest and largest continuing food festival and a great way to taste the cuisine of New York all in one place.
Expect vendors from some of the most popular Ninth Avenue and Hell's Kitchen restaurants, a cheaper way of trying new food, a welcomed budget gift after the hard slog of the festive period!
Five Boro Bike Tour
During the Five Boro Bike Tour, the streets are car-free for a 40-mile ride through all five of New York's boroughs and across five major bridges in May.
Expect the company of 30,000 riders during the annual spring event.
The route, which includes Central Park in Manhattan, Harlem, and the Bronx, is closed off to cars.
Remember to pre-register in advance.
Sunset Boat Cruise
Take advantage of the later sunsets and warmer temperatures in New York in the spring with a sunset boat cruise.
During the tour you'll see the Statue of Liberty, Ellis Island, Brooklyn Bridge, and the Manhattan skyline.
See the Blooms in Prospect Park
Prospect Park, located in the heart of Brooklyn, consists of 585 acres of rolling meadows, waterways, and woodlands, as well as the borough's only lake and the last remaining forest.
It is also home to flower gardens that bloom into a colorful floral display in spring.
During the season, you can find blossoms on Serviceberry, Chokeberry, Silverbell, tulips,pink-flowering cherry trees, daffodils, Spicebush, and more.
Smorgasburg
Now with locations in Williamsburg (Marsha P. Johnson State Park, 90 Kent Ave ), the World Trade Center (Fulton + Church, at The Oculus), and Prospect Park (Breeze Hill), there's no excuse not to attend Smorgasburg, the largest weekly open-air food market in America.
Enjoy freshly made food and support local vendors while wandering the market in the spring fresh air – perfect outing after being cooped up, eating comfort food all winter.
Brooklyn Botanic Garden
A stroll down Cherry Esplanade at the Brooklyn Botanic Garden is an absolute must, especially when they're in full bloom at the end of April.
Here you can see the double-flowering 'Kanzan' cherries at their best.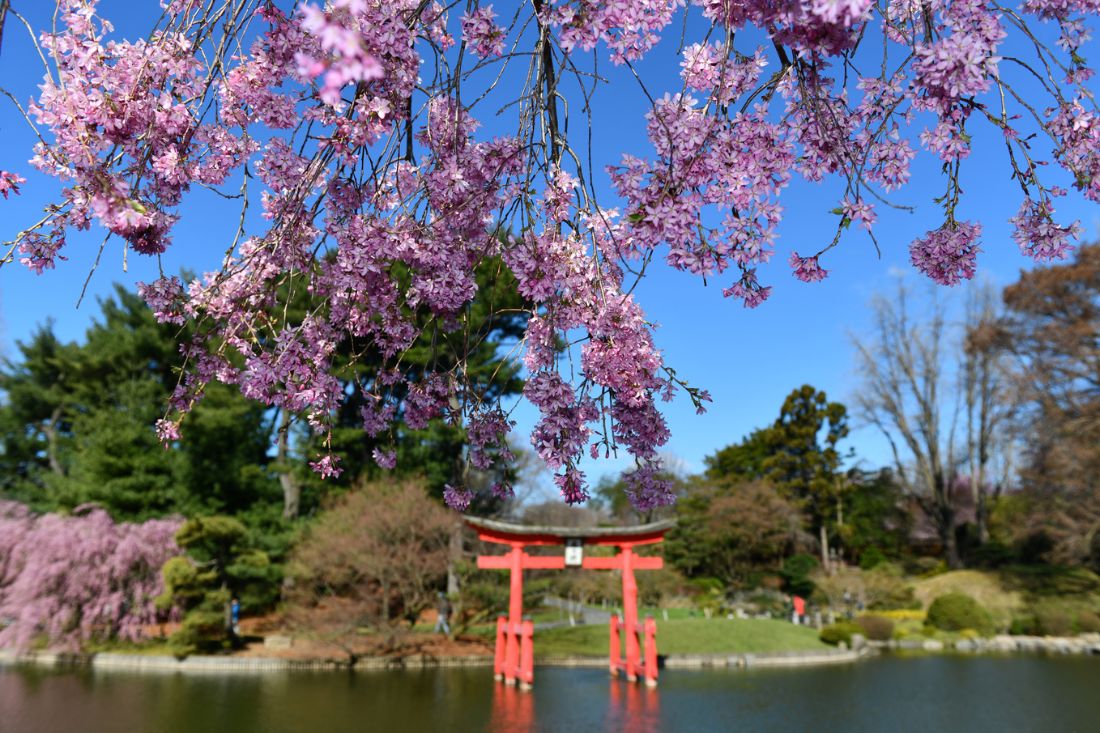 Picnic at Forest Park in Queens
For nature enthusiasts and birders, explore Forest Park's 165-acre oak forest which features majestic trees and 9 miles of hiking trails.
For kid-friendly fun, there are around 7 playgrounds in the 543-acre park which also has spots where you can have a picnic or barbecue.
Van Cortlandt Park in the Bronx
Over 1,000 acres of land make up Van Cortlandt Park, one of the largest parks in the Bronx.
The park is renowned for its deciduous forests, meadows, and man-made lake and is also a natural habitat for many birds.
The area is ideal for bird watching in the spring when you can see swallows, warblers, tanagers, and many other species.
Major League Baseball
Whether you're a Yankee or a Mets fan, seeing an MLB game in the spring is a tried and true New York rite of passage.
Plus, you can venture out a bit when you head to Yankee Stadium (1 E 161 St, The Bronx) or Citi Field (123-01 Roosevelt Ave, Flushing, Queens).
Indoor Things to Do in NYC in Spring
There's truly nothing worse than when all of your plans are dashed by rain clouds, and unfortunately, that's very apt to happen this time of year.
Luckily though, New York in the spring is filled with unending exciting things to do in every corner of the city – assuming you know where to look!
Stay warm and dry in the land of Oz, touring one of the city's oldest and most iconic buildings, or viewing some of the most beloved art in the world.
And if that doesn't interest you, perhaps you'd like a round of golf or watch a classic film; the choice is yours.
For more indoor activities, check out this guide.
Wicked on Broadway
If you can't enjoy the greenery outside, take a trip to Emerald City at Wicked on Broadway (252 W 51st St) and spend the evening in a world of flying houses, magical shoes, and green potions.
St Patrick's Cathedral
Get in the St. Patrick's Day holiday spirit and take a one-hour self-guided audio tour of St Patrick's Cathedral (5th Ave between 49th & 50th St) and learn all about the stories behind the majestic building.
St. Patrick's Cathedral also features in our guide to Easter in New York.
Museum of Modern Art
You can never go wrong with a trip to a museum, and the MoMA (11 W 53rd St) is one of the most famous, where you can see works from Van Gogh, Gauguin, Dali, Picasso, Pollock, and more.
Macy's Flower Show
Over a two-week span in spring in NYC, the Macy's Flower Show (151 West 34th St) takes over the ground floor of the historic department store with thousands of flowers and plants every way you look, arranged according to that year's theme.
Chelsea Market
Don't let the rainy spring season in New York stop you from doing your souvenir shopping!
Chelsea Market (75 9th Ave) is fully indoors and has dozens of artisan food stalls, vendors, and incredible one-of-a-kind finds to bring back home.
The Golf Club at Chelsea Piers
No reason you can't tee off regardless of the weather, the Golf Club at Chelsea Piers has heated and weather-protected stalls.
Plus their Full Swing Simulators are the best in virtual golf technology.
Eataly
Eataly's (200 5th Ave) seasonal rooftop restaurant, SERRA By Birreria, transforms with each season in both decor and menu.
It's the best way to get the classic spring in New York City blooming when the weather is gray.
Frieze New York
Frieze New York (247 Centre St #5) is an art lover's paradise.
It has dozens of galleries showing up-and-coming artists and well-known favorites at this international art fair in May.
IFC Center
The IFC Center is a historic NYC institution and a great way to spend an afternoon watching classics, new releases, documentaries and more.
Perfect for escaping the inclement weather of spring months in New York.
Spring Events in NYC
New York in spring season has very iconic events that you simply cannot miss!
Enjoy the gorgeous blooms and the incredible groundbreaking films, or even tour a navy ship when you visit New York in spring.
NYC St. Patrick's Day Parade
For over 260 years, the NYC St. Patrick's Day Parade has celebrated New York's rich Irish ancestry.
If you want to watch this historical event, it takes place on March 17th from E 44th St to E 79th St.
Fleet Week
Fleet Week takes place during the last week of May, and there is a slew of events all week long to celebrate, such as the Parade of Ships, workshops, and activities at the Intrepid Museum, performances by the Navy Band, movie screenings, and more.
It's a fantastic way to see the city, plus the proceeds fund Bike New York's free bike education programs.
Tribeca Film Festival
Spot some celebs and watch groundbreaking films at the Tribeca Film Festival.
Plus, you can brag that you watched an Oscar-winning film before anyone else had even heard of it.
New York Botanical Garden Orchid Show
The New York Botanical Garden Orchid Show (2900 Southern Blvd, Bronx) is the crown jewel of springtime in NYC, spanning from late winter into early spring; it is the first burst of color in the city.
Final Thoughts
As you can see, there are endless fun things to do in NYC in spring, whether you join in the big events, spend the entire time outdoors, or just try to dodge the bad weather.
Come to NYC for your spring break, a romantic trip away, or any other reason you can think of – you won't regret it one bit.
Traveling to NYC on a budget? Read this guide.
Enjoy Our NYC Travel Guides