This article has links to products and services we love, which we may make commission from.

Roll up, roll up to Circus City, where you can swim in the ocean by day, see a show at night, then return to an air-conditioned room in the city where AC was invented!
This guide shares fun things to do in Sarasota, Florida including nature, food, beaches, and the many arts and cultural companies who put on a variety of performances.
Historically known as the winter home of the Ringling Brothers, photography and architecture fans will want to make a visit to their Ca' d'Zan mansion to see the striking building and stunning grounds.
You might also like our guide to fun activities in Fort Myers Beach if you're exploring more in the area.
Best Things to Do in Sarasota, FL
Our guide to Sarasota attractions starts in Downtown where you will find theater, opera, comedy, art, shops, restaurants, bars, and accommodation.
The city has street parking dotted around the downtown area if you plan to arrive by car.
Things to Do in Downtown Sarasota
Get Lost in a Show at FST
Florida Studio Theatre (1241 N Palm Ave) is an award-winning non-profit theater located in a versatile venue that spills over three buildings.
Stages can be found at the Keating Theatre, Gompertz Theatre, Court Cabaret, Goldstein Cabaret, and Bowne's Lab.
You can grab a bite to eat at the Green Room Cafe or take advantage of in-theater dining at Court Cabaret, Goldstein Cabaret, and Bowne's Lab.
The schedule includes plays, cabaret, musicals, improv, and children's shows.
FST is a Sarasota institution!
It was founded in 1973, and its Keating Theatre was built in The Woman's Club of Sarasota in 1915, so you can enjoy a slice of history with your serving of shows.
See an Improv Knockout at Bowne's Lab
For more things to do in Sarasota at night, consider the FST's Bowne's Lab Improv Theatre (corner of Cocoanut and First Street), an ideal date night if you require some hilarity to break the ice or are just in need of a good belly laugh with friends.
The intimate theater can hold up to 100 people, with stage-level seats for those brave enough to come face-to-face with the actors.
There is also a balcony for those who prefer to look down on the stage.
FST's improv troupe comes from all over the states, has a variety of backgrounds, and offers a diverse skill set.
This is one of the FST theaters that you can dine at, so make a night of it!
Check Out The Guardian Statue
There isn't much detail about this intriguing statue located outside of the FST Theatre.
The plaque reads 'The Guardian by sculptor Kurt Laurenz Metzler'.
Metzler is a Swiss artist who typically works with marble, bronze, iron, and aluminum.
His sculptures all resemble people with boxy upper bodies and slim legs.
This piece of public art was donated to the FST in 2012 and is not to be confused with The Guardian by Jack Cartlidge, which is also located in Sarasota.
There's public art spread throughout the city, so remember to keep your eyes peeled as you go about your chosen Sarasota activities.
Rainbow Crosswalk
Next to the Bowne's Lab is Sarasota's Rainbow Crosswalk, designed by Detroit-based artist Joey Salmon.
The colorful Project PRIDE SRQ piece sprawls five corner intersections at Cocoanut Avenue and Second Street in Downtown.
Sarasota Opera House
Immerse yourself in the power of the opera at The William E. Schmidt Opera Theatre (61 N Pineapple Ave).
In 1926, the theater was the dream of A.B. Edwards, the first mayor of Sarasota.
It is Mediterranean Revival in style, designed by Roy A. Benjamin.
During the Roaring Twenties, this is where silent movies, shows, and operas were performed.
Famous acts such as Elvis have shaken their hips here!
Today the theater is home to Sarasota Opera, and it seats 1,119 guests.
Big opera fans should plan their trip to Sarasota for the Winter Opera Festival, where four shows take place over 3 or 4 days.
Be Wowed at The Sarasota Ballet
Buy tickets for classic or new ballet performances danced by The Sarasota Ballet.
Shows take place at a number of venues across the city, including FSU Center for the Performing Arts, Van Wezel Performing Arts Hall, and the Sarasota Opera House.
The ballet's repertoire includes Peter Darrell's Othello†, Sir Peter Wright's Giselle (Production), and Robert de Warren's The Nutcracker (Production).
The Sarasota Ballet was founded in 1987 by Jean Weidner Goldstein and became a full-resident ballet company in 1990.
Selby Public Library
The first library in the county, the Selby Public Library (1331 1st St) was established in 1907.
Its building is the biggest library in Sarasota County, and it was designed by architect Eugene Aubry in 1998.
Inside the rotunda of The Selby Public Library, you'll find The Friends of the Selby Public Library, which provides free programs and has a bookstore.
Music fans will want to check out the Sarasota Music Archive, one of the more unique things to do in Sarasota.
The building is named after investors William and Marie Selby of Selby Oil and Gas Company.
Bike Art
Just across from the library is one of Sarasota's decorated bikes.
The art is by William Pearson, aka Dr Nik, which he calls transportational two-wheeled sculptures.
Mermaid Fountain
A prominent Sarasota landmark is The Mermaid Fountain (intersection of Pineapple and Lemon Ave) at Paul Thorpe Park.
This lovely monument was first created in 1993.
The design, Good Heart Place, by Nancy Goodheart Matthews, received investment to bring it back to life through restoration, proving how valued the enamel art is.
Source, Public Art
Another stop on the Sarasota public art trail is the large stainless steel framework with copper panels shell, titled Source (Lemon Avenue Mall).
The art was designed by Brower Hatcher for the City's Public Art Collection in 2005.
Seaboard Railway Depot Marker
Next to Source is a marker detailing information about the 1903 West Indies Railroad and Steamship Company's Seaboard Railway Depot.
Trains were part of the city's economy, carrying fish, citrus, vegetables, and lumber to the north.
Tracks were embedded along Lemon Avenue and out to the bay.
You'll notice that many of the street names downtown are named after fruits, and a fun fact for you: on New Year's Eve, while NYC drops a ball, Sarasota does a pineapple drop!
Smell the Dust and Support Local at A Parker's Books
Join fellow bibliophiles at A Parker's Books (1488 Main St), who have been shelving rare, antiquarian, and new titles since 1980.
The store's collection features over 70,000 books, and customers range from holiday-makers to serious collectors.
Visit one of Sarasota's last independent bookstores while you can.
Landing of the Scots Sign
An information marker next to Chaplain J. D. Hamel Park (199 Bayfront Dr) shares the story of Scots who landed in the area in 1885, with dreams of promised homes shattered.
The reality was hardship, so many returned to Caledonia.
The colonists who stayed joined the American settlers in building the town of Sarasota, which was 'platted' on July 27, 1886.
The name Sarasota, or variations of it, first appeared on maps in the 1700s.
It is said to come from the Spanish term, which means a 'place of dancing', the native word 'Sara-se-cota,' meaning a landfall easily observed, or the legend of Sara, the daughter of the conquistador, DeSoto.
Photograph the Sandy Bay
While the most popular beaches close to Downtown Sarasota are Lido Key and Siesta Key, which we discuss below, there is a small stretch of sand on the shores near Bayfront Park.
Bayfront Drive runs adjacent to the shore, and from the grass area, you can get a nice shot of Sarasota Bay and some city skyline.
From here, you can walk to Bayfront Park or head to Marie Selby Botanical Gardens.
Marie Selby Botanical Gardens
Appreciate the peaceful nature of the botanical gardens in Sarasota, Marie Selby Botanical Gardens (900 South Palm Ave).
The 15-acre grounds are located on the former home of Marie and William Selby.
The gardens are something out of Alice in Wonderland with their whimsical shrubs and Jumanji-sized trees!
Visitors can do the self-guided audio tour at their own pace if they'd like to learn more about their surroundings.
The route includes mangroves, palms, a rainforest section with a banyan, and a succulent garden.
After a mooch around the gardens, cool off with a refreshment at the cafe.
Marie Selby Botanical Gardens is also a fun place to visit in Sarasota in December for its decorations and lights.
Sarasota Bayfront
Head to Bayfront Park for trails, food, art, and, of course, the water.
This is a popular bike and jogging spot with locals, as well as a walking route for leashed dogs.
Other park amenities include a playground, restrooms, and a canoe launch.
Go Cruising
Instead of just looking at the water, get on it with a cruise from the likes of LeBarge Tropical Cruises.
Tours include dolphin watching, sunset cruises, and sailing with live music.
Kissing Statue
Artist John Seward Johnson II's rendition of the iconic NYC Times Square kiss puckers up at Bayfront Park.
You can't miss the huge piece titled Unconditional Surrender, as it towers at 25 ft tall.
Re-enacting the kiss for the perfect photo opportunity is one of the cutest things to do in Sarasota for couples.
Just make sure your partner consents to the kiss; the sailor didn't even know the dental nurse he grabbed to celebrate the end of WWII in 1945.
The John and Mable Ringling Museum of Art
For a Sarasota attraction that keeps on giving, spend a morning or afternoon at The John and Mable Ringling Museum of Art (5401 Bay Shore Rd) – the home of the famous 'Kings of the Show World', The Ringling Brothers.
In 1907, the brothers bought the Barnum and Bailey circus show, and after twenty years of success and over a decade of buying land in Sarasota, they made the area their winter quarters in 1927.
By 1931, the brothers opened up their estate to visitors, and thus, The John and Mable Ringling Museum of Art was born, fully opening in 1946.
It featured European paintings from the late Middle Ages to the nineteenth century, which were part of The Ringling's collection.
In 1960, the touring Turnau Opera Players Sarasota Opera played at the Asolo Theater on the grounds of the Ringling Museum of Art.
They continued to return until it was recognized that a purpose-built theater would be more suitable, and thus the purchase of The William E. Schmidt Opera Theatre was made, which now houses Sarasota Opera in downtown.
Today, you can easily spend 2-3 hours on this 66-acre estate, wandering the manicured gardens, viewing the art exhibitions, admiring the Venetian Gothic Ca' d'Zan mansion, and learning more about the family history at the Circus Museum.
This is one of the top things to do in Sarasota, according to visitors.
While our guide mainly focuses on attractions in the downtown area and the beaches, you can find out more about the Newtown neighborhood via a trolley tour through Newtown Alive here.
The tour covers many of the historically important locations in this previously segregated African-American neighborhood, including schools, churches, businesses, and private homes.
Things to Do at St Armand's Circle
Heading past the Ringling Museum, and just before you reach Lido Key, is the lively St Armands Circle.
Fortunately, today, there is a causeway connecting the Ringling Museum with St Armands Circle, so visitors don't have to use the steamboat called Success as John Ringling had back in the day; you have circus elephants to thank for the construction of the causeway.
Different times!
Today, you can dine on seafood, shop at independent stores, and make your way to Lido Key Beach.
Things to Do Near Sarasota City
The following things to do around Sarasota include beaches that hug the Gulf for those looking for lazy days sunbathing and water sports for visitors seeking a bit more of a frill.
Lido Key Beach
Although technically still in Sarasota, Lido Key takes around 20 minutes by car from the downtown area, and it is worth the day trip if you like the sand and ocean.
While Siesta Key gets all of the attention, Lido still offers soft sand, lifeguards, restrooms, showers, and free parking.
Visitors also love the seashells.
Look out for the 'Beach Segregation' marker near Benjamin Franklin Drive at Coolidge Drive, which details the history of separating beaches for white and African American residents in Sarasota in the 1950s.
It is worth noting that traffic can be busy at weekends and during holidays.
If you prefer a public pool to the ocean, check out Lido Key Pool.
A trip to Lido Key is one of the best Sarasota family activities that can be done for free or on a budget.
Siesta Key
America's number one beach is only 20 minutes drive from the city of Sarasota, so it would be rude not to give it a try!
Siesta Beach is famous for its quartz sand and modern amenities.
Like Lido, there is free parking, restrooms, showers, and lifeguards.
There is also a shop and cafe.
A 30-minute stroll takes you to Siesta Key Village, where you'll find restaurants, bars, and shops.
Check out our guide for more.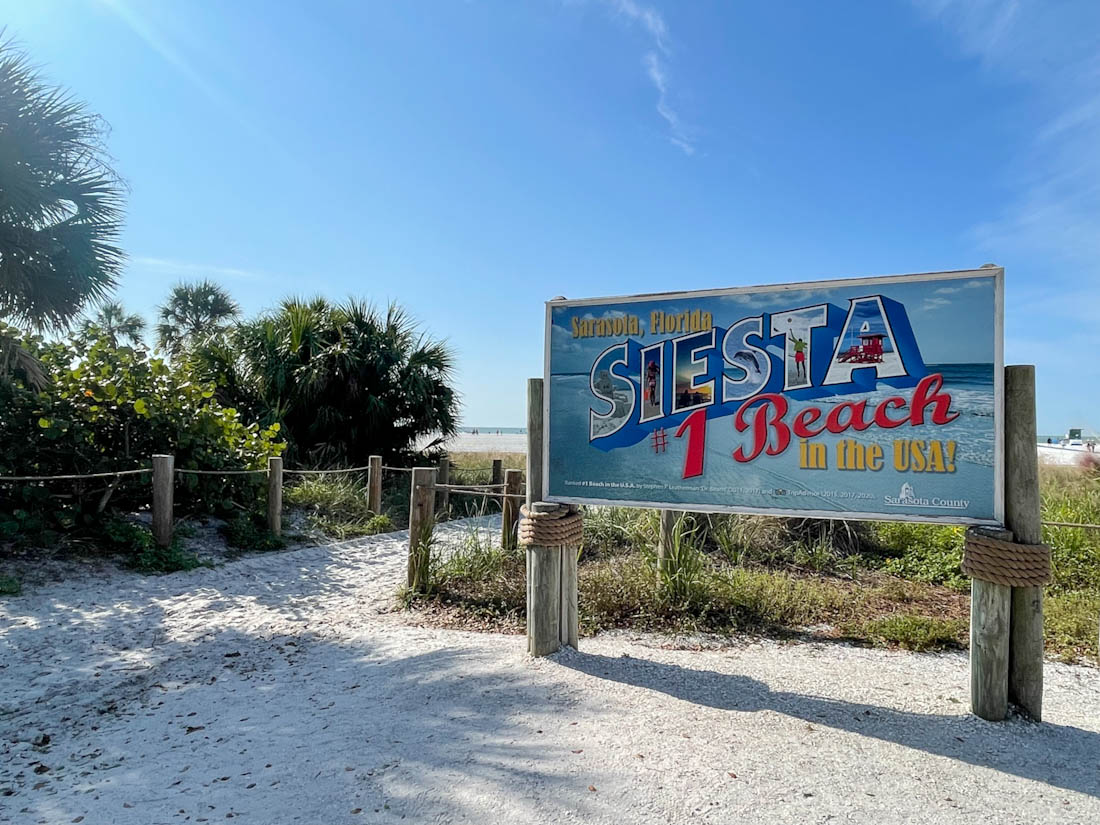 Anna Maria Island
An hour's drive from Downtown Sarasota is Anna Maria Island (AMI), but as the saying goes, it is about the journey and not the destination.
During this day trip, you get to drive through Longboat Key to AMI.
The island is made up of three cities: Bradenton Beach, Holmes Beach, and Anna Maria Island.
All three have beaches, restaurants, and accommodation.
Bradenton Beach in AMI is one of the busier areas where you can sunbathe all day, take in an incredible sunset, and then dine and drink into the wee hours at Historic Bridge Street.
Check out our guide to Anna Maria Island for more.
Note: Since the Gulf of Mexico suffers from the issue of Red Tide, which can cause respiratory illness and eye irritation, it is always best to check the Florida forecast on the NCCOS website.
Go Kayaking or Paddleboarding Near Sarasota
For those who prefer to move more during their vacation, this 2-hour kayak or SUP tour from Osprey might just be the ticket.
The tour includes a guide who directs you to the best wildlife spots, so you might just see dolphins or manatees if visiting during the winter season.
If you are vacationing during winter and want to see the majestic sea cows, read our guide to swimming with manatees in Crystal River.
Sarasota Travel Information
Sarasota is located in southwestern Florida, by the Gulf Coast, and can be reached by flight arriving at Sarasota-Bradenton International Airport or nearby airports, St. Petersburg-Clearwater International Airport, Tampa International Airport, and Southwest Florida International Airport in Fort Myers.
Transfers are available from both Tampa and Fort Lauderdale.
Final Words
There's a whole host of things to see in Sarasota that could easily take up a long weekend or week of vacation with beach day trips!
Have we missed out on any of your favorite things to do in Sarasota? Tell us in the comments!