This article has links to products and services we love, which we may make commission from.

Rockport is a beautiful seaside town in Massachusetts located just about an hour north of Boston.
There are many things to do in Rockport, MA from its arts and culture, shopping, dining, and scenic views- making it a perfect year-round destination. 
In Rockport, you can enjoy the warm days by taking a dip in the ocean, a walk on the beach, or exploring its many outdoor attractions.
As the weather gets cooler, you can tour the town's boutique stores and art galleries, attend a performance at the Shalin Liu Performance Center, or participate in holiday events.
To help you plan for your next visit, this guide will look at the best things to do in Rockport, starting with the most popular attractions, then moving on to indoor and outdoor activities, seasonal activities and events, and things to do in nearby areas.
You might also like our guide to things to do in Newburyport and our list of the best things to do on the North Shore.
Fun Things to do in Rockport, MA
Motif #1
Ready to check out the "most often-painted building in America?"
One of the most iconic landmarks in Rockport is Motif #1 (Bradley Wharf), a red fishing shack that has been the favorite subject of painters for centuries.
It perfectly illustrates maritime life, while receiving some of the best lighting in Rockport.
The first version of this building was made in 1840, but a perfect replica took its place the same year the original was destroyed in the Blizzard of 1978.
Take your sketchbook, painting setup, or just your phone camera to this site to capture the true beauty of Motif #1.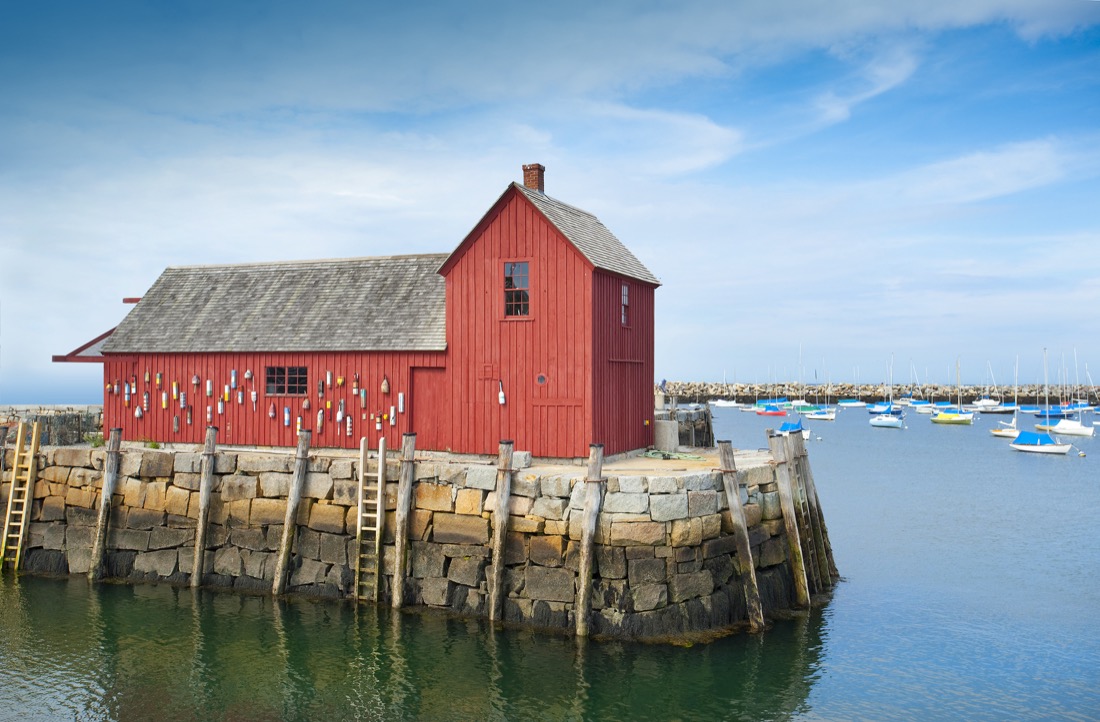 The Paper House
One of the most unique things to see in Rockport is the Paper House (52 Pigeon Hill St), a house constructed entirely of newspaper.
It was built as a summer home by Mr. Elis F. Stenman in 1922, a mechanical engineer who invented the machine that makes paperclips.
The Paper House's exterior and much of its interior are made of newspaper, glue, and varnish.
Make sure you check out the newspaper grandfather clock, which features newspapers from every one of the lower 48 states (the only official states at the time the clock was built in the 1930s).
Twin Lighthouses
The only two surviving multiple lights on the coasts of the U.S. stand today on an island just off of Rockport.
The Twin Lighthouses (2 Light House Rd), or the Cape Ann Light Station, were built in 1789; their taller replacements were built-in 1861.
This site was especially important to sailing travelers because when a ship faces the middle of the lighthouses, they point true north and can check and adjust their compasses.
They can be viewed from multiple points throughout Rockport, though you can also visit them on Thacher Island.
Outdoor Activities in Rockport, MA
Long Beach
For a popular beach, make sure you visit Long Beach (Thacher Rd).
This beach features soft sand, a great long stretch of shoreline, scenic cottages along its length, and a full view of the Twin Lighthouses.
This is a great place to visit in Rockport for families because it is safe, protected, and always has lifeguards on duty.
Unfortunately, parking can be limited in the area, so try your best to get there early before large crowds.
Don't miss our favorite beaches in MA, several of which are on the North Shore.
Old Garden Beach
If you're here in the spring or summer and you'd like to avoid the major tourist crowds, you'll have to visit Old Garden Beach.
This small beach is a mix of sand and stone, and it is attached to a lovely park perfect for picnicking.
Heading to Old Garden Beach is one of the best things to do in Rockport if you're ready to take it slow in the midst of your busy vacation plans.
Loblolly Cove
Want to know what it's like to live inside a beautiful, vintage postcard?
Loblolly Cove (Penzance Rd) has amazing views of rocky coastlines.
In fact, Loblolly Cove is actually famous for its perfect scenery, which has been photographed in many postcards throughout history.
The cove is also well-known for its ideal conditions for diving classes.
Its shallow depths and rich abundance of sea life make it a popular place to learn to dive.
Back Beach
Back Beach (29 Beach St) is located on Route 127, just north of the Village area, and is a popular spot for scuba diving.
If you don't plan to dive into the water, you can come here to sit and enjoy the breeze as well as catch the sunset.
The beach is also close to the downtown shopping area.
Explore Rockport Quarries
There are a few places to visit in Rockport that will make your trip worthwhile; and checking out each of the historic quarries should be at the top of your list.
While it is not allowed to jump off the edge into the water below, you can still hike around and enjoy the manmade beauty of these sites.
The three Rockport quarries of note are called Steel Derrick Quarry (67 Pigeon Hill St), Flat Ledge Quarry (5 Rowe Ave), Carlson's Quarry, and Johnson's Quarry (Johnson Rd).
They are all found on a loop: journeying around Rowe Ave, Trail Rd, and Quarry Rd will afford you views of all four.
Granite was harvested from these quarries from 1830 through to the early 20th century, according to the Cape Ann Museum in Gloucester, just one town over from Rockport.
Halibut Point State Park
Looking for a mix of wooded landscapes and natural seashore attractions?
Head out to Halibut Point State Park (4 Gott Ave) for a wide range of outdoor activities like exploring tide pools, hiking, fishing, and birdwatching.
The whole family will love sitting down for a picnic on gorgeous rocky ledges and walking along historic woods trails.
Keep in mind, that the parking lots will completely close once they fill up, so be sure to get there on the earlier side to avoid getting shut out.
Indoor Activities in Rockport, MA
Sandy Bay Historical Society
Is the weather too rainy or cold for outdoor fun?
Check out the Sandy Bay Historical Society and Museums instead!
A small admission fee will grant you entry to two historical homes, which are time capsules to the early 1700s and 1800s.
The first one is the Sewall-Scripture House (40 King St), built in 1832 and made of granite.
Another one is the Old Castle (Castle Rd), a saltbox-style home built in 1711.
Both houses are filled with ephemera and other amazing pieces from Rockport's storied past.
Bookstores in Rockport, MA
One of the best things to do around Rockport when the weather just isn't cooperating is to check out all the amazing bookstores in the area.
There are two great bookstores in Rockport and three bookstores in the adjacent town of Gloucester.
Check out Susie's Stories Rockport (51 Bearskin Neck) and Bullseye Books-Flyboys (25 Main St) in Rockport.
Just a short drive away, you'll find The Bookstore of Gloucester (61 Main St), Dogtown Bookshop (132 Main St), and Ten Pound Island Book Co (77 Langford St).
These lit stops should occupy any bookworm for an entire day; there's nothing like picking up a new read on a trip.
Rockport Art Association and Museum
The Rockport Art Association and Museum or RAA&M (12 Main St) feature many open rooms full of local artists' work.
High-quality paintings and photography are on display throughout the museum, making it a great place to explore for anyone who loves art.
RAA&M also offers year-round programs of classes, lectures, demonstrations, and community outreach.
You can find artsy and unique gifts to buy in the gift shop featured at the museum.
Things to Do in Rockport in Fall and Winter
Wondering what to do in Rockport as the weather starts to get cooler? 
This list will explore ideal places to visit and events to catch during fall and winter.
Rockport Music and Shalin Liu Performance Center
For 30 years, this small, intimate concert venue has been filling the town with sweet notes of classical, jazz, and even pop music.
You absolutely do not want to miss a sunset show in Rockport Music and Shalin Liu Performance Center (16 Main St), as it has been voted the best concert hall and music hall by multiple magazines for years.
Check out the concert schedule and purchase tickets at their website.
Bearskin Neck Shopping
If you're ready for the small-town, seaside shopping experience of your dreams, make sure you head over to Bearskin Neck village.
You'll never run out of things to do in the shopping village; though it's great all year round, the best time to visit is in the cooler weather.
Holiday Shopping Night
For more things to do in Rockport in winter, check out the Holiday Shopping Night.
It is a festive shopping event that features three special shopping nights every Christmas season.
With extended hours and exclusive promotions at many of the shops and galleries in Downtown Rockport, like The Art Nook and B. Johnson Ltd. Gallery, you can get a head start on your Christmas shopping list.
The shops and galleries will be beautifully decorated, and you'll enjoy the sounds of carols and holiday songs as you shop.
Brian O'Donovan's A Christmas Celtic Sojourn
Brian O'Donovan's A Celtic Christmas Sojourn has been a holiday tradition for radio audiences since 1986.
A Christmas Celtic Sojourn features a live show that celebrates the music of the season with a mix of Celtic, Pagan, and Christian traditions.
Watching the live show is one of the best Rockport activities for anyone who loves Celtic music and wants to see some of the best performers in the Celtic world.
Things to Do Near Rockport, MA
Antique Trail in Essex, MA
If you're looking for unique things to do near Rockport take the 20-minute drive to Essex and dive into the rich antique culture in this small town.
Essex, MA is known for its antiquing; each shop has its own unique style and flair, and you'll never find the same thing twice as you venture between shops.
It really is a dream for collectors and decorators alike running the gambit from silly trinkets to genuinely rare pieces, all available to you if you look closely enough.
Thacher Island
For a short adventure by boat or kayak trip near Rockport, head out to Thacher Island and take in the beauty of the Cape Ann Light Station.
This National Historic Landmark is rich with New England stories.
By making a quick trip out to the island, you'll be able to put yourself in the shoes of some of the first light keepers that manned lighthouses that wanted of danger instead of a harbor entrance.
Check the website to learn more about how to visit Thacher Island and to book a spot on a boat launch!
Witch House in Salem
The Witch House (310 Essex St) is one of the most popular tourist destinations in Salem.
This 17th-century gray building with pointy roofs is a recognizable image, and it has a direct link to the infamous Witch Trials of 1692.
Today, the Witch House is open to the public for tours, and visitors can learn about the history of the witch trials as well as understand America's colonial history.
You can also explore the rest of Salem, and find many things to do.
Hammond Castle in Gloucester
If you've never made it to Europe but are still fascinated by European castles, make the trip to Hammond Castle (80 Hesperus Ave) in Gloucester.
Built in the late 1920s by John Hays Hammond Jr., the Hammond Castle features a vast art collection, fascinating architectural innovations of the time, and a world-famous organ instrument.
The castle's time capsule-like design takes you from the medieval era to the 20th century, making it a must-see when you are traveling near Rockport.
This is one of our top things to do in Gloucester, but there are tons more fun things you should check out while you're there!
Final Thoughts
If you find yourself in Rockport, Massachusetts be sure to take advantage of everything this charming coastal town has to offer and let us know about your experience in the comments below!
Massachusetts Guides
Massachusetts Destinations