This article has links to products and services we love, which we may make commission from.

Ready to start planning your trip to Rehoboth Beach?
Known as the "Nation's Summer Capital", the beach life draws in thousands of visitors who want to relax on the sand but also many year-round visitors who love the town's charm even when it's too cold to swim.
The beach has a reputation for being family-friendly, deep roots in the LGBTQ+ community, and is also a popular spot for local university students finding homes and jobs for the summer.
Other than the beach, you'll spend most of your time on the mile-long boardwalk and Rehoboth Avenue (known locally as "the avenue")and surrounding streets – all within walking distance from the sand and water.
There you'll find places to drink and dance, go hunting for antique treasure, get some delicious food, and try your hand to win some classic arcade games.
Slightly further off from the beach, there's water and go kart parks, breweries, a movie theater, bike trails, mini-golfing and other fun activities.
In this guide, we've got all of the best things to do in Rehoboth Beach for every type of vacationer to have the best trip ever.
You may also like our guide to the most romantic things to do in Delaware.
Outdoor Things to Do in Rehoboth Beach
The top way to spend your time outdoors is obviously enjoying Rehoboth Beach, but that's not the only way!
You can visit the more secluded Cape Henlopen, just north of Rehoboth, walk or bike the scenic routes, go adventuring on the water, or spend a day fishing on a boat.
Rehoboth Beach
One of the free best things to do in Rehoboth Beach is going to the beach!
There is no admission fee to enter, and you can bring your picnic food and chairs for a zero-spend day.
Tents, tarps, cabanas, pavilions, canopies, sportsbreallas, grills, fire and alcohol are prohibited from the beach.
An anchored umbrella or baby tent is allowed.
Parking costs $2-$3/hour paid for via the meters.
There is a maximum of 12 hours are in effect from 10 am-10 pm the Friday before Memorial Day through the second Sunday following Labor Day, excluding Mondays.
Since Rehoboth is the biggest and busiest area out of the popular Dewey–Rehoboth–Bethany strip of beaches, arrive early so you can find parking and an area of sand to chill for the day.
Rehoboth also features in our guide to the best beaches in Delaware.
Indian River Marina
Anglers will love spending the day at the top fishing spot, Indian River Marina; you can fish from the jetty, take a charter trip, or even a ride on a head boat.
DelMarVa Board Sport Adventures
If you want to adventure on the water, DelMarVa Board Sport Adventures will set you up with paddleboard, kayak, and windsurfing rentals (and lessons if you need them!)
Cape Henlopen State Park
Just north of Rehoboth Beach is Cape Henlopen State Park is a popular spot with locals for a quieter beach day with a fishing pier, campground, bike & walk paths.
From the Point you can see where Delaware Bay meets the Atlantic Ocean!
You can also do a tour of Battery 519 at Fort Mills and cycle the 3.2-mile accessible Gordons Pond Trail.
If you like hiking, read our guide to the best East Coast hikes.
Note: while municipal beaches in Delaware are free, state parks with beaches such as Cape Henlopen, Delaware Seashore and Fenwick Island incur a $5 out of state fee. It is $10 for in state residents.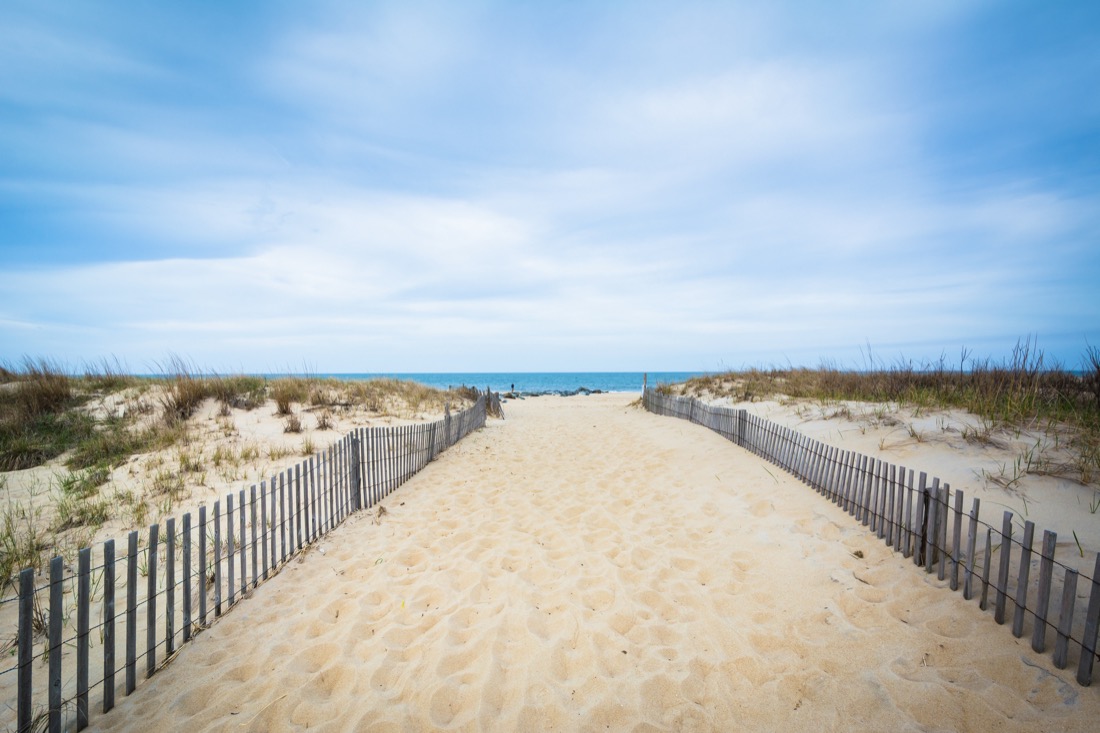 Junction and Breakwater & Gordon's Pond Trails
Junction and Breakwater Trail & Gordon's Pond Trail are two popular scenic trails for hiking, biking, and walking.
Trails vary from 1.2 miles to 5.8 miles so no route is too strenuous.
The Junction and Breakwater Trail is paved so bikes, strollers and wheelchairs can use it.
Gordon's Pond Trail is also accessible.
Day Trip to Lewes Beach
North of Rehoboth, next to Cape Henlop is Lewes Beach.
This beach town is a favorite with families because the water is calm for kids to swim in.
On July 4th the community put on a parade and fireworks on the beach.
Find out more our in things to do in Lewes guide.
Visit Fenwick Island State Park
Another state park popular for its beaches and outdoor activities is Fenwick Island.
Relax on the sandy shores of Fenwick Beach and hire kayaks to get in the water.
Rent bikes and ride the trails.
Learn at Discoversea Shipwreck Museum and visit the oldest lighthouse in Delaware.
Pack a picnic and spend the morning at to Assawoman Wildlife Area.
Nassau Valley
If your idea of outdoor fun is sitting at a vineyard, you're going to want to add a day trip to Nassau Valley.
This is Delawares only award-wining winery.
Have Family-Friendly Fun at Rehoboth Beach
If you need fun things to do in Rehoboth Beach, you will be overwhelmed with the amount of family-friendly options.
Thrill-seekers will love the water and speed parks with their twists and turns, have a more relaxing afternoon with beach-themed mini golfing, or escape a rainy day with a trip to the movies.
Rehoboth Beach is a also great place to visit during winter in Delaware.
Jungle Jim's
Delaware's largest water park, Jungle Jim's, is full of fun things to do in the water and out; they also have two mini-golf courses and batting cages.
Shell We Golf
More than just mini-golf, Shell We Golf is a beach-themed course with a nautical gift shop next door with everything from home decor to "pirate treasure."
Midway Speed Park
Midway Speed Park is best known for its go-karts and mini-golf, but it also has a waterpark, climbing wall, and bumper boats.
Movies at Midway
Independent movie theater, Movies at Midway, is a great way to escape a rainy day or cool off from the sun.
Favorite Boardwalk Eats at Rehoboth Beach
One of the best things to do in Rehoboth Beach is just taking your own mini food tour.
While there's no shortage of fine dining options throughout the town, there's nothing pizza, fries, ice cream, and saltwater taffy to be the cherry on top of your beach day.
Grottos Pizza
Delaware's number one pizzeria, Grottos Pizza, is known for using cheddar cheese layered in a distinctive swirl and family-friendly attitude.
Thrasher's Fries
A trip to Rehoboth isn't complete without a bucket of Thrasher's Fries; they've even got 3 locations, so you can't miss it!
Dolle's Candyland
A Delaware icon; you can get homemade saltwater taffy, caramel corn, fudge, chocolates, and more at Dolle's Candyland.
The Ice Cream Store
With flavors like "Motor Oil," "Zombie," & "Booger," The Ice Cream Store has got dozens of options on their rotating menu to keep you interested every time you visit.
Boardwalk and Avenue Fun at Rehoboth Beach
Both the boardwalk and the avenue are full of Rehoboth Beach activities that are tons of fun for the whole family.
Play mini-golf with a view, relive the past with some classic arcade games, go all out at the amusement park, and go back in time for the perfect souvenir photo.
FunLand
Family-owned and operated, FunLand is an amusement park with 17 rides, 11 games, and an arcade that everyone loves to visit.
Past Reflections
Head to Past Reflections to capture an "old-timey" photo to take home as a souvenir.
Zelkey's Beach Arcades
Zelkey's Beach Arcades has three spots on the boardwalk for you to relive your childhood with classic and modern games.
Ryan's Mini Golf
Ryan's Mini Golf is on the rooftop of their beach shop and has amazing views of the beach and boardwalk as well as a fun course.
Top Shopping Spots at Rehoboth Beach
Usually, people prefer to shop for top brand names at the Tanger Outlets, but if you like to find more unique items, shopping around the boardwalk and the avenue is one of the best things to do in Rehoboth.
Aside from the many nautical and beach themed spots, you'll find many Delaware themed gifts, a year-round Christmas shop, jewelry and clothing boutiques, and a popular independent bookshop.
Penny Lane Mall
Penny Lane Mall is an open-air mall that seems like something from a European side street filled with unique boutique shops.
Shops at Rehoboth Mews
If you're looking for quirky options, the Shops at Rehoboth Mews will be a shopping paradise.
Browseabout Books
Browseabout Books is a nationwide known independent bookstore with a wide range of stationery, unique gifts, games, and toys.
Local Craft Beer Spots at Rehoboth Beach
Most people will say that the best time to visit Rehoboth Beach is in the summer, but some attractions are available year-round – like the local craft beer scene.
This small town has three independent and local breweries, all within a few miles for you to get a taste of their fantastic brews, food, and atmosphere.
Dogfish Head Brewing and Eats
Originally founded in Delaware, the now global brand stays true to its roots, and you can visit Dogfish Head Brewings and Eats for great beer, food, & music.
Revelation Brewery
With a focus on locally sourced ingredients and a seasonally changing menu, Revelation Brewery always has something new to try.
Thompson Island Brewery
Thompson Island Brewery celebrates the coastal Delaware lifestyle through its food and craft brewery.
Best Nightlife Spots at Rehoboth Beach
One of the Rehoboth Beach attractions that bring people far and wide for bachelor/bachelorette parties, birthdays, and other celebrations is their nightlife.
If you want to find live music, you won't have to look far at all, and if you want to dance or keep the night going into the early hours of the morning, there are plenty of those spots too.
Purple Parrot
One of the best known spots in Rehoboth, Purple Parrot is especially known for its Friday and Saturday karaoke nights.
Diego's Bar
Home to Rehoboth's largest dance floor, Diego's Bar has indoor and outdoor options for a night of fun.
Conch Island Key West
Known for having live music Friday and Saturday nights, Conch Island Key West is a great spot for fresh seafood eats too.
Big Chill Surf Cantina
Mixing the relaxed beach lifestyle with live music and great drinks, Big Chill Surf Cantina is always a fun time.
Popular Events at Rehoboth Beach
Every summer, the best Rehoboth beach events take place in their central bandstand, but that's not the only thing!
Come see the kites fly in the spring and visit the weekly farmer's market in the warmer months.
Plus, the Halloween event is definitely one of the top things to do in Rehoboth Beach in October.
Rehoboth Beach Farmer's Market
Fresh produce, artisan goods, pastries, baked goods, and more are all at the weekly Rehoboth Beach Farmer's Market.
Rehoboth Beach Bandstand
The Rehoboth Beach Bandstand's free summer concert series has been a highlight of the beach season for 60 years with their weekend performances.
SeaWitch Festival
The SeaWitch Festival is a family-friendly favorite; all Halloween weekend long, you can participate in activities like a costume parade, magic shows, trick-or-treating, a bonfire, music performances, hayrides, and more.
Great Delaware Kite Festival
Taking place in Cape Henlopen annually on Good Friday, the Great Delaware Kite Festival is a colorful sight to see and enjoy.
Where to Stay at Rehoboth Beach
Boardwalk Plaza Hotel
Situated on the famous Rehoboth Beach Boardwalk, the Victorian Boardwalk Plaza Hotel has wonderful beach views and a central location to the best beach offerings.
The Bellmoor Inn and Spa
The Bellmoor Inn has a full service spa with two pools and is only two blocks from the beach.
For more places to stay, read our guide on the best beach resorts in Delaware which are mainly located at Rehoboth or close to it.
Final Thoughts
Whether you prop up an umbrella in the middle of July and stay there the entire week or go exploring the little nooks and crannies of the best shops, eats, and experiences of the town, Rehoboth Beach is the perfect vacation spot for everyone.
Delaware Destinations