This article has links to products and services we love, which we may make commission from.

Looking for the best things to do in Providence, Rhode Island? Don't overlook this tiny state and its capital city, which boasts plenty of character. Providence is a great hub for exploring more of the Ocean State, as well as being an ideal getaway from Boston at any time of year.
When planning a trip to Providence, you'll want to consider your overall plans before deciding if you need a car or not. Driving in the city is easier than driving in larger state capitals, but parking can still be a challenge.
You might want to check out our guide on the best places to visit in Rhode Island to decide how much travel you'll do from Providence.
If you're an outdoors lover, don't miss our guide to hiking in Rhode Island for all the best trails!
What to Do in Providence Rhode Island
Providence RI Attractions You Can't Miss
Walk Along Thayer Street
Thayer Street is a hub of activity in Providence!
Located beside the Brown University campus, this stretch offers plenty of cafes, restaurants, shops, and even an old-school cinema.
Take time to stroll along and window shop, stopping at anywhere that intrigues you.
And definitely go with an empty stomach — there are tons of great places to grab a bite!
See the Superman Building
Officially called the Industrial National Bank Building, you might do a double-take when you see this 26-story structure in Providence.
It looks very similar to the Daily Planet office building in the Superman comics, despite the creator saying this wasn't the inspiration for the Superman design.
The building has unfortunately remained vacant since 2013, but, in early 2022, the RI Governor announced a rejuvenation project for this iconic part of the Providence skyline.
You'll easily spot the building as it's the tallest in Providence…and all of Rhode Island!
In case you want an up-close view, you'll find it at 111 Westminster Street.
When in Providence, Enjoy WaterFire
Certainly one of the best things to do in Providence, WaterFire typically happens every other Saturday night from May through November.
As a city built on three rivers, Providence maximizes its space with events and activities along the water.
During WaterFire, small bonfires are set ablaze on the rivers to illuminate the night, creating a beautiful atmosphere.
This is a family-friendly night out in Providence, but it's also a great date night activity!
You can even take a gondola ride down the river with the fires blazing beside you. It's a very Hallmark-movie-moment.
If you'd prefer to avoid the crowds, book a dinner reservation with a view instead. Cafe Nuovo can't be beat.
While WaterFire is primarily a summer event, the holiday tree lighting at the end of the season is quite the event.
Get all the details in our Rhode Island winter guide.
Best Things to Do in Providence RI for History Buffs
Take the Early Black History Walking Tour
It is impossible to separate the Transatlantic Slave Trade from the architecture and prominent names across the streets and neighborhoods of Providence.
To better understand all the other landmarks and historical spaces in Providence, start your visit with a self-guided Early Black History Walking Tour.
Use the virtual map or download a PDF version and be sure to learn about the history of Black people in Providence.
Tour the Rhode Island State House
The Rhode Island State House looks like a smaller version of the US Capitol Building in Washington, DC.
It has the fourth-largest structural stone dome in the whole world and certainly makes for a great photo opportunity.
You can also tour the inside of this government building, including the Charter Museum, which houses significant historical documents for Rhode Island.
Tours are offered on a walk-in or reservation basis for fewer than ten people; groups of ten or more must book separately.
Self-guided tours are also available; just use the QR codes around the building to learn more at your own pace.
According to the official website, the months of December, May, and June are the busiest for tours, so they advise you to book well in advance if you plan to visit during those times.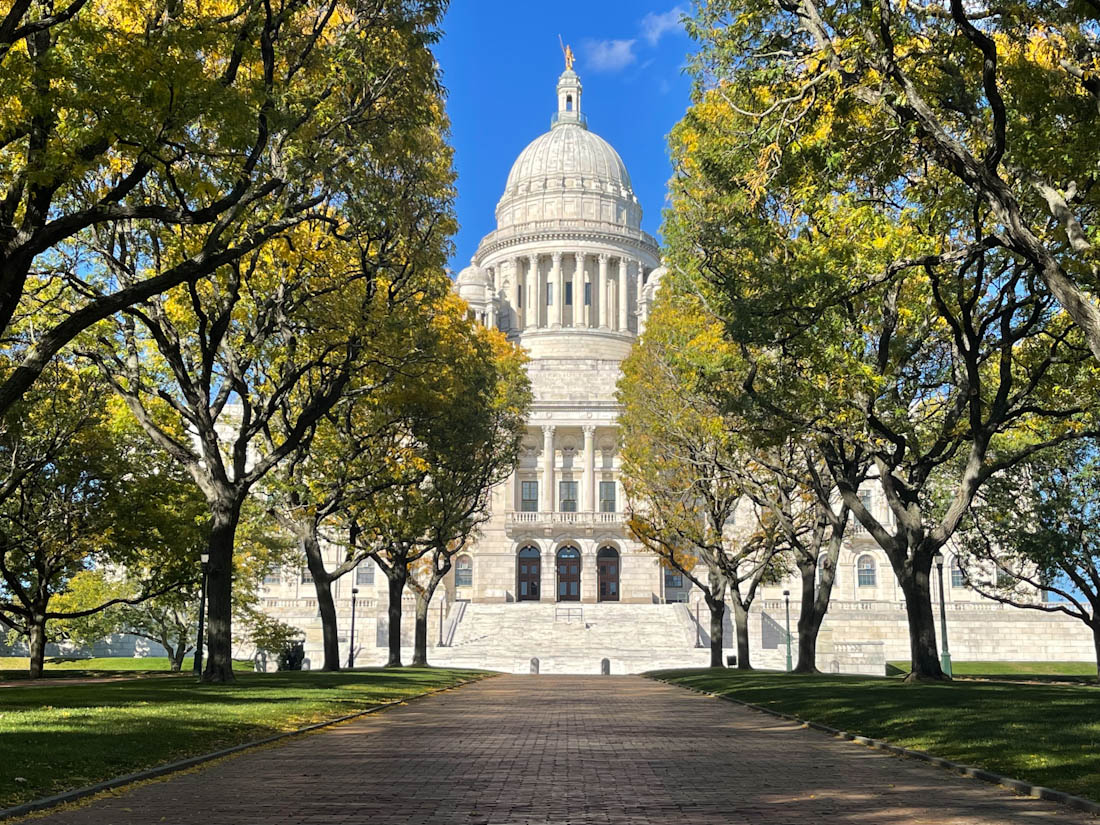 Explore Brown University's Campus
Founded in 1764, Brown University is older than the United States itself.
As the city's Ivy League college, you'll recognize a decorated alumni list including folks like John D. Rockefeller Jr., John F. Kennedy Jr., Chris Hayes, Andrew Yang, Lois Lowry, Ted Turner, Daveed Diggs, and Emma Watson, among many other prominent politicians, inventors, creators, and global leaders.
The college has lots of spooky stories to share, read our Rhode Island in fall guide for more.
Visiting Brown feels a world apart from the city life, with its red-brick buildings and leafy lanes.
You can opt for a tour of the campus led by a university student or simply wander the public spaces including the John Hay Library, the Haffenreffer Museum of Anthropology, the David Winton Bell Gallery, and the John Carter Brown Library.
Visit the John Brown House
The first mansion built in the city, the John Brown House (52 Power Street) is certainly one of the most prominent Providence attractions.
Built in 1786, you can take a guided tour or self-guided audio tour of the house to see the style of 18th-Century wealthy homes.
The museum includes a variety of artwork and household goods on display, as well as a fully restored horse-drawn carriage from the era.
Note that only the first floor of the museum is wheelchair-accessible; here is more accessibility information for visiting the John Brown Museum.
Walk Along the Mile of History on Benefit Street
The mile-stretch of Benefit Street known as the "Mile of History" shows off the architectural styles for which Providence is most commonly known.
Admire homes built in the Victorian, Federal, or Art-Deco style all along the way.
You'll find the Athenaeum here (more on this building in the next section), as well as the John Brown House mentioned above.
Governor Henry Lippitt House Museum
A National Historic Landmark, the Lippitt House Museum (199 Hope Street) shows visitors one of the best-preserved Victorian-style homes in the US.
Tours are available on a limited and seasonal basis, so be sure to plan your visit accordingly.
Learn Indigenous Peoples' History
While history buffs have plenty of things to see in Providence, unfortunately, there is no museum or building in the city dedicated to indigenous history.
For that, you'll need to drive approximately 35 minutes to Exeter to the Tomaquag Museum (390 A Summit Road, Exeter).
It's Rhode Island's only museum dedicated to telling indigenous peoples' stories.
Arts & Culture Things to Do in Providence
Admire Art at the Rhode Island School of Design (RISD) Museum
RISD is an icon in Providence, serving as a launching pad for many of the up-and-coming artists of our time.
Beyond establishing the next generation of prominent artists, visit the RISD Museum (20 N Main Street) to explore galleries and collections from around the world spanning millennia.
Note: it's pronounced riz-dee.
Both entrances are wheelchair-accessible and kids are always welcome at the RISD Museum!
Seek Out Public Artworks
The Avenue Concept has been working across Providence and beyond for years to encourage public artwork from murals to sculptures and more.
Seek out the ones that interest you most from their artwork on display now — just be sure to search for Providence-specific pieces since they've expanded beyond the city.
Be Awed at the Providence Athenaeum
If you love books, you absolutely must visit the Providence Athenaeum (251 Benefit Street).
Built in 1836, this member-funded library is a book lover's dream come true.
You can simply wander around on your own, or opt for a self-guided or guided tour; all options are free.
It's the perfect thing to do in Providence when it rains!
Get Tickets for the Providence Performing Arts Center (PPAC)
The Providence Performing Arts Center is one of several theaters in Providence, but PPAC is extra special.
Listed on the National Register of Historic Places, this gorgeous 3100-seat venue has been called one of the top venues in the entire world.
Not bad for a city in such a small state!
See an off-Broadway show in style — and for far less.
This is definitely one of the best things to do in Providence at night or for a romantic date night!
Eat in Federal Hill
Also known as Little Italy, the Federal Hill neighborhood in Providence offers an array of awesome Italian dining options.
Locally just called The Hill, you can enjoy anything from a slice of pizza to a multi-course feast.
Be sure to walk around after dinner; the cobblestone streets and people-watching at DePasquale Plaza offer a lovely setting to digest after all that yummy food.
Family-Friendly Things to Do in Providence RI
Hang Out at Waterplace Park
Along the Woonasquatucket River, you can let the kids run a little loose to get extra energy out in Waterplace Park.
If they really need to let loose, Station Park is a big grassy area just beside Waterplace Park.
There are often events happening here in the summer, including the popular WaterFire described above.
In nice weather, you'll often see food vendors and musicians here.
In all weather, Waterplace Park is a great photo opportunity to capture the Rhode Island skyline!
Providence Children's Museum
Wondering what to do in Providence with the kids when it rains?
The Providence Children's Museum (100 South Street) has you covered; hours of education and entertainment await!
With a focus on play as a way of building character, the space encourages kids of all ages to explore, create, and just have fun.
The museum also uses 40% of its overall budget to welcome visitors for free or for reduced prices so that even more kids can use play as a means of learning in this safe, inclusive space.
The Children's Museum is absolutely one of the best things to do with kids in Providence!
Rhode Island Museum of Science and Art (RIMOSA)
The Rhode Island Museum of Science and Art (763 Westminster Street) is an inclusive, interactive space for kids to get hands-on with science and art.
Their exhibits and activities are best suited to older kids and teens.
Encourage creativity and curiosity in your family with RIMOSA's cool space filled with endless inspiration.
They also offer a sensory-friendly environment on the first Saturday of every month with interactive activities and exhibits.
Get more details from their full DEIA statement.
Final Words
Did this guide help you plan what to do in Providence on your next visit? We hope so!
Let us know in the comments if we missed your favorite activity or attraction.
Rhode Island Destinations