This article has links to products and services we love, which we may make commission from.

Planning a visit to America's Hometown and looking for the best things to do in Plymouth, MA?
You're not the first to step foot on the Wampanoag people's land, Plymouth is where the Mayflower anchored in 1620, carrying over 100 settlers.
This guide details historic Plymouth attractions, nature-based activities, insightful tours, free things to do, and drink-related options to whet your whistle!
We include the most popular points of interest and some lesser-known places to visit in Plymouth so you can skip the crowds if you wish.
A trip to Massachusetts can get pricey so we've featured free things to do in Plymouth too.
Staying longer than a couple days? Check out our section on things to do around Plymouth MA, perfect for day trips.
Not sure when to visit? Look out for our Plymouth festivals and events section to see if anything suits your travel style.
You may also like our guide to the best hotels in Plymouth for all budgets and our guide to where to stay in Plymouth to find accommodations near the things you want to do.
You might also like our guide to the best things to do down the Cape to explore more!
Things to do in Plymouth, Massachusetts
Plimoth Patuxet Living History Museum Tour
Learn about the town and nation's history in live action with a Plimoth Patuxet Living History Museum Tour.
The tour takes visitors back in time through stories read by role-playing actors who share what life was like for the Pilgrims and Pokanoket people.
It also features a walk through an English Pilgrim settlement and a trip aboard the Mayflower II.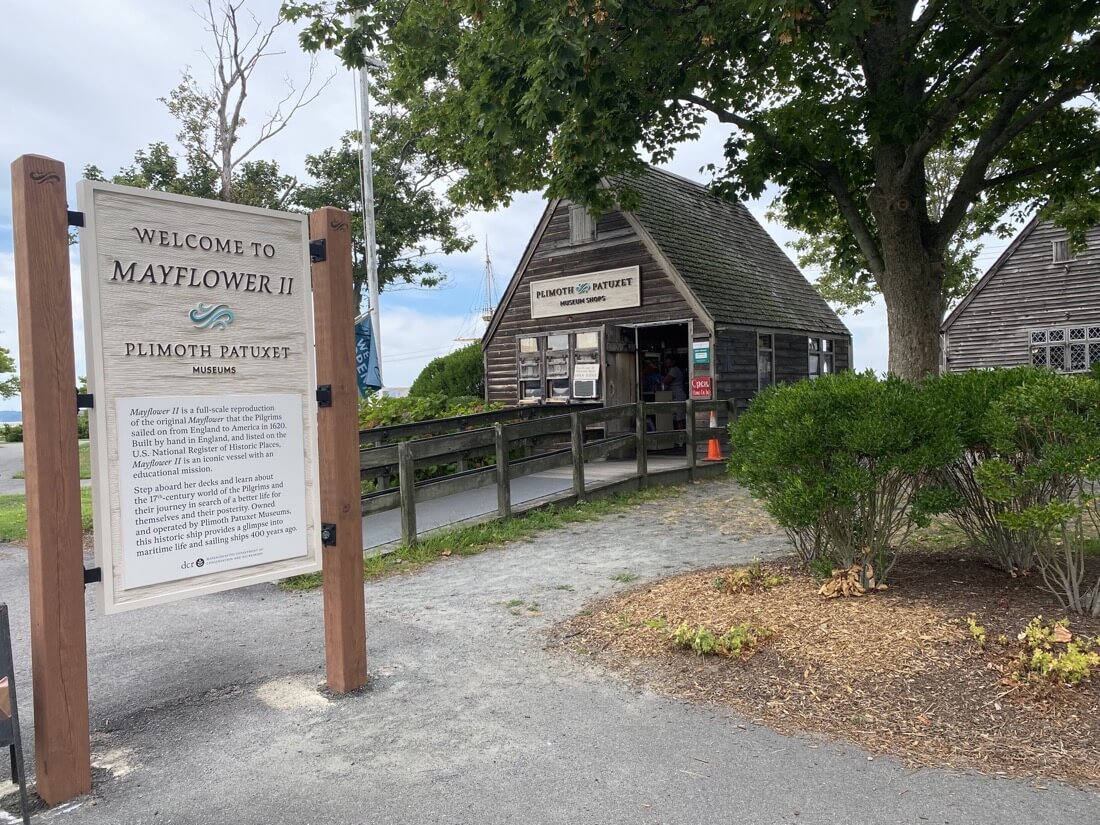 Is the ocean air making you hungry?
Try a selection of Wampanoag and Pilgrim food at the Plentiful Café.
Note: Plimoth Patuxet was previously referred to as Plimoth Plantation.
Book it on Viator or GetYourGuide.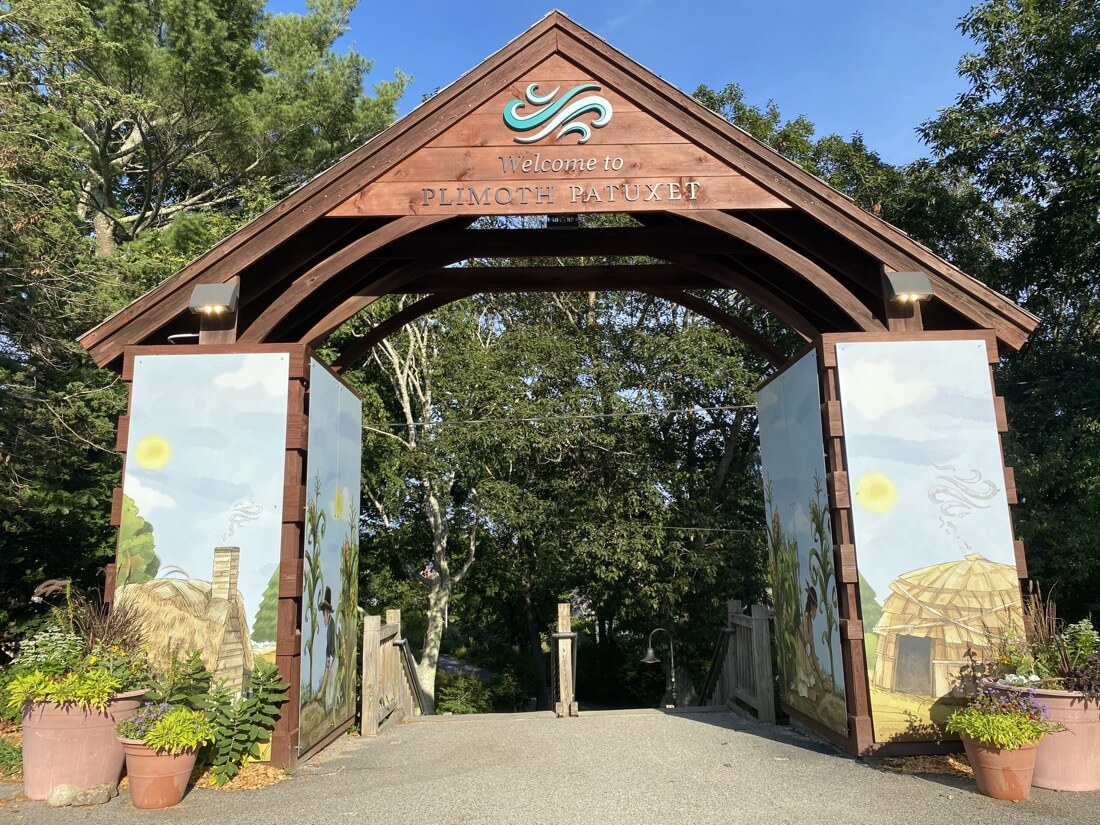 Plymouth Ghost Tours
A ghost tour offers a fun and unique way for Plymouth visitors to learn about the town's 400 years of history.
The tour includes a haunted cemetery, historic houses, and the spooky streets of downtown Plymouth.
Pack comfy shoes and be prepared to walk 1.5 miles.
This is one of the activities in Plymouth to do if you want to learn about history while getting your steps in!
Book it on GetYourGuide or Viator.
Whale Watching with Plymouth Cruises
Plymouth Cruises Lobster Tales (9 Town Wharf) offer guests an easy way to enjoy the waterfront by boat.
See mother nature in her natural habitat with a whale-watching excursion or simply coast around at sunset with a harbor cruise.
The company offers group cruises as well as private charters, so you can find the ideal experience for your family and friends.
Dine on Seafood
You can gorge on a plate of fresh fish at many of Plymouth's restaurants most of which offer dine in opportunities or kerbside collection!
Tavern on the Wharf, Salt Restaurant, and East Bay Grille are popular options.
Surfside Smokehouse has waterfront views and serves BBQ as well as seafood.
When you're in New England along the coast, of course you need to get yourself a delicious lobster roll, too!
Plymouth Bay Winery
The Plymouth Bay Winery (114 Water St) offers tastings and bottles of wine made with locally grown wines and berries.
Enjoy their rose wine with cheese and crackers, with tastings, wine by the glass, and bottles that you can sit and relax at the bay.
You can also catch live music some weekends, one of the fun things to do in Plymouth for adults!
Mayflower Brewing Company
Grab a pint at the Mayflower Brewing Company (12 Resnik Rd), with plenty of freshly brewed beers on tap.
Enjoy a full-bodied porter, a light Kolsch-style ale, or an IPA that you can sip while you tour the brewery or sit outside in the beer garden.
Guests can even enjoy the taproom and purchase refillable growlers.
Dirty Water Distillery
The Dirty Water Distillery (10 Water Street) is conveniently located just outside Brewster Gardens.
A self-titled micro-distillery, visitors can come to enjoy seltzers, spirits, liquors, and canned cocktails in their warehouse-style facility.
Not only is it dog-friendly, but it's family-friendly and you can bring your own food in to eat as well.
You may also like our guide to pet-friendly hotels in Plymouth.
Plymouth Antiquarian Society
The Plymouth Antiquarian Society (126 Water Street, Plymouth) focuses on preserving historical sites in Plymouth.
Currently, visitors can enjoy the Harlow House, Spooner House, and Hedge House, each with its own historical significance and offerings.
They also host occasional events like Pilgrim breakfasts, Women's Suffrage Tea Toast, and Burial Hill tours.
Plymouth Center for the Arts
The Plymouth Center for the Arts (11 North St) is located at the heart of Plymouth and is within easy walking distance of other main attractions in Plymouth.
The Center for the Arts features an elegant gallery to showcase art from a variety of mediums and in a range of artistic styles.
Artists of different ages and skills can submit pieces for the Center's showcases.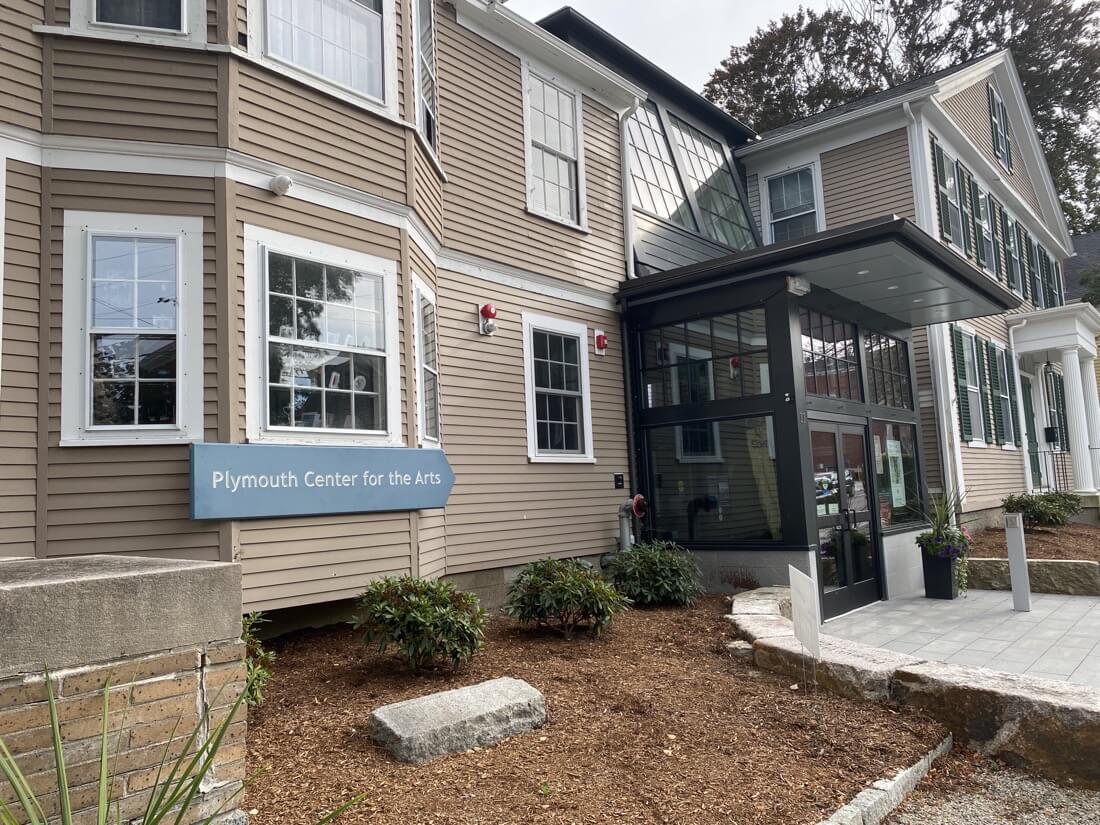 Priscilla Beach Theatre
Catch a live production at the Priscilla Beach Theatre (800 Rocky Hill Rd) all throughout the year.
On-stage performances include musicals, new productions, original scripts, and classic remakes.
The Theatre also hosts occasional workshops and children's summer camps to enjoy, as well.
Jabez Howland House
Take a guided tour through the Jabez Howland House (33 Sandwich St), the only existing house currently standing in Plymouth that housed Pilgrims.
The house has been transformed into a museum for visitors to take in some local history and authentic artifacts.
These artifacts include letters, documents, furniture, tools, and household items that have been preserved.
Escape the Mystery Room
Just north of the center of Plymouth in Kingston, The Escape the Mystery Room (1 Kingston Way, Kingston) offers some mental stimulation in 8 different themes for visitors.
With different difficulty levels, this can be a fun activity to promote working together and thinking critically.
Kingston has a train station by the way, so if you want to visit Plymouth from Boston by rail you can get off there.
Tidmarsh Wildlife Sanctuary
Make your way to the Tidmarsh Wildlife Sanctuary (60 Beaver Dam Rd) to enjoy hundreds of acres of wildlife.
With three miles of trails, volunteer opportunities, and small events, you can enjoy the natural ecological environment of Plymouth.
Depending on which trail, visitors can explore the marshes, view the ponds, take in natural plant life, and potentially see ducks, herons, frogs, turtles, herring, muskrats, and more.
This is just one of the many outdoor activities in Plymouth you can do in half a day.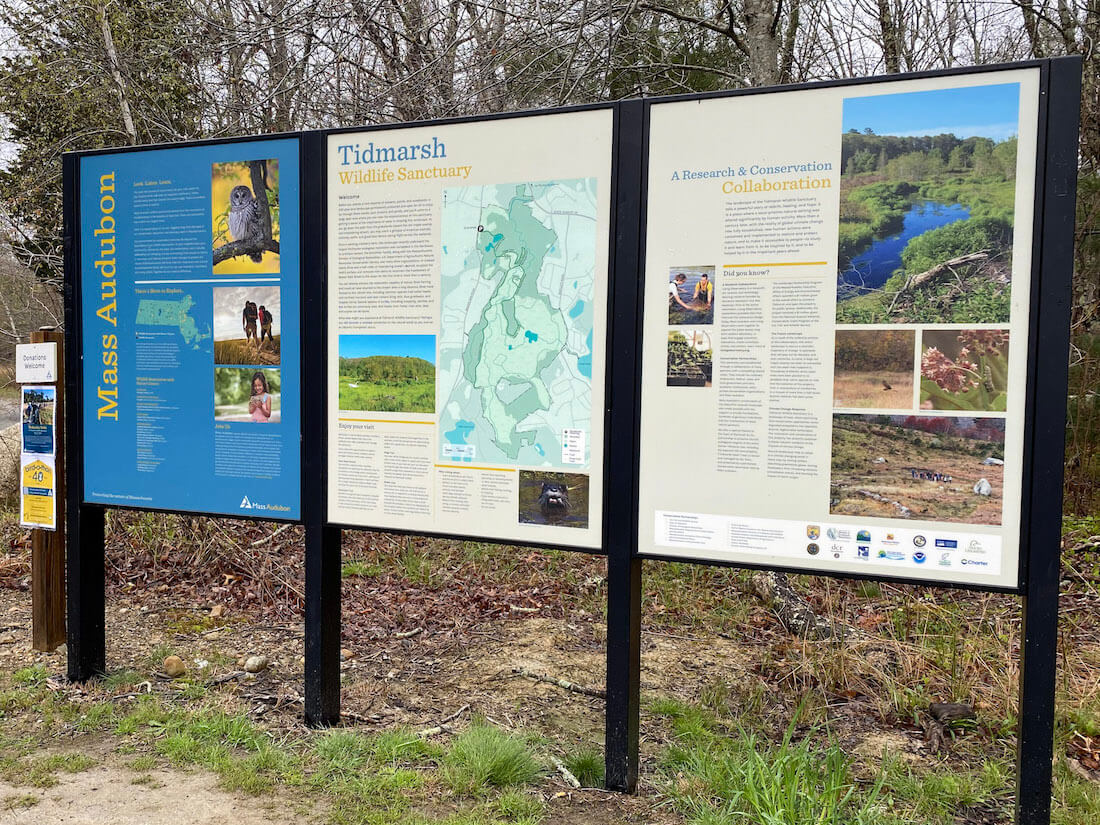 Myles Standish State Forest
Families, couples, and lone travelers alike can enjoy Myles Standish State Forest (194 Cranberry Rd., Carver) and all the outdoor opportunities the park offers.
The acres of the state park are open throughout the year, and depending on the seasons, guests can enjoy a range of activities, including hiking, biking, camping, fishing, kayaking, swimming, and skiing.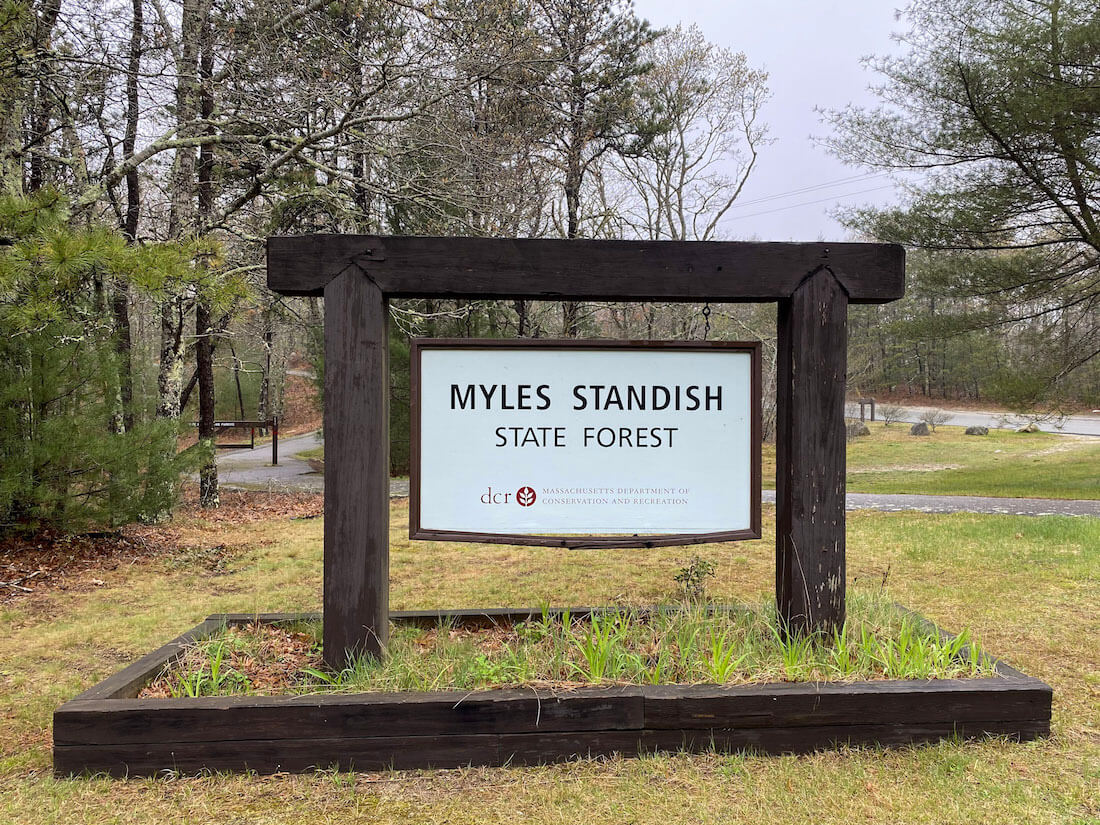 Fearing Pond
A popular recreational spot, Fearing Pond (Fearing Pond Rd), is close to both Plymouth and Carver and offers visitors a chance to swim, camp, and fish near this smaller body of water.
The sandy beaches of the shore make it an ideal spot for having a day-trip picnic and swim with family or friends.
If your group loves to swim, check out these hotels in Plymouth with a pool and/or jacuzzi for even more opportunities!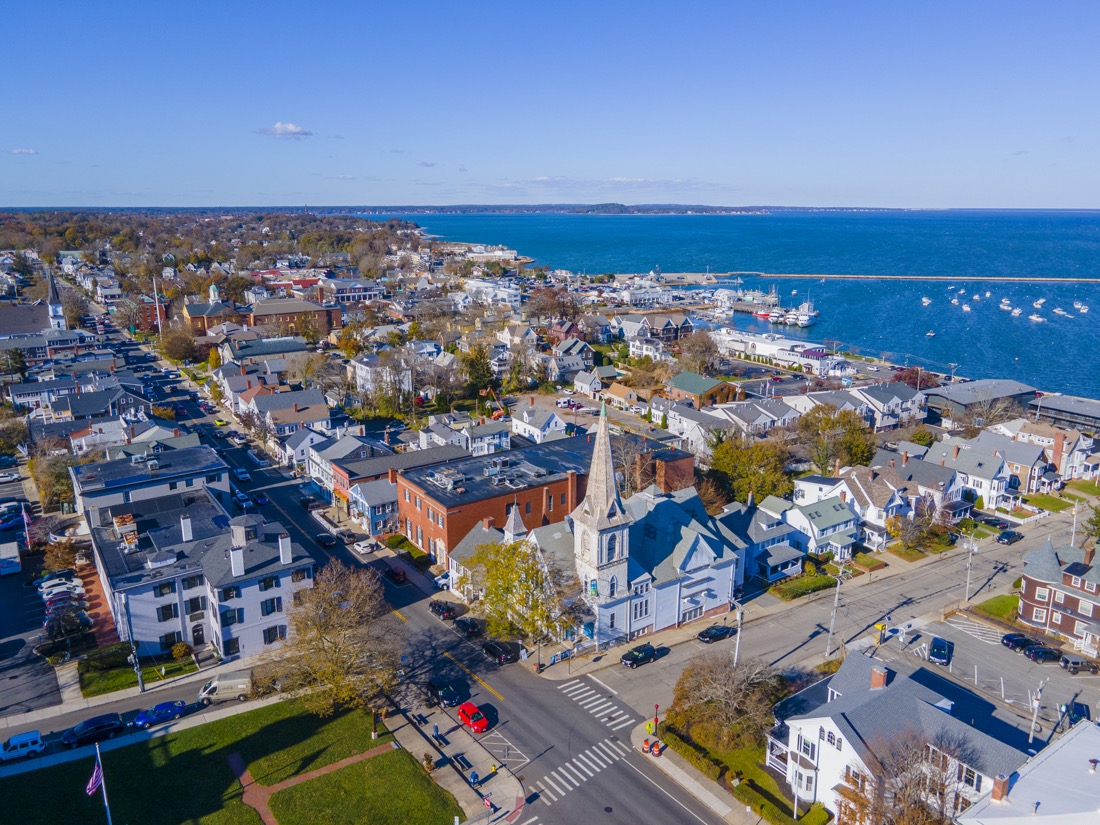 Free Things to Do in Plymouth MA
Plymouth Rock
The historic Plymouth Rock (79 Water St) is located just off the shore of Plymouth Harbor and is commonly recognized as harboring the first steps of the pilgrims leaving the Mayflower and stepping onto land in the 1620s.
It is a symbol of the new world and represents the start of the first colonies and America's "hometown" and put Plymouth on the map as the location for the "First" Thanksgiving.
Cole's Hill
The National Historic Landmark Cole's Hill is located across from Plymouth Rock and is known to be the Mayflower Pilgrims' first cemetery.
You will find a number of plaques and statues in the public park including the Wampanoag Massasoit Statue.
Pilgrim Memorial State Park
The Pilgrim Memorial State Park (79 Water St) includes the Pilgrim Trail, a trail just under 3 miles that visitors can take to see a few other free spots in Plymouth.
Some highlights on the trail include Plimoth Rock, Brewster Gardens, and Morton Park.
Nearby are also some delicious restaurants, breweries, and bars that visitors can enjoy easily.
Brewster Gardens
The Brewster Gardens (30 Water St) are another free option to enjoy in Plymouth without leaving the center of the city.
This park consists of a grassy green park for enjoying picnics and good company, paved trails for strolling and chatting, garden decor and water features to take in, and a small playground.
It is conveniently located near local restaurants and drink spots, so you can enjoy a bite and some fresh air all at once – a great day out in Plymouth.
Nelson Memorial Beach Park
Nelson Memorial Beach Park (255 Water St) is an easy, affordable option for families visiting Plymouth.
It has sandy beach space to enjoy laying out in the sun and playing in the sand, a splash pad for children to enjoy, and a children's park.
There's also a walking trail and a bike path nearby, making it a fun, easy daytime stop that's right near downtown Plymouth.
White Horse Beach
Located on Cape Cod Bay, White Horse Beach (Taylor Ave) is an idyllic stretch of white sand.
Visitors love to collect shells, sea glass, and watch sunsets from this popular Plymouth beach.
Parking can be a challenge and residents must have their parking badges on show.
Ellisville Harbor State Park
The Ellisville Harbor State Park (18060 State Rd) is another free outdoor space for visitors to enjoy while taking in the sights at Plymouth.
It's made of marshes, beaches, forests, and houses plenty of natural wildlife in the area.
Enjoy a short beach hike to start your day off on the right foot.
Unusual Things to Do in Plymouth
Burial Hill Cemetery
Purveyors of the morbid will enjoy this unusual activity in Plymouth.
The Burial Hill Cemetery (7 Church St) is a historical site and the burial ground of some of the earliest pilgrims, including those from the Mayflower.
Tour the graveyard and take in the history of lives long since past, viewing stone tombstones with centuries-old inscriptions.
Cranberry Bogs
Cranberry Bogs (265 South Meadow Rd) are shallow areas of water where cranberries grow on vines that are shaken, releasing the cranberries onto the water, or bog, below. 
Harvests are done seasonally but look beautiful and can offer visitors a fun way to enjoy the unique harvests of Massachusetts.
Enjoy a special tour, interact with the farmers, and check out the new harvests on your visit.
Myles Standish Legs
An odd sight to visit in Halifax in Plymouth is the remaining statue legs of a Myles Standish statue (20 Dwight St, Halifax).
A lightning strike in the early 1900s struck down the statue, breaking the top half and leaving the legs behind.
The statue was replaced, but the legs of Miles Standish can be viewed in Halifax, and guests can even see the burn from the bolt of lightning that took it down.
Bridgewater Triangle
The Bridgewater Triangle (Southeastern MA) is another unique thing to do in Plymouth.
It's not so much one location to visit but a triangulated location with a history of strange, unusual, or paranormal activities across the area.
Crime stories, ghost sightings, alien and UFO sightings, people gone missing, strange sensations, and more are noted to have occurred across the area.
Things To Do Near Plymouth
If you have lots of time or you've already done the above, consider one of the following day trips from Plymouth.
Water Wizz Park of Cape Cod
If you're looking to venture away from history for a day with a cool-down, one fun activity to enjoy near Plymouth is Water Wizz (3031 Cranberry Highway, East Wareham), the waterpark located south of Plymouth.
Water slides, lazy rivers, lagoons, tubing, and more make for a fun adventure day to cool off.
It's the perfect spot to take the family on a summer trip to Plymouth.
Edaville Theme Park
The Edaville Theme Park (5 Pine Street, Carver) is another fun family spot located less than a 30-minute drive from downtown Plymouth.
The Park offers an assortment of fun rides that kids of all ages can enjoy: carousels, bumper cars, and small coasters.
They also have food courts, arcades, a gift shop, and a candy depot.
Edaville also features in our guide to the best Christmas lights in Massachusetts.
Duxbury Beach
Duxbury Beach (260 Gurnet Rd, Duxbury) is a perfect spot to take a day trip and enjoy a packed picnic lunch.
It's located in Cape Cod Bay and has miles of beach, so you can spread out and find the perfect spot to catch some sun with your family.
This is one of our favorite beaches in MA.
Sandwich Glass Museum
Another close attraction to Plymouth is the Sandwich Glass Museum, which has its own museum, collections, demonstrations, and occasional events.
Beautiful, bright, colorful hand-blown glass sculptures, vases, goblets, plates, figurines, and more are available for observation and some for purchase as well.
The museum is one county over but only takes around 25 minutes from Plymouth, so it's easy for a partial day trip.
The Glass Museum is one of our favorite things to do in winter on Cape Cod.
Provincetown Ferry Ride
If you want to take an off-land tour, catch the Provincetown Ferry Ride, which takes guests from Plymouth to Provincetown.
The ride is around an hour and a half and explores Plymouth Harbor and Cape Cod Bay, and lets you spend the day in Provincetown.
In Provincetown, visitors can shop, eat, ride bikes, see historical monuments, check out art galleries, and more.
You may also find our guide to Provincetown ferries useful!
The ferry leaves from Plymouth Harbor — look for the Captain John Boats sign right by the Mayflower II.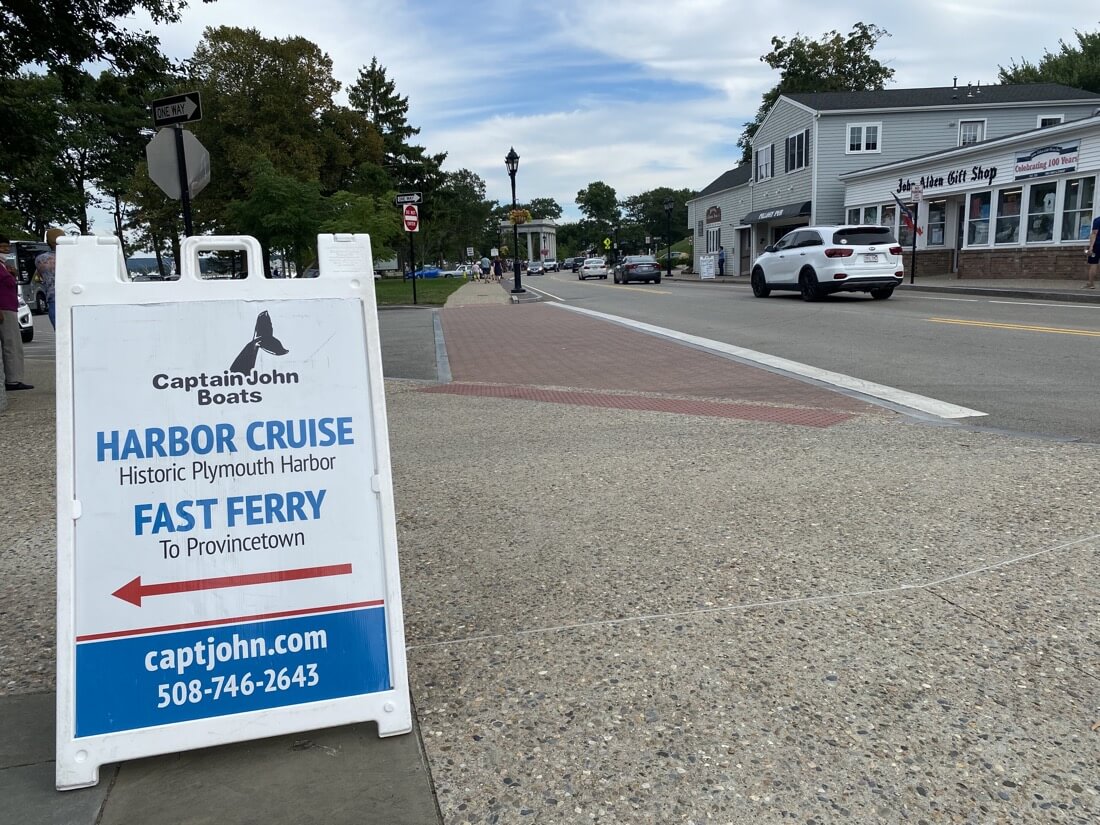 Plymouth, MA Events
National Day of Mourning
The National Day of Mourning is the observance of the Native American lives lost (Cole's Hill, MA) that occurs on Thanksgiving Day.
It allows for formal mourning to occur in respect of the Indigenous people who lived prior to the arrival of settlers to the United States.
These victims of disease and oppression are remembered in Cole Hill during a formal ceremony, where supporters can gather in honor.
4th of July
Plymouth is often referred to as America's Hometown, so the July 4th celebrations are significant!
Plymouth hosts a giant parade as well as a firework show that can be enjoyed in various parts of downtown.
Their celebration also includes food trucks, live music, and other roaming vendors for sweets and treats.
3rd of July
The 3rd of July is also a significant day of celebration, particularly in Manomet.
Early 4th of July celebrations include fireworks and bonfires on the beaches.
Find a spot in the sand to enjoy the nearby fires and to be able to see the fireworks from a safe distance with family and friends for the evening!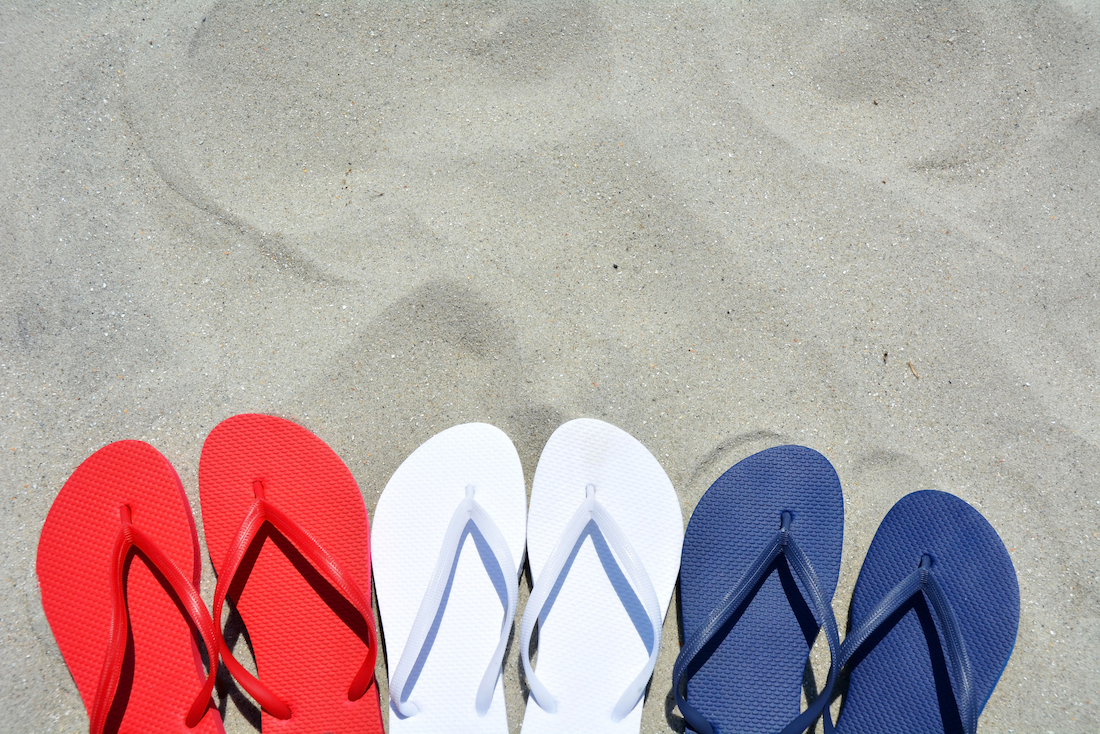 Music in the Air Concert Series
Kellog Park is home to the Music in the Air Concert Series that takes place across spring and summer in Plymouth.
Bring your own chairs and blankets, park on the grass, and wait for the music while you enjoy a home-packed picnic.
Visitors can also enjoy the stores and vendors that are right near Kellog Park.
Plymouth Fall Festival
The Plymouth Fall Festival takes place in September and offers visitors an easy way to enjoy local festivities.
The festival features car shows, bingo, craft shows, a pet show, gaming booths, live music, carnival games, food, and more.
This Plymouth festival has been running since the 1950s!
Where to Stay in Plymouth
To take advantage of all of these fun things to do in Plymouth, try to stay as close to Plymouth Center as you can.
Stay at Hotel 1620 Plymouth Harbor (180 Water St) to be right by the sea; book on Expedia, Hotels, or Booking.
Or check out the nearby Harbourtown Suites (150 Water St) for all the condo amenities you might want for a longer stay; book on Expedia, Hotels, or Booking.
Families especially love the John Carver Inn (25 Summer St) for a classic Plymouth stay just a few blocks from Plymouth Harbor; book on Expedia, Hotels, or Booking.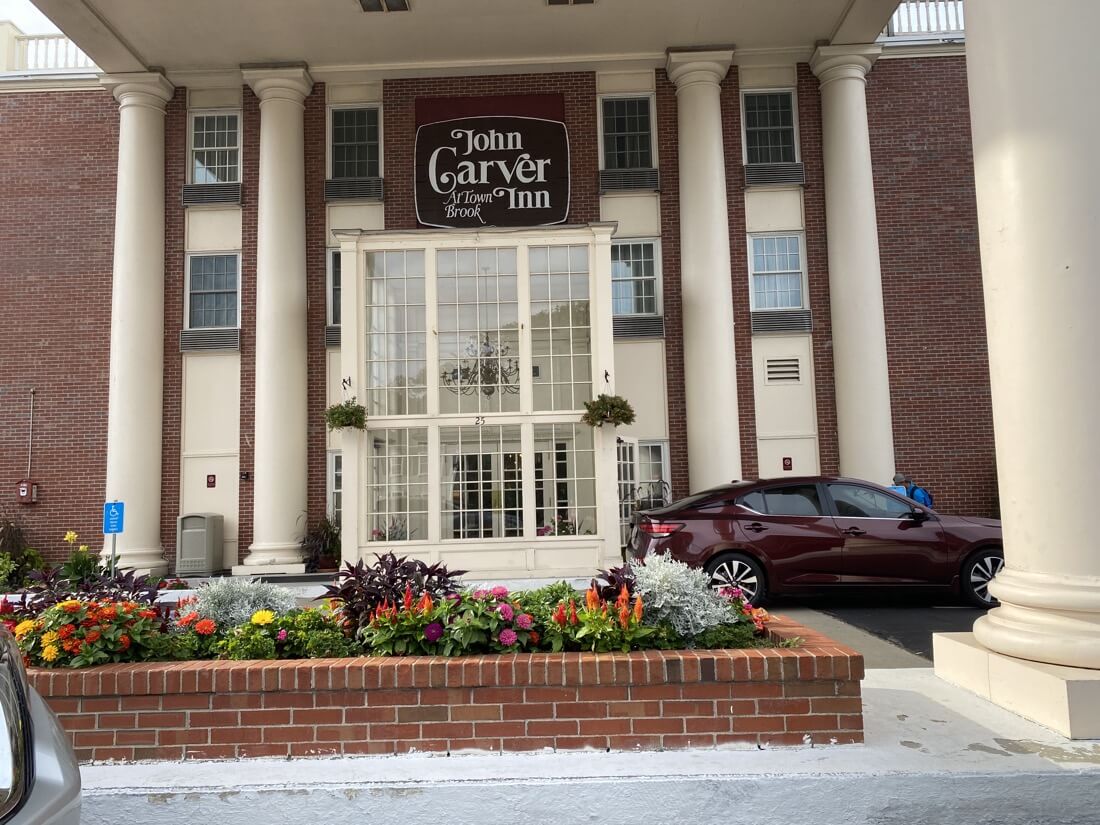 Stay right on White Horse Beach in Manomet in this 3-bedroom oceanfront cottage that can sleep up to 8 guests.
Or book this unique 3-bedroom timber-frame house for ocean views overlooking Plymouth Bay and delightful hilltop breezes within a craftsman home.
For a special getaway, you can't skip Mirbeau Inn and Spa (35 Landmark Dr), just off Route 3 near Myles Standish State Forest (book on Expedia, Hotels, or Booking).
Final Words
There's no wondering what to do in Plymouth now that you've read our guide!
What is your favorite suggestion? Tell us in the comments.