This article has links to products and services we love, which we may make commission from.

Looking to visit Ogunquit or just wondering how to spell it?
Ogunquit is a charming coastal town located in southern Maine, known for its natural beauty, rich history, and vibrant culture.
The name comes from the Abenaki word meaning "beautiful place by the sea,"- a perfect reflection of its stunning coastal location and gorgeous scenery.
It's pronounced ow-guhn-kwuht by the way!
To help plan your visit, we compiled the fun and exciting things to do in Ogunquit, Maine- whether you're looking for a relaxing beach getaway, an exciting food trip, or a fun-filled cultural adventure.
Many of Ogunquit's businesses are gay-owned, and the town is home to one of the largest gay clubs in New England.
Ogunquit also made it to our list of beautiful towns to explore in Maine.
Fun Things to Do in Ogunquit
The Leavitt Theatre
Visiting the Leavitt Theatre (259 Maine St) is one of the best things to do in Ogunquit for anyone who loves food, art, and culture.
For more than 100 years, the theater has been a hub of community gathering, and it stands today as a restaurant, bar, and venue for comedy, music, and free movie screenings.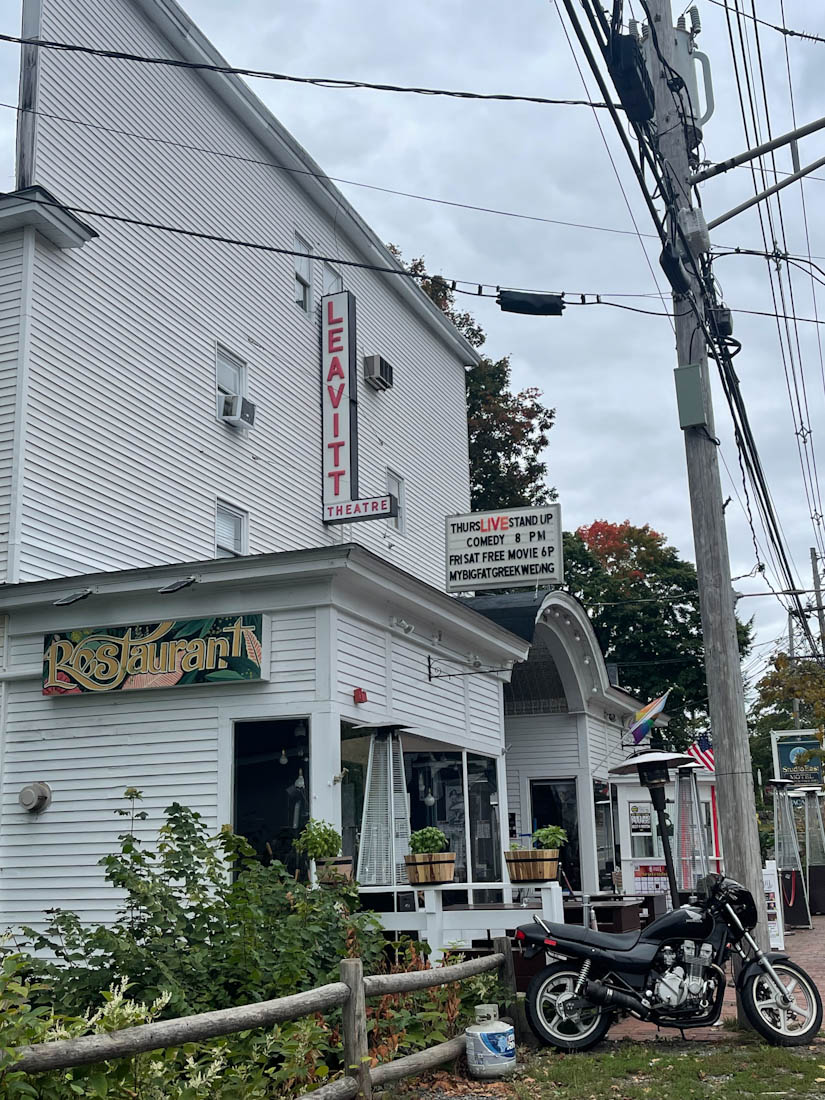 Party at Mainstreet
MaineStreet (195 Main St) is the coast's biggest gay club with three bars, two dance rooms, and outdoor decks.
Weekly club events include live DJs, karaoke, and drag shows.
Ogunquit is often said to be a cheaper gay destination compared to the likes of P'town in Massachusetts.
Ogunquit Heritage Museum
The Ogunquit Heritage Museum (86 Obeds Ln) is home to an extensive collection of items that tell the story of the town's history.
This museum is totally free and open to the public and is located in the 18th-century home of Captain James Winn, a seafarer in the late 1700s.
Come check out the site, which is on the National Register of Historic Places, and enjoy Ogunquit's heritage.
The Greenery Cafe
The Greenery Cafe (369 Main St) is the go-to spot for fresh pastries, from-scratch brunch, and creative cocktails.
Stop in for a quick treat or a delicious meal; either way, you won't be disappointed by the amazing variety and sweetest confections.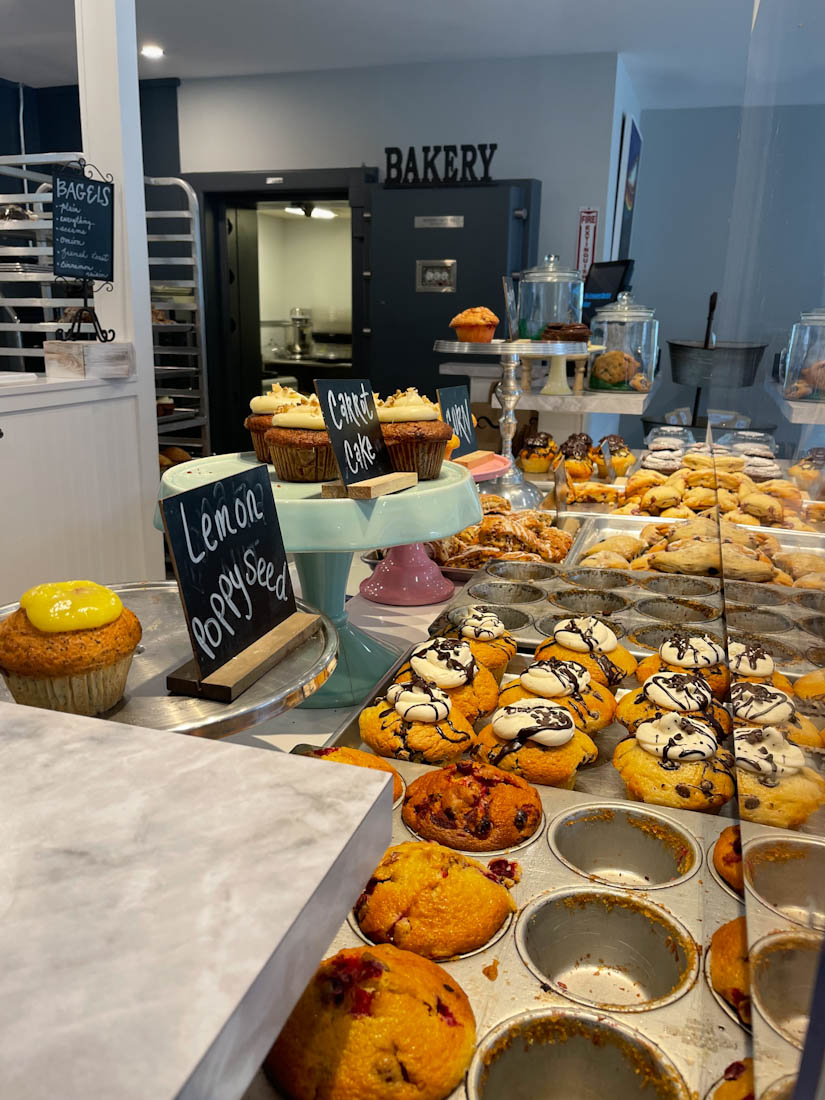 Ogunquit Village Market
Did you even stop in Ogunquit if you didn't buy chowder at the village market (230 Main St)?
This store is instantly recognizable by the lines out front!
Order soup, sandwiches, salads, and cakes then enjoy them at the tables at the front of the store, or as take out at the beach.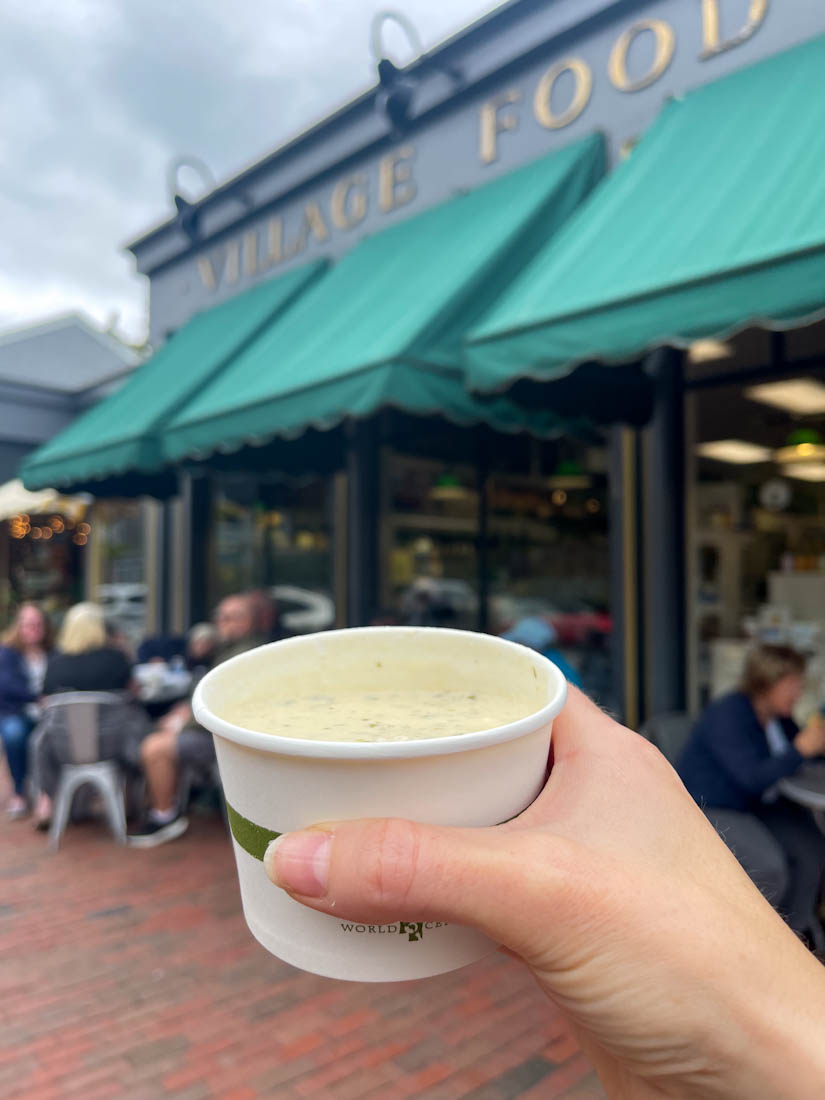 Sing Along at The  Front Porch Piano Bar
The Front Porch Piano Bar and Restaurant (9 Shore Rd) is an award-winning restaurant and event space.
For over three decades, this downtown restaurant has featured a live piano bar, creative cocktails, and a wide variety of menu items.
Check out the schedule for weekly live performances and dinner events.
Spoiled Rotten
One of the top things to do in Ogunquit for tourists looking for souvenirs is to stop by Spoiled Rotten (27 Beach St), a specialty gift shop filled with so many unique items.
You'll find a whole collection of candles, gourmet foods, home decor, and more.
Stop in to browse the shelves, and pick something up to remember your trip to OGT!
Harbor Candy Shop
For treats, head to Harbor Candy Shop (248 Main St) which sells freshly-made chocolates using the best ingredients.
Founded in 1956, this store has been a favorite with locals and return visitors picking up truffles, candies, and jellies for their trip.
Ogunquit Memorial Library
Ogunquit Memorial Library (166 Shore Rd), an old stone building that is on the National Register of Historic Places.
The building is striking, built in the Romanesque Revival style, and is made out of large fieldstones.
You'll love exploring the library and taking in its large central fireplace – one of the best free things to do in Ogunquit for those who appreciate architecture.
Big Daddy Ice Cream
Big Daddy Ice Cream (47 Shore Rd) offers heavy scoops of seasonal flavors such as pumpkin pie in fall.
The small shop offers quick service so you can pick up your cone and devour it on the way down to the shore, or peple watch from the bench out front.
Marginal Way
Marginal Way is a 1.25-mile paved cliff walk with views of the water, ornate hotels, and beaches.
The path travels between the Sparhawk Oceanfront Resort (85 Shore St) and Perkins Cove.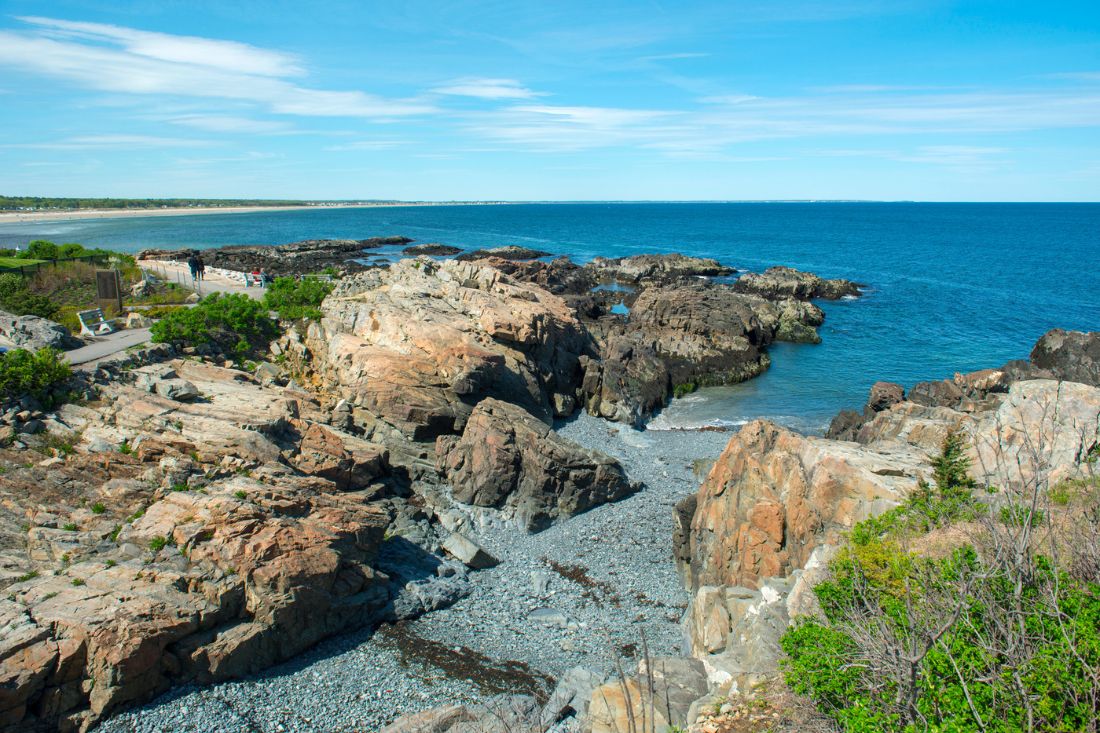 Lobster Point Lighthouse
Along the Marginal Way, you'll come to Lobster Point Lighthouse.
This very small lighthouse that was built in 1949 and is painted white with a black lantern, which has suffered some battering from the New England winds.
Josias River Park
Josias River Park (Bourne Ln) is a one-acre park with benches and a peaceful river pass.
It was donated to the town for conservation.
Ogunquit Playhouse
The Ogunquit Playhouse (10 Main St) offers high-quality theater entertainment.
This gorgeous theater is decked out in red velvet and lights, and each season features around five live shows.
From comedy to musicals and drama, there's plenty of options for theater goers.
Finestkind Scenic Cruises
To experience Ogunquit from the water, book a scenic cruise with Finestkind (70 Perkins Cove Rd), which is based at Perkins Cove.
Options include breakfast cruises with treats from the Village Food Market, scenic coastal tours to Nubble Lighthouse in neighboring York, sunset cocktail trips, and first-hand lobstering experience – one of the more unusual things to do in Ogunquit!
Silverlining Sailing
Alternatively, join a tour with Silverlining Sailing (80 Perkins Cove Rd) where you can help steer the sails!
Have a hand in guiding the sailboat around the coast, or simply enjoy the beauty of Perkins Cove, York, and the Kennebunks from the water, a unique vantage point.
Silverlining boasts one of the best boat tours in Ogunquit, according to TripAdvisor.
Perkins Cove
Perkins Cove is a classic Ogunquit attraction now, but it was once a small fishing village and artists' colony.
While you can still see lobstermen and fishermen bringing in their daily catch, Perkins Cove is now bustling with shops, restaurants, and galleries.
You'll love the unbeatable views as you explore the cove; you can also book a cruise or sailing trip from the dock!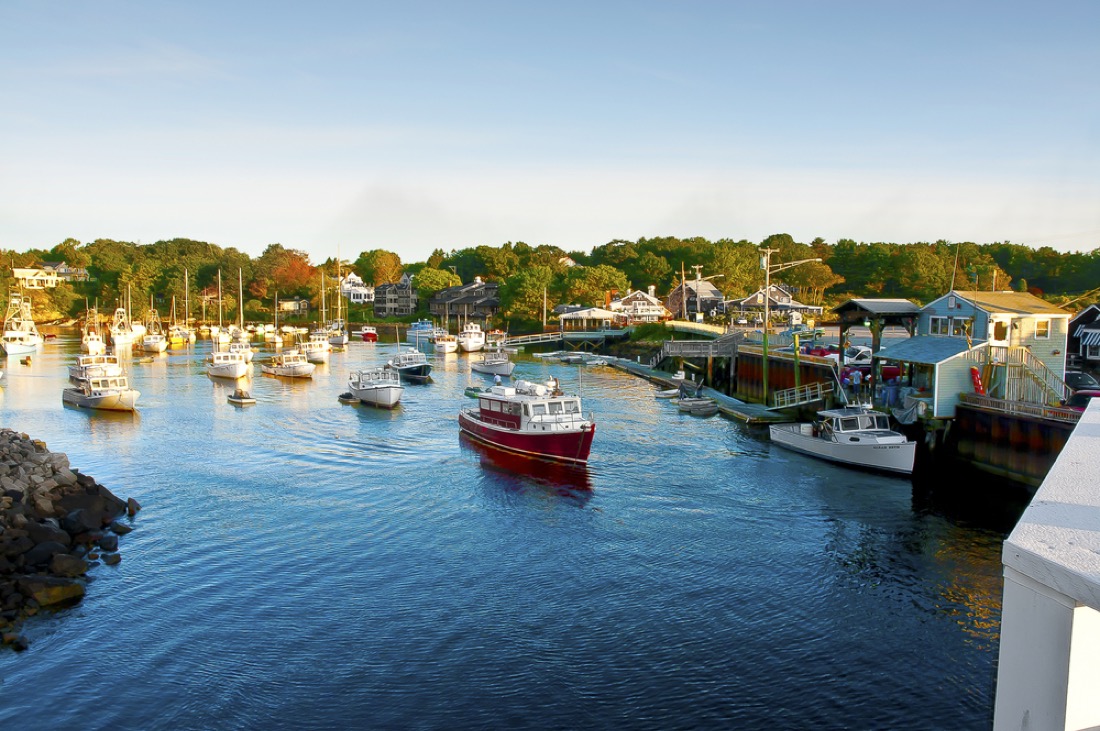 Lobster Shack
Clearly, the best Ogunquit activities involve seafood in some way; stop by the Lobster Shack (Perkins Cove) for the freshest lobster, haddock and the best family recipe chowder you'll ever have.
The shack was built in 1900 and has been a landmark on Perkins Cove since- plus it offers a simple menu, amazing views, and rich history that will have you coming back for more.
Ogunquit Museum of American Art
Ogunquit Museum of American Art (543 Shore Rd) boasts a diverse range of American art.
The museum is closely tied to two of the oldest art colonies in the country and displays significant examples of sculpture, drawings, paintings, prints, and photos that date back to the 1800s.
The Dunes on the Waterfront
The Dunes of the Waterfront (518 Main St) is a unique resort that is located very close to the iconic sand dunes.
You can stay overnight in a classic New England cottage with a beautiful fireplace, and walk just 300 yards to Ogunquit Beach.
You may also want to explore other places in New England featured in this guide inspired by the locals.
Ogunquit Beach
One of the most visited Ogunquit attractions is Ogunquit Beach (Ocean St and Tern St), a beach that is regularly awarded as one of the best beaches in the country.
Soft sand, gentle waves, and perfect for walking or swimming, you'll love spending a day splashing in the water and soaking up the sun.
Be sure to get there as early as you can to make sure you can find a parking spot.
Ogunquit Beach also features in our guide to the best places to visit in Maine.
Beach Plum Farm Preserve
For amazing hiking trails in Ogunquit, you should visit the Beach Plum Farm Preserve (610 Main St).
Beach Plum Farm is a rare saltwater farm, and it also operates as a community garden operation.
Hike the short trails around the 22-acre farm and enjoy views of the Ogunquit River.
Footbridge Beach
Footbridge Beach (Ocean St) has been one of the most popular Ogunquit tourist attractions for years, and for good reason.
With soft sand, lots of parking, and lifeguards through the summer, as well as a public ramp for setting off on a SUP or kayak, Footbridge Beach is bustling with activity.
Also, if you're looking for the best conditions for striper fishing in Ogunquit, you should make your way to this beach.
The Footbridge Beach Motel is a gay-owned accommodation.
Ogunquit's Gay Beach
While there is no official line between the two, if visiting during high season you'll see less families and more men at the gay section of Footbridge Beach.
Liquid Dreams Surf Shop
Liquid Dreams (696 Main St) is the go-to place for rentals, surf lessons, and community events.
You can easily rent surfboards, wet suits, body boards, SUPs, and kayaks, all at affordable rates from very friendly staff.
Be sure to check their website for camps and lessons throughout the season.
Wells Beach
If you are looking for things to do near Ogunquit take a less than 15-minute drive to Wells Beach.
This beautiful sandy beach stretches for miles along the coast of Maine where visitors can enjoy swimming, sunbathing, and beachcombing, as well as surfing and boogie boarding when the waves are up.
There are also several nearby restaurants and shops to explore.
Wells Reserve at Laudholm
The Wells Reserve at Laudholm is a 2,250-acre nature reserve that includes a restored saltwater farm, woodlands, fields, and salt marshes.
Visitors can explore the reserve's miles of hiking trails, attend educational programs and events, and learn about the local ecology and wildlife.
You may also like our guide to the cities in Maine and what to do there.
Ogunquit Events
There's no point wondering what to do in Ogunquit in June, as the obvious answer is PRIDE!
The festival kicks of with flag raising in Veteran's Park then a community event such as a BBQ with speeches by notable guests.
Other events on the schedule include theater, drags shows, and tea dances.
Mr. Gay Ogunquit Contest
Join the crowds over Labor Day Weekend as they watch in anticipation to find out who is crowned Mr Gay Ogunquit!
Audiences can support contestants as they strut down the sandy catwalk to music.
Ogunquitfest
OgunquitFest Weekend takes place in October and features a number of events including a classic car show, the Ogunquit High Heel Dash, and Dogtoberfest costume parade.
These events take place throughout the month.
Final Thoughts
There are truly plenty of activities and attractions in Ogunquit, Maine that will keep you entertained during your stay.
So why not plan your next vacation to this beautiful corner of Maine and share with us your experience in the comments below!