This article has links to products and services we love, which we may make commission from.

If you're looking for things to do in Ocean City beyond the beach, you'll have tons of options along the classic boardwalk, over on the bayside, and farther afield. Whether it's a full family vacation or you're going with your friends, OCNJ appeals to a wide variety of visitors.
Just be careful to note that you're looking at things to do in Ocean City, New Jersey, versus Ocean City, Maryland — the two often get mixed up by tourists!
Ocean City NJ is a family-friendly summer destination that many folks in the region visit year after year.
With an iconic boardwalk lined by places to eat, shop, and play, it's the perfect blend of beachfront outdoor fun with classic oceanside charm.
Note that Ocean City NJ is a dry town, so you won't find any alcohol served here at all (not even BYOB-style).
You might also want to check out our guides to Sea Isle City NJ, Point Pleasant NJ, or Cape May for more fun down the Shore.
Best Things to Do in Ocean City, New Jersey
Starting on the boardwalk and then heading off toward the bay, these are our favorite things to do in Ocean City so you can plan your upcoming vacation.
Gillian's Wonderland Pier
Gillian's Wonderland Pier (600 Boardwalk) is the anchor location at the northern end of the boardwalk.
People will trek down the entire length of the boardwalk to spend the day at the Wonderland Pier; it's one of the most popular things to do in Ocean City!
There are many options for children at this amusement park, including carousels, slides, and small rides.
There is also an iconic monorail that travels around the entire park at several dozen feet above the ground, providing a great birds-eye view of the park.
While there are many options for children, there are also plenty of exciting rides for adults and older children.
Ride the log flume, let out your angst in the bumper cars, or get tickets for the giant Ferris wheel.
For guests looking for the most extreme activities, try the Frisbee, Moby Dick or Musik Express.
Kohr Bros Frozen Custard
Stopping at Kohr Bros Frozen Custard (986 Boardwalk and others) for dessert is one of the most iconic Ocean City boardwalk activities.
The cake cone with an orange vanilla swirl protrudes out of the storefront as a large metal statue, acting as an oasis welcoming in overheated patrons on a hot summer day.
The Kohr Bros brand exists all along the East Coast, although it has developed a hometown reputation in Ocean City.
First coming to Ocean City in the 1920s, Kohr Bros has since established four locations across the boardwalk.
On any given day in the summer, you will still find a steady stream of people in line at each location.
The silky-smooth soft-serve custard dripping down a cake cone has become another beloved icon of the boardwalk at Ocean City.
OC Waterpark
It may sound counterintuitive to go to a waterpark at the beach, but the OC Waterpark (728 Boardwalk) is one of the most popular Ocean City attractions on the boardwalk.
If you've been at the beach a few days and need a break from the sand, spend the day riding water slides or lounging on the lazy river.
There are three water slides, including the Serpentine Body Slide, the Splashdown, and the Sky Pond Journey.
Each slide varies in thrill level, and some require tubes while others are body slides.
For the smaller children, there is also a kids' section called Lil Buc's Bay that features a miniature beach, fountains miniature slides, and of course the large pirate ship playground in the center.
For those who are tired from days of adventure, hop in a tube and float down the lazy river, stretching around the entire waterpark.
Glide through waterfalls and float through tunnels while you take a minute to unwind and relax on the water.
Playa Bowls
Playa Bowls (744 Boardwalk) is a relatively new addition to the boardwalk but has already generated a passionate following.
For those who have had one too many slices of pizza or cones of ice cream, Playa Bowls is the perfect refreshing dining option.
Playa Bowls offers gluten-free, low-sugar açaí, pitaya, coconut bowls and smoothies.
Pizza and ice cream have their rightful place as classic boardwalk food, but a place like Playa Bowls may be a much-needed change of dining pace.
The Original Fudge Kitchen
The Original Fudge Kitchen (800 Boardwalk) is a fudge confectionery and candy store that delights children and adults alike with decadent homemade fudge and candies.
It is a tradition for most visitors to Ocean City to bring home a box or two of fudge for anyone who stayed home.
The fudge made at the Fudge Kitchen is homemade every day, with beloved flavors like peanut butter, vanilla, chocolate, and maple walnut.
There are also creative options that rotate throughout the season, with some of the most popular being sea salt caramel vanilla, chocolate cherry jubilee, and rocky road.
The options don't end at fudge though;
Try an assortment of candies including chocolates, saltwater taffies, and caramels.
With so many delicious homemade options to choose from, it is clear why the tradition is to bring a pound or two back home.
Ocean City Music Pier
The Ocean City Music Pier (825 Boardwalk) hosts many of the major indoor events throughout the year, including concerts, pageants, and community gatherings.
This pier is a historic glimpse of the early 20th century, built in 1929 immediately following a major fire that required the reconstruction of much of the boardwalk.
For the past 100 years, this facility has hosted many major events, ranging from symphony orchestras to rock shows, stand-up comedy to beauty pageants.
To this day, you can find an enjoyable event at the pier every week of the summer, and even stretching into the winter.
Manco & Manco Pizza
Manco & Manco Pizza (816 E 9th Street and others) is the biggest food attraction on the Ocean City boardwalk.
The restaurant first opened in 1956, and over the past sixty years, it has established itself as one of Ocean City's most popular attractions.
There is often a line stretching down the boardwalk to get a slice of pizza from Manco & Manco's Pizza.
The quality of the pizza is excellent and the service is surprisingly fast for the wait, but above all, their oversized and generously-seasoned slices have become a quintessential symbol of the Ocean City Boardwalk.
Seaside Speedway Go-Karts
Seaside Speedway Go-Karts (936 Boardwalk) is technically a unique attraction of Playland's Castaway Cove, despite it being two blocks north along the boardwalk.
This is the only go-kart course in Ocean City, providing high-speed adventure for adults and kids alike.
Race around the track at top speed in one of the dozens of go-karts available, with some single-seater options and other double-seater options perfect for a parent and child.
This unique adventure will raise the hair on the back of your neck and get your adrenaline pumping for hours on end.
While this is one of the most fun (and fast!) things to do in Ocean City, New Jersey, just be sure to navigate to the Seaport Village location; there's another Seaside Speedway Go-Karts in Seaside Heights (about an hour's drive north of Ocean City).
Playland's Castaway Cove
Playland's Castaway Cove (1020 Boardwalk) offers adventure and excitement to tourists of all ages.
Castaway Cove is the oldest-running amusement park in Ocean City, home to thrilling roller coasters for older kids and adults, as well as smaller rides and slides for children.
It is also home to one of the two iconic Ferris wheels that are featured in many photos of Ocean City, offering panoramic views of the entire town that stretch for miles in every direction.
Jilly's Arcade
Jilly's Arcade (1168 Boardwalk) is the largest arcade and one of the best things to do on the Ocean City boardwalk.
Whether it's a rainy beach day or you have spent too much time in the sun, the arcade is the perfect place to play games for hours on end.
The variety of games ranges from vintage electronic games, the latest arcade games, sports games, skeeball, pinball, and air hockey.
There is something for everyone, from small rides for children to games like air hockey and basketball that adults can enjoy.
Congo Falls Adventure Golf
There are many beloved miniature golf courses along the boardwalk, but the most iconic is certainly Congo Falls Adventure Golf (1132 Boardwalk).
It is hard to miss this attraction as you walk down the boardwalk.
A giant gorilla climbs the facade by the entrance, and immediately above the entryway, there is a crashed helicopter with two gorillas singing songs and welcoming visitors inside.
The uniqueness of this course does not end at the elaborate facade.
There are three unique 18-hole courses: Congo Queen, Solomon's Mine, and The Lost City.
Each course has unique set designs, course layouts, and even accompanying storylines.
The Lost City is the most recently-developed course, boasting a layout that is entirely indoors and air-conditioned.
You may enter due to the humorous singing gorillas at the door, but you will come back for the unique adventures inside.
This is one of the best family-friendly Ocean City activities that everyone will enjoy.
Surf Mall
If you are looking for a slightly twisted, punk rock superstore, then you should head over to the Surf Mall (1154 Boardwalk).
The Surf Mall has a massive range of items for you to browse at your leisure while you take a break from the sun or hide from the rain.
Browse a vast selection of clothing, or get custom t-shirts printed in minutes; it can be one of the most fun things to do in Ocean City for a laugh you can take back home with you.
Purchase trading cards like Pokemon and Yugioh, or get a vintage baseball card.
Look through the two-story wall of posters in the back, from classic movies to classic rock and everything in between.
You could easily spend all day browsing this incredibly unique mall for fun gifts, collectibles, and souvenirs.
And the next time you visit, you will find a dozen reasons to come back and browse again.
Johnson's Popcorn, Inc
You better keep a close eye on your massive bucket of Johnson's Popcorn.
First, the seagulls will start pecking from your bucket, but then your family will.
Johnson's Popcorn, Inc (1360 Boardwalk) has been a mainstay of Ocean City since 1940, with a line stretching down the boardwalk.
There are many different flavors available, including caramel, peanut crunch, cheese, chocolate drizzle and more.
The caramel popcorn is the most popular option, one you will find up and down the beach.
There are also 1-gallon tins that you can bring home with you, which is as much of a tradition as bringing home a pound of fudge from the Fudge Kitchen.
It's easy to see why stopping at Johnson's is one of the most delicious things to do in OCNJ!
Browns Restaurant
One not-so-secret gem of Ocean City is Browns Restaurant (110 Boardwalk).
It is a hidden gem for some because it is at the very end of the boardwalk, a nearly ten-minute walk from Gillian's Wonderland Pier, which is otherwise the last attraction at the north end of the boardwalk.
Despite its significant distance, there is always a long line in the early morning for their specialty donuts.
While there is a delightful dine-in restaurant with many dining options, the store is famous for its homemade donuts.
Locals and the wiser tourists know to get to Browns as soon as they open, and as the sun comes up over the ocean a line is already forming down the boardwalk.
The donuts at Browns are hand-made and sent down an assembly line, where customers can watch from the window while their donuts descend into the deep fryer and are then coated in the signature brown-sugar cinnamon coating.
It is best to get to Browns first thing, because the donut portion of their restaurant will sell out sooner than you think.
Shuffleboard
For those that would like a shaded, free thing to do in Ocean City away from the hustle and bustle of the boardwalk, there is a public shuffleboard court one block away from Gillian's Wonderland Pier.
The shuffleboard is located at Ocean City High School (500 Boardwalk) and is open to anyone interested in playing.
There is a shed with all required equipment, along with chalkboards to keep score.
There are dozens of individual courts available, and there are always at least several courts available at a given time.
Take a break from the summer sun and the energy of the boardwalk for a while, enjoying a classic sport that hearkens back to the early days of Ocean City.
Jon & Patty's Coffee Bar & Bistro
For those who have spent enough time on the boardwalk and are looking for something off the beaten path, Jon & Patty's Coffee Bar & Bistro (637 Asbury Ave) is one of the best places to go in Ocean City for brunch.
Jon & Patty's is beloved by locals, and despite its distance from the boardwalk is still a very popular brunch destination.
The menu boasts unique high-quality offerings from breakfast tacos to buffalo shrimp lettuce wraps.
This two-story dine-in establishment has a cozy home-like feel that is perfect for people who want something more comfortable and accommodating than the fast pace of the boardwalk.
Get a table and relax for a while, savoring the mouth-watering brunch menu or ordering from their rotating list of custom drinks.
Jon & Patty's is also a great place to bring your kids for a peaceful and delicious meal.
The extra space provided – along with a robust kids' menu and kids' activities – makes it a great location for families with kids of all ages.
The Totally Tubular Aqua Park
Located by the bay on the other side of the city, the Totally Tubular Aqua Park (314 Bay Avenue) is definitely one of the best things to do in Ocean City for active kids and adults.
You can spend the day racing through the aqua park, an inflatable obstacle course sitting on the water.
You can also rent banana boats, tubes, or wakeboards.
Whatever adventure you may be seeking, the Aqua Park has options for you.
Pirate Voyages
If you're looking for a truly unique experience out on the water, try out Pirate Voyages (232 Bay Avenue).
Pirate Voyages boasts a handcrafted true-to-life pirate ship, and guests will join a pirate crew for an hour-long adventure.
Children (and adults if they're brave enough) can get their faces painted, and the entire crew of guests will be taught real sea chanteys.
While out on the water, a storyline unfolds in which the crew must solve a mystery and find the treasure before time runs out or another ship steals it.
Get swept away in the fantasy while you ride in a real pirate ship guided by a professionally-trained crew.
This is one of the top family-friendly activities in Ocean City.
Ocean City Parasail
Every day of the summer, you will see a steady line of parasailers venturing out into the ocean on a motorboat and then launching hundreds of feet into the air.
Ocean City Parasail (232 Bay Avenue) is the premier destination for parasailing needs.
From this location, you will be assigned a boat and a driver.
You and your group will get set up in your boat by the bay, and then venture out into the open ocean.
This adventure is not for those who have a fear of heights!
Once you get to the open ocean, you will be hooked up to a parachute and buckled into a small seat that's attached to the chute.
One second you are sitting on a boat going top speed a half mile from the coast, and the next you are soaring high in the sky with your feet dangling in the open air.
For ten minutes, you are the showpiece on the horizon for thousands of Ocean City beachgoers looking out at the ocean as you enjoy incredible views from this high vantage point.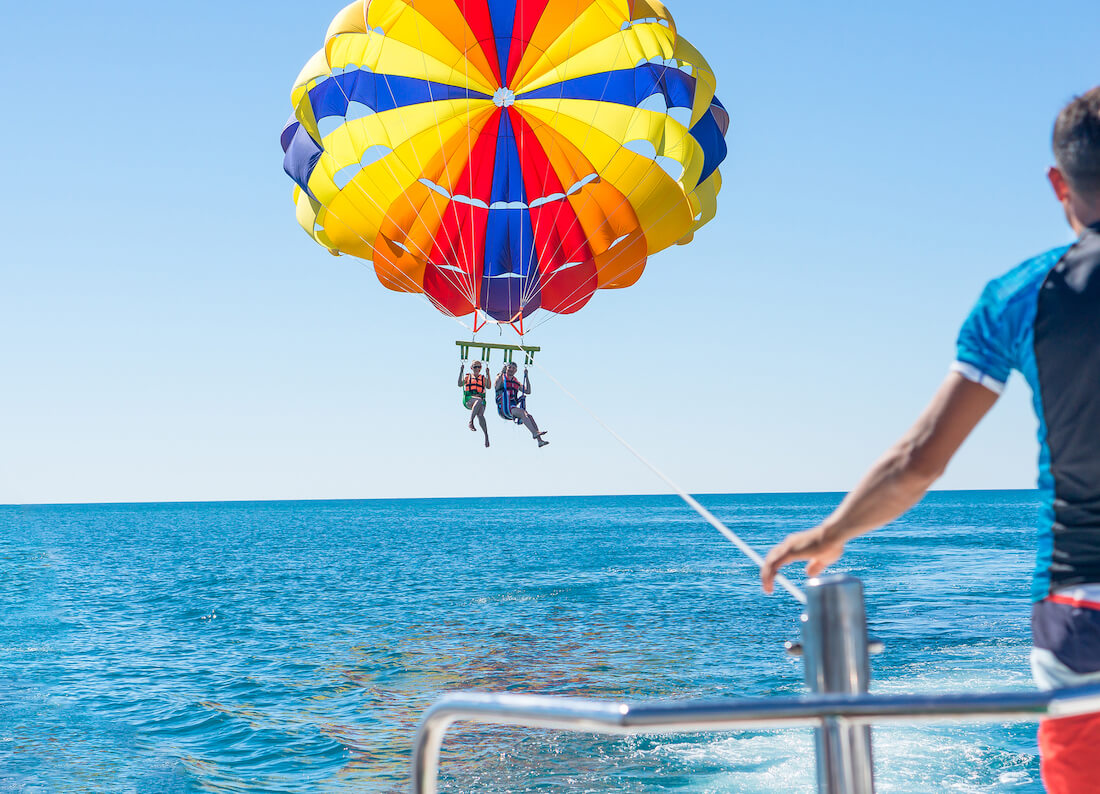 Oak & 15th Street Playground
Any parent of young children knows the importance of having a nearby playground in your back pocket when you need it most.
The Oak & 15th Street Playground (1425 Bay Avenue) is a great location about ten minutes from the southern end of the boardwalk.
There are many options for young children, boasting everything a kid could want out of a playground.
Go up and down an assortment of slides, climb the Nemo jungle gym, ride the swings, and run off some extra energy.
Better yet, there is a large canopy that can provide some much-needed shade after a long day (or week) at the beach.
For the older kids, there are also two full-size outdoor basketball courts, which is a relatively unique find in Ocean City.
The Ocean City Historical Museum
There may be endless excitement and adventure in Ocean City, but there is also a wonderful opportunity to relax and learn at the Ocean City Historical Museum (1735 Simpson Avenue).
Guests of the museum have plenty to discover, including the original history of Ocean City dating back to the times of Native Americans when this was the land of the Lenapehoking (Lenni-Lenape) people.
There is also a rich history of Americans arriving in Ocean City in the early 1800s and slowly creating the beloved tourist destination that it is today.
For history buffs looking to discover the history of Ocean City and for weary travelers looking for something peaceful and light, the Ocean City Historical Museum provides the perfect oasis for the rest of your hectic activities.
Ocean City Municipal Golf Course
Many people do not realize there is a 12-hole municipal golf course a five-minute drive from the south end of the boardwalk.
The Ocean City Golf Course (2600 Bay Avenue) is an expansive par-37 course that can satisfy the most avid enthusiasts and welcome those golfing for the first time.
There are options to rent all equipment, including a cart if needed.
Since it is a municipal golf course, the cost of admission is also considerably lower than other courses that might be nearby.
Savor the ocean air while you make your way through twelve holes of golf at the local golf course.
And when you're done, you might just turn around and do it all over again the next day.
Stainton Wildlife Refuge
Stainton Wildlife Refuge is one of the loveliest places to visit in Ocean City.
A popular destination for birdwatchers and anyone looking for a quiet stretch of bay, the refuge is indeed a refuge for animals and people alike.
Located halfway down the beach along the bay, Stainton is a peaceful sanctuary home to a nearly countless list of unique birds.
Several endangered species of birds call Stainton their home, including Least Terns and Black Skimmer birds.
While you will find many enthusiastic birdwatchers at this wildlife refuge, it is also an excellent opportunity to pause and reflect on a true slice of preserved nature.
When so much of Ocean City has been made into a thrilling tourist destination, it is refreshing to find something authentic, natural, and peaceful just a quick walk away.
Corson's Inlet State Park
It may surprise both tourists and locals that there is a 340-acre strip of conserved beach property at the very south end of Ocean City.
Corson's Inlet State Park is located immediately above Strathmere, hugging Strathmere Bay.
This land is protected by the state, so you won't find any boardwalk or stores of any kind, making it one of the more relaxing things to do in Ocean City when you need a break from the faster pace elsewhere.
For anyone looking for authentic and untouched nature, this long stretch of beach is pristine and quiet.
Explore the neighboring bay, walk the quiet stretch of beach, or sit and savor the soothing sound of nature.
After several days indulging in the sights and sounds of the Ocean City boardwalk, a destination like Corson's Inlet is the perfect opportunity to savor some quiet peace.
Check out all our favorite NJ State Parks for more outdoor active fun!
Final Words
Are you ready to enjoy your vacation now with all these fun things to do in Ocean City, NJ? We hope so!
Share your favorite local activities and attractions in the comments below.
New Jersey Travel Guides