This article has links to products and services we love, which we may make commission from.

Looking for things to do in Northampton, Massachusetts? This small town in Western Mass boasts plenty of character, so don't be fooled by its distance from Boston! Known for its artistic vibes, social justice focus, and proximity to several colleges and universities, Northampton offers quirky charm and rural beauty in a wonderful balance.
Starting with some great spots to grab a drink or a bite to eat, see a show, or enjoy live music, you can't miss these spots in Northampton that show off the local culture and nightlife.
There are also several interesting shops to check out if you're into vintage clothes or second-hand books!
If you're more into the historical side of things, be sure to check out our recommendations for learning about past residents — famous or not.
And you can't come to Northampton and skip the beautiful parks and outdoor spaces!
You'll need a car to get out to this part of Western Mass, so you'll also want to take advantage to explore more with some of our top things to do near Northampton.
And, finally, there are a few notable, unique events in Northampton you won't want to miss, if you can plan your visit around their annual dates.
You might also like our guide to the best things to do in Amherst while you're out this way and check out more ideas for things to do in Western Mass if you're making a longer trip of it.
Also be sure to check out the top day trips from Boston for more trip inspiration in and around Massachusetts.
Fun Things to Do in Northampton, MA
Northampton Brewery
Northampton Brewery (11 Brewster Ct.) is definitely one of the best places to visit in Northampton.
This lively spot with local brews is a favorite for travelers as well as residents.
It's kid-friendly and offers a full food menu, making it the perfect spot for couples, friends, and families alike.
Spare Time Northampton
Families and especially those with young kids can plan for an afternoon at Spare Time Northampton (525 Pleasant St).
The entertainment spot has a full menu that's enjoyed by adults and kids alike, plus bowling lanes, TVs for games, and an overall really fun atmosphere.
Tangle Chocolate
The small, independently-run Tangle Chocolate (85 Washington Avenue) has an assortment of delicate and exquisite chocolate thins.
Their chocolates are vegan and gluten-free, and their ethos leans into going beyond the Fair Trade minimums to work closely and directly with cacao farmers in Guatemala.
Packards
Packards (14 Masonic Street) is a great spot for evening fun, food, and entertainment.
They have a delicious menu of house-made plates and bites, fun cocktails at the bar, and classic bar games like pool and darts.
Tunnel Bar
If you're in the mood for a more upscale bar and an excuse to get dressed up, then Tunnel Bar (125 Pleasant Road) might be the spot for you.
Special martinis, local craft beers, fun cocktails, unique spirits, and fine wines are all on the menu.
They're perfectly packaged, sustainable, and absolutely delicious!
Ye Olde Watering Hole
Another fun, adults-only spot is Ye Olde Watering Hole (287 Pleasant St.).
Catch the latest sports games on their big-screen TVs while enjoying one of their 12 beers on tap.
They also have pool tables, dart boards, and unique cocktails.
It's a fun, casual spot right near downtown!
Hungry Ghost Bread
Enjoy fresh baked bread, pizzas, and pastries at the Hungry Ghost Bread bakery (62 State St).
Check their bread schedule for daily flavors, or swing by to pick up a pizza to enjoy on a picnic in one of the parks mentioned below in the outdoor things to do section.
They don't have indoor seating but this iconic spot is one of the must-do things in Northampton.
Smith College Museum of Art
For a day of art and culture, visit the Smith College Museum of Art (20 Elm Street).
They have seasonal exhibits that are changed up for engagement, poetry readings, special events, and more.
Children under 18 get in for free, as well.
Calvin Theatre
The Calvin Theatre (10 King St.) offers residents and visitors a great venue for catching live music performances and concerts without straying too far from the center of downtown.
Grab dinner at one of the many restaurants nearby and then walk to the venue for an evening show.
The Parlor Room
Catch a performance at the sound space, the Parlor Room (32 Masonic St).
The classic brick building is small and boasts a BYOB policy.
Check the schedule to find a music production or theater production to enjoy on your visit.
Bishop's Lounge
Open six nights a week, the Bishop's Lounge (41 Strong Ave) is a live music venue with a range of musical talents on its schedule.
They also host comedy shows and tickets are reasonably priced for an evening of entertainment.
Raven Used Books
If you're a bibliophile, Raven Used Books (4 Old St) boasts a diverse collection of used books to peruse.
You can sell old books, find rare collections, and get recommendations for new-to-you books to read.
Their collection features every genre, as well as academic papers, antiques, and limited edition hardcovers.
Sassy Pants Vintage Clothing
Sassy Pants Vintage Clothing (2 Conz St.) curates an exquisite collection of men's and women's vintage items that are well-maintained and preserved.
Vintage coats, retro dresses, costume jewelry, and a range of 1920's wedding dresses are just a few of the treasures you can find here.
The Vintage Celler
The Vintage Celler (11E Bridge St) is a unique vintage and antique shop loved by locals and visitors.
Signs, clothing, home decor, sports memorabilia, and obscure oddities can be found strolling through the aisles.
Northampton MA Attractions for History Buffs
Historic Northampton
For a touch of history, plan to dig deeper into Historic Northampton (46 Bridge St).
Historic Northampton is comprised of three houses and a barn built between 1719 and 1813, all situated along Bridge Street (Route 9).
Guests will discover historical artifacts and documents that have been preserved and first-hand demonstrations that offer insight into ancient traditions, as well as lectures and events.
Want to start learning local history before your trip?
Check out their interactive witch trial to learn about a true local case from the 1600s when women were regularly accused of and murdered for alleged witchcraft.
It's a dark history but the folks at Historic Northampton are trying to keep these important stories alive.
Calvin Coolidge House
Former United States President Calvin Coolidge spent years living in what is now known as the Calvin Coolidge House (19 Massasoit St).
The house was home for years to the Coolidge family, who served as mayor of Northampton, Massachusetts Senator, and eventually, US President.
Even after serving in both Boston and Washington, DC, Coolidge and his wife returned to this same house — a duplex — to reside in retirement.
That didn't last long as the house is right on the street and privacy soon became an issue.
Today, there is a plaque marking the house as the former home of Calvin Coolidge and the house is listed on the National Register of Historic Places.
You cannot enter the house, however, as it is a private residence.
Bridge Street Cemetery
Bridge Street Cemetery (46 Bridge Street) is the oldest cemetery in Northampton and houses some of the original English colonizers of the town.
Established in 1661, the records have since been lost to a fire, but you can still take a somber stroll through this centuries-old cemetery with equally ancient tombstones.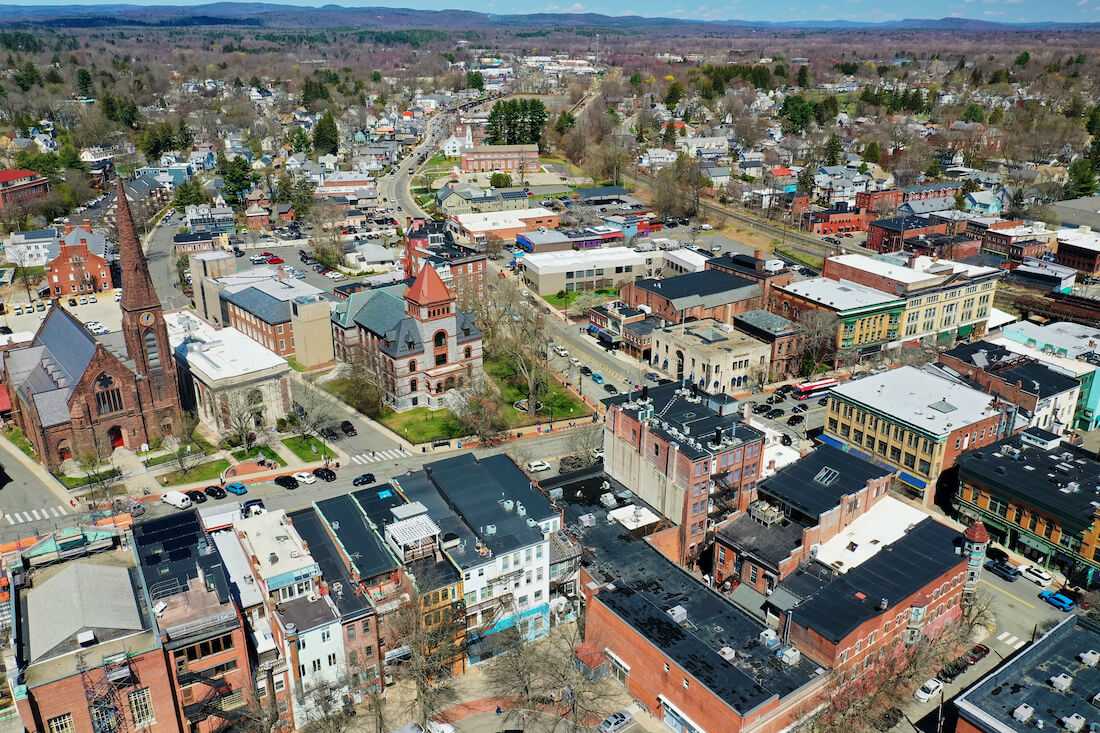 Outdoor Things to Do Around Northampton MA
Fitzgerald Lake Conservation Area
The Fitzgerald Lake Conservation Area (N. Farms Road) is in northern Northampton.
The 40-acre wildlife conservation area has an abundance of animals and plants and trails that are ideal for all hiking and cycling skill levels.
Families, in particular, enjoy using their nature trail guide to learn more while walking a half-mile path through the conservation area.
Alternative parking lots are available at Cooke Ave or Marian St.
Terrace Trails
Terrace Trails is made up of 6.6 acres of preserved land with forested plants, flowers, and wildlife.
Located behind the Cutchins School (78 Pomeroy Terrace), you can park behind the College Church next door to access the trails.
Use their map to follow the inner or outer loop trails and enjoy a pleasant yet very easy walk while on your trip to Northampton.
Northampton State Hospital Disc Golf Course
Eager for a little more action?
Enjoy a game of disc golf with friends and family at Northampton State Hospital Disc Golf Course (53-171 Burts Pit Road).
The course has 18 holes, all outdoors, is dog-friendly, and is a fun course for first-timers and skilled players, alike.
Wear boots or hiking shoes as the trail can get a bit tricky!
The course is right by the dog park and also the community gardens/allotments, so you can chat with some local folks while you're there.
Botanic Garden of Smith College
Visit the Botanic Garden of Smith College (16 College Lane) for an educational, easy outdoor excursion.
Self-guided tours and guided tours offer visitors a glimpse at the many gardens that are maintained and studied by Smith College.
Seasonal exhibits mean the gardens are ever-changing and engaging.
This is also one of our favorite things to do in MA in winter to escape the cold!
Connecticut River Greenway State Park
This beautiful natural River Greenway Park (136 Damon Rd) has a nearby bike path, kayak launch ramp and rentals, and walking trails.
Easy walking and jogging trails allow visitors a chance to catch some of the natural wildlife in the area, as well.
Lampron Park
Bring the kids to enjoy the green space and playground at Lampron Park (110 Bridge Street), right between historic Bridge Street Cemetery and Bridge Street Elementary School.
Bring a picnic to eat in the grassy space near the playground for a lovely family day out.
Childs Park
Another great outdoor space, Childs Park (71 N Elm Street) has over 40 acres of sprawling land, including multiple park areas, gardens, and ponds.
The beautiful gardens and natural ponds are well-maintained with stunning growth to take in during an afternoon stroll.
Note the park is only open seasonally between May 1st and October 31st.
Pie in the Sky Berry Farm
The Pie in the Sky Berry Farm (139 Fair St Ext) is a bit further of a drive from the downtown Northampton area but is a fun, easy activity to enjoy the outdoors.
Guests can pick their own delicious, organic fruits and berries in their sprawling fields.
Things to Do Near Northampton MA
Mineral Hills Winery
Mineral Hills Winery (592 Sylvester Road, Florence) is located just west of the city of Northampton, about 15 minutes driving.
The winery hosts tours, tastings, and private events and offers guests a range of delicious wines to enjoy.
Located at Godard's Red Hen Farm, you can enjoy the outdoor space including a pavilion area.
The winery offers a variety of varietals to try…and even some mead!
Florence Pie Bar
Pie and dessert lovers must hit up the Florence Pie Bar (17 A Main Street, Florence) offering both fresh and frozen pies in an eclectic collection of flavors.
Swing by the window and enjoy a slice or whole pie on the patio.
With both a sweet and savory menu, you'll find just what your tastebuds desire.
Artifact Cider Project
If you haven't tried craft ciders yet, then Artifact Cider Project (34 North Maple St, Florence) is the perfect opportunity.
Located about 16 minutes from downtown Northampton, the cidery uses locally-grown and -harvested apples to brew its delicious ciders.
Visit their taproom to taste what's been recently brewed.
Misty River Ballooning
For something totally different, float gracefully over the Pioneer Valley of Western Mass in a secure and fun hot air balloon with Misty River Ballooning (82 Bliss St, Florence).
They offer both private flights and shared flights for flexible budgeting options.
Flights should always be scheduled in advance and are, of course, weather-dependent, so some flexibility is ideal.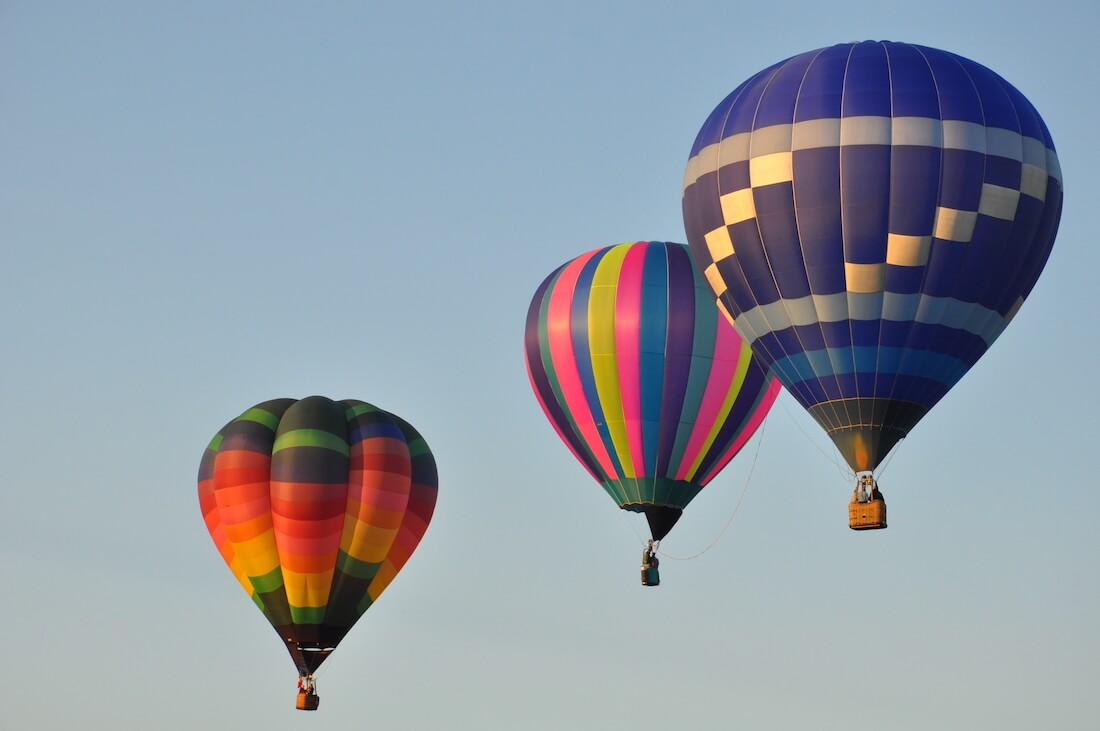 OTW Jetski Rentals
Adventure seekers looking for a fun time near Northampton need to look no further than taking jet skis out with OTW Jetski (1 Russel Street, Hadley).
Check online for availability before heading to the marina to rent a jet ski out for an hour or so.
Of course, this is seasonal, so jump on the opportunity in the summer!
Fort Hill Brewery
Fort Hill Brewery (30 Fort Hill Road, Easthampton) is in Easthampton, only about a 10-minute drive from downtown Northampton.
The brewery specializes in lagers and ales, has a tasting room, and there's usually a food truck parked outside.
This dog-friendly brewery also allows guests to bring their own food to enjoy.
Can't-Miss Events in Northampton MA
Paradise City Arts Festival
The Paradise City Arts Festival (54 Old Ferry Road) has been putting on seasonal shows in the Spring and Fall to showcase artists of a range of mediums since 1995.
The Festival has both a marketplace for shopping and exhibits for enjoying the diverse artworks on display.
Jewelry, furniture, wall art, sculptures, and plates and bowls are just a few things you'll find for sale at the festival marketplace.
Three County Fair
The Three County Fair (54 Fair St.) comes to Northampton each September for a long weekend of food, music, rides, games, competitions, and hot air balloon rides.
There is also a tractor pull competition, racing pigs, barn animals to pet, and fun shows to catch.
It's a family-friendly Northampton event that locals look forward to each year!
Final Words
We hope this list of great things to do in Northampton helped you plan a fun visit! Let us know what you get up to in the comments below.
Massachusetts Guides
Massachusetts Destinations