This article has links to products and services we love, which we may make commission from.

The charming seaside town of Newport, Rhode Island features a unique blend of old-world beauty and amazing attractions.
With its scenic coastal views, quaint cobblestone streets, and rich history, Newport has something to offer everyone.
Whether you're a history buff, a nature lover, or just looking for a relaxing weekend getaway, this guide will explore fun things to do in Newport, RI- so you can make the most out of your visit to this picturesque New England town.
From touring opulent mansions to strolling along scenic beaches, let's dive into some of the must-see destinations and activities in Little Rhody's most popular tourist city.
Looking to visit more places in Rhode Island? Check this guide.
Fun Things to Do Newport
White Horse Tavern
One of the coolest Newport attractions is the White Horse Tavern (26 Marlborough St), the oldest tavern in America.
The restaurant opened in 1673 and serves fresh, locally-sourced American fare.
Stop by for a delicious meal and a glass of wine and take part in an incredibly old American tradition.
Newport Art Museum
Newport Art Museum (76 Bellevue Ave) has a large collection of artworks located on its beautiful 3-acre property.
Be sure to plan ahead: the museum is closed on Mondays!
Newport Blues Cafe
If you're looking for iconic places to visit in Newport you have to check out the Newport Blues Cafe (286 Thames St).
Voted the absolute best live music venue in the city for 20 years, you will find an incredible lineup of every type of rock, blues, jazz, funk, and hip-hop on their calendar.
Bowen's Wharf
For amazing shopping, art-seeing, and seaside views, head straight to Bowen's Wharf.
Bowen's Wharf is the site of Newport's most beloved waterfront destinations, like Sheldon Fine Art (59 America's Cup Ave) and Newport Scrimshanders (14 Bowen's Wharf).
You should also take your time strolling along the boardwalk and soak up the gorgeous views of the water.
The wharf is also featured in our guide to Christmas in Newport for its annual tree lighting ceremony.
Eat a Lobster Roll
If you're a certified foodie, you'll want to try some of the city's best lobster rolls.
The city is known for its seafood cuisine, so whether you prefer a classic or a creative twist, many restaurants in the area offer lobster rolls on their menu. 
Some popular spots to try the iconic New England dish include The Mooring Seafood Kitchen & Bar (1 Sayers Wharf) and Clarke Cooke House (24 Bannister's Wharf).
These restaurants typically use fresh lobster meat served on a toasted split-top bun, sometimes with added toppings such as mayo, lettuce, or chives.
Spring Street in Newport
Spring Street in Newport is a charming historic thoroughfare that is worth a visit.
This place is a lovely historic district that has remained relatively unchanged since the late 1880s.
Visitors can stroll along the cobblestone sidewalks and admire the well-preserved architecture of the buildings, many of which date back to the 18th and 19th centuries.
Spring Street is also one of the spring-worthy places to visit in RI.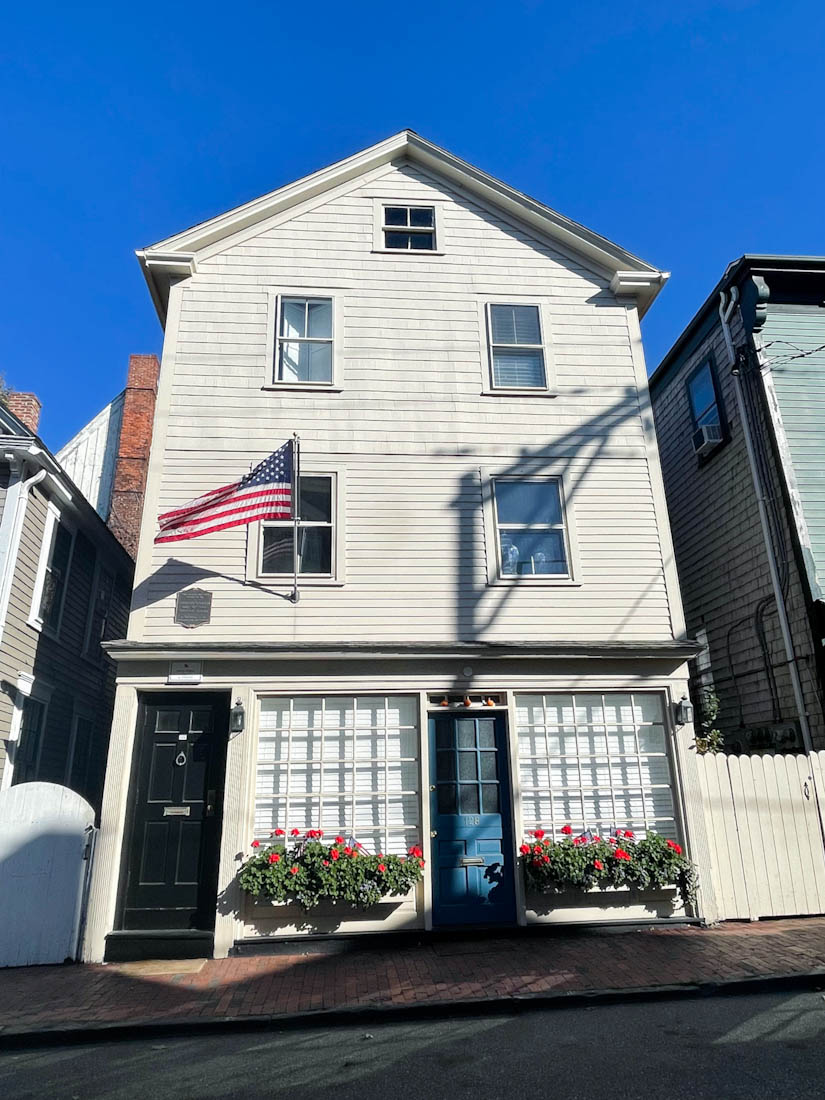 International Tennis Hall of Fame
Sports fans should consider a visit the International Tennis Hall of Fame (194 Bellevue Ave).
This museum and Hall of Fame are located within The Newport Casino, which is a National Historic Landmark that opened as a social club in the late 19th century.
The museum houses tons of items, from artifacts to art objects and photos, making this sprawling museum a fun trip for the whole family.
Cliff Walk
The Cliff Walk is easily among the most famous things to do in the city, thanks to its iconic seaside public access pathway that affords views of the ocean and massive historic mansions.
The Cliff Walk was the first National Recreation Trail in New England and is the perfect outdoors activity in Newport.
Make sure you wear good shoes, as there is some rock clambering towards the southern part of the trail.
Forty Steps
For a little taste of history, take a little detour off the Cliff Walk and check out the Forty Steps.
They are less than a mile from the beginning of the walk and were one of the most popular spots for the Newport Mansion servants to visit while they worked during the Gilded Age.
Descend the Forty Steps to get to sea level, swim and fish, and bring a picnic to the bottom.
Château-sur-Mer
If you're visiting Newport in the late summer, make a stop at the extravagant Chateau-sur-Mer (474 Bellevue Ave).
This was the fanciest mansion in the city before the classic Vanderbilt mansions were built in the 1890s.
Buy tickets before you visit and explore the grounds this summer on your trip!
Newport Scenic Tour
The Newport scenic trolley tour (21 Long Wharf Mall) is a great way to connect to the city.
Your guide will take you through historic landmarks, mansions, and ocean views.
This is an excellent opportunity to learn about the place's rich history, architecture, and culture.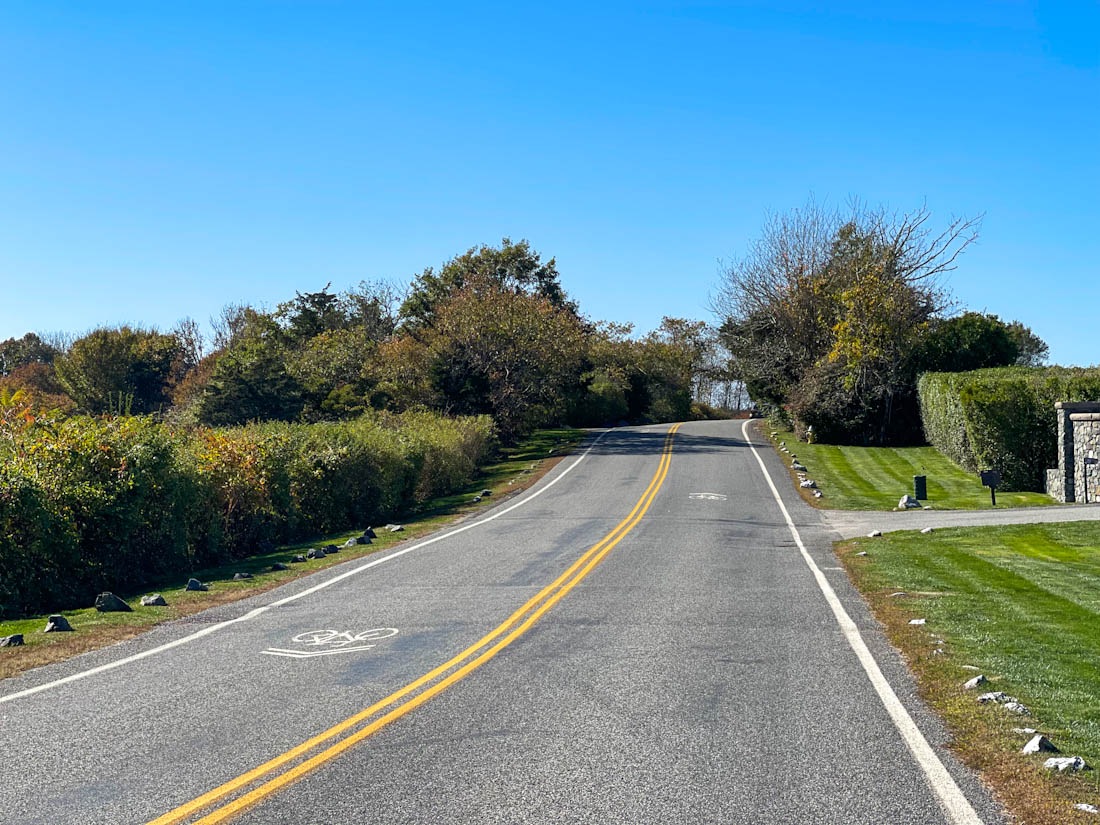 The Breakers
If you want to visit the most extravagant mansion in Newport, pick up a ticket to The Breakers (44 Ochre Point Ave).
This Gilded Age-era mansion was the Vanderbilts' summer cottage and features incredibly decorated interior rooms, views of the ocean, and sprawling grounds.
Order tickets online and plan your visit so you can hit multiple mansions in one day!
If you're visiting during the colder months, touring mansions like this is one of the winter-worthy activities in Rhode Island.
Rosecliff Mansion
The Rosecliff Mansion (548 Bellevue Ave) is one of the most interesting things to see in Newport, thanks to its French-inspired architecture, its heart-shaped staircase, and its feature in The Great Gatsby film from 1974.
Thousands of roses dot the gardens, and the views of the Atlantic Ocean are absolutely stunning.
Marble House
The Marble House (596 Bellevue Ave) was a 39th birthday gift in 1892 from William Vanderbilt to his wife!
The home is made from 500,000 cubic feet of marble and is a designated National Historic Landmark.
Be sure to explore the famous Chinese Tea House during your visit.
Rough Point Museum
Open from March to November, the Rough Point Museum (51 Touro St) is an amazing display of art pieces from across the globe, collected by Doris Duke's parents.
Visit the museum to enjoy fine art portraits, tapestries, furniture, ceramics, and fashion, all from the 16th to 18th centuries.
Don't forget to explore the grounds and enjoy the amazing ocean views!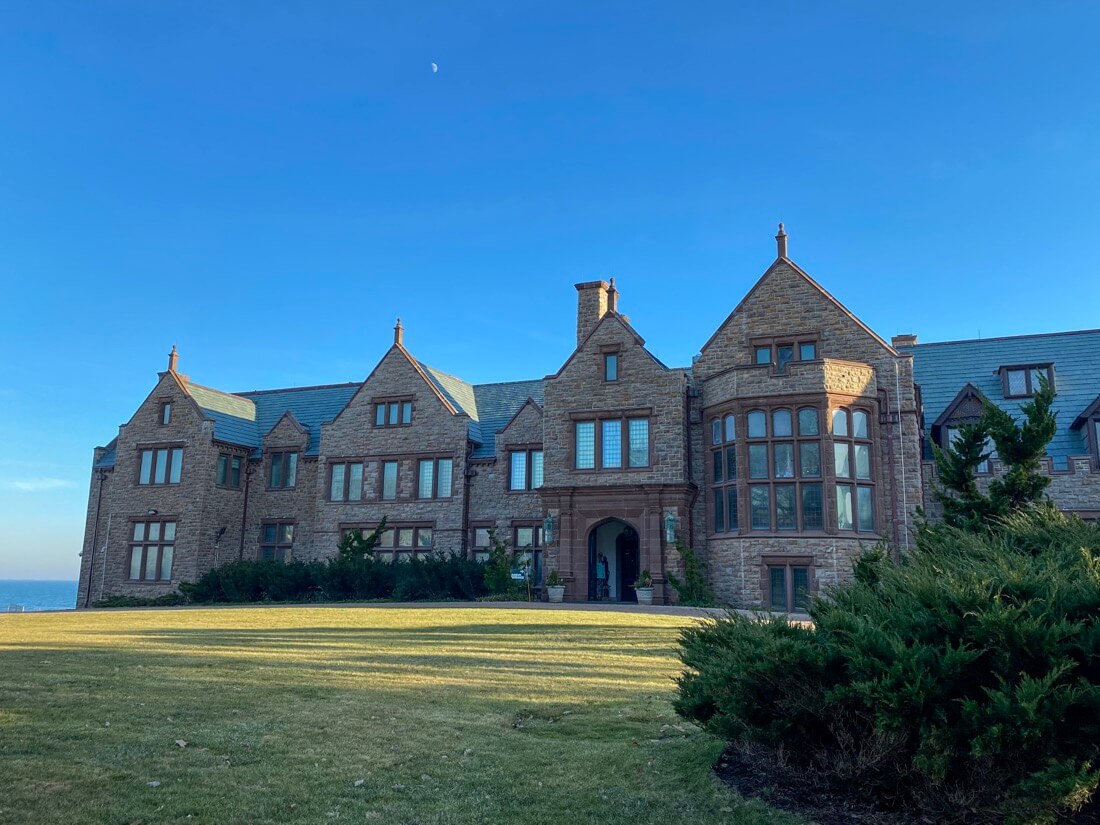 Easton's Beach
Playing in the sand and surf is a truly classic Newport activity, and Easton's Beach (175 Memorial Blvd) is a step above the rest.
Named one of the best beaches in New England, you'll love the snack bar, boardwalk, carousel and beach bounce, and a very special Newport bath house.
Set your towel up anywhere along the 3/4-mile beach and enjoy an afternoon in the sun!
Second Beach
If you've been to Easton Beach, consider Second Beach which is also known as Sachuest Beach, and is located close to Easton.
Families love this soft sand beach because there is heaps of parking, restrooms, outside showers, and an area to change clothes.
For food, there is a snack bar selling treats like ice cream.
Ballard Park
It seems strange that Rhode Island is home to only one nature preserve, but the beauty of Ballard Park (Ruggles Ave and Hazard and Wickham Rds) makes up for it by far!
More than 13 acres make up this park, and it includes woods, bogs, boardwalks, and an old quarry.
Wear strong sneakers or hiking boots as you explore the woods, connect with nature, and enjoy nearly 20,000 daffodils in bloom in the meadows in mid-April.
Ocean Drive
Ocean Drive is one of the best free things to do in Newport if you have a car, thanks to its ten miles of extravagant summer cottages from the mid-19th century.
Drive along this road to admire the mansions, the incredible ocean scenery, and the beautiful public parks and natural areas.
The main highlights include Brenton Cove, the East Passage, and Brenton Point State Park.
Take a self-guided tour of the Ocean Drive to learn even more about its history!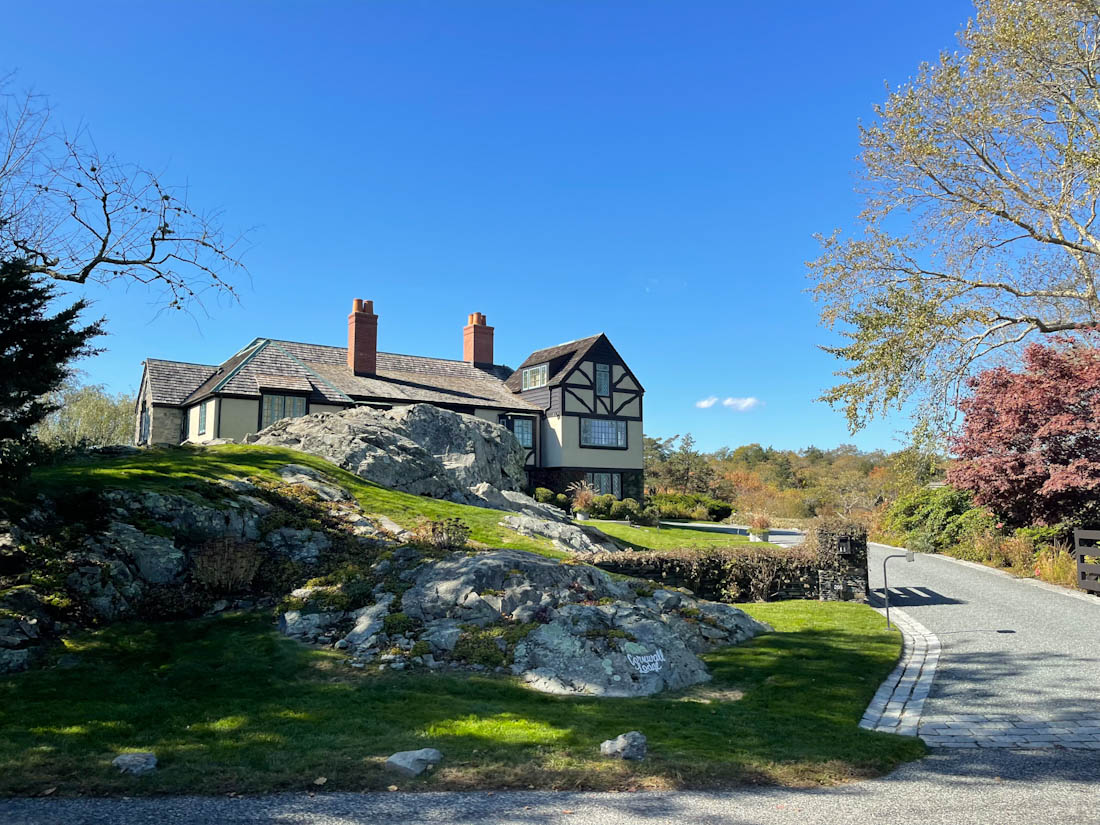 Fort Adams State Park
Fort Adams State Park (Harrison Ave) is one of the best places to visit for amazing views of the Newport Harbor and the Narragansett Bay East Passage.
From swimming to fishing, boating and picnicking, and lots of field sports, Fort Adams is a great place to go during nice, warm weather.
The park also hosts two major summer music festivals, which attract thousands of fans every year.
Newport Folk Festival
Music fans consider the Newport Folk Festival Fort Adams State Park.
The incredibly popular and much-anticipated festival takes place in July, and offers tons of folk, indie, and rock bands.
Be sure to grab your tickets early, because they sell out very quickly!
Newport Jazz Festival
One more famous summer festival in the city, the Newport Jazz Festival, takes place in early August in Fort Adams State Park.
The festival has been running for almost 70 years and is an exciting collection of American jazz performances by musicians hailing from across the country.
Ring in the last rays of summer with beautiful jazz music and a massive community of music lovers.
Brenton Point State Park
If you're looking for cool, outdoor things to do around Newport, head to Brenton Point State Park (Ocean Dr).
This park is located along the famous Ocean Drive, and is located on the grounds of an old Newport mansion that no longer exists.
Public monuments, bird watching, picnic opportunities and more are waiting for you at this sprawling state park.
Castle Hill Lighthouse
A trip to Newport wouldn't be complete without a visit to the Castle Hill Lighthouse.
The history of this lighthouse is especially rich, and its beauty against the East Passage of Narragansett Bay cannot be understated.
Access the grounds of the lighthouse by footpaths nearby, and take in the majestic scenery at this location.
Newport Craft Brewery
If you would like to pick up a few brews from the most well-known brewery in the area, head to Newport Craft Brewing and Distillery (233 JT Connell Hwy).
Order through curbside pickup and take your fresh beers to the ocean to enjoy.
Sachuest Point National Wildlife Refuge
Sachuest Point National Wildlife Refuge (769 Sachuest Point Rd) is one of the best places to go in Newport for birdwatching.
The natural area is a very important spot for migration, so be sure to head to the refuge during a migratory season to catch birds from all over the world.
Final Thoughts
Newport is definitely a fantastic destination for anyone looking for a mix of history, natural beauty, and coastal charm.
Do you agree with our best things to do in Newport, RI? Tell us in the comments.
Rhode Island Destinations