This article has links to products and services we love, which we may make commission from.

Looking for things to do in Newburyport MA? This North Shore town attracts plenty of visitors in the summertime, especially, but it should be on your radar year-round! With fun annual events, iconic attractions, and plenty to keep the kids entertained, Newburyport is a spot you won't want to skip.
Located about an hour's drive from downtown Boston, Newburyport offers visitors everything from beautiful beaches and iconic coastal views to a quaint, historic Main Street to explore.
Whether you're a history buff or a nature lover, traveling solo or bringing all the little ones, visit Newburyport to experience a wonderful little seaside New England town.
You might also like our list of things to do in Rockport MA and here's our guide to the North Shore for even more suggestions..
And don't skip our guide to the best Massachusetts beaches or the best day trips from Boston so you can keep exploring!
Newburyport Attractions & Experiences You Can't Miss
Maudslay State Park
If you just can't decide what to do in Newburyport, the easy choice would be to head to Maudslay State Park (74 Curzon Mill Rd) for a day filled with nature, history, and fun.
Designated as a historic site by the Department of Recreation and Conservation, Maudslay features lush flower gardens, dense woods, winding trails, river views, and historic stone structures.
It is also home to one of the largest naturally occurring stands of mountain laurel in the state of Massachusetts.
Wander through the trails and discover hidden gems like echo caves, drained vintage pools, and castle-worthy gardens.
Located on the sprawling salt marshes on the border between Newbury and Newburyport, the Plum Island Pink House (57 Plum Island Turnpike) is one of the most iconic and picturesque landmarks on the coast of Massachusetts.
The shade of pink of the house is one of the many spectacular colors of the sunset and sunrise, which make the views at either end of the day that much more beautiful.
Artists and travelers alike adore this pink home, though the history of the building is actually a little sinister.
Check out this Atlas Obscura article to learn more about its dark past!
Plum Island Lighthouse and Beach
Plum Island Beach (N Reservation Terrace, Newburyport) is one of the best beaches in the whole state.
Named for the plum trees growing along the sandy dunes, this 11-mile-long stretch of sand includes three different areas: The North Point, Plum Island Center, and The Refuge.
Popular with families, friends, and outdoor adventure enthusiasts, this beach offers something for everyone!
Enjoy bird-watching or fishing; kayaking or swimming; or just building sand castles and basking in the sun.
Parking lots are available, but they fill up quickly during the summer months.
The biggest parking lot is found on the North Point of the Island.
Be sure to check out Plum Island Lighthouse after you tire of the sand and sea!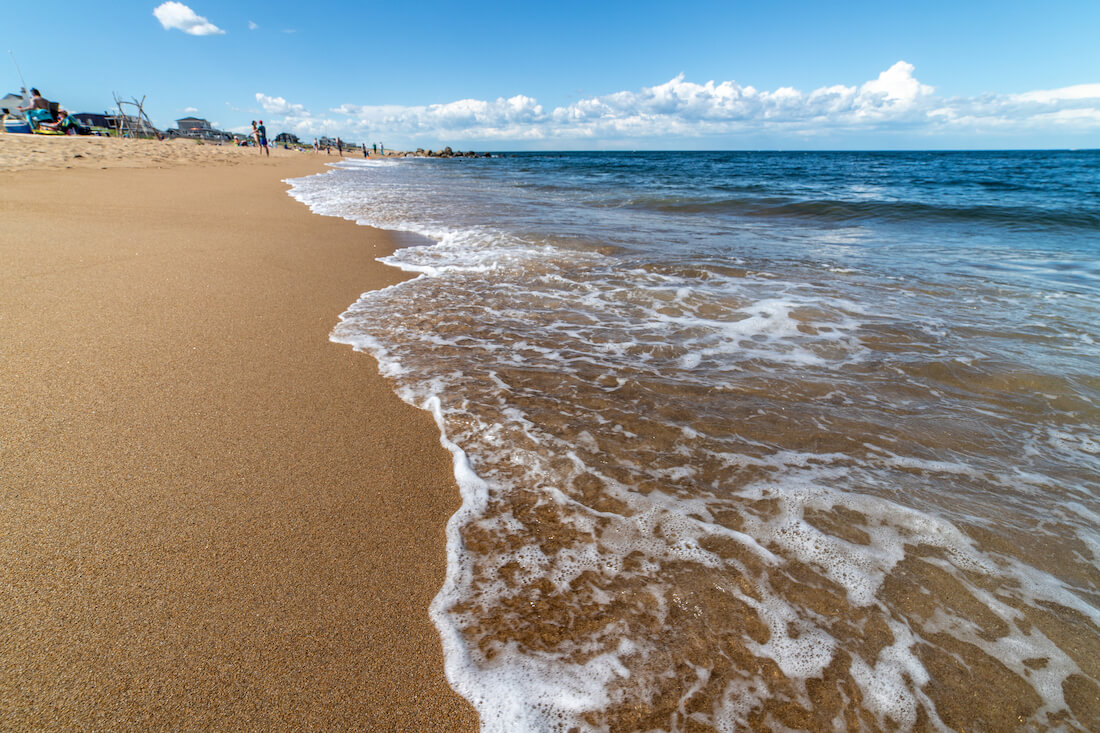 Newburyport Whale Watch
A coastal port town in New England just wouldn't be complete without a bustling whale watch attraction!
Through the Newburyport Whale Watch (54 Merrimac St), you'll ride aboard the 106′ Captains Lady III boat, which will take you out to sea alongside a team of expert naturalists.
Unpredictability is part of the fun; not even the captain knows which species of whale you'll find or how far out into the ocean you'll need to travel to spend time with these amazing creatures.
This trip should be at the top of your list of Newburyport things to do!
As a member of Whale SENSE, Newburyport Whale Watch is committed to responsible whale watching, where the whales' well-being is always put first.
Check availability and book your trip on their website.
Clipper City Rail Trail
If you like biking or running, the Clipper City Rail Trail is perfect for you.
It's a 3.3-mile trail that runs from the MBTA Commuter Rail Newburyport stop to the Harborwalk along the water.
The entire length is paved, making it totally wheelchair and stroller accessible.
There's a bit of enjoyment for everyone: outdoor sculptures line the trail, birds and other wildlife love the natural areas, and — because it's free — there's no limit to the number of people who can make use of the Rail Trail.
There are trailheads on Washington St, High St, Low St, Parker St, and at Cushing Park.
All trailheads have at least a few free parking spots, as well.
Joppa Flats Education Center and Wildlife Refuge
One more amazing nature opportunity for fun things to do in Newburyport: the Joppa Flats Education Center and Wildlife Refuge (1 Plum Island Turnpike).
The area is managed by Mass Audubon, which is the largest nature-based conservation organization in all of New England.
This free museum and park can entertain the whole family for hours.
With interactive exhibits and displays, art installations, and more meant to teach you about the rich biodiversity of salt marshes, this is a perfect activity for all the curious little ones you might be traveling with.
Once you've explored the Education Center, strike out into the wildlife refuge and immerse yourself in the natural landscape.
This is one of the best places to go in Newburyport, MA; don't miss out!
The Screening Room
Don't let the dreary weather get you down; there are still plenty of things to do in Newburyport when it rains!
Take a trip to The Screening Room (82 State St) for an incredible movie-watching experience.
While they recently replaced their traditional movie projector with a digital set up just a few years ago, the small and charming theater is the perfect spot to catch a film on a cold day.
The theater has been running strong for almost 50 years, which makes this a fun and time-tested activity in Newburyport you're sure to love.
Check showtimes and learn more on their website.
Visit the Parker River National Wildlife Refuge
The summertime is the perfect season to visit the Parker River National Wildlife Refuge (6 Plum Island Turnpike).
The refuge is a protected natural area that many essential migratory birds need to accomplish their safe travels throughout the year.
Open every day from sunrise to sunset, you're able to purchase a parking pass and spend the entire day exploring the refuge.
Check out upcoming events and learn more about the refuge on their website!
Waterfront Park and Oldies Marketplace
Wandering around the Waterfront Park and the boardwalk is a well-loved activity in the spring and summer by locals and travelers alike.
Whether you decide to lounge on the grass, sit and read on a park bench, or decide to shop around in the area, there is no shortage of things to do on the waterfront.
One of the best Newburyport MA things to do on the waterfront is to head inside Oldies Marketplace (27 Rear Water St), for all your vintage, secondhand, and just plain old oddities.
From furniture and decorations to jewelry and clothes, there is no shortage of odd, curious, and cool knick knacks to explore.
It's a local favorite!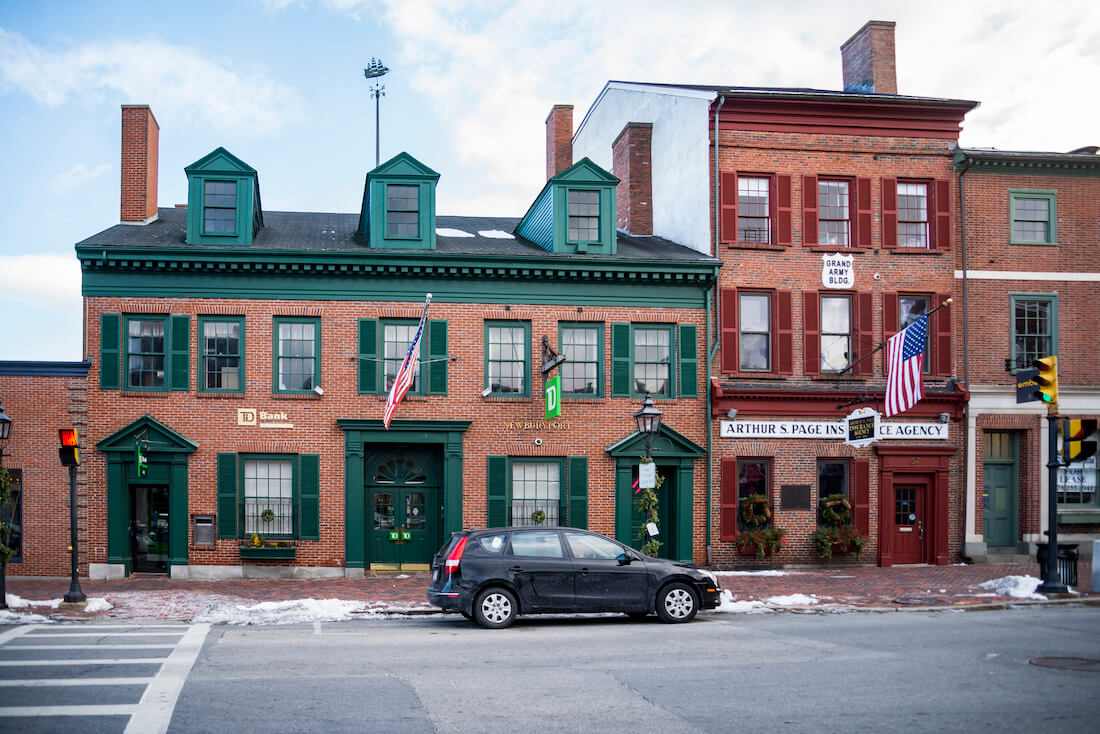 Plan a Visit Around These Newburyport Events
Santa Parade and Tree Lighting
If you thought that visiting a port town during the holiday season wouldn't involve boating of some kind, you're wrong.
There is nothing like watching Santa arrive at the Christmas Tree Lighting ceremony after Thanksgiving by water.
Stop by Market Square with the little ones on the Sunday following Thanksgiving to watch Santa arrive by boat and light the massive Christmas tree in the middle of the square.
This is one of the Newburyport traditions that has been going strong for decades!
Yankee Homecoming
Yankee Homecoming is the most awaited event of the summer in Newburyport.
The weeklong event has been taking place at the end of July and the beginning of August every year since 1958.
A mix of decades-old traditions — like Olde Fashioned Sunday — and fresh new events — like the High School Battle of the Bands — make Yankee Homecoming a classic event for everyone.
Check the website for a complete list of events, maps, and local businesses to support.
Newburyport Documentary Film Festival
Going on two decades strong, the Newburyport Documentary Film Festival (1 Market Sq) is a weekend-long event that usually takes place in mid-September.
With almost 30 feature and short films, you'll be sure to get your fill of all the best documentaries this festival has to offer.
The films are shown in the historic Firehouse Center of the Arts, an iconic cornerstone of the Newburyport cultural scene.
No matter what your subject of interest may be, the Newburyport Documentary Film Festival is one of the best things to do around Newburyport in the fall.
Waterfront Movie Series
The Waterfront Park is itself one of the best places to visit in Newburyport, MA.
But in the month of August, the city hosts Waterfront Movie Screenings (36 Merrimac St) at the park and you won't want to miss out.
Every weekend throughout the month, they show a family-friendly film people of all ages will love.
The only thing that could elevate your summer experience on the waterfront is a free movie on the green facing the harbor!
Arrive early with a picnic and a blanket or some chairs and set up with a great view of the inflatable projection screen.
Make sure you grab a slice of pizza from Stone Crust (8 Pleasant St) and a scoop of homemade ice cream from Harbor Creamery (39 Pleasant St) to complete the perfect summer event.
This is one of the best free things to do in Newburyport, MA, during the summer!
Things to Do Near Newburyport, MA
Looking for things to do near Newburyport?
If you live in New England and will explore the North Shore in-depth, then check out these spots nearby to expand your days out.
Check out our guides to things to do in Gloucester or Rockport for more ideas.
Tendercrop Farm, Newbury
Just a 5-minute drive from downtown Newburyport, Tendercrop Farm (108 High Rd, Newbury) is a one-stop shop for all your farm-fresh fruits and veggies, dried flowers, and fun snacks and gifts.
Plus, you'll get to meet all the much-loved farm animals roaming around!
Make sure you try their honey sticks and pick up a ready-made dip or sandwich to go!
Visit Cider Hill Farm, Amesbury
Another incredible farm to visit near Newburyport, MA, is Cider Hill Farm (45 Fern Ave, Amesbury).
You won't find a better treat than a warm cider donut from Cider Hill in the fall!
While it's perfect in the fall, you can stop by all year round.
From Pick-Your-Own to community events to a decked-out farm stand, you'll love everything Cider Hill farm has to offer.
Final Words
Have you checked out all these things to do in Newburyport yet? Let us know your favorite activities and attractions in the comments below.
Massachusetts Guides
Massachusetts Destinations