This article has links to products and services we love, which we may make commission from.

Looking to spend time on Nantucket, MA?
This island off the coast of Massachusetts is known for its beautiful beaches, charming streets, and whaling history.
Whether you're the outdoorsy type or someone who enjoys a relaxing vacation, you can find a variety of fun and exciting things to do in Nantucket that will keep you entertained and engaged throughout your stay.
To help plan your visit, we listed all the activities and experiences to look forward to on this quaint island in New England– including exploring its rich maritime past, catching some waves at Surfside Beach, and indulging in the island's natural beauty.
Nantucket also features in our guide to spring in Massachusetts.
What to Do on Nantucket
Nantucket Atheneum
Visiting the Nantucket Atheneum (1 India St) is one of many free things to do in Nantucket that can entertain curious minds for hours.
This public library features 1.6 million books, DVDs, CDs, computers, WiFi, and events and programming all year round.
The beautiful building is also listed on the National Register of Historic Places and hosts 170,000 people every year.
Dreamland Film, Theatre and Cultural Center
Dreamland Film, Theatre, and Cultural Center (17 S Water St) is non-profit foundation located downtown and features a state-of-the-art theater, programming space, and more.
The organization has been a part of Nantucket's cultural history for almost 200 years, changing shape and form to fit the needs of its community over time.
Whaling Museum
One of the first places to visit if you're trying to think of what to do on Nantucket is the iconic Whaling Museum (13 Broad St).
The museum tells the island's four century-long history through more than a thousand artworks and artifacts.
Wander through nine galleries of permanent and rotating collections, and try to hop in on a tour or exclusive film showing to learn even more.
Nantucket by Water
Nantucket by Water (34 Washington St) is a boat tour agency that offers cruises, excursions, and wildlife watches for all ages, making this activity a must-do on Nantucket.
Depending on what time of year you visit, you might just see bottlenose dolphins, humpback whales, and mink whales!
Endeavor Sailing Excursions
What better way to explore the vast ocean from the island than on the longest-operating charter on Nantucket?
Endeavor Sailing Excursions (Straight Wharf) offers an amazing opportunity to sail and relax on one of the United States Coast Guard certified vessel's, The Endeavor.
You can choose from morning, afternoon, sunset, or private chartered tours.
The day tours sail by the iconic Brant Point Lighthouse.
Heading out on the water is one of the most popular things to do in Nantucket, Massachusetts.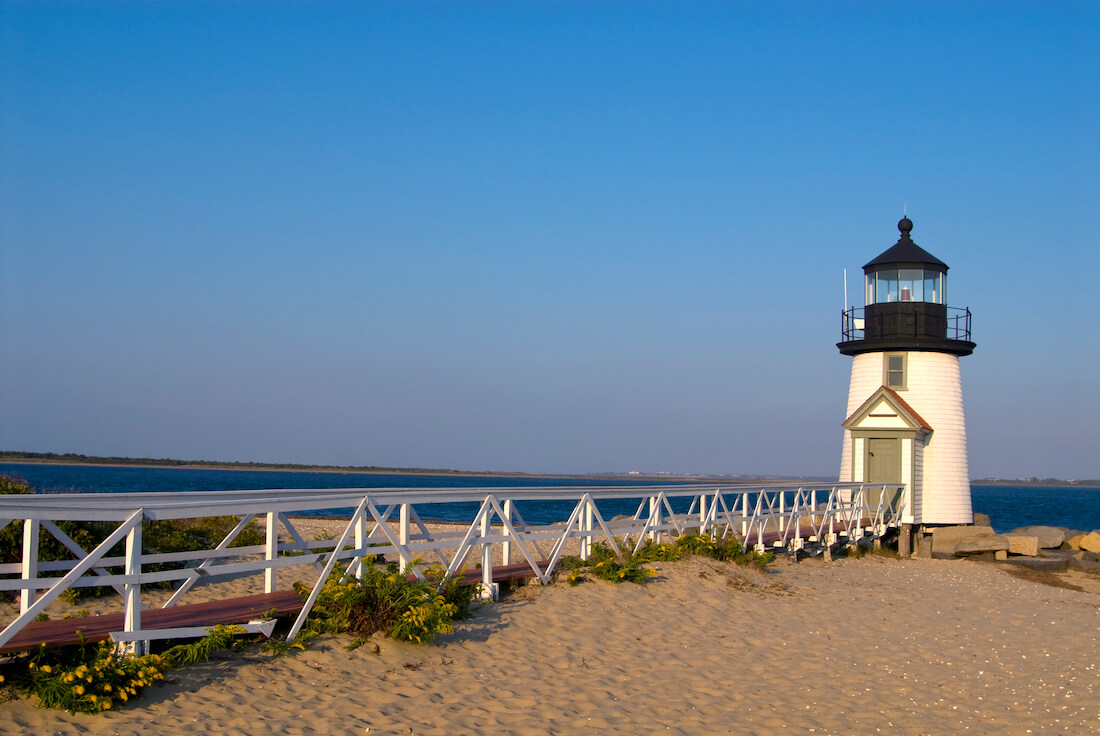 Theatre Workshop of Nantucket
Theatre Workshop of Nantucket (62 Centre St) is a non-profit professional theatre that puts on classic Broadway shows, such as Mamma Mia, Grease, and Footloose, as well as other local performances.
You'll be tapping your toes and jiving in your seat during your visit!
Nantucket Bike Shop
Bike rentals on Nantucket are a perfect way to pass the warm summer afternoons, so be sure to head to Nantucket Bike Shop (Steamboat Wharf) for a two-wheeled adventure.
You can also rent scooters and kid bikes, making it a great way to involve the whole family.
Reserve your bikes online and pick them up at the wharf, or have them delivered on-island!
Children's Beach & Playground
Head to Children's Beach and Playground (40 Harbor Way) for a full day of fun things to do in Nantucket for kids.
This playground is ADA accessible and features physical activity components and opportunities for sensory play.
The beach, which has gentle waves, also has a ramp leading to the sand and a paved walkway that runs parallel to the sand for amazing ocean views.
Artists Association of Nantucket
Checking out the Artists Association galleries (multiple locations) and programming is recommended for art lovers.
With three separate galleries, art classes, and special holiday exhibitions, you'll find something exciting to do for artists of every age.
Hadwen House
While the Hadwen House (96 Main St) is only open seasonally, you should visit to learn more about the only publicly accessible mansion from the same era on the island.
For optimal Nantucket sightseeing, you can visit this house museum from spring to fall to learn more about the area's maritime history and culture.
Greater Light
The Greater Light (8 Howard St) is one of the nicest places to see in Nantucket as it is a historic building with a sprawling garden that thrived during the time Nantucket's art colony was booming.
You can explore the grounds and gardens from spring to fall, take an interactive tour of the area, and even participate in art workshops.
Greater Light is a good Nantucket attraction for anyone who is curious about what life was like on the island in the 1800s.
The Old Mill
The Old Mill (50 Prospect St), potentially the oldest American windmill in continuous operation, is a cool place to see in Nantucket if you are on the island during the mill's short visitor season.
This impressive machine can still grind corn just as it used to in 1746, so on a good day, you can visit and watch the mechanisms inside the mill operate!
Loines Observatory
The Loines Observatory (59 Milk St Ext) is truly among the must-see places in Nantucket if you are curious about the stars and skies around us.
Reservations are required when going to the observatory, but once you arrive, you can take part in unique astronomy programming for the public.
You can even book a private, customized event for a special group or event!
The Oldest House, or the Jethro Coffin House
The Jethro Coffin House (16 Sunset Hill), built in 1686, is the oldest home on the island and represents a history of familial conflict and alliance among the European settlers of Nantucket.
When you visit the property, you'll find a historically-accurate kitchen garden, rooms decorated to reflect the times, and unique artifacts from the families who lived there.
Include this house on your list of Nantucket attractions to visit for history lovers.
Cisco Brewers
Among the popular Nantucket activities are stopping by Cisco Brewers (5 Bartlett Farm Rd) for a fresh brew, live music, and an array of food trucks.
You can find other Cisco brewpubs across New England, but the original is loved by tourists and locals alike.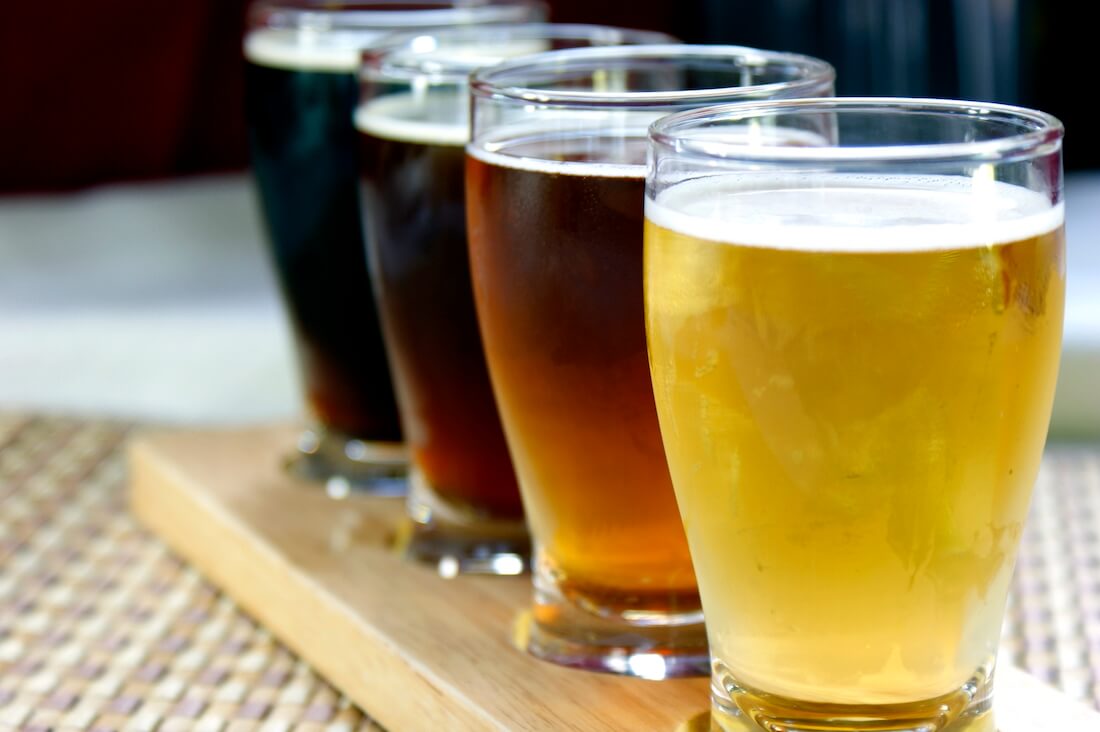 Bartlett's Farm
Bartlett's Farm (33 Bartlett Farm Rd) is the island's oldest and biggest farm.
Visit the market or garden center, take a farm tour, or enjoy something delicious from the farm kitchen.
Sitting down for their daily homemade dinners is also one of the most delicious things to do in Nantucket at night.
Surfside Beach
Surfside Beach (Surfside Rd) is one of the most popular Nantucket places to visit, thanks to its incredible surf, and wide beach with soft sands.
This place has a large parking lot and a concession stand, but be prepared to walk a long distance from your car to the shoreline through sandy pathways.
You may also like our guide to some of the best beaches on Nantucket Island too.
Explore Siasconset
Looking for more places to see in Nantucket?
Siasconset, also known as 'Sconset, is a charming and historic village located on the eastern end of Nantucket.
There are plenty of things to do in Siasconset on Nantucket Island, making it a popular destination for visitors.
You can explore the quaint cobblestone streets, admire the picturesque rose-covered cottages, and stroll along the scenic Sankaty Head Lighthouse.
If you're feeling adventurous, you can also try your hand at fishing or surfing.
For a more relaxed experience, take a leisurely bike ride or enjoy a picnic on the beach.
Sankaty Head Light
The Sankaty Head Light (122 Baxter Rd) was built in 1849!
The lighthouse was tended around the clock to tend to the single-wick lantern that kept the lens lit until 1944.
While the lighthouse is only open to the public occasionally, you are more than welcome to enjoy and explore the more than 7 acres of natural area that surround the icon.
Sconset Bluff Walk
One of the most beautiful things to do in Sconset, Nantucket is the iconic, Sconset Bluff Walk (27 Bank St), a public walking path that follows the eastern coast's bluffs.
This path cuts through woods, gardens, and neighborhoods, making for a unique and varied experience that can entertain you for hours.
The trail is generally not accessible to those with disabilities, due to multiple unleveled and narrow areas.
Madaket Beach
Watch the day end at Madaket Beach (6 Ames Ave) where the sunsets are epic.
This beach is located on the western tip of the island and can have very heavy surf.
Be sure to bring a picnic and swim with caution!
Nantucket Shipwreck and Lifesaving Museum
While the Nantucket Shipwreck & Lifesaving Museum (158 Polpis Rd) is closed during the winter, the natural area and surrounding marshes are open to the public year-round.
This Nantucket tourist attraction honors the history both of sailors who lost their lives at sea and the Islanders who dedicated their lives to protecting and rescuing these sailors.
Explore the maritime collection, filled with artifacts and objects that tell the story of Nantucket's rich seafaring history.
Coskata-Coatue Wildlife Refuge
With more than 1,100 acres spread across the very peak of Nantucket's island, the Coskata-Coatue Wildlife Refuge (Wauwinet Rd) is one of the top things to do on Nantucket for nature-lovers.
You'll find mature woods, dunes, and coastal ecosystems that will capture the imagination of explorers of every age.
Great Point Light
Within the Coskata-Coatue Wildlife Refuge (107 Wauwinet Rd), head to the Great Point Light, the most powerful lighthouse in New England.
You won't be able to access the lighthouse until the late summer due to critical nesting ground for piping plovers, but you can take a naturalist tour of the refuge that ends at the incredible structure.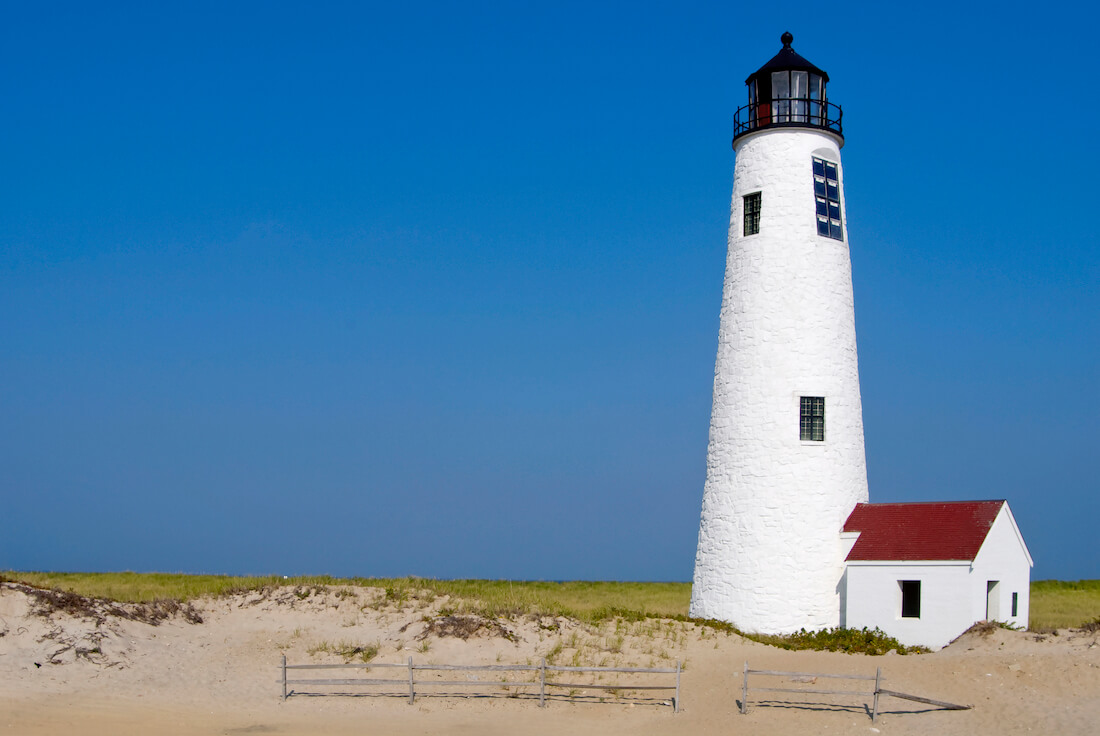 Fishing on Nantucket Island
Recreational fishing is at its best from June to mid-October.
One of the most popular spots for fishing on Nantucket includes Great Point, located on the northeastern tip of Nantucket and is known for its excellent surf fishing opportunities.
You can expect to catch a variety of species including striped bass, bluefish, and false albacore.
To get there, visitors need to take a 40-minute drive along the beach via a 4×4- but the trip will be worth it since you'll be treated to stunning views of the ocean along the way.
Events in Nantucket
Nantucket Wine & Food Festival
If you're looking for seasonal events in Nantucket, then you should experience the Nantucket Wine & Food Festival.
The festival showcases the island's vibrant culinary scene and offers attendees the opportunity to sample world-class wines and cuisine from local and international chefs and winemakers.
Each year, during the month of May, this event attracts thousands of visitors and features tastings, seminars, and cooking demonstrations.
Cranberry Festival
Looking for activities in Nantucket during the fall season?
The annual Cranberry Festival is a beloved event in Nantucket, MA, that celebrates the island's rich cranberry harvest.
Held each October, the festival offers visitors a chance to experience the unique culture and history of Nantucket through food, music, and activities.
Highlights of the event include live music, local arts and crafts vendors, and of course, delicious cranberry treats like pies and jams.
The festival also features in our guide to Massachusetts in fall.
Final Thoughts
Whether you're seeking outdoor adventures, historical landmarks, or cultural experiences, we hope you enjoyed our comprehensive list of things to do in Nantucket, MA.
Free to share in the comments all your favorite activities on Nantucket Island or the stuff you look forward to when spending time there in the future.
Massachusetts Guides
Massachusetts Destinations