This article has links to products and services we love, which we may make commission from.

Miami! The Magic City! The 305! With a skyline that sparkles against the Biscayne Bay, diverse neighborhoods packed with culture and culinary, and a location in close proximity to beaches; there are SO many things to do in Miami, Florida.
We'll reveal museums to visit, walks to enjoy, water based adventures, where to dine, drink, and dance, plus lesser-known local tips.
A quick note for first time visitors – Miami and Miami Beach are both referred to as 'Miami' but they are actually two separate cities connected by bridges that take 25 minutes to get between by car.
Now, let's get into the best places to visit in Miami for all the family.
You may also like our Miami Bucket List, 3-day Miami itinerary, advice on how to spend 24 hours in the city, and all of our other Miami guides.
Fun Things to do in Miami
This guide to the best things to do in Miami features all of the great attractions spread across the diverse neighborhoods from partying in Downtown, rooftop drinks in Brickell, Cuban food in Little Havana, murals in Wynwood, and the Design District's installations.
Then there is Mediterranean architecture in Coral Gables, dining in leafy Coconut Grove, Art Deco in South Beach, and the Atlantic Ocean of Miami Beach, phew!
To help you get your bearings, we'll follow this order below.
Things to do in Downtown Miami
Downtown Miami is where you will find access to Biscayne Bay, a huge urban park, museums, bars and restaurants – many of the best Miami tourist attractions.
It is a great base for first time visitors looking to spend time visiting galleries and seeing shows at night.
HistoryMiami Museum
Miami's HistoryMiami Museum (101 W Flagler St) is the largest history museum in Florida and is affiliated with The Smithsonian.
The museum exhibits more than 37,000 artifacts including anything from prehistoric archaeological finds to 20th century Afro- Cuban folk art.
There is also a permanent exhibition covering 10,000 years of South Florida history.
If you've visited before, some exhibitions change throughout the year so there will always be something new to see at HistoryMiami.
Museums and galleries are indoor things to do in Miami for when it is too hot, or if it starts to rain.
Metromover For Views
The Metromover is one of the best free things to do in Downtown Miami as it not only acts as a transport system, it is also a vehicle for amazing views.
The air-conditioned carriages are elevated and have huge windows so you can see the Downtown and Brickell neighborhoods as you weave through them.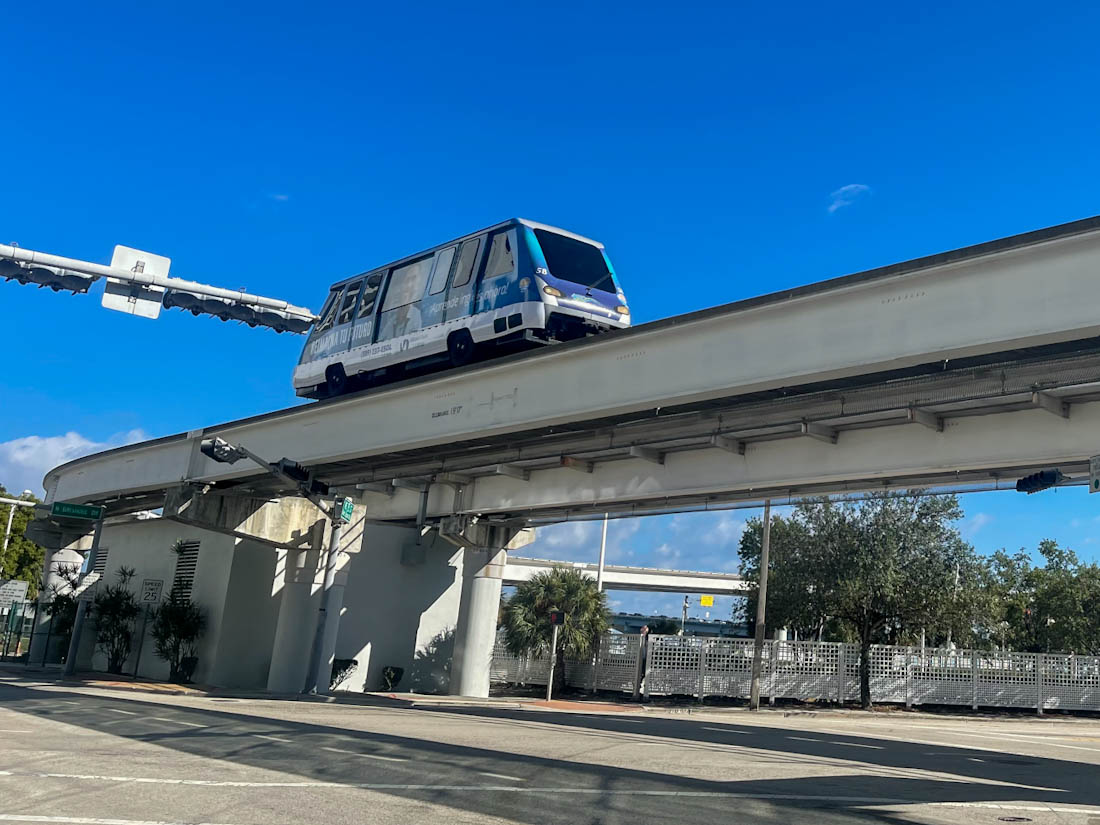 Miami Riverwalk
Miami has a designated path called the Riverwalk which rides along Biscayne Bay and its luxury yachts.
The urban green space is a refreshing change from the shiny skyscrapers of Downtown.
The trail takes you past a huge yacht called the Seafair, which can be hired for events at South Dock.
Bayfront Park and Bayside Marketplace
Bayfront Park (301 Biscayne Blvd) is a 32-acre public park and home to monuments and statues such as the one of Julia Tuttle, the 'Mother of Miami' and a small play park for children.
Sometimes live concerts are held at the outdoor FPL Solar Amphitheater in the park.
The park leads up to Bayside Marketplace where you'll find bars, restaurants, and Skyviews Miami Observation Wheel.
Miami Boat Cruises
Cool off with the wind in our hair during this 1.5 hour cruise.
The route sails past Miami's islands, million dollar homes, and South Beach.
You can learn more about Miami's landmarks during the narrated tour, which can be enjoyed on the deck, or indoors.
Water activities in Miami are highly recommended as this is what locals do to unwind too.
The Museum of Art and Design Miami
The Museum of Art and Design Miami (MOAD) (600 Biscayne Blvd) is located in an interesting location, the National Historic Landmark Freedom Tower.
It is the flagship museum of Miami Dade College and goes by the aim to 'foster a reimagined Miami'.
Check out the official website for opening times and exhibitions.
Games and Shows at Miami-Dade Arena
Miami-Dade Arena (601 Biscayne Blvd) is a multi-event space which hosts basketball games, theater plays, and music concerts.
Its Waterfront Theater is Florida's largest theater, with 5,800 seats.
This is where the local basketball team, Miami Heat play home games.
You can also see other spots here such as the World Middleweight Championship.
Artists such as P!nk, Depeche Mode, and Jennifer Lopez have performed on the stages of the Miami-Dade Arena.
Contemporary Art at the Pérez Art Museum Miami
The Jorge M. Pérez Art Museum of Miami-Dade aka the PAMM (1103 Biscayne Blvd) is situated in a unique location by the scenic Government's Cut.
The compact gallery has two floors exhibiting permanent and temporary contemporary art from the 20th and 21st century.
Visitors love the cafe, views, and on-site parking.
E11even
If you are in Miami to go clubbing, you probably already know about the infamous str!p club, E11even (29 NE 11th St).
This event space is a 24/7 nightclub which hosts performances from artists such as Skrillex and Cardi B, and is a popular spot for celeb spotting.
The Corner
Next door to E11even is The Corner (1035 N Miami Ave #101), a more intimate bar with live music, food, and drink.
This is a really nice space for a date night, if you are looking for a low lit kind of bar.
The Corner also has outdoor seating at the front of the building.
Things to do in Brickell
Brickell is Downtown's shiny neighborhood.
Mainly a wealthy residential area, there are a handful of Miami attractions here worth adding to your itinerary.
You can get to Brickell from Downtown via the Metromover or by foot.
One thing to note about this area is that, since most of the attractions are located in towering buildings, it is often difficult to find things to do here, so be sure to use a maps app to get to the following.
Sugar For Rooftop Dining
Sugar (788 Brickell Plaza #40) is located on the 40th floor of the EAST Miami hotel, and is a sought-after booking for visitors.
You don't have to stay at the hotel to make a dinner reservation but you do need to look the part, so remember to pack your evening wear.
Miami Circle National Historic Landmark
The 38ft Miami Circle National Historic Landmark was discovered in 1998 after construction revealed the historic structure.
It is said to have been created by the Tequesta (South Florida Native) People and it is thought to be around 1,700 to 2,000 years old, making it the only known prehistoric permanent structure in Eastern US.
La Mar at Brickell Key
Another option for a Brickell bar with views is La Mar (500 Brickell Key Dr) on Brickell Key.
The restaurant has a Peruvian menu, and tables overlook Biscayne Bay and the Miami skyline.
Find out more in our things to do in Brickell guide.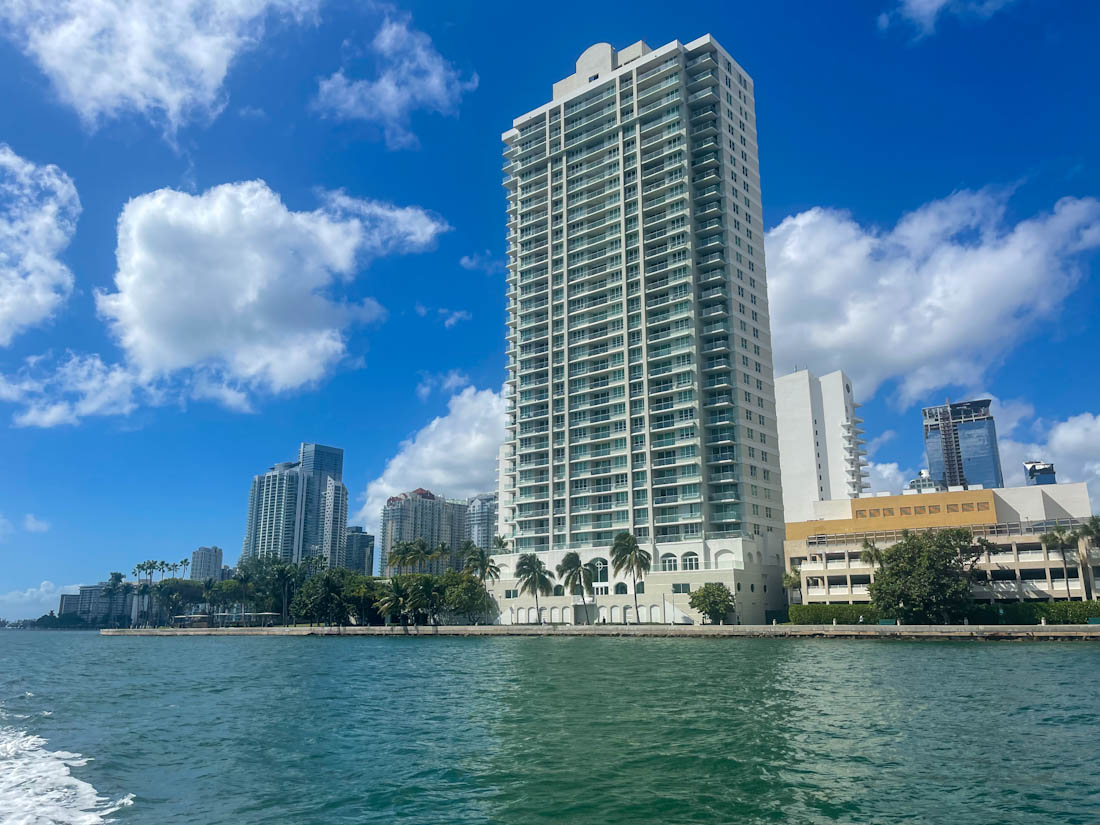 Things to do in Little Havana
Little Havana is a vibrant and colorful area of Miami, where many Cuban settlers called home.
Today, not as many Cuban Americans live here but there are still lots of Cuban businesses and influence.
Calle Ocho
Calle Ocho means street eight in Spanish and it is where you'll see bars, restaurants, cigar shops, and other businesses.
This is also where you can find Little Havana's Walk of Fame that celebrates Cuban and Latin stars such as Thalía, Ednita Nazario, Celia Cruz, and Gloria Estefan!
Little Havana Murals
The most popular Little Havana mural (2614 SW 8th St) is a bit of a walk from the main tourist drag, but if you do take the time to walk to it, you will see rooster sculptures designed by the late Tony Lopez and Pedro Damian along the way.
There is another Little Havana mural on the side of Sushi Sake (615 SW 8th St), which is closer to the likes of Tower Theater, the Ball & Chain bar, and Domino Park.
Dining in Little Havana
There is no shortage of food options in Little Havana from Cuban to Colombian, Mexican to Thai!
Versailles (3555 SW 8th St) is the most popular Cuban restaurant with locals and visitors and those with a sweet tooth should bookmark Azúcar (1503 SW 8th St) for gelato.
Domino Park
Máximo Gómez Park (801 SW 15th Ave) is more commonly known as Domino Park and this is where locals play dominoes during the day.
Small groups of residents play the day away while live music goes on in the background!
If you plan to get around the city via the hop on and off trolley, Domino Park is one of the stops on the route.
Find out more in our things to do in Little Havana guide.
Things to do in Wynwood
Wynwood is a sensory overload, day and night
Street art takes over every nook and cranny of this Miami neighborhood, and it is where you'll find the most diverse nightlife.
Many of the fun things to do in Miami for adults are based around Wynwood, so if you plan to party hard, consider accommodation near this area.
Wynwood Murals
Most people visit Wynwood during the day to see the art that is sprayed all over the walls, buildings, and even the ground of this wild neighborhood.
As you wander along the main drag, you honestly can't miss the murals, but a good starting point is the 'Wynwood Starts Here' sign at 2000 Tony Goldman Way/NW 20th Street.
Seeing the murals 'outside of the walls' is one of the best free things to do in Miami if you enjoy modern art and photography.
There is also an open-air museum with more murals called Wynwood Walls.
Wynwood Walls
Wynwood Walls (2516 NW 2nd Avenue) was the brainchild of the late South Beach realtor and protector of Art Deco, Tony Goldman, and art designer Jeffrey Deitch.
Here you can see over 80,000 square feet of abandoned warehouses covered in work by international artists such as Shepard Fairey, Bordalo II, and Tristan Eaton, who is responsible for the most photographed mural.
You can book a ticket and do the self-guided tour, giving yourself around two hours to complete.
Or you can join this 2-our walking tour with an expert guide.
Partying in Wynwood
Speakeasies, karaoke joints, rooftop terraces, vinyl parties, velvet roped dance floors, and breweries, there really is bar or club for everyone in Wynwood.
Check out The Mad Butcher (2300 NW 2nd Avenue) and Coyo Tacos (2320 NW 2nd Ave) for relaxed restaurants with secret back rooms, 1-800-Lucky (143 NW 23rd Street) for katsu and karaoke, Dante's Hi-Fi (519 NW 26th Street) for cool DJ experiences, and Gramps for bands, cocktails, and a Christmas bar in winter!
Wynwood Breweries
Wynwood Brewing Company (565 NW 24th Street) was Miami's first craft production brewery and taproom.
Founded by Luis Brignoni and his dad, Luis 'Pops' Brignoni, Wynwood Brewing Company is one of the few businesses with Puerto Rican roots, even though Wynwood used to be known as 'Little San Juan'.
J Wakefield Brewery (120 NW 24th Street) is another taproom with a large outdoor area, indoor seating, and games.
Find out more in our things to do in Wynwood guide.
Things to do in Miami's Design District
Miami's Design District is a pretty surreal area of the city.
Here, you can shop at luxury stores which are nestled among art installations and murals.
You can get to the Design District from Wnywood by using the free trolley, by taxi, or by foot.
Admire the Facades and Art
Many of the luxury brand store fronts look a little different from other city stores.
Check out the front of Chrome Hearts (4025 NE 2nd Ave), the mustard yellow Fendi (150 NE 40th St) and the blue toned Berluti (161 NE 40th St) as examples.
Along with the facades are the huge art installations dotted around the Design District.
For example, Paula Crown's 10-foot crushed party cup aka JOKESTER (95 NE 40th St) and the pink parking lot, Museum Garage, by NY based Workac.
Institute of Contemporary Art, Miami
The Institute of Contemporary Art (61 NE 41st St) is a free museum featuring changing exhibitions and events throughout the year.
The three-story building was created by Madrid-based architecture firm Aranguren + Gallegos Arquitectos.
Dining in the Design District
Fancy a coffee with a Christian Dior stamp of approval?
Well, you can get one at the Dior Cafe (162 NE 39th St)!
Or is Michelin star more your thing?
Check out COTE (3900 NE 2nd Ave) Korean steakhouse by Simon Kim if so.
Contessa (111 NE 41st St) is another option for those who fancy a Northern Italian menu.
For a more low-key lunch, head to the Mia Market vendors in Palm Court.
Find out more in our things to do in the Design District guide, because this is one of the coolest places to go in Miami for out-there architecture.
Things to do in Coral Gables
Coral Gables is one of Florida's first planned communities, and it is technically a city in its own right.
Designed in the 1920s by George E. Merrick and his team, this affluent neighborhood is home to Mediterranean Revival buildings and a cool pool.
Merrick House
You can learn more about the man who dreamt up this city at the home he built for his wife.
Tours take place at Merrick House (907 Coral Way) at the weekend and are led by docents.
The activity lets you have a look at the 14-bed home, which is part of the National Register of Historic Places, and its heritage gardens.
Venetian Pool
Coral Gables Venetian Pool (2701 De Soto Blvd) opened to the public 1924 and today, you can still swim in the spring water fed pool.
It was designed by Denman Fink, after he saw the limestone quarry created by Merrick's construction team who were building homes and other buildings in Coral Gables using the limestone.
Fink saw the space as a great opportunity for a social area!
Miracle Mile
This section of Coral Way was named Miracle Mile in 1955, after post-Great Depression funding was invested to make the street more desirable.
Stores, cafes, restaurants, and bars line the road which is decorated with palm trees and plants.
At the start (or end) of the Miracle Mile are beautiful arches and a fountain.
Coral Way
Outside of the parameters that make up Miracle Mile is Coral Way, a long stretch of road with supermarkets, gyms, gas stations, self-care businesses, bars, and restaurants.
Coral Way is very much a 'local' area which can get to from Coral Gables via the free trolley.
Find out more in our things to do in Coral Gables guide.
Things to do in Coconut Grove
Coconut Grove is the first continuously populated neighborhood in Miami and it is where the black community first settled.
The Grove is also known for its art community, brunch spots, and peacocks!
Plants and Peacocks
As well as century old giant oaks, hardwood hammock, and banyan trees, Coconut Grove is blessed, or cursed, with roaming peacocks!
These striking birds have been known to cause havoc with houses and cars.
Dining in Coconut Grove
From breakfast through to dinner, there is plenty of choice for dining in The Grove.
GreenStreet Cafe (3468 Main Hwy) has been a popular brunch spot with locals since the 1990s.
For dinner, there's pizza at Harry's (2996 McFarlane Rd), Peruvian meals at Jaguar (3067 Grand Ave), and Indian food at Bombay Darbar (2901 Florida Ave).
And don't forget to try the legendary A.C.'s Icees (2470 S Bayshore Dr) frozen lemonade.
The Grove's Black History
You can learn more about Miami's first Black community, who arrived in Coconut Grove from the Bahamas for work in the 1880s, at Charles Avenue.
The neighborhood's first Black millionaire, Ebenezer Woodbury Franklin's house still stands on Charles Ave.
The area known as West Grove is now officially called Little Bahamas.
Enjoy the Water
Coconut Grove has a handful of marinas that you can launch boats from but if you don't have access to one, you can sip a wine by the water instead at Monty"s or the Bayshore Club.
You'll find a secret beach at Matheson Hammock Park (9610 Old Cutler Rd) which also features in our guide to hidden gems in Miami.
While most first-time visitors will skip it, The Grove is one of best places to visit in Miami during returning, slower paced, trips.
Find out more in our things to do in Coconut Grove guide.
Things to do in Miami Beach
Miami Beach, or The Beach, is a barrier island 25 minutes from Downtown Miami.
It was once called The Sun and Fun Capital of the World for its beaches and lively bars and restaurants around South Beach and Mid Beach.
If your trip is mainly based around Miami city, it is worth adding a day trip to The Beach as there is some Miami sightseeing that can only be done on this island.
Beaches in Miami Beach
Lose a day or two to the sandy shores by the Atlantic Ocean.
The most known beach, which attracts a younger crowd is South Beach, however, there are plenty of other beaches with fewer crowds for those seeking a more chill vacation.
South Pointe Park at the southern tip of the island has a beach, pier, and park.
There is also North Beach Oceanside Park, Surfside Beach, Bal Harbour Beach, and Haulover Nude Beach.
Even if you are not a fan of the sand, the colorful beach lifeguard towers are one of the most iconic things to see in Miami.
Art Deco
South Beach (SoBe) is a neighborhood in Miami Beach which draws in travelers because of its preserved Art Deco buildings.
Many of the hotels built between the 1920s and 1940s adopted the 'Tropical Decor' South Beach look.
The two main locations to see Art Deco in SoBe are Ocean Drive and Collins Avenue, where hotels with bars and restaurants line the streets.
In 1979, The Art Deco District was placed on the US National Register of Historic Places.
It was one of the first neighborhoods of 20th century buildings to be enlisted.
As it gets dark, cool neon lights shine from the Art Deco buildings, seeing it is one of the top things to do in Miami at night.
You can find out more about the history and hotels in our South Beach Art Deco guide.
Miami Beach Restaurants
As soon as you step outside of your Miami Beach hotel room you will be faced with options for food, but there are a few Miami Beach originals you should add to your foodie bucket list.
Joe's Stone Crabs (11 Washington Avenue) is owned by the first Jewish family to settle in Miami Beach in 1913, and serves the South Florida dish, stone crab claws.
Big Pink (157 Collins Avenue) has been serving comfort food to hungover souls since the 1990s.
Las Olas (644 6th Street) is the spot to go for Cuban sandwiches, but arrive early as the menu does run out.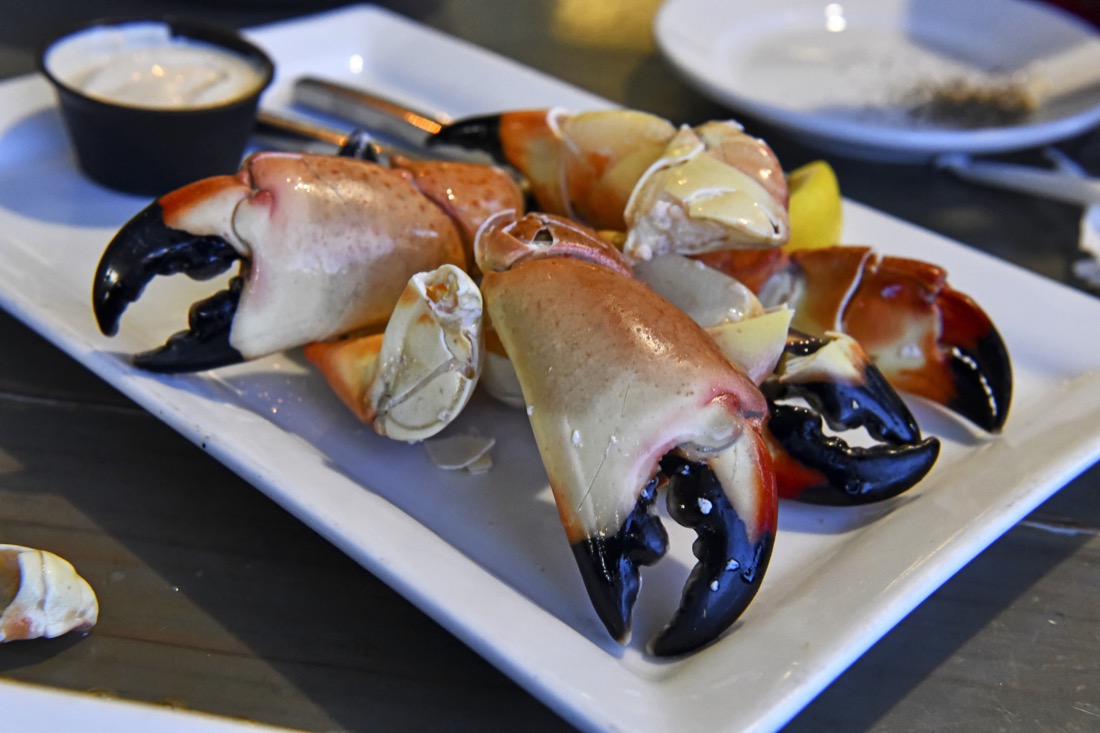 Partying at Miami Beach
For decades, celebrities, artists, and regular Joes have vacationed in Miami Beach to take advantage of the bars and clubs.
From the Rat Pack to rappers, acts have filled the stages or made media appearances giving The Beach its reputation for a wild night, or weekend out.
From day pool parties at Hyde, (1701 Collins Ave) to low-key drinks in the garden of Broken Shaker at Freehand Miami (2727 Indian Creek Dr), there's an option for every style of reveler.
For the typical big Miami Beach night out with girls, drinks sponsorship, and live music check out LIV at Fontainebleau Hotel (4441 Collins Ave) or Story (136 Collins Ave).
Find out more in our things to do in Miami Beach guide.
Our Miami Guides
Miami By Neighborhood