This article has links to products and services we love, which we may make commission from.

Neon lights, Selfie cameras, and Art Deco action! Our best things to do in Miami Beach guide is about to tear through this vibrant Floridian coastal city.
Get ready to feel the sand in your Crocs, capture the colorful lifeguard towers on your phone, get cultured by the art, feed your bellies with local cuisine, and party until the Florida sun comes up.
Miami Beach, or The Beach, is known by its most famous street, Ocean Drive, which is a long road with greenery and palm trees leading to beaches on one side, and strips of Tropical Deco hotels, restaurants, and shops lining the other.
But there is so much more to this city than just the lively Ocean Drive.
It has survived decades of change from construction, turmoil through The Great Depression, modern resort development in favor of its Art Deco buildings, discrimination of its Jewish popular, introduction of its Cuban, Central and Latin American residents, the settlement of the gay and lesbian community, and the unpredictability of nature; a layered and complicated past for the 'world's playground'.
Miami Beach is nine miles from north to south, and a mile wide from east to west, so consider this when booking your accommodation and planning your Miami Beach itinerary.
You may also like our 24 hours in Miami guide or advice on how to spend three days in Miami, and our guide, things to do in Miami.
Things to do at Miami Beach
Starting with the south of the city, this Miami Beach activities guide will work its way up to the north, dipping into the Mid Beach and North Beach neighborhoods.
An important geographical note to point out is that Miami and Miami Beach are two separate cities.
Both are lots of fun but visitors often make the mistake that they are the same place. It takes around 25 minutes by car to get to Miami Beach from Bayfront Park in Miami.
We'll discuss how to get between the two in detail below. Alternatively, you can purchase a ticket for the hop on hop off bus tour which stops at Ocean Drive, Española Way, and Miami Beach.
But first, let's dive into what to do in Miami Beach!
Things to do in South Beach, Miami
South Beach is often shortened to SoBe and it is the most popular neighborhood/area for tourists in Miami Beach.
That means there are plenty of Miami Beach attractions but that does include partying.
It is worth considering this when choosing which Miami Beach hotel to stay at.
South Beach was the first area of Miami Beach to be developed, clearing swamps to make way for agriculture at first, then tourism and settlement in the early 1900s.
A balance of New Jersey locals and the rich and famous were drawn to Miami Beach for its hotels, mansions, and golf courses, with 80% of residents living in the southern end of the island by 1915.
South Beach has had its fair share of ups and downs featuring shifting communities all of whom have brought something new to the area.
Today South Beach is a world famous tourism destination and desired place to live, thanks to regeneration projects and preservation efforts.
There's so many things to do in South Beach so we've created this designed guide.
South Beach has numerical streets running east to west, starting at Biscayne Street (South Pointe Drive) in the very south of Miami Beach, along Lincoln Road, to 23rd Street.
It takes around 35 minutes to walk the length if you stick to Lincoln Road, however, there are many South Beach activities on surrounding streets.
South Beach runs from the southern tip to 23rd Street.
South Beach vs Miami Beach
While we're discussing things to do at Miami Beach, let's cover the big argument, which is better: South Beach or Miami Beach?
South Beach is where you'll find the bustling streets of Lincoln Road, Ocean Drive, and Collins Ave, most of the clubs in Miami Beach (city) and a collection of popular restaurants.
So, if you want to be in stumbling distance to the party spots while still having access to sandy shores and ocean, go for South Beach.
Most of the younger visitors traveling to Miami during Memorial Day Weekend stay in and around South Beach while families stay away from the area.
It is also where Miami Beach as we know it today first started.
Here you'll find historical attractions, the preserved Art Deco buildings, Lummus Park, and a variety of other Miami South Beach activities which we'll detail below.
If you prefer a quieter location and don't mind walking or taking a ride to the clubs, the Miami Beach area, or wider Miami Beach is the option to go for such as Mid Beach, Surfside Beach, or Bal Harbour Beach.
South Pointe Park
South Pointe Park is located at the very southern tip of Miami Beach and boasts of South Pointe Beach, dog-friendly park, the unusual Obstinate Lighthouse, and one of the city's 30 lifeguard towers, Jetty Lifeguard Tower.
Cruise ships also sail past the lush green space called The Hills.
South Pointe Beach has restrooms, outdoor showers, and a cafe making it one of the best areas in Miami beach for families.
People of all ages can learn how to surf here with this this surf company, one of the best Miami Beach activities for families.
Note: Since the Gulf of Mexico suffers from the issue of Red Tide, which can cause respiratory illness and eye irritation, it is always best to check the Florida forecast on the NCCOS website.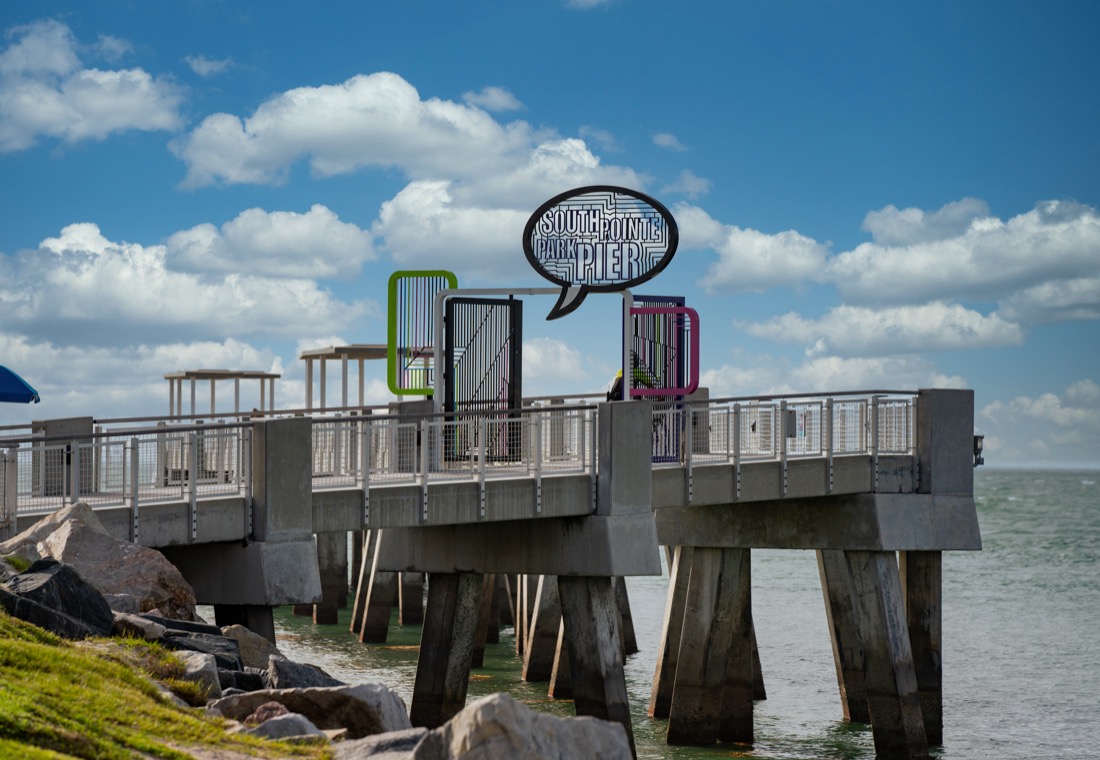 Stone Crabs at Joe's
Joe's Stone Crabs (11 Washington Avenue) is an institution in South Beach.
The owner's family, The Weiss family, was the first Jewish family to settle in Miami Beach in 1913.
Joe's is one of the oldest restaurants not just in South Beach but wider Miami Beach.
Stone crabs are a popular Florida dish, where only the claws are removed which some say is a more ethical way of fishing.
Joe's claws are boiled, chilled, cracked, and served with hash brown potatoes, coleslaw, and mayonnaise.
Due to its long standing, dining at Joe's is one of the most unique things to in South Beach.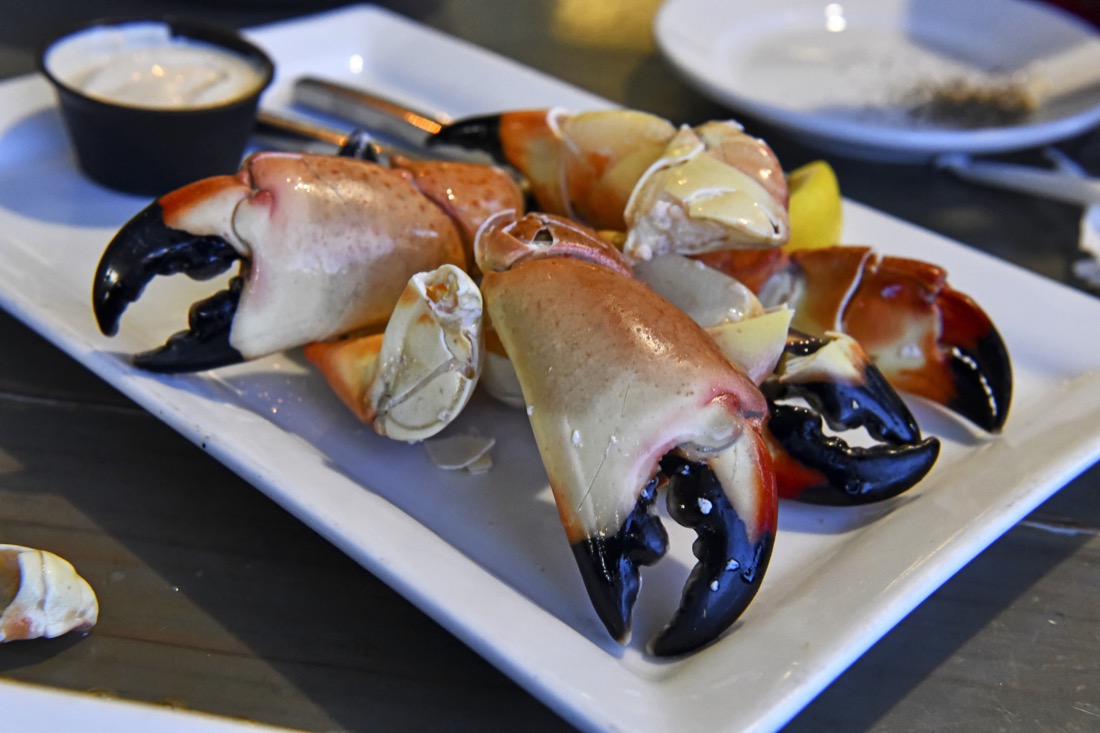 Jewish Museum of Florida
Learn about the Jewish community in Florida and visit exhibitions exploring the Jewish immigration story at the Jewish Museum of Florida (301 Washington Avenue).
The museum building was the first synagogue in Miami Beach, designed by H Fraser Rose in 1929.
The other building was built in 1936 by Henry Hohauser.
The Goodtime Hotel's Strawberry Moon
The Goodtime Hotel (601 Washington Avenue) is owned by the artists Pharrell Williams and entrepreneur David Grutman.
This hotel is absolutely gorgeous with its pastel tones and vintage feel yet modern amenities.
Some rooms have ocean views and guests love the pool, restaurant, and attentive staff.
Cuban Sandwiches at Las Olas
Las Olas (644 6th Street) serves Cuban sandwiches that sell out so be sure to arrive early.
The menu also features coffee, juices, smoothies, empanadas, and rice bowls.
Lummus Park
It is thought that Lummus Park is named after John and James Lummus who helped build Miami Beach along with entrepreneurs John S. Collins, and Carl Fisher.
Lummus sold the land where the park currently lies to the government in 1914.
The park runs from Ocean Drive between 5th Street and 14th Place, and is 74 acres of urban green space separating the Art Deco District from the ocean.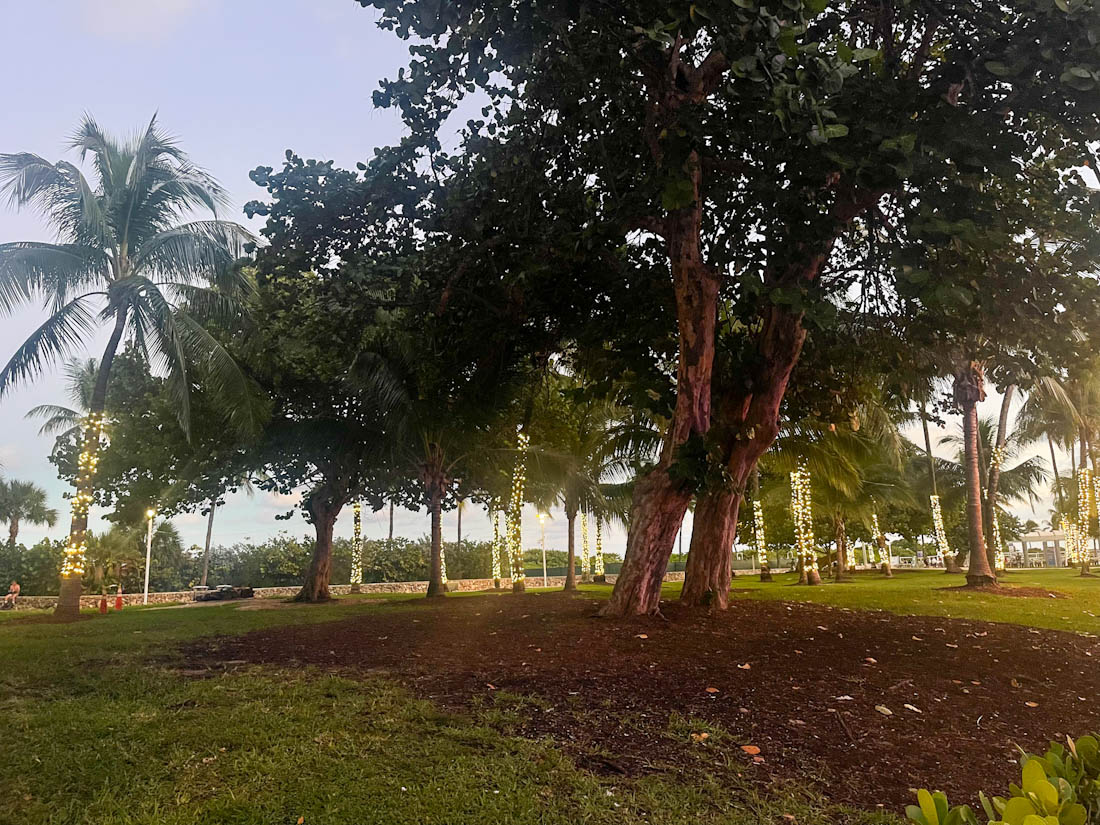 Here you'll find a kids park, volleyball nets, beach access, and the famous Muscle Beach where you can work out using the bars and free weights.
Hire Bikes and Pedal South Beach
Rent a bike from Washington Av and see the South Beach attractions at a faster speed than walking.
Bike rental includes an easy-to-operate beach cruiser bike, locks, a basket, helmet, and a map.
One of the fun things to do in Miami Beach with kids.
Ocean Drive Art Deco District
Visit one of the most famous places in South Beach, Ocean Drive, during the day to see the 'Tropical Deco' and then again at night to witness the neon lights and party scene.
Door staff try and encourage you into their bars and restaurants, some will provide menus which feature prices.
It is also recommended that you inquire about additional charges for patio seating.
Ordering drinks with a patio view over Ocean Beach is one of the best indoor activities in Miami Beach.
The Art Deco District was placed on the US National Register of Historic Places in 1979, making it one of the first neighborhoods of 20th century buildings to be enlisted.
Designer Leonard Horowitz gave Ocean Drive a lick of paint in the 1980s, using his own color palette inspired by Miami Beach's hues, to bring the beloved buildings back to life.
Visiting Ocean Drive is one of the best things to do in Miami Beach at night.
Buildings to look out for include The Avalon, The Leslie, and The Carlyle.
Read more about Art Deco hotels in Miami Beach.
Art Deco Welcome Center
The Art Deco Welcome Center (1001 Ocean Drive) is a tourist information office and museum which puts on special events including lectures, films, and workshops.
The Welcome Center also put on Miami Beach walking tours such as the Art Deco walking tour, the self-guided tour, Jewish tour, Mediterranean tour, and the Gay and Lesbian tour.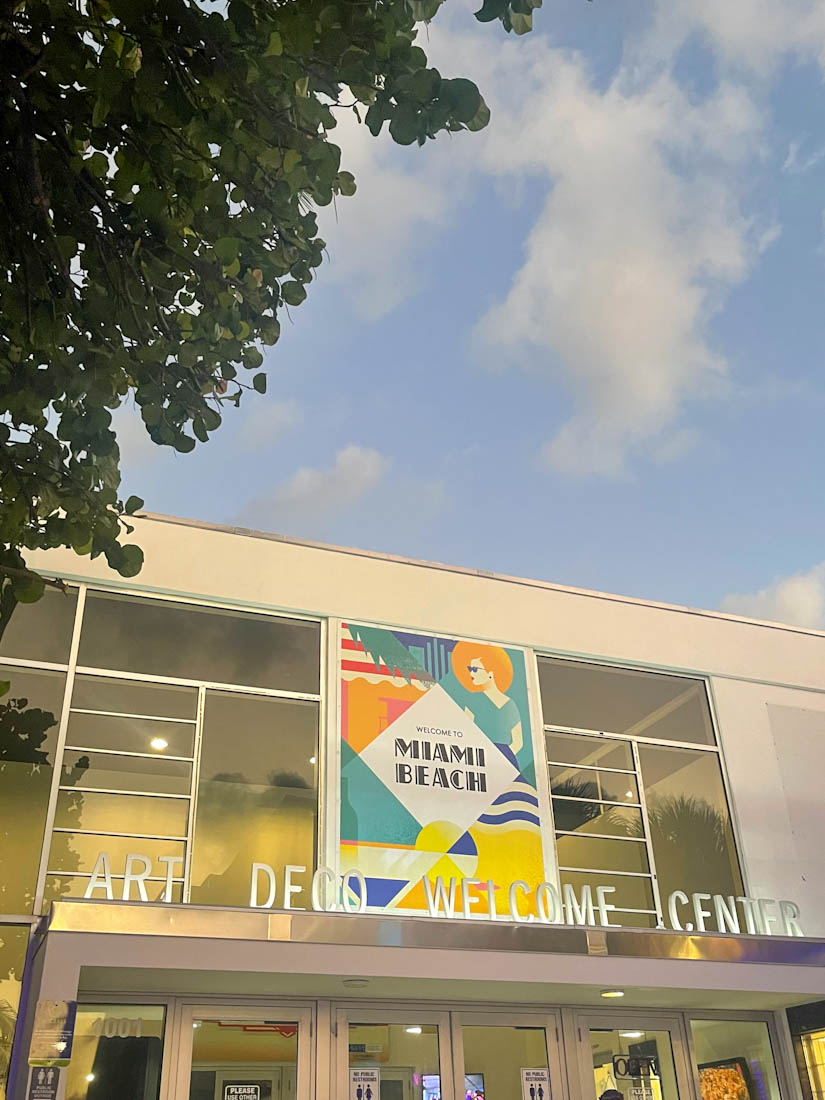 Brunch and Drag Show at Palace Bar
Every night at Palace Bar (1052 Ocean Drive), Queens strut their stuff to entertain the SoBe drag fans.
There's also a fun drag brunch with performances.
Poolside Cocktails at The Clevelander
Have a drink, watch sports on the big screen, or make a splash at the The Clevelander (1020 Ocean Drive) pool party.
The Clevelander was built in 1938 by Albert Anis, then renovated in 2009.
Backpacks aren't allowed in, so leave the day bag at home.
Versace Mansion Dining Experience
Villa Casa Casuarina (1116 Ocean Drive) was built by Ronin Wolf in 1930 for the gay philanthropist, Alden Freeman.
It is most infamously known as the home of Gianni Versace, and is the scene of his murder in 1997.
Villa Casa Casuarina is an example of Mediterranean Revival, popular in Florida and California seaside towns of the 1920s and 1930s.
Today, guests can dine in opulence, by the stunning gold-lined pool, or book a room in the exclusive hotel.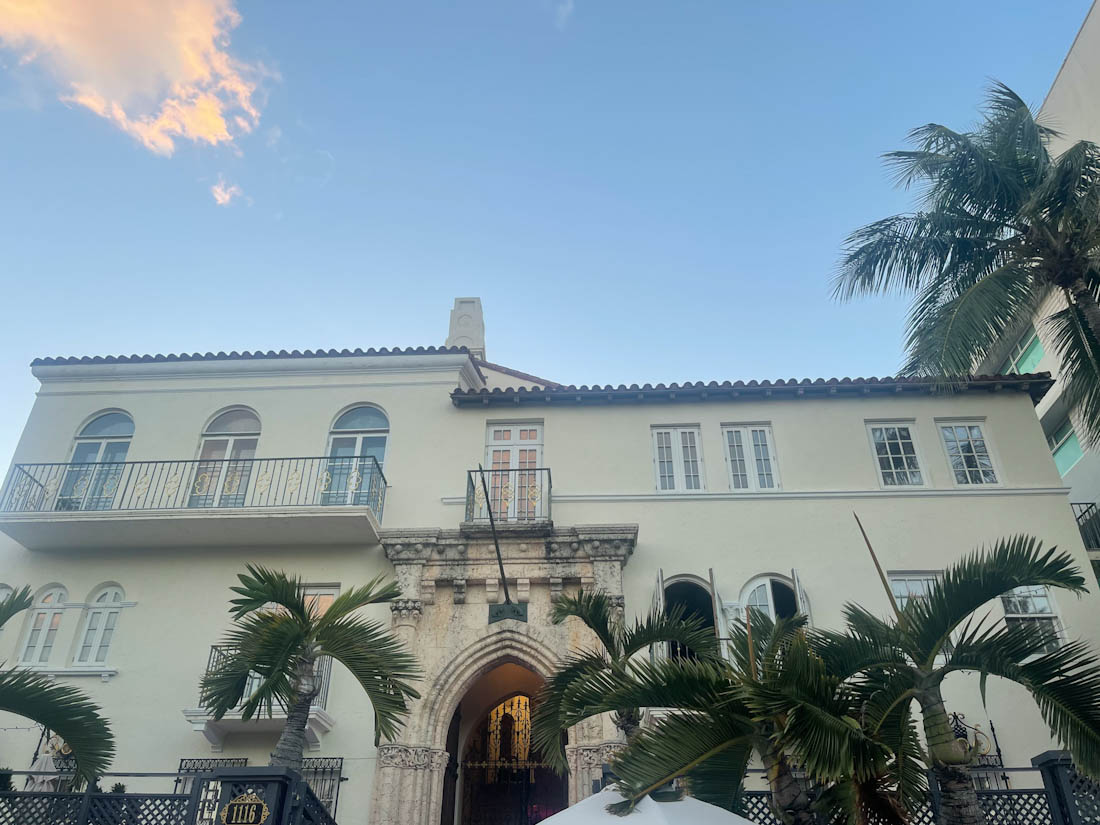 South Beach
Bathe in the Florida heat at South Beach while the Atlantic Ocean waves lap against the shore.
Recharge at one of the Ocean Drive restaurants or bars.
Romantic Flight Over South Beach
This private airplane flight flies above the barrier, giving you the best birds eye view of Miami's beaches.
The pilot also regales you with facts and stories as you pass popular landmarks.
This flight is one of the most romantic things to do in Miami Beach and Miami, read out date ideas guide for more!
Española Way
Española Way (north of 14th Street between Washington and Pennsylvania Avenues) is a cultural hub where visitors can shop, dine, and stay.
The most famous, or should we say infamous, hotel in the area, is the Esme, previous hideaway of gangsters such as Al Capone.
Originally titled the Spanish Village, the area was developed in 1925 by William Whitman and N.B.T. Roney and designed by architect Robert Taylor who used Mediterranean villages as his muse.
Shop Along Collins Ave
Visit boutique stores on the first paved boulevard in Miami Beach, Collins Avenue.
Here you'll also see the modern hotels of the 1940s such as the Fontainebleau (4441 Collins Avenue), located on Millionaire's Row.
The street is named after John S. Collins, one of the first businessmen to start a successful business on Miami Beach.
He also built a bridge between the beach and Downtown Miami, where the Venetian Causeway lies today.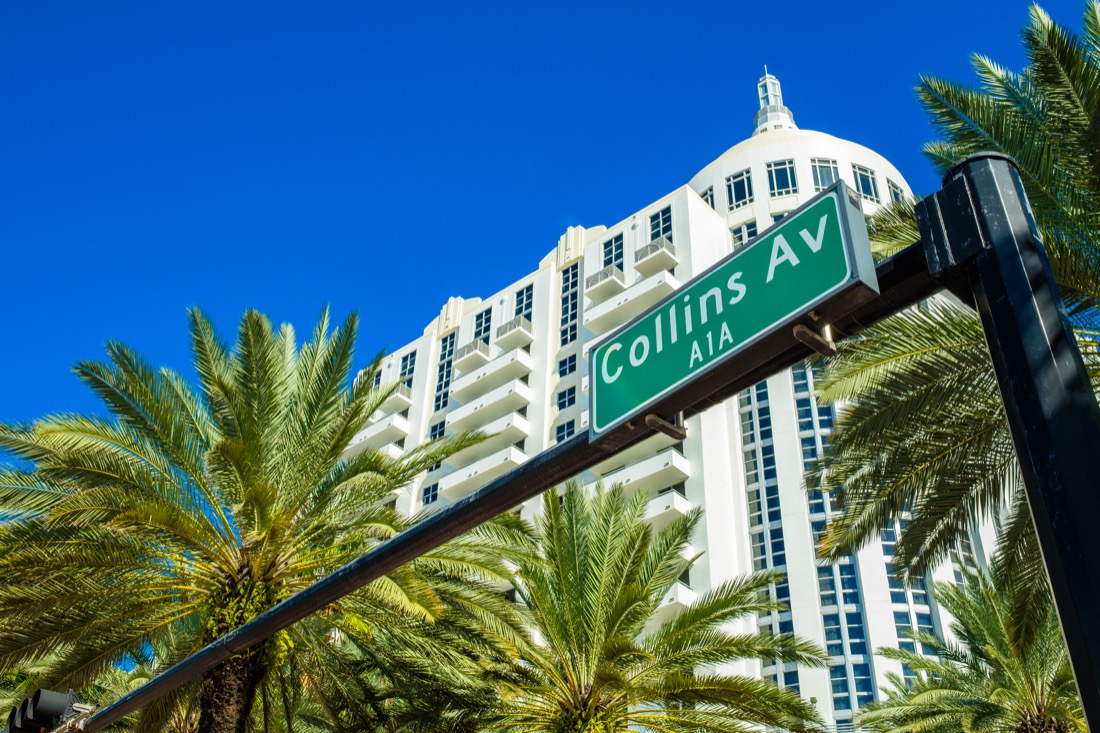 SLS Pool Party
Another popular pool party is the SLS South Beach Miami aka Hyde Pool Parties (1701 Collins Ave) are held on weekends.
Expect live DJs, drinks, and bach party groups.
SLS is also one of the popular beach hotels in Miami Beach.
Shopping Around Lincoln Road Shopping
Shop at popular brands like H&M, Pandora, and Apple on Lincoln Road.
There's also a number of restaurants such as the al fresco Tapelia.
Lincoin Road also features in our guide to Miami at Christmas for holiday shopping.
Miami Beach Botanical Garden
Miami Beach Botanical Garden (2000 Convention Ctr Dr) offers 2.6 acres of tropical gardens with native and foreign plants.
The gardens were founded in 1962, and are known as 'Miami Beach's Backyard.
You can learn more about the gardens during the self-guided audio tour.
Visit Miami Beach Botanical Garden for one of the brilliant free things to do in Miami Beach.
Map credit Miami Beach Botanical Gardens.
Holocaust Memorial
The Holocaust Memorial (1933-1945 Meridian Avenue) is a walking museum with a 40 ft fist statue, information plaques, and visitor center.
Visitors can learn more about the history of Jews during the 1.5 hour self-guided tour by donation, or groups can organize a full tour in advance.
For more to do in SoBe, here's our things to do at South Beach guide.
Things to do in Mid Beach, Miami Beach
Now that we've explored things to do in Miami South Beach, let's consider the Mid Beach activities.
This area tends to be a little less populated with visitors who are looking to party, opting for the more luxury vacation in upscale MiMo (Miami Modern) hotels.
However, it doesn't mean there is nowhere to dine and drink, plus some of Miami Beach's most popular clubs are hidden behind the facade of luxury hotels.
Mid Beach stretches from 23rd Street to 63rd Street.
Broken Shaker, The Backyard Bar
Sure, much of Miami Beach is about being flashy, but there is a hostel bar that is often on party goers' bucket lists, Broken Shaker at Freehand Miami (2727 Indian Creek Dr)!
Visitors love the backyard with comfy seats, simple bar menu, and reasonably priced jugs.
Table reservation and walk-ins accepted.
Mid Beach
Hit the beach!
As with South Beach, there is plenty of sand for you to dig into and ocean for you to swim in.
If staying at a hotel in Mid Beach you might have access to beach chairs and towels.
Fontainebleau on Millionaire's Row
Fontainebleau Hotel (4441 Collins Avenue), Miami Beach's largest hotel, was designed by architect Morris Lapidus and built by Ben Novack.
It sits on top of the location where Harvey Firestone, of tyre fame, had his estate.
It opened its doors in 1954, and guests flocked to it for its super modern amenities, including air-conditioning, and location on Millionaires Row.
The curvilinear building introduced luxury to tourism, and holiday makers and celebs ate it up.
Frank Sinatra not only performed at the Fontainebleau's nightclub, he also filmed on the premises.
In 1960, Sinatra welcomed Elvis home from the army, where the stars did a duet and taped the show for broadcast.
Today, Fontainebleau is a 22-acre oceanfront hotel featuring restaurants with award-winning chefs, popular nightclubs, a two-story spa, 11 pool experiences, and miles of beach.
LIV at Fontainebleau Hotel
Pack your finest formal wear, tonight it's a party at the legendary LIV nightclub.
The 18,000 sq ft superclub has hosted world class DJs such as Calvin Harris and hip hop artists like Eve and Doja Cat.
It is recommended to buy tickets online to save money and be wary of club promoters trying to provide deals.
Ultra-VIP treatment includes 50 banquette areas and six private skyboxes with table service.
LIV also features in our guide to Miami at night.
Fisher Monument
A bronze bust of Carl G. Fisher can be seen along with the statement 'he carved a great city out of a jungle' at Alton Road and Lakeview Drive.
In 1941, the monument was dedicated to the Father of Miami Beach who died in St. Francis Hospital in 1939.
Things to do in North Beach, Miami Beach
Heading out of the most popular areas for visitors and into the neighborhood where more locals live, North Beach is home to Mid Century hotels and Miami Modern-style apartment buildings.
North Beach runs from 63rd Street to 87th Street.
North Beach Oceanside Park
North Beach Oceanside Park (8328 Collins Avenue) is a beachfront park with dog runs, a playground, picnic tables, and free barbecue areas.
Public bathrooms on-site.
Surfside Beach
For a relatively crowd free beach in Miami Beach plan a day Surfside Beach.
A day trip requires you to pack your own chairs, or if you stay at a hotel by Surfside they provide some.
If you plan to cycle in Miami, consider the bike path that runs from Surfside to North Beach.
Bal Harbour Beach
The lesser-known Bal Harbour Beach can be found at the northern tip of the city.
Visitors love to swim, snorkel, and sunbathe on this public beach.
Again, pack your own beach gear if you're not staying at the likes of the Ritz-Carlton, which has cabanas and beds.
Once known as the 'America's Riviera', along with Miami Beach, this area's development began in 1929, with resorts popping up in the 1950s and 1960s.
Bal Harbour's Americana's Carnival Supper Club was another favorite of Sinatra and the Rat Pack.
Today you can eat at Mediterranean, Greek, and Italian restaurants or spend a pretty penny at the Bal Harbour Shops.
Those who prefer a private feel, Bal Harbor is the best beach in Miami Beach.
Haulover Nude Beach
The final beach in our guide is the nude beach in Miami Beach, Haulover Nude Beach.
This laid-back beach has chair rental, showers, and food for sale at the B&B Haulover Beach Cafe Kiosk.
Families tend to set up around the south end of Haulover Nude Beach.
A fee-paying parking lot is situated underneath the tunnel which connects the beach to the lot.
Downtown Miami to Miami Beach
When people say they are going to Miami on vacation they don't often realize that the city of Miami and Miami Beach are two distinct areas with a 25 drive between them.
However, most visitors will spend time in both Miami Beach and Miami, some splitting their vacation in two so they can experience both.
Miami Downtown to Miami Beach can be reached by car ride share like Uber and this is the most popular form of transport between the two areas.
The Metrobus also connects the two, but you can be waiting a while on buses showing up.
Check out our guide to Downtown Miami next.
Miami Airport to Miami Beach
If you are visiting Miami Beach and arriving by flight the cheapest way to get to your accommodation is the Miami-Dade Transit's Metrobus Route 150, aka Miami Beach Airport Express.
Buses run every 30 minutes up until 11pm.
Final Thoughts
Whether you are looking for lively activities in Miami Beach or a chilled vacation, America's playground has something for every style of traveler and every type of local.
From Cuban and Latin culture to Art Deco architecture, turquoise blue beaches to crazy party nights, Miami Beach has been a South Florida vacation spot and desired home for many, including celebrities of the past and present.
Did we miss any of your favorite things to do in Miami Beach, FL? memo
Our Miami Guides
Miami By Neighborhood