This article has links to products and services we love, which we may make commission from.

Hola from Little Havana! Did you know that Spanish is the first language in some of Miami's neighborhoods and that there is an area west of Downtown that celebrates all things Cuban?
You can see domino players in action, sip mojitos to live music, and watch Cuban cigars being rolled in this lively area of the city.
Our guide on things to do in Little Havana reveals all of the cool Cuban and Latin sights along the famous Calle Ocho (8th Street), as well as other fun activities found in this colorful neighborhood.
If you only have one day in Miami, consider the hop on and off trolley as it stops at Maximo Gomez Park (Domino Park) – one of the most bustling attractions in Little Havana.
Many of the exciting Little Havana activities are just a stone's throw from the park so it is the ideal location for visitors.
Planning a weekend trip? Here's our 3-days in Miami itinerary.
Now, let's put on our dancing shoes and salsa our way into the best places to visit in Little Havana.
Things to do in Little Havana
The suggestions in our Little Havana travel guide run from the very top of SW 8th Street down to the Brickell neighborhood.
The World's Most Famous Cuban Restaurant
Versailles (3555 SW 8th St) is a little off the tourist path but is one of the most popular places to eat in Little Havana.
After its opening in 1971, the iconic restaurant quickly became the 'unofficial town square for Miami's Cuban exiles', and since then it has been home to protests by the Cuban American community.
Even though some tables are reserved for loyal customers, visitors are very welcome to dine in and try traditional Cuban food such as pastelitos, croquetas, soups, ropa vieja, and much more.
If you have a car, or are wearing your walking shoes, kick off your Little Havana itinerary with a cafecito at Versailles then power your way to the next stop, the Little Havana mural.
Little Havana Mural
The widely photographed Little Havana mural (2614 SW 8th St) is also some distance from the touristy area.
It is located around 30 minutes walk from the historic area of Calle 8.
However, it is worth making the trip to see this iconic mural.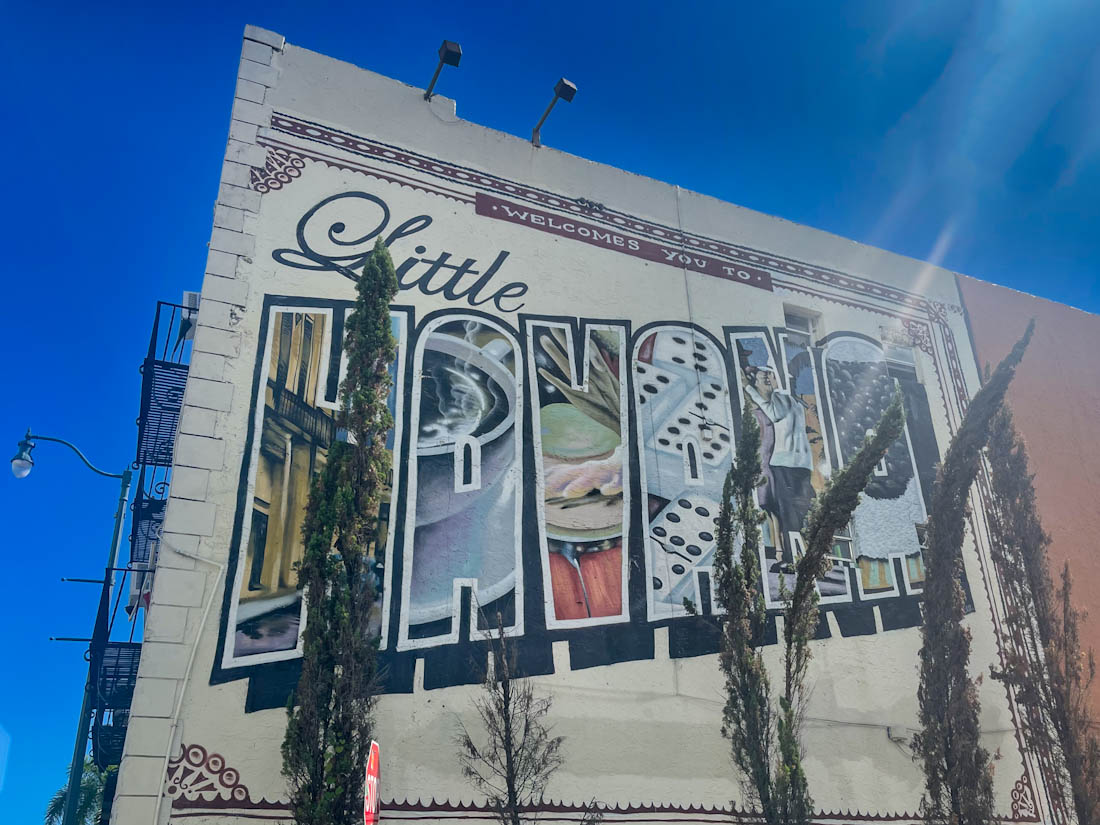 The 2012 artwork by Atomik (Adam Vargas) features letters that spell the word 'Havana'.
The letters are filled with images associated with the neighborood such as dominos and coffee.
If you do make it to the mural and haven't had breakfast (desayuno) yet, consider visiting El Palacio De Los Jugos (1545 SW 27th Ave) which is a 20 minutes walk but worth it for a huge variety of Cuban food.
If food is your thing, also consider this walking food tour.
During the tour you will get to try a variety of food made by family owned Calle Ocho businesses.
Ocean Bank Welcome to Little Havana Mural
Across the road from the Little Havana mural is another wall worth checking out, the Ocean Bank 'Welcome to Little Havana' mural.
The bright piece features a dancing couple, dominoes, a rooster, and a palm tree; all of which you'll see as you wander along Calle Ocho!
Welcome to Calle Ocho Sign
Just outside of Ocean Bank there is a mosaic sign that says 'The City of Miami Welcome to Calle Ocho'.
There is a bright orange, yellow, blue, and green flower behind the text.
Cigar Shopping
As you stroll along Calle Ocho you'll find a number of cigar shops such as Casa Habano (1743 SW 8th St) and Little Havana Cigar Factory (1501 SW 8th St).
You can go into the stores to see cigars being made and purchase cigars to take away.
Casa Habano also offers a historical tour which explains why Florida became the Cigar Capital of the World in the 1900s.
During the tour, you will see artisan Cuban rollers devein, twist, bind, press, roll, and package cigars.
Rooster Statues
Spot the silent roosters dotted along Calle Ocho, all of which are painted in different designs.
The sculptures first came to Little Havana around 2004 and were designed by Tony Lopez and Pedro Damian, both of whom have now passed.
You can see real roosters in Miami, they can usually be found near the Bay of Pigs Monument in Little Havana, and if you plan to visit Key West, you will also see them hanging about the streets there too!
Lung Yai Thai Tapas
Naturally, you'll want to try Cuban food and drinks when you visit Little Havana but there are also other cuisine options such as the hugely popular younger generation spot, Lung Yai Thai Tapas (1731 SW 8th St).
The menu is tapas style and plates arrive when the food is ready.
There's an alcohol license so you can enjoy a wine or beer with your Thai dishes!
The shack-like interior has a room full of tables and there is also seating outside.
Expect lines so plan accordingly.
Lung Yai Thai Tapas also features in our guide to Miami at night.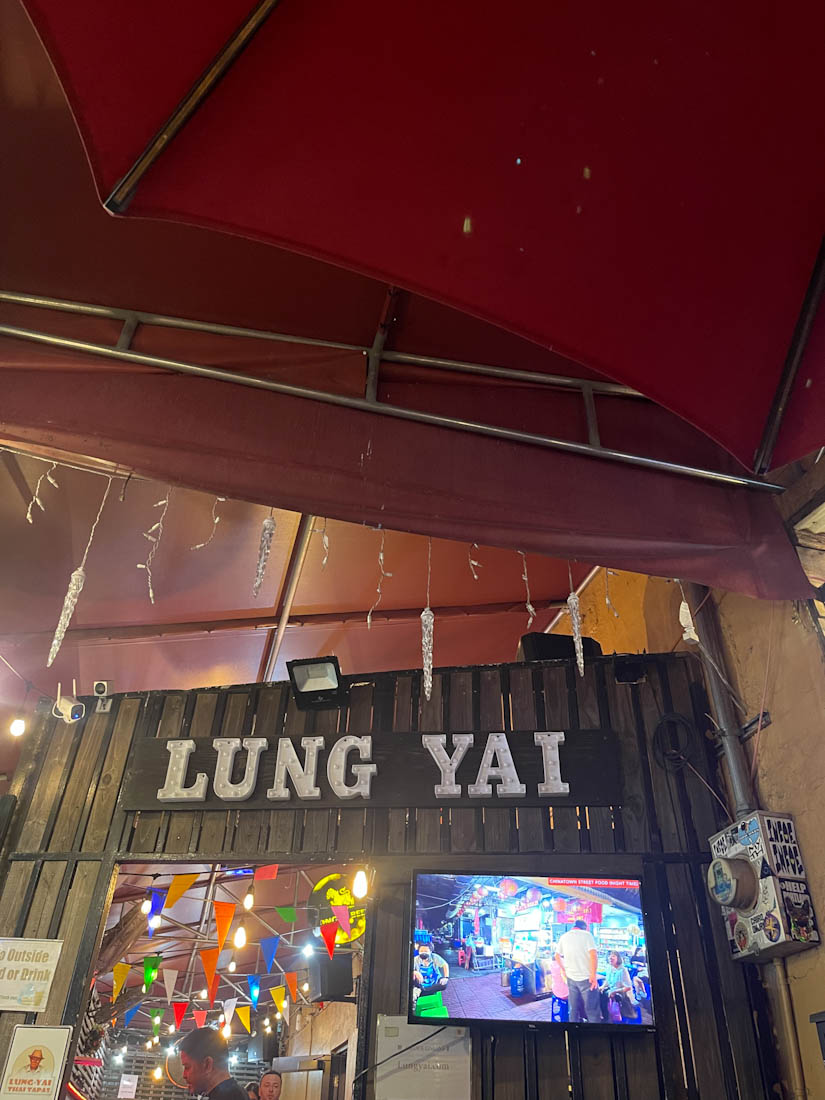 The Other Little Havana Mural
This colorful mural is painted on the wall of Sushi Sake (1615 SW 8th St), which is closer to the popular Little Havana attractions than the first Little Havana mural.
The mural by Heps Fury says 'Little Havana' with images such as dominoes, dancers, and the Cuban flag in the bubble writing, similar to the original.
Sushi Sake is a Florida based sushi bar owned by Cuban-American brothers Angel and James Aguayo.
They opened their first restaurant in Miami in 2009.
El Santo Taqueria
El Santo Taqueria (1620 SW 8th St) is a Mexican restaurant known for its homage to Lucha Libre culture and photogenic food.
The menu features tacos, quesadillas, burritos and there is a tequila speakeasy!
Calle Ocho Walk of Fame
Forget Hollywood, Little Havana has its own Walk of Fame with stars on the ground to recognize the efforts of Cuban and Latin stars.
Names include the singers, Thalía, Ednita Nazario, Celia Cruz, and Gloria Estefan!
People Mural
On the side of the building at 1561 SW 8th Street is a mural featuring a scene with a group of people.
The building used to belong to a gift store called La Isla.
Do you know anything about this mural?
Please let us know in the comments below as we'd love to hear more about it.
Vintage Cars
Just like in Havana in Cuba, you might see a vintage car parked on Calle Ocho.
This isn't a guarantee, so if you are desperate to see one, head to Ocean Drive on South Beach where a yellow 1955 Oldsmobile Super 88 convertible sits outside of the The Avalon Hotel (700 Ocean Drive).
Azucar For Ice Cream
Ah, Azucar!
We're still dreaming about this gelato.
One of the most popular things to do in Little Havana is boost your sugar levels with a few scoops from Azucar (1503 SW 8th St).
The shop features inventive flavors for the bold, and classic kinds, like dulce de leche, for the traditionalists.
There's a few seats at the window which are worth trying to bag, so you don't lose your delicious ice cream to the hot Florida sun as soon as you step out of the store!
Tower Theater
Tower Theater (1508 SW 8th St) is a little slice of South Beach art deco on Calle Ocho, and one of the oldest cultural places in the city.
The theater has had quite a story since its opening in 1926.
In the 1960s, it adapted to its new Spanish speaking audience, the Cuban settlers, by applying Spanish subtitles to movies.
In 1984, it closed its doors after nearly sixty years of operation, opening again in 2002 with the support of Miami Dade College.
Today, you can watch Spanish-language and English-language films, subtitled in Spanish.
Calle Ocho Mosaic
Another popular photography location in Little Havana is the Calle 8 mosaic.
The colorful tiles with dominoes, fruit, and flowers, can be found on the wall of the Tower Theater.
Ball & Chain
You'll hear the band bellowing out of Ball & Chain (1513 SW 8th St) before you see it!
Just like in Havana, this bar has its windows up and doors open, allowing the sound of the music to carry down Calle Ocho.
The original Ball & Chain Saloon opened in 1935, long before Little Havana was born.
The bar has had a long history with entertainers like Billie Holiday, Count Basie, and Chet Baker taking to its stage before it closed its doors in 1967.
Today's version of the Ball & Chain has been serving mojitos and putting on live performances since the mid-1990s.
Shop for Shirts
If you want the Big Papa treatment while buying Guayaberas shirts, head to D Asis Guayaberas.
Guayaberas are short-sleeved shirts, associated with Cuba and Mexico.
Traditionally they differ from other shirts as they have lots of pockets.
Cubaocho
Another location to consider for live music is Cubaocho Museum & Performing Arts Center (1465 SW 8th St #106).
Cubaocho satisfies all five senses with its rum tastings, Cuban food that will hit the nostrils first, art and decor to look at, live music to listen to, and dance classes to feel another body against yours!
The salsa dance classes also feature in our Miami date nights guide.
El Cristo Restaurant
El Cristo Restaurant (1543 SW 8th St) has been serving Cuban cuisine in Little Havana since 1972.
The vibe is relaxed and there is a happy hour!
Domino Park
Máximo Gómez Park (801 SW 15th Ave) is also known as Domino Park as this is where locals play dominos in small groups around designated tables.
It is free to play here for locals over 50 who have a Maximo Gόmez Domino Club card.
There is also live music during the day, making it a popular spot for visitors hopping off tour buses, domino players are used to having an audience!
The park is named after the Cuban revolutionary, General Máximo Gómez.
Miami is a diverse city!
If you'd like to learn more about the first Black settlers in Miami, check out our guide to Coconut Grove where you will find Little Bahamas.
Los Pinareños Fruteria
Los Pinareños, Fruteria (1334 SW 8th St) is the oldest open air market in Miami!
It sells fruit and juice with the freshest of ingredients, perfect for drinking in the Florida sun.
Owner, Guillermina Hernandez migrated to Miami from Pinar del Rio in Cuba with her late husband, Angel, and opened the shop in 1963.
Bay of Pigs Monument
The Bay of Pigs Monument (806 SW 13th Ave) remembers those who died during the US funded failed military landing in Cuba in 1961.
The names of the fallen are inscribed on the memorial and there is also an eternal flame at the top of the monument.
The Bay of Pigs Brigade 2506 survivors continue to come together every April 17th to keep the memory of those who passed alive in the community and beyond.
You may also be interested in visiting the American Museum Cuban Diaspora in Coral Gables.
Cafe La Trova Entertainment and Mural
Cafe La Trova (971 SW 8th St) is owned by Julio Cabrera and his long time friend, Chef Michelle Bernstein.
Guests love the cocktails made by the Cantineros, the modern Cuban menu, and the atmosphere created by the live music.
Cafe La Trova has featured in The World's 50 Best Bars list several times!
Mr 305 Mural
Get a picture with Pitbull, aka Mr 305, just off Calle Ocho.
The Mr Worldwide mural, by Miami based artist Jesse Art Martinez, is located beside Havana Market Corp (1380 SW 8th St).
Party Cake Bakery
Your eyes won't believe what they are see as you stare into the windows of Party Cake Bakery (1356 SW 8th St).
This is a Cuban family-owned bakery with multiple locations in Miami.
Olga and Juan Montano have been serving locals Cafe Cubano and pastel de carne since 1991.
On the top of the bakery, there is a mural dedicated to the singer, Celia Cruz.
Fonda La Chismosa for Colombian Food
If Cuban, Mexican, or Thai isn't quite scratching the itch, what about Colombian food?
Fonda La Chismosa (981 SW 8th St) is a very lively restaurant and bar serving soup, arepas, carne asada, fried plantains, patacón, and chicharrón.
The portions are huge so arrive with an empty belly.
Fonda La Chismosa also features in our guide to hidden gems in Miami.
Visit Brickell
Brickell is Miami's shiny neighborhood that features skyscrapers and the free Miami Metromover transport system.
Here you'll find cafes, rooftop bars, and clubs open until late.
It is relatively easy to walk to Brickell from Little Havana but the route does involve crossing busy roads so you may prefer to book a ride instead, or hop on the free Miami trolley.
Find out more about the area in our guide, things to do in Brickell and for more things to do throughout Miami, read this guide.
Calle Ocho Festival
If you really want to experience Little Havana in all her glory, visit during the Calle Ocho Festival, which is also known as the Miami Carnival, in March.
The festival is the largest Latin music event in the US and it takes place over 15 blocks between SW 12th to 27th.
Is Little Havana Really Cuba in Miami?
So… is visiting Miami's Little Havana like going to Cuba or is it just a tourist trap?
Firstly, Cuba is a country with over fifty cities, and Little Havana is one neighborhood in a big city – it is impossible to make direct comparisons.
However, some of the reasons that tourists fly Cuba can all be found in Little Havana, such as live music, tasty cocktails, freshly rolled cigars, and lots of colors.
Just like in Cuba's capital city, Havana, vintage cars are strategically parked for photo opportunities on Calle Ocho, but Miami locals don't have to persevere with old cars, caused by years of embargo, as their mode of transport.
If you've been to Cuba you'll be familiar with the tour guide tip to avoid the government run restaurants in favor for private ones, or you'll have to wait a while for OK food.
Luckily for visitors, all of the restaurants in Little Havana are privately owned by families or food groups, so a decent meal is likely.
Naturally, you won't see posters of Che Guevara and Fidel Castro in Little Havana as some of the Cubans who settled in Miami and Miami Beach fled the country to escape military dictatorship, while others moved for economic reasons.
A restaurant celebrating Guevara and Castro planned to open in Downtown Miami and it was shunned by the anti-Castro members of the Cuban community in Miami.
As to be expected, the demographics of Little Havana have changed over the years, with Cuban residents moving out and people from Mexico, Central America, South America and the Caribbean moving in, however, Little Havana still clings to its Cuban roots.
We'd love to hear your take! Tell us in the comments below.
Images: Blue vintage car in Havana, Cuba and blue vintage park on Calle Ocho, Little Havana in Miami.
Our Miami Guides
Miami By Neighborhood