This article has links to products and services we love, which we may make commission from.

If you love nature, you'll adore this four-seasons Grafton County town.
This guide takes a look at the best things to do in Lincoln, New Hampshire, an outdoor lovers' paradise!
Expect hikes and swimming in summer, the prettiest of colors in fall, hitting the slopes in winter, and blooms come spring.
We're going to start with outdoor attractions in Lincoln and also share some of our favorite things to do in indoors because it does rain sometimes!
We'll also reveal festive things to do in winter when snow falls on the White Mountains.
If you want to explore beyond Lincoln, take a look at our recommended things to do in the White Mountains.
And you might also like our guide on amazing places to visit in New Hampshire!
Best Things to do in Lincoln, NH
Outdoor Activities in Lincoln
Whale's Tale Waterpark
If you visit Lincoln, NH in the summer, there is no better way to spend the day than at Whale's Tale Waterpark (481 Daniel Webster Highway).
One of the best waterparks in New England, Whale's Tale has enough fun and adventure for the whole family.
They've got some of the best and most thrilling slides and attractions in the industry; it's definitely worth the trip if you've got adventurous kids!
Waivers are required to play at the waterpark, but you can read the waiver and fill it out ahead of time on their website.
Franconia Falls
For a more natural waterslide, head to Franconia Falls from the Lincoln Woods Trailhead.
To visit the falls, you'll take a 3-mile hike one way perfect for beginners; at the end of the first leg lie the falls, dotted with swimming holes and natural chutes, cascades, and pools.
Bring a picnic and set up on the edge of the waterfall, or just splash around in the calmer waters!
The best time to visit is usually in the early spring when the snow from the mountains is melting, though you're sure to find an amazing view no matter the time of year.
Exploring the Franconia Falls is one of the best things to do in Lincoln, NH.
You might also like our guide on the best hikes in New Hampshire!
Flume Covered Bridge
Did you know know that New England is famous for its covered bridges and you can visit one in Lincoln?
Flume Covered Bridge is located east of U.S. Route 3 in Lincoln over the Pemigewasset River at the junction of N.H. Route 175 and U.S. Route 3.
It is paddleford truss style of bridge and it was constructed in 1871!
Check out our guide to the best New Hampshire covered bridges which includes a map.
Kancamagus Scenic Highway
From Lincoln, you can join the 112 route which is more commonly known as the Kancamagus Scenic Highway.
The famous New England road trip route connects Bath and Conway (34.5 miles) and provides views over the White Mountains, the Swift River, Sabbaday Falls, Lower Falls, and Rocky Gorge.
It is often said to be one of the best places to see fall foliage in New England so you'll want to get out of the car and explore during your trip.
You can learn more about the locations on the Kancamagus by tuning into this audio tour.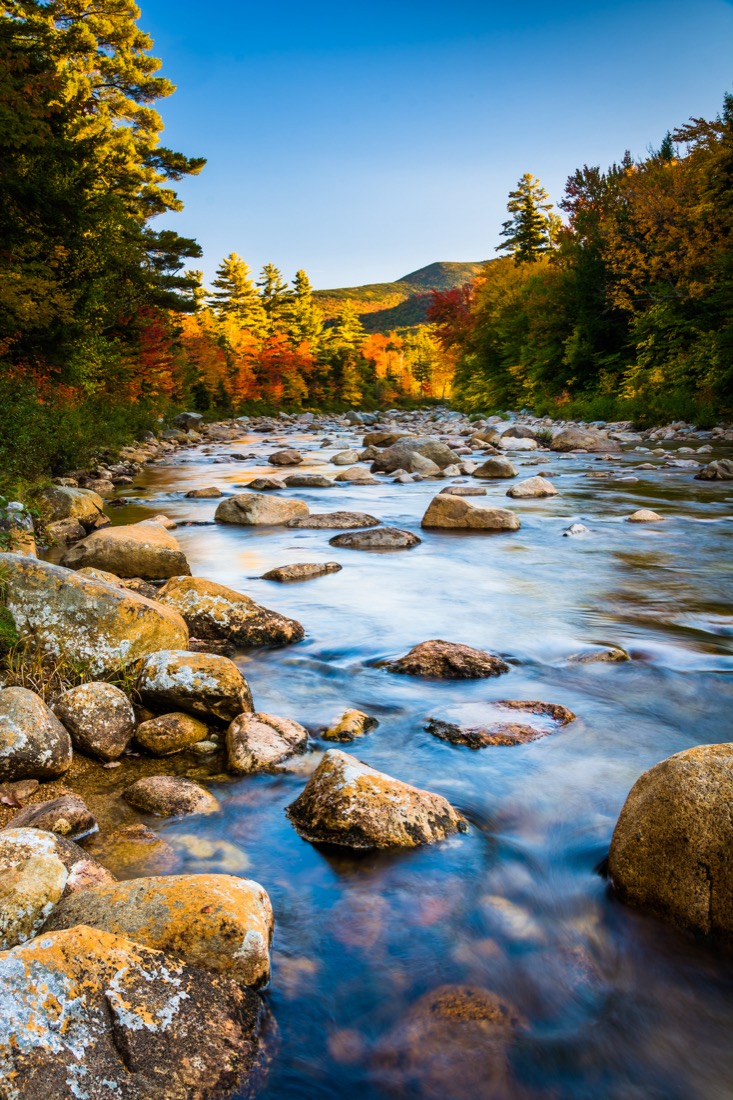 West Rattlesnake Mountain
There's a relatively moderate 40-minute trek up to the summit of West Rattlesnake Mountain which rewards hikers with views over Squam Lake.
The trail goes through oak and maple trees and takes around 1.5 hours full trip.
Alpine Adventures Zipline and Outdoor Recreation
Any adventure-lover has to make a stop at Alpine Adventures (41 Main St) in Lincoln, NH.
Whether you're interested in off-roading, ziplining, or aerial challenge courses, Alpine Adventures has something exciting for you to try.
Probably Alpine's most memorable attraction is their zipline tour.
You get to zip from tree to tree, reaching speeds up to 60 miles per hour!
You must book ahead to take the zipline tour, and reservations are recommended for the other activities as well; book your trip on their website.
Indoor Activities in Lincoln
Hobo Railroad
Enjoy a train ride through the White Mountains with the Hobo Railroad.
The round trip lasts for 80 minutes and travels around the Pemigewasset River.
As with most of New England's train rides, the coaches are restored to look like vintage carriages!
Hobo Railroad also features in our guide to the best places to see fall foliage in New Hampshire.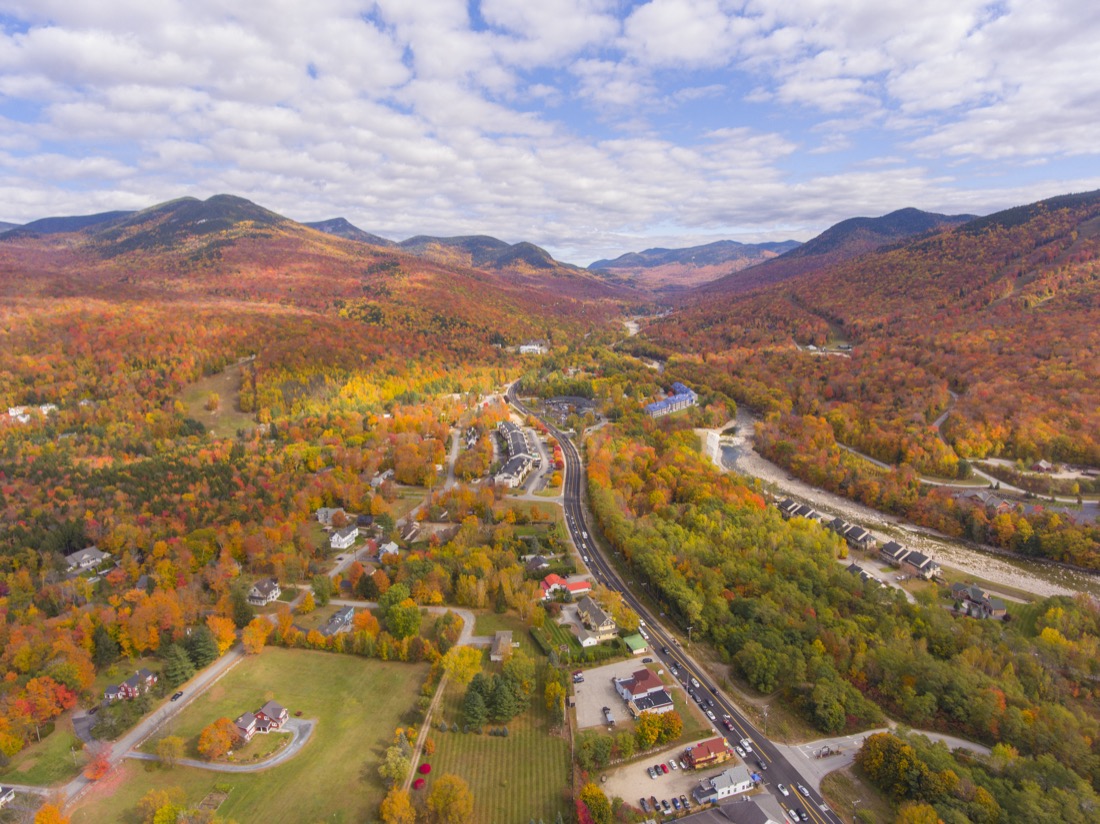 Jean's Playhouse
You might think that high-quality theater entertainment can only be found in the heart of big cities, but once you step into Jean's Playhouse (34 Papermill Dr) in Lincoln, you'll be convinced otherwise.
From Broadway-style performances to brilliant children's theater productions, comedy shows, and concerts, you'll be sure to watch something incredible during your time at Jean's.
Some of their most popular shows in the past summer seasons include Cabaret, Footloose, and Chicago!
The theater is wheelchair-accessible and easy to maneuver for anyone with mobility issues.
To guarantee a good spot in the theater, make sure you purchase your tickets in advance on their website; they do still sell tickets at the door in case you're making a spontaneous trip!
One Love Brewery
After a day full of action and exploring, make sure you stop by One Love Brewery (25 South Mountain Dr) for a taste of their handcrafted beer and food.
Weekly trivia events, live music, and fresh menu options make this brewery one of the best places to eat and drink in Lincoln, NH.
Try drafts like the Pink Boots Hazy IPA paired with the Ale Caesar Salad, featuring house-made pretzel croutons and dressing.
You'll love the spacious barroom and super friendly staff, or you can order online for takeout!
Lincoln Village Shops
If you can't help but check out the best shops whenever you're on vacation, head on over to the Lincoln Village Shops (25 South Mountain Dr) in downtown Lincoln.
Three on the Tree
Three on the Tree is a small, family run boutique which sells unique clothing, quality thrift items, antiques and handmade jewelry.
Shoppers love the earrings and stickers.
Burgeon Outdoor
If you're planning on a serious hiking trip or another kind of adventure in the mountains, Burgeon Outdoor is the one-stop shop for all your locally-manufactured outdoor gear needs.
Plus, the local favorite One Love Brewery is just next door!
One Love Brewery
One Love Brewery is a rustic, dog-friendly brewpub which serves beer and food, including an extensive gluten free menu.
The pub also puts on trivia nights and live music!
One Love Brewery also features in our NH fall foliage road trip itinerary.
Get Cakes at The Moon Bakery and Cafe
The Moon Bakery and Cafe is a 'from scratch' bakery, which sells fresh bread and cakes using locally sourced ingredients whenever possible.
There is also a coffee shop so you can sit in and stuff your face.
Jimmy Seas Pan Pasta
Jimmy Seas is located at Loon Mountain but originated on Martha's Vineyard.
Food such as butternut squash ravioli or Lobster Fra Diablo is served straight from the pan, just as the name suggests.
All main meals are cooked from fresh and are served with salad and bread.
Rainy Day Activities in Lincoln
Balanced Rock Bodyworks
If you spent most of your trip hiking in the White Mountains, your body must be super sore.
Book an appointment at Balanced Rock Bodyworks (33 Brookline Rd) for a relaxing massage or yoga class to feel better!
Get comfortable and enjoy a signature massage, a specialty treatment, or a mini session, all designed to help you relax.
You'll love the way you feel after a massage to help you release stressors, tension, and even some pent up emotion.
Balanced Rock Bodyworks is the best thing to do on a rainy day in Lincoln, NH.
BarnZ's Lincoln Cinema
A classic activity for a rainy day in Lincoln: catch a movie at BarnZ's Lincoln Cinema (10 Paper Mill Dr).
This small theater is cozy, with only four screens showing the latest popular films.
Each film plays in Sony 4k digital picture and sound for the ultimate viewing experience.
You'll be sure to watch something everyone will love at BarnZ's!
Duck out of the rain, grab a snack and some popcorn, and enjoy the latest films.
Fired on the Mountain
Rainy day in the mountains got you down?
There's still plenty to do in Lincoln, like painting pottery at Fired on the Mountain (437 Daniel Webster Highway)!
Pick from one of their 100 pieces, like plates, mugs, and specialty items, gather your paints, and get to work.
Paint your design and let the studio handle the rest.
They'll fire your piece, and even ship it to you if you're only passing through!
If pottery isn't your style, they have tons of other art classes to choose from.
You can also enjoy their amazing cafe, gallery, and gift shop while you're there.
Fired on the Mountain is the perfect creative thing to do in Lincoln, NH.
Things To Do in Lincoln, NH in Winter
Ice Castles
For an absolutely magical and iconic winter experience in Lincoln, NH, you have to visit the Ice Castles (Clark Farm Rd).
From icicle archways to massive rooms and structures, each castle is constructed every year and weighs over 20 million pounds.
The ice castle is built using hundreds of thousands of icicles, which are hand-placed by professional ice artists.
LED lights illuminate the sculptures, thrones, tunnels, slides, and even fountains for the winter-lover to enjoy.
You can also find hot chocolate and snacks to purchase, as well.
Check the site for tickets ahead of time, and reserve your spot for a magical winter activity!
SledVentures Snowmobiles Rentals and Tours
If you're the type of person to avoid the outdoors at all costs during the winter, SledVentures (514 US Route 3) in Lincoln, NH is trying to get you to fall in love with the snowy season.
Bundle up and head out in the weather to participate in a guided snowmobile tour.
Beginners and experts alike will love their journey into the woods with the best snowmobiles and winter gear on the market.
Take a guided tour through the famous Franconia Notch with a small group, totally suited to your experience level.
SledVentures is the best winter adventure in Lincoln, NH.
Loon Mountain Resort
You can't head into the mountains of New Hampshire in winter without visiting a ski resort!
Loon Mountain Resort (60 Loon Mountain Rd) is a top-notch ski and snowboard experience, with almost 400 acres of skiable area and more than 60 trails and glades.
Glide down 2,000 feet across 3 peaks, and then grab breakfast or lunch at the top of Loon peak at the Summit Cafe.
You'll love the incredible views of the White Mountains, with some of the tallest peaks in view.
Loon Mountain Resort is the place to go for your winter mountain adventures in New Hampshire.
Reserve your lift ticket on their website.
New Hampshire Destinations
No more wondering what to do in Lincoln! Which is your favorite attraction? Tell us in the comments.