This article has links to products and services we love, which we may make commission from.

Conveniently located between Tampa and Orlando, you can bet there are plenty of fun things to do in Lakeland and nearby that appeal to visitors of all ages.
You can stay right in the heart of it all to bask in the beauty of the many lakes in the aptly-named city — there are a total of 38 lakes here!
Take note of the swans around Lake Morton and beyond; they are actually descendants of two royal swans sent by Queen Elizabeth II.
If you'd like to dive deeper into history and the arts during your visit, venture into any of the interesting museums and creative spaces for education or live performances.
Enjoy the impressive architecture at Florida Southern College, get delicious local fare directly from vendors, and then you can head beyond Lakeland to some popular nearby spots that are iconic in Central Florida.
You might also like our guides to Tampa, Kissimmee, or Orlando if you're spending more time in Central Florida.
And don't skip our epic Florida bucket list for a true adventure!
Fun Things to Do in Lakeland
Our guide starts in Downtown Lakeland right at the very popular Lake Mirror before working our way outward to a few spots near Lakeland that you just won't want to miss.
Lake Mirror
Get outside and take a peaceful stroll along the scenic promenade of Lake Mirror (121 S Lake Ave), enjoy the lovely views of the lake and its fountains, and visit the iconic swan statue.
This lake is a picturesque spot right in the heart of the city that's perfect for a romantic picnic or a walk around the 2.6-mile loop while enjoying views of the surrounding city.
With plenty of spots to relax as well as colorful gardens and sculptures that add to the overall atmosphere, spending time at Lake Mirror is one of the locals' favorite things to do around Lakeland.
Hollis Garden
Spending an afternoon wandering through this peaceful 1.2-acre botanical garden is one of the very best things to do in Lakeland.
Hollis Garden (702 E Orange St) is located within Lake Mirror Park and is brimming with vibrant flowers, ornamental shrubs, and water features.
Stroll amongst the lush flora on a sunny Floridian day and take a moment to stop and smell the roses – literally!
Polk Museum of Art
Discover a vast range of artwork that spans thousands of years at the Polk Museum of Art (800 E Palmetto St).
Home to over 2,800 permanent art pieces, you can wander through the various galleries filled with paintings, sculptures, artifacts, and multimedia installations from all over the world.
The museum also hosts rotating exhibitions, which is ideal for locals to visit again and again for unique experiences.
With a mission to inspire all who visit, the Polk Museum of Art is the perfect place to come if you're looking to deepen your knowledge and appreciation for all forms of art.
Florida Southern College
If you adore the intricacies of architecture and the history tied to it, make your way to Florida Southern College (111 Lake Hollingsworth Dr).
One of the state's oldest private universities, FSC also boasts the largest collection of Frank Lloyd Wright-designed architecture.
Touring this campus will allow you to marvel at the innovative designs and the harmonious way in which the buildings were integrated with the nature surrounding them.
Guided tours are offered to help visitors deepen their knowledge about the history and significance of each structure, and there's even a Frank Lloyd Wright Visitor Center that has a permanent display of photographs, furniture, and drawings to help us better understand Wright's relationship with the college.
Wright's architecture is certainly one of the most fascinating things to see in Lakeland.
South Lake Morton Historic District
For a dose of history that comes with beautiful scenery, the South Lake Morton Historic District is the perfect place to explore.
Known for its historic homes – many of which were built in the early 1900s – and tree-lined streets, this neighborhood radiates charm and is such an inviting place to take a peaceful stroll.
Take a walk around Lake Morton, which is home to a variety of bird species, including the area's iconic swans.
After enjoying the beautiful architecture and birdwatching, walk to the nearby bistros, bars, and shops to continue your Downtown Lakeland fun.
Polk Theatre
A historic landmark that is dedicated to preserving the arts, the Polk Theatre (121 S Florida Ave) exudes elegance and is a fantastic place to find entertainment in Lakeland.
Built in 1928, the Polk Theatre shows a wide variety of films that range from classics to more recent releases, as well as live performances.
You'll surely be in awe of the stunning architecture and ornate details of the theatre.
Occasional events like special dinner-and-a-movie showings make for a one-of-a-kind experience in this historic building.
The Polk Theatre is a cultural treasure that provides an escape for audiences, preserving the arts and entertainment scene in Lakeland.
Lakeland Food Truck Rally at Munn Park
Every second Thursday of the month, Munn Park (201 E Main St) becomes a culinary extravaganza by filling up with the region's very best food trucks for the public to come and enjoy.
The Lakeland Food Truck Rally always offers a vast range of cuisines, so whatever you're in the mood for, you might find it here!
Try out mouthwatering dishes like gourmet burgers, tacos, barbecue, and decadent desserts while listening to live tunes in the great atmosphere of Munn Park.
The Lakeland Food Truck Rally is a foodie's dream, providing the perfect opportunity to indulge in an assortment of delicious flavors all in one place.
Lakeland Downtown Farmers Curb Market
The Lakeland Downtown Farmers Curb Market (117 N Kentucky Ave) is a vibrant marketplace that takes place every Saturday from September until July.
As one of the best things to do in downtown Lakeland, the market comes alive with local vendors offering fresh produce, artisanal goods, delicious food, art, and even furniture.
Explore the colorful stalls, engage with friendly vendors, sample tasty bites, and find unique crafts and gifts.
The market creates an amazing community-centric atmosphere, making it an ideal destination for foodies and anyone seeking out souvenirs that are locally made.
City Scavenger Hunt
Looking for a fun way to learn more about Lakeland?
Gather a few friends or your family and do this fun scavenger hunt around the city.
All you need is a smartphone and a few hours to seek out specific spots in Lakeland's downtown area for some fun adventures together.
Florida Children's Museum
One of the best Lakeland attractions for families is the Florida Children's Museum (600 Bonnet Springs Blvd).
Located within Bonnet Springs Park, the whole family can have a blast engaging in the many interactive exhibits and educational activities here.
Thoughtfully designed with young learners in mind, some of the exhibits include the Design Park, a 100-foot climbable alligator, and an imaginative watermelon garden.
From science and art to music and culture, the museum helps foster creativity, curiosity, and learning through hands-on play.
The Florida Children's Museum is a perfect place for families to engage in interactive and educational fun.
Bonnet Springs Park
Once a 19th-century railyard, Bonnet Springs Park (400 Bonnet Springs Blvd) offers 168 acres of pure outdoor fun just outside of downtown Lakeland.
The park features a variety of amenities to enjoy, such as walking trails, playgrounds, lawn spaces for picnics and games, a nature center, gardens, a canopy walk, and a butterfly center.
Bonnet Springs also has an ADA-accessible tram that runs continuously through the park every day on limited hours; call ahead to ensure availability during your visit as needed.
There are also paved pathways throughout the park that are stroller and wheelchair friendly.
With its commitment to conservation and community engagement, Bonnet Springs Park provides a lovely outdoor space and a way to connect with nature.
Silver Moon Drive-In Theatre
Drive-in movie theatres might be becoming a thing of the past, but the Silver Moon Drive-In Theatre (4100 New Tampa Way) has been around since 1948 and still offers visitors a nostalgic movie experience under the stars.
There are few things better than being able to relax in the comfort of your car while watching a feature film, or you can bring blankets and chairs for sitting outside during the show.
You'll of course need some movie snacks to enjoy during the film, and Silver Moon's tasty treats from the snack bar such as pizza, hot dogs, popcorn, candy, soft pretzels, and sodas perfectly hit the spot!
If you're searching for entertainment in Lakeland, the Silver Moon Drive-In Theatre is a timeless experience, providing a unique and memorable way to enjoy cinema.
Shopping at Lakeside Village
Browse through a variety of stores, local boutiques, and tasty restaurants at Lakeside Village (1479 Town Center Dr), a premier outdoor shopping complex.
If you're craving some shopping during your time in Lakeland, this is the place you'll find fashionable clothing, trendy accessories, and home goods.
Once you've worked up an appetite, take your pick from any of the several restaurants and cafes that line the open-air complex.
With manicured courtyards and a wide variety of stores including Sunglass Hut, Carter's, Famous Footwear, and Bath and Body Works, Lakeside Village is a one-stop destination for fashion, dining, and entertainment. 
Family Fun Center
Is your family looking for things to do in Lakeland that get the adrenaline pumping?
Look no further than Family Fun Center (4825 S Florida Ave), which is where you can enjoy thrilling activities such as go-karting, arcade games, mini-golf, and laser tag.
For younger children, there's even a soft play area where they'll have a blast jumping, sliding, climbing, and running.
The Family Fun Center has a range of activities that are suitable for all ages, ensuring a day filled with laughter, fun, and unforgettable memories.
Florida Air Museum
The Florida Air Museum (4175 Medulla Rd) is home to a rich collection of vintage aircraft, aviation artifacts, and educational exhibits.
Learn about the history and evolution of flight through interactive displays, including one that talks about the first scheduled commercial flight which occurred between St. Petersburg and Tampa, Florida!
The beautifully restored planes and historical accounts regarding the world's pioneers of aviation make the Florida Air Museum one of the most impressive Lakeland attractions.
The Florida Air Museum provides guests with an immersive experience that celebrates the past, present, and promising future of flight.
Blueberry Picking at Shady Oak Farms
At Shady Oak Farms (3320 E Shady Oak Dr), you can enjoy the delightful experience of picking your very own seasonal berries.
Open during April and May, guests are able to stroll through the thriving fields and handpick their own fresh blueberries.
There's also a farm store on the property (open in April and May) that has a variety of goods like jams, ice cream, cold beverages, and syrup.
If you're visiting during the spring months, berry picking at Shady Oak Farms offers an engaging, fun, and rewarding activity for the whole family that is sure to create lasting memories.
Lake Parker Park
Lakeland as a whole clearly has an impressive array of outdoor recreation activities, and Lake Parker Park (910 E Grenada St) is definitely one of the places you'll be able to enjoy all of your favorite games and pastimes.
This scenic park offers panoramic views of Lake Parker, the largest lake in Lakeland, as you take a leisurely walk or bike ride along the paved trails that are encircled by beautiful trees.
Engage in fun activities such as fishing, boating, picnicking, soccer, pickleball, shuffleboard, tennis, and volleyball.
The park also features playgrounds for little ones and opportunities to spot native wildlife species as you stroll the various trails.
Lake Parker Park is an exceptional destination for those looking to bask in the undeniable natural beauty of Lakeland.
Publix Field at Joker Marchant Stadium
Catch a baseball game at Joker Marchant Stadium (2301 Lakeland Hills Blvd), the spring training home of the Detroit Tigers since 1966.
With spring and summer being popular times to visit the Sunshine State, it's also the perfect time to catch a spring training or minor league game if you love baseball.
The Flying Tigers is Lakeland's Minor League team, with games generally scheduled from June until early September.
Enjoy the lively atmosphere, indulge in classic ballpark treats, and soak up the Floridian sunshine while enjoying America's favorite pastime at Joker Marchant Stadium.
Big Cypress Golf Club
Florida is one of the golfing capitals of the world, so a round at the scenic course known as Big Cypress Golf Club (10000 US Hwy 98 N) is a wonderful Lakeland activity if you're a fan of the sport.
With its meticulously maintained fairways and greens, enjoy a premier golfing experience amidst utterly gorgeous surroundings.
Test your skills on the two well-designed 18-hole courses here, which feature strategically placed bunkers and water hazards.
Big Cypress Golf Club is a haven for avid and amateur golfers alike, providing a challenging and enjoyable outing in a picturesque setting.
Colt Creek State Park
A trip to Colt Creek State Park (16000 State Rte 471) on a lovely, sunny Florida day is a surefire way to enjoy some peace and quiet, observe fascinating wildlife, and walk or ride on the 15 miles of multi-use trails available in this 5,000-acre park.
Scenic hiking, biking, and horseback riding trails allow you to experience the park in all its glory.
Common species here include bald eagles, alligators, white-tailed deer, otters, and tortoises.
You can even spend a day fishing in the freshwater lake; an accessible dock is available or you can stay on the shore.
There are on-site pavilions for rent and restrooms available nearby for convenience, as well.
Colt Creek State Park allows visitors to reconnect with the natural world and find tranquility while enjoying their favorite pastimes.
You might also want to check out all the other awesome state parks in Florida.
Fantasy of Flight
View even more incredible vintage aircraft and dive deeper into aviation history at this unique museum that's just 25 minutes outside of Lakeland.
Fantasy of Flight (1400 SE Broadway Blvd, Polk City) is an extraordinary attraction near Lakeland that's fun for everyone, whether you're an aviation enthusiast or not – and if you're not, we're willing to bet that you'll leave as one!
This immersive museum allows guests to experience interactive exhibits, flight simulators, and informative displays.
Fantasy of Flight displays aircraft from WWI, WWII, the Korean War, and even the very first aircraft that ever took flight.
Take a fascinating journey through history at this museum and appreciate the wonders of flight and the imagination of aviation pioneers.
Circle B Bar Reserve
There's no doubt that hiking and wildlife observation is one of the top Lakeland activities to engage in.
Circle B Bar Reserve (4399 Winter Lake Rd) is a 1,267-acre nature reserve that boasts numerous ecosystems and is home to many wildlife species such as alligators, red-shouldered hawks, bald eagles, great blue herons, and striped mud turtles.
Visitors can hike along the reserve's series of nature trails, engage in nature photography, enjoy a scenic picnic, and birdwatch.
Circle B Bar Reserve is a peaceful retreat where visitors have the opportunity to connect with the natural world and experience the utter peace only it can provide.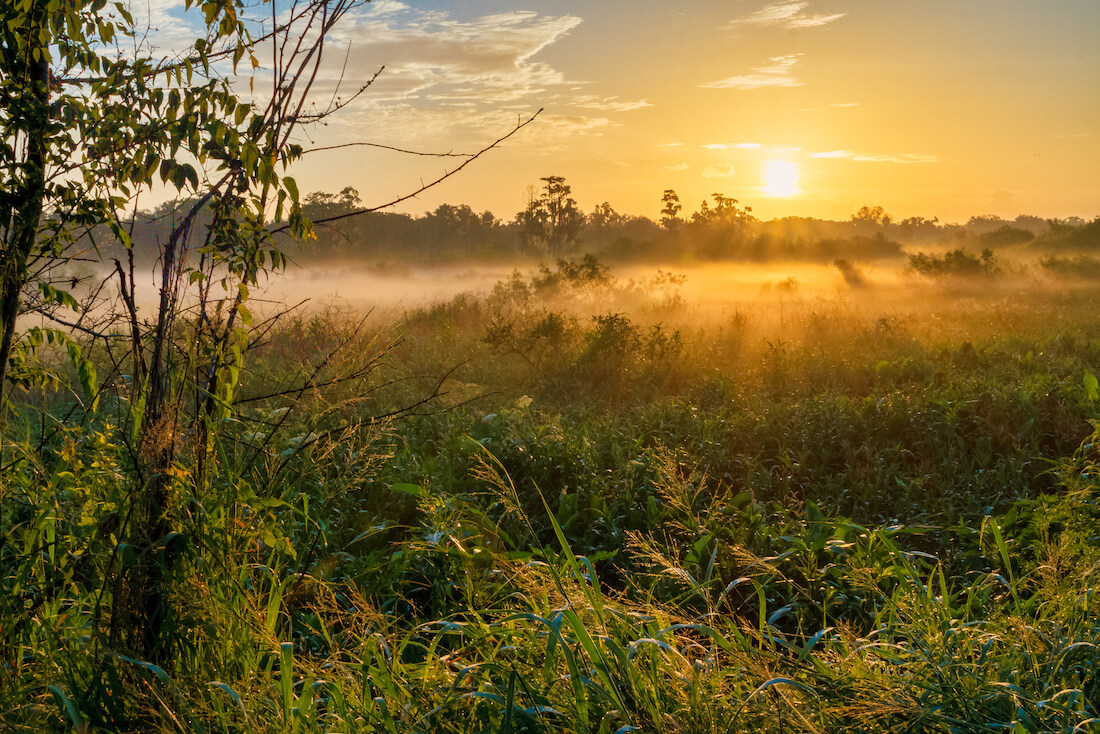 LEGOLAND
Packed with thrills and adventure, LEGOLAND (1 Legoland Way, Winter Haven) is a whimsical theme park 25 minutes outside of Lakeland that brings the world of Lego to life. 
As one of the best things to do near Lakeland, the many rides, shows, and play areas designed for children and families make for a top-notch day that's full of fun.
Have a blast building, playing, and creating with Legos throughout the park, and enjoy rollercoasters, water rides, and 4D show experiences.
With claims of being Florida's most fun, least stressful theme park, LEGOLAND is a place that sparks creativity and imagination and provides endless fun for Lego enthusiasts of all ages.
Skip the line by getting your tickets in advance here.
Final Words
Did this guide help you figure out all the things to do in Lakeland FL? We hope so!
Share your favorite activities and attractions in the comments below.
Our Tampa Bay Area Guides
Our Orlando Travel Guides