This article has links to products and services we love, which we may make commission from.

Right in the heart of the Sunshine State but often overlooked as just a base for the theme parks, there are tons of fun things to do in Kissimmee, Florida.
Stay for the convenience of getting into Disney, Universal, and the rest, but don't skip out on Kissimmee's charm.
The world-renowned theme parks capture the essence of childhood wonder, while serene natural landscapes invite relaxation…there is something for every kind of traveler!
In this guide, we present a curated list of must-try activities and hidden gems that will inspire you to get out and explore more.
Whether you're traveling with family or friends, or you're seeking a solo retreat, our suggestions are designed to help you make the most of your time in the area.
Get ready to create memories that will last a lifetime as we delve into the wide variety of Kissimmee attractions and activities.
While you're planning, you might also like our guides to the best things to do in Orlando and on iDrive.
Traveling as a couple? Don't skip these romantic things to do in Orlando.
Fun Things to Do in Kissimmee
Our guide starts right on Lake Toho, which is a huge attraction in Kissimmee.
From there, we work our way out towards the nearby areas of Orlando, Lake Buena Vista, Bay Lake, and beyond.
While it might be best known for being a popular base to experience all the parks, there are so many other things to do in Kissimmee other than Disney.
Check it all out and go have some fun!
Take a look at our Orlando bucket list for tons more suggestions for the area.
Kissimmee Lakefront Park
Kissimmee Lakefront Park (201 Lakeview Dr) is a picturesque waterfront destination that offers visitors unmatched views of Lake Tohopekaliga.
As one of the most beautiful places to visit in Kissimmee, this park allows you to escape from Orlando's crowds and relish in some peace and quiet.
Take a leisurely stroll near the water on the paved pathways, enjoy a family picnic on the grassy lawns, cast a line from the fishing pier, or let the kids burn off some energy on the playground or splash pad.
Be sure to stop and see the charming lighthouse on the water's edge.
If you plan on hanging out here for a while and want to ensure some shade, there are also picnic pavilions available for rent.
Kissimmee Lakefront Park is a favorite spot among locals and visitors alike, so don't miss out on a trip here to bask in the area's natural beauty the next time you're in town.
Monument of States
The Monument of States (300 E Monument Ave) is a symbol of unity that was erected in 1943 after the attack on Pearl Harbor.
The monument stands 50 feet tall and was created with contributions from all of the U.S. states as well as several countries.
This monument is worth a stop to take a look at the impressive tapestry of rocks from around the country and their various inscriptions.
This Kissimmee attraction commemorates the strength of America and makes for an intriguing stop when exploring the region!
Lake Tohopekaliga
Located in historic downtown Kissimmee, Lake Tohopekaliga (69 Lakeview Dr), also recognized as Lake Toho, is a breathtaking natural area where visitors can enjoy all kinds of recreational activities.
Lake Tohopekaliga is part of the headwaters of the Everglades, and with its abundant population of bass, this vast lake is a popular spot for fishing.
Enjoy a day out on the water making memories together with this private fishing charter on Lake Toho.
Boating and kayaking are also favored pastimes, but if you want to stay on dry land, there's plenty of lovely shoreline to explore, as well.
You have a good chance of seeing great blue herons, turtles, alligators, largemouth bass, ospreys, and otters here.
With its picturesque beauty and fun outdoor activities, the 18,810 acres of Lake Tohopekaliga provide an utterly peaceful escape.
Orlando Airboat Tours
If you're looking for a way to immerse yourself in nature while getting some thrills in, then hop onto an awesome airboat tour!
Undoubtedly one of the best things to do in Kissimmee beyond the parks, you'll enjoy a unique and exhilarating way to experience Florida's ecosystems.
Glide through the beautiful wetlands that are home to alligators, turtles, otters, and a wide variety of bird species, all with knowledgeable guides who can help you spot and learn about local wildlife.
An authentic and adventurous way to enjoy nature, an airboat tour is an exciting way to take in Florida's stunning landscape!
Book your tour on Viator or GetYourGuide.
Ice Factory of Central Florida
Who says there's no way to enjoy ice sports and games in Florida?
The Ice Factory of Central Florida (2221 Partin Settlement Rd) is an ice sports complex that boasts a full-sized NHL ice rink for hockey, figure skating, curling, and public skating sessions.
Whether you're a beginner or have been skating for years, the Ice Factory offers programs and classes that cater to all skill levels.
If you're more keen on watching, you can observe exciting hockey games and figure skating.
With its range of activities, the Ice Factory is a great place to go in Kissimmee and provides a cool experience for ice sports enthusiasts of all ages.
Osceola Arts
Come celebrate the art and culture at Osceola Arts (2411 E Irlo Bronson Memorial Hwy), a hub for remarkable live performances and art exhibits.
This dynamic center has been doing the important job of supporting the arts since 1960 and hosts a variety of artistic performances, including theater productions, concerts, and dance recitals.
Osceola Arts is also highly accessible, with designated wheelchair seats, shows that have sign language interpreters and listening devices, and a transport chair that can be lent to any guest that may need it.
With its commitment to fostering creativity and getting the community involved, Osceola Arts has established a wonderful platform for artistic expression and is one of the best spots for entertainment in Kissimmee.
The Loop Kissimmee
In addition to its world-class theme parks and attractions, Orlando also happens to be a premier shopping destination.
The Loop (3208 John Young Pkwy) is an outdoor mall that has a variety of retail shops, restaurants, and entertainment options.
Some of the shops include Ross, Aéropostale, Michaels, Old Navy, Yankee Candle, and Bed Bath & Beyond.
You can also catch a movie at the Regal Cinema and then follow it up with a tasty meal at any of the sit-down or quick-service restaurants that line the shopping center.
The Loop is a great place to visit in Kissimmee and unwind with some retail therapy if you're tired out from your time at the parks!
Osceola County Welcome Center and History Museum
Journey into the region's rich past at the Osceola County Welcome Center and History Museum (4155 W Vine St).
This welcome center is a great place to start your Central Florida vacation.
Kids, in particular, absolutely love the realistic dioramas, interactive exhibits, scavenger hunts, artifacts, and multimedia presentations.
You'll have the opportunity to learn about Florida's Native American heritage, pioneer settlements, and the eventual development of Osceola County.
Once you leave, you'll have a brand-new perspective of the region, and you can apply your newfound knowledge as you set out to explore.
Pioneer Village at Shingle Creek
Step back in time at Pioneer Village at Shingle Creek (2491 Babb Rd), a living history museum that showcases how life was as a pioneer in Florida.
This incredible Kissimmee attraction allows guests to roam through historic structures and see fascinating blacksmithing, pottery, and cane-grinding demonstrations.
Embark on a self-guided tour or a guided tour on Saturdays and immerse yourself in Florida's carefully preserved past at Pioneer Village at Shingle Creek.
Shingle Creek Regional Park
Shingle Creek Regional Park (925 S Bass Rd) is a natural sanctuary where visitors can partake in all of their favorite outdoor pastimes like kayaking, wildlife observing, hiking, biking, and picnicking.
Explore the park's miles of lush trails, including the 32-mile Shingle Creek Trail, a multi-use trail that takes you along the waterway and allows you to marvel at the diverse flora and fauna.
You can expect to see turtles, egrets, great blue herons, otters, white-tailed deer, and alligators throughout the park.
Book this kayaking tour to experience this beautiful space while learning about local wildlife and the environment.
Central Florida has a natural landscape like no other, and Shingle Creek Regional Park is undeniably one of the very best places to come and experience it in all of its glory.
Private Photo Session
Whether you're on your honeymoon or taking a family vacation while the kids are still young, capture these fleeting, precious moments with a professional photo shoot.
Take home some beautiful memories with this private photo session right in Kissimmee.
Perfect for couples, families, or solo travelers who are tired of too-close selfies!
Museum of Military History
The Museum of Military History (5210 W Irlo Bronson Memorial Hwy) dives into the storied past of the United States Armed Forces and honors the brave individuals who have served their country.
The museum covers hundreds of years of American history, from the Revolutionary War and the Civil War to World War II and the Gulf War.
History buffs will love the exhibits that showcase authentic artifacts and memorabilia like uniforms, weapons, letters, photos, and even vehicles.
A place to come reflect, learn, and pay respect to those who have fought for our country's freedom, there's a good chance you'll leave the Museum of Military History with a deeper appreciation for this land and those who have served it.
Skip the line by getting your tickets in advance.
Old Town
Are you feeling nostalgic for simpler times and the colorful carnivals that used to happen back then?
If so, Old Town (5770 W Irlo Bronson Memorial Hwy) is just the place for you.
You'll come across one-of-a-kind shops, eateries, and classic carnival rides as you stroll the cobblestone streets of Old Town in Kissimmee.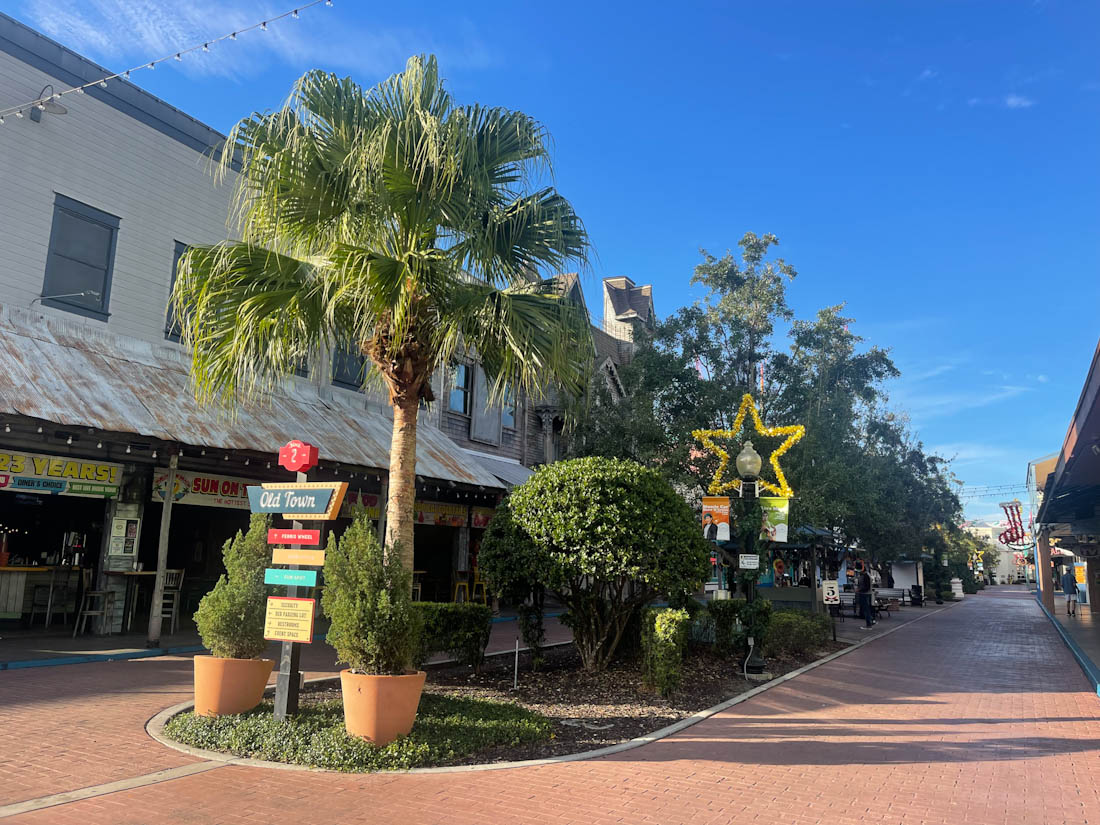 Old Town was inspired by an actual historic Florida town and even hosts regular events like classic car shows and live music.
This charming Kissimmee attraction is fun for the whole family and is a wonderful way to get some thrills in without going to Disney!
Book your adventure in advance and enjoy everything from the ferris wheel to dining and activities when you present your voucher.
Orlando Tree Trek Adventure Park
Climb, zip line, leap, and swing your heart out in the treetops at Orlando Tree Trek Adventure Park (7625 Sinclair Rd).
Nestled in a dense pine forest, this treetop adventure park features aerial obstacles, a 425-foot zip line, and challenging ropes courses that are suitable for varying skill levels.
With professional guides and safety equipment, visitors can enjoy a safe experience that's still extremely thrilling while in lovely natural surroundings.
Orlando Tree Trek Adventure Park is sure to provide an unforgettable and adrenaline-pumping time for thrill-seekers of all ages.
Island Grove Wine Company at Formosa Gardens
Florida does indeed have wineries scattered throughout it, and Island Grove Wine Company at Formosa Gardens (3011 Formosa Gardens Blvd) fits the bill just right for beer and wine enthusiasts.
Try out a variety of handcrafted beers, wines made from local fruit, and small plates to satisfy your hunger.
Some of the wine options include blackberry, blueberry, raspberry, strawberry, and of course, grape.
Come during sunset and take a leisurely stroll through the vineyards and learn about the winemaking process.
With a picturesque backdrop and flavorful menu, Formosa Winery provides a memorable wine experience right here in Central Florida.
Fun Spot America
For kids of all ages — and kids at heart — a visit to Fun Spot is a classic way to enjoy vacation!
Head to Fun Spot in Kissimmee (2850 Florida Plaza Blvd) to play games, ride some awesome rollercoasters, and generally just let your cares slip away while you laugh and play like a kid again.
Skip the line by getting your tickets in advance; note this does not include the arcade or food and drink, just the rides.
Disney Springs
For a supreme shopping, dining, and entertainment experience that's arguably one of the best things to do in Kissimmee, head on over to Disney Springs (1486 Buena Vista Dr, Lake Buena Vista).
Here you can explore an impressive mix of stores, including Anthropologie, Coach, Fabletics, Levi's, and Sephora as well as Disney-centered stores like Disney's Pin Traders, DisneyStyle, and Once Upon a Toy.
With restaurants that can satisfy your cravings for barbeque, pizza, tacos, and seafood, be sure to bring your appetite!
House of Blues, Cirque Du Soleil, and AMC Theatres are also located here, so there are certainly plenty of ways to stay entertained, especially on hot summer days.
Disney Springs is free to enter, so you can even just come and walk around and enjoy its lively atmosphere and magical charm.
EPCOT
A wonderful amusement park in the Walt Disney World complex is none other than EPCOT (200 Epcot Center Drive, Bay Lake), a destination that will bring you on a journey around the world.
Explore the 11 different countries and their cultures and indulge in all the delicious cuisines and beverages.
Travel through time on the ride Spaceship Earth, get your adrenaline pumping on Test Track, and glide through the skies on the flight simulator Soarin' Around the World.
EPCOT is also known for its iconic festivals such as the International Food and Wine Festival and the Flower and Garden Festival in the spring.
For the perfect blend of culture, education, entertainment, thrills, and delicious eats, EPCOT is the place to be!
Magic Kingdom
It's hardly a trip to Kissimmee without stopping to say hi to everyone's favorite mouse at Magic Kingdom (1180 Seven Seas Dr, Bay Lake) in the heart of the Walt Disney World Resort.
Experience iconic attractions such as Cinderella Castle and Space Mountain as well as newer ones like the Slinky Dog Dash and the Seven Dwarfs Mine Train.
Meet beloved Disney characters, watch the enchanting parades, indulge in classic treats like Mickey ice cream, and end your day with a mesmerizing firework show.
As one of the best things to do in Kissimmee, Florida, Magic Kingdom is fun for the whole family and is the place to make unforgettable memories when visiting Central Florida.
Tibet-Butler Preserve
Meander on the 3.6 miles of trails and bask in the serenity of Florida's natural environment at Tibet-Butler Preserve (8777 Winter Garden Vineland Rd, Orlando).
Located on the shores of Lake Butler and just around the corner from Disney, this nature preserve offers a serene escape from the hustle and bustle of Kissimmee's popular attractions.
Take a peaceful hike and observe wildlife species like red-shouldered hawks, barred owls, and gopher tortoises.
Be sure to stop at the educational visitor's center either before or after experiencing the unbelievable beauty at Tibet-Butler Preserve.
Chocolate Kingdom
Satisfy your sweet tooth and bring your Willy Wonka dreams to life at Chocolate Kingdom (9901 Hawaiian Ct, Orlando).
Embark on a guided tour through the factory and learn all about the history and process of making chocolate, from bean to bar.
A visit to a literal chocolate factory would never be complete without samples!
Try all your favorite types of chocolate and even create your own personalized chocolate bar.
Just 30 minutes outside of Kissimmee, Chocolate Kingdom is easily one of the best and most unique things to do around Kissimmee that the whole family will love.
WonderWorks
When you see a building that has seemingly been tossed through a tornado and turned upside down, you've found WonderWorks (9067 International Dr, Orlando)!
WonderWorks is a unique indoor amusement park that features over 100 interactive exhibits that are designed to inspire and entertain.
Engage in mind-bending challenges and hands-on activities like laser tag, the Space Discovery Zone, and the Light and Sound Zone.
A perfect place for those extra sunny days when you feel the need to hide inside, people of all ages can have a blast exploring the wonders of science, space, and our natural world.
Get your entry tickets in advance to avoid the lines.
ICON Park
ICON Park (8375 International Dr, Orlando) is a place to come eat, drink, and get some extraordinary thrills in.
The main attraction at ICON Park is The Wheel, a 400-foot observation wheel that awards guests with breathtaking views of the surrounding landscape.
Book your tickets in advance to skip the line.
There is also a Museum of Illusions, Madame Tussauds Orlando, a state-of-the-art arcade, and a number of restaurants like Yard House, Tin Roof, and Sugar Factory.
With its festive atmosphere and abundance of activities, ICON Park is fun for the whole family.
Get our tips for visiting Orlando on a budget to maximize your time and money.
Universal Orlando Resort
With two extraordinary amusement parks and a waterpark to cool off at, a trip to Universal Orlando Resort (6000 Universal Blvd, Orlando) is an exceptional thing to do near Kissimmee.
Universal Studios Florida and Islands of Adventure are the two main theme parks where you'll find rides like the Incredible Hulk, Hagrid's Motorbike Adventure, Revenge of the Mummy, and the E.T. Adventure.
Grab your wand and explore the Wizarding World of Harry Potter or take the plunge at Volcano Bay, Universal's premier water park.
With a variety of dining options, stores to grab souvenirs at, and on-site hotels, Universal Orlando Resort is a fantastic and magic-filled destination for the whole family.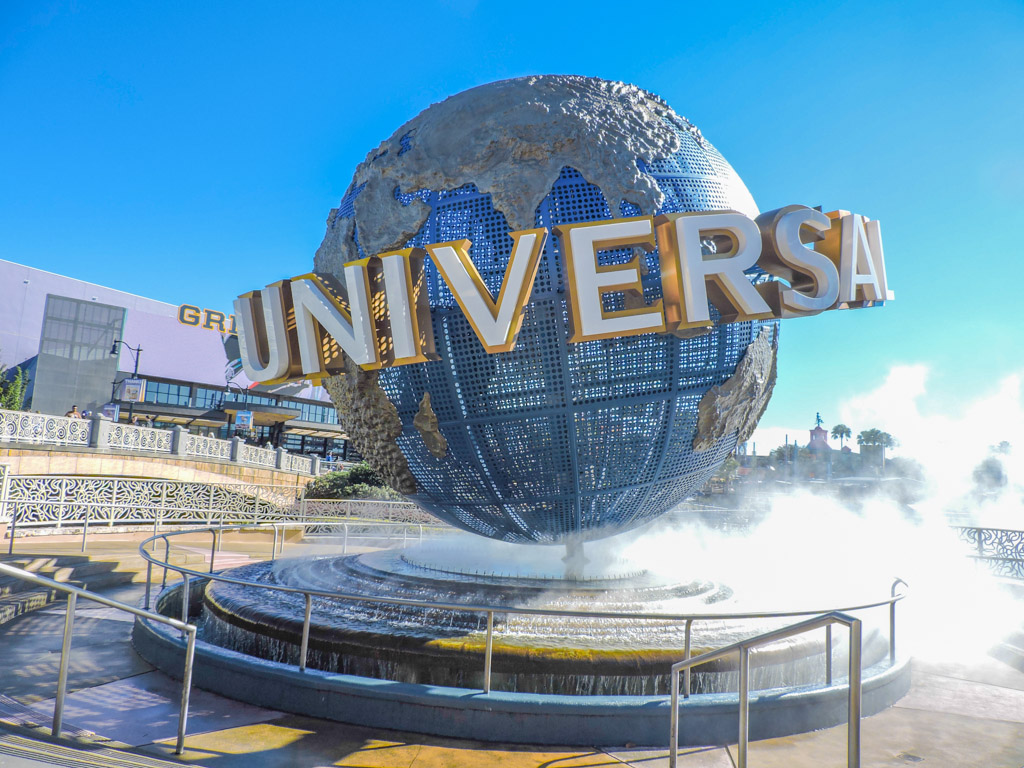 Kennedy Space Center
Take this day trip to Kennedy Space Center from Kissimmee to experience something out-of-this-world awesome!
KSC is an epic opportunity to get up close and personal with all things NASA, from standing beside space shuttles to chatting with real-life astronauts.
It's a memorable day out for visitors of all ages!
Check out our dedicated guide for more Kennedy Space Center tour information.
Final Words
Did this help you plan all your things to do in Kissimmee? We hope so!
Share your favorites in the comments below.
Our Orlando Travel Guides