This article has links to products and services we love, which we may make commission from.

Looking for fun things to do in Kennebunk, Maine? While the quaint town itself is not right on the water, you'll want to spend time on Main Street exploring the locally-owned spots and historic places.
If you want a little more outdoor adventure, Kennebunk does actually stretch to the coastline so you can enjoy this beautiful part of the iconic Maine Beaches region.
Our guide shares all the top things to do to make your planning easy!
You might also like our guide to Kennebunkport things to do, which is just next door and often bundled together with Kennebunk.
Kennebunk also features in our guide to the top places to visit in Maine, as well as being one of the most beautiful towns in Maine you won't want to miss.
Things to Do in Kennebunk, Maine
Our guide to Kennebunk attractions and activities starts on Main Street and goes outward from there.
Kennebunk covers a large area, but the actual town itself is quite small and walkable.
You can enjoy all the popular places to see in Kennebunk on foot and then hop into your car to check out the outdoor spaces we love and recommend.
Boulangerie: A Proper Bakery
Before you start checking all these things to do in Kennebunk off your list, you should stop at Boulangerie: A Proper Bakery (5 Nasons Ct) for a coffee and pastry break first.
This bakery sells artisanal sourdough, croissants, and other pastries, as well as delicious coffee and tea.
You can even order a beer or wine to go with your baguette if you got a late start!
Kennebunk Toy Company
If you're trying to think of things to see in Kennebunk with your kids, take them to Kennebunk Toy Co. (14 Main St).
This locally owned and operated toy store offers a variety of toys, games, books, and puzzles for every child.
Travelers will appreciate their under-$20 section, a delightfully-curated section with smaller, fun toys and trinkets that make for perfect souvenirs!
Duffy's Tavern & Grill
Many of the best Kennebunk activities revolve around good food, and Duffy's Tavern and Grill (4 Main St) is the perfect spot for a delicious comfort meal.
Select from any of their well-loved classics, including Fish & Chips, Turkey Dinner, and a stuffed Lobster Roll!
Pair it with a beer or a creative cocktail, and you'll want to come back every time you visit Kennebunk.
Historic Wallingford Farm
Visit the Historic Wallingford Farm (21 York St) for interesting local history.
On the National Register of Historic Places, Wallingford Farm was built in 1804 and operates as a garden center, farm store, and scenic grounds for exploration.
Learn about the deep history of the farm, check out the shops, or stop by for a special event.
Squaretoes Restaurant
One of our favorite recommendations is to stop for a big breakfast before you start your day out in Kennebunk!
If that pastry and coffee from Boulangerie wasn't enough, stock up on a classic hot breakfast at Squaretoes Restaurant (30 York St).
Squaretoes serves breakfast all day, and their menu is stacked with awesome options like Tom's Coconut French Toast, Lobster Eggs Benedict, and Homemade Corned Beef Hash.
Kennebunk Free Library
While it might not seem obvious, one of the best free things to do in Kennebunk is to check out the incredible Kennebunk Free Library (112 Main St).
The library hosts free events almost every day, running the gamut from crafting to science, book groups to improv, writing festivals, and more.
We like to recommend supporting local libraries wherever you may visit, especially if they have a local history section where you can learn a bit more about small-town life!
The Brick Store Museum
Looking for something unique to do in Kennebunk?
Head to the iconic Brick Store Museum (117 Main St), a community-focused museum that uplifts the history, art, and culture of the Kennebunk region.
Boasting more than 70,000 artworks and artifacts, the museum curates rotating exhibits and offers programs and tours for locals and visitors alike.
Sebago Brewing Company
Summertime activities in Kennebunk probably involve fresh, cold beer, which is why you should stop by Sebago Brewing Company (65 Portland Rd) to try an innovative brew or a local staple.
The brewery sources its water from the beautiful Lake Sebago, and the mineral components in the lake create a perfect flavor for a delicious beer!
Sample their best brews and order a pub-inspired meal, all while relaxing under their covered patio.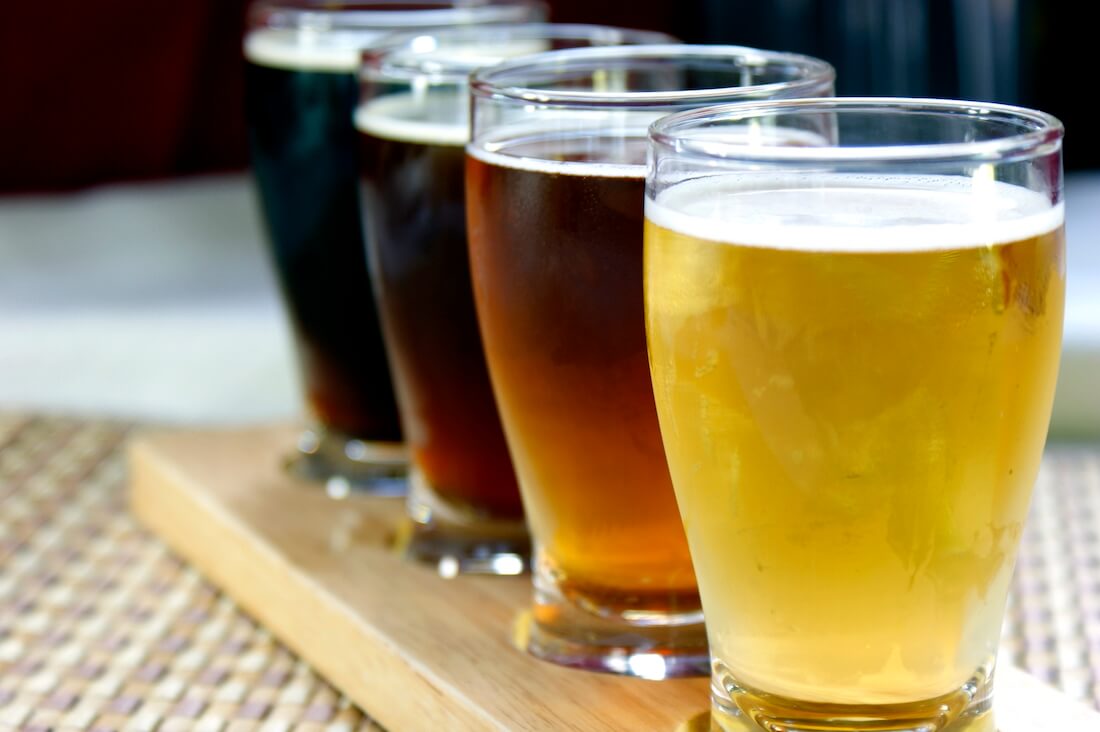 Wonder Brook Preserve
Head to the beautiful Wonder Brook Preserve (Plummer Lane), an 80-acre natural area just half a mile away from downtown Kennebunk.
Hike through 2.5 miles of trails in the woods and meadows, spot migratory birds, and enjoy views of the stunning Kennebunk River in this wonderful nature preserve.
Old House Parts Company
One of the quirkiest things to do around Kennebunk, ME is to poke around the unique Old House Parts Company (1 Trackside Dr), a shop filled with architectural salvage dating back to 1730.
This museum-like warehouse is filled with incredible pieces, from stained glass and antique doors to fixtures and cabinetry.
Whether you're looking to remodel or simply step into an interior design time capsule, Old House Parts Co is a perfect place for some shopping in Kennebunk, Maine.
Wedding Cake House
Of all the attractions in Kennebunk, the Wedding Cake House (104 Summer St) might just be the most spectacular.
Dubbed the "most photographed house in the state of Maine," the Wedding Cake House is paired with an incredible love story about a sailor and his bride.
Visit the home that symbolizes love and commitment — and don't forget to take a photo!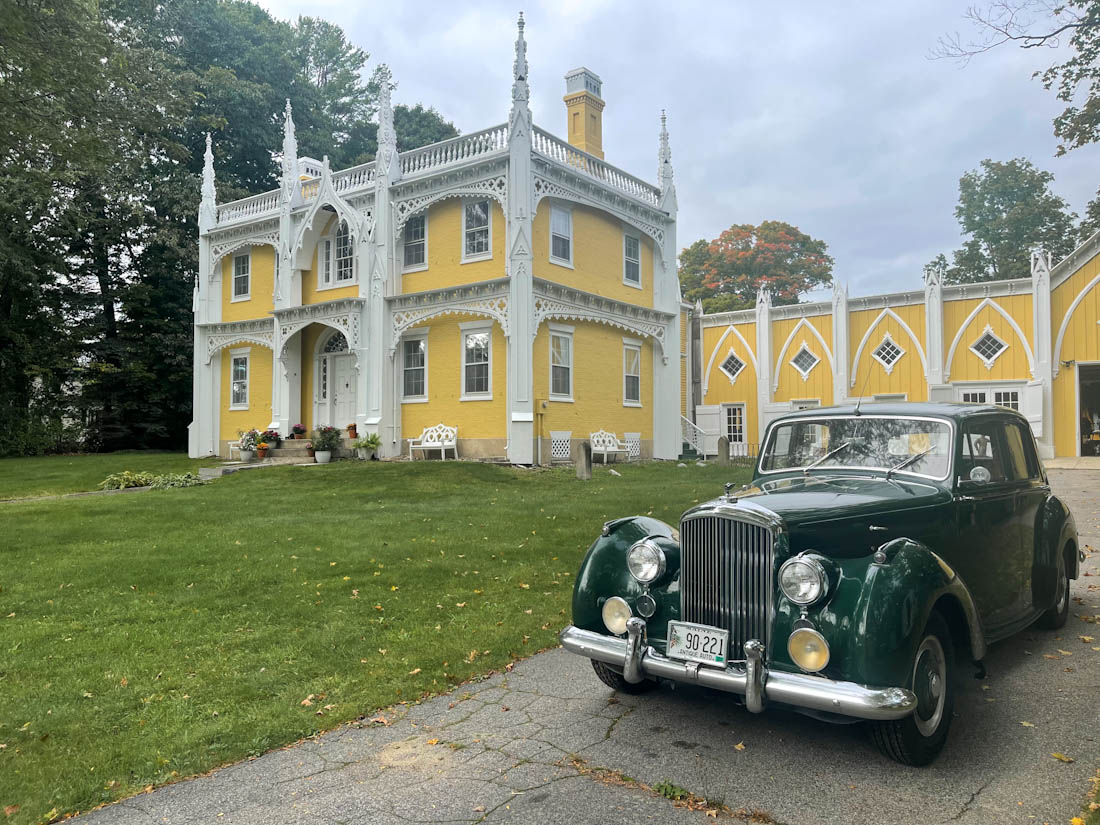 H.B. Provisions
You can't check out all the things to do around Kennebunk without stopping first at H.B. Provisions (15 Western Ave), a general store, deli, and unique gift shop all rolled into one.
From local craft products to delicious sandwiches, you'll love wandering the aisles of this iconic general store.
Step back in time with this classic community center vibe in a historic setting — the building dates back to 1865!
Maine Art Hill
Maine Art Hill (14 Western Ave) is a series of fine art galleries that features works from dozens of artists from across the region, all with a strong connection to Maine.
One of the most well-known galleries and art collectives in the region, you can explore one or all of the shows that are up at any one time across multiple locations.
Deborah Randall Fine Art
Another cool art experience is Deborah Randall Fine Art (8 Western Ave), an art studio and gallery featuring works by the artist herself.
It's located just a stone's throw from Dock Square in Kennebunkport but still on the Kennebunk side of the water.
The gallery is filled with landscape, abstract, and figurative paintings, all with a unique approach to light and color.
Be sure to stop by and admire the works if you're trying to think of what to do in Kennebunk, ME.
The White Barn
If you're a serious food enthusiast, one of the can't-miss places in Kennebunk is The White Barn (37 Beach Ave), Maine's only five-star restaurant.
Located at the luxury Auberge Resort, you will be totally stunned by the presentation and flavors of each bite.
Be sure to follow the smart casual dress code so you can enjoy the rustic elegance of this restaurant.
St. Anthony's Monastery
St. Anthony's Franciscan Monastery Estate (28 Beach Ave) is open to the public every day from sunrise to sunset, and it is one of the most beautiful places to go in Kennebunk.
Explore the grounds via the paved walking paths, the gardens, the wooded areas, and the beautiful outdoor chapels.
Enjoy views of the river, check out the gift shop, or take a walking tour of the Shrines.
Snug Harbor Farm
Snug Harbor Farm (87 Western Ave) is an experimental farm dedicated to growing rare plants and creating landscape designs specific to the New England region.
Check out any of the five themed greenhouses, explore the shop, or chat with the team about any questions you have about New England's plants.
Gooch's Beach
Gooch's Beach (Beach Ave and Crescent Ave) is one of three public beaches in Kennebunk and is the closest to downtown.
This beach features soft sand, nice waves, and beautiful sunrises.
Parking permits are required at this beach; they're available at kiosks and at Town Hall.
Mother's Beach
Mother's Beach (Beach Ave and Boothby Rd) is the only beach in Kennebunk that is ADA-accessible.
You can rent a beach wheelchair from the Parks and Recreation Department and utilize the wheelchair-accessible mat which connects the parking area to the beach.
A parking pass is required during the summer months, but they are available at nearby kiosks.
Webhannet Golf Club
If you love golf, you should check out the Webhannet Golf Club (26 Golf Club Dr), an 18-hole par 71 course.
While this club is semi-private, they do have several public tee times per week.
Webhannet contains three of the most difficult par-3 holes in the state; see if you're up to the challenge!
Parsons Beach
Parsons Beach (Parsons Beach Rd) is a local secret in Kennebunk, thanks to its small crowds and quiet atmosphere.
The sand is soft and the beach is especially beautiful at low tide!
Parking can be very challenging at this beach, so make sure you come early to find a good spot.
Rachel Carson National Wildlife Refuge
While the Rachel Carson National Wildlife Refuge's (321 Port Rd, Wells) entrance is located in the town of Wells, much of the refuge is in Kennebunk.
Get outside and explore nature in this beautiful wildlife refuge.
From beaches and rocky coastlines to forests and protected habitats, the wildlife refuge is a perfect spot to escape the bustle of town and find quiet and solitude in nature.
Final Words
Are you ready to start checking all these fun things to do in Kennebunk off your list? We hope this guide helped you plan some fun days out.
Share your favorite local spots in the comments below!
Maine Destinations