This article has links to products and services we love, which we may make commission from.

In less than an hour's drive or about an hour's train ride north of Boston, you'll find tons of fun things to do in Gloucester, Massachusetts.
Known as America's oldest seaport, Gloucester remains a prominent fishing industry hub today. It's also gained popularity as the film location for the likes of The Perfect Storm and the 2022 Oscar-winner for Best Picture: CODA.
Gloucester is idyllic in the summer, with locals and visitors alike flocking to the lovely beaches and enjoying the classic coastal community vibes.
Get yourself some delicious fresh seafood, support local small businesses, and enjoy this beautiful part of Cape Ann, dubbed "le Beau port" by the first European to map the area (Samuel de Champlain).
While you're here, learn the local history: the Agawam people lived on this land for thousands of years until a permanent fishing outpost was established by European colonists in 1623, from which the Massachusetts Bay Colony eventually arose.
You also might want to explore more of the North Shore of Massachusetts during the summer months especially!
And you may like our guides specifically for Salem things to do and accommodations if you're spending more time in the area.
Top Things to Do in Gloucester
From downtown Gloucester outward, these are some of our favorite things to do in the area all year round.
Gloucester is predominantly a summertime destination, but you can enjoy the quiet off-season with many of these recommendations, too.
Stones Pub & Eatery
In the true seafarer tradition of Gloucester, Mass, the best things to do involve the ocean, seafood, and good bars and drinks!
Stones Pub & Eatery (242 Main St) is known for being among the best bars in town — and for good reason.
Classic American fare, beer flowing on tap, and a warm, cozy atmosphere make this a perfect place to go for lunch or dinner.
The Bookstore of Gloucester
Bookworms looking for things to do in Gloucester have to head to The Bookstore of Gloucester (61 Main St), which is the hub of reading activity in town.
The bookstore has been open since 1975, serving the community with hand-picked titles across every genre.
Stop into the store to browse and check out the robust section of staff favorites and books by local authors!
Mystery Train Records
Mystery Train Records (21 Main St) is an incredible music store in Gloucester, selling tens of thousands of records and CDs from every musical genre.
Mystery Train also buys records and takes care to offer a wide selection of rare, used, and new music, making the store one of the coolest Gloucester attractions for music lovers.
7 Seas Whale Watching Tour
Obviously, the most popular stuff to do in Gloucester revolves around the ocean!
So there's no better activity to do than to head out on a 7 Seas Whale Watching Tour (63 Rogers St).
7 Seas is one of the most popular whale-watching companies, and their family-owned business is dedicated to providing a meaningful trip with a deep respect for the marine environment.
You'll likely see whales and other marine animals out in the Stellwagen Bank National Marine Sanctuary, and every trip is completely unique.
Schooner Thomas E. Lannon Sails
If you're less interested in the adventure of whale watching and more curious about life out on the sea a hundred years ago, take a trip on the Schooner Thomas E. Lannon Sails (Rogers St).
Learn how to sail a historic 65-foot schooner on a two-hour trip, assist the crew, and relax on the deck to enjoy the views of the ocean.
Some sailing trips also feature live music and other surprises!
Gloucester Boat Rental
If you're experienced out on the water and you're wondering what to do in Gloucester this summer, how about renting a boat from Gloucester Boat Rental (63 Rogers St)?
From half-day to full-day rentals, you can explore the Annisquam River, stop at the beach, or cruise along the shore enjoying the waves.
Take your pick of any of the best boats on the market!
Boating lessons are also available if you need to brush up on your skills.
You can even rent fishing equipment for your day on the water — there's nothing like eating your own fresh catch after a day out in the sun!
Minglewood Harborside
Speaking of fresh catch, one of the most iconic things to do in Gloucester is to order a fresh plate of seafood with views of the water.
Minglewood Harborside (25 Rogers St) is a popular restaurant to do just that, featuring waterfront dining with a large deck, live music, and creative cocktails.
It's a great date spot or perfect for just enjoying the views with friends or family.
You can sit in the shade of their umbrellas so you don't have to worry about that midday sun.
Cape Ann SUP and Surf
Stop by Cape Ann SUP and Surf (55 Commercial St) to rent stand-up paddleboards and surfboards.
You can take SUP and surf lessons, book group tours, and even take SUP Yoga classes out on the water.
They also have locations on Long Beach in Rockport as well as in Essex in case you want to explore more by water.
Fishermen's Memorial Monument
One of the most popular attractions in Gloucester is the Gloucester Fisherman's Memorial (Stacy Blvd), a historic bronze statue of a fisherman at the wheel of a ship.
The statue honors thousands of Gloucester's fishermen who were lost at sea over the centuries.
It is listed on the U.S. National Register of Historic Places and marks the beginning of the Stacy Esplanade; take the chance to stroll along this green space after you've admired the statue.
Cape Ann Museum
The Cape Ann Museum (27 Pleasant St) is a cool place to visit if you are interested in the history of the region since European colonists arrived in the early 1600s.
Within this museum, you'll find a rich fine art collection, an extensive library and archive, a children's activity area, two sculpture gardens, and an authentic captain's house from the 1800s.
Stop by the museum to learn more about the maritime history and art of the region through permanent and rotating exhibits.
Holy Cow Ice Cream
For a sweet treat, you can't miss Holy Cow Ice Cream Cafe (80 Pleasant St).
Creative flavors, truly exceptional quality, and made-to-order waffle cones contribute to an amazing ice cream experience.
Check out this nationally-awarded ice cream shop for a delicious scoop (or two!)
Yankee Fleet Deep Sea Fishing
For a true adventure out on the water, you should head out with Yankee Fleet Deep Sea Fishing (1 Parker St).
Since 1944, the Yankee Fleet has been taking people out on the ocean for incredible fishing experiences that create lasting memories.
Choose from a half or full-day fishing trip or, if you're brave, a 12-hour marathon fishing expedition!
Good Harbor Beach
A trip to Gloucester wouldn't be complete without a visit to the beach, so make sure you stop by the ever-popular Good Harbor Beach (99 Thacher Rd) to play in the sand and waves.
Soft sand, big waves, and lifeguards on duty make this beach one of the best in the Gloucester area.
You can also make use of the restrooms and showers on the boardwalk; be sure to also reserve a parking reservation online ahead of time!
This is one of our favorite beaches in Massachusetts that you won't want to miss.
Rocky Neck Art Colony
Art lovers consider visiting the Rocky Neck Art Colony (6 Wonson St) one of the top things to do in Gloucester thanks to its incredible exhibitions and galleries, events and workshops, and more.
The art colony is one of the oldest continuously operating colonies in the country, and once welcomed famous artists such as Winslow Homer and Edward Hopper.
If you're an art lover, you might also want to plan a visit to Provincetown, which has historically been an artist's haven.
Today, dozens of artists work in the Rocky Neck Art Colony in a variety of mediums, including paint, ceramics, jewelry, and textiles.
We featured the Rocky Neck Art Colony in our complete guide to the North Shore, so be sure to check it out for even more ideas of stuff to do in Gloucester and beyond!
Gloucester Stage Company
Head to a show put on by the Gloucester Stage Company (267 E Main St), a non-profit theater company that puts on a mix of contemporary and classic plays from an old brick warehouse.
You'll love the intimate experience of the stage and seating, and the plays are engaging and fun for the whole family.
Beauport, the Sleeper-McCann House
Interior design and architecture enthusiasts, check this out: Beauport, the Sleeper-McCann House (75 Eastern Point Blvd) is a National Historic Landmark and the previous summer home of one of the first American interior designers.
The home is open to the public from May to October and features a magical collection of curiosities, from glass art to fine china and silhouettes.
All 40 rooms follow a theme and are completely unique, making this a must-visit spot for historians, collectors, designers, and artists alike.
Eastern Point Lighthouse
Eastern Point Lighthouse is probably the most well-known Gloucester tourist attraction, and for good reason.
Gloucester was the first permanent seaport established in the colonies, and the seas were incredibly dangerous off this coast.
The lighthouse is a symbol of safety and is a sad reminder of the more than 5,000 people who have been lost at sea out of Gloucester's port.
Stage Fort Park
So much of Gloucester is steeped in history.
Stage Fort Park (24 Hough Ave) boasts yet another first: it was the original site of the settlers' fishing setups in 1623.
The park is beautiful on its own and also affords access to two beaches, volleyball and basketball courts, a playground, and a full restaurant.
In the summer, you can enjoy live music concerts, fireworks, and farmers markets, though the park is wonderful all year round.
Ravenswood Park
Ravenswood Park (481 Western Ave) occupies more than 600 acres, and hiking through its 10 miles of paths and trails is one of the most peaceful places in Gloucester that locals and visitors love.
Set aside by Samuel Sawyer, a philanthropist from the 1800s, Ravenswood was originally intended to be a place for solitude and relaxation, which makes this a perfect place to visit to escape the bustle of tourists.
Hammond Castle Museum
Hammond Castle Museum (80 Hesperus Ave) is a very cool place to see in Gloucester if you like a perfect mix of ocean views and interesting history.
John Jays Hammond Jr. constructed this castle in 1926 in the true medieval style; it was intended to store his extensive collection of Roman artifacts from ancient times to the Renaissance.
The castle opens for public tours in the spring, which affords you access to all the rooms and the castle's grounds.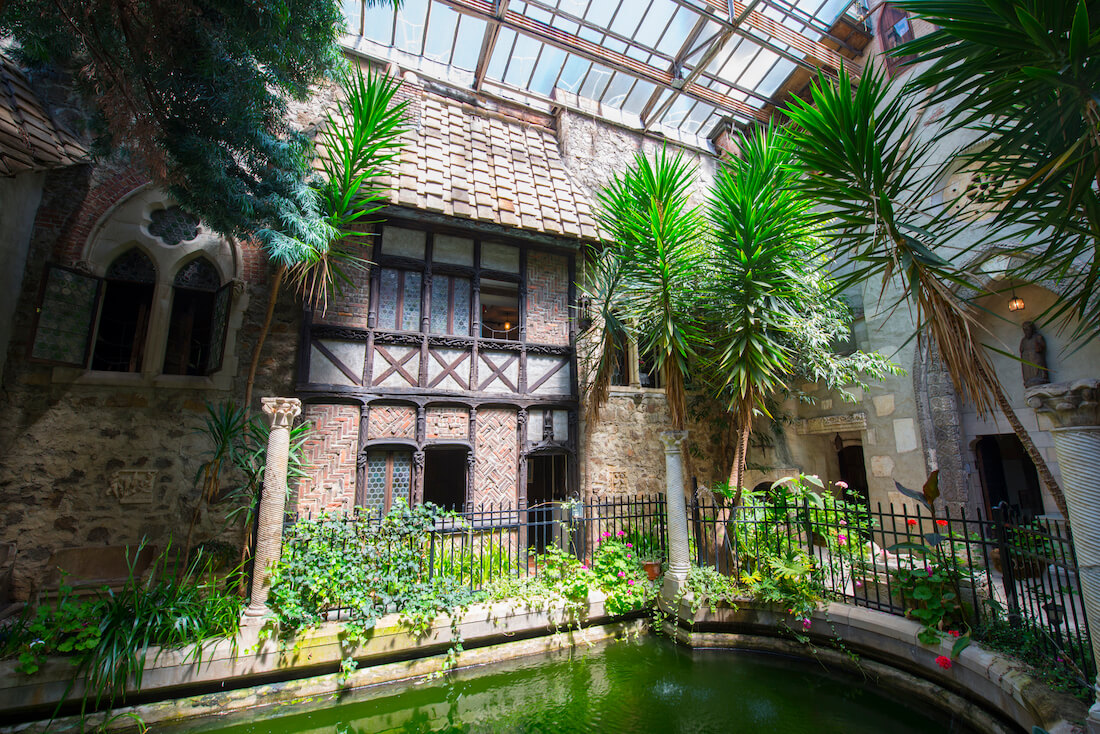 Rafe's Chasm
You'll need to see it to believe it: Rafe's Chasm (138 Hesperus Ave) is a rock formation that has captured the imagination of Gloucester residents for centuries (and has even swept some out to sea).
The park that surrounds the chasm is about 10 acres, but the hike out to the formation is less than a mile.
Take care as you clamber over rocks and follow the path, but once you arrive, you'll see why it has been a popular tourist destination for years.
Dogtown Common
Dogtown Common (Dogtown Rd) is a 3600-acre natural area that is known for the large rocks and boulders you can see from the path of the glaciers retreating over the land thousands of years ago.
Take care as you travel through these woods; many of the trails are unmarked.
Wingaersheek Beach
Wingaersheek Beach (232 Atlantic St) is one of the best beaches in Gloucester and is perfect for young kids and families.
You'll find lots of rocky areas to explore, soft, warm sands, and food stalls and bathrooms for daylong trips to the beach!
Final Words
Have you tried all these activities in Gloucester? Share your favorite local things to do in the comments below!