This article has links to products and services we love, which we may make commission from.

Looking for fun things to do in Fall River? While certainly not the most popular tourist destination in Massachusetts, locals have plenty of options for entertainment and activities in this small urban area!
Whether you live in Fall River or nearby, there are so many options to get out and explore more locally.
From historic spots to beautiful spaces to interactive museums and more, you don't have to go far to have fun in Fall River!
Our guide is organized from downtown Fall River outward so you can plan your activities and adventures more easily.
Plan more fun adventures with our favorite state parks in MA.
You might also like these top places to go in New England to plan more regional getaways.
Things to Do in Fall River, Massachusetts
Lizzie Borden House
If you're wondering what Fall River is known for, the answer is certainly the Lizzie Borden House.
The Lizzie Borden House (230 Second St) is the site of an unsolved murder mystery in 1892; nowadays, you can visit and even stay overnight at this supposedly haunted house.
The home is open every day and operates as a bed and breakfast, a museum, and a place for history and ghost tours.
The Lizzie Borden House also features in our list of haunted hotels in New England.
If you like spooky spots, you can't miss those places to stay!
You would also love our guides for where to stay in Salem and things to do there for more haunted fun.
Battleship Cove and the Fall River Maritime Museum
Battleship Cove (5 Water St) and its associated Fall River Maritime Museum (70 Water St) are definitely some of the best Fall River attractions.
Battleship Cove is the biggest collection of WWII ships in the entire world, right here in Massachusetts!
You'll be able to board ships like the USS Massachusetts, two PT Boats, and the USS Lionfish submarine.
Guided tours are available if you schedule them in advance.
You can also learn about the history of maritime life, travel, and culture at the museum; museum entry is included in your ticket to Battleship Cove (but not vice versa).
Its historic Titanic exhibit is one of the primary draws for visitors from all over.
The museum is only open seasonally, so make sure to check the website before you visit.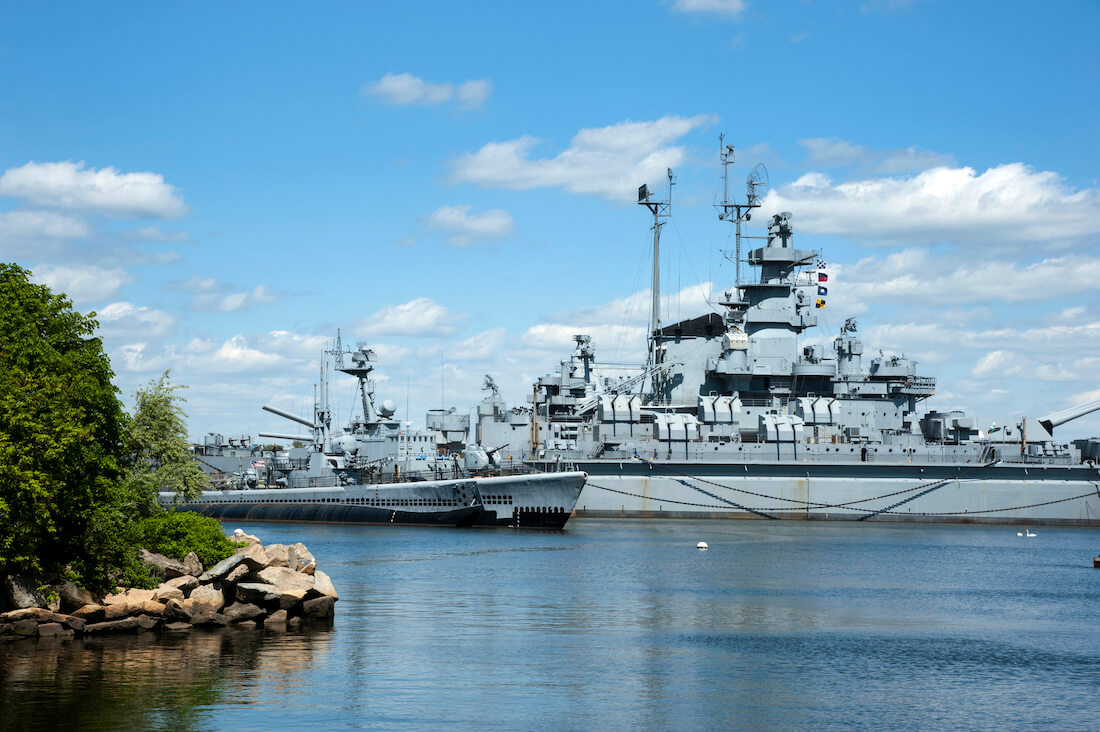 Fall River Heritage State Park
The Fall River Heritage State Park (Davol St) is a small, public park that is located right on the water of Battleship Cove.
The best part of the park is the boardwalk, which you can stroll along on a nice day and admire the amazing views.
You can also ride on the classic Fall River Carousel (1 Central St) during the warmer months!
Troy City Brewing
Head to Troy City Brewing (16 Anawan St) for fresh craft beer in a historic textile mill from Fall River's storied past.
Troy City uses local ingredients and unique, creative recipes to make its iconic drafts.
Stop by their taproom to try their rotating selection and order a small bite from their snack menu.
Narrows Center for the Arts
Pick up some tickets for a concert at the Narrows Center for the Arts (16 Anawan St) and enjoy one of the most delightful Fall River activities.
The Center has more than an accessible venue — they also house two art galleries, art studios, and event space.
Every genre of music is a part of their amazing event schedule, so check out their website and plan to watch a great show at the center.
Fall River Public Library
Visiting the historic Fall River Public Library (104 N Main St) might be one of the best free local options.
Check out their full events and programs schedule, browse the stacks, and fall in love with the beautiful architecture of the library, which was built in 1899.
Dunny's BBQ
For a unique place to go in Fall River, try visiting Dunny's BBQ (13 Main St).
Dunny's is built like a replica of an Irish-American saloon from the 1800s, and even has the original wood interior to prove it.
Order a massive barbecue plate and a cold beer, and enjoy this fun and laid-back bar experience where you'll feel like a local.
Sail Shade Studios
For art lovers, head to Sailshade Studios (425 Pleasant St) to see Susan Mohl Power's beautiful bright studio space.
You'll love her colorful paintings and textile hangings that look like stained glass.
Reach out to schedule a visit, and she might just give you a personal tour of her space!
Note that her studio is on the fifth floor of a repurposed factory building, so you'll need to climb the stairs.
Fall River Historical Society
The Fall River Historical Society (451 Rock St) is located in a beautiful mansion that welcomes visitors to learn more about local history and lore.
Each admission ticket includes a guided tour of the museum and entrance to the special Lizzie Borden exhibit.
The museum is also open for special events during the winter, so be sure to check the website before you visit.
Note that it is a seasonal museum open from April to December.
Be sure to stop by the Easton Tea Room next door for a classic afternoon tea experience, too!
Lafayette Durfee House
The Lafayette Durfee House (94 Cherry St) is one of the best attractions in Fall River for history buffs.
The home is the only colonial house in Fall River that is open to the public, and every room is perfectly replicated to match the style of a 1750 house.
Anyone interested in the American Revolution should visit the Lafayette Durfee House on their Fall River visit.
Portugalia Marketplace
Fall River is rich in Portuguese culture, and the Portugalia Marketplace (498 Bedford St) is the best spot to immerse yourself in the best foods of the country.
Located in a restored textile mill, the marketplace offers fresh produce, meats, and specialty items.
You can also visit the spirits shop stocked with the largest Portuguese selection of wines in the country, the cafe, and a room filled with the best salt cod on the market.
Canned Heat Craft Beer Co.
For some of the most creative craft beers on draft, head to Canned Heat Craft Beer (52 Ferry St).
With fresh brews like Cranberry Wheat Ale, you'll love visiting the taproom and ordering from an ever-revolving list of unique brews.
Don't miss out on their classic menu of heartwarming snacks.
The Tipsy Seagull
If you're looking for a seriously fun thing to do in Fall River, visit The Tipsy Seagull (1 Ferry St) — a bar that floats in Narragansett Bay!
This bar and restaurant is for adults only in the evenings, so be sure to plan accordingly if you are traveling with little ones.
Caravela Restaurant
Lean into Fall River's rich Portuguese culture by grabbing a table at Caravela Restaurant (637 Main St).
This low-key restaurant offers simple fare, like Shrimp Mozambique, Portuguese Soup, and Chicharros.
If you can't make it to Portugalia Marketplace, make a point to visit this delicious restaurant.
Kennedy Park
For even more history in Fall River, check out Kennedy Park (S Main St), a 57-acre park with tons of open space in the midst of some of the densest part of town.
Kennedy Park is an ideal spot to let the kids run off that extra energy!
You'll be able to see amazing views of Mount Hope Bay, and there is an 'inclusion playground,' which includes play structures and equipment that is accessible to children with disabilities.
With plenty of paths and a playground, they'll stay entertained for a while.
The park is also listed on the National Register of Historic Places.
Throughout the year, Kennedy Park also hosts events, including the Great Feast of the Holy Ghost of New England.
If you're looking for things to do in Fall River in the summer, you can't miss this one!
The celebration celebrates Portuguese heritage and culture, which heavily influenced Fall River over the years as many Portuguese immigrants settled here.
The Great Feast of the Holy Ghost of New England began in 1986 and is one of the largest festivals of its kind in the world.
Take part in the festival by attending parades, dinners, live music performances, and more.
Children's Museum of Greater Fall River
Kids love the Children's Museum of Greater Fall River (441 N Main St).
The museum features playrooms that encourage learning, exploration, and collaboration.
Kids will love exhibits like the Lego Room, the Music Room, the Outer Space Exhibit, and the Dinosaurs Room.
The Little Theatre of Fall River
Enjoy amazing theatre performances and support the arts at The Little Theatre of Fall River (340 Prospect St).
With a new performance nearly every month, the Little Theatre keeps the community engaged by putting on classics and new and exciting shows.
Grab tickets and check the upcoming shows on their website.
Oak Grove Cemetery
For even more spooky vibes after visiting Lizzie Borden's house, head to Oak Grove Cemetery (765 Prospect St).
The cemetery is larger than 120 acres and holds some of the most famous Fall River citizens, including Lizzie Borden and her family's murder victims.
The cemetery also features elements from the Gothic Revival era, including a beautiful arch made from Fall River granite.
Maplecroft Mansion
Lizzie Borden lived in Maplecroft Mansion (306 French St) after she was acquitted of the murder of her father and stepmother.
The Mansion, unfortunately, cannot be toured from the inside, but if you are curious about following Lizzie Borden's path and history, this house is one of the top things to see in Fall River.
Just always be respectful of the community, especially when taking photos.
North Park
If you're wondering what to do in Fall River with your kids, be sure to take them to North Park (544 President Ave).
The park's playground is filled with activities for kids, a baseball field, and a sprawling green space perfect for a picnic lunch.
Don't forget to stop by J & B Hockey & Sporting Goods (162 President Ave) to pick up a ball or a frisbee to play with at North Park!
Quequechan River Rail Trail
For a fun outdoor adventure, explore the Quequechan River Rail Trail.
This trail is a little more than one mile long and is completely paved, making it accessible for wheelchairs and strollers.
Be sure to bring a camera to take photos along the route, because you'll be amazed by some of the views of the water!
Final Words
Are you ready to get out there and enjoy all these fun things to do in Fall River now? We hope so!
Share your favorite local spots in the comments below.
Massachusetts Guides
Massachusetts Destinations