This article has links to products and services we love, which we may make commission from.

If you're looking for fall things to do in Delaware, we've got it covered in this article, and you won't have to look hard; there are events all season long in all three counties.  
While most of the autumnal things to do in Delaware are in October, if you visit in September or November, you'll still be able to find a pumpkin spice latte at nearly every coffee house, insta-worthy pumpkin patches, and so many opportunities to be scared.
There's a great mix of family fun activities and big kids entertainment (and even one specifically for the beloved family dog), with many of them taking advantage of the beautiful outdoors.
And, of course, you can't miss Delaware's biggest non-musical festival devoted to celebrating a local food favorite that has the rest of the country divided.
No matter what you do on your trip to Delaware in autumn, whether you hike and bike your way around the state or find as many opportunities to get scared silly, you'll make memories that will stay with you year after year.
If you're staying in Delaware until winter, you might also want to check out this guide.
Things to Do This Fall in Delaware
Delaware Fall Foliage
You don't have to look very hard to see all the fall colors in Delaware, but there are some places where you'll get to see them at their very best.
Travel by train to see the foliage in style, find a spot on the coast and try some bird watching, take a hike through the trees, see the sights via wagon ride or visit the sprawling mansion gardens to see their colorful grounds.
Bombay Hook National Wildlife Refuge
Smyrna's Bombay Hook National Wildlife Refuge protects one of the largest remaining expanses of tidal salt marsh in the mid-Atlantic region.
It's a popular spot year-round for bird-watching but is particularly popular in autumn for leaf peeping.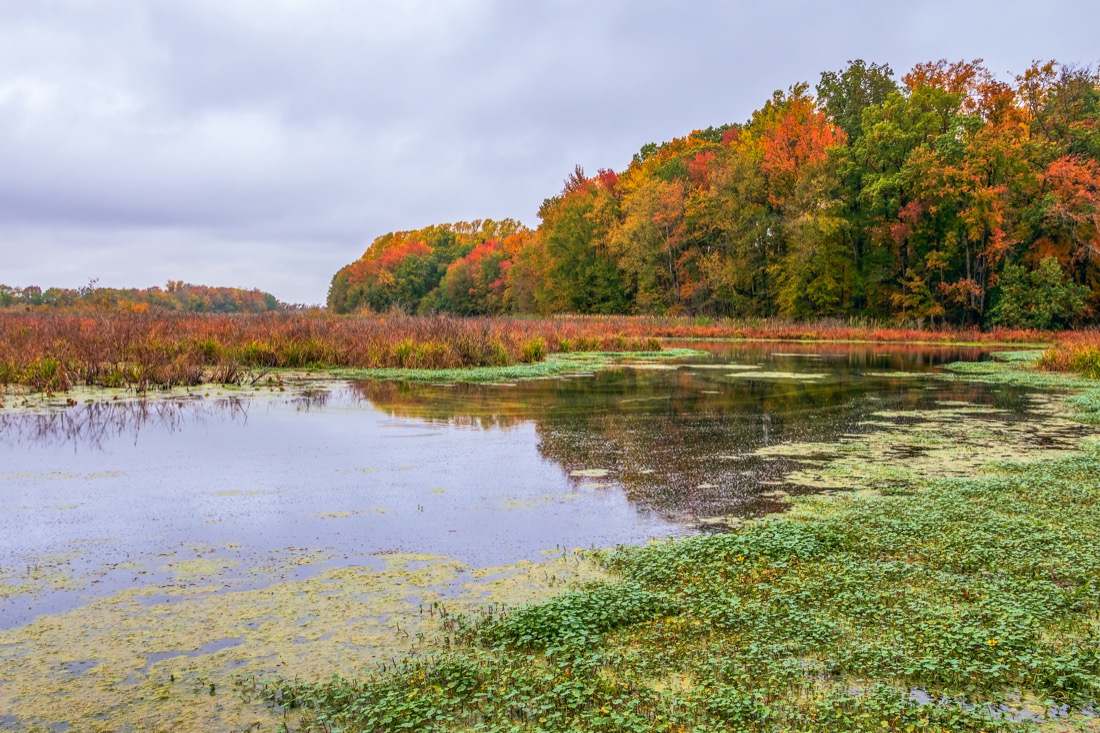 Killens Pond State Park
This Dover spot is busy all summer long because of the water park, but once autumn hits, Killens Pond State Park is a beautiful walk with the most gorgeously colored trees to spot.
Plus, you can enjoy a 40-minute trip around the fields and forests of the park on a wagon ride.
Wilmington and Western Railroad
On the Wilmington and Western Railroad, you get to travel aboard a steam- and diesel-powered tourist train through some of the gorgeous scenery in Delaware, including Mt. Cuba's botanical garden.
White Clay Creek State Park
If you want to hike through the best of Delaware's nature, take a trip to White Clay Creek State Park in Newark.
You can also play disc golf, ride your bike, visit the Chambers House Nature Center, go fishing, and more.
Winterthur
Winterthur is renowned year round with people visiting from all over the see the grounds, library, and mansion and each season has its merits, but visiting in autumn is the most magnificent time.
The Best Pumpkin Food and Drink in Delaware
The best part about Delaware in fall is the abundance of pumpkin-inspired treats all over the state (and if you don't like pumpkin, there are plenty of other tasty autumnal bites to try).
From the infamous pumpkin spice latte to pumpkin beer to plain old pumpkin pie, you'll want to drive from the top to the bottom of the state to sample them all.
Dolce Bakery and Coffee Shop
Visit Milford's Dolce Bakery and Coffee Shop.
You could walk out with a classically fall-flavored pumpkin spice latte but also a pumpkin roll, pumpkin cheesecake, pumpkin bars, pumpkin cookies…you get the picture.
Bing's Bakery
Delaware's oldest bakery (since 1871), Bing's Bakery, is the perfect excuse to visit Newark and buy every flavor of pie you could ever want — of course, including pumpkin.
Crooked Hammock Brewery
Get the back of both worlds at Crooked Hammock Brewery in Lewes with Jav-O-Lantern beer, a smoked pumpkin coffee ale that has notes of sweet smoke, spice, and roasted coffee.
Dog FishHead
Delaware's most famous brewery, Dog FishHead in Milton, is beloved for The Punkin Ale, which is only available from August to November.
It's a full-bodied brown ale made with pumpkin meat, brown sugar, and spices.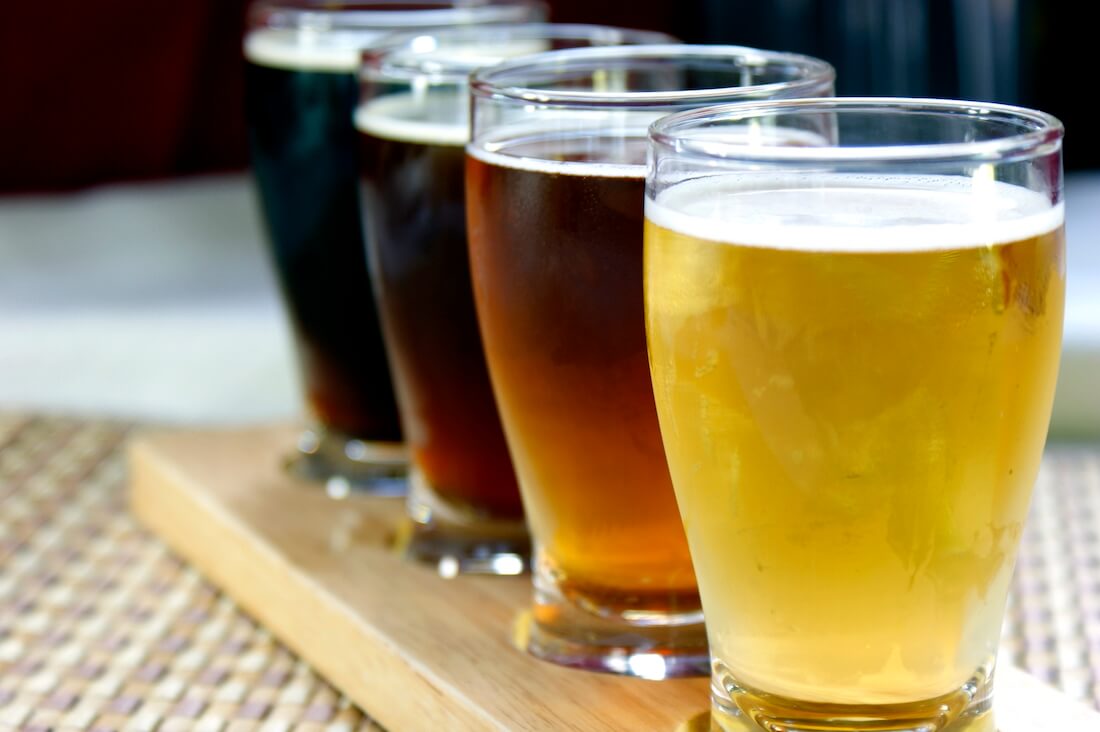 House of Coffi
Just like the name says, House of Coffi in Dover has every sort of coffee you could ever want, especially in autumn!
You'll struggle to choose between the PSL, Apple pie latte, maple syrup sweet cream latte, cinnamon roll latte, and more.
Things to do in New Castle County, Delaware in the Fall
New Castle County is a popular day trip destination for southern PA, NJ, and northeastern MD dwellers, with many crossing over to find fun fall things to do in Delaware.
See a dog parade, experience the DE version of Oktoberfest, make your way through a corn maze and attend an art fair in the historic district and a crafts fair in the state's only art colony village.
Check out this guide for the best things to do in Wilmington year-round.
Delaware Saengerbund Oktoberfest
Since Germany is a bit far away, you can give the Delaware Saengerbund Oktoberfest in Newark a try!
This three-day festival has Bavarian bands and folk dancing, a parade, German food, and lots to drink.
Howl-o-Ween at Hagley Museum
If your four-legged best friend likes getting into the Halloween spirit, you've got to bring them to Howl-o-Ween at Hagley Museum in Wilmington.
They can go down the Bark-or-Treat trail and grab some dog-friendly treats along the way and participate in a costumed parade.
Ramsey's Farm
Bring the whole family to Wilmington's Ramsey's Farm, where you can pick and decorate pumpkins, take a hayride, make your way through the spooky trail, and even wander a corn maze, all in Wilmington, DE.
Kids also love the farmyard playground.
Art on the Green
For over 50 years, Art on the Green has been one of the top fall festivals in Wilmington, DE.
Spend some time in historic New Castle and shop their pottery creations to stained glass from over 200 artisans.
Arden Fair
Listen to music, have a drink in the beer garden, let the kids play and enjoy the rides, and check out the antiques, collectibles, and crafts at the Arden Fair.
Things to do in Kent County, Delaware in the Fall
Kent County often gets left out of the fun— New Castle has the city vibe, and Sussex has the beaches — but Kent has a lot of small-town goodness to enjoy. 
Party in the streets, pick your own pumpkins, go back in time, cycle around the county, and head on down to the farm for fun for the adults, the kids, and everyone in between.
Can't figure out what to do this weekend? This guide tells you the best stuff to do in Dover any time of year.
OktDoverfest
If you're ready to party, don't miss OktDoverfest! Located in the heart of downtown Dover, you can try local food and craft beer, listen to live music, and participate in one of the top community festivals.
We dig the name! What about you?
First State Heritage Park's 18th Century Market Fair
First State Heritage Park's 18th Century Market Fair in Dover's historic district gives you the chance to see how Delawareans would have lived hundreds of years ago.
Check out the market stalls, living history performers, trades and craft demonstrations, food, and drink.
Amish Bike Tour
Cycle the Amish Bike Tour, which begins and ends in Dover, has various pre-planned stops, including the Amish Schoolhouse, where you'll enjoy their famous, fresh, locally-baked pie!
Wicked R Western Productions, Inc
For the ultimate weekend of family fall fun, head to Wicked R Western Productions, Inc for farm games, corn maze, bounce house, car track, and more.
Loblolly Acres
Need something for the gram?
Loblolly Acres in Woodside has a Pick-Your-Own pumpkin patch on Sundays in October with food trucks and entertainment too.
Things to do in Sussex County, Delaware, in the Fall
The beach is by far the most popular part of Sussex County, but there's actually so much more that you don't want to overlook!
Pick your own fruit, shop the area's best boutiques, listen to the smoothest jazz, sample the best of the state's adult beverages and roast some marshmallows on the beach under the stars.
Wanna take a day trip to the beach but you're not sure which one to choose?
Read this guide to learn all about the Delaware Beaches.
Orchard Point Market
Delaware is famous for its peaches, and you can pick your own (and apples, too) at the Orchard Point Market in Bridgeville through September and October.
45th Annual Fall Sidewalk Sale
The 45th Annual Fall Sidewalk Sale in Rehoboth is a favorite local event; stroll through downtown Rehoboth to see the best their boutiques have to offer for a bargain.
Bonfire on the Beach
On Fridays in October, Bethany's Bonfire on the Beach has marshmallows, roasting sticks, and glow bracelets to make it your best bonfire experience yet!
Beer, Wine, & Spirits Festival
Trap Pond State Park's Beer, Wine, & Spirits Festival has everything you need for the perfect day; drinks, food, vendors, and live music.
Rehoboth Beach Jazz Festival
Branded as "The Greatest Jazz Festival in the World," the Rehoboth Beach Jazz Festival is 4 days packed with 25+ jazz artists and visitors from all over the world to enjoy the music together.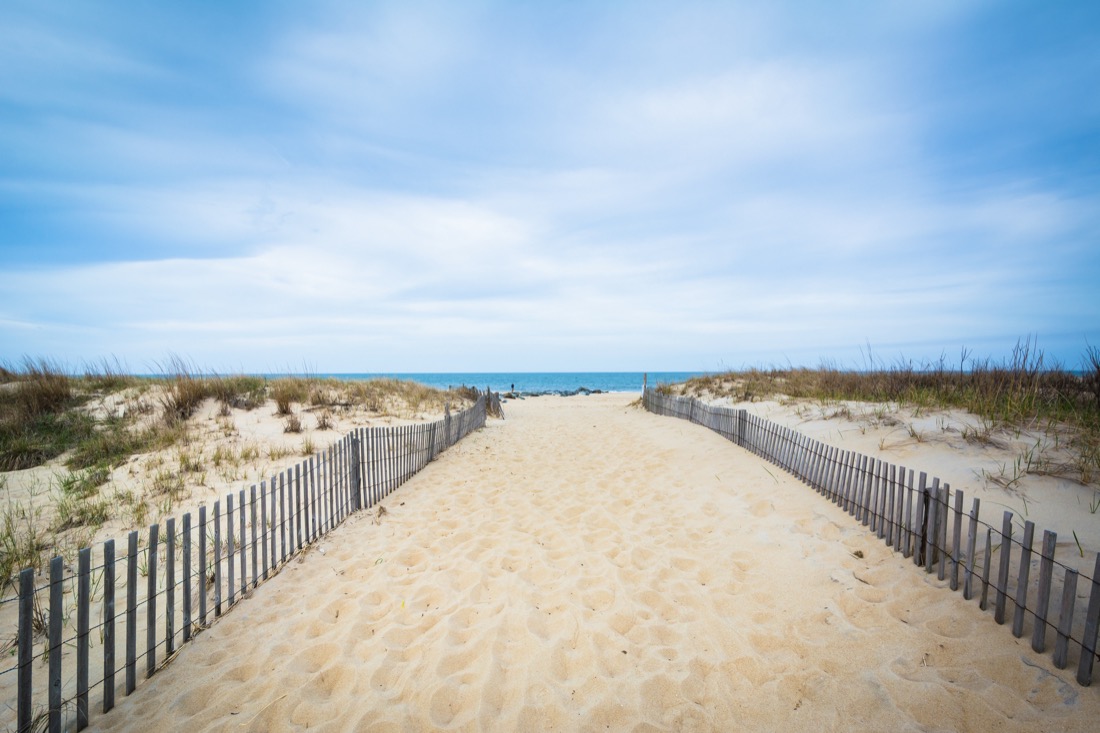 Fall Festivals in Delaware
One of the most popular things to do in Delaware in the fall is attending a fall festival — and there are so many to choose from.
Celebrate the Delaware-famous scrapple, find a Sea Witch, celebrate coastal living, experience the best of the outdoors, and get the classic pumpkin patch and hayride fall experience.
Apple-Scrapple Festival
Easily one of the most well-known fall activities in Delaware, the Apple-Scrapple Festival is a weekend devoted to scrapple (and apples) in Bridgeville.
With an attendance of over 20,000 people, it is one of the largest events in the state.
Sea Witch Festival
If you're looking for things to do in Rehoboth Beach in the fall, the Sea Witch Festival is a must-do for the whole family; watch the parade, contests, magic shows, monster art, trick-or-treating and more.
Boast the Coast Maritime Festival
Boast the Coast Maritime Festival is one of the best fall festivals in Lewes, DE.
The three-day event showcases Lewes' nautical heritage and coincides with Lewes Merchants' Fall Sidewalk Sale has long been associated with Boast the Coast.
Blackbird Creek Fall Festival
Blackbird Creek Fall Festival is a full day of outdoor family fun with canoeing, kayaking, hiking, hayrides, bird watching, a scavenger hunt, local artisans and vendors, and more.
Fifer Orchard's Fall Festival
If you're ready for pumpkin patches, corn mazes, and all things autumn, Fifer Orchard's Fall Festival in Camden-Wyoming has to go on the itinerary — plus take home your favorite fresh produce, including famous Delaware peaches.
Fifer's Farm Kitchen serves an insane menu in fall including apple cider sirloin chili, butternut squash soup, chicken gumbo, and pulled pork sandwiches.
If you prefer deserts you are in for a treat!
What will you choose – apple cider slushies, apple cider donuts, cider shake-ups, kettle corn, apple and pumpkin soft serve ice cream?
Haunted Attractions in Delaware
Delaware has plenty of opportunities to scare you out of your wits for a small state!
Take a tour through a haunted mansion, wander through a graveyard by lantern light, make your way through a haunted corn maze, survive a paranormal ghost tour, and visit 8 unique haunted attractions all on one site.
Frightland
Middletown's Frightland has been consistently voted the country's Top 10 Scariest Haunted Attraction for a good reason!
Choose between one of their 8 attractions, The Attic, Idalia Manor, Haunted Barn, Haunted Hayride, Fear, Ghost Town, Zombie Prison, and Ravenwood Cemetery to be scared out of your mind.
Bellevue Hall Paranormal Tour
On Halloween weekend, Bellevue Hall Paranormal Tour in Wilmington offers an annual chance to explore the 200-year-old mansion with nearly as many ghostly rumors as it is old.
Dark Dover Lantern Tour
With just a lantern to guide you, you'll wander through a cemetery at Dark Dover Lantern Tour with historical interpreters telling stories that will have you laughing and feeling spooked at the same time.
Delaware City Ghost Tours
In the five-hour event with Delaware City Ghost Tours, you'll investigate prison barracks, officer quarters, and more using EMFs, data recorders, and temperature sensors to hunt down the spirits.
The Cemetery House
If you're near Laurel, DE, be sure to stop by The Cemetery House to make your way through their haunted corn maze while being scared by zombies, ghouls, and more.
Abandoned Places in Delaware
Why wait for Halloween if you're looking for spooky things to do in Delaware in October.
You can check out this abandoned mansion, lighthouse, and military base whenever you want.
While all of them are legal to trespass, you'll want to beware of anything lurking in the shadows.
Gibraltar Mansion
In Wilmington, Gibraltar Mansion is a country estate that has been abandoned since the 90's, but you can wander in and spend time in the gorgeous Marian Coffin Gardens outside.
Green Hill Lighthouse
The Green Hill Lighthouse has been out of commission for over a century, but the next time you're in Lewes, you can have a peek around and check out the now-empty site.
Fort DuPont
Fort DuPont was Fort DuPont State Park's functioning military base from the Civil War to WW2.
Protecting Delaware River ports from enemy ships, it is just an eerie memory of what one was since being abandoned in the 1940s.
Final Thoughts
Delaware in autumn is truly a glorious time, with such a wide array of activities to keep you outdoors in the gorgeous scenery (and a few indoor ones to keep you warm and toasty when it starts to get a bit too cold).
If you want to spend more time in Delaware, why not take a romantic getaway?
Read this guide for all of the inspo and tips for a perfect weekend.
Delaware Destinations