This article has links to products and services we love, which we may make commission from.

When you first set eyes on the Miami skyline from Biscayne Bay, it's hard to believe that this area of skyscrapers used to be a swamp.
Centuries of development later, there are so many things to do in Downtown Miami, especially if you like food, drink, art, sport, theater, music, history, nature, and water-based activities.
This guide to Downtown Miami attractions will keep you busy from morning until night, and if you like to party, through until sunrise again.
If you're short on time during your visit, consider buying a ticket for the hop on hop off bus tour, as it makes stops at popular Miami and Miami Beach landmarks – Miami's public transport system is notoriously patchy.
You may also like our guide, 24 hours in Miami itinerary, 3-day Miami itinerary, and things to do in Miami.
Fun Things to do in Downton Miami
As with all of our Miami travel guides, we have done the mapping for you so you can quickly get your bearings as soon as you arrive.
Our things to do in Miami Downtown article starts at the bottom of Downtown, near Brickell, and works its way up to the Venetian Islands.
The Wharf at the Weekend
Watch sports, do yoga, or just enjoy a sunny weekend afternoon at The Wharf (114 SW North River Dr).
The open air event space is located on the banks of the historic Miami River, and you can basically touch the water so be cautious after a few drinks!
Check out the schedule for up and coming events.
Dine at Area 31 for Views
Area 31 (270 Biscayne Blvd Way) is a Mediterranean restaurant and rooftop bar that straddles the Brickell and Downtown boundaries, so you are guaranteed to get magic city views.
Part of the rooftop overlooks the Miami Circle, a perfect circle built by the Tequesta People thousands of years ago.
The restaurant is located on the 16th floor of Miami's Kimpton EPIC Hotel, but you don't have be a guest to dine there.
The menu runs from breakfast through to dinner, the latter featuring a raw bar.
There is also a popular brunch menu and happy hour offers.
DuPont Building Art Deco
Architecture fans can get a taste of Miami's Art Deco in Downtown at the Alfred I. DuPont Building (169 E Flagler St), which was once a bank owned by Dupont.
Built between 1937-1939, the 17 storey limestone and Alabama black granite structure was started during the Great Depression and opened in its final year.
Today it is a popular venue for special occasions such as weddings.
Guests choose the venue for its decadence; iron gates, marble walls, and hand-painted cypress ceilings.
The North Ballroom is located in the original bank vault, and you walk through a vault door to get in!
The Alfred I. DuPont Building is part of the US National Register of History Place.
HistoryMiami Museum
You'll find losing an hour or two at the HistoryMiami Museum (101 W Flagler St) easy as it is the largest history museum in Florida.
The Smithsonian Affiliate museum exhibits more than 37,000 artifacts ranging from prehistoric archaeological finds to 20th century Afro- Cuban folk art.
There are changing exhibitions throughout the year and one permanent, which looks at 10,000 years of South Florida history.
The museum also hosts events like photography workshops, family fairs, and day trips to Florida destinations.
Metromover For Views
One of the best free things to do in Downtown Miami is hop on the elevated Metromover and grab a space at the front, back or side windows.
This free transport network has three loops which connect Downtown to Brickell and the Financial District.
You can can transfer between the loops for a longer journey.
Stroll Along the Miami Riverwalk
Snake your way through skyscrapers, along the palm tree lined Miami Riverwalk.
The path is paved and hugs Biscayne Bay, so there's a good chance you'll see luxury yachts bobbing about the water.
The trail goes past the Seafair at South Dock, which can be hired for events.
The Riverwalk features in our guide to date nights in Miami.
Bayfront Park
One of the most popular Downtown Miami attractions for tourists and locals is the 32-acre Bayfront Park (301 Biscayne Blvd).
This public park is a huge green space lined with monuments and statues like the one of Julia Tuttle, the 'Mother of Miami'.
The park also features the FPL Solar Amphitheater for live gigs.
There is a small play park for children too.
Bayside Marketplace
After walking along the Miami Riverwalk and through Bayfront Park, treat yourself to a well deserved drink at Bayside Marketplace!
This riverfront entertainment space is home to chain bars such as Hard Rock Cafe and Five Guys.
There are some independent bars too, check out Lola Bar for cocktails with a dockside view, and Mambo Bar for refreshing Coronaritas.
On the bottom floor for the two-storey Bayside Marketplace, you'll find souvenir and summer gear shops.
Look down at the ground for the Miami Downtown Walk of Fame.
Bayside Marketplace if often the meeting point for tours like this Key West day trip which we highly recommend.
Skyviews Miami Observation Wheel
See the city from 200ft in the air at the Skyviews Miami Wheel.
The climate controlled gondola cars are fitted with glass so you can see Biscayne Bay and Downtown from the comfort of your seat.
You can upgrade your experience to ride the luxury box which features leather seats, and on special occasions like Valentine's Day, some fizz!
Don't just look at the Miami skyline, be a part of it during this 15-minute ride.
Miami Cruises
In Miami, the weekend is about the beach or boating on the Biscayne, so do as locals do and hit the water.
This 1.5 hour cruise sails to Miami's islands to see the million dollar homes (and their yachts!), and then to South Beach in Miami Beach.
The tour is narrated by a knowledgable guide who points out the homes of the rich and famous.
The boat has two levels, wide open windows, and a deck that is shaded from the Florida sun.
You won't regret spending time on a boat, while the sea air kisses your skin!
Alternatively, if you prefer a boat that moves a little faster, check out this Miami speedboat tour.
Evening Cruise
If you're looking for fun things to do in Downtown Miami at night, consider this 1.5 hour night cruise to see the city shine from the water.
The tour includes narration in English and Spanish, a bar to buy drinks, and seating inside or outside.
If you want to sail as the sun sets, check what time the sun goes down before selecting the time of the tour.
Remember to pack layers, it can be chilly on the water when the sun melts into the water.
Jet Ski
Prefer to be in control of the boat?
Hire these jet skis and zoom through the water at Biscayne Bay and Miami Beach.
The jet ski tour is guided so you don't need any prior experience.
The activity includes jet ski rental, a life jacket, instruction, and a ride out on a platoon boat.
Party on a Floating Nightclub
If all of the above Miami water sports is still sounding too tame, this party cruise might be more your style.
Take advantage of the open bar serving spirits, wine, and beer while you dance to a live DJ.
For three hours, make new friends as the two-level boat sails from Biscayne to Miami Beach and past the islands.
Remember to tear yourself off the dance floor to look at the landmarks that are passing by!
Freedom Tower Architecture
Miami's Freedom Tower (600 Biscayne Blvd) stands out against the shiny skyscraper skyline as the building was created in 1925 by NYC architects, Leonard Schultze and S. Fullerton Weaver.
The 17-storey Spanish Renaissance-style building, which was impressive for its time, opened as newspaper headquarters, commissioned by the Former Ohio Governor James M. Cox and new owner of Miami Daily News.
From 1962-1974, the tower became the Ellis Island of the South, assisting Cuban refugees who arrived in Miami seeking political asylum from the Fidel Castro regime, many of whom settled in the city's Little Havana neighborhood which is worth visiting if this is your first time in Miami.
The tower is one of the things to see in Downtown Miami that will help you appreciate some of the city's culture.
Today, the Freedom Tower building is where you will find the Museum of Art and Design Miami Dade College (MOAD).
Museum of Art and Design Miami
The Museum of Art and Design Miami (MOAD) (600 Biscayne Blvd) is located in the city's National Historic Landmark Freedom Tower, and is the flagship museum of Miami Dade College.
It creates exhibitions and programs that aim to 'foster a reimagined Miami', including free children's education program and a Museum Without Boundaries offsite schedule.
Check out the official website for opening times and exhibitions.
Games and Shows at Miami-Dade Arena
If you are a fan of basket ball, you'll want to catch a Miami Heat game at the Miami-Dade Arena (601 Biscayne Blvd).
This arena is huge with over 2000 seats, 80 luxury suites, and 76 private boxes.
Look out of the unique crowd interactive scoreboard, designed by Christopher Janney.
The arena isn't just for sports though, it is also home to Florida's largest theater, The Waterfront Theater, which seats up to 5,800 guests.
It is also a music events space – Mariah Carey, Tina Turner, and Selena Gomez have all graced its stage.
Miami-Dade Arena is one of biggest Downtown Miami tourist attractions for entertainment.
All Weekender at Club Space
For an EDM fix in Miami, Club Space (934 NE 11th St) is an all-weekender that pulls in the crowds with its international DJs.
Remember to take you sunglasses for sunrise!
Club Space is one of the places to visit in Downtown Miami if you don't mind missing out of daytime activities while you catch up on some zzz.
Contemporary Art at the Pérez Art Museum Miami
The Jorge M. Pérez Art Museum of Miami-Dade aka the PAMM (1103 Biscayne Blvd) is located at the stunning Government's Cut and has on-site parking.
The two-floor museum exhibits permanent and temporary contemporary art from the 20th and 21st century.
Visitors rate the food served at the indoor/al fresco cafe which has views over the water.
Don't forget to leave time to walk the grounds and see the sculptures.
If you enjoy public art, add a trip to the city's Design District to your Miami itinerary, and for street art, head to Wynwood.
The Arsht Center for Killer Acoustics
Miami's home for the performing arts, The Arsht Center (1300 Biscayne Blvd), is an opera house, concert hall, and theater – it is one of the biggest performance spaces in the US.
Architect Cesar Pelli designed the center which opened in 2006, and although it appears to be modern, part of the building is situated on the site of the former Sears Art Deco department store!
E11even
For those who love to party, E11even (29 NE 11th St) does not need an introduction!
If you're looking for a 24/7 club night, there is no need to travel to Miami Beach with E11even on the Miami Downtown doorstep, featuring artists like Skrillex, Drake, and Cardi B.
However, this ultraclub may differ from your usual nightlife.
Firstly, the ideal time to go to E11even is from 2am so plan to pre-party at a bar or club before you join the line.
Secondly, lines are guarenteed, especially at weekends, even if you have tickets.
Thirdly, you need money, lots of it, and you have to dress like you have money – no shorts, no sliders. Dress to impress.
Frequently Asked Questions About E11even
Is E11even a str1p club?
Yes, although you won't see it advertised as one, E11even is a str1p club where part of the entertainment is dancing girls (for money), and the other part is live DJs and acrobats.
Do girls go to E11even?
Yeah, even couples go abut the ones that appear disappointed don't realize what E11even is when they book tickets.
How much is the entrance to club E11EVEN?
Cover charge depends on the night and who is playing.
Is there table service at E11even?
Yes, you can reserve a table on the E11even website.
Jazz at The Corner
If you prefer a night that's a little more low-key, The Corner (1035 N Miami Ave #101) is an intimate bar with a big range of spirits, wine, and beer, and live music.
The bar has a bit of an upscale shack/dive feel to it, the staff are friendly, and the crowd is a good mix.
Venetian Causeway Walk
Stretch the legs while making your way over Miami Beach via the Venetian Causeway.
The series of bridges that go over the Venetian Islands stands where the first bridge to connect Miami with Miami Beach once did.
It was the brainchild of South Beach architects, John S. Collins and Carl Graham Fisher.
Avoid doing this walk in peak heat, although you will see runners on the bridge at all times of the day!
Keep your eyes peeled for the million dollar homes at either side of the bridge.
The Venetian Causeway also features in our guide to hidden gems in Miami.
Day Trip to Miami Beach
Many visitors don't realize that Miami and Miami Beach are two distinct cities connected by bridges.
It takes around 25 minutes by car to get from Downtown to Miami Beach, and public transport options between the two aren't that great.
However, it is well worth making time to visit Miami Beach as you can spend the day by the Atlantic Ocean.
There's also the famous Art Deco on Ocean Drive to admire, and lots of food options like the local stone crabs!
If you like to socialize, South Beach day parties are legendary.
Visiting Miami Beach is one of the best things to do near Downtown Miami and you can read about it in our guide here.
Visit Brickell
Many of the sky scrapers you see from the water are located in the Brickell neighborhood, which is named after Mary and William Brickell, one of the first real estate families in Miami.
Most visitors and residents in Brickell take advantage of the shopping and entertainment opportunities, which are hidden away in or among the shiny towers!
The Metromover connects Downtown with Brickell and you can read all about the top things to do in the area here.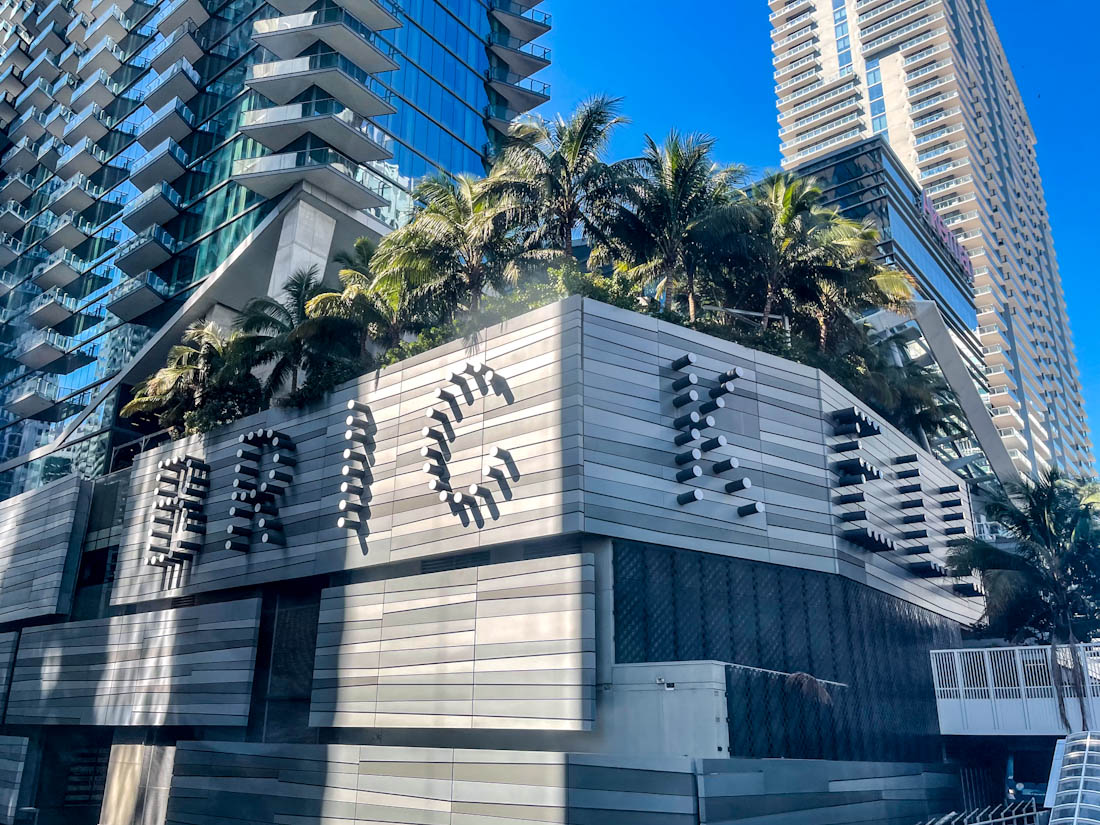 Our Miami Guides
Miami By Neighborhood