This article has links to products and services we love, which we may make commission from.

Miami's Design District is a unique neighborhood offering a clean shopping experience with luxury brands and high end dining opportunities, which are magically mixed in with loud public art installations and insightful murals.
This guide shares the best things to do in the Design District, encouraging you to look up, down, along, and through so you can appreciate the bending light, varied texture, and different moods the area can conjure.
While The Magic City is no stranger to celebrating creativity, the likes of Miami ArtWeek comes and goes but the Design District is permanent and every aspect of the neighborhood dreamed up by Miami native Craig Robins is meticulously planned and executed.
You really need to see it to believe it so keep reading to find out where to visit in the Design District with images to support the suggestions.
If you like art and design you should definitely check out Miami's Wynwood neighborhood too, and if the unique side of the city is your thing, here's our hidden gems in Miami guide.
Fun Things to do in Miami's Design District
Shopping
There's a whole host of designer stores as well as a multi-brand shop called MKRT at Miami's Design District.
Burberry, Gucci, Chanel, Louis Vutton, Miu Miu, Cartier, Armenia, VALENTINO, and Dior are ready to accept your hard earned cash while you duck into each store to steal some AC.
Building Facades
While you wander from shop to shop, remember to look up at the fronts of the buildings as the architecture has been created to fit in with the Design District theme.
Examples include the appointment only, Chrome Hearts (4025 NE 2nd Ave), the mustard yellow Fendi (150 NE 40th St) and the blue toned Berluti (161 NE 40th St).
Some brands do arty seasonal pop ups too like Tiffany & Co holiday residence.
Museum Garage
Museum Garage is part of a giant architectural design project which houses a seven-story parking lot with 800 spaces (90 NE 41st St).
The collaboration features five different pieces of architectural art including XOX (Hugs and Kisses) by Berlin-based Jurgen Mayer, Urban Jam by the Spanish architect Manuel Clavel Rojo, Museum Garage by NY based Workac, Japanese anime inspired facade by French artist Nicolas Buffe, and Barricade by K/R, who introduced the others to the project.
Museum Garage, the pink one, has a children's play area and a stage for a DJ.
Museum Garage also features in our 3-days in Miami itinerary.
Institute of Contemporary Art, Miami
Institute of Contemporary Art, Miami (61 NE 41st St) is a three-story art and design gallery created by Madrid-based architecture firm Aranguren + Gallegos Arquitectos.
There are changing exhibitions and a schedule for all year round events.
Be sure to leave time to check out the Sculpture Garden.
The ICA is free but you can reserve tickets online to ensure entry.
If you enjoy visiting museums and galleries, check out our guide to Downtown Miami too.
Contessa
Contessa (111 NE 41st St) is one of the first of many restaurants in the Design District and its exterior could be mistaken for a plant shop.
The Northern Italian menu features the likes of Carpaccio of Chianina Beef and Tortellini en Brodo.
Bottega Veneta Stairs
Bottega Veneta's first store in Miami features a spiral staircase highlighted beautifully by strip lighting.
The stairs, created by L'Artigiano USA, are venetian plaster set in a playful soft pink color.
L'Artigiano USA have been involved in many of the Design District's facades.
Big Red Cup
Chug, chug, chug! But not via a red cup.
Paula Crown's 10-foot crushed party cup aka JOKESTER (95 NE 40th St) reminds shoppers that while they spend a pretty penny, single use plastic is threatening the environment.
Remember to pack your shopping bags before visiting.
This installation also features in our guide, things to do in Miami.
Buena Vista Post Office
Buena Vista Post Office (4000 NE 2nd Ave), pops against the blue Florida sky, and its historic features contrast against the new architecture surrounding it.
A plaque tells shoppers that the building was once part of the old neighborhood, Buena Vista which started in the 1890s, making up part of William Gleason and E.L. White's homesteads.
The masonry vernacular style post office building was designed and paid for by David P. Davis in 1921.
It closed as a library in 1924.
If you enjoy visiting upscale neighborhoods with interesting history, check out our guide to things to do in Coconut Grove, Miami too.
Moore Elastika Building
The building next to the Post Office was also designed by Davis but paid for by pineapple plantation owner Theodore V. Moore.
The first part of the building was initially completed in 1922 and the second part 1926.
the building opened as T.V Moore Furniture Store which attracted customers, thus transforming the neighborhood into a thriving one!
Today, the building is an airy 21,000 sq ft event space with a site-specific installation called Elastika, which was created by the Iraqi-born architect Zaha Hadid and commissioned by the Design District creator, Craig Robins.
COTE Miami
If Michelin star is more your style, COTE (3900 NE 2nd Ave) is a Korean steakhouse by Simon Kim.
This is a fun date night spot in the Design District as the dining experience is interactive with smokeless state-of-the-art tabletop grills at every table.
Dior Cafe
Nothing says lux like an espresso with a CD stamp of approval!
Head to the top of the Dior boutique to experience the super boujee rooftop Dior Cafe (162 NE 39th St).
Babies and well behaved photogenic dogs are welcome!
The menu consists of drinks, pastries, and petite lunch plates served among nature and sculpture animals.
The Dior Cafe features in our romantic things to do in Miami guide.
Sofia
With dusky pink seats and revolving wall art, Sofia (140 NE 39th St Suite 133) is one of the prettiest restaurants in the area.
The Italian restaurant menu includes brunch, lunch, bar tops, dinner, dessert, wine and cocktails.
There is also an outside seating area which is located next to the Fly Eye Dome.
For more restaurants ideas, check out our guide to things to do in Miami at night.
Fly Eye Dome
The most pictured attraction in the Designer District has to be the Fly Eye Dome (140 NE 39th St #001) with its geodesic dome and shifting light.
The Fly Eye Dome is the brainchild of American artist Buckminster Fuller (1965) but unfortunately he passed before its completion.
In 2011, Craig Robins snapped up the dome which was later given to The Buckminster Fuller Institute, in partnership with Goetz Composites, ConformLab, and DRDesign, to finish it.
The Fly Eye Dome takes pride of place in the Design District's Palm Court.
Palm Court
Palm Court (140 NE 39th St) is a tranquil spot surrounded by palm trees.
The meeting place is located on the ground floor and provides access to the surrounding stores as well as stairs to the upper floor.
Palm Court is also a 7,000 sq ft event space which hosts fashion shows, yoga classes, and live music gigs.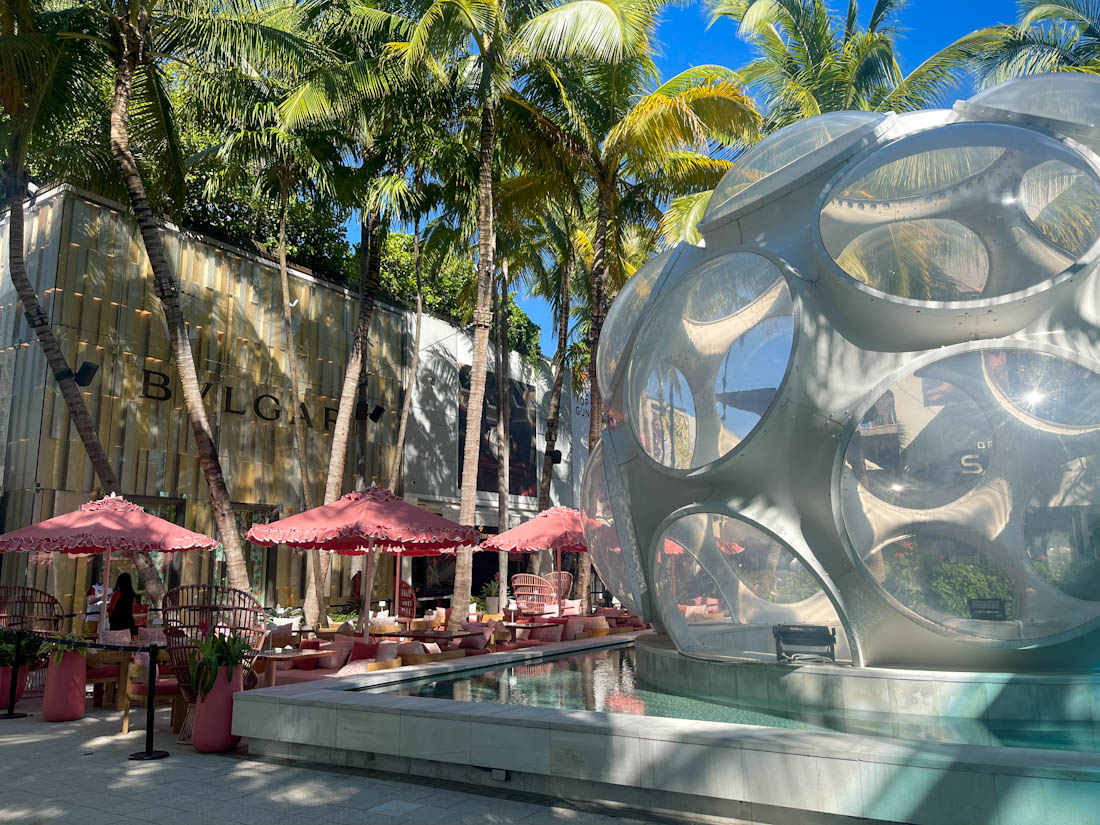 Palm Court Views
If you take the escalator at the bottom of Palm Court to the second floor, you will be rewarded with views over the Design District and beyond.
In this image you can see City View Parking Garage by IwamotoScott and Leong Leong as well as a mural called Interdimensional Portal by the Brazilian artist, Criola (3801 NE 1st Ave).
Le Corbusier and Sou Fujimoto's Facade
Say hello to one of the pioneers of modern architecture, Le Corbusier, who sits poised and ready to work on the second floor, above the Palm Court.
The sculpture is by French artist Xavier Veilhan and is located in the building facade created by Japanese architect, Sou Fujimoto.
Mia Market
You'll probably be ready for a stop after covering all the above things to do in Miami's Design District which is lucky because the gourmet food hall, Mia Market (140 NE 39th St Suite 241) is located on the upper floor next to the swings.
This food hall is ideal for couples who are picky eaters and large groups who can't quite decide what to eat as there are over 10 vendors and a bar.
Netscape Swings
Hide from the hot Florida sun under the leafy trees at the courtyard next to Mia Market on the upper floor.
The single and double swings are called Netscape which resembles a spider web from an Alice in Wonderland gardens, a rare area of peace in busy Miami.
The hanging chairs are the work of the award-winning German designer Konstantin Grcic, who was originally a cabinet maker before studying Design at the Royal College of Art in London.
Amethyst Woman
There is very little information about this gorgeous amethyst woman online, which is frustrating because she is an absolute doll giving us Bridgerton with a serving of RuPaul.
From a deep dive online, she can be identified as part of Manolo Valdés's 'The Legacy' exhibition which was displayed in Doral, Florida.
Do you know how she ended up shopping at Miami's Design District?
Let us know in the comments.
City View Garage
Another parking lot with a beautiful design is the City View Car Park (3800 NE 1st Ave) which can be seen from the (free) patio at the Palm Court.
New York and Los Angeles architect firm, Leong Leong, designed the curvilinear western part of the garage with titanium-coated stainless steel panels which resembles flocks of birds.
San Francisco-based architect firm, IwamotoScott designed the southeastern facade with diamond shaped aluminum panels.
The seven-storey 283,000 sq ft garage looks like it shimmers by day and lights up at night. Stunning.
The late American artist, John Baldessari, produced two billboards for both sides of the garage, Fun (Part 1) and Fun (Part 2).
And you thought you were just looking for a place to park your car in the Design District?!
Makers Market
Sure, many things around the Design District involve splurging on labels and admiring expensive public art but the Makers Market gives customers a chance to shop local by bringing together home decor, fashion, art, design, and food independent artists and makers.
The seasonal markets are a ticketed event, check out the website for the schedule.
For more information on the Design District, here's the official website.
Visit Wynwood
While the Design District is quiet, calm, and clean, its neighboring Wynwood is loud, hectic, and has colors sprayed all over its walls.
The main attraction is the open-air museum, Wynwood Walls, but you can see art murals outside of the walls too.
It is a lively party neightborhood so you'll want to visit twice to appreciate the full package.
Our Miami Guides
Miami By Neighborhood