This article has links to products and services we love, which we may make commission from.

Welcome to The City Beautiful in Miami!
This guide reveals the very best things to do in Coral Gables; one of the first planned communities in South Florida.
This is where George E. Merrick had a vision to carve an affluent and aesthetically pleasing suburb out of his family homestead farm, his dream becoming a reality in the 1920s.
Today, visitors and locals can still see many of the Mediterranean Revival buildings that Merrick and his team of architects and artists conjured up in The Gables.
Plus, huge banyan trees, cute bookstores, modern murals, independent stores, and Cuban culture in Miami.
This guide is split into three main sections – Coral Gables, Miracle Mile, and Coral Way; starting with the really interesting things to do in Coral Gables!
You may also like our Coconut Grove guide, 1-day Miami itinerary, and weekend itinerary.
Fun Things to do in Coral Gables
Learn all about the best Coral Gables attractions in this section of our guide.
We start at the Coral Gables Museum and work our way to the University of Miami before suggesting a fun day trip to new, very old, Miami neighboorhood!
History at Coral Gables Museum
Visit The City Beautiful's 'premier hub of civic arts' at the Coral Gables Museum (285 Aragon Ave) to learn more about the history of the neighborhood.
The museum is partly situated in the Old Police and Fire Station building, which was built 1939 and designed by American architect, Phineas Paist, who was heavily involved in the construction of Merrick's city.
There is also a lovely outdoor space for visitors to use.
Check Out The Coral Way Sign
At 400 Coral Way, you can see a unique tombstone street sign associated with the area.
You won't see limestone street signs in the likes of Downtown Miami, the Mediterranean style street names are only located in Coral Gables.
Many of the street names in Coral Gables are influenced by Spanish destinations.
Coral Gables City Hall Architecture
Coral Gables City Hall (405 Biltmore Way) was was the last of The City Beautiful projects initiated by Merrick.
With the aide of artistic advisor Denman Fink, it was designed by Phineas Paist in 1927.
The coral rock building, in Mediterranean Revival style of course, was completed in 1928.
It has 12 columns, a stone balustrade, and the city's coat of arms proudly sits at the center of the building.
Inside City Hall, there is a mural by Fink.
The City Hall takes pride of place at the very top of Miracle Mile, and is the first of many Coral Gables attractions that visitors see as they drive into the city.
It became part of the US National Register of Historic Places in 1974.
At Christmas, you will see a lit up tree outside of City Hall.
George Merrick Statute
In front of the City Hall is a statue of the man who visioned Coral Gables as The City Beautiful.
The 12ft bronze statue of Merrick is the work of American sculptor, William Beckwith.
Merrick was born 1886 in Pennsylvania and moved to Miami with his family when he was a kid.
He spent his days working on the family farm.
Later in life, he sold parts of the land to fund his plans to carve out a new suburb of Miami.
He had a vision when it came to town planning, stemming from him studying the early 1900's 'The City Beautiful' movement in the US.
Thus, the self-financed, creation of Coral Gables was born.
He took inspiration from Frederick Law Olmsted, the man who designed New York's Central Park, especially homing in on the tree-lined boulevards that were broad in size, inclusion of striking buildings, and the implementation of fountains for social gatherings.
Merrick didn't work alone though, he teamed up with his first cousin, George Fink who was an architect, and his uncle Denman Fink, an artist.
His first public build was the Coral Gables Golf and Country Club in 1921 which included a golf course and space for private houses overlooking the Granada course, designed by George Fink and Phineas Pease.
A fire destroyed most of the clubhouse in 1983, but today you can still see the six coral rock arches.
Merrick went on to build the Miami Biltmore Hotel, the Venetian Pool, and seven unique housing developments which were not his signature Mediterranean Revival style.
Each of the housing developments differ in looks, for example the Italian Village, is based on 17th-century villas found in Italy.
Cool Off at The Venetian Pool
Take a dip on a hot Florida day at the historic Venetian Pool (2701 De Soto Blvd) which opened in 1924!
The space was originally a quarry, created by the removal of limestone to build the houses for The City Beautiful program, but Fink saw the potential for a social area, transforming it into a lagoon-like pool.
Today, an underground aquifer provides spring water, pumping out over 820,000 gallons a day.
The compact complex includes two waterfalls, a cave, a slide for children, and is surrounded by palm trees.
You can hire pool chairs and lockers on arrival.
The Venetian Pool also features in our guide to date ideas in Miami.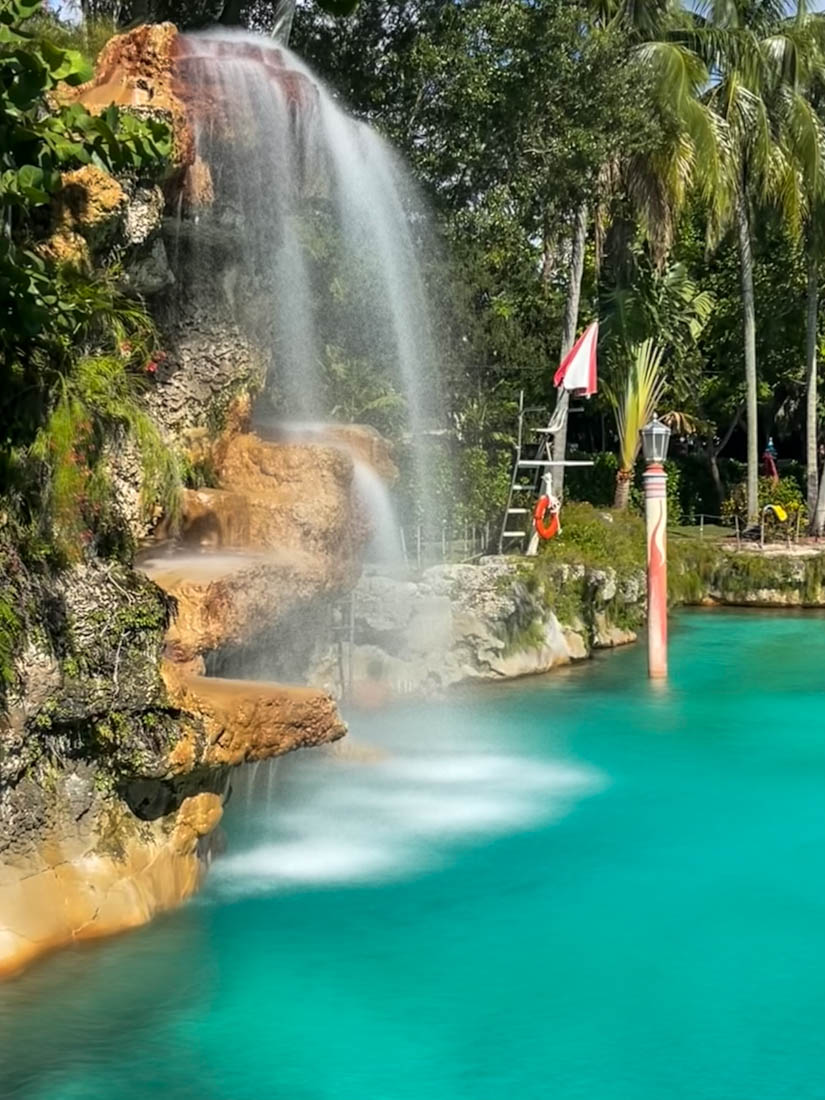 Tour Merrick House
You can visit the National Register of Historic Places, Merrick House (907 Coral Way), during weekend docent-led group tours.
George Merrick built this home for his wife, Euinice Peacock, in 1916.
The house is also titled The Honeymoon Cottage, The Bride's Cottage, and Poinciana Place.
The interior has Dade County pine, French doors, and exposed coral rock.
There was no kitchen on the property, with the assumption that they dined at Merrick's family home which was close by, but there is a butler pantry.
A stunning long yet broad wraparound patio looks out to the landscaped garden which is overshadowed by trees.
There is also an outdoor pool, a fountain, and a pond in the garden.
This tour also features in our guide, things to do in Miami.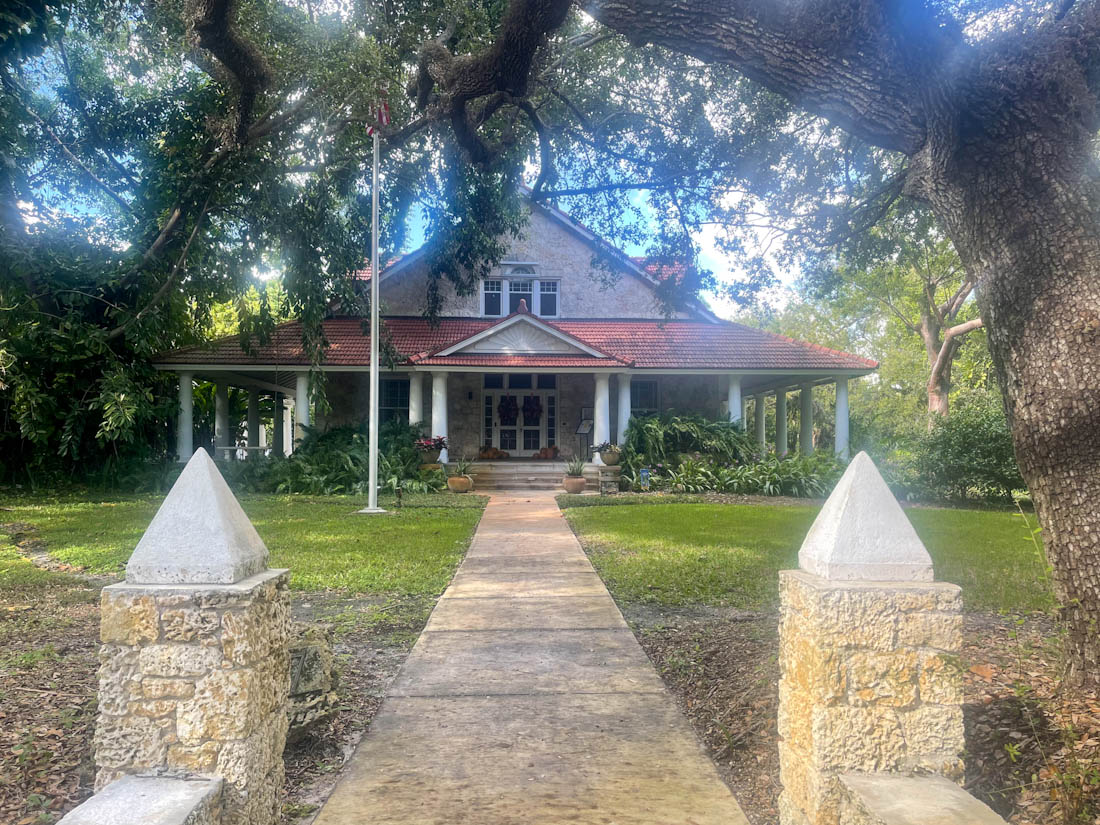 Giant Trees in Coral Gables
You will be in awe of the ancient banyan trees that stand firmly rooted in the ground, and history, of Coral Gables.
They resemble something from a storybook, as if they could come alive at any time, and you bet they'd have some tales to tell!
The below images were taken just outside of Merrick House on Coral Way.
Biltmore Coral Gables Walking Tour
If you can't afford to stay at the Biltmore in Coral Gables, don't worry!
You can still see and learn more about the hotel every Sunday during a free, guided walking tour.
If you can afford to stay at the Biltmore, consider the 13th floor suite which has hand painted images of the Everglades!
Merrick's plan to create this Coral Gables centrepiece began in 1924, with the support of Biltmore hotel magnate John McEntee Bowma.
The architect firm behind other Biltmore hotels, the Freedom Tower in Downtown Miami, and Grand Central Terminal in NYC, Leonard Schultze and S. Fullerton Weaver, were contracted to oversee the build which incorporated Italian, Moorish and Spanish influences.
The swimming pool was the biggest in the US at the time, and the same dimensions are present today.
In 1996, the hotel became a National Historic Landmark.
University of Miami
Located on 239-acre, the University of Miami's main campus at Coral Gables (1320 S Dixie Hwy) consists of two colleges and eight schools.
The grounds are also home to the Lowe Art Museum, the Jerry Herman Ring Theatre, the Gusman Concert Hall and the Clarke Recital Hall.
In 1925, George Merrick granted 160-acres of land and financial support to start the university, requesting that a building be named after his father, Solomon G. Merrick.
The first students enrolling in 1926.
In 2020, students and staff created a letter of request and signed a petition to remove the Merrick name from buildings, citing that the founder of Coral Gables had proposed segregated towns for African Americans in Miami.
Exhibitions at Lowe Art Museum
While visiting the grounds of the University of Miami, pop into the Lowe Art Museum (1301 Stanford Dr) to see over 19,000 pieces from present day to 5,000 years ago.
Exhibitions includes paint, design, sculptures, installations, and more.
There is also a schedule of events such as tours of the museum, family day workshops, and after hour sessions.
Lowe Art Museum is one of the free things to do in Coral Gables.
Things to do on Miracle Mile
In this section of our Coral Gables travel guide we focus on all the fun things to do along Miracle Mile, and activities close by.
From landmarks to shopping, murals to dining out.
Coral Gables Entrance
At either side of the Douglas Road entrance, arches welcome you to the Miracle Mile.
The archway was built in 1997, and the structure is in keeping with Merrick's Mediterranean style vision for Coral Gables.
A Stroll Along Miracle Mile
One of the biggest Coral Gables tourist attractions has to be The Miracle Mile.
This stretch makes up 0.503 miles of Miami's Coral Way, starting at LeJeune Road and ending at Douglas Road.
Trees and plants separate two roads that run through the Miracle Mile, while attractions, stores, cafe, restaurants, and bars line the walkways.
There are lots of things do to in Coral Gables at night at the Mile such as bars, restaurants, and theater, and lights hang from the trees to brighten the popular pathway.
The stretch was named Miracle Mile in 1955, the result of post-Great Depression investment to make it a desirable shopping and entertainment area.
Miracle Mile Restaurants
From seafood to seasonal menus, this four-block stretch packs in restaurants serving a variety of cuisines for all types of diners.
Bruch at The Gramercy, or opt for healthy plates at the Miami chain cafe, Carrot Express.
Morelia Mexican Ice Pops
Morelia Gourmet Paletas is a fun culinary experience for those with a sweet tooth!
There's a three part process where you pick your preferred flavor of gelato, then you choose which sauce you'd like to harden around the ice cream, and then finally you tell the assistant what you'd like to top the ice pop with.
Each pop is handmade using only natural ingredients.
The Mexican dessert is quite pricey but a worthwhile treat while walking along Miracle Mile.
Although you won't read much about the Hispanic demographics of Coral Gables in historic information about the city, you will hear the Spanish language as you shop along Miracle Mile, with its presence becoming the dominant language at Coral Way (below).
Morelia also features in our guide to hidden gems in Miami.
The City Beautiful Mural
One of the best places in Coral Gables for modern photography is a the colorful mural just off the Miracle Mile.
The huge street art piece has a light pink background and features iconic things you will see around Coral Gables such as a tree, the trolley, and a golf course.
Coral Gables Mural
Across from The City Beautiful mural is a Greetings from Coral Gables one.
This mural has a light blue background with coral text that spells Coral Gables.
Images include a rooster, the Miracle Mile sign, and the City Hall tower with the clock.
If visiting during fall, check out the Hallowe'en decorations around this location.
Venetian Mooring Poles
While walking along the Miracle Mile, keep your eyes by the side of the road for the Venetian mooring poles.
The 8ft poles have an image of Venice including gondolas!
Books and Books Al Fresco Lunch
If you ask locals what to do in Coral Gables it is likely that one of the suggestions will include a venture into Books and Books (265 Aragon Ave).
The Coral Gables bookstore opened in 1982, after the owner, Mitchell Kaplan, dropped out of law school.
Today, the store is located in a 1927 listed building and there is cafe with alfresco dining!
Actors' Playhouse at the Miracle Theatre
Actors' Playhouse (280 Miracle Mile) is an award-winning private nonprofit professional theater organization.
Its plays and musicals are presented in the Miracle Theatre which has 600-seat, 300-seat, and 100-seat spaces.
The theater features a year-round calendar of musicals, dramas & children's programs.
Things to do on Coral Way
In our final section, we're going to reveal things to do on Coral Way, outside of the Miracle Mile, as you make your way along to the Little Havana nieghboorhood.
This stretch of road is very residential and can be busy with traffic.
The Coral Gables Trolley runs along Coral Way so you can hop on and off, for free.
Al Carbon Mojitos
Al Carbon (2280 Coral Way) means 'over the coal' in Spanish, which is apt as this relaxed bar is also a chophouse.
There is inside and street front dining, perfect for chilling out while sipping a mojito.
Maria's Greek Restaurant
If burgers and steak doesn't whet your palete, consider hearty plates of Greek food at Maria's Greek Restaurant (2359 Coral Way).
You'll find friendly staff and a varied menu of mezzes, mousaka, and daily specials at this family-owned taverna.
Jada Coles Bar
Impress locals after you tell them you've lost a night to drinking at Jada Coles Dive Bar (2845 Coral Way).
The small neighborhood bar puts on quizzes, live music, and karaoke.
There is also an outdoor pool table and outside seating.
While everyone at the bar knows each other, you won't feel out of place.
For more things to do in Miami at night, check out our guide.
Ricky Bakery
Ricky Bakery is a Miami bakery chain with locations all over the city.
The Coral Way panaderia has windows full of empanadas, sandwiches, bread, and pastries as well as a menu serving breakfast and lunch.
Majestic Portuguese Bakehouse
Enjoy a little slice of sugar heaven at Majestic Portuguese Bakehouse (3340 Coral Way).
A must-try is the pastel de nata custard tarts but if you can't decide, just ask the friendly staff.
The Friendliest Gas Station
Stop by the food mart at Valero (2200 SW 27th Ave) and hopefully you'll get to meet the cheery man who makes the delicious soup for the small cafe!
The gas station sells everything you expect from one – snacks, alcohol, and it has a small take-out menu.
American Museum Cuban Diaspora
'Meet The Cuban' at the American Museum Cuban Diaspora (1200 Coral Way).
The space showcases art and design pieces that explain the history and culture of Cuban people in the US and work by Cuban exiles.
Things to do Near Coral Gables
Visit Coconut Grove
Coconut Grove is an affluent neighborhood in Miami, where million dollar houses are hidden behind leafy gardens.
It is the oldest neighborhood in the city!
The area features brunch spots, upmarket bars, marinas, Barnacle Historic State Park, and Vizcaya Museum and Gardens.
Check out guide, things to do in Coconut Grove next.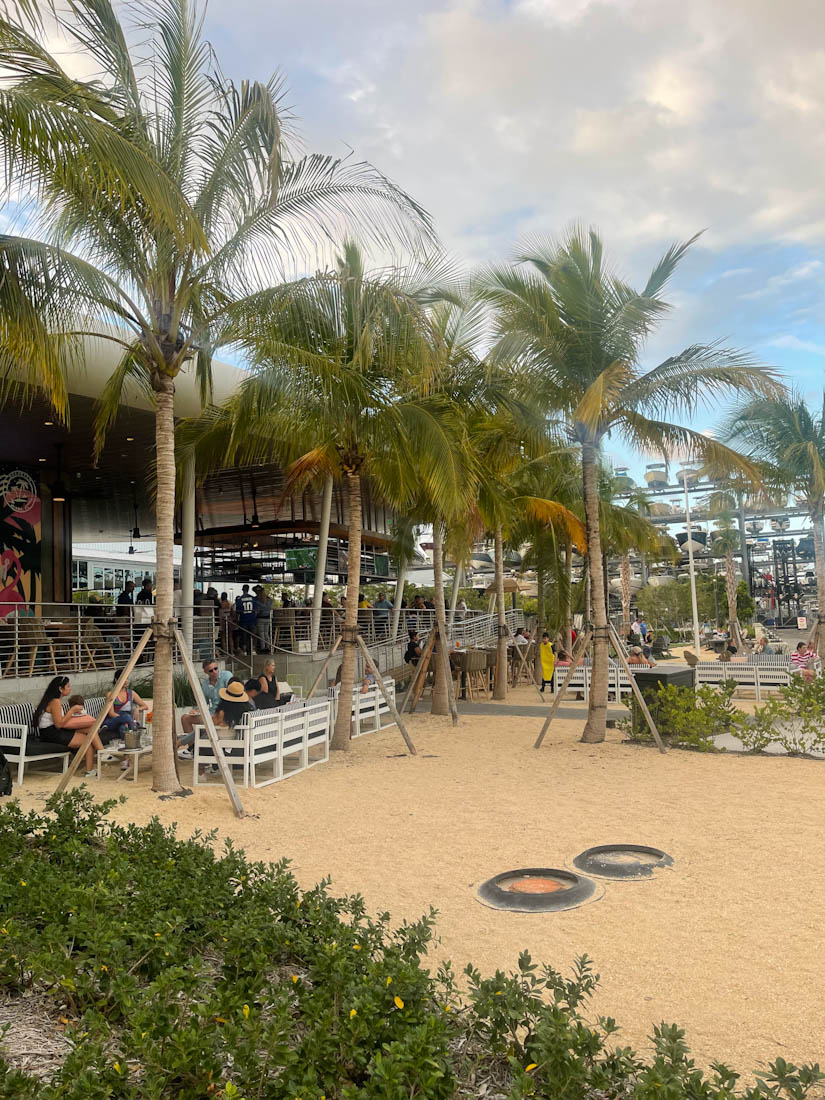 Little Havana
If you're looking for a delicious Cuban meal, head to El Palaciode Los Jugos (1545 SW 27th Av) in Little Havana then make your way to the famous Calle Ocho to see the main tourist attractions.
Along this vibrant street you'll find coloful murals, cigar shops, cocktail bars, and the Bay of Pigs Memorial.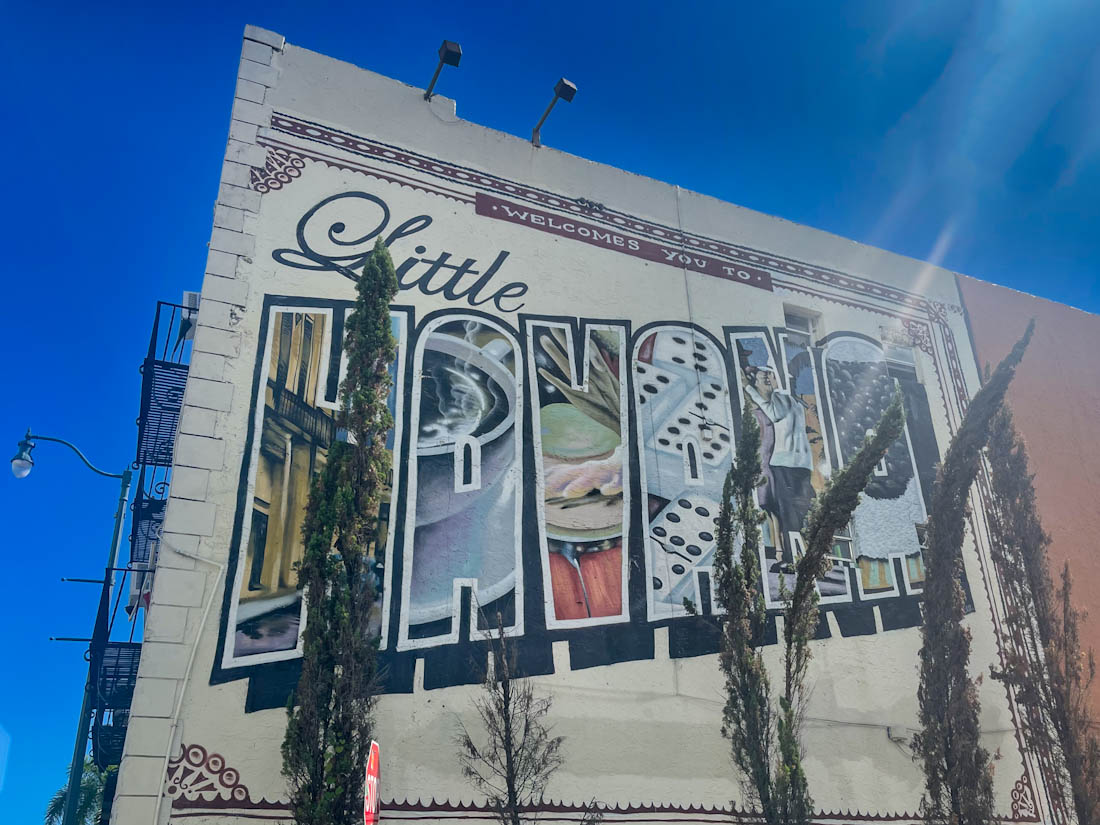 Our Miami Guides
Miami By Neighborhood