This article has links to products and services we love, which we may make commission from.

Welcome to the Coconut Grove, where the only thing bigger than the houses are the trees!
Known as Miami's oldest neighborhood, this area is an interesting one – rooted in South Florida's Black history, as well as that of the creatives and the beatnik community.
Our guide to the very best things to do in Coconut Grove can be used by locals looking for unique suggestions, and visitors checking out The Grove for the first time.
The Grove, which was founded in 1825, is blessed with huge ancient trees, lush green parks, roaming peacocks, and marinas.
This article shares exciting Coconut Grove attractions, where to dine, and how to make the most out of your time in the area, whether that be on dry land or in the waters of Biscayne Bay.
Suggestions are peppered with historical information.
You may also find our guides to Coral Gables and Downtown Miami useful.
Fun Things to do in Coconut Grove
Coconut Grove, or The Grove, as locals refer to it, is best reached by car, but once you are in the neighborhood you can explore most of its central landmarks by foot.
As with all of our Miami guides, we have done the mapping for you, which means all of the suggestions below are grouped together so you can plan your visit effectively.
Coconut Grove Center
Stores, bars, and restaurants line the streets under a canopy of trees in Coconut Grove's Center.
This is the most bustling area of the neighborhood where couples go on dates, friends meet for brunch, and families stroll with pushchairs.
Many of the cafes, restaurants, and bars have street dining so you can people-watch while enjoying drinks and food!
Historically, this is where creatives met to hang out and play music.
In the 1950s, the Beatniks of Miami visited the coffee houses.
CocoWalk Mall For Shopping
CocoWalk (3015 Grand Ave) is an open air mall which is sleek in design.
The location is home to upscale stores, office space, restaurants, a theater (below), and an outdoor fountain.
Here you can pick up new gym gear, join a yoga class, get your nails done, then refuel with lunch, gelato, and/or drinks with the girls!
Events like concerts also take place at CocoWalk.
Brunch in Coconut Grove
Brunch has always been a big deal in Coconut Grove, outsiders visiting for boozy breakfasts at GreenStreet Cafe (3468 Main Hwy) since the 1990s.
If you prefer a coffee to go, Miami-based Panther Coffee offers specialty brews in The Grove, which is their third location.
Their flagship is based in the lively neighborhood of Wynwood; if you like street art you should definitely visit.
Dining Out in The Grove
Share a pizza at Harry's, plough into a plate of Peruvian Chaufa at Jaguar, or tuck into a tikka masala at Bombay Darbar – there's a huge variety of food options to choose from.
Many of the Coconut Grove restaurants have indoor seats with air conditioning and al fresco dining.
For dinner with a view, consider Bellinis (2988 McFarlane Rd) or the Bayshore Club (below)!
Dining in Coconut Grove also features in our 3-days in Miami itinerary.
Bar Hopping
There's a decent choice of bars in this compact neighborhood!
Enjoy live sport on the TV with beers at the low-key Sandbar (3064 Grand Ave), a catch up with a couple of vinos at Happy Wine (2833 Bird Ave), or go for one of the many whiskeys at The Grove's oldest bar, The Taurus (3540 Main Hwy).
What's your favorite bar? Tell us in the comments.
See a Movie at Cinépolis Luxury Cinemas
Seeing a movie Coconut Grove style means lounging on comfy leather seats while food is served to you!
That's the cinematic experience you receive at Cinépolis Luxury Cinemas.
There is also a bar on-site.
Photograph Coconut Grove Playhouse
The Coconut Grove Playhouse first opened as the Player's State Theater in 1927, with air conditioning and the largest Wurlitzer organ in the US!
It has had an eventful past, closing during the Great Depression, then acting as a training base for Army Air Corps navigators in WWII.
In 1956, it reopened with new renovations as the city's first live theater, using the name it is known as today.
To help attract an audience for the 1963 production of Irma la Douce, local artists were invited to set up displays outside of the theater, similar to Paris's Left Bank.
This saw the birth of the Coconut Grove Arts Festival!
Although the not-for-profit closed its doors in 2006, the Playhouse was added to the National Register of Historic Places in 2018.
Appreciate Evangelist Street/Charles Avenue
Charles Avenue, which was initially called Evangelist Street, is where the first Black community in mainland South Florida settled.
The community was mainly made up for people from the Bahamas who arrived in Coconut Grove in the 1880s.
After stopping in Key West, workers made it to The Grove to utilize their knowledge of agriculture at The Peacock Inn, the neighborhood's first hotel.
The boundaries of the Bahamian settlers' community started around Douglas Road, to Coconut Grove Playhouse.
Now, the area known as West Grove is officially called Little Bahamas.
E.W.F. Stirrup House
Ebenezer Woodbury Franklin (E.W.F) Stirrup was a notable housing developer and The Grove's first Black millionaire.
Stirrup arrived in Florida in 1888, leaving his home in Harbour Island, Bahamas to learn carpentry skills from his uncle.
At the time of his death in 1957, Stirrup had built over 100 homes, which he rented to the Black community in Coconut Grove.
He was one of the largest landowners in the neighborhood, encouraging residents to save money to buy their own property, all done during segregation in Miami.
You can learn more about Stirrup during this podcast interview with his granddaughter, Mrs Carol Ann Davis Henley Bird.
E.W.F Stirrup's House (3242 Charles Avenue) is a wooden house made from Dade County Pine.
Stirrup lived here with his wife, Charlotte Jane, until 1957 when he passed.
Coconut Grove Cemetery was renamed Charlotte Jane Memorial Park Cemetery after his wife.
Historic Mariah Brown House
The historic home of Mariah Brown House (3298 Charles Ave) was built in 1890, and is a one-and-one-half story Frame Vernacular house with a wrap-around porch.
It was the first house to be built on Evangelist Street.
Mariah Brown emigrated to Coconut Grove from Eleuthera in the Bahamas to work at the Peacock Inn in 1880; she initially lived at the inn before buying land and building this house which was close to the hotel.
The house is listed on the National Register of Historic Places and is owned by a private resident.
Million Dollar Coconut Grove Houses
Long gone are the days where locals can buy land and build houses in Coconut Grove.
The average house price in this affluent neighborhood is $2million, a stretch for many Miamians.
However, even though you can't buy, you can still look, right?!
Take a stroll along the tree lined residential streets, and peek through the gates of the magnificent houses, which all differ in style and size.
Coconut Grove is a fun neighborhood for Halloween and Christmas decorations too.
Towering Coconut Grove Trees
Coconut Grove is blessed with century old giant oaks, hardwood hammock, and banyan trees.
These trees stand tall along streets that are accessible to visitors so everyone can appreciate their trunks, vines, and palms.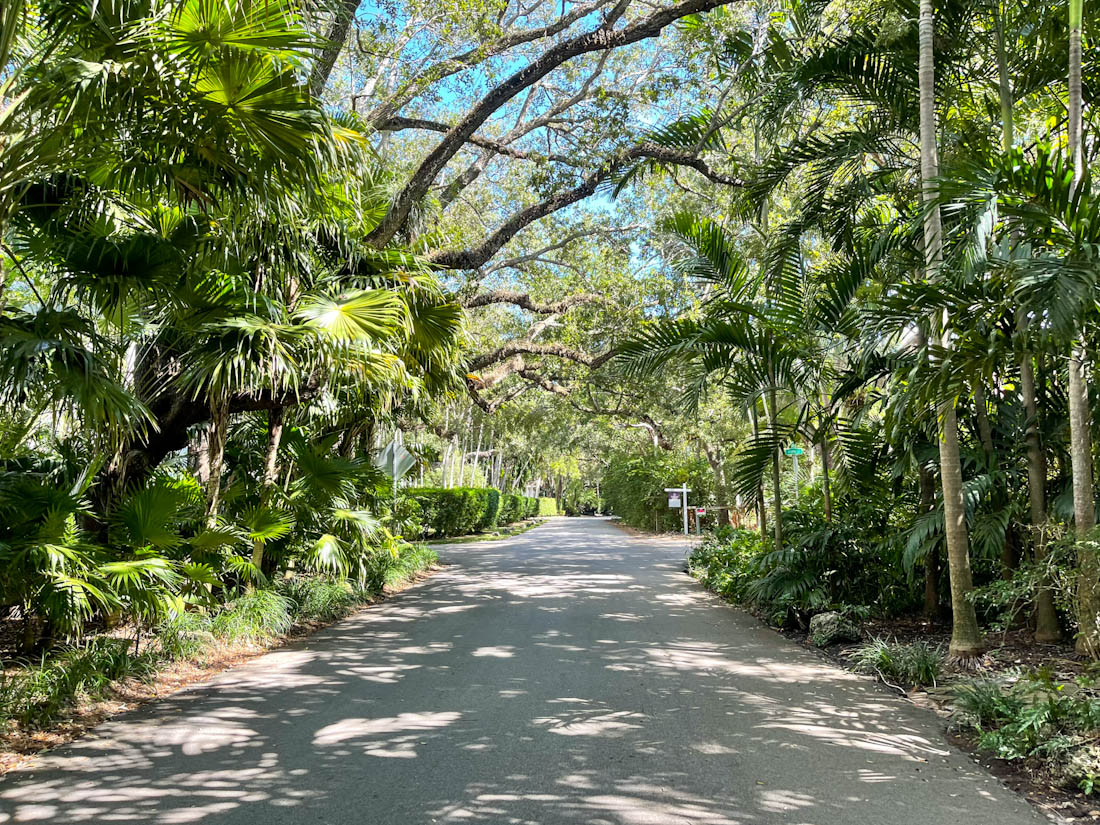 For some, the trees act as umbrellas, providing shade as they relax in the gardens.
The trees are a respected part of The Grove history and community, and developers have been fined for cutting them down.
Roaming Peacocks
It's not just the locals that strut through Coconut Grove, the neighborhood also has its own resident peacocks!
While this a draw for tourists, these birds are a bit of a nuisance for homeowners as they have the ability to fly (jump?!) onto roofs of cars and even houses.
Have you ever heard a peacock…?
The noise also grinds on some residents' gears, so much so that there has been a request to reduce the numbers of peacocks in the area.
Catch them while you can!
Peacock Park For Nature
The 9.4-acre Peacock Park (2820 McFarlane Rd) has nothing to do with the birds!
This urban green space is named after Brits Isabella and Charles Peacock, the owners of the Peacock Inn who moved to the area in 1882.
The park features a kids play area, stroll-friendly pathways through the grass, and walkways down to the water.
Barnacle Historic State Park and House Tours
The Barnacle was built in 1891 by Ralph Middleton Munroe, one of The Grove's pioneers, and is known as Miami's best backyard.
Among the five-acre park you will find Munroe's home, with its huge porch and replica of his Marine Railway and sailboat EGRET.
Visitors can take guided tours of the historic house or simply enjoy a day at The Barnacle.
El Jardin
When standing outside of El Jardin/The Garden close your eyes and imagine a gatehouse, conservatory, boathouse, and villa where socialists hung out as that's what Adelaide Marie Bindley's manor was like!
Her wealthy father, John Bindley of the Pittsburgh Steel Company, had the house built for her in 1919.
Bindley was one of the rich industrialists who chose Coconut Grove as the location for their winter homes.
Dine, Shop, or Sail From Regatta Park Harbour
Regatta Harbour is located in the seven-acre Regatta Park on the historic Dinner Key, a small island in Biscayne Bay.
Here you can dine, shop, see a scheduled live show, enjoy a stroll, or dock your boat!
If you ask locals 'what to do in Coconut Grove', many will recommend getting on the water, so if you get the opportunity to go sailing, do it.
It is honestly so much fun mooring the boat in the middle of Hurricane Harbor and getting in the water for a bit of bobbing about, surrounded by million dollar houses of course!
In 1918, this is where the first continental Naval air station was built, and it stayed active until its closure in the 1930s, when Pan American World Airway set up shop.
Thousands of people would travel to Regatta Harbour to see Pan Am's Clipper planes taking flight to vacation destinations in the Caribbean and South America.
Spend the Afternoon at Bayshore Club
Bayshore Club (3391 Pan American Dr) is a three-level waterfront restaurant, located at the old Pan Am Seaplane Base.
On the path down to the restaurant, look down to see stamps associated with flights, a nod to the area's history.
The airy bar has a dining area, lawn seating, and cabanas.
Entertainment includes live music and happy hour.
There's also a bright Miami mural on the side of the bar.
Bayshore also features in our guide guide to romantic things to do in the city which you can read here.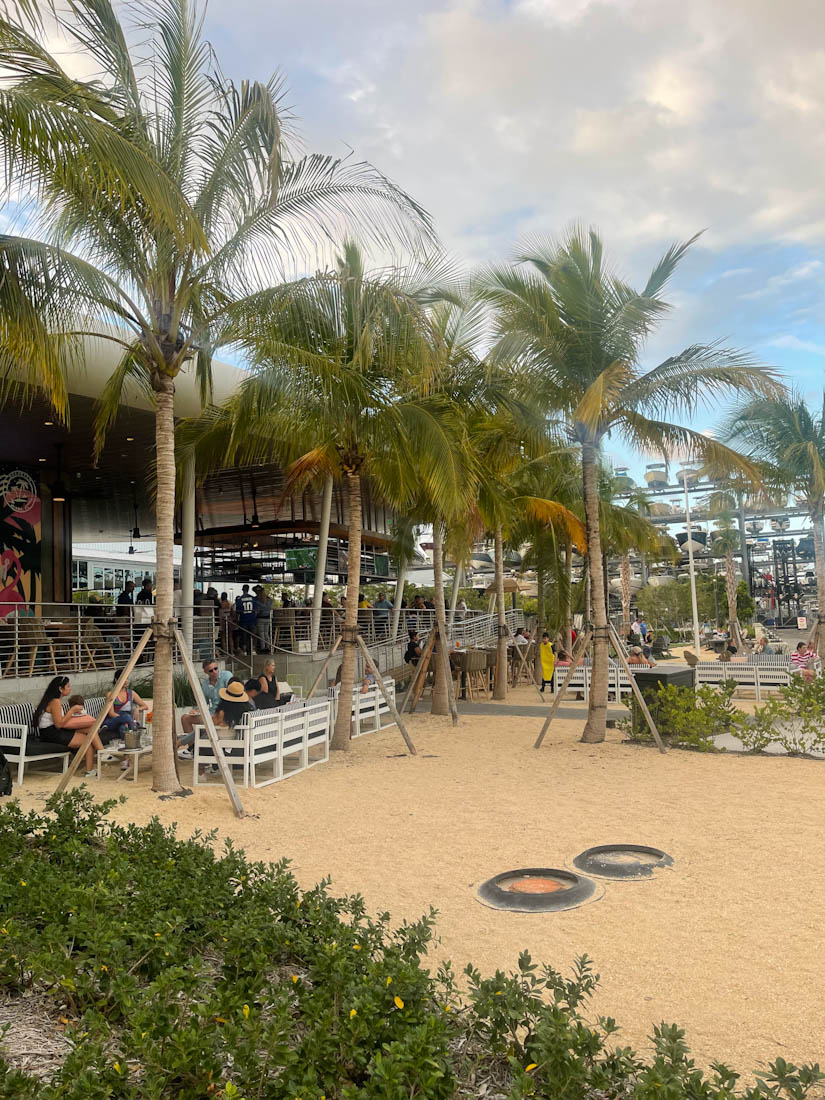 See History at Miami City Hall
You may expect Miami's mayor to work out of Miami Downtown or central Brickell but Miami's City Hall is actually located in the stunning Pan Am Art Deco terminal in Coconut Grove!
Built in 1934 by architects Delano & Aldrich, the building was the Pan Am terminal until 1954.
Two murals by the artist Xavier Cortada, Encounter: 1566 and The Incorporators: 1896, are displayed in City Hall.
The free Miami trolley has a stop just outside of the building, so you can get dropped off from Downtown to explore the area.
If you like Art Deco you should definitely check out our guide to Art Deco hotels in Miami Beach.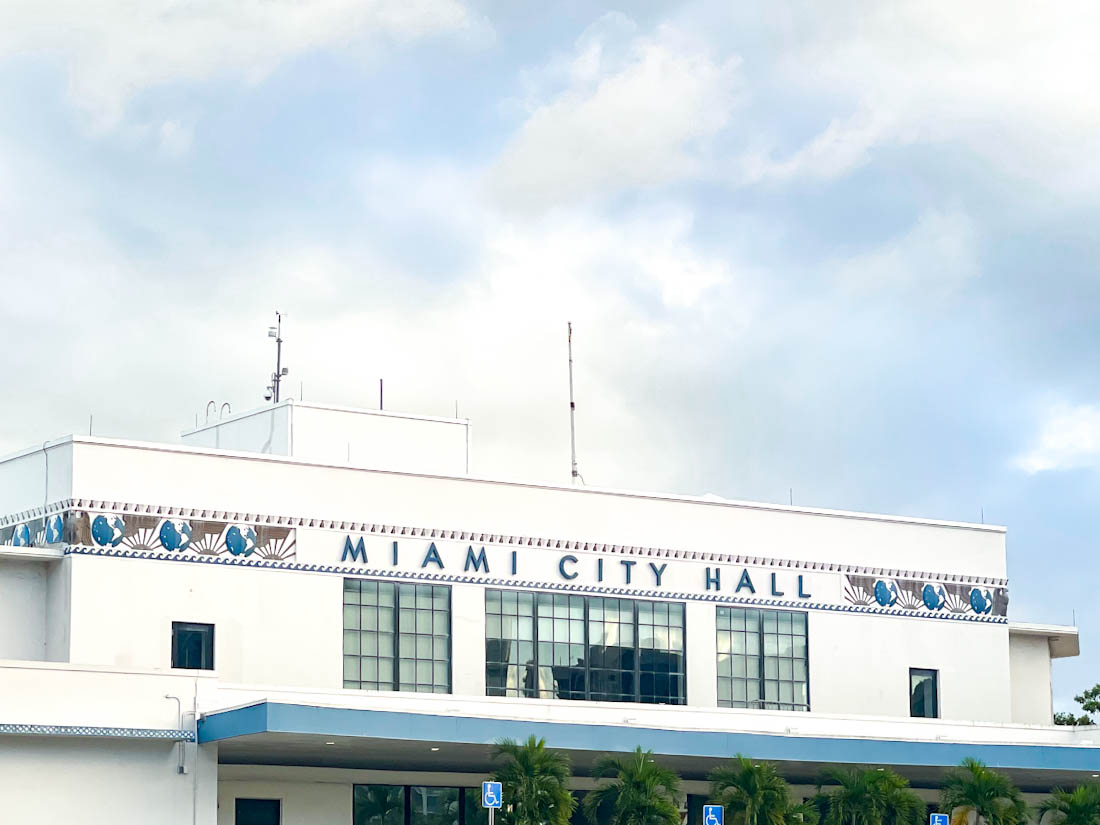 Have a Drink at Monty's
Monty's is a relaxed tiki bar that overlooks the marina, with its drink and food menu you could easily let an afternoon slip into night here.
Check out the official website for a schedule of events like live music.
Monty's also features in our guide to Miami at night.
Enjoy the Views at David T Kennedy Park
Another waterfront park in Coconut Grove is David T Kennedy Park (400 S Bayshore Dr).
The 20 acres features walking paths, beach volleyball, an outdoor gym, and an off-leash dog area for furry friends.
It is also where you'll find the legendary A.C.'s Icees!
Cool Down With A.C.'s Icees
On a hot day, the longest line in The Grove is going to be at A.C.'s Icees (2470 S Bayshore Dr).
The frozen lemonade truck has been a family favorite since 1978.
The owner, Allen Cohen, set up the truck as he wanted to make the park his office!
Today you can choose from three flavors – lemonade, cherry, and pina colada, or a mixture.
If you're visiting around January 26th, you'll be in town for the annual A.C.'s Icees Day!
A.C.'s Icees is a Coconut Grove landmark, be sure to grab a piece of history during your trip.
This cool activity also features in our guide, things to do in Miami.
Visit Vizcaya Museum and Gardens
Step back in time at one of Miami's most popular tourist attractions, Vizcaya Museum and Gardens (3251 S Miami Ave), where you can explore the winter estate of James Deering, a wealthy, Chicago born industrialist.
Inside the lavish mansion is 70 rooms, 32 of which are decorated with furniture and antiques sourced by Deering and his design partner Paul Chalfin, during trips to Europe.
Although the decor is vintage, the house does have modern appliances for its time, such as a telephone switching system and a vacuum system.
Unlike neighboring Coral Gables where the architectural style is more Mediterranean, Vizcaya is Italian Renaissance, and the backdrop features a canvas of hardwood hammock.
There are 10 acres of gardens to visit, including the Formal Gardens which you may recognize if you've visited France as it is very like Versailles!
Many Black Bahamians worked on the construction of Vizcaya, which started in 1914, then in the farm and gardens after completion in 1916.
Matheson Hammock Park For Sunbathing
The Grove even has a beach, making it one of the best Coconut Grove activities for families!
Matheson Hammock Park (9610 Old Cutler Rd) is a 630-acre park with sandy beaches, a restaurant, mangroves, and hardwood forests – a slice of tropical paradise in the city.
The park opened to the public in 1930, after it was donated to the city by William J. Matheson.
Our Miami Guides
Miami By Neighborhood