This article has links to products and services we love, which we may make commission from.

With so many family-friendly things to do in Clearwater, Florida, it is easy to see why thousands of visitors flock to this Gulf barrier island each year.
More commercial than its Pinellas County neighbor, St. Pete, this lively 3 miles of sandy shore has sun, sand, and a variety of tours ideal for big kids and the wee ones.
The closest airport to Clearwater Beach is St. Pete-Clearwater International Airport (PIE), and it takes around 30 minutes to drive between the two. Tampa International Airport (TPA) is also approximately a 30 minute drive.
If you prefer to leave the car at home, check out this transfer service from St. Pete-Clearwater International Airport and this option from Tampa International Airport.
Now, let's dive into the best Clearwater Beach activities for all ages.
Best Things to do in Clearwater, FL For All
To help you get your bearings, our guide starts at Clearwater Beach, then meanders over to the eventful Pier 60 fishing pier, before going over the road to Clearwater Harbor where you'll find heaps of Clearwater attractions.
If we've missed any of your favorite Clearwater activities, tell us in the comments below.
Spend the Day at Clearwater Beach – Everything You Need to Know
Before we start discussing things to do in Clearwater Beach, let's discuss why this Tampa Bay area is known as Clearwater!
It is assumed that the name Clear Water comes from the Native American term, Pocotopaug.
The beach itself has three miles of shore, powdery white sand, and is life guard controled – perfect for families.
Public parking can be found close to the Pier 60 fishing pier, next to Clearwater Beach, and also by the hotels and restaurants behind the beach area.
There is a trolley service that runs from St. Pete, so you can visit for the day, or stay in St. Pete and spend time in Clearwater.
Starting at Pier 60, there are public restrooms dotted along the beach, and showers can be found at 332 S Gulfview Blvd.
Beach rules state that no alcohol is permitted but that's OK as there are many bars that you can get a drink at, some of which overlook the ocean.
Clearwater Beach is not pet-friendly, however, you can walk leashed dogs at Clearwater North Beach past Somerset Street.
Personal watercrafts like surfboards, kayaks, etc need to be left at home too.
To allow everyone to enjoy the area, manual and motorized beach wheelchairs are available – the sand is groomed.
The downside to groomed sand is that it means less shelling finds, but there is a tour discussed below that offers to help you find the best shells and shark teeth in the area.
A cool annual event not to be missed is the Pier 60 Sugar Sand Festival where sculptures made from sand are put on show.
Play Volleyball
If the thought of lazing around by the ocean tires you out, pack your gear and challenge friends to a a game of volleyball on Clearwater Beach.
The nets are located near Second St and South Gulfview Blvd.
The sand is groomed so you don't have to worry about landing on rough terrain, although it can be quite compact!
There's also a local volleyball team that play in the city called the Pinellas Heat.
Stroll Along the Beach Walk
Stretch your legs along the winding path of the Clearwater Beach Walk, which has been in operation since the late 2000s.
There are options to get off the Beach Walk if you need a comfort stop, or want to visit one of the businesses along the way.
For a longer walk, consider the 13.7 km Caladesi Island trail.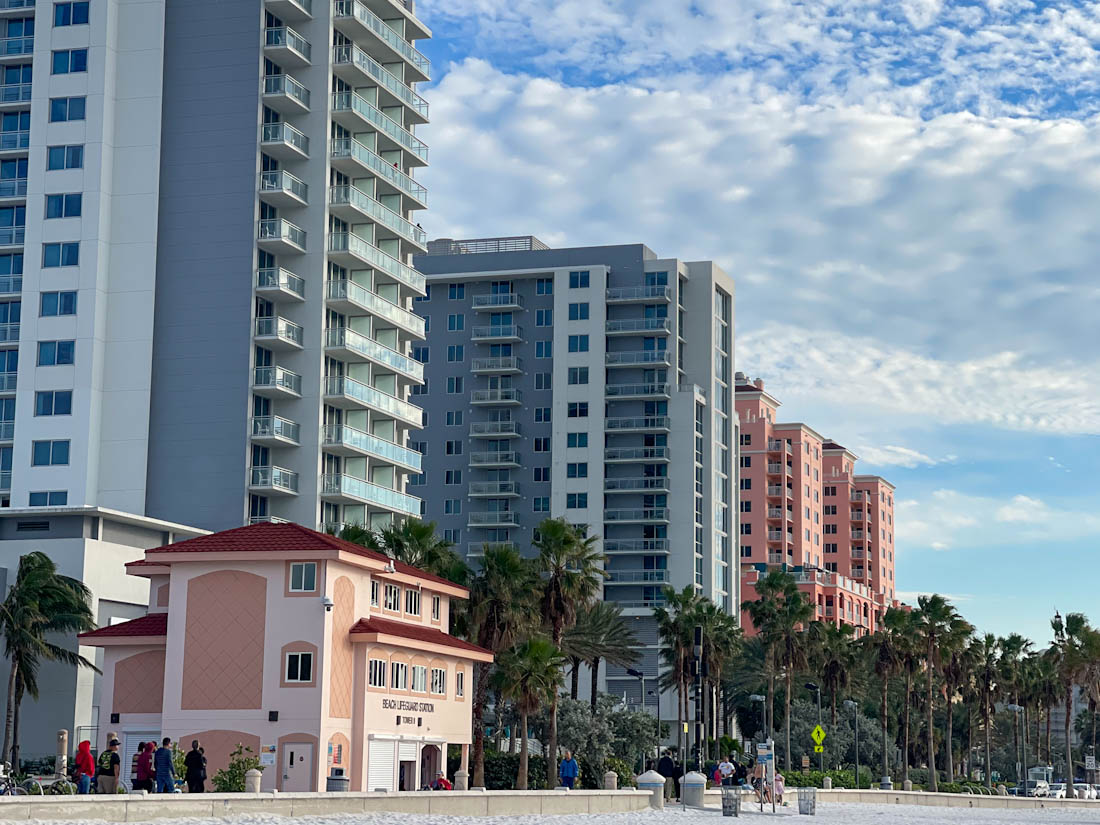 Clearwater Beach Visitor Center
Pop into the Clearwater Beach Visitor Center (399 Mandalay Ave) by the beach and fishing pier for information on local tours and trolleys.
There is also a market shop for general items and souviners.
It is open seven days a week.
Pier 60 Fishing Pier
At Pier 60, not only will you find daily attractions, there is also a 1,080-foot fishing pier (370 Mandalay Ave), which has been open since 1962.
The pier has a number of covered huts along the stretch.
If you fancy a go at catching mackerel and trout but didn't come prepared, you can hire lines at the pier.
One of the best things to do in Clearwater at night for anglers is fishing under the lights in the dark!
The pier is open to regular footfall, so you don't need to fish to take advantage of its viewpoints.
Keep your eyes peeled for dolphins in the water.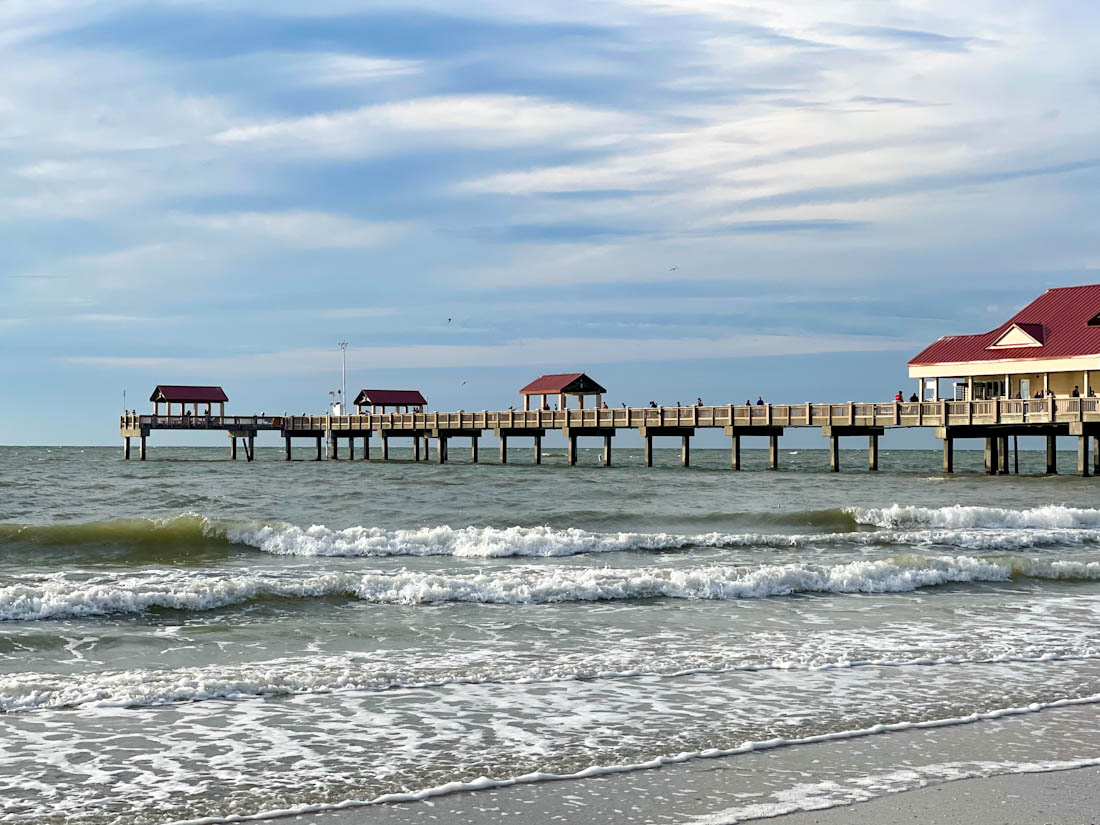 Colorful Umbrellas For Photography Fans
The most iconic photo at Clearwater, after the pier of course, is the row of colorful sun umbrellas.
These resting rainbow brollies, are best shot from the side.
If you can get the image at sunset you are on to winner!
Photography is just one of the many Clearwater Beach Pier 60 activities, tucked inside the umbrellas at night you'll find stalls with items for sale.
Pier 60 For Kids
One of the best things to do in Clearwater for adventurous kids is the inflatables at Pier 60.
Bouncy castles, sharks, and a massive waterslide fills the space next to the pier at Pier 60 Park.
There's also a trampoline for big kids.
Pier 60 Sunset Celebration
Like Key West, Clearwater has a sunset celebration where live music plays and entertainers do tricks and dancing.
If you're looking for souvenirs, local crafters and makers sell their goods along the pier.
This is a lovely way to end the day before heading back to your hotel to change for dinner, or departing back home in your car.
Observing what's going on around Pier 60, is one of the rare free things to do in Clearwater, aside from sitting on the beach!
Play Park For Free Fun
If you don't want to shell out for the inflatables, tire the kids out at the Clearwater Beach Playground instead.
There are two areas, one of young children, and the other for bigger kids, and both are sheltered from the hot Florida sun.
Helicopter Tour
See Pier 60, Clearwater Beach, the Beach Walk, Honeymoon Island State Park, Sand Key and Belleair Country Club from a bird's eye view throughout this stunning helicopter tour.
During the tour, the pilot shares information about the area so you can learn a little more about the barrier island below.
This is one of the most romantic things to do in Clearwater for couples, so if you are visiting for a special occasion, consider this tour.
Welcome to Clearwater Mural
Like many destinations on the East Coast, Clearwater has its very own 'Welcome To Clearwater' postcard mural.
Located at the back of Crabby's Dockside's (37 Causeway Blvd) buidling, the street art piece has a shadow of the Memorial Causeway Bridge, the ocean, and palm trees with large text that reads 'Welcome to Clearwater Beach'.
You'll see many of these postcard-style murals around Florida, why not start collecting pictures of them?
Check out Tampa, Siesta Key, Crystal River, Key West, and Little Havana in Miami for the mural too.
Shark Teeth & Shells Tour
People who vacation in Florida love the Sunshine State for its shelling!
During this 1-hour tour (25 Causeway Blvd), the crew bring the goods to you, so all you need to do is shift through sand to find keepers.
This Clearwater activity isn't just a shelling tour, it is also a wildlife tour!
If dolphins are spotted in the ocean, the captain will sail out to them.
Plus, the narrator points out where celebs in the area live!
See Dolphins in the Wild
For a more intimate option, Little Toot Tours (25 Causeway Blvd), invites you to step aboard their tugboat-style boat.
The boat has seats in the shade and sun, and customers can move around the boat to find the best views of the pods of dolphins playing near the boat.
The knowledgeable crew are always on hand to point out dolphins and answer any questions.
Pirate Boat Tour
Ahoy, Mateys!
Hop aboard Captain Memo's big red pirate boat (25 Causeway Blvd) and set sail from Clearwater Bay in the morning, afternoon, or evening.
The early evening and sunset cruises include champagne, so you can relax with some fizz instead of rum!
This family-orientated cruise puts on a schedule of water gun battles, treasure hunts, face painting, and pirate games.
The ship was custom built by the late Captain Memo and his wife, Pam, in 1993.
Tikki Boat For a Private Cruise Party
For pure adult fun, book your group onto one of the tiki boat tours (25 Causeway Blvd).
This floating bar is the epitome of a booze cruise, and you get to choose the soundtrack too.
The boat features a bar, drinks and snacks of your choice provided by your party, a bluetooth speaker, and a USCG certified captain.
Groups can choose to go into the water or simply admire the landscape and marine life from the comfort of the bar as it cruises along at 5 mph.
Set Sail with a Clearwater Cruise, Buffet & Dancing
If you need more than snacks, consider a colorful cruise with buffet.
The 65-foot triple decked ship, The Calypso Queen (25 Causeway Blvd), set sails in the afternoon and evening, with the evening tours putting on a live DJ for party people visiting Clearwater.
The open bar features rum punch, wine, and beer, and the dinner consists of seafood, meat, pastas, salad, and bread.
The Calypso Queen caters for everyone, there's dancing on the upper deck, and a more low key experience on lower deck and top deck.
Dress code is casual so you don't need to dash for your dinner suit!
See the Sunset From the Water
If you're vibe is more sunset focused, minus the live music, take a look at this Clearwater sunset cruise (25 Causeway Blvd).
Once aboard the double-decker catamaran vessel, you'll receive a complimentary glass of champagne to toast the day slipping into night.
There is also live commentary, advising when to look up the horizon.
You just can't beat the sunset over the Gulf.
This tour can be booked through Viator or GetYourGuide.
A sunset cruise is one of the best things to do in Clearwater Beach for couples.
Try to Beat an Escape Room
Since you are planning on visiting an outdoor destination it is wise to have a few sheltered ideas to amuse the kids if rain falls.
One of the most challenging Clearwater indoor activities is The Davinci Exhibit (483 Mandalay Ave #210) where your team put work together solving clues to discover Davinci's secret and escape the room.
Can you beat the timer or will you be trapped in the museum forever?
Family members from kids up to Grandparents love this indoor attraction.
Where to Eat in Clearwater
Whether you are looking to start the day with a plate of pancakes or see the sun set with a side of live music, there are various dining opportunities at Clearwater Beach, or close by.
Salty's Island Bar & Grille For Cocktails & Classic Seafood
For a relaxed bite to eat, head to Salty's (437 S Gulfview Blvd).
The menu stretches from breakfast through to dinner and consists of classic seafood dishes, tacos, bowls, salads, pastas, and a separate kids menu.
They love their frozen cocktails and Salty's, which can be enjoyed on the breezy deck as live music plays around the bar.
Frenchy's South Beach Cafe For Groupers
Frenchy's is an institution.
It has a handful of Clearwater restaurants located around the island.
Frenchy's is famous for its speciality grouper sandwiches, but also serves burgers and pastas.
Its South Beach Cafe (351 S Gulfview Blvd) is located right on the beachfront, just across from the beach.
Crabby's Beachwalk Bar & Grill For Sunset Dining
For a beach themed bar the views of the Gulf, head to Crabby's (333 S Gulfview Blvd).
This restaurant offers indoor and outdoor seating with epic sunset views on the upper deck.
There's also TVs dotted around the bar for sports fans.
Crabby's menu has lots of seafood 'offshore' options including a shell bar, and 'onshore' items like sandwiches, tacos, and pasta.
The corn hole boards are a hit with the kids.
Crabby's is a Florida based chain, so you may recongnize the branding from your travels.
Badfins For Date Night & Craft Beer Flights
For a brewery style feel, hit up Badfins at Wyndham Grand Resort (215 S Gulfview Blvd), where you can order Mexican dishes, local IPAs, and handcrafted cocktails.
The food menu includes quesadilla, chicharrones, nachos, tostada, all filled with locally sourced fish, vegetables, and micro greens.
Badfins has more of a St. Pete vibe to it compared to other Clearwater food options, which is great for couples.
Rockhouse For Live Music & Meals
Rockhouse (207 Coronado Dr) lines up a full schedule of live music featuring local talent – if you like a side serving of strings with tucking into tacos, give it a go.
The menu includes burgers, sandwiches, tacos, nachos, beer, wine and other alocholic drinks.
Things to do Near Clearwater Beach
If you've exhausted all of the Clearwater attractions for families and adults above, it's time to hop in the car and try something new close to the beach.
Catch a Game at Spectrum Field
Sport fans are drawn to Clearwater's Spectrum Field (previously known as BayCare Ballpark) as it is the seasonal home of the MLB's Philadelphia Phillies who train here during spring.
Here, you'll also find the local Minor League Baseball team, the Clearwater Threshers.
The stadium has 7,300 fixed seats with grass seating for another 1,500 sports fans.
Tarpon Springs Kayak Tour
Since you can't launch your kayak at Clearwater Beach, why not join this 2-hour echo tour (1060 N Pinellas Ave) along the Anclote River?
The tour includes a kayak, paddle, life jacket, and a guide with lots of knowledge about Tarpon Spring's ecosystem.
If visiting during season, you might see a manatee!
Cycle Around Dunedin
If you prefer to do your sightseeing from dry land, this bike tour of Dunedin (472 Wood St, Dunedin) might be ideal.
The small group tour lasts for three hours, packing in all of the town's landmarks such as Hammock Park, Edgewater Park, TD Ballpark Kellogg Mansion, and the Fenway Hotel aka The Grand Lady of Dunedin.
The tour includes bike rental, bike equipment, a water bottle, and a guide.
St. Pete For City Life & Beaches
Visit the Venice of the North, St. Pete for upmarket dining, beautiful views over the marina, a modernized pier, and museums such as the Salvador Dali Museum.
But that's not all St. Pete has to offer!
On the Gulf side of the island St. Pete has its own beach with soft white sand.
Check out our guide to St. Pete and the beach for more.
Parking in Clearwater Beach
Eurgh, parking in Clearwater Beach is no fun.
Plan to arrive early, or keep your eyes open for parking while driving between parking lots.
As the sun starts to set and day trippers begin to leave, it is likely you'll join a line of vehicles trying to get over the Causeway Byway.
However, there is parking in Clearwater.
There are ten parking lots dotted around the island, with the biggest being closest to Pier 60.
For tours, aim for the marina car park but give yourself plenty of time to find a space before your boat tour sets sail.
If you can't find any parking close to Pier 60, head over to the other side of the causeway and walk back.
There is also some parking garages along Coronado Drive, which backs on to the Beach Walk and is close to Clearwater Marina.
Most parking lots accept credit cards.
Alleviate all of this stress by leaving the car at your accommodation and use the Jolly Trolley, which stops at South Beach attractions and North Beach locations.
Where to Stay in Clearwater
There is no shortage of accommodation in Clearwater.
Naturally, if you want to wander out of your hotel and immediately feel the sand under your well-deserved toes, a premium will be charged compared to options a little further away.
Consider the following Clearwater hotels for close to the beach action.
Clearwater Beach Hotel (504 S Gulfview Blvd) is an affordable option in a great position, overlooking the harbour and close to the southern end of the beach.
Rooms start at 228 sq ft and have cable TV, a microwave, a refrigerator, and guests can use the hotel's swimming pools.
You can book the Clearwater Beach Hotel at Expedia, Hotels, and Booking.
Alternatively, the Hilton Clearwater Beach Resort & Spa (400 Mandalay Ave) is a little pricier.
The hotel has a huge ocean front pool with views over the Gulf, as well as a poolside bar.
Rooms start at 357 sq ft and have a flat-screen TV, AC, and coffee machine.
You can book the Hilton Clearwater at Expedia, Hotels, and Booking.
If you prefer staying in an apartment in Clearwater, this 540 sq. ft beach view condo has two beds, one bathroom, and sleeps up to six people.
Or this one bed, one bathroom has access to a pool, ideal for couples.
Did we miss any of our favorite fun things to do in Clearwater? Tell us in the comments below.
Note: Since the Gulf of Mexico suffers from the issue of Red Tide, which can cause respiratory illness and eye irritation, it is always best to check the Florida forecast on the NCCOS website.
Our Tampa Bay Area Guides