This article has links to products and services we love, which we may make commission from.

Looking for some fun things to do in Charlotte, NC? Whether you're into history or food, sports or art, parks or skyscrapers, Charlotte offers it all in a conveniently compact Uptown center of the city with even more options ranging to the South Carolina border.
Families will love the options available to keep kids entertained and learning.
Foodies will be delighted by the options for classic Southern-style dishes alongside multinational culinary creativity.
Charlotte is also home to North Carolina's NFL, MLS, and NBA teams — so be sure to catch a game no matter what month you visit!
Check out our guides to the most romantic things to do in Charlotte as well as the best nightlife options.
You may also want to read our guide to the best things to do in Raleigh or check out our top things to see in Wilmington, in Fayetteville, or in Goldsboro.
If you're looking for more options in the area, check out our favorite North Carolina beaches for families to plan your summer vacation.
You might also like our East Coast road trip guide to explore more!
Best Things to Do in Charlotte NC
If you're not from Charlotte, note that there is no "downtown" area; it's called uptown here.
If you're visiting, Charlotte Douglas International Airport (code CLT) offers easy access to all the best Charlotte attractions that you won't want to miss on your getaway.
You can be in the heart of Uptown in about 20 minutes by car or 30 minutes by bus.
The Asbury
The Asbury is a farm-to-table restaurant in Uptown (235 N Tryon St) that offers a delicious brunch menu with Southern-inspired dishes like shrimp and grits, fried chicken and waffles, and biscuits and gravy.
Surrounded by several different restaurants and eateries, The Asbury rests inside the Dunhill Hotel.
Add this eatery to any list of things to do in uptown Charlotte.
Discovery Place Science Museum
Check out the interactive exhibits at the Discovery Place Science Museum (301 N Tryon St).
The Discovery Place Science Museum is popular among Charlotte attractions.
It features interactive exhibits and hands-on activities for visitors of all ages.
The museum's exhibits cover a wide range of scientific topics, including physics, chemistry, biology, and technology.
The Discovery Place Science Museum is a great place to visit for families, students, and anyone interested in science and learning.
This is one of our favorite things to do with kids in Charlotte, so don't miss it!
The Market at 7th Street
The Market at 7th Street — also known as 7th Street Public Market (224 E 7th St) — is an indoor market in Uptown that features local vendors selling everything from artisanal cheese and chocolate to handmade crafts and jewelry.
This market is open seven days a week and hosts a variety of events and activities throughout the year, including cooking classes, workshops, and food and drink tastings.
The 7th Street Public Market is a must-visit destination for foodies and anyone looking for a taste of Charlotte's vibrant local food scene.
ImaginOn
ImaginOn (300 E 7th St) is a collaborative space that includes the Charlotte Mecklenburg Library and Children's Theatre of Charlotte.
It offers free programming and activities for children, including storytimes, workshops, and performances.
Blumenthal Performing Arts Center
See a Broadway show or concert at the Blumenthal Performing Arts Center (130 N Tryon St) and is a must-do in Charlotte if you love theatre.
The center hosts a variety of performances, including Broadway shows, concerts, comedy acts, dance performances, and more.
The venue is known for its impressive architecture, the Blumenthal Performing Arts Center is an important cultural landmark in Charlotte and attracts visitors from throughout the region.
Charlotte Hornets at the Spectrum Center
Charlotte is home to the Charlotte Hornets, a professional basketball team that plays at the Spectrum Center (333 E Trade St) in Uptown Charlotte.
You can catch a Hornets game when they're playing at home during the NBA season from October to April.
Check the schedule and grab your tickets!
This is also one of our favorite indoor activities in Charlotte no matter the weather.
Queen City Quarter
Hang out at the Queen City Quarter, formerly known as the Epicentre (210 E Trade St).
This indoor center offers lots of drinking & dining options, a movie theater, a few shops, and a bowling alley.
When looking for things to do in Charlotte, Queen City Quarter is a popular destination for both locals and tourists, especially those looking for a vibrant nightlife scene.
The Square at Trade and Tryon Streets
Be sure to check out the iconic statues at the intersection of Trade Street and Tryon Street, which is a hub of the original settlement here in Charlotte.
The four statues represent Transportation, Commerce, Industry, and The Future.
This area is also known as Independence Square or Old Osbourne Corner.
Tupelo Honey
Tupelo Honey Southern-style restaurant in South End (101 S Tryon St #130) offers a brunch menu with dishes like sweet potato pancakes, shrimp and grits, and a fried chicken BLT.
This is the perfect place to grab brunch, and definitely a must-do in Charlotte!
The atmosphere is casual and comfortable, with indoor and outdoor seating available.
The restaurant is open for breakfast, lunch, and dinner and also offers a happy hour and weekend brunch.
Levine Museum
Visit the Levine Museum of the New South (401 S Tryon St) to learn about the diverse history of the American South.
This museum explores the history of the American South after the Civil War, with exhibits on civil rights, industry, and immigration.
Embracing difficult conversations and challenging the status quo has been a standard at the museum since its inception.
After your visit, be sure to stop by The Green, which is just next door, for a moment of peace amidst the center of the city.
Get a photo of the Charlotte cities sign while you're there, too!
NASCAR Hall of Fame
Visit the NASCAR Hall of Fame (400 E M.L.K. Jr Blvd) and explore the history of racing in America.
This museum in Uptown celebrates the history of NASCAR and its drivers, with interactive exhibits and simulators.
The NASCAR Hall of Fame ia always an incredibly popular stop out of all the Charlotte attractions, so don't miss out!
Museum of Illusions
The Museum of Illusions (601 S Tryon St Suite 138) is a fun and interactive museum located in Uptown Charlotte.
It features over 20 interactive exhibits that challenge your perception and show you how optical illusions can trick your brain.
It offers intriguing things to see in Charlotte, with exhibits like the Anti-Gravity Room always being a hit!
Carolina Panthers or Charlotte FC at Bank of America Stadium
Visit the Bank of America Stadium (800 S Mint St) for an NFL or MLS game!
The Carolina Panthers are the local NFL team and play at Bank of America Stadium in Uptown Charlotte.
Catch a game during the football season from September to December.
Be sure to get your tickets in advance!
Charlotte FC is the Major League Soccer team — new to Charlotte as of 2019 and already gaining a huge hometeam following.
Get your tickets for a game during the season, which runs from February through October.
Charlotte Knights at Truist Field
One of the best things to see in Charlotte has to include a game of Minor League Baseball.
The Charlotte Knights are a minor league baseball team that plays at Truist Field (324 S Mint St) in Uptown Charlotte.
You can catch a game during the season to enjoy being outdoors and enjoying some quality baseball without the higher ticket prices you'll find at MLB games.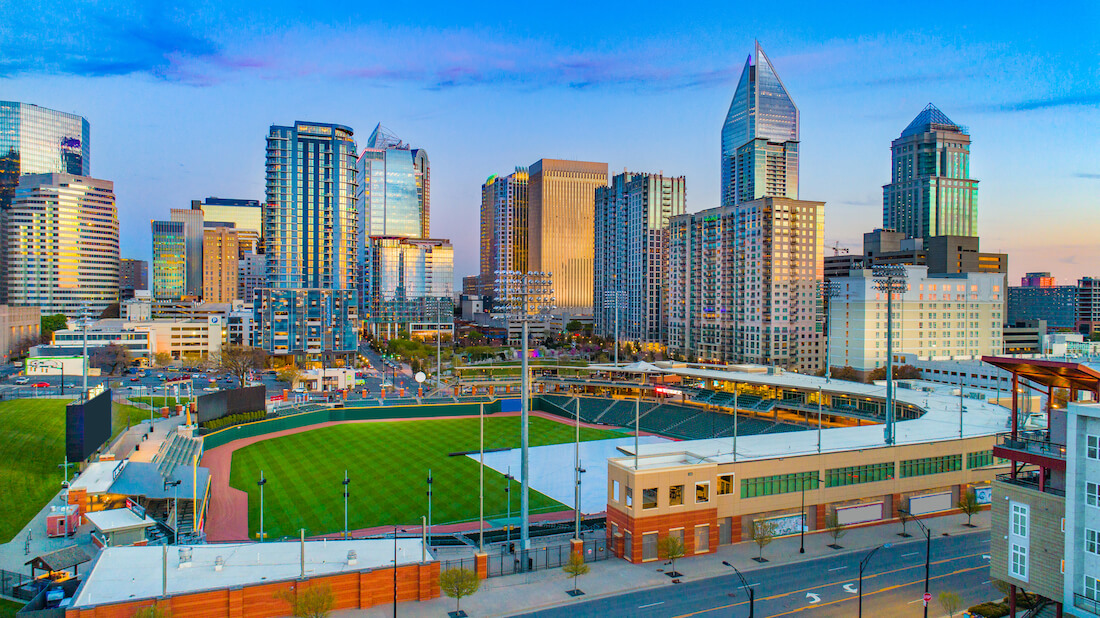 NoDa Brewing Company
Take a brewery tour and sample craft beers at local breweries like NoDa Brewing Company (1824 Statesville Ave).
When it comes to things to do in Charlotte, NoDa Brewing Company is definitely a popular attraction.
The brewery was founded in 2011 and has since become one of the most well-known and highly-regarded breweries in the entire state.
In addition to the brewery itself, visitors to NoDa can explore the neighborhood and take in the street art, live music, and other cultural offerings that this part of Charlotte is known for.
Amélie's French Bakery and Café
Amélie's French Bakery and Café (4321 Park Rd) is a popular bakery and café with multiple locations throughout Charlotte.
You can enjoy delicious French pastries, macarons, éclairs, coffee, and sandwiches in a cozy and eclectic atmosphere.
Amélie's also serves a variety of savory dishes, including quiches, sandwiches, and salads, as well as coffee and tea drinks.
The atmosphere at Amélie's is comforting and welcoming, with eclectic decor and a vibrant, artsy vibe.
Jeni's Splendid Ice Creams
Jeni's Splendid Ice Creams (4203 Park Rd) offers a selection of sorbets and dairy-free options, as well as ice cream sandwiches and pints to take home.
You will want to get here early and prepare to wait in line because this ice cream spot holds its own as one of the popular Charlotte attractions.
Freedom Park
Enjoy a picnic in Freedom Park, one of Charlotte's largest public parks (1908 East Blvd).
Visitors to the park can enjoy walking and jogging on the park's many trails, playing sports on the athletic fields, fishing in the lake, and picnicking in the many picnic areas.
The park also features several playgrounds for children, a concession stand, and a popular amphitheater that hosts live music and other performances throughout the year.
Freedom Park also features in our list of romantic things to do in Charlotte.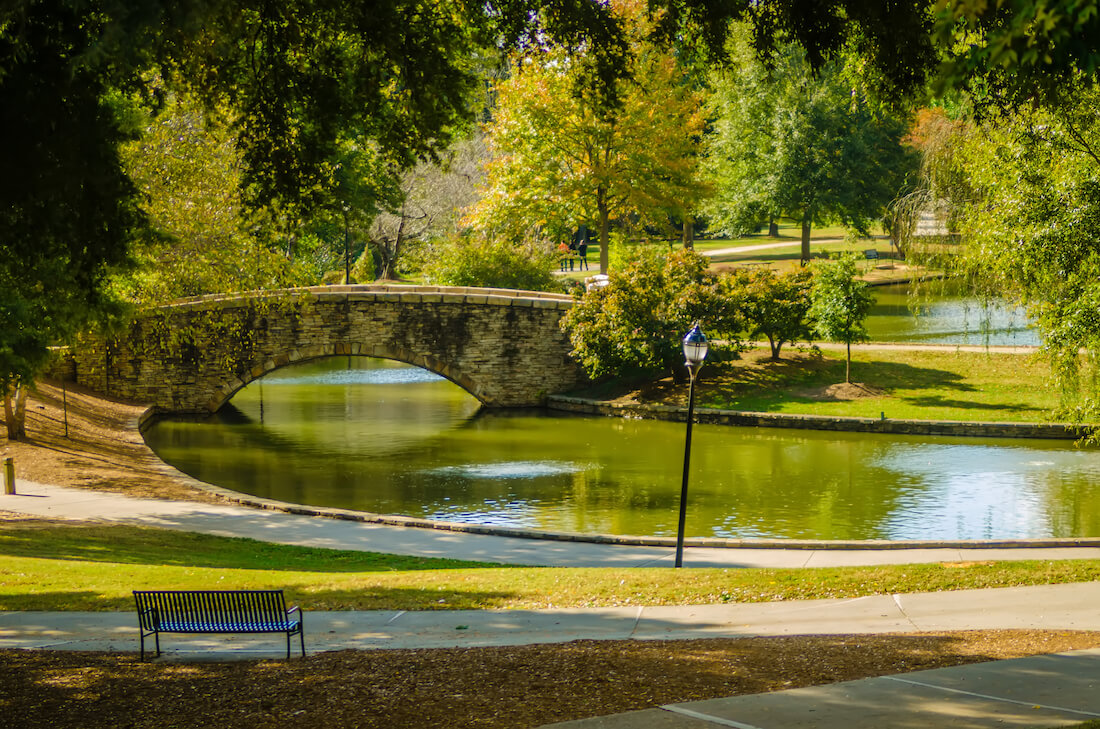 Charlotte Regional Farmers Market
The Charlotte Regional Farmers Market (1801 Yorkmont Rd) is open year-round.
This farmers' market hosts an assortment of vendors selling all sorts of locally grown produce, such as fruits, vegetables, herbs, and flowers, as well as meats, baked goods, dairy products, as well as other artisanal products.
Admission and parking are both free.
SouthPark Mall
For some retail therapy, head to SouthPark Mall (4400 Sharon Rd), a premier shopping destination in Charlotte that's one of the largest malls in the area.
The mall is located in the upscale SouthPark neighborhood and features over 150 stores, including many high-end brands.
Some of the notable luxury retailers at SouthPark Mall include Neiman Marcus, Louis Vuitton, Tiffany & Co., Gucci, Burberry, and Hermès.
Charlotte Premium Outlets
For more shopping and great deals, Charlotte Premium Outlets (5404 New Fashion Way ) is an outdoor shopping center that offers shoppers an impressive collection of over 100 brand-name stores, with many offering substantial discounts on their merchandise.
One of the highlights of the Charlotte Premium Outlets is its variety of stores catering to different interests and styles.
Some of the popular stores include Adidas, Calvin Klein, Kate Spade New York, and Michael Kors, to name just a few.
In addition to fashion, the mall also has stores that specialize in accessories, jewelry, housewares, and beauty products.
The mall's open-air layout creates a relaxed and welcoming atmosphere, with plenty of benches and seating areas for shoppers to take a break and enjoy some fresh air.
The mall's picturesque landscaping and charming architecture also add to its overall appeal.
Carowinds
Carowinds (300 Carowinds Blvd) is the most popular of Charlotte's attractions, attracting visitors from all over the region for its variety of thrill rides, roller coasters, water rides, and other attractions for visitors of all ages.
It sits on the North and South Carolina border, but it's still within Charlotte city limits.
The park also has a large water park section featuring a wave pool, lazy river, and several water slides.
Carowinds is a great destination for families, thrill-seekers, and anyone looking for things to do in Charlotte for a fun and exciting day out.
Read Next: Things to do in Concord, NC.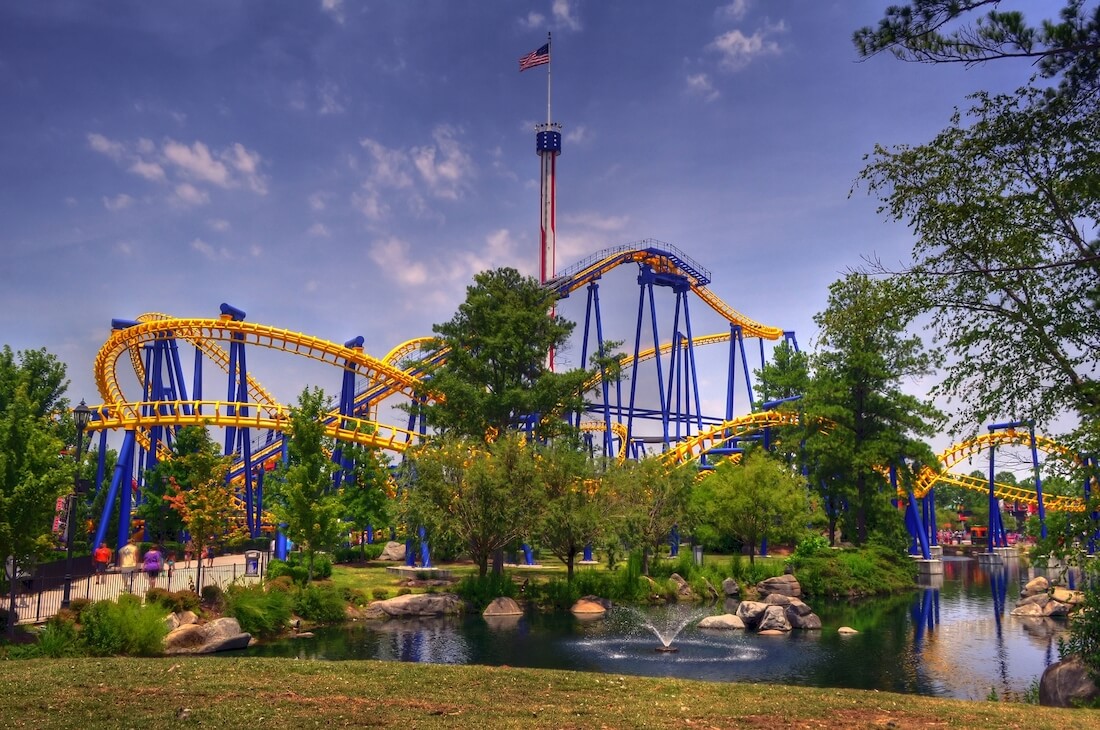 Final Words
Are you ready to plan your day out with all these fun things to do in Charlotte? We hope so!
Share your favorite local activities and attractions in the comments below.
North Carolina Guides
North Carolina Destinations