This article has links to products and services we love, which we may make commission from.

Looking for all the best things to do in Burlington, VT? Vermont's largest city rests on the eastern shore of beautiful Lake Champlain, with the Green Mountains to its other side.
Enjoy the charms of this progressive New England college town surrounded by its stunning natural beauty.
Whatever time of year you visit, you'll find plenty of fun things to do in Burlington.
Enjoy the wonders of the winter season or the colors of fall.
Bask in the beauty of slow summer days spent on the water with the food and beer scene creating the perfect balance for summer evening fun.
You might also like our guide to the best places to visit in Vermont to plan a longer trip.
Best Things to Do in Burlington
Burlington is surrounded by water and mountains, so you can bet there are plenty of outdoor activities to do in Burlington.
Bike or walk to explore the whole city, from its artistic side to its natural escapes.
Did you know you can camp near Lake Champlain?
Check out our camping in Vermont guide to find out more.
Take advantage of all the outdoor activities in Burlington with these suggestions…
Burlington Greenway
The Burlington Greenway is great for those who love to explore their travel destination on foot.
With more than 8 miles of paved path, you can travel from Oakledge Park to the Winooski River by foot or by bike.
Check out the gorgeous Lake Champlain, and stop to swim at the small beaches along the way or play in any of the green spaces.
The lake was named for Samuel de Champlain but was originally called Caniadari Quaront by the Mohawk people.
The Greenway is one of the best ways to get outside and one of the top things to do in Burlington.
You may also like our guide to Vermont in the fall.
Church Street Marketplace
You really can't miss Church St Marketplace, located in the heart of downtown Burlington.
The best shops, restaurants, and cafes are all condensed on this one pedestrian-only street in the heart of town.
It's an iconic Burlington attraction, but there is something special for everyone on Church Street!
Oakledge Park
The outdoor lover will be obsessed with the sunset views, expansive park, and perfect swimming conditions at Oakledge Park.
Oakledge is one of the best places to visit in Burlington to lounge on the grass with a picnic.
The water is always calm and cool, making it a lovely spot for the family to spend the day.
Once you watch the sun go down, perched on the outcropping of rocks stretching into the lake, you might never want to leave.
Indoor Activities in Burlington
Whether you're avoiding the cold or seeking some rainy day activities in Burlington, these indoor options will keep you dry and entertained!
Flynn Center for Performing Arts
For an incredible cultural experience, stop by the Flynn Center (153 Main St).
Inside the beautiful theater, you can watch musical acts and dance performances and take in the historic construction from the early 1930s.
Its Art Deco design is iconic, and its grand theater is certainly one of the best things to see in Burlington.
For a full evening of excitement, make a reservation at Honey Road (156 Church St) restaurant, a woman-owned Eastern Mediterranean Mezze Restaurant.
Small plates to share and refreshing and creative cocktails sees this restaurant make the bucket list.
Burlington City Arts Center
The Burlington City Arts Center (135 Church St), or the BCA, is a totally free and public art experience that is unmatched across the state of Vermont.
Three levels of exhibits and a beautiful view of the city from the top floor prove this gallery space is a must-see spot on Church St.
Make sure you check the website before you visit to see the current exhibits and the event calendar for up-to-date happenings!
The Fleming Museum of Art
The University of Vermont's Fleming Museum of Art (61 Colchester Ave) has been operating for almost a century.
Featuring more than 24,000 works of art from all over the globe, this free museum has a wonderful mix of galleries, exhibits, and collections.
Unfortunately, the museum isn't open in the summer, but it is a great option for those rainy fall or spring days!
A Single Pebble
If there is any restaurant to visit in Burlington you must make a reservation at A Single Pebble (133 Bank St).
With tons of dishes served family-style, you'll love their traditional Chinese dishes and their expansive wine, beer, and cocktail lists.
If you're dining with a group, definitely order the Chef Tasting Menu, a mix of nine dishes and a sweet dessert that allows you to connect with tradition and with one another.
Muddy Waters Coffee
For incredible coffee, globally-sourced teas, and fresh fruit smoothies, Muddy Waters (184 Main St) is the place to go.
Warm wood interiors and furniture, lush plants hanging from every rafter and in every window, and secret hand-written notes from past students, locals, and travelers alike hidden in the walls make this cafe a must-visit spot.
Muddy Waters opens early and closes late, and if you happen to walk in at the right moment, you might even catch some live music!
Skinny Pancake Creperie
Whether you're a lover of crepes or not, you've got to try Skinny Pancake (60 Lake St) on a rainy day in Burlington.
Vermont is known for its environmentalism and farm-to-table attitude, and the Skinny Pancake is a perfect example of their home state's goals.
They focus on the most local and fresh foods, and they're making strong moves towards becoming a zero-waste operation!
Try a savory crepe, like the Cheesy Chicken Pesto, or a sweet one, like the Sugar Shack, which features a healthy dose of VT maple syrup and local melted butter.
There's nothing like a warm crepe to kick off the cold, wet Vermont rain!
Things to Do in Burlington in the Summer
Summer in Burlington means enjoying Lake Champlain and the craft beer scene.
It means long sunny days for hiking and biking, with plenty of time for friends and family to gather around the patio table together.
Three Needs Tap Room and Pizza Cube
For all the beer lovers and pool players, Three Needs (185 Pearl St) is the best place to go for a cool brew in the summer.
The bar is open every day from the afternoon to late into night.
Go for a drink while the sun is still shining down on the patio and stay late for as many rounds of pool as you can handle.
Three Needs is well-loved by college students, so be prepared for a little bit of rowdiness and after-class energy!
The best part about this bar is a special called Duff Hour, which happens every weekday afternoon.
The bartenders serve $1 draft beers until the keg is empty, followed by a pizza slice special for a limited time.
Featuring some of the best pizza you can find downtown, you've got to try the Vegan Duff, with vegan beer cheese sauce and veggies, or the kale pesto.
Ready for more beer?
Check out this incredible craft beer tour featuring 15 local breweries, including the iconic Three Needs Taproom!
Burlington Bay Creemees
Oh, you don't know what a creemee is?!
The word 'creemee' is just a weird word for soft serve; the term is unique to Vermont because most soft serve in the state is made with a higher butterfat content.
The best creemees to order are from Burlington Bay Market and Cafe (125 Battery St).
If you're hungry, you can grab some classic fare from the kitchen, like the Vermonter turkey sandwich with apples and cheddar.
But, if you've spent the summer day exploring the lakeshore, there's nothing better than a cold maple creemee from the Burlington Bay stand as you watch the sun setting over the lake and mountains.
Perfection.
Burlington Farmers Market
Saturdays are the best day of the week in the summer in Burlington.
The weekly Burlington Farmers Market (345 Pine St), which runs from late spring to late fall, is the place to go for all the freshest local produce, bread, and specialty products from across the state.
Pick up fruit, flowers, and delicious baked goods, and then browse the art vendor stands.
Once you've had your fill of the bustling and joyful market, set out on Pine St and explore the art and culture center of downtown Burlington.
This is one of our favorite things about Vermont in Spring!
Things to Do in Burlington, Vermont in the Fall
New England colors are world-famous, and you can certainly catch a glimpse with some leaf-peeping around Burlington!
It's not just the natural colors that attract visitors in autumn; you'll want to visit for the art scene, too.
Plan your fall visit by reading our guide to Burlington in fall.
South End Art Hop
Every year in early September, the artists and art studios in the art center open their doors and welcome locals and travelers alike for the South End Art Hop (Pine St).
The Art Hop is a true weekend-long celebration of the South End Arts District, and it has been going for almost 30 years!
Check out the art collective at The Soda Plant (266 Pine St), the post-industrial Flynndog Gallery (208 Flynn Ave), and the music venue at ArtsRiot (400 Pine St) to gain the full experience of the Hop.
Centennial Woods Natural Area
There's so much leaf peeping to do throughout Vermont, but if you're hoping to stay in Burlington, take a fall hike through the Centennial Woods.
Follow the main 2.5-mile trail that starts across from 280 East Ave or at Grove St and Bayberry Cir.
Admire the changing leaves of the oaks and maples, wander under pines or cross streams over man-made wooden bridges.
This is a perfect hike for anyone who likes to escape the bustle of downtown without ever leaving Burlington city limits.
Eager to do more hiking?
Check out our guide to the best hikes in Stowe, VT for more trails to consider.
Things to Do in Burlington in Winter
Winter in Burlington means snow and cold, so bundle up and get out there to have some fun!
Not a winter fan?
Stay cozy and warm inside instead.
The indoor activities in Burlington listed above are all still great ideas, plus we have a few more suggestions below.
Zabby and Elf's Stone Soup
Burlington winters can be brutal–warm up with some hot soup and a thick slice of bread at Stone Soup (211 College St)
Stone Soup also has great sandwiches, salads, and a hot and cold bar.
Pick a few familiar dishes and something totally new; the options change daily.
This is a truly singular café that is so warm in the winter that it will feel impossible to head back out into the cold.
Lake Champlain Chocolate and Cafe
Church Street Marketplace is absolutely beautiful in the winter but eventually, you'll need to warm up.
Lake Champlain Chocolates (65 Church St) is the perfect storefront to duck into for an unmatched cup of hot chocolate or espresso.
Super thick and rich, you can take your hot chocolate with whipped cream or a dollop of homemade marshmallows.
You can even take your drink outside and watch a chocolatier craft fudge, chocolate, and marshmallows through the large window.
Go Skiing Near Burlington
While you can't ski in Burlington itself, you're less than an hour from some of Vermont's top ski resort areas.
Head to Stowe or Smuggler's Notch to hit the slopes with trails for all levels.
Want to make a weekend of it?
Check out the Trapp Family Lodge in Stowe, named for and owned by the von Trapp family of Sound of Music fame.
While you're there, you can try snowshoeing or cross-country skiing, too.
Rentals are available from the lodge, as are lessons.
Things to Do Near Burlington
Shelburne Farms in Shelburne, VT
For the most authentic Vermont experience, you'll have to leave Burlington and drive 15 minutes to Shelburne Farms (1611 Harbor Rd).
Visit the Farm Store for fresh produce, homemade cheddar or maple syrup, and fresh meals to take home.
Or, explore more than 10 miles of walking trails open daily and check out some of the sustainable farming practices in place at the farm.
You might get lucky and snag a reservation at the Shelburne Farms restaurant during the summer, featuring the most seasonal and local dishes sourced straight from the farm.
Shelburne Museum
Shelburne Museum (6000 Shelburne Rd) boasts an "unparalleled and unique experience of American history, art and design", and it is home to one of Vermont's covered bridges.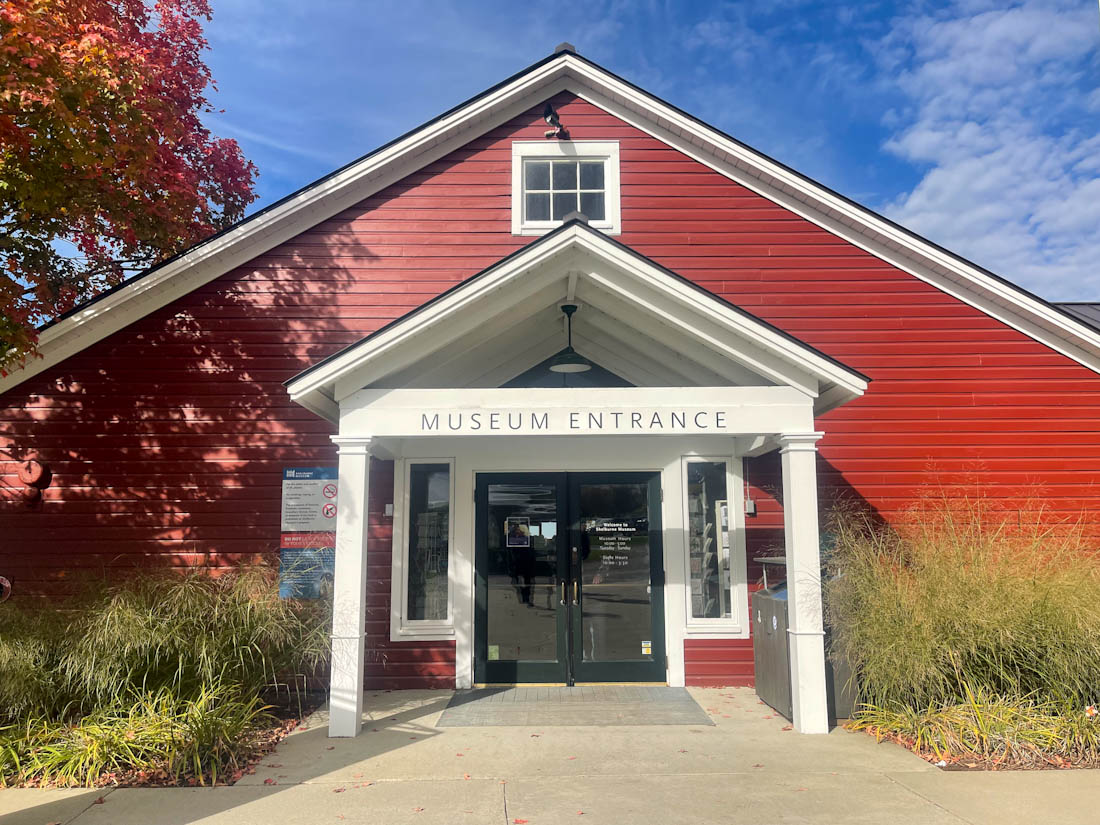 Mount Philo State Park, Charlotte VT
Mount Philo (5425 Humphreys' Rd) is ideal for the traveler who might not want to set out on a rigorous hike but still wants to view Vermont's gorgeous country landscape from above.
Mt. Philo is less than 1,000 feet tall, and the access road to the top is drivable, wheelchair-accessible, and only about 3/4 of a mile.
There are some taller mountains in Vermont, but the view from Mt. Philo is one of the best in the state, and it's only a 20-minute drive from Burlington.
Final Words
Are you ready to try all these fun things to do in Burlington, VT? If we missed your favorite activity in the city, let us know in the comments below.
Vermont Destinations