This article has links to products and services we love, which we may make commission from.

By day Brickell is a shiny neighborhood with towering skyscrapers, popular shops, and neatly presented street art
At night, this upmarket area lights up as friends dine at the open air social spots and drink in upscale bars.
Our guide shares the best things to do in Brickell, Miami from morning into the wee hours, which is perfect for those visiting for the first time, or locals considering moving to this rapidly developing area.
Brickell is named after Mary and William Brickell, one of the first families to move to Miami in 1871, decades before the city was connected to the rest of the US by train.
The area became Miami's financial hub and was broadcasted to the rest of the world at the opening of the TV show, Miami Vice!
You may also like our guide, 24 hours in Miami itinerary, and things to do in Miami.
Fun Things to do in Brickell
As with all of our Miami guides, the suggestions below are organized by area, so the Brickell attractions and activities discussed are close to the next one in the list.
We do this to help you get your bearing while planning your visit.
We start at the shopping hub, Brickell City Centre and work our way down to Brickell Arch before heading up and over to Brickell Key.
If we miss any of your favorite things to do in Brickell, do tell us in the comments!
Shopping at BCC
Brickell City Centre (701 South Miami Ave) is the place to hit the stores for seasonal wardrobe changes, new glasses, treat yourself to jewelry, splurge on self-care products, and for everyday technology items.
Stores such as Apple, Saks Fifth Avenue, and Levis are spread out over four floors and three city blocks.
There are also events at the BCC like baby classes, yoga, and live music.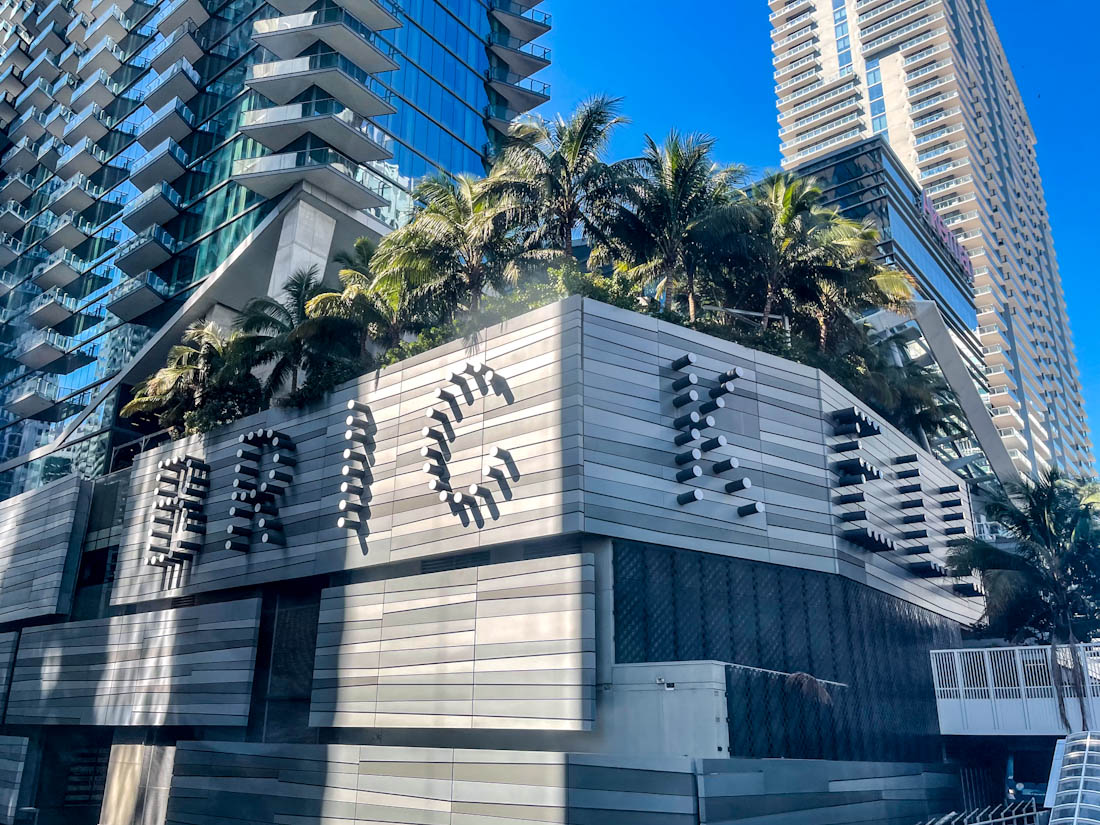 Play Mini Golf
Pot a ball and down a drink at Puttshack (701 S Miami Ave, in Brickell City Centre), Miami's upscale mini golf experience.
There are three courses that can be played over this short course.
Guests love the lighting, music, food and cocktail prices.
This is one of the best things to do in Brickell with kids.
Tip: Go at night to see the city all lit up!
Check out our guide for more things to do in Miami at night.
CMX Theater
If you fancy catching the latest release, book a seat at CMX Theater (701 S Miami Ave 4th Floor Brickell City Centre).
This is a luxury cinema with leather recliner seats, hand crafted cocktails, and dinner that is served in time for the movie.
Rooftop Drinks at Sugar
Get high at one of Miami's most popular rooftop bars, Sugar (788 Brickell Plaza #40).
Sugar is located all the way up on the 40th floor of the EAST Miami hotel.
You don't have to be a guest to dine there but table reservations are recommended.
Be prepared for a minimum spend and to wear 'nightlife attire' to get in.
Have a back up plan if you don't get in, and if that's not your vibe, book at table at another bar.
Clubbing at Blackbird Ordinary
For a night club catering to a younger crowd, consider Blackbird Ordinary (729 SW 1st Ave).
Here, you can dance across two rooms that hosts DJs and bands seven days a week
Visit Mary Brickell Village
For a laid-back entertainment and retail spot head to Mary Brickell Village (901 S Miami Ave), the open-air lifestyle center.
Get a haircut and your nails done, meet friends for pizza, burgers, or steak, then party into the night at one of the bars.
Mary Brickell Village also has a large Publix.
If you prefer boutique shopping at independent stores, make time for a visit to the Miracle Mile in Coral Gables.
Sing Karaoke at Sweet Caroline
Sweet Caroline (1111 SW 1st Ave) boasts of over 300,000 songs in its library and daily happy hour every evening!
Locals, tourists, amateurs, professionals, solos, and duets are all welcome.
Altogether now, good times never seemed so good…
Sweet Caroline also features in our guide to romantic things to do in Miami.
Walk Along The Underline
Breaking up the silver of Brickell is the lush linear park, The Underline (SW 1st Ave).
Here you can walk, bike, or skate through nature while the elevated Metrorail runs above you.
There are also free events such as yoga at this urban park.
The Underline is a great access point to the free Miami Metromover and free tram to Little Havana.
Hop on the Free Metromover
The Miami Metromover is one of the free things to do in Brickell and although it is predominantly a mode of transport, you can also take in epic city views from the large glass windows!
The Brickell Loop stops at Brickell, Bayfront Park, College North, Third Street, and the Financial District and returns to Brickell if you want to get off at the same location you started at.
You can also transfer to the Metrorail at the Brickell stop.
The Inner Loop serves Downtown's Central Business District while the Omni Loop covers Downtown to Omni's North Extension.
You can transfer between the loops too.
Brickell Murals and Public Art
Most people's first thoughts of Brickell is that it is a dense area with modern apartments but once you've spent some time strolling through the streets you will see some splashes of color on the buildings.
A bright orange and deep red figure called Al filo de la Conciencia (Conscience Edge) by the Chilean artist Mono González, can be found on the side of the Megacenter Brickell (420 SW 7th St) building, and playful streamers climb the walls of a SW 1st Avenue tower.
The IconBrickell (5th Street and Brickell Ave) is held up by face-like sculptures which are said to resemble the Moai Statues of Easter Island heads!
Brickell Arch
A notable landmark in the area is Brickell Arch (1395 Brickell Ave), a 505ft 36-story building designed by Kohn Pedersen Fox Associates in 2004.
This skyscraper looks different to others in the Financial District because it has a concave design where the front of the building bends inwards.
The building is home to offices, apartments, and a spa.
Brickell Avenue
Brickell Ave is the main road that runs through the Brickell neighborhood.
On either side of the tree lined road there are high rise buildings, which house apartments, offices, restaurants, bars and cafes.
It's often hard to see what is in each building so it is best to use a maps app if you are looking for a specific business or property.
W Miami, JW Marriott Miami, and Hotel AKA Brickell are hotels located on Brickell Ave.
These spots are perfect for those looking to explore the city's other neighborhoods such as Little Havana and Wynwood, hop on a water based activity leaving from Bayside, and for day trippers looking to explore the art deco on Miami Beach.
Pop into the Dade Heritage Trust
Dade Heritage Trust has been preserving heritage in the Miami-Dade area since 1971 and is based in the historic office of Dr. James Jackson (190 SE 12th Terrace), Miami's first physician.
Jackson bought the land from Julia Tuttle, who is also known as the 'Mother of Miami', in 1889, and built this home and office space in 1905.
The Dade Heritage Trust office also acts as a museum so you can check out Jackson's old home while you ask for tourist information.
Comedy at Flamingo Theater Bar
Relax and unwind with lots of laughs at Brickell's comedy venue, Flamingo Theater Bar (905 Brickell Bay Dr).
The schedule features stand-up comedians, plays, and Latin music performances.
A drinks and appetizers menu is available too.
Nusr-Et Steakhouse Miami
If you are celebrating a special occasion you might want to check out the famous Salt Bae's Nusr-Et Steakhouse Miami (999 Brickell Ave).
As to be expected, this is a splurge meal so do be prepared to pay, welcome to Miami baby!
Miami Circle National Historic Landmark
The controversial Miami Circle is also known as The Miami River Circle, Brickell Point, or the Stonehenge of Miami because of its mysterious markings!
This landmark is a Tequesta (South Florida Native People) architectural feature, formed in the shape of a perfect circle spanning 38ft.
It was discovered in 1998, revealing holes carved into the land's natural limestone, possibly to hold wooden posts in place.
The Miami Circle is thought to be around 1,700 to 2,000 years old, and the only known prehistoric permanent structure in the Eastern US.
Artifacts found during excavation can be seen at the city's HistoryMiami Museum.
The Miami Circle is located near Brickell Avenue and is surrounded by buildings on one side and the Miami River on the other, and this is where the drama lies.
In 1998, the land was bought by a property developer and an old building was torn down.
The developer was close to avoiding the legal requirement of conducting a routine archaeological field survey until Bob Carr, then Director of the Miami-Dade County Historic Preservation Division, stepped in.
An excavation was carried out by the Miami-Dade Historic Preservation Division and the Archaeological & Historical Conservancy, who discovered the circle.
The property developer still wanted to build on the land, offering to pay for the circle to be moved, which the mayor at the time supported.
However, the stonemason who started the transfer quit, and stated that the structure should not be touched.
The developer eventually sold the land and the Miami Circle was added to the National Register For Historic Places in 2002.
Spend the Afternoon at Brickell Key
Brickell Key is also known as Claughton Island, and it is a manmade residential island.
Here you can see a 21ft bronze sculpture of a Tequesta Indian blowing into a conch.
The statue is called El Centinela del Rio, and it was created by the Cuban-born sculptor, Mario Carbonell.
It is located on the grounds of Three Tequesta Point (848 Brickell Key Dr), at the very tip of the island.
Epic Views at South Lawn, Brickell Key
South Lawn is another loved spot on Brickell Key.
The landscaped green space has views over Biscayne Bay where you can watch the boats sail by.
Brickell Key also has stunning photo locations featuring Brickell's skyscrapers during the day, which sparkle in the dark at night.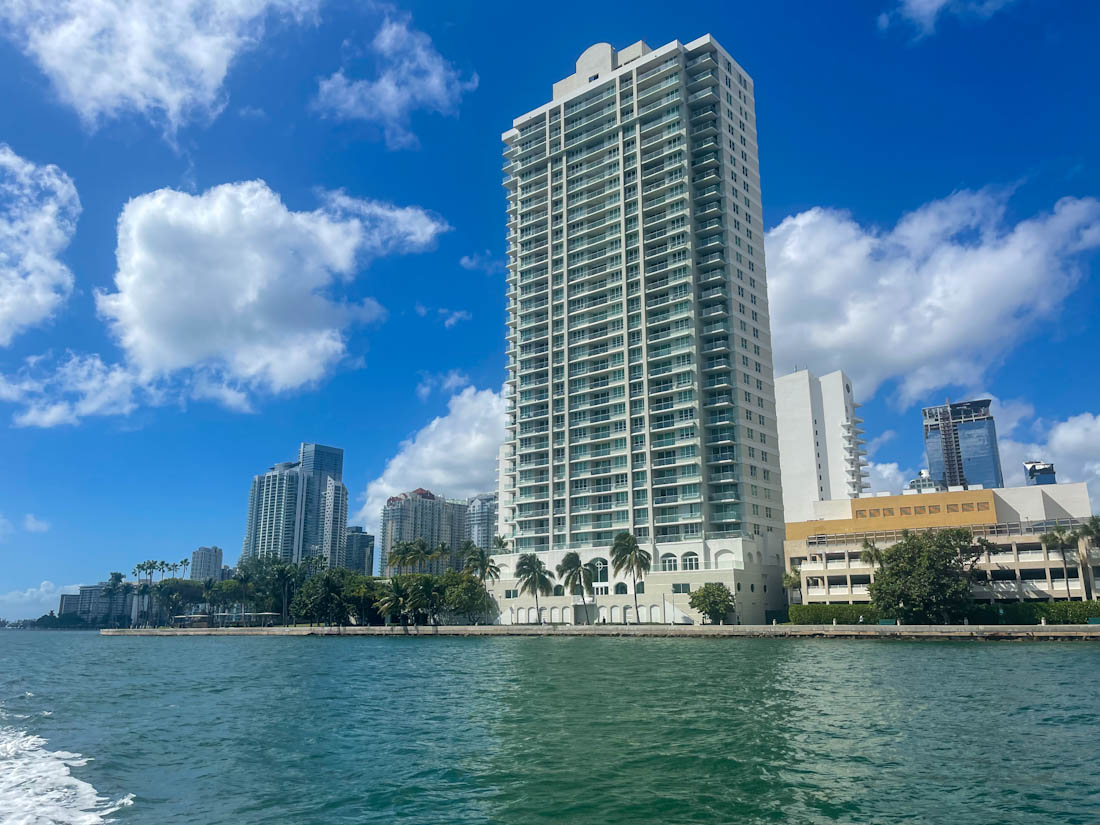 Sunset Drinks at La Mar on Brickell Key
La Mar (500 Brickell Key Dr) is a Peruvian restaurant by chef Gaston Acurio.
The Brickell Key restaurants overlooks Biscayne Bay and the Miami skyline, and has two terraces which is perfect for dining on warm days and sundown drinks.
GBNF: Tobacco Road
We want to give a special mention to the original Tobacco Road (626 South Miami Ave), which was demolished in 2014 after 102 years of (on and off) business.
This dive bar is thought to have been the oldest bar in Miami, but was brought down to make room for Brickell development.
Head Next Door to Downtown Miami
Brickell is a stone's throw away from all of the fun Miami Downtown attractions such as the FTX Arena, Bayfront Park, and Bayside Marketplace.
This is also where you'll find many of the museums and galleries in Miami.
Visiting Downtown is one of the best things to do near Brickell and you can read about it on our guide here.
Drink and Eat in Little Havana
From Brickell, you can walk or take the free trolley to the lively Little Havana.
Here you will find Cuban-owned cafes, restaurants, and bars as well as other Latin American businesses.
Wander along Calle Ocho, see locals play dominoes in the park, and photograph the colorful murals dotted around this unique neighborhood.
Read all about the things to do in Little Havana.
Our Miami Guides
Miami By Neighborhood