This article has links to products and services we love, which we may make commission from.

Looking for things to do in Boston in the winter? You're in luck — this New England city doesn't shy away from fun despite its freezing temps! Boston experiences four distinct seasons and there are plenty of reasons to visit during each of them.
Having been born and raised in the Boston suburbs, I had tons of childhood fun in the winter. Snowstorms meant school was canceled and snowball fights could ensue.
Of course, winter also meant tons of shoveling the driveway and walkways.
Lucky for you, as a tourist you'll be exempt from the wintertime tasks of locals.
So grab all the layers, bundle up, and enjoy all the winter activities in Boston that make this city so magical.
Before you head to Beantown, be sure to read our guide on where to stay in Boston.
And check out all these winter activities in Massachusetts if you're planning a bigger trip.
If you're local, you might also like our other seasonal guides for inspiration! Check out Boston in Fall and Spring.
What You Need to Know About Winter in Boston MA
First things first: just how cold is Boston in winter?
I won't lie, temperatures are generally around or below freezing from December through March.
But New England is famous for its volatile weather and you could just as easily enjoy temps in the 50s Fahrenheit during December.
Snow is most likely in January and February, so always keep an eye on local conditions and heed any winter weather warnings (especially if they call it a "wintery mix" because that means icy slushy horrible stuff).
If you're planning to drive to Boston, make sure you have a shovel, scraper, salt, and de-icer in the car, plus extra blankets and water just in case.
That said, driving in Boston can be a challenge so it's really not recommended if you can arrive by train or plane instead.
Boston Logan Airport (BOS) is very easily accessible and the T (the Boston public transportation system) can connect you to most places you'll want to go in this compact city.
Uber is also very popular and perhaps cozier than waiting in winter weather.
Hate the snow and prefer to escape?
The Cape in the winter typically sees less of it so you can still enjoy a beach stroll.
Outdoor Winter Activities in Boston
Since winter in Boston can seemingly last for half the year (I joke, but it can feel that long!), locals have gotten very creative.
You can rest assured that there are plenty of Boston winter activities to enjoy.
If you want to take advantage of the winter weather, here are some unique outdoor things to do in winter in Boston.
You may also like our guide to Boston in fall.
Rent an Igloo (…Seriously)
Head to the Seaport and enjoy some cocktails in your own private igloo at The Envoy Hotel's Lookout Rooftop bar.
These cozy spots are perfect for cold winter nights in Boston.
The Envoy also features in our list of things to do at night in Boston.
The Seaport is a fabulous spot in the city that you can enjoy day and night.
If you're bundled up, enjoy a walk around this popular area during the day, stopping in shops or cafes to warm up as needed.
At night, the igloos are perfect for staying warm while enjoying the skyline views of Boston.
Have Fun at Snowport at the Boston Seaport
Other than igloos, the Seaport continues to get cooler (see what I did there?) with its embrace of all things winter fun in Boston via Snowport.
Try curling, go ice skating, or just enjoy the festive warmth emanating from the joyous winter vibes all around.
The Seaport also features in our guide to Christmas lights in Boston.
Ice Skating on Frog Pond
Another popular part of Boston is Boston Common, locally just called The Common.
This expansive park in the center of the city is a meeting place and perfect for all seasons.
It's a great picnic paradise in summer, iconic with its falling colorful leaves in the fall, and it's always bustling in the spring when everyone's excited about longer days and warmer weather.
But Boston Common is perfect in winter, too!
Frog Pond is a centerpiece for the Common and, as bodies of water tend to do in Boston in winter, it freezes over for a few months each year.
It's a great place to visit if you want to do ice skating in Boston.
Rent some skates and try your best to stay vertical.
Frog Pond ice skating is also one of the best things to do in Boston with kids.
You can grab their handy boxes for kids to hold onto while learning to skate, sort of like training wheels.
The Common is always a good spot for people-watching and lazing about, basking in the beauty of nature amidst all the urban elements that surround you.
Be sure to stop by and say hello to the Make Way for Ducklings statues while you're there!
Sledding in Boston in the Winter
Again, Boston Common is the best place to go for this iconic winter activity.
Locals flock to Flagstaff Hill to coast down on anything that glides.
Grab a cafeteria tray, an old-school toboggan, a plastic sled, or an inner-tube and revel in the snow-covered fast track to the bottom.
Do be careful of the kiddos if you're a full-grown adult; they're here for the fun and not as aware of downhill speeds or trajectories just yet…
Enjoy Boston's Beautiful Architecture
There's something extra magical about brownstones with a light dusting of snow…
Wander Beacon Hill to imagine life on the inside of these historic homes that have housed some of the city's wealthiest residents for centuries.
All the better if it recently snowed!
Looking for cobblestone streets for extra atmosphere?
Head to Harvard Square or Newbury Street.
Just don't wear those cute boots with the stiletto heels…you'll regret those.
Warm Up on a Historic Pub Crawl
Yes, you'll be walking outside, but you'll also be stopping at various pubs along the Freedom Trail for beers.
History + beer is a great way to warm up in a cold Boston winter!
Book the tour here.
Indoor Things to Do in the Winter in Boston
If the cold temps are just too much and you need to hide away indoors for a while, don't stress.
There are tons of fun things to do in winter in Boston that are indoors and still full of festive and cozy vibes.
Eat at Faneuil Hall and Quincy Market
Perhaps Boston's most popular spot, Faneuil Hall is full of history and charm with its Quincy Market food hall.
Go with an empty stomach and eat all the things!
You can also enjoy shopping at some quirky boutiques alongside big-name brands.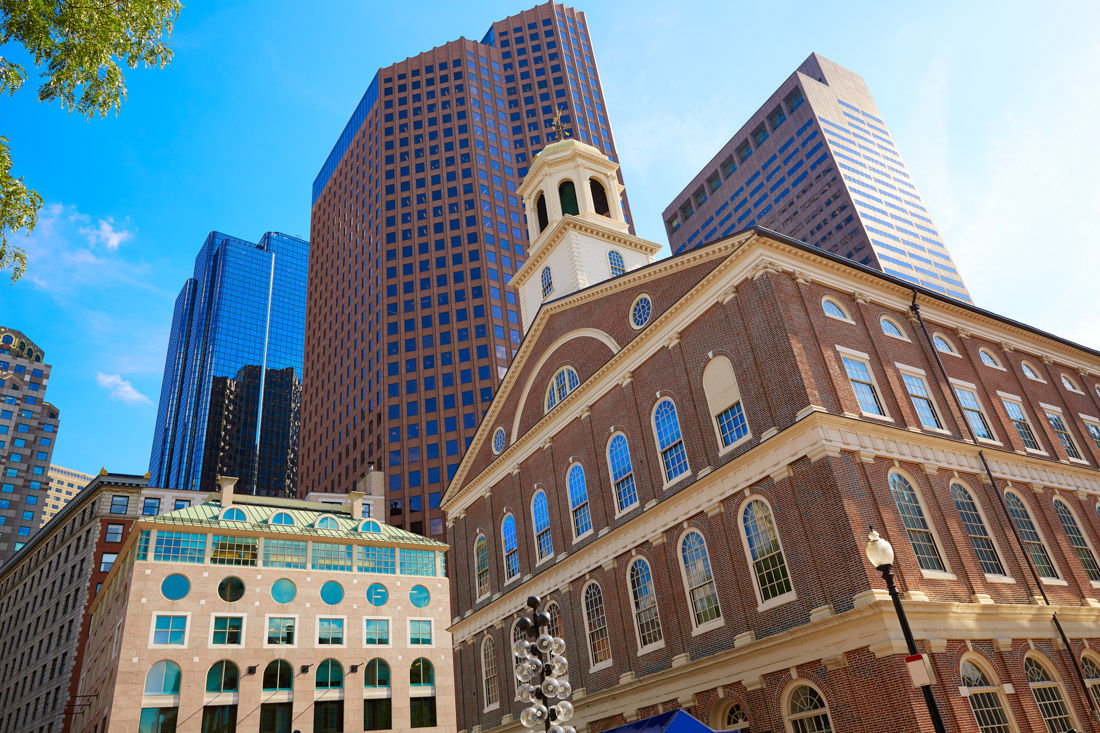 Find a Moment of Peace at the Boston Public Library
If the winter winds pick up (which they definitely do in Boston's wind tunnels), dive into the gorgeous Boston Public Library for sanctuary.
This beautiful building is perfect to wander around as you warm up.
Enjoy the serenity of being surrounded by countless books and all the stories and insights they bear.
Shop at the Pru
Shopping at the Prudential Center (or just The Pru) is one of the best things to do in Boston in winter.
You could spend hours walking around this massive shopping and dining hub to stay warm and dry inside.
It's also a useful cut-through to avoid the bad weather outside!
Take the Kids to LEGOLAND
When the weather is too cold, stay indoors and keep the young ones entertained.
Head to LEGOLAND Discovery Center Boston (598 Assembly Row, Somerville) and let them create and play and learn to their heart's content.
Just note that various light and sound effects will be in use, in case that is a concern.
Hear the Boston Symphony Orchestra Rehearse
Did you know you could go to a rehearsal for the Boston Symphony Orchestra and save big on ticket prices?
This is one of my favorite recommendations for things to do in Boston in the winter.
You'll see the rehearsal in the middle of the day, which means enjoying Boston during those short daylight hours in winter.
Plus, the tickets are significantly cheaper since it's just a rehearsal.
Save big while still enjoying the extraordinarily talented BSO.
Head straight to the beautiful Boston Symphony Hall for the rehearsal and then enjoy the rest of the afternoon downtown walking around The Common and then getting a bite to eat at a high-end spot for cheaper lunchtime rates.
Bonus fact: Boston Symphony Hall is one of the world's best-designed buildings for acoustics, so you're in for a treat!
Head to the Theater District for an Off-Broadway Show
Another fabulous way to save on top-class entertainment is to wait until the big shows leave Broadway and head to Boston.
Ticket prices drop but the caliber of performances stays high, so you're sure to be wowed and entertained.
I've seen The Lion King, Les Miserables, and countless other big-name performances in Boston right after they've left Broadway, sometimes with original cast members.
I highly recommend you enjoy a show during your winter visit to Boston!
Langston Hughes' Black Nativity
Langston Hughes' Black Nativity, is a gospel telling of the Christmas story.
First performed off-Broadway in 1961, Black Nativity was one of the first plays written by an African- American to be staged there and has been showing in Boston since 1970.
Visit All the Wonderful Boston Museums
Boston is known as an academic city, but it also boasts an incredible arts legacy that's reflected in its plethora of museums.
Head to the Museum of Fine Arts (465 Huntington Ave) or the Institute of Contemporary Art (25 Harbor Shore Drive); the ICA offers free entry on Thursday nights.
The Isabella Stewart Gardner Museum (25 Evans Way) is a local favorite; enjoy the courtyard and its year-round fabulous flower displays.
The Museum of Science (1 Museum of Science Driveway) and the Boston Children's Museum (308 Congress Street) are both awesome things to do in Boston with kids, especially during the cold winter months.
To learn more about Boston's role as a revolutionary hub, check out the Boston Tea Party Ships & Museum (306 Congress Street).
Skip the line by getting your ticket here first.
The Museum of African American History (46 Joy Street) includes the African Meeting House (the oldest Black church building in the country) and is New England's largest dedicated museum highlighting the African American experience.
Things to Do in Boston in December
Hanukkah and Christmas Celebrations in Boston
Head to Copley Square to see the 32-foot tall menorah shining its lights for each night of Hanukkah.
You can't miss the Christmas Tree Lighting on Boston Common, held the first Thursday of December each year.
It's a family-friendly festive event; grab a hot chocolate afterward at Frog Pond Cafe.
You can also check out the beautifully lit Christmas tree at Faneuil Hall — it's the largest in New England!
There, enjoy the Blink! holiday lights and music show that's held every night on repeat; it's free and always worth stopping to see.
You may also want to check out more Christmas light displays in and around Boston.
Boston Winter Markets
The Boston Winter Holiday Market at City Plaza Government Center is one of the best winter events in Boston; sadly, it was canceled in 2021 due to the City Plaza renovations.
It's usually open from Thanksgiving through the end of December.
There's also a wonderful Christmas craft fair at the Old South Church at Copley Square.
And the SoWa Winter Festival is hugely popular and features tons of local artists and designers in this very creative part of Boston.
Check out all the best holiday markets in Boston in our dedicated guide.
First Night (NYE in Boston)
First Night is Boston's big New Year's Eve celebration and, in fact, it's the oldest and largest New Year's Eve arts festival in the entire US!
That's why it's the perfect Boston winter activity as you close out the old year and ring in the new.
Expect fireworks, lots of family-friendly events, and revelry that continues into the early morning hours for adults.
Check out all our tips in this Boston NYE guide.
The Boston Holiday Pops
Another big annual event in December is put on by the Boston Symphony Orchestra: The Boston Pops.
You can catch the show for the festive celebrations, and the Pops are also a big July 4th event in Boston, so come back in summer to catch a totally different vibe in the city.
The Boston Nutcracker
The Boston Ballet puts on The Nutcracker every December and it's well worth seeing!
Grab tickets early to avoid disappointment and then enjoy the festive feel of this annual event held at the Boston Opera House.
The season typically runs from just after Thanksgiving through the end of December.
Things to Do in Boston in January
Catch a Bruins Game
Hockey season is in full swing in January and the Boston Bruins are bound to be in town.
Head to TD Garden (locals still tend to just call it The Garden) and enjoy the thrill of watching the NHL live.
On TV, it can be too fast-paced to really appreciate the action.
It's a totally different experience watching ice hockey live — and you'll love the energy of Boston fans!
Want a cheaper alternative?
You can watch the Bruins practice for FREE.
Head to Warrior Ice Arena at Boston Landing and enjoy the experience of watching pro athletes behind the scenes.
Or Catch the Celtics at Home
January is still prime basketball season, too, so if the B's aren't in town, hopefully the Celtics will be.
A very different experience from hockey, watching the NBA tends to be more laidback and fun — somewhere between the NHL and MLB.
Catch a game, enjoy people-watching on the big screen, and make some friends in the stands.
The Boston Wine & Food Festival
Starting in January and running through March each year, the Boston Wine & Food Festival is an annual favorite.
Stay warm and dry inside while you sample your way through fabulous bites and sips.
It's the most delicious thing to do in Boston in the winter!
Things to Do in Boston in February
With Valentine's Day in February, you'll be looking for romantic things to do in Boston, and you'll find plenty of options for wooing your sweetheart!
Head to the North End for quaint Italian-style restaurants with the perfect atmosphere for a romantic dinner.
In fact, the North End is a great area to spend the whole day together.
You can brave the winter temps and walk part of the Freedom Trail to learn more about the Revolutionary War and the many people and places in Boston that played key roles in its success.
Much of the Freedom Trail traverses the North End, so you can stop into one of these cozy Italian restaurants whenever you get too cold.
Warm up with a cannoli and an espresso, then head back out for more history and adventure.
Even better: leave the planning and local insight to someone else! Book this North End food tour.
Things to Do in Boston in March
Yes, March is still winter in Boston!
Springtime is lurking and March offers hope for those eager to get back outside with longer days, but winter definitely still lingers.
St Patrick's Day in Boston
Boston in March means it's time for St Paddy's Day!
With such a strong Irish immigrant background, Boston certainly knows how to celebrate this Irish festival in style.
In fact, Boston is where St Patrick's Day was originally celebrated in the whole of the United States!
Boston has celebrated Ireland's patron saint since 1737.
There's been a St Patrick's Day parade held in South Boston (locally just called Southie) since 1901.
If you're in Boston in March, head to Southie for the parade and all the fun, just plan on walking a lot.
With streets closed for the parade and an influx of people for the bars and overall vibe, it can be a struggle getting out later in the day.
It's worth it, though; St Paddy's Day in Boston is an all-day celebration not to be missed.
Dine Out Boston
March also usually plays host to Dine Out Boston (sometimes called Restaurant Week Boston).
If you plan your visit well, you can take advantage of absurd deals at some of Boston's best restaurants.
Lunch specials offer huge savings, and definitely look at the high-end places you'd usually splurge on for a fabulous dinner out at fantastic rates.
Final Words
If you're visiting Boston in the winter, you should also consider a few day trips away from the city to enjoy the beauty of New England when it's covered in snow.
Check out our recommended weekend getaways from Boston in winter to really maximize your visit to the city.
Did I miss your favorite things to do in Boston in the winter? Share it in the comments!
Our Boston Guides