This article has links to products and services we love, which we may make commission from.

Welcome to Atlantic City, the ultimate playground on the Jersey Shore!
This vibrant city is famous for its iconic boardwalks, casinos, and endless entertainment options.
Whether you're an adrenaline junkie, a foodie, a history buff, or just someone looking for a good time, there's something for you here.
Soak up the sun on the beach, indulge in some retail therapy, explore the hidden gems of the city, or party the night away.
In this guide, we've covered the best things to do in Atlantic City to help you plan a fun and unforgettable getaway.
Pro tip: Be sure to wear comfortable clothing and shoes for long walks on the boardwalk and sandy beaches.
You may also want to check out our guide to the best things to do in Ocean City NJ, Cape May, Asbury Park, or Sea Isle City for more spots to explore on the Jersey Shore.
Best Things to Do in Atlantic City, New Jersey
Below are our top picks for activities and destinations in Atlantic City including the casinos, boardwalk area, and other unique spots — perfect for planning your next vacation.
Caesars Palace
Caesar's Palace (2100 Pacific Avenue) is famously designed with the theme of Ancient Roman decadence.
When in Rome Atlantic City, do as the Romans do!
You'll find decor fitted with Roman architecture including marble columns and golden statues of ancient rulers, as well as a traditional Roman bath in the same fashion as the high society of ancient Rome.
When you stay at this resort, it is best to lean into the gaudy and just enjoy it for what it is.
Everything is over the top at this place, so embrace the gold and marble and you will find that it really is a unique treat to spend your night at Caesar's.
Atlantic City Ballet
For a night of elegance, put on your best suit and visit the Atlantic City Ballet (2301 Boardwalk).
Situated in the Circus Maximus Theater, the ballet performs many world-class pieces, including "Nutcracker" and "Sleeping Beauty."
The performances are choreographed by world-renowned artistic director, Phyllis Papa.
Spend your night out in luxury at one of the best places to visit in Atlantic City.
Atlantic City Miniature Golf
There is a surprisingly small list of mini-golf locations in Atlantic City since so much of the city is consumed by high-flying entertainment at the casinos and resorts.
With that said, Atlantic City Miniature Golf (1 Kennedy Plaza) is a lovely 18-hole course that has been in operation for over twenty years.
The family-owned course is maintained with love and lined with beautiful landscaping.
The locals will tell you to wait until the sun goes down for this attraction: once the crowds start heading to the casinos, everything in the course is lit up for the night and a new round of golfers is welcomed in.
Chef Vola's
Chef Vola's (111 S Albion Place) is one of the most sought-after fine-dining establishments in Atlantic City, originally rising to prominence in the heyday of the 1920s.
Originally an under-the-radar speakeasy, Chef Vola's is still a relatively secretive location with very limited seating.
Savor some delectable Italian dishes, the most popular including Veal Parmesan, Crab Cakes, and Italian Sea Bass.
If you would like to attend Chef Vola's on your vacation in AC, you will need to plan well ahead of time.
Due to the overwhelming interest in this iconic location, patrons will have to schedule their reservations months in advance.
Tropicana
Tropicana Resort and Casino (2831 Boardwalk) is a resort themed to feel like a night in Havana, Cuba.
The dining and the decor are modeled to resemble the capital of Cuba, the centerpiece being The Quarter, an open-air shopping district that places you right in the middle of Havana.
In addition to dining and shopping, there are also other things to do at the Tropicana Hotel in Atlantic City as they have amenities for all ages such as pools, arcades, and family restaurants.
Knife and Fork Inn
Visit the Roaring Twenties at Knife and Fork Inn (3600 Atlantic Avenue).
This restaurant is over 100 years old, originally opening its doors in 1912.
It became a staple of Atlantic City during the 1920s, and the decor is still an ode to the Art Deco style in which it originally came to fame.
Knife and Fork Inn is a five-star steakhouse and seafood restaurant, with some of the most popular dishes including Prime Sirloin, Pan-Roasted Halibut, and Jumbo Lump Crab Cake.
White House Subs
There may be fine dining all over the city, but there is only one greasy cheesesteak shop.
White House Subs (2301 Arctic Avenue) has remained a cherished local spot for nearly 70 years, offering the same sandwiches and cheesesteaks that they have served since the 1950s.
The dining is informal, the line to order is rushed, and the sandwiches are not exactly neat, that is precisely why the White House is mobbed with people all day every day.
You can't easily replicate an authentic, old-school sandwich shop, and so White House Subs stands out among all of the other options for its gritty realness and old-school charm.
Bally's Atlantic City Casino & Resort
Bally's Atlantic City Casino & Resort (1900 Pacific Avenue) is a staple of the casino skyline and one of the must-do things in Atlantic City.
With over $100 million in renovations recently completed, Bally's is one of the most state-of-the-art stays in Atlantic City.
Take in unique offerings such as beer gardens, a beach bar, and a 25-foot-wide LED video wall for an entirely unique sports-watching experience.
In addition to the unique offerings, Bally's also offers fine dining, luxurious amenities, and high-quality accommodations.
Check availability on Expedia.
New Jersey Korean War Memorial
If you're looking for historic things to see in Atlantic City, visit The New Jersey Korean War Memorial (124 Park Place).
This war memorial is a striking, yet refreshing change of pace as you exit the casinos and head toward the beach.
The New Jersey Korean War Memorial is a somber, beautiful ode to the nearly 200,000 citizens of New Jersey who fought in the Korean War.
Originally erected in 2000, this memorial may be relatively small compared to many other attractions but it has remained a touching and important piece of American (and New Jersey) history.
Civil Rights Garden
Take your chance to slow down among the many exciting activities in Atlantic City and breathe at the Civil Rights Garden (Pacific Avenue & Dr. Martin Luther King Boulevard).
This small, peaceful garden is adorned with 11 granite columns and winding paths around a beautiful collection of trees and flowers.
The Democratic National Convention was held in Atlantic City in 1964, right when the Civil Rights Movement in America was at its highest peak.
There were many important moments that happened in Atlantic City at this time, most notably the extended discussions led by the Mississippi Freedom Democratic Party that shined a light on serious instances of racial discrimination and illegal voting practices in the 1964 election of state delegates.
Slowly stroll the park while you read the many inscriptions along the pathway, each one telling a different story about the Civil Rights Movement.
The Irish Pub
Teleport to Dublin for lunch when you visit The Irish Pub (164 St James Place).
The Irish Pub rose to prominence in Atlantic City thanks to its immaculately-crafted ambiance and delicious pub menu.
Devour authentic Irish pub food like Fish & Chips, Irish Salmon, and St. James Potatoes, as well as a premier selection of beers and cocktails.
Central Pier Arcade and Speedway
Go for a wild adventure at the Central Pier Arcade and Speedway (1400 Boardwalk).
Located on the boardwalk, this arcade is a hot spot for children and adults alike as they walk in from the beach or stroll the boards.
There is a diverse assortment of games, featuring vintage games for adults and high-tech games for kids and teens.
Central Pier also has Atlantic City's premier go-karting experience, with a full-size speedway behind the arcade that brings in thrill-seekers of all ages.
So make sure to add this exciting spot to your list of things to do on the boardwalk in Atlantic City!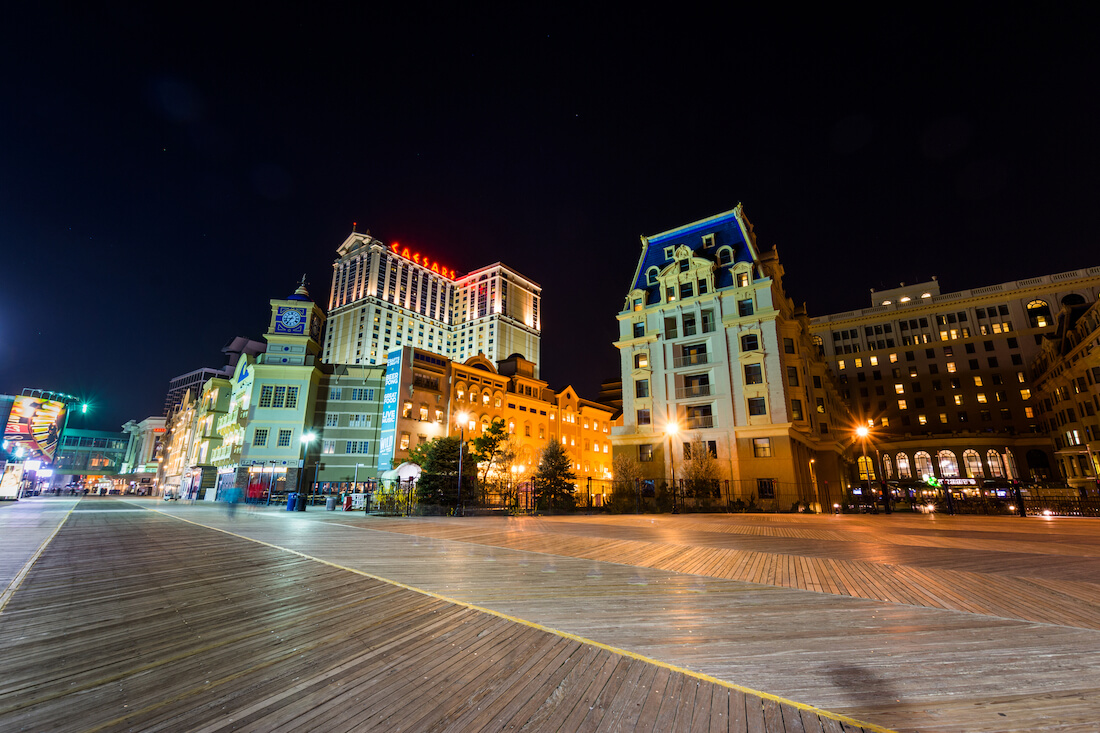 Bar 32 Chocolate and Cocktails
If you are looking for a unique after-dinner dining experience, Bar 32 is the place for you.
Bar 32 Chocolate and Cocktails (131 S Tennessee Avenue) is a chocolate-themed dessert restaurant and cocktail bar that features mouth-watering items such as Chocolate-Covered Cheesecake, Brown Butter Chocolate Cookie, and Double Chocolate Brownie Sundae.
Once you have stuffed your stomach with decadent sweetness, try one of the mixologist-tailored pairings, which all feature in-house Tanzanian cacao chocolate beans.
Hard Rock Cafe Hotel and Casino
Live it up at the Hard Rock Cafe Hotel and Casino (1000 Boardwalk).
If you're looking for the best places to go in Atlantic City that feature arts and theater, Hard Rock hosts some of the world's most exciting musical acts on a nightly basis.
Come for the show, stay for the gaming, dining, and top-shelf accommodations.
In addition to the many amenities like a spa and rooftop pool, there is also a museum wing with exhibits featuring many global musical artifacts.
Steel Pier Amusement Park
The Steel Pier Amusement Park ((1000 Boardwalk) is a beloved Atlantic City boardwalk attraction that is unique because it caters to kids of all ages, which is a rarity in this city.
It is nestled right on the boardwalk and within walking distance of many of the top resorts.
There are thrilling rides for the hot-blooded, from the Slingshot to the Freedom Flyer.
For children and their parents, spend the day riding miniature roller coasters, carousel, or bumper cars.
When you have wiped yourself out on the rides, sit by the boardwalk and try one of the three restaurants inside the amusement park, featuring pizza, seafood, and a wide selection of drinks.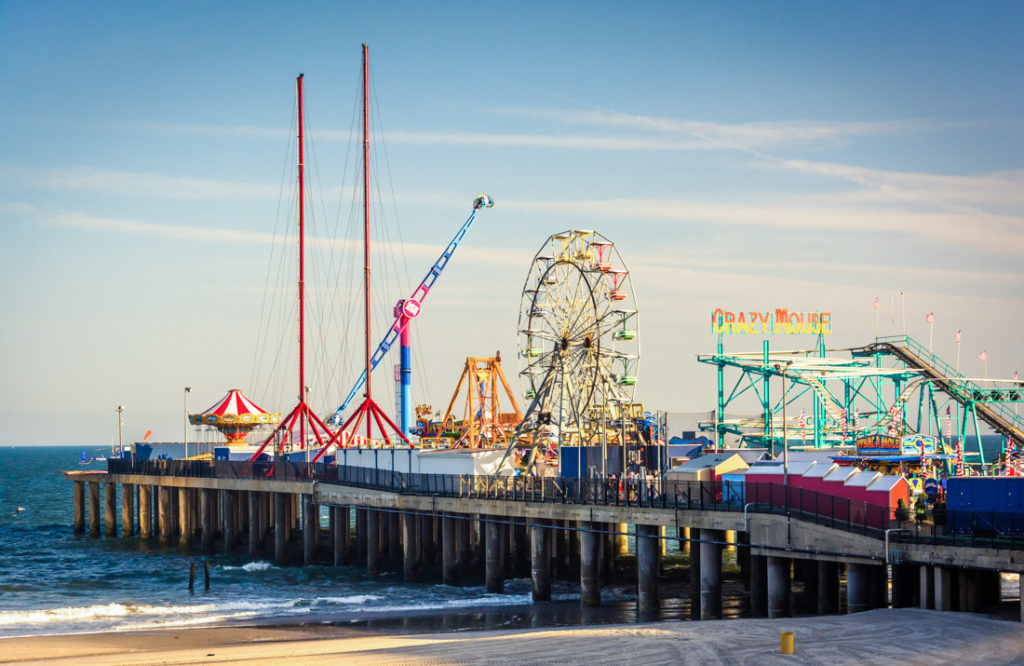 The Sugar Factory
If your sweet tooth is calling you, then The Sugar Factory (1000 Boardwalk Avenue) is the destination for you.
Located in the Hard Rock Cafe Hotel and Casino, this restaurant may serve an excellent dinner menu, but it is the world-class dessert menu that draws tourists in droves every day of the summer.
Let your inhibitions go for the evening and try a 24-scoop ice cream sundae, a massive milkshake, or a rainbow doughnut (or three).
Ocean Casino Resort
Have a taste of luxury at this five-star resort right along the boardwalk.
Ocean Casino Resort (500 Boardwalk) is the ultimate luxury experience in Atlantic City.
Experience the most upscale dining and accommodations available in the city, including a spa and bathhouse, pools and cabanas, and five-star restaurants.
In addition, this place has a TopGolf amenity built into the resort.
Book a private bay and spend the day teeing off of your own exclusive golf range with excellent food and drinks delivered directly to your bay.
With its luxurious amenities and a wide range of entertainment options, there's no shortage of things to do at the Ocean Casino Resort in Atlantic City.
Check availability on Expedia.
Go Surfing
When it comes to Atlantic City beach activities, surfing is one of the most thrilling.
The city has several surfing beaches, but Crystal Beach at New Hampshire Avenue and Downtown Beach are the go-to spots for experienced surfers looking to catch the best waves.
Keep in mind that lifeguards are not present at these beaches, so it's crucial to take necessary precautions and never surf alone.
Although the summer months offer the best time to surf, it's essential to monitor weather and tide conditions.
No worries if you're a beginner; the Atlantic City Surf Club provides exceptional lessons to get you started on your surfing journey.
Absecon Lighthouse
Atlantic City may be most known for its vibrant nightlife, but there are still serene pieces of quiet history to be found.
Absecon Lighthouse (31 S Rhode Island Avenue) is a historic landmark, to this day the third-tallest lighthouse in the United States.
Originally built in 1857, Absecon served Atlantic City as a beacon in the night sky for 86 years.
After it was decommissioned in 1933, the 228-step lighthouse was repurposed into a tourist attraction and educational museum.
For any parents looking for different things to see and do in Atlantic City with their children, burn some energy climbing all 228 steps and become a lighthouse keeper, shining the refurbished original lens out into the open water.
Atlantic City Sunset Cruise
Embark on an extraordinary Atlantic City adventure aboard a sunset cruise that offers nightly specials on cocktails and beer.
Indulge in a tranquil escape from the hustle and bustle of the city as you glide through the marinas and back bays of the Atlantic Ocean, and marvel at the stunning views of the cityscape as the sun sets and the night sky illuminates.
It's the perfect way to unwind and experience the city from a unique perspective.
You can also enjoy the cruise without the bar option.
Dolphin Watching
Looking for more Atlantic City attractions by the water?
Experience the ultimate dolphin-watching adventure on the Jersey Shore on a combined sightseeing and ocean cruise.
Take in the breathtaking views and catch a glimpse of playful dolphins jumping out of the water as you sail through the sea.
With an onboard marine naturalist, you'll gain a deeper understanding of how these fascinating creatures interact with their environment.
Don't miss out on the chance to witness these friendly sea animals in their natural habitat — it's an experience you won't forget!
The Borgata Casino
In a town famous for its casinos and resorts, The Borgata Casino (1 Borgata Way) is arguably the most popular.
By far the largest casino in Atlantic City at over 160,000 square feet, this place is outfitted with the latest technology in gaming, including a state-of-the-art casino floor that could keep you entertained for a whole weekend.
And you surely don't want to miss out on plenty of things to do at the Borgata, Atlantic City during your visit.
When you are done playing your luck on the casino floor, explore the countless additional amenities offered by the resort, including five-star restaurants, pools, a spa, and a stage that features world-famous musicians and stand-up comedians.
Check availability on Expedia.
Golden Nugget
For an exciting night of entertainment, book a stay at the Golden Nugget Hotel, Casino & Marina (600 Huron Avenue).
In addition to a luxurious stay right on the bay, there is also a wide selection of things to do at the Golden Nugget, Atlantic City available for your evening.
For dinner, try one of their many popular restaurants including Lillie's Asian Cuisine and Bill's Bar & Burger.
You can also visit the Rush Lounge, Bar 46, or The Wave Bar.
To top off your evening, schedule your trip to line up with one of the many great acts to adorn the stage, from music to stand-up comedy.
A.C. Paintball
When you have had enough Atlantic City boardwalk activities and want to try something entirely different, why not take the whole family on a paintball outing?
AC Paintball (930 12th Street, Williamstown NJ) offers six different fields that each have unique elements that lend themselves to specific games.
Get the full paintball experience and stay all day, trying a speedball tournament at the Hyperball Field or playing capture the flag at the Black Ops Pentagon Woods Field.
Keep in mind that AC Paintball is roughly a 40-minute drive from Atlantic City, but it makes for a fun afternoon out to change things up on vacation.
Harrah's Resort
Harrah's Resort (777 Harrah's Boulevard) is a premier hotel and casino located immediately next to the Brigantine Bridge.
Live on the edge for the day, with an exciting collection of gaming along with four-star amenities and accommodations.
There is also a famously-eclectic lineup of live entertainment which includes rock stars, comedians, and storytellers of all kinds.
Check availability and book it on Expedia.
Final Thoughts
We hope this guide has helped you discover all the fun and must-do things in Atlantic City.
Don't forget to leave a comment below and share your favorite activities and destinations during your time here.
New Jersey Travel Guides