This article has links to products and services we love, which we may make commission from.

Looking for fun things to do in Amherst, Massachusetts? Located in Western Mass, Amherst is one of many towns and small cities along Route 91, which runs north to south across the state to connect with Vermont and Connecticut. Other nearby towns include Deerfield, Northampton, Holyoke, and Springfield.
If you're just visiting the area, you'll find plenty of fun things to do in Amherst and nearby for a great weekend getaway.
You might also like our guide to things to do in Western Mass for a wider range of locations.
The area is especially popular in the fall when the leaves change colors and the many farm and orchards in the region offer corn mazes, hay rides, apple picking, and so much more.
Amherst offers plenty of fun things to do for locals and visitors alike.
If you're moving to Amherst for college, endless fun adventures await you!
If you're taking a day trip from Boston, it's about a 2-hour drive without traffic, so get an early start and plan for a jam-packed day!
If you live in Western Mass, you might want to check out our guide to the best things to do in the White Mountains in NH for a fun local trip.
Things to Do in Amherst Mass
From outdoor adventures across Western Mass and beyond, to an awesome music and bar scene with so many colleges nearby, there's always something to do in Amherst!
If you want to learn more about the local area, don't miss the top attractions, which include a variety of places and spaces to learn.
If you're looking for inspiration to get off the couch and go do something, check out our recommendations for fun things to do in Amherst this weekend.
We also have ideas for getting outdoors, from picnics and farms to intense hiking trails, plus suggestions for things to do nearby.
Get out there and have some fun!
Top Attractions in Amherst
Learn and marvel at these museums and local institutions in Amherst.
The Western Mass area and on toward the beautiful Berkshires have long been a haven for artists and creatives, so you'll find plenty of works to admire from past and present locals.
Even Amherst Town Hall is a stunning work of art!
The red brick, sandstone, and granite structure was built in 1889 and still stands proudly over downtown Amherst.
Visit the Eric Carle Museum of Picture Book Art
Also known as The Carle (125 W Bay Rd), this museum is named for founder and children's book author Eric Carle.
You might recognize that name from the childhood favorite The Very Hungry Caterpillar!
The museum is both accessible for children and nostalgically engaging for adults, making it a perfect stop for families and one of the fun things to do in Amherst for anyone.
Tour the Emily Dickinson Museum
The Emily Dickinson Museum (280 Main Street) is made up of the home and birthplace of poet Emily Dickinson, as well as the house next door that belonged to her brother and his family.
The museum has a beautiful garden, offers poetry readings, and contains many authentic artifacts that are sure to attract literary aficionados.
Stroll the University Museum of Contemporary Art
The UMCA (Fine Arts Center, Presidents Dr) is part of UMass Amherst, which has been collecting contemporary art for over 60 years.
They have permanent collections, temporary exhibitions, cultural experiences, educational programs, and more to entertain visitors.
Take in the Beneski Museum of Natural History
Enjoy a day filled with learning about fossils and dinosaurs, geology and mineralogy, and space at The Beneski Museum (11 Barrett Hill Dr).
It's the perfect history museum for students of all ages as well as history buffs and science lovers.
Enjoy the Mead Art Museum
Enjoy a morning of fine art at the Mead Art Museum (41 Quadrangle Dr), which holds the fine art collection of Amherst College.
As an added bonus, admission is free, which makes this a prime stop for those on a budget!
Visit the Yiddish Book Center
Home to a vault of nearly a million recovered, restored, and preserved Yiddish books, this institution is a stunning example of the importance of cultural and religious preservation.
The Yiddish Book Center (1021 West St) provides visitors with insight and understanding of centuries of cultural history.
Fun Things to Do in Amherst This Weekend
Looking for something fun to do this weekend instead of sitting around binging another Netflix series?
From epic adventures to cute date spots, there is plenty do to in Amherst to tempt you off that couch!
See a film at Amherst Cinema
Amherst Cinema (28 Amity St) is a wide-serving nonprofit theater facility that offers visitors the opportunity to enjoy screenings of independent films, old classics, new modern movies, live production, and more.
Its central location also keeps you near plenty of delicious spots to eat.
Hello, date night!
Grab a drink at Amherst Coffee + Bar
Right in the Amherst Cinema building, you'll also find the lovely Amherst Coffee + Bar (28 Amity Street).
They sell coffees, beers, ciders, and wines and select tea and pastries for guests to enjoy.
It's an accessible, central location which makes it perfect for a quick stop or for an enjoyable afternoon.
Catch a game at Lehrman Stadium
Depending on the time of year, check out a game at Lehrman Stadium at Amherst College.
Did you know Pratt Field (62 Orchard St) is one of the oldest college NCAA football sites in the whole U.S.?
Drop that factoid into your date night chat.
Take a hot air balloon ride
There's everyday fun and then there's epic fun!
Enjoy the sites from above the city as you cascade across the skies in a hot air balloon with Aerostat Promotions.
This unique experience offers you an opportunity to see the views, sights, and nature of Western Mass from the highest views.
Flights are around sunrise and sunset for the best experiences.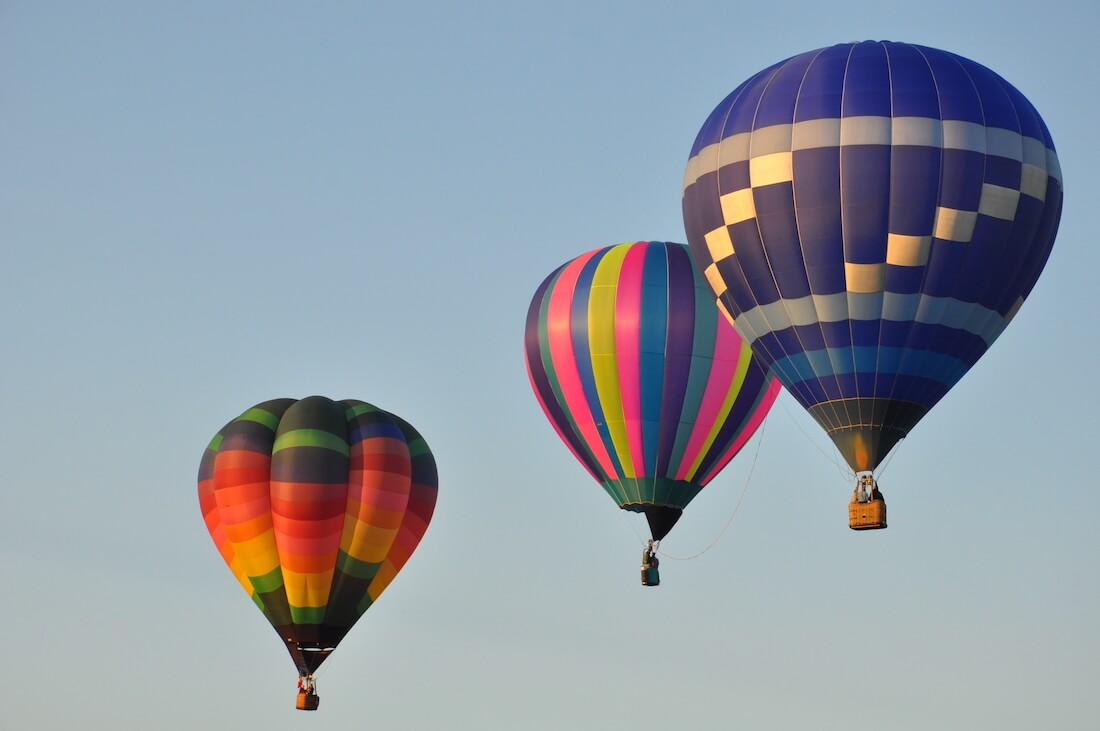 Have lunch at The Black Sheep
The Black Sheep (79 Main Street) deli is an iconic spot that's been in Amherst since the mid-80s.
They offer gourmet deli sandwiches, including specialty sandwiches, vegetarian sandwiches, a build-your-own, or breakfast sandwiches.
They also have music on weekends.
Enjoy a boba at LimeRed Tea House
If you haven't tried craft bubble tea yet, then LimeRed Tea House (50 Main Street) should be one of the Amherst spots on your list!
Fresh local farm milk and real fruit flavoring make for a delicious treat for you to drink.
Plus, it's an iconic spot for locals in Amherst — and all of Massachusets.
Listen to live music at the Monkey Bar
If you're hoping to find live music, DJs, dancing, karaoke, and an overall party spot, then the Monkey Bar (63 N. Pleasant Street) is the spot to go for college students.
Outdoor Things to Do in Amherst Mass
Winter can be tough in Amherst, so take advantage whenever you can to get outdoors and enjoy the natural beauty of this region.
With hilly terrain and broad rivers, forested areas and lots of agricultural land, Western Mass offers a feast for the outdoor adventure lover's eyes!
Hike part of the Metacomet-Monadnock Trail
One of the best outdoor things to do in Amherst, Massachusetts — especially for experienced adventurers — is the 14-mile Metacomet-Monadnock trail in Mt. Holyoke Range State Park.
Park at the Notch Visitor Center at 1500 West Street.
The hike takes about 7 and a half hours, with plenty of foliage and plant life to enjoy on the way.
Download the trail map and follow the white markers along the way.
Cycle the Norwottuck Rail Trail
If you're looking for an alternative to a 14-mile trail on foot, the Norwottuck Rail Trail is an 11-mile trail for biking and riding.
It's fully paved and is open for biking, walking, and rollerblading.
Free parking is available for trail users on Station Road in South Amherst.
Swim in Puffers Pond
Puffers Pond is also home to Puffers Falls (a small dam), which is conveniently close to the center of Amherst, just three miles away.
The pond is the largest open body of water in Amherst and is an opportunity to enjoy the water in nice weather.
Opt for swimming, fishing, kayaking, picnicking and more.
You can also enjoy a short walk to the falls to sit on a rock and enjoy the views.
Note the pond is sometimes also referred to as Factory Hollow Pond, just in case you see that on a map.
Browse the goods at the Amherst Farmers Market
Between April and November, take a Saturday morning to stroll through the Amherst Farmers Market (Spring Street).
Enjoy fresh produce, local food, music, and other goods as you take in the vendors.
Pick your produce at Sunset Farm
Enjoy a day in the fresh air and sunshine while you stroll through the fields at Sunset Farm (20 Brigham Lane), harvesting your own strawberries or lettuce.
The small, family-owned farm allows visitors to pick their own crops, depending on the seasons, and enjoy the fruits of their labor!
Picnic at Sweetser Park
Enjoy a perfect little picnic at Sweetser Park (Lessey Street).
It offers plenty of grassy space for you to bring a blanket and a picnic lunch, with a waterfall for your viewing pleasure.
There are also statues and a daffodil garden decorating the local grounds and plenty of delicious restaurants right nearby.
Head to the Hitchcock Center for the Environment
You, your partner, or your family can take a moment to learn about nature, biodiversity, the natural flora and fauna of Amherst, and more at the Hitchcock Center for the Environment (845 West St).
It has plenty of interactive activities if you're looking for something fun to do in Amherst with children!
Wander the Amherst College Wildlife Sanctuary
Take in the 500-acre plot of land that is maintained by Amherst College for recreation as well as research.
The Amherst College Wildlife Sanctuary has plenty of diverse wildlife and tons of land — some of which is unmanaged and inaccessible.
Get outdoors and enjoy the trails.
Things to Do Near Amherst
Hop in the car and head a few miles to these fun spots near Amherst.
Unfortunately, public transportation isn't great out here, so you'll need your own car to maximize your options.
Visit the Botanic Garden of Smith College
The Botanic Gardens (16 College Lane, Northampton) offer a beautiful collection of trees, shrubs, flowers, and plenty of other foliage for visitors to enjoy while strolling the campus grounds.
Expert horticulturalists are on-site, flowers bloom in different parts of the year, and events are occasionally held for visitors.
Find full accessibility information here.
Visit the Naismith Memorial Basketball Hall of Fame
The Basketball Hall of Fame (1000 Hall of Fame Avenue, Springfield) is just a short drive from Amherst, but an enjoyable thing to do near Amherst for those willing to make the trip!
Relive the most epic moments in NBA history and retell the stories of where you were when you saw Wilt Chamberlain, Scottie Pippen, Kareem Abdul-Jabbar, or the many other Hall of Famers play their best.
It's a great day out for the whole family if you have any kiddos who love to shoot hoops!
Shop at Kev's Barnyard Flea Market Co-op
Kev's Barnyard Flea Market Co-op (185 W. State Street, Granby) offers a fun, unique assortment of merchandise for shopgoers looking to enjoy finding items they didn't even know they wanted.
With plenty of vendors and parking spaces, you can swing by any day between Wednesday and Sunday.
Enjoy wine at Black Birch Vineyard
Located just a bit outside Amherst, the Black Birch Vineyard (108 Straits Road, Hatfield) offers authentic signature wines for guests to enjoy from the serene comfort of their farm-style vineyard.
These locally grown wines can be joined inside the barn-style tasting room or out on the patio for fresh air.
Grab a pint at Northampton Brewery
The Northampton Brewery (11 Brewster Court, Northampton) is a delicious option if you're willing to drive a few miles outside of Amherst.
With a large interior and exterior space, they have a rooftop beer garden, patio seating, and inside seating for visitors to enjoy a fresh beer on tap or one of the delicious menu items.
Go rock climbing
Central Rock Gym (165 Russell Street, Hadley) is the perfect space to learn a new hobby or get in a bit of exercise while you're visiting Amherst.
With thousands of climbing terrain and bouldering space, its massive interior facility offers an exhilarating workout.
Figure out an Escape Room
If you and your friends are up for a challenge, try to solve your way through the All in Adventures Escape Room, located just outside Amherst (367 Russell Street, Hadley).
You'll have 50 minutes to solve puzzles as a detective, treasure hunter, and more.
Visit Lara's Labyrinth and VR Lounge
Step into the metaverse with a VR Lounge experience (451 Russell Street, Hadley) and escape room.
With over 50 games, including multiplayer games, it's guaranteed to be a fun time for adults, probably more than kids.
Be sure to make a reservation prior to your visit.
Where to Stay in Amherst
Check out the Inn on Boltwood (30 Boltwood Ave) for an ideal location in the heart of Amherst (book on Expedia, Hotels, or Booking).
The Amherst Inn (257 Main St) offers a quaint stay with easy access to everything you'll want to do while in town (book on Booking).
The Comfort Inn & Suites (400 Russell St, Hadley) is just a 5-minute drive from the center of Amherst and offers all the amenities you'd expect from a reputable hotel chain (book on Expedia, Hotels, or Booking).
Final Words
Did this list of fun things to do in Amherst inspire you to try something new?
Let us know in the comments below!
Massachusetts Guides
Massachusetts Destinations