This article has links to products and services we love, which we may make commission from.

America's playground has been a magnet for sun worshippers and party people for decades, from the Roaring Twenties through to the present day.
This guide reveals the best things to do at South Beach, Miami Beach including where to see the coolest Art Deco, where to find fun bars, and what cultural experiences are worth visiting.
It is easy to get your bearings in South Beach, also known as SoBe, as there are numerical streets running east to west, starting at Biscayne Street (South Pointe Drive) in the south of Miami Beach, running up to 23rd Street.
However, don't underestimate the distance between South Beach activities, especially during the hot summer months.
It is worth noting that Miami Beach and Miami are two separate cities connected by bridges.
It takes approximately 25 minutes by car to get to Miami Beach from Miami's Bayfront Park.
If you're staying in Miami but still want to explore Miami Beach, consider the hop on hop off bus tour, which stops at the popular attractions of Ocean Drive, Española Way, and Miami Beach.
Now, let's dive into our colorful South Beach itinerary.
You may also like our guides for things to do in Miami Beach and a one day Miami itinerary.
Things to Do in South Beach, Miami 
Our guide starts in the sought-after South of Fifth, or SoFi as it is also known, neighborhood.
The area runs from south of 5th Street to Government Cut and is surrounded by water on all three sides from the Atlantic Ocean to Biscayne Bay.
South Pointe Park
South Pointe Park is a lush green space with views of the South Beach shoreline.
It offers lots of space for sunbathing, working out, and the occasional drum circle party!
Visitors like to sit on The Hills section of the park to watch the cruise ships sail in and out.
There's a 20-foot-wide promenade for walkers, runners, and skaters.
Dogs can enjoy off-leash runs at the bark park.
This Miami Beach park is used by photographers hoping to catch a dreamy sunset picture.
It is also a popular engagement shoot location.
South Pointe Park is also connected to a pier and a beach, and has parking close by.
Obstinate Lighthouse
Obstinate Lighthouse, (Washington Avenue, South Pointe Park) is a 55ft structure built using aluminum, frosted glass, and LED lights.
The artist, Tobias Rehberger, created this playful structure, which he thinks represents the city's vibe, to greet boats entering the man-made shipping channel, Government's Cut.
Jetty Lifeguard Tower
The first of many lifeguard towers in our fun things to do in South Beach guide is the Jetty Lifeguard Tower.
Miami Beach's lifeguard towers are known for being colorful, so they make the perfect prop in photos, popping against the blue sky and Atlantic Ocean.
There are over 30 towers dotted along the shoreline.
When you visit, take a look at each tower and you will see the name, often related to the location, on the structure.
South Pointe Beach
South Pointe also has a beach with a pier.
While water sports like surfing and paddle boarding are permitted, dogs aren't but there is the bark park nearby if visiting with your furry pal.
The beach also has restrooms, outdoor showers, and a cafe making it one of the best areas in South Beach for families.
South Pointe Beach also features in our guide to Miami's hidden gems.
Note: Since the Gulf of Mexico suffers from the issue of Red Tide, which can cause respiratory illness and eye irritation, it is always best to check the Florida forecast on the NCCOS website.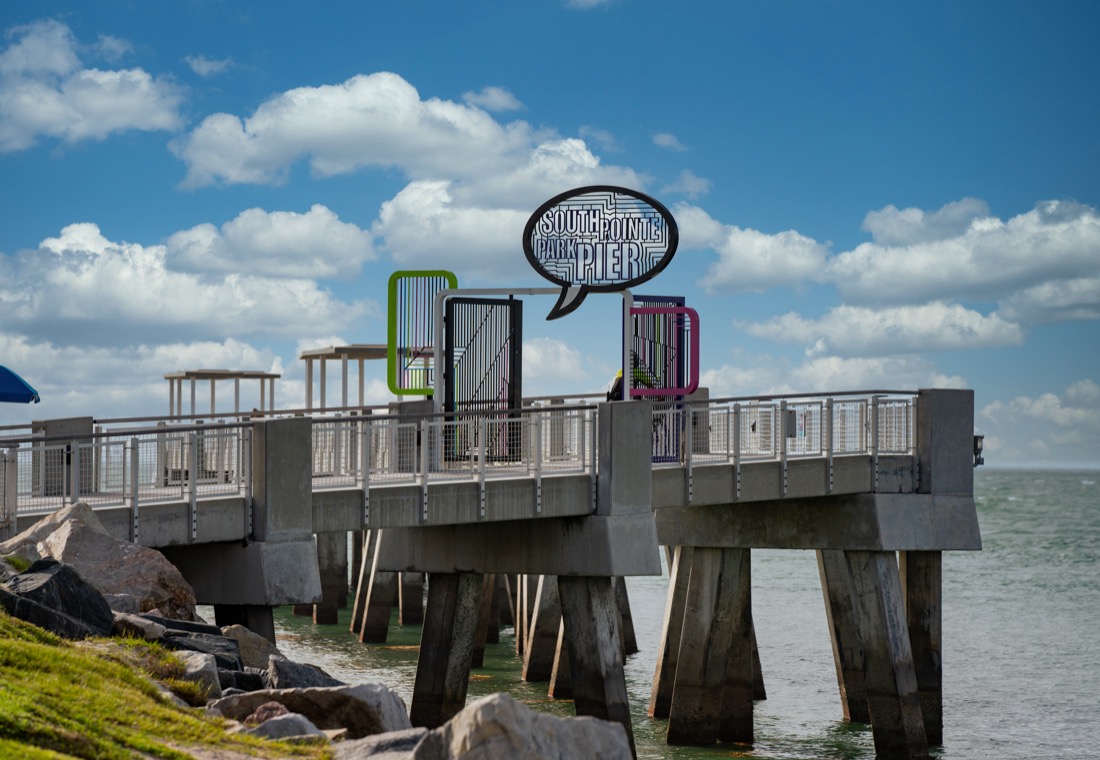 Learn to Surf in South Beach
Do as the locals do and hit the Atlantic Ocean waves with this family-friendly surf lesson.
Lessons start on the sand with basic surfing techniques and safety information explained.
Then, once you are confident, your instructor will take you into the water and teach you how to stand up and then catch a wave!
Surfboards, leashes, and wetsuits are provided.
This is a great thing to do in South Beach with kids if they are curious about the water.
Cabanas at Nikki Beach
Nikki's Beach (1 Ocean Drive) has been a staple in South Beach since the late 1990s, and guests appreciate its upscale, boutique setting.
Hire a daybed or cabana and take advantage of the luxury facilities, live music, restaurant, and bar serving cocktails.
While Hyde Beach, featured later in this guide, is the livelier day party, Nikki Beach is more laid back, making it one of the nicest things to do in South Beach for couples who want to chill out, enjoy drinks, and each other's company.
Nikki Beach features in our guide to romantic Miami, if traveling with your partner, check it out for perfect date ideas.
Image credit, Nikki Beach Global.
Stone Crabs at Joe's
Stone Crabs are a big deal in Miami, and wider Florida.
They differ from other crab dishes as only the claws are removed, and the rest of the crab is put back in the water.
Some see this as a more ethical way of fishing.
The claws at Joe's (11 Washington Avenue) are boiled, chilled, cracked, and served with hash brown potatoes, coleslaw, and mayonnaise.
The restaurant also serves Key Lime Pie, so if you can't make it down to Key West, you can still try this deliciously sweet dessert.
Joe's is one of the oldest restaurants in the city!
The Weiss family, who own the crab shack, was the first Jewish family to settle in Miami Beach in 1913.
The crab shack is still in the family today, dining here is one of the unique things to do in South Beach.
Joe's features in our our 3-days in Miami itinerary.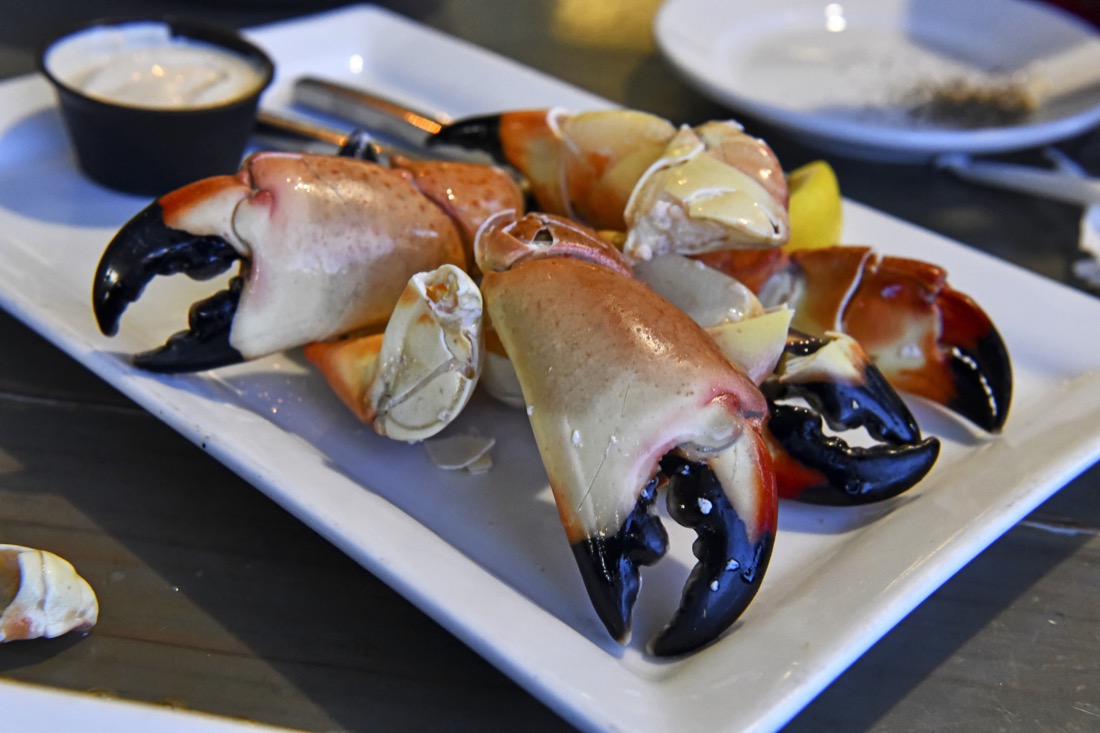 Comfort Food at Big Pink
Craving a home from home meal? Big Pink (157 Collins Avenue) has the remedy.
Since 1996, the retro hangout has been serving big portions from breakfast through to late night, and you won't be surprised to read that the building is pink!
Waterfront Views at Monty's
Enjoy the views of Miami Beach Marina while dining on seafood at Monty's Sunset Miami Beach (300 Alton Road).
This dockside bar also puts on live music and shows big sports games.
3rd Street Lifeguard Tower
The 3rd Street Lifeguard Tower is a cheery yellow, orange, and red hut located at 3rd Street.
Jewish Museum of Florida
The Jewish Museum of Florida (301 Washington Avenue) is the only place that preserves and interprets Florida's Jewish history from 1763 to the present.
The museum hosts a series of exhibitions and events throughout the year, with the core exhibition sharing the universal immigration story.
It is housed in Beth Jacob, the first synagogue in Miami Beach.
Beth Jacobs has two buildings located at 301 and 311 Washington Avenue, the first building was built in 1929 (number 311) and was designed by H Fraser Rose.
The second was built in 1936 by Henry Hohauser.
It has been on the U.S. National Register of Historic Places since 1980, so not only are you visiting a museum, but you get to see inside an important building in Miami Beach too.
Tacos at Matilda's
Wash down tacos, torta, or a burrito with a Margarita or Michelada at Matilda's (413 Washington Avenue).
There's an outside porch with tables for al fresco dining.
Sports on TV at The Sandbar
The Sandbar (6752 Collins Avenue) is a friendly sports bar serving burgers, wings, and beer.
The bar also puts on cabaret, comedy, and costume party nights.
Fresh Pastries at Buon Pane
Pastries, donuts, tarts, pies, baguettes, pizzas, and pasta… for such a small panetteria, Buon Pane (729 5th Street) packs a punch!
The first authentic Italian bakery in Miami Beach also delivers.
Strawberry Moon at The Goodtime Hotel
The Goodtime Hotel (601 Washington Avenue) is a collaboration between the artist Pharrell Williams and entrepreneur David Grutman, nope I'm not frontin' you heard that right.
This place is plush with its candy-colored cabanas surrounding the 24,000 sq ft pool, daily Med-inspired menu, and live music.
Cuban Sandwiches at Las Olas
Arrive early to get your hands on a fresh Cuban sandwich before they run out at Las Olas (644 6th Street).
The menu also includes coffee, juices, smoothies, empanadas, and rice bowls.
Açai at Pura Vida
If you are craving a healthy smoothie bowl you are never far from a berry good acai serving at Pura Vida as there are a few locations at Miami Beach.
The menu also includes salads, sandwiches, and sushi.
Lummus Park
Lummus Park is 74 acres of green space which separates the Art Deco District from the ocean at South Beach.
It runs from Ocean Drive between 5th Street and 14th Place.
Nestled among the trees are fitness parks, kids parks, volleyball nets, and beach access.
Do watch for mosquitos hiding out at Lummus Park as the day turns to dusk.
It is thought that the park is named after John and James Lummus, who collaborated with entrepreneurs John S. Collins and Carl Fisher to create realty in Miami Beach, which attracted the first holidaymakers and residents.
Lummus sold the area of South Beach where the park lies to the government.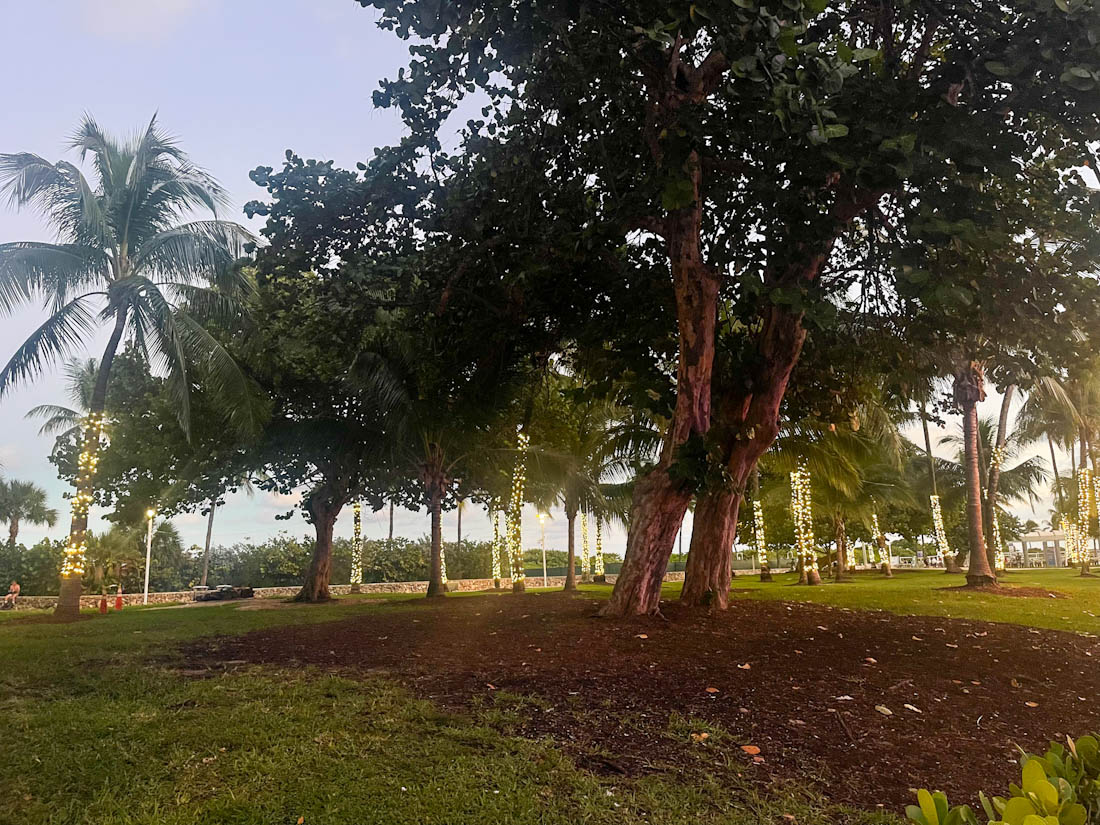 Hire Bikes and Pedal South Beach
See the area faster with lots of flexibility for stops by renting cycle bikes from Washington Avenue.
The rental includes an easy-to-operate beach cruiser bike, bike lock, basket, helmet, and map.
One of the fun Miami South Beach activities that combines exercise, you'll fit right in with the locals!
Ocean Drive at Night
Ocean Drive has to be one of the most famous places in South Beach with its Art Deco and neon lights being recognized internationally.
While Ocean Drive is fun for people-watching during the day, you'll definitely want to visit at night to see the vintage buildings and palm trees lit up.
Most of the Art Deco buildings are hotels with restaurants and bars.
Expect door staff to try and entice you into their establishments, it's all part of the vacation game!
Some bars and restaurants feature menus with prices so you can get a feel for the bill before you order, it is also worth asking about additional charges like patio seating so you don't feel stung at the end of the night.
The Art Deco design seen on Ocean Drive is referred to as Tropical Deco and Streamline Moderne, the latter came onto the art scene in the 1930s, during Art Decos second revival.
Ocean Drive is preserved by the Miami Design Preservation who fought to keep the historic buildings when others in the city wanted to knock them down to make room for shiny new ones.
In 1979, the Art Deco District was placed on the US National Register of Historic Places and it was the first neighborhood of 20th century buildings to be added.
So, you can see that they are more than just a strip providing entertainment in South Beach.
In the 1980s, designer Leonard Horowitz repainted the Ocean Drive historic Art Deco buildings with a new color palette, which he designed to reflect the Miami Beach hues.
The Art Deco District is definitely one of the best things to do in Miami Beach at night.
Find out more about the Art Deco hotels here.
Avalon Hotel
The Avalon Hotel (700 Ocean Drive) is one of the coolest Art Deco buildings on Ocean Drive.
This renovated vintage accommodation was first built in 1941 and was designed by one of the Miami Beach go-to architects, Albert Anis (1889-1964).
You'll hear his name throughout our guide!
The hotel keeps stylish company with its yellow 1955 Oldsmobile Super 88 convertible parked outside, one of the biggest attractions in Miami Beach for photographers who are seeking that old time feel.
Inside the hotel is an award-winning restaurant with patio dining, a bar serving happy hour, and live music.
Starlite Hotel
The cute pastel colored accommodation, Starlite Hotel (750 Ocean Drive) was built in 1974.
Guests and visitors love the friendly cafe which serves food, cocktails, and happy hour!
8th Street Lifeguard Tower
Head to the beach from Ocean Drive to see the 8th Street Lifeguard Tower.
Wet Willie's For Boozy Slushies
If you want people to watch on Ocean Drive while drinking on frozen Daiquiris, the East Coast cocktail company, Wet Willie's (760 Ocean Drive) is the one.
Alcohol fuelled slurpees come in a variety of flavors including Margaritas, White Russians, and Call a Cab.
Muscle Beach
Everyone has heard of Miami's outdoor fitness park, Muscle Beach (873 Ocean Drive) but did you know that is it just as much about community as it is training?
Those looking to work out can use the free weights which are locked away at night.
Visitors can watch as toned bodies dance their way around the poles, it is honestly mesmerizing.
The outdoor gym features push up poles, punch bags, tyre swings, and gymnast-friendly hoops.
There are also functional structures called MyEquilibria's Leopard Tree and MyBeast which offer over 30 workout options.
Art Deco Welcome Center
The Art Deco Welcome Center (1001 Ocean Drive) is the spot to visit to find out tourist information for Miami Beach.
The building houses exhibitions and special events including lectures, films, and workshops.
The Miami Design Preservation League, which was created by activist Barbara Baer Capitman and designer Leonard Horowitz, has been protecting SoBe's Art Deco since it was founded in 1976.
You can support the not-for-profit by signing up for the Miami Beach walking tours such as the Art Deco walking tour, the self-guided tour, the Jewish tour, the Mediterranean tour, or the Gay and Lesbian tour.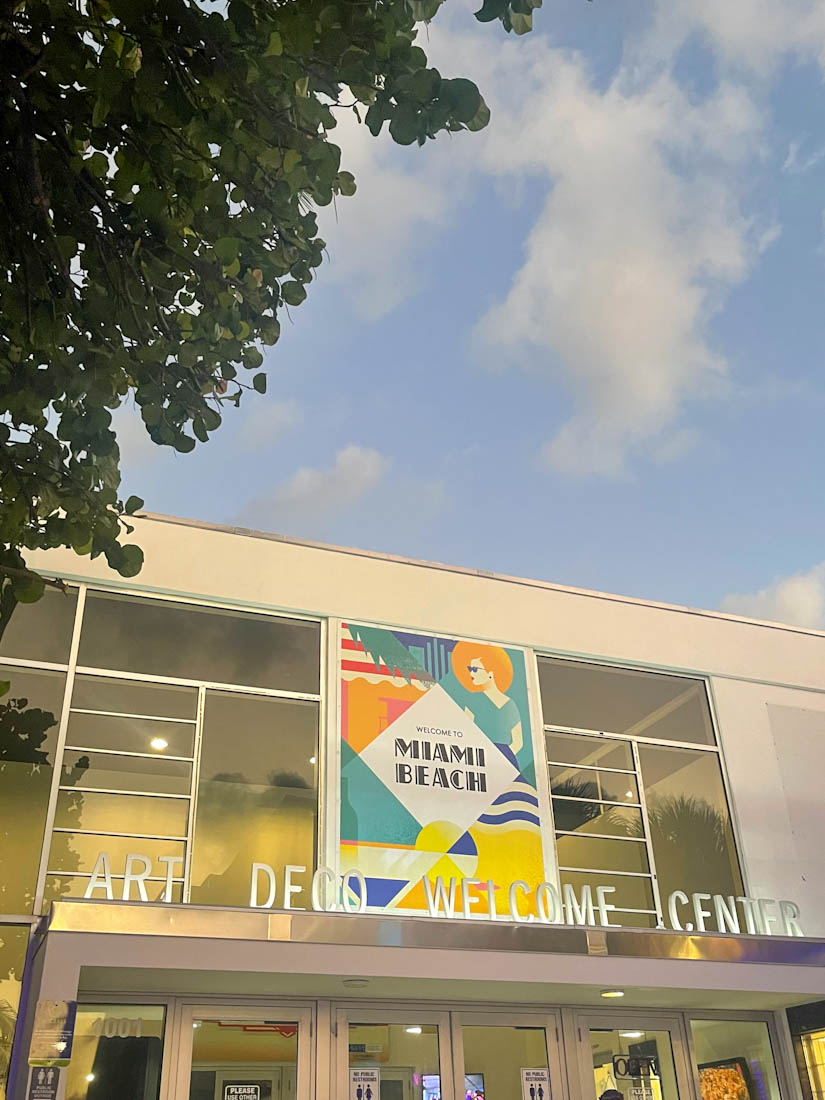 South Beach Walking Tour
The South Beach Walking Tour also known as The Art Deco Tour, is run by the expert guides and the Art Deco Welcome Center.
The daily tour lasts 1.5 hours and sells out frequently.
Content includes an introduction to Art Deco, Mediterranean Revival, and Miami Modern, while touring hotels, restaurants, and other commercial buildings, including a visit to a number of interiors.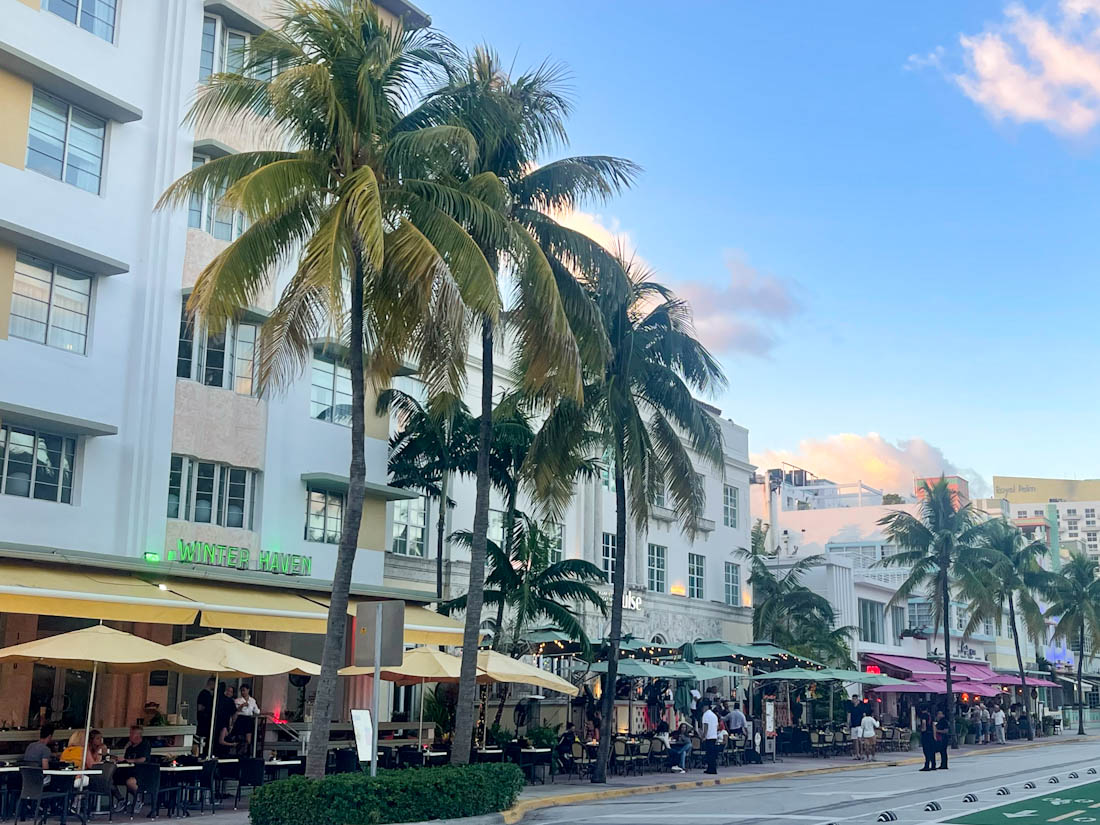 Brunch at Bacon Bitch
Get your fill of bacon and other brunch stuff at the Franklin Hotel's cheeky Bacon Bitch (1001 Collins Avenue).
If you are a thirsty bitch, they've got cocktails and shots for you too.
10th Street Lifeguard Tower
10th Street Lifeguard Tower is giving us disco with its bright pink, warm orange, and neon green.
How very South Beach, bebe.
Essex House Hotel
Essex House Hotel by Clevelander (1001 Collins Ave) was originally built in 1938 by respected architect Henry Hohauser, who created a number of Ocean Drive Art Deco buildings including one of the first, The Colony (1935).
If you stay at the Essex House Hotel you gain complimentary access to the iconic Clevelander pool, patio, and rooftop.
Brunch and Drag Show at Palace Bar
Watch performers strut their stuff every night at Palace Bar (1052 Ocean Drive).
Or join the Queens of Miami Beach for toast while they spill the tea over brunch then cool off at the sixth floor rooftop.
Palace Bar has been named one of the best drag bars in the US and has been entertaining locals and guests for decades; one of the funnest things to do in South Beach Miami for adults.
11th Street Diner
You can't miss 11th Street Diner (1065 Washington Ave) with its shiny shell and neon lights.
This all-day breakfast and American food diner is housed in a 1948 Paramount Dining Car Company of Haledon (New Jersey) railroad-style car.
Poolside Cocktails at The Clevelander
The Clevelander (1020 Ocean Drive) is known as one of the places to visit in South Beach for an open air bar party.
The hotel was built in 1938 by Albert Anis, then renovated in 2009, and features a restaurant, sports bar, rooftop, and pool parties.
Day bags like backpacks aren't allowed in, so plan accordingly.
Prime 112
Prime 112 (112 Ocean Drive) is located in the first hotel to be built in Miami Beach.
In 1915, Scotsman/New Yorker, William J. Brown financed a six room, two-storey pine structure building called Brown's.
Today, it is home to the first modern steakhouse in the US, Prime 112, and is very popular with celebs and athletes.
Hotel Victor
The Hotel Victor South Beach (1144 Ocean Dr) was built in 1937 by Florida architect Lawrence Murray Dixon, whose portfolio in Miami Beach also includes The Tiffany.
Today, the hotel is owned by the Nakash Family, the group who invested in the Versace mansion, and features cafes, restaurants, and a stunning swimming pool for guests.
Dine by the 'It' pool at Versace Mansion
Escape to an evening of luxury at Villa Casa Casuarina, the former Versace Mansion (1116 Ocean Drive).
Built by Ronin Wolf for the gay philanthropist Alden Freeman in 1930, Amsterdam Palace — aka Casa Casuarina — became home to Gianni Versace in 1992.
It is also where the Italian fashion designer was murdered by Andrew Cunanan.
Today, Villa Casa Casuarina is an opulent dining experience, where guests can enjoy the Mediterranean menu by the frescoes, mosaics, and famous gold-lined pool.
It is also an exclusive hotel, with luxurious rooms, which you can see and book here.
Villa Casa Casuarina is an example of Mediterranean Revival which incorporates Spanish Baroque, Spanish Colonial, Italian Renaissance, and Venetian Gothic, popular in Florida and California seaside towns of the 1920s and 1930s.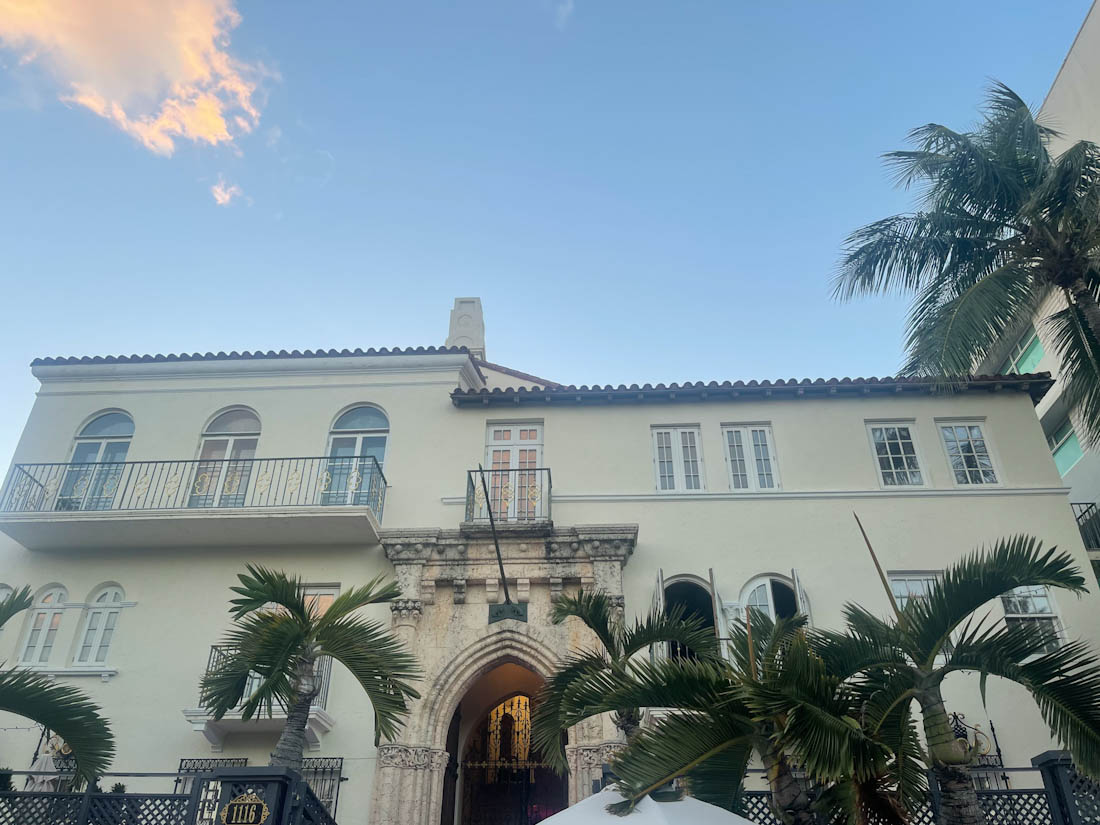 The Leslie
The Leslie (1244 Ocean Dr) is another Art Deco hotel on Ocean Drive.
It was built in 1937, by the architect, Albert Anis, who also worked on The Avalon Hotel.
In 1956, it was purchased by Abe Okun who lived on the premises with his family.
Today The Leslie boasts of a rooftop pool with views over the Atlantic Ocean.
The Carlyle
The Carlyle (1250 Ocean Dr) is an apartment block of condos which were constructed in 1941 by Kiehnel and Elliott.
The wrap-around sunshades on the building are known as eyebrows!
This hotel is loved by the silver screen with movies such as Bad Boys 2 (2003), Random Hearts (1999), Pronto (1997), The Birdcage (1996), and Scarface (1983) being filmed here.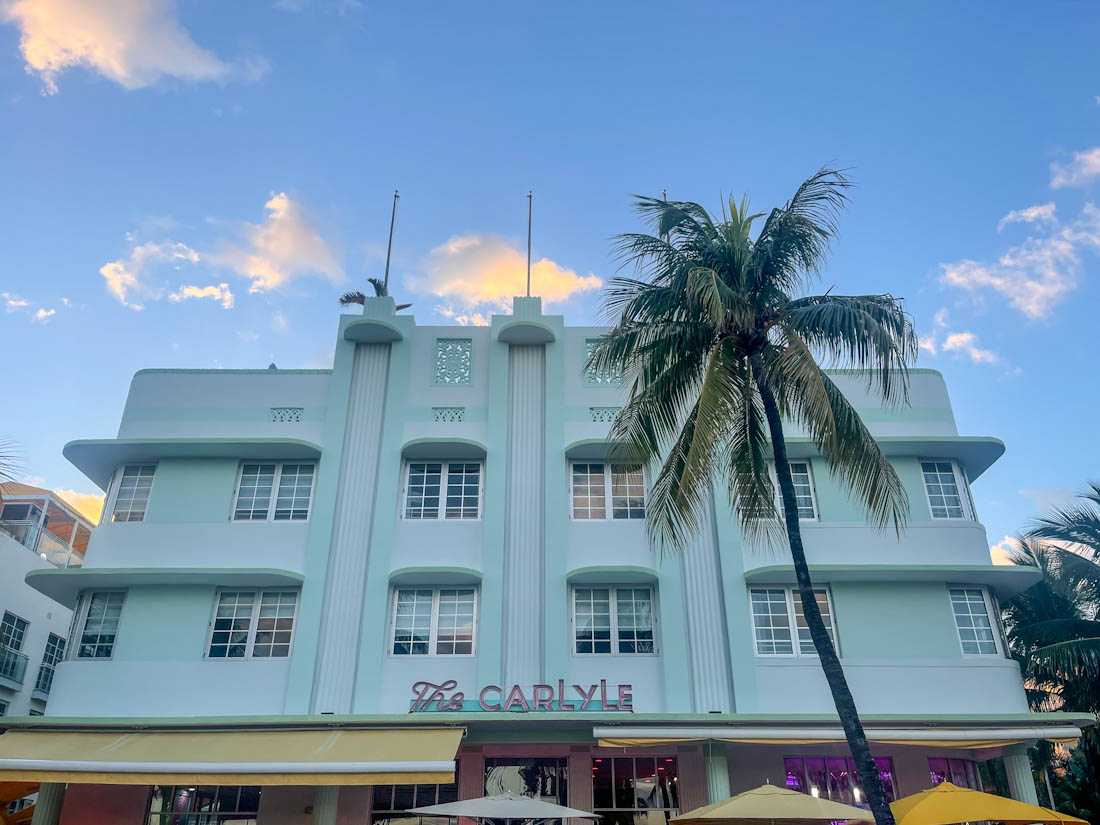 The Cavalier
The Cavalier (1320 Ocean Dr) was built in 1936 by architect Roy F. France.
Inside you can expect grandeur with a modern twist.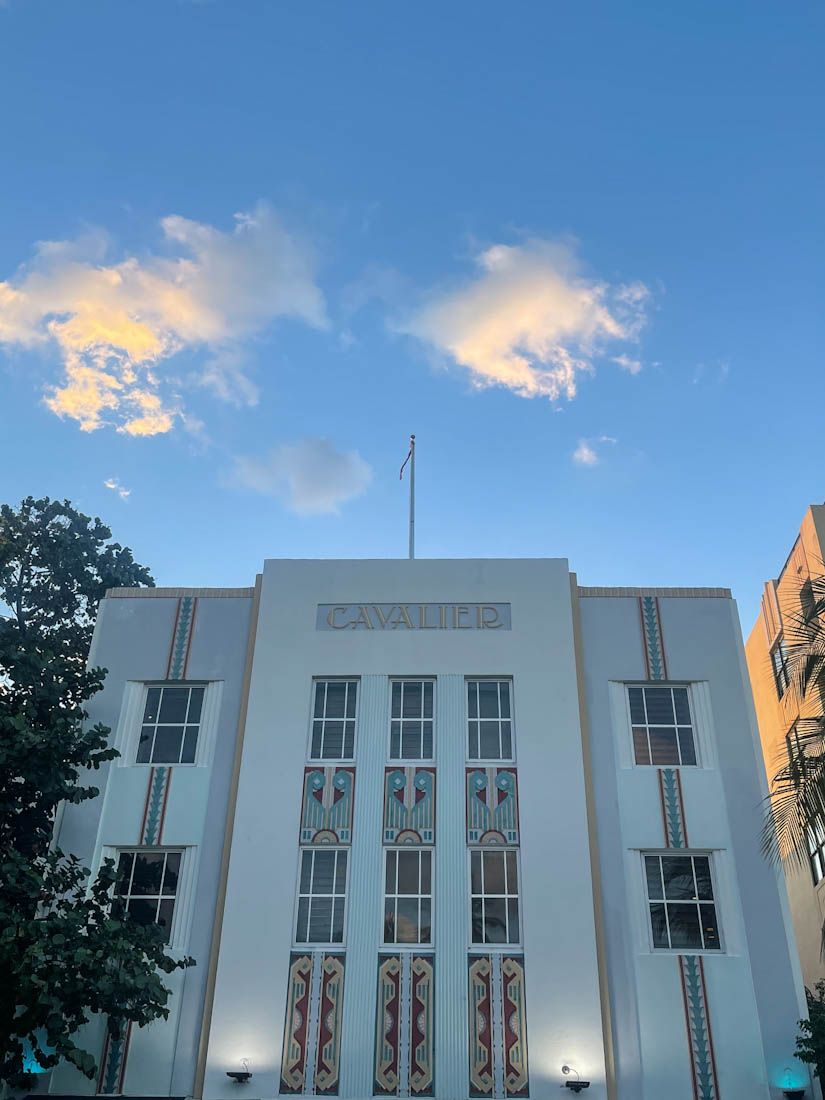 Gorge on Pasta at il Pastaiolo
il Pastaiolo (1130 Collins Ave) serves an Italian menu from Nonna Maria's recipe book in a Neapolitan style trattoria.
Pasta is not only homemade but also handmade.
Guests enjoy the indoor and outdoor seating.
World Erotic Art Museum
Learn more about the history of erotic art at the World Erotic Art Museum (1205 Washington Ave).
This museum, library, and education service has a number of collections, including that of the founder and director, Naomi Wilzig.
South Beach
No trip to the SoBe neighborhood is complete without a trip to South Beach.
Bask in the Florida sun while lazing by the Atlantic Ocean then pop to Ocean Drive for sundown drinks.
The Betsy
The Betsy (1440 Ocean Drive) is a historic oceanfront hotel, built in 1942 by L. Murray Dixon.
It is the only standing Florida Georgian architecture on Ocean Drive.
Today, the hotel is commended for its 'Orb' by Robin Hill which acts as an alleyway between Collins Avenue and Ocean Drive.
It also has a stunning rooftop pool with 360 views and a restaurant.
Española Way
Española Way (north of 14th Street between Washington and Pennsylvania Avenues) was developed in 1925 by William Whitman and N.B.T. Roney in conjunction with the architect Robert Taylor.
It was originally called the Spanish Village, as the design is based on a Mediterranean village.
You might recognize Española Way from episodes of the 80s hit show, Miami Vice, which is apt considering its past with crime.
By the end of the 1920s, Española Way was tarnished by its links with gamblers and gangsters such as Sonny Capone, Al Capone's son.
Today, you can shop, dine, drink, and stay at the Esme — formally the Clay Hotel — which Al Capone is said to have used as a hideaway for this gangster activity.
Drag Show at AxelBeach Hotel
AxelBeach (1500 Collins Ave) is the largest LGBTQI+ hotel chain in the world so you can expect a colorful schedule of events at this South Beach hotel.
Previous events have included drag shows, RuPal Drag Race viewing nights, and pool parties.
Miami Beach Ocean Walk
One of the popular things to do in South Beach for exercise is walk, run, or skate along the Ocean Walk.
The path connects the full length of Miami Beach so you can hop off the route at any time to take in the Atlantic Ocean views or grab a drink at a bar!
Free Trolley Service
Alternatively, if you don't want to walk around Miami Beach you can use the free Trolley Service.
The trolley picks up visitors every 20 minutes and has different loops such as the Collins Loop or the South Beach Loop.
There are also transfer points where you can get off one trolley loop and join another, all for free!
The trolley system was first introduced to Miami Beach by Carl G. Fisher in the 1920s, with the aim of connecting Miami (city) with the beach.
Touristy Collins Ave
Collins Avenue was the first paved boulevard and is home to Millionaires Row, a three mile stretch from 41st Street to 62nd Street, which once housed wealthy Miami residents.
Collins Avenue is named after John S. Collins who was one of the first businessmen to farm successfully on Miami Beach, planting avocados on today's Arthur Godfrey Road.
He also introduced Australian pine trees to Miami Beach which can still be seen on Pine Tree Drive.
Collins is also the man responsible for starting the connection between Miami Beach and Miami City by bridge, creating the longest wooden bridge in the world at that time (1913).
However, he ran out of money before its completion which resulted in a collaboration with Carl Graham Fisher, in exchange for land.
Today the position of the original bridge is the Venetian Causeway, a drawbridge that crosses Biscayne Bay.
When modern Miami Beach hotels on Upper Collins Avenue opened their doors in the 1940s, they created a tourism revival in Miami Beach, with holiday-makers, and celebrities, seeking luxury and air conditioned rooms.
The Saxony Hotel (3201 Collins Avenue) opened in 1949 at a cost of $5 million and, in 1954, the Fontainebleau (4441 Collins Avenue) became the city's largest hotel, built on top of the tire magnate, Harvey Firestone's estate.
These new hotels attracted the biggest names in entertainment including The Beatles who played at the Napoleon Ballroom of the Deauville Beach Resort (6701 Collins Avenue) in 1964.
The following year would see 44th Street – 72nd Street Collins Avenue gain the title of 'Condo Canyon' as the new high rise style of architecture made its way to Miami Beach, proving that the city really was 'paradise of sale' coined by the late Carl G. Fisher.
Today, Collins Avenue is home to hotels and clothing boutiques.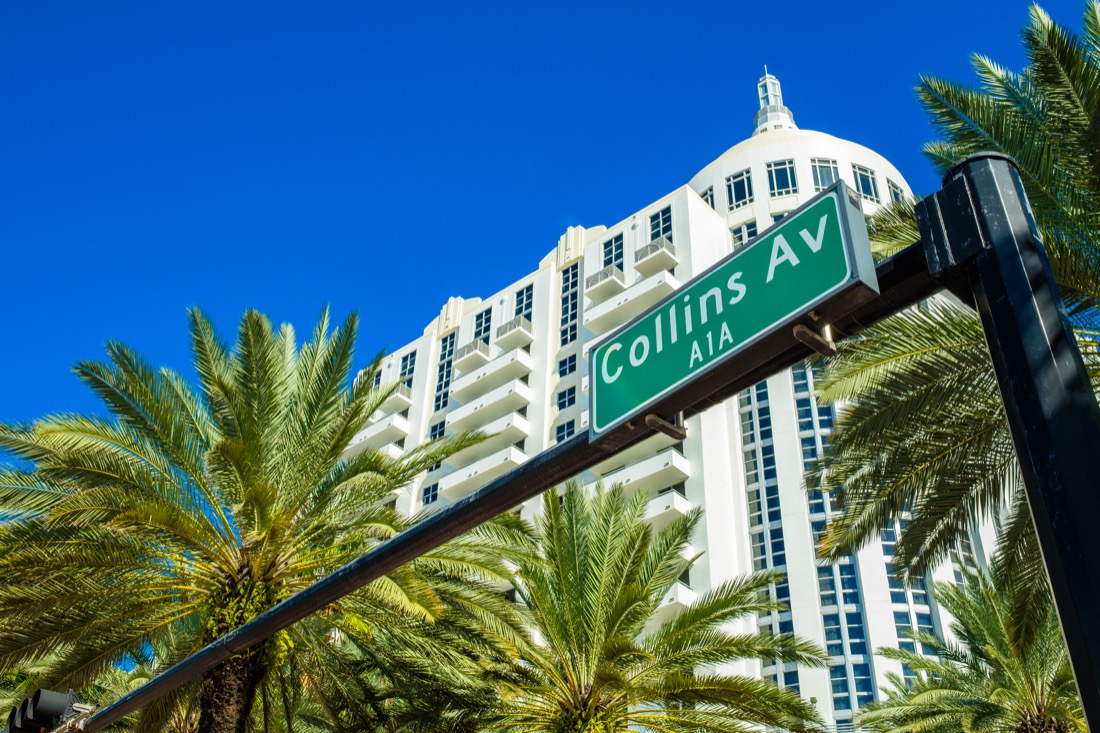 The Tony The Tiffany
You can't miss The Tony Hotel (9801 Collins Avenue) with its striking sign sticking out like a beacon on Collins Av but you might be a little confused as it has its previous name, Tiffany, on it!
Built in 1939, the Tiffany was designed by architect, L. Murray Dixon, and later remastered by American fashion designer Todd Oldham in 1998.
Today it is called The Tony after Tony Goldman who was instrumental in the refurbishment of South Beach, purchasing buildings to help preserve them.
He is also responsible for the development of the Wynwood Walls in Miami.
The Tony is a boutique hotel with a rooftop swimming pool and deck, a cafe, and a lounge.
Their apt slogan is 'appreciate the past. Reimagine your present'.
Lincoln Road Lifeguard Tower
Take a stroll past Ocean Drive to the beach to see the colorful Lincoln Road Lifeguard Tower.
These towers are a huge part of Miami Beach's identity.
Duck Tour of South Beach
Duck Tours are popular throughout the US as the amphibious vehicle has the ability to drive on the road and then go into the water!
This Duck Tour route covers the Art Deco District, Millionaires Row, and then a dip in the Biscayne Bay for views of the Miami skyline.
Each tour is narrated by a live guide.
The tour meeting point is Lincoln Road.
Time Out Market
Time Out Market (1601 Drexel Avenue) is a collection of restaurants under one roof.
This is ideal if you have picky eaters in your party, or if you just can't decide what you want to eat.
There are also a handful of bars on-site if you want a drink.
Venetian Islands and Causeway Walk
A unique thing to do in South Beach is to walk from Downtown Miami to Miami Beach using The Venetian Causeway.
This series of bridges goes over Biscayne Bay and provides 360 views of Miami's skyline, million dollar homes, activity on the water, and Miami Beach.
Part of the bridge is a drawbridge, so consider that in your timing.
The Venetian Causeway is where the original Miami Beach bridge by John S. Collins and Carl Graham Fisher stood.
SLS Pool Party
SLS South Beach Miami (1701 Collins Ave) is where the legendary Hyde Pool Parties are held every weekend.
If you're looking for fizz sprayed on your face, floaties in the water, and beach wear for miles; this is your spot.
The Hyde Pool Party's live DJs, drinks menu, and location are a magnet for bach parties.
SLS is also one of the popular beach hotels in Miami Beach.
New World Center
The New World Center (500 17th Street) is home to America's Orchestral Academy (NWS) and has a 756-seat capacity for guests.
Its main role is to prepare music graduates for leadership in orchestras and ensembles, but art fans can also buy tickets for live music in the concert hall, wall casts in the gardens, film screenings, and yoga in the Soundscape Park.
The building was designed by Frank Gehry who oversaw the construction of Walt Disney Concert Hall in Los Angeles.
Shopping Around Lincoln Road
Lincoln Road is a busy street in Miami Beach, it was built by Carl G. Fisher and is coined 'Fifth Avenue of the South'.
Here you'll find well-known brands for blocks like H&M, Pandora, and Apple.
H&M is even housed in the historic Lincoln Theatre!
There's also a number of restaurants sandwiched between stores, such as the al fresco Tapelia.
Miami Beach Convention Center
Miami Beach Conference Center (1901 Convention Ctr Dr) first opened in 1958, then went through refurbishment in 2015.
The center features a 60,000 sq ft Grand Ballroom, four junior ballrooms, around 500,000 sq. ft. of exhibition space, and 84 breakout rooms.
The schedule includes a whole host of events from business conferences to antique shows.
Image credit to Miami Beach Convention Center.
Art Basel and Art Miami
Art Basel is the largest gathering of art in the US and takes place during Miami Art Week in December.
The fair brings billions of dollars worth of modern and contemporary art from around the world to the city for visitors to view, discuss, and buy.
Pieces start in the hundreds and go up to millions!
The fair has been running since 2002, expanding each year with a big focus on diversity; increasing its inclusion of Latin American art and black-owned galleries.
It's not unusual to see famous musicians, artists, actors, models, and fashion designers wandering the galleries, then dining and partying in Miami Beach at night!
Art Basel is just one of the many things to do in Miami Beach in December.
If art is something you travel for, there are several other events happening under the Art Miami banner, including the gallery Context which takes place in Miami City.
Miami Beach Botanical Garden
Wander through the 2.6 acres of nature at the Miami Beach Botanical Garden (2000 Convention Ctr Dr).
The botanical gardens was founded in 1962, then refurbished in 2011, designed by Miami based landscape architect Raymond Jungles, yes, Jungles is his last name.
The botanical gardens aka, 'Miami Beach's Backyard', is a welcomed escape from the busy SoBe streets; offering tropical gardens, accessible pathways, and events.
There is also a self-guided audio tour.
Miami Beach Botanical Garden is one of the best free things to do in South Beach.
Map credit Miami Beach Botanical Gardens.
Holocaust Memorial
Pay respect to the six million Jews murdered during World War II at The Holocaust Memorial (1933-1945 Meridian Avenue).
Visitors can do a 1.5 hour self-guided tour by donation, or groups can organize a full tour in advance of their visit.
The space has a pond with a 40ft fist in the center which has people climbing up it, a statue of a woman with children, plaques with information, an Anne Frank quote, and a visitors center to ask questions.
The memorial serves many roles to the Jewish community and visitors, by giving them a place to grieve while providing a number of educational tools.
The Jewish community has played a large role in the changing scene of Miami Beach, specifically South Beach.
In the 1960s, 80% of South Beach's residents were Jewish compared to the overall US Jewish population which was only 3%.
The memorial was conceived by a committee of Holocaust survivors in 1984, and designed by Kenneth Treister.
It sits on the land where Holocaust survivors William and Florrie Loeb once lived.
Collins Park
Collins Park is located at the northeastern point of the South Beach Historic District, close enough for visitors to take a leisurely stroll to and sit underneath the palms for some shade.
Here you'll also see the 41-foot-tall rainbow rocks by Ugo Rondinone, five bright boulders made from Nevada limestone boulders.
5 Star Flight Over South Beach
If you really want to do something special during your trip to Miami Beach consider taking a flight.
This private airplane flight soars above the barrier so you can get the best views of Miami's beaches.
Your pilot will share facts and stories as you pass popular landmarks.
It is one of the most romantic things to do in South Beach.
Pride at Miami Beach
South Beach is where many LGBT+ expats settled in Miami, making it the perfect location to celebrate Pride.
The 2-day event features the Pride Flag Raising Ceremony at Miami Beach City Hall, a parade through the Art Deco District, and numerous live shows.